How to run ASO in Google Play: the main principles and rules
Artiom Tkachuk
art@asodesk.com
ASOdesk Expert & ASO manager at Onde.app, platforms for creating branded taxi applications and other on-demand services. Over 200 applications in 75 countries. The number of active users is more than 1.3 million people. Artiom has been engaged in ASO for 2 years, he is an ASOdesk blog columnist, and a speaker at different conferences.
All articles by author
Published: 11.06.2020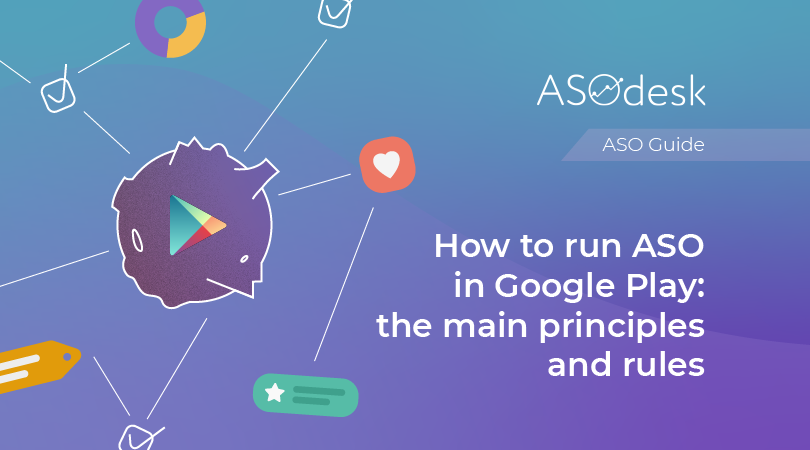 Artem Tkachuk, Onde.app ASO manager and ASOdesk ASO Expert, shared the main principles and tricks of promoting applications in Google Play, as well as how to work with text description, graphics and reviews to get more traffic and downloads.
This is a series of articles based on ASOdesk Academy lectures, where we touched on all aspects of optimization for applications. In the first article there was an introductory lesson about the basics of ASO, and now we will talk about the particularities of working with Google Play. You can watch the original lecture here:
How Google Play Optimization differs from App Store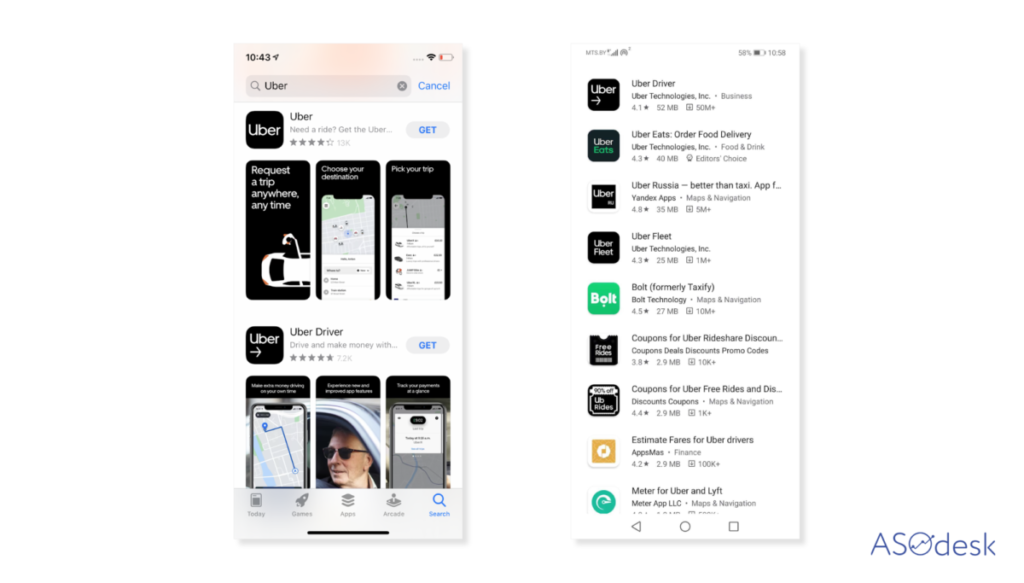 Optimizing apps in Google Play and App Store are two different processes.
1. There are no keyword fields in Google Play.
Google analyses all the text description available in the Android app. This is not only the name, but also the short description, the full description, as well as reviews, responses to comments and even the name of your developer account.
2. There is no way to use competitors' branded keywords.
Apple also bans the use of competitors' branded requests, but many flout the ban as in the App Store there are 100 characters that no one sees. In Google Play, the description of the application is seen by all users, so it is impossible to use the brands of competitors, the copyright holder can see and file a complaint against the application.
3. Personalized search.
Google uses machine learning to analyse the behaviour of users: what are they looking for, what they review, what are their downloads, what apps they have on the phone. Therefore, the results of search for an application on each Android device is based on an individual history. The difference is tiny, different users may have differences of placement of same apps of 2-3 places, but still it exists, unlike in the App Store, where everyone's output is the same.
4. Explore-installations.
Explore is what Google offers users to download based on their interests and search. In the App Store, this is called Browse-traffic. It's important to work with them. For some categories, the majority of traffic may come in Google Play from Explore, but it depends on the subject of your app.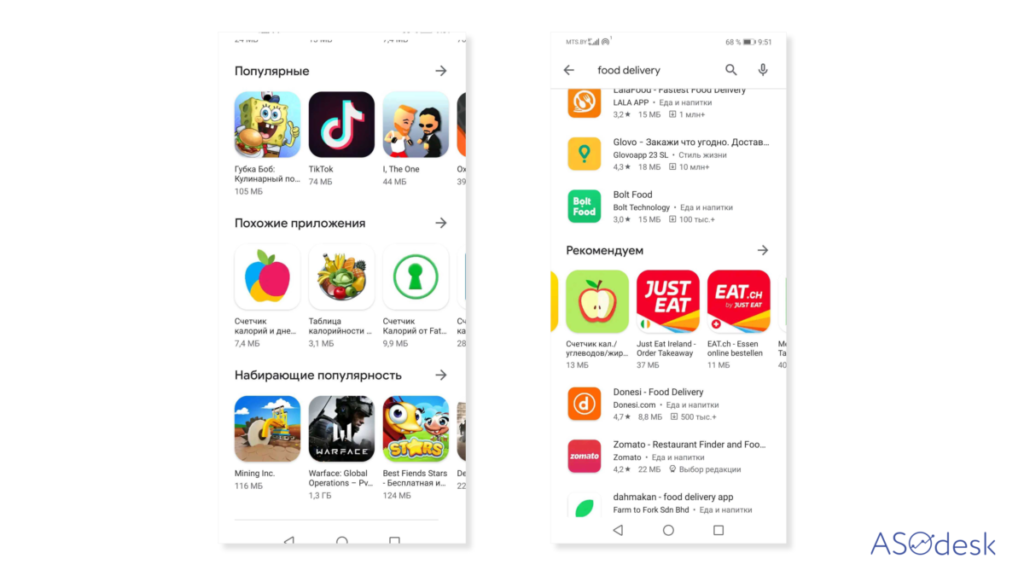 How to collect keywords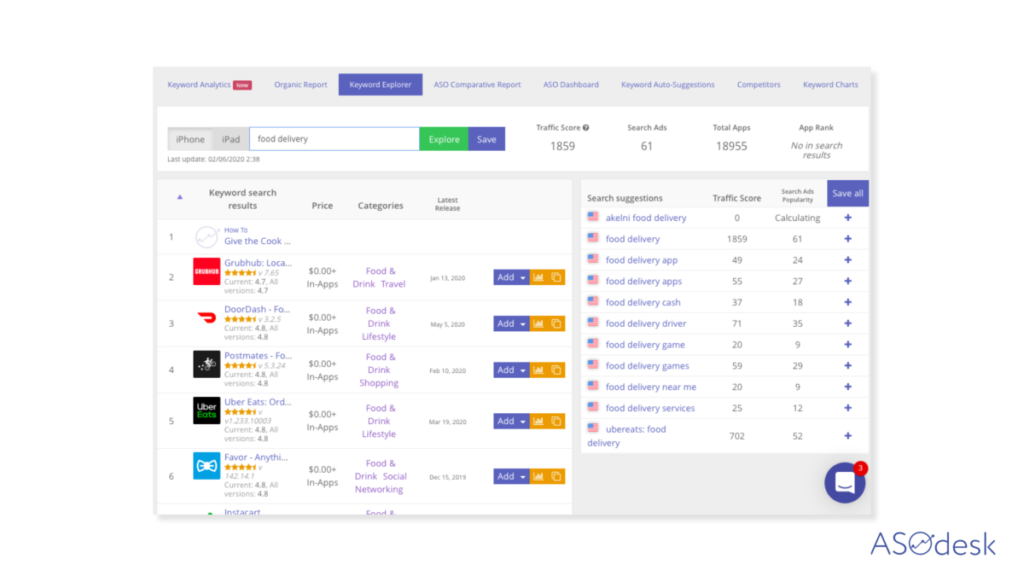 We start optimizing the application from the semantic core. We need to collect all the key queries that are relevant to the application.
Where to get the data from:
1. ASO tools.
They're great at helping to reduce time on hand work.
2. Logic.
Remember all the words that may be relevant to your application. See what are the suggests (suggestions of key queries in the search box).
3. Analysis of the descriptions of competitors.
Competition analysis helps not only find new keywords, but also analyze the semantic cohorts on which the competitor works.
4. Analysis of keywords in reviews.
Reviews are also a great source of information, because they are also ranked by Google Play. You can study the comments of competitors as well.
5. Keywords in Google search.
Sometimes interesting things can be found even in Google search by pictures.
Everyone will surely find his or her life hacks on keyword search while practicing. Check different sources, look everywhere.
How to choose a name and description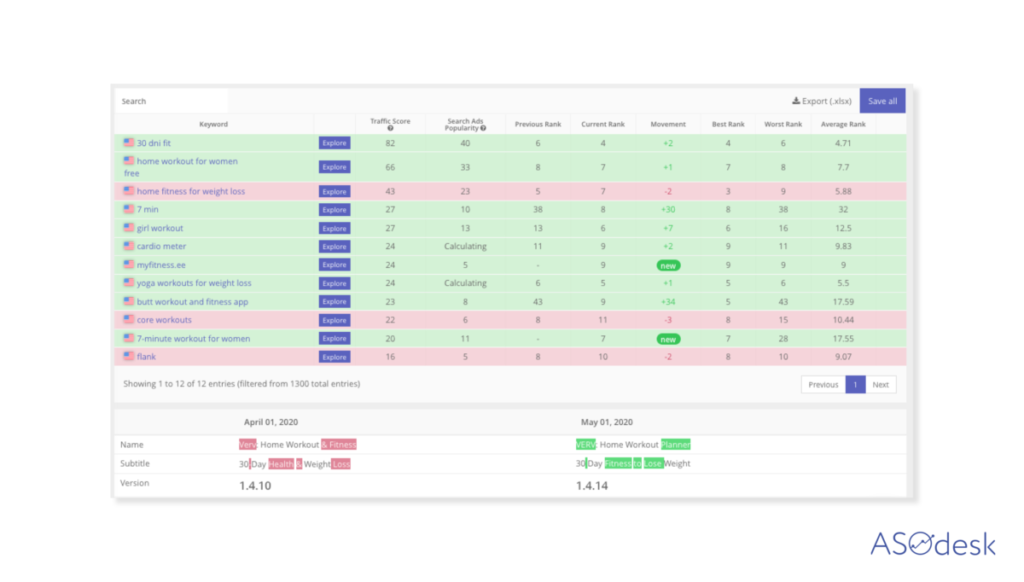 After fixing the semantic core, you need to select the most important keywords for the name and your brief description. These should be popular and relevant queries, but don't rush for keywords with the highest traffic. You won't be ranked the first positions on such searches, you'll be kept in the bottom of the list. Choose the keys of average "traffic", where there is less competition, and over time choose more popular, move gradually step by step.
Name and short description
What is worth paying attention while choosing a name and a short description:
1. The icon and the name should reflect the meaning of the app.
Google Play's Search results and Recommendations (Explore) are built in such a way that people see only the icon and the name of the app. Therefore, in the name you need to insert not only keys, but also the idea of the application. So that people can immediately understand that this is exactly what they were looking for, and the application responds to their search query.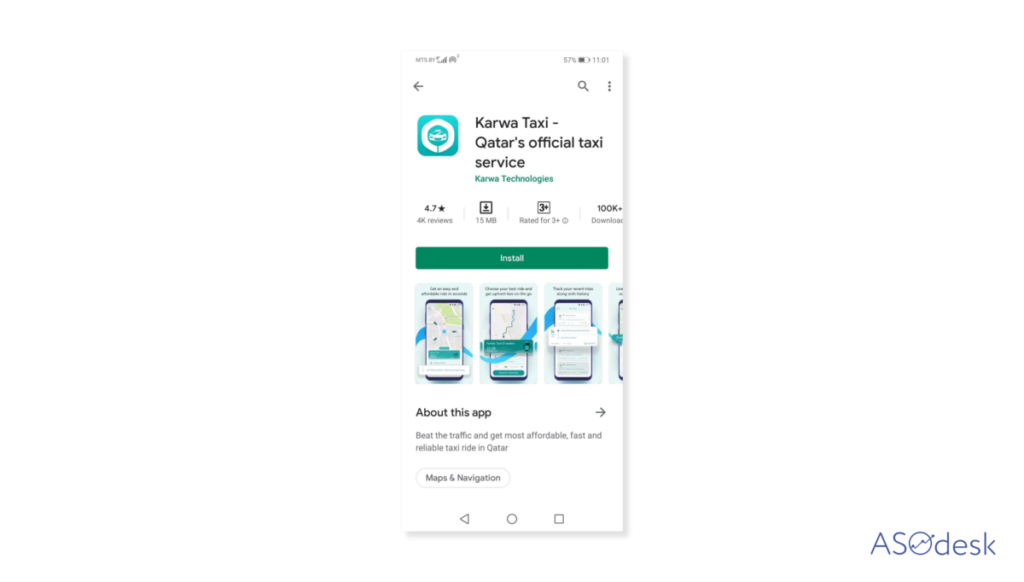 As an example, I want to cite a Qatari taxi. The name consists of the brand (Karwa) and the most important key for this application (Taxi), then comes the country in which this taxi app works (Qatar). This is important because there is only one localization in the Middle East — the Arabic one. People from Qatar Google Play can be offered apps for Bahrain, Oman and Saudi Arabia, but with no distinction on where those apps operate. Therefore, it is important to specify a country.
There's another tricky point in the title: "Official taxi service". This addition is required to put one more time the word "taxi" into the name. It wouldn't play a role for the App Store, but it works differently on Google Play, and there's no clear opinion whether you need to use the keys more than once or not. However, from my experience I can say it makes sense to repeat the key query both in the name and in the short description.
2. The emoji name is indexed.
If you don't have enough space for your country name, then you can insert an emoji. All emojis have their names and they are indexed in Google Play.
3. False requests don't make sense.
You need to use keywords important and relevant to your application, but don't overdo to avoid spoiling the application conversion. So don't fool users, keys must match what users will see. Otherwise, the application will be deleted, this spoils the statistics most probably affecting the ranking.
4. Idea matters.
Balance between a simple, user-friendly description and meaningless filling of keywords for Google. So when you write a brief description and name, do not forget about the idea. Add two or three important words and give the point.
Full description
1. Keyword repetition.
There are two main approaches to how many times you need to put keys into the description: density or number of repetitions, that is, how many times you need to repeat a key query. In my experience, it's better to use 3 to 5 repetitions, and that usually coincides with density of 3 -5% of the text.
2. The theory of the beginning and ending of the description.
Experts argue where it is better to put the keys: at the beginning or at the end. The beginning and end theory of description states that the words are better ranked among the first 160 and in the last 100 characters. That makes sense even in terms of psychology — in any report we better remember its beginning and the end. This is the approach I apply.
3. Description length.
There is no consensus on the number of signs in the description. Some ASO-experts argue that all 4000 signs should be used, someone takes the view that there should be as many as needed. I prefer the second way, usually it is something like 2000, but no less than 1500. The main thing is to explain to a person the main idea of the app and add the necessary keywords for Google.
4. Dividers, emojis, signs.
You can highlight the key points of the app in bold and insert emoji. Users rarely fully read the description, so when there are highlights, you can run your eyes through the text and understand what is in the app. Such a description will be understandable not only for Google, but also for any person.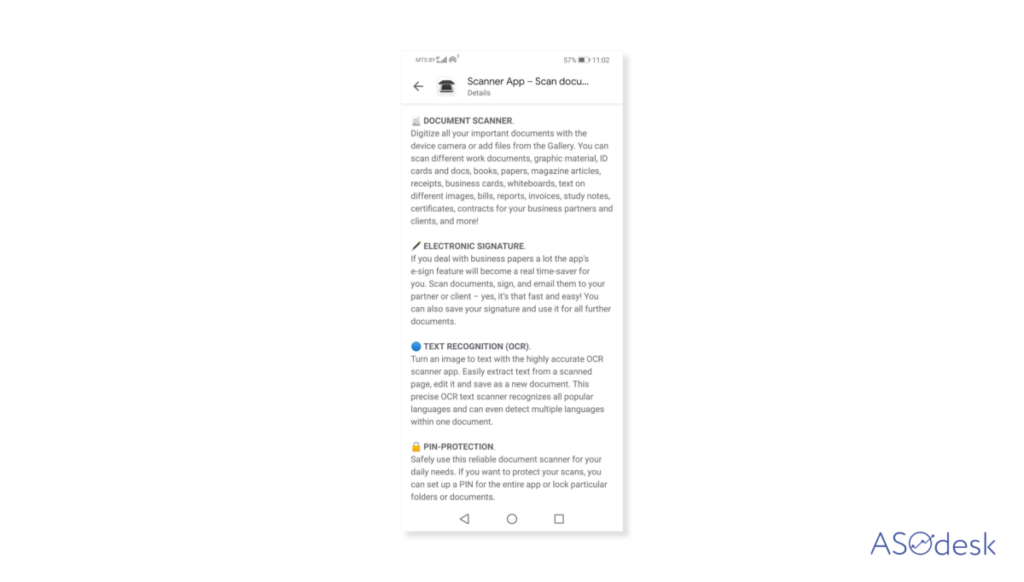 5. Contact details.
Users in some categories are used to see contact details in the application description, so focus on the standards of your category.
6. Check in Google Cloud Natural Language.
Check how Google sees our app. Insert text into Google NL and check that it has the maximum "confidence" in the category or categories that are relevant for you. Remember that this affects Explore set-ups. I gave more information about working with Google NL on the webinar within the framework of ASOdesk Academy.
How to prepare graphics for Google Play
The graphics for Android app in Google Play completely differ from graphics for the App Store. So when you make up terms of reference for a designer, run it as a separate process.
Icon
1. Focus on the icon.
I believe that the icon in Google Play is the most important thing. When Google offers the user your app, he or she only sees the icon and the name. As I said, there is a lot of traffic coming from Explore, often it brings more than 50%. Therefore, it is important to focus on the development of your icon.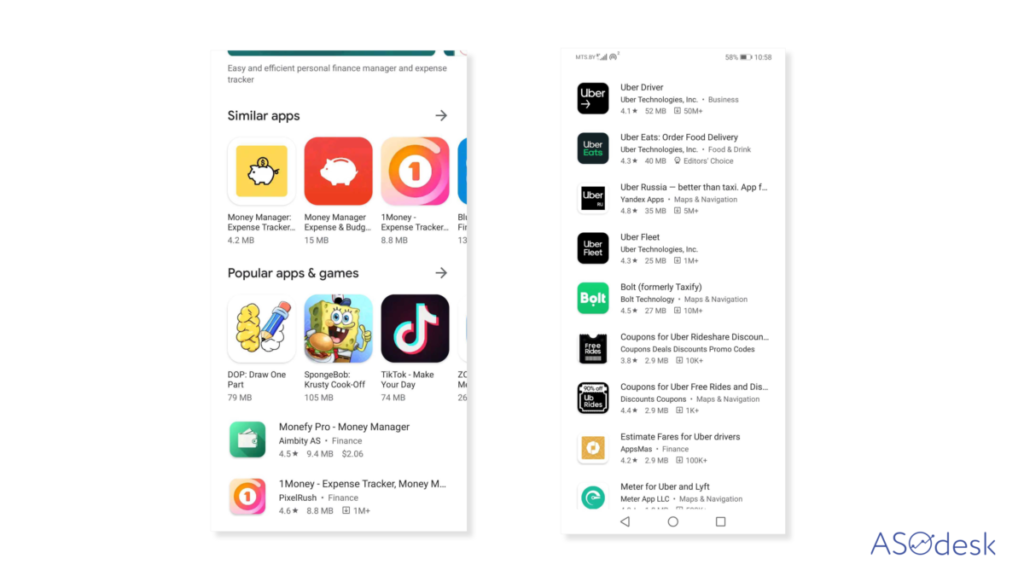 2. Analyze what is on the market.
It will be easier for you to create a good icon if you already have a semantic core and know your competitors, as well as other applications that are among the interests of your users.
Put all the icons you think are interesting together into one big pile. It brings more visual clarity to understand what can be the most eye-catching. So you can highlight ideas helping to improve the icon and make it more memorable.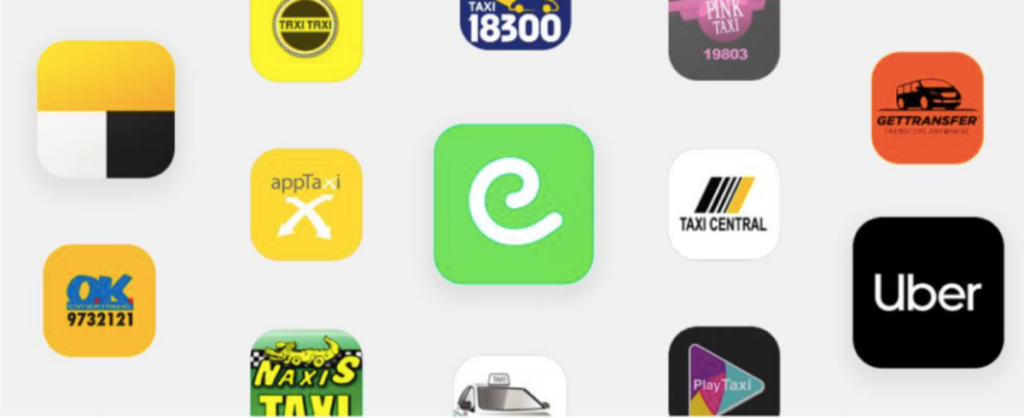 Screenshots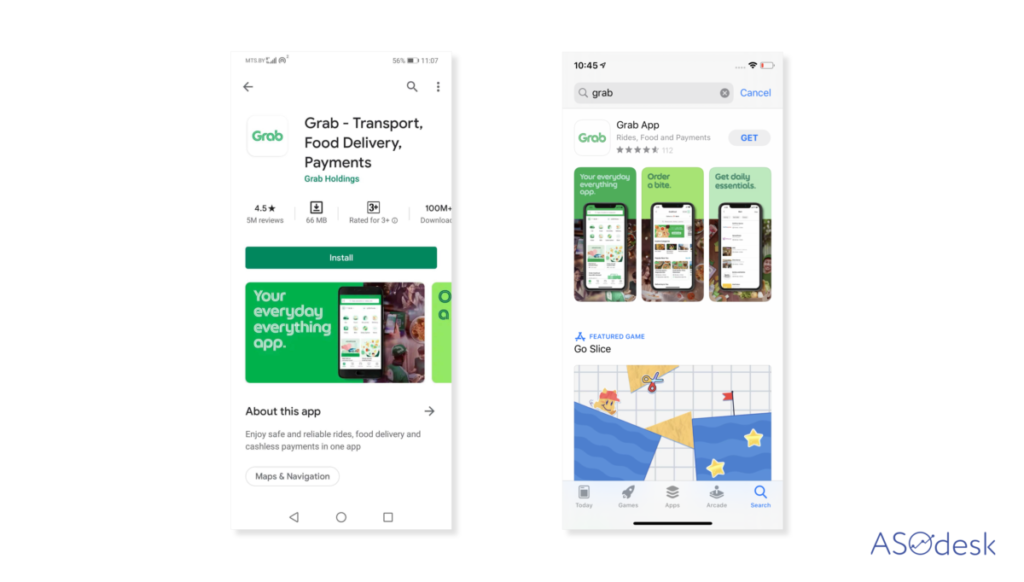 1. Think about what you want to show.
Don't start work on screenshots with the focus of how to make it beautiful. Start with what you want to say in your screenshots: what message you want to convey. Analyse what competitors offer and try to do something that reflects the value of your app.
2. Composition with the icon: pros and cons.
In the App Store, the composition of icons and screenshots is very important because the user sees them together all the time. In Google Play, a user most often sees an icon without screenshots, so it is not necessary to emphasize it.
3. Horizontal or vertical.
In the Travel category, horizontal screenshots on Google Play work better, but in other categories it might differ. Test hypotheses, try horizontal and vertical options, but the main thing is to use the screenshots to explain the value of the app.
Reviews
App Store treats reviews much easier, Apple doesn't look for meaning, doesn't pick keys from reviews and in your responses to them. Google Play analyses everything.
1. Use keywords when respond reviews.
Note the screenshot below. You can see how neatly the answers are made so that the keywords get in there. You do not need to be fixated on them in each answer, but if there is a possibility, it is a great option for additional indexing.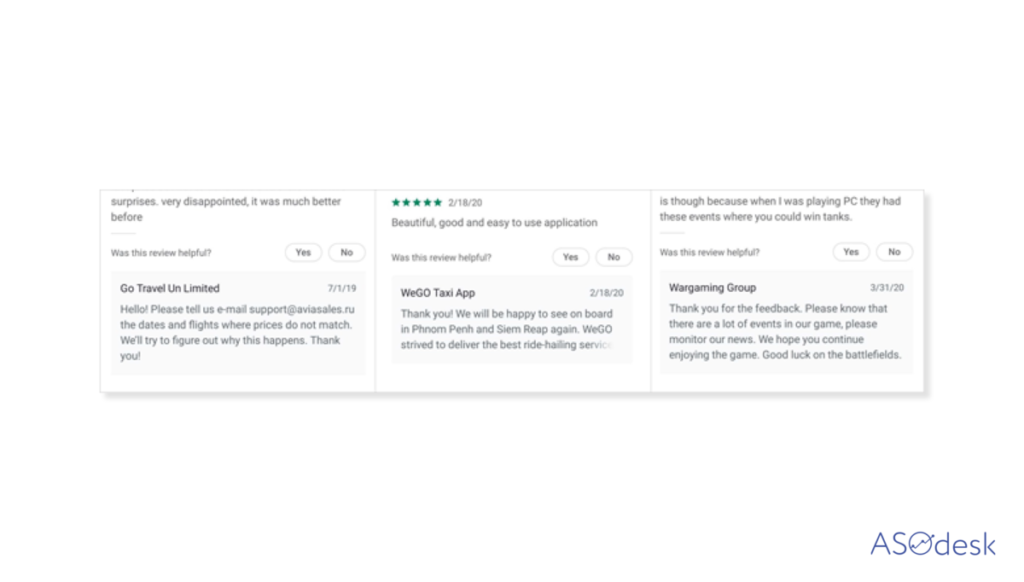 2. Respond quickly – users receive notifications.
A user receives a push-notification about the response to the review. The notification pops up on the home screen in the Android device, so the user will see for sure that you've responded. Therefore, it is desirable to respond as quickly as possible. That doesn't mean that if you're slow to respond, you'll get worse ranked in the search, just quick answers will help you keep users.
3. Systematize how you work with reviews.
Don't forget to edit reviews, add tags, inform users on changes. For example, if a user claimed a bug, you can first thank him or her for the feedback, and when it is fixed, report changes in a response to the same review.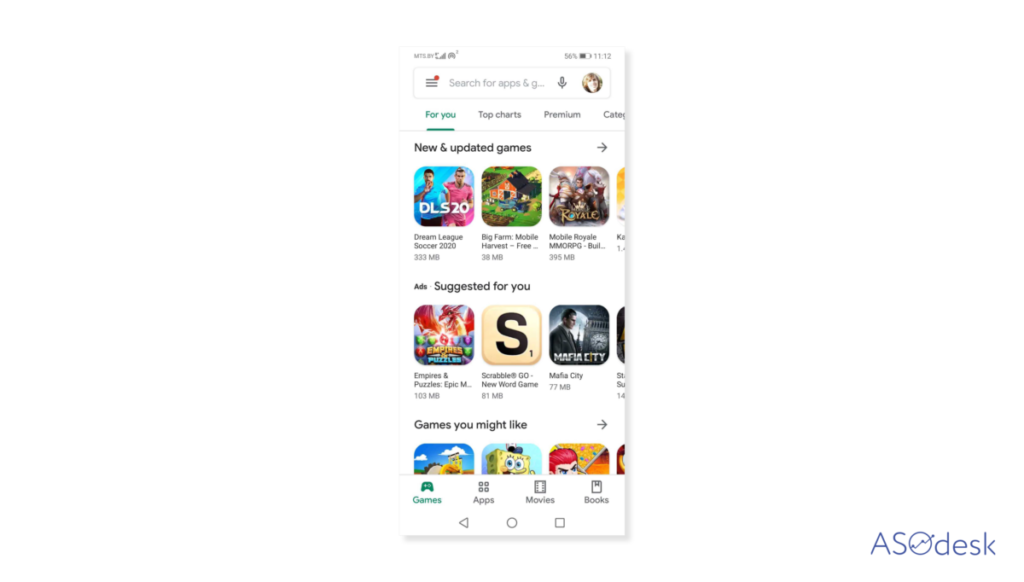 Draft a couple dozen response patterns for different situations to minimally modify them for an individual approach. This will help you respond quickly to all reviews and not puzzle head over what to answer.
4. Processing of "featured" reviews.
Check once a week what reviews you have at the top. People pay attention to the rating and can run through the first reviews. It won't be good if a low-rated review comes up at the top. Ask colleagues and friends to click on "no" in the "yes/no" reaction so that the review goes down. Control that negative reviews don't climb upstairs.
These were basic tips for optimizing your app for Google Play. In the following article, I will detail how to make the application description understandable for Google.