Checklist for App Store Optimization in Google Play
Artiom Tkachuk
art@asodesk.com
Asodesk Expert & ASO manager at Onde.app, platforms for creating branded taxi applications and other on-demand services. Over 200 applications in 75 countries. The number of active users is more than 1.3 million people. Artiom has been engaged in ASO for 4 years, he is an ASOdesk blog columnist, and a speaker at different conferences.
All articles by author
Published: 19.11.2021
Updated: 01.12.2022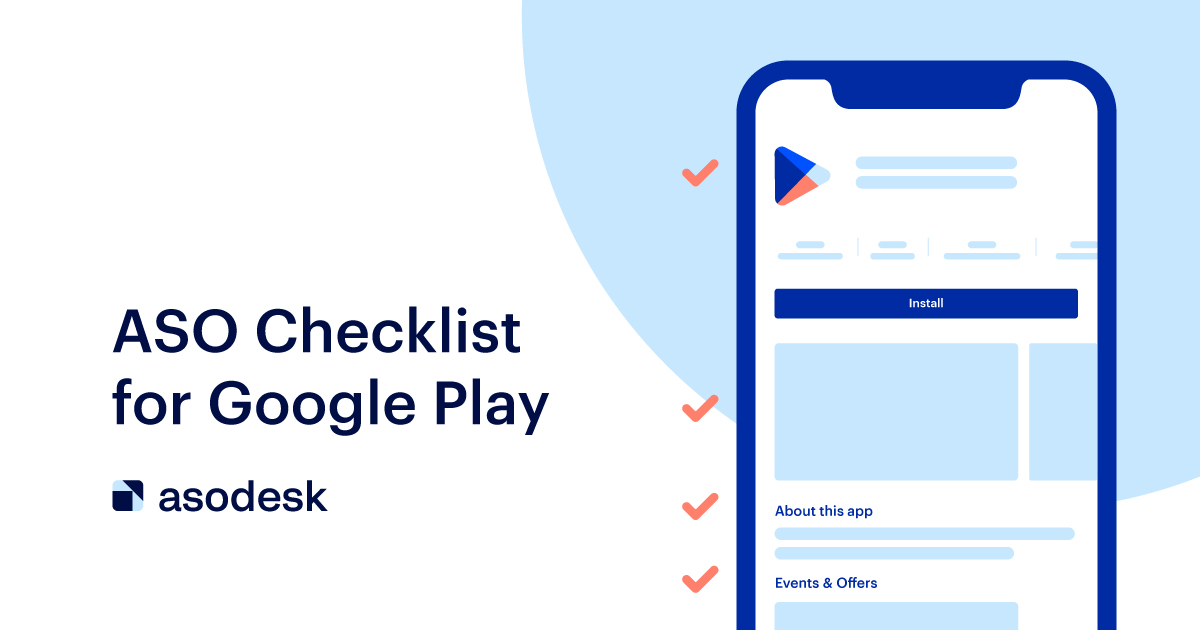 I shared the basic principles and features of Google Play store optimization and explained how to work with titles, descriptions, icons, screenshots, reviews, and events to promote apps on Google Play.
This article is based on the lecture from Asodesk Academy 11 and materials from the latest Asodesk Academy 14.
Contents
1. Text ASO in Google Play: title, short description, and full description
2. Visual ASO in Google Play: icon, screenshots, and videos
3. Working with app reviews on Google Play
4. Events on Google Play
5. What to remember about Google Play store optimization
Text ASO in Google Play: title, short description, and full description
Text metadata on Google Play is very different from metadata on the App Store:
1. Google Play does not have a subtitle or keyword field.
2. Instead of a promo text, there's a short description, which is indexed in the search.
3. The full description is also indexed by Google Play, unlike the App Store description.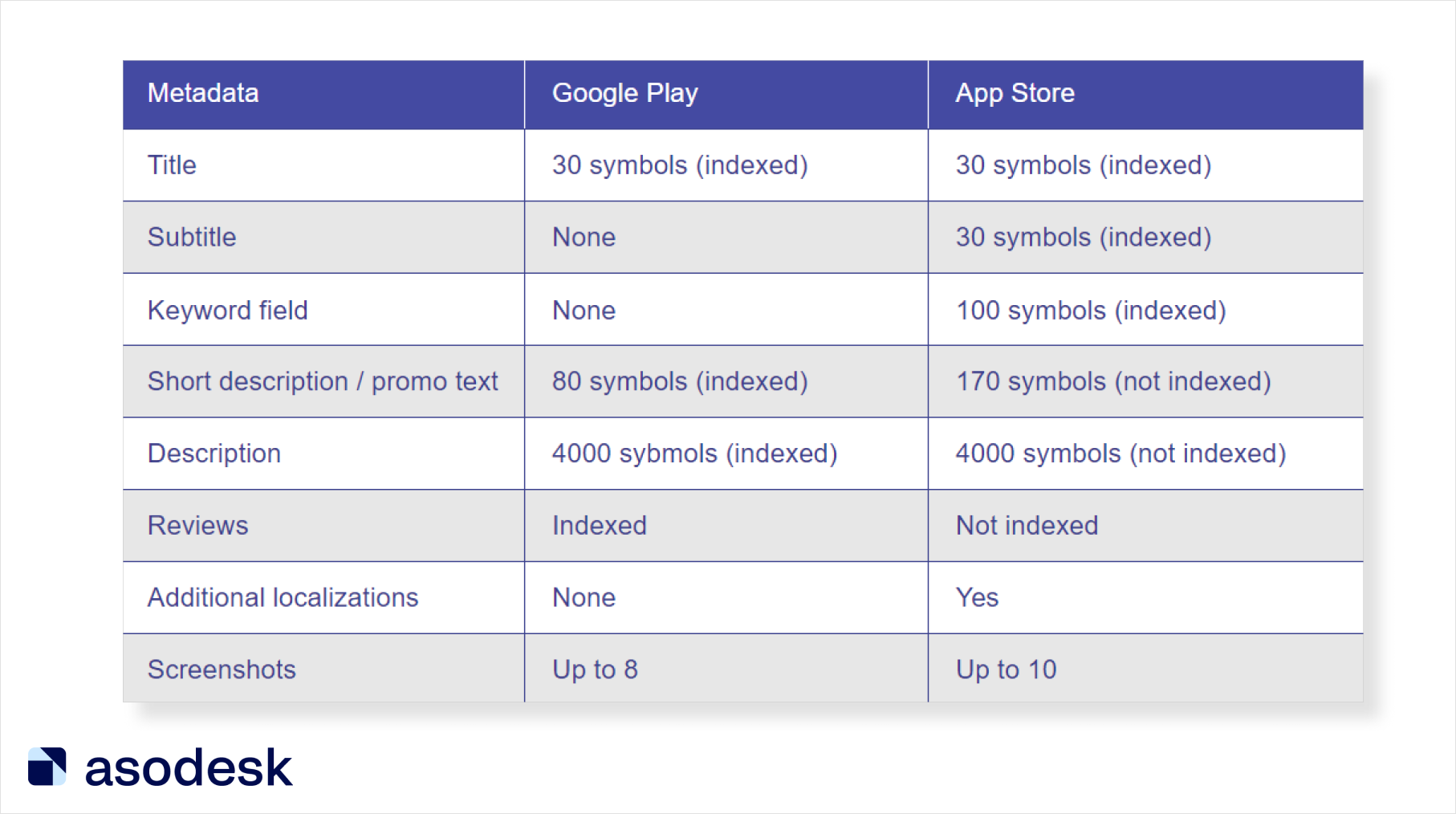 In this section, we will discuss these and other features of Google Play that are important for ASO specialists to consider during Google Play store optimization.
The title should clearly demonstrate the essence of the app and, if necessary, take into account the user's country
App Store search results show the title, icon, and the first three screenshots of the app, while Google Play shows only the title and icon. The exception is branded queries, based on which the search results will also display the app's screenshots or video previews.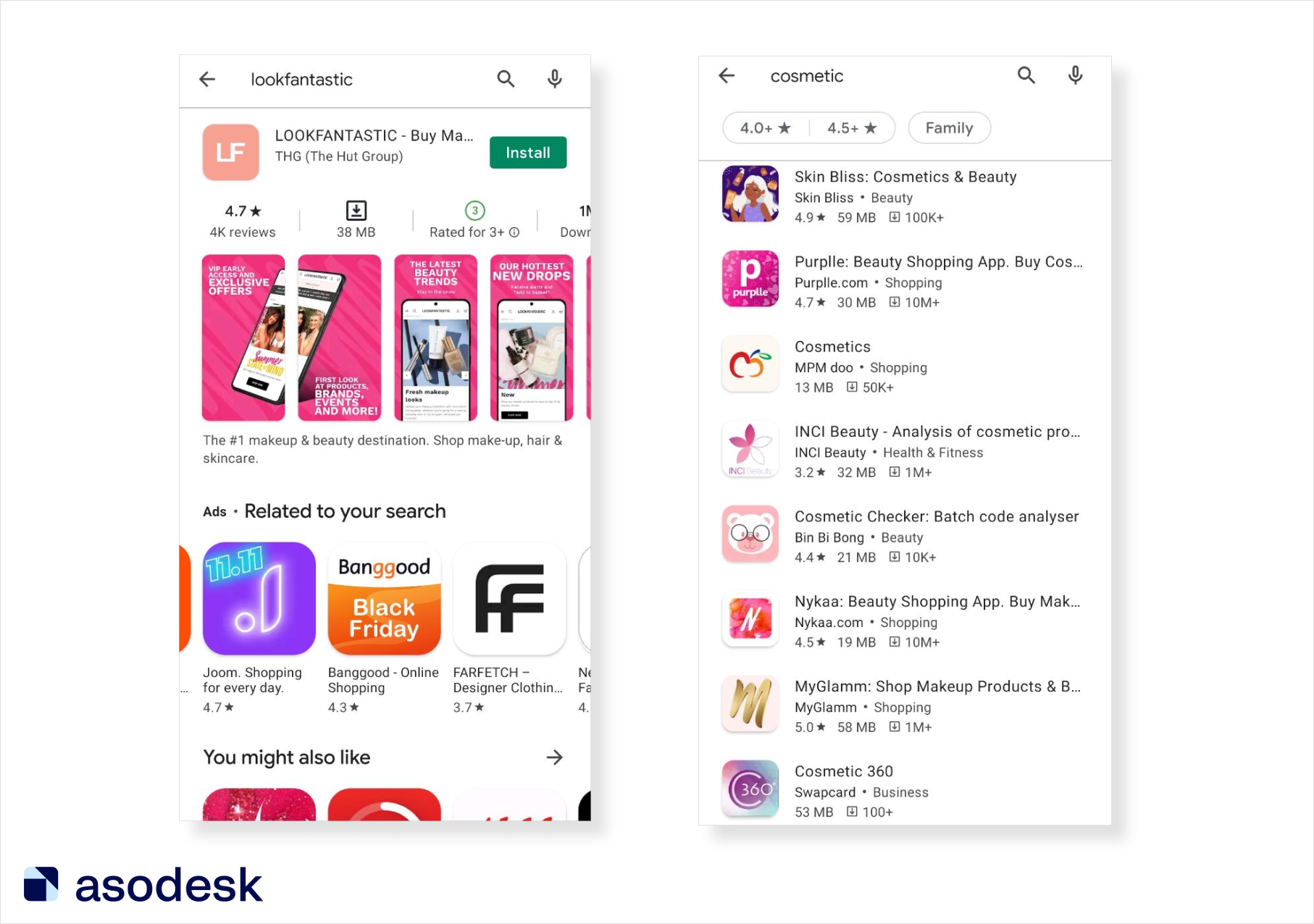 In order for the user to understand the purpose of your app immediately, it is important to pick the correct title. It should tell users about the functions of the app. Google has limited the number of characters in the title to 30, making it even more difficult to create one.
See how the publishers of the WELPS app placed a branded query in the title, as well as two general queries that indicate the app's features.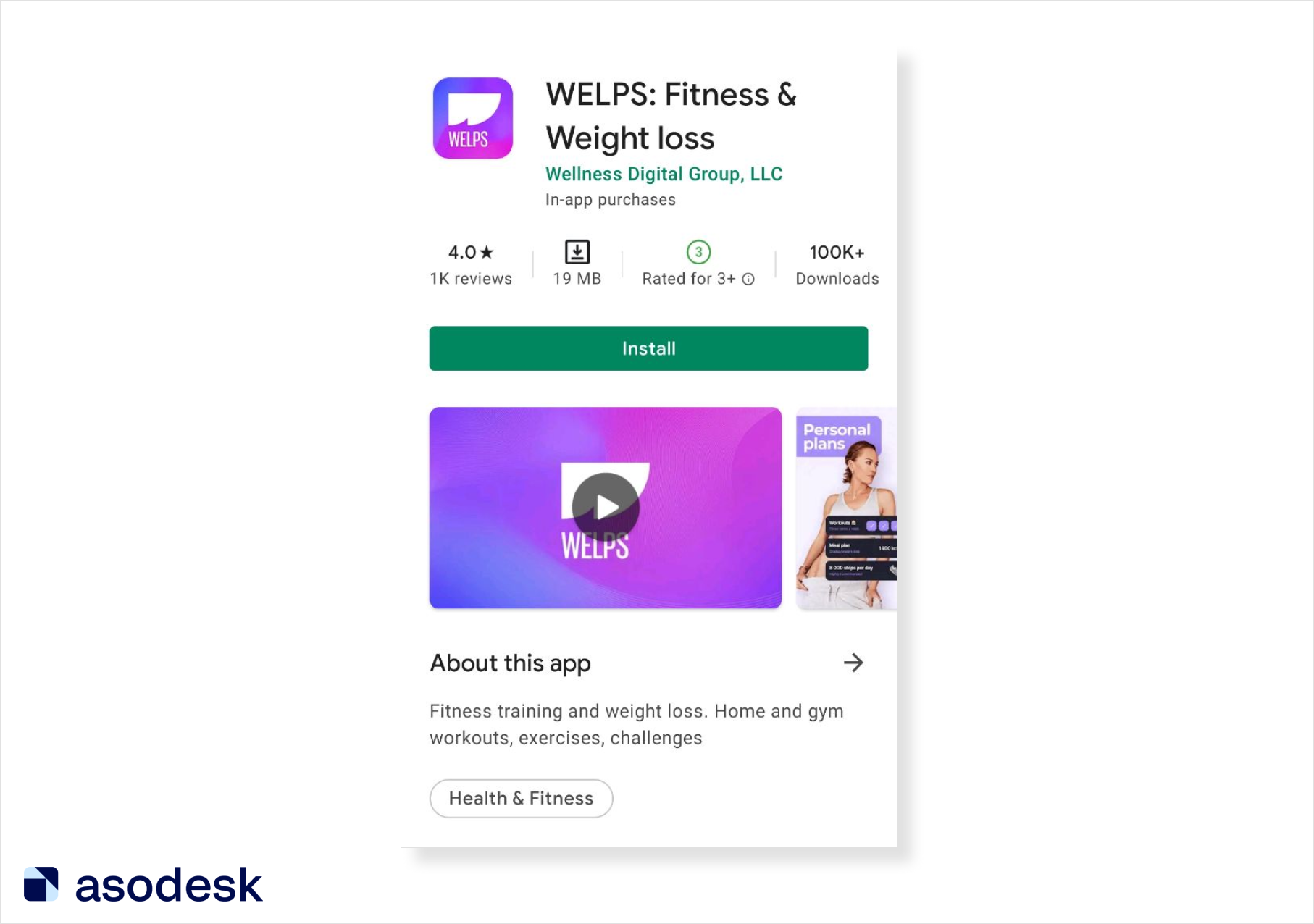 On Google Play, search results depend on the user's language, not on the country. If your app only works in a specific country, you need to add it to the title.
For example, for the PickQuick app, Qatar was added to the title. In the Middle East, there is only one localization — Arabic. People from Qatar may be offered apps for Bahrain, Oman, and Saudi Arabia, so it is important to emphasize that the app only works in Qatar.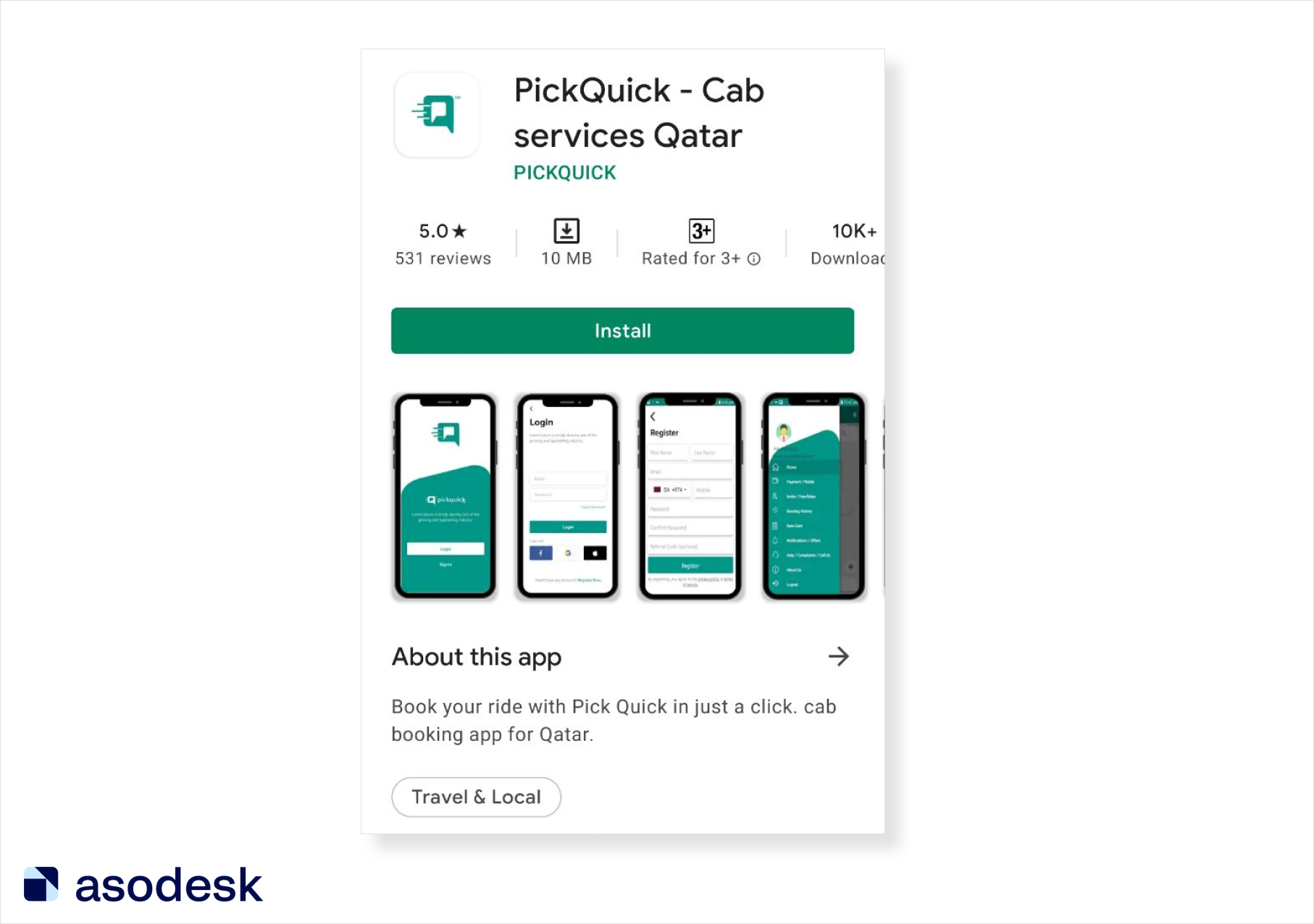 Let's sum up. In the title, you need to use the most significant keywords and explain the purpose of the app clearly. If your app is country-specific, highlight it in the title as well.
Avoid using someone else's branded keywords on the Google Play app page
Google Play does not have a field for keywords and the app metadata is visible to all users. If you add competitors' branded keywords to the description, the right holder can see this and file a complaint about your app.
In addition to complaints from competitors, the app may also be rejected during the moderation process. Google Play's algorithm automatically validates metadata, making it impossible to let apps with branded keywords by. You risk getting a temporary ban; in this case, the app will be removed from the store and returned only if you remove the branded query.
To get installs from competitors' queries, you can advertise your app on Google Ads. Placements are selected automatically, but the app may end up in the "Related to your search" section and appear for someone else's branded queries.
It's important to work on Explore installs to get into the "You May Also Like" and "Similar Apps" sections.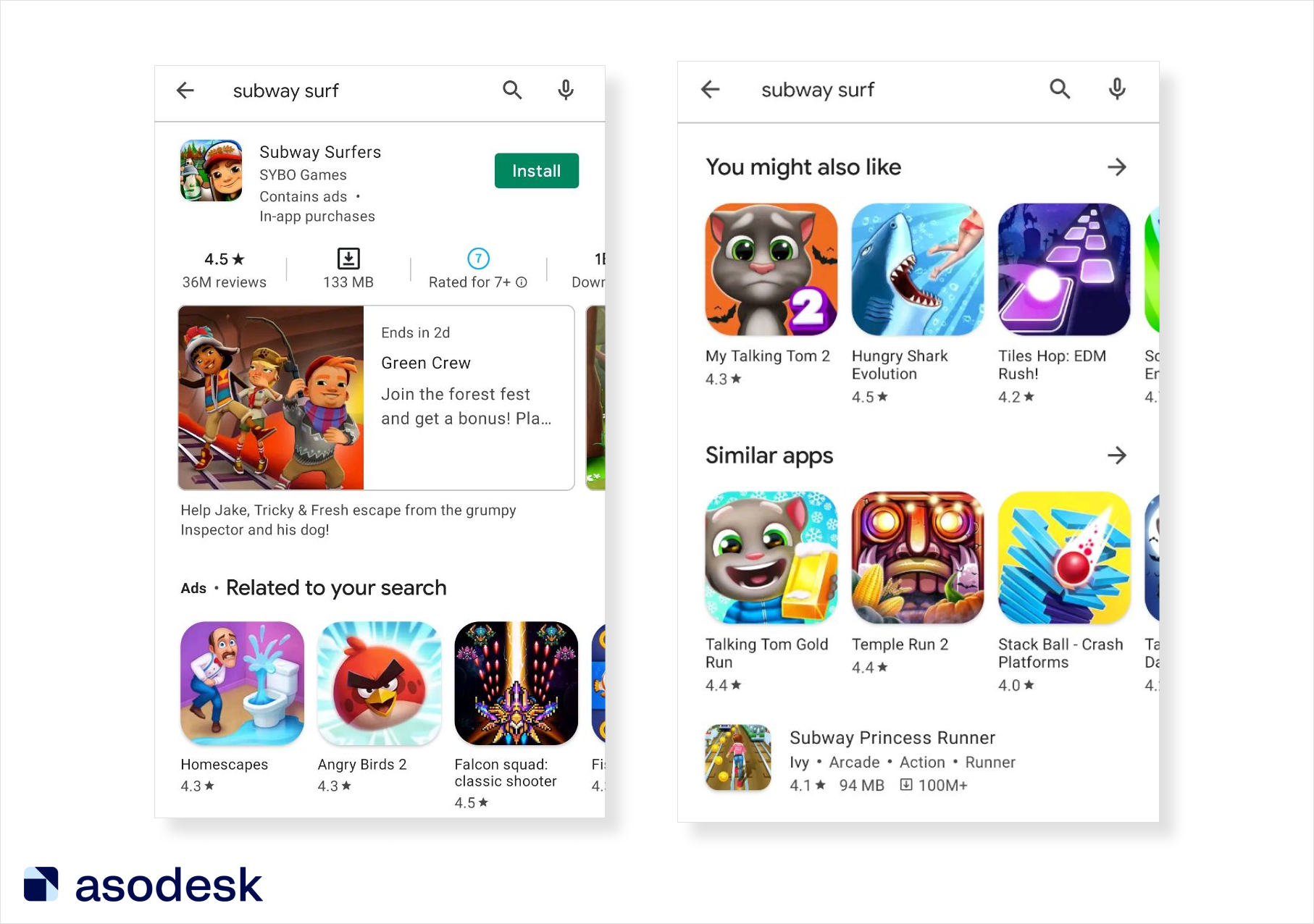 In some categories of Google Play apps, Explore can generate a lot of traffic, so it's important to work on getting into editorials.
Let's sum up. You shouldn't add competitors' branded keywords to the Google Play app page, but you can use Google Ads and drive Explore traffic to get installs for the keywords you want.
Make your Google Play short description sell your product
The short description is indexed by algorithms and is only 80 characters long. Unlike the full description, the short description is seen by almost everyone who visits the app page. Therefore, when filling it out, it is important to strike a balance: use only relevant keywords and demonstrate what features your app has.
Have a look at these Google Play short description examples. Publisher Leap Fitness highlights their benefit: fitness at home, with no equipment needed. It also highlights the target audience and its needs: for women — to lose weight and stay in shape, for men — to build muscle.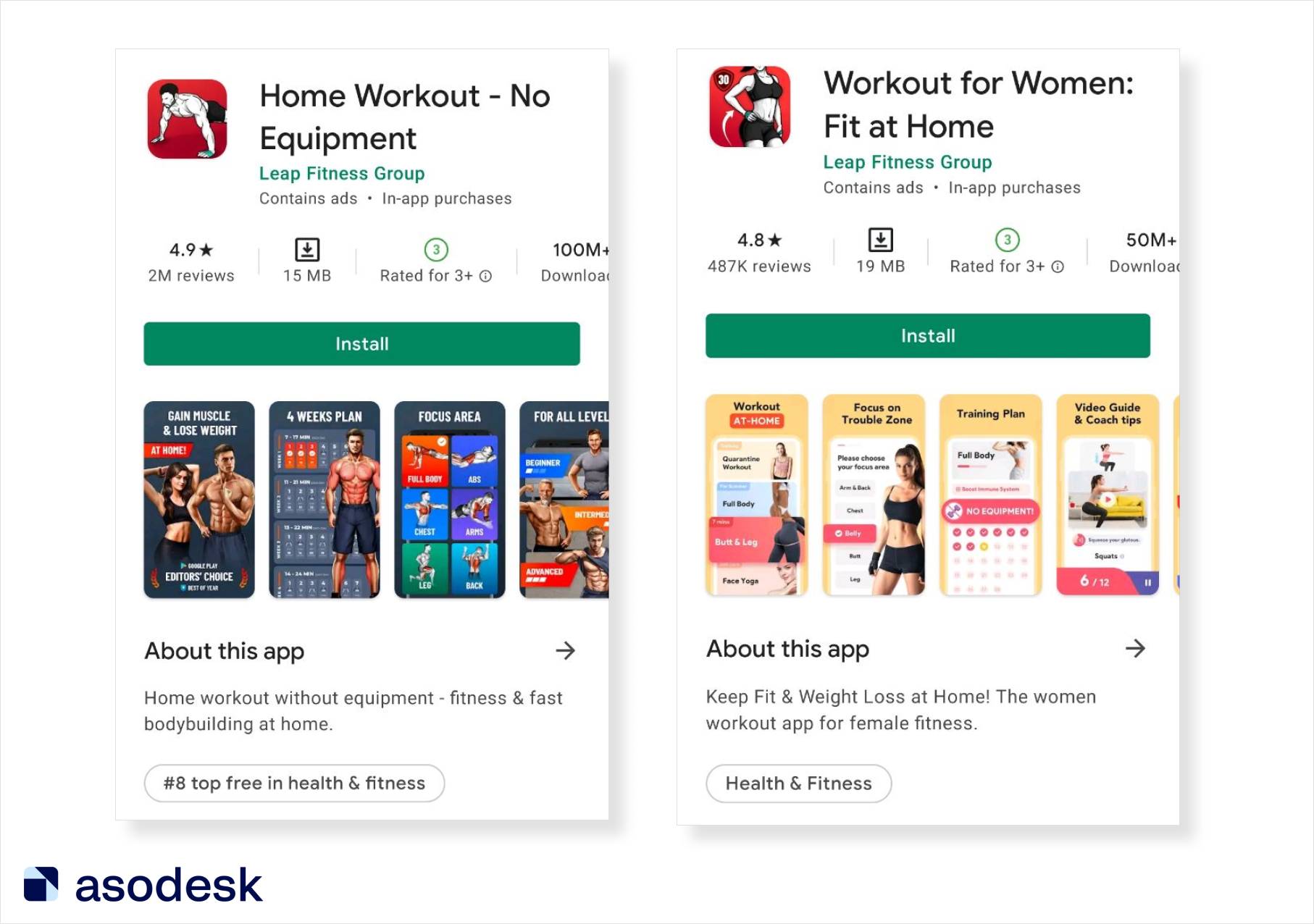 In the Google Play short description, it is important to talk about your app's competitive advantage using keywords.
Add the optimal number of keywords to the Google Play description
ASO expert Ryan Kelly notes that only 3% of users read the full description. However, the full description is ranked by algorithms, so it is important to focus on adding keywords to it as well.
Let's look at a few rules to help you add keywords to your description correctly:
1. Use keywords wisely. Don't chase popular queries if your app is just entering the market. Concentrate on low- and mid-frequency requests.
These queries can be found using Long-tail Keywords in Asodesk. This feature will show target queries consisting of several words for which the app has low competition.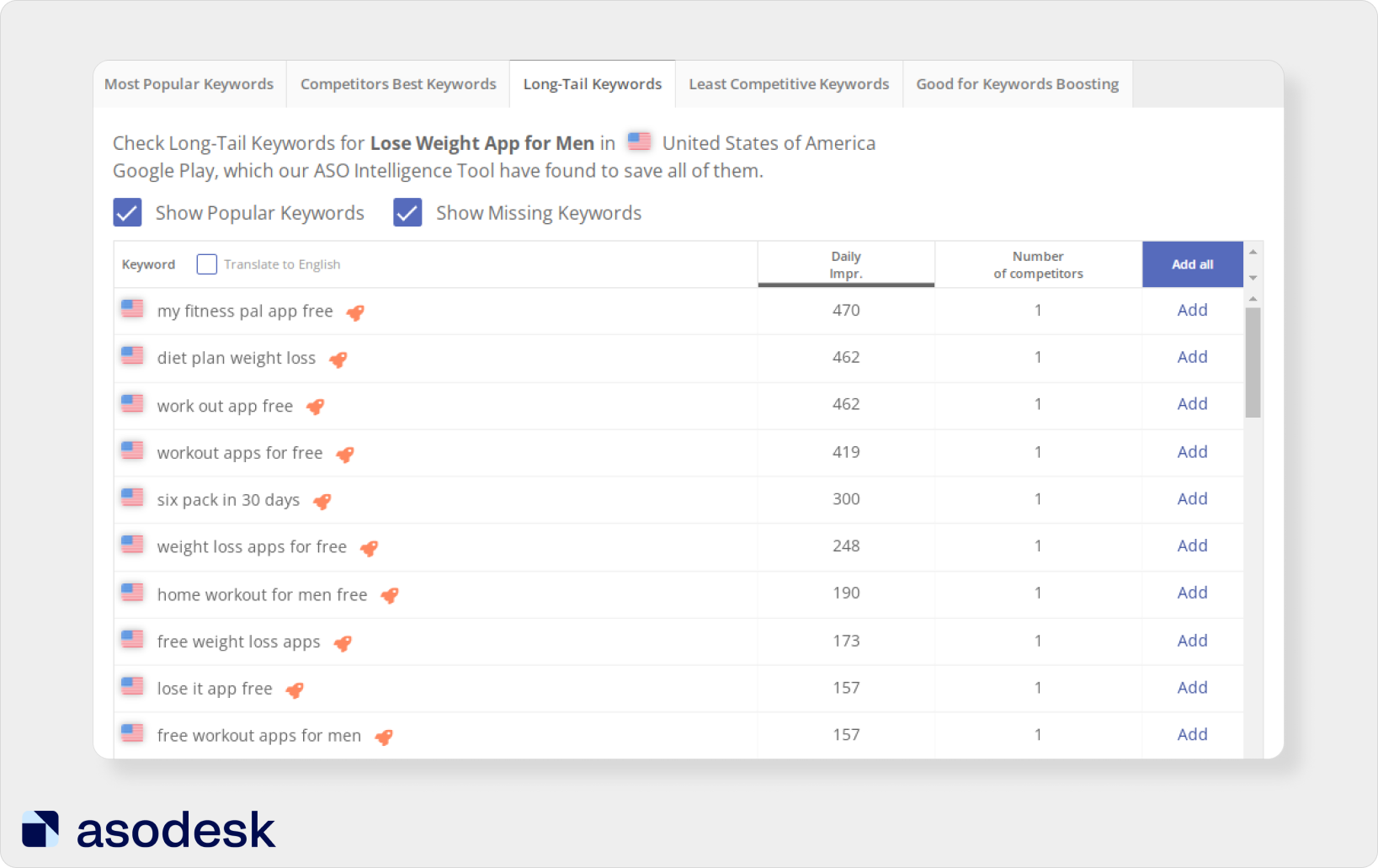 You can also use Least Competitive Keywords, which will automatically find relevant keywords with low competition.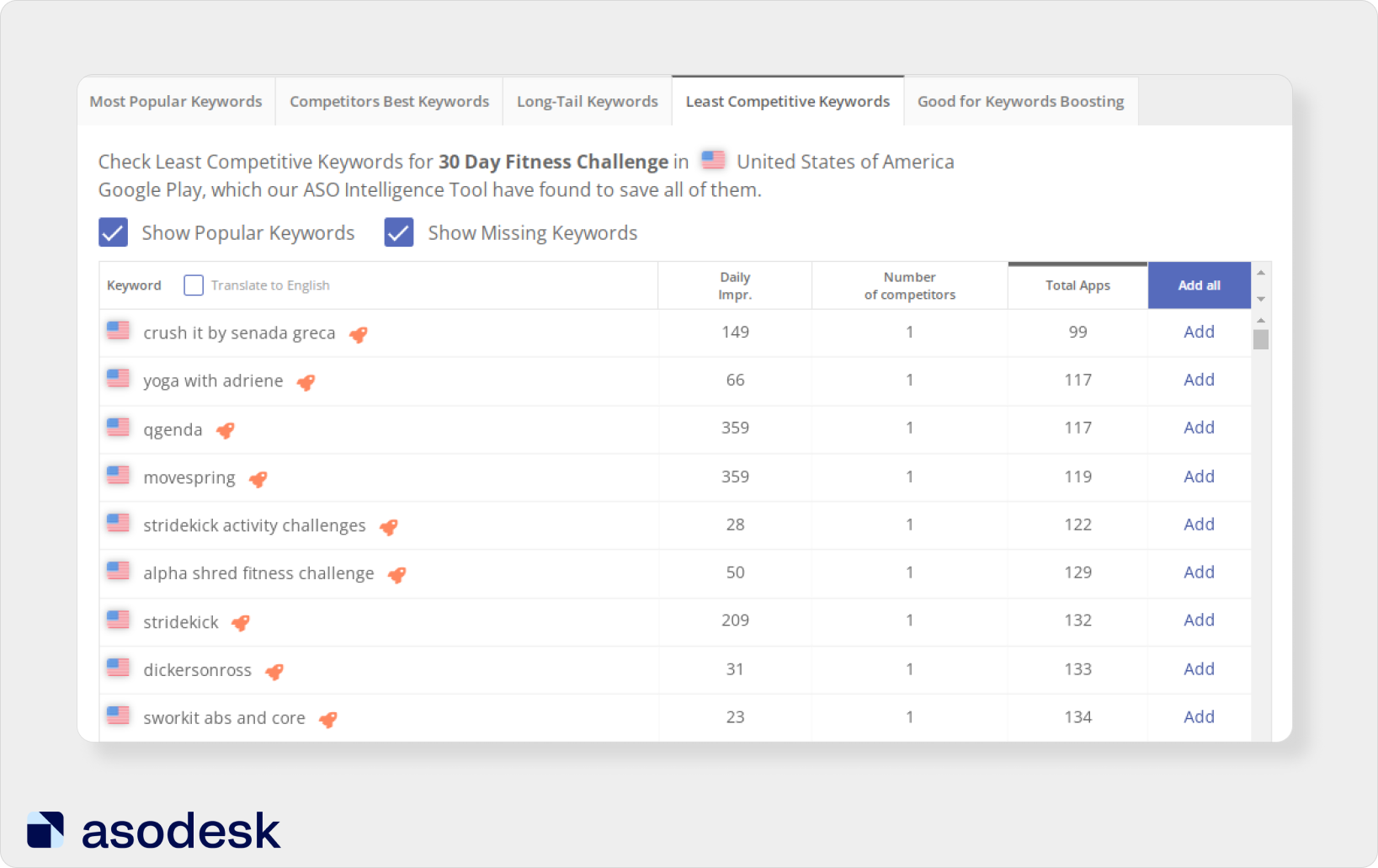 Try these features in the Keyword Auto-Suggestions tool in Asodesk. Sing up and get free access to all of the system's capabilities for 7 days.
2. Repeat keywords in the description several times, but do not overdo it. I add 3–4 repetitions of important keywords in the text when the description is 2000–2500 characters long. If the description is over 3500 characters, you can repeat a keyword up to 5 times.
Try Asodesk's free Keyword Density Counter, which will show the number of keyword repetitions, as well as their density in the text.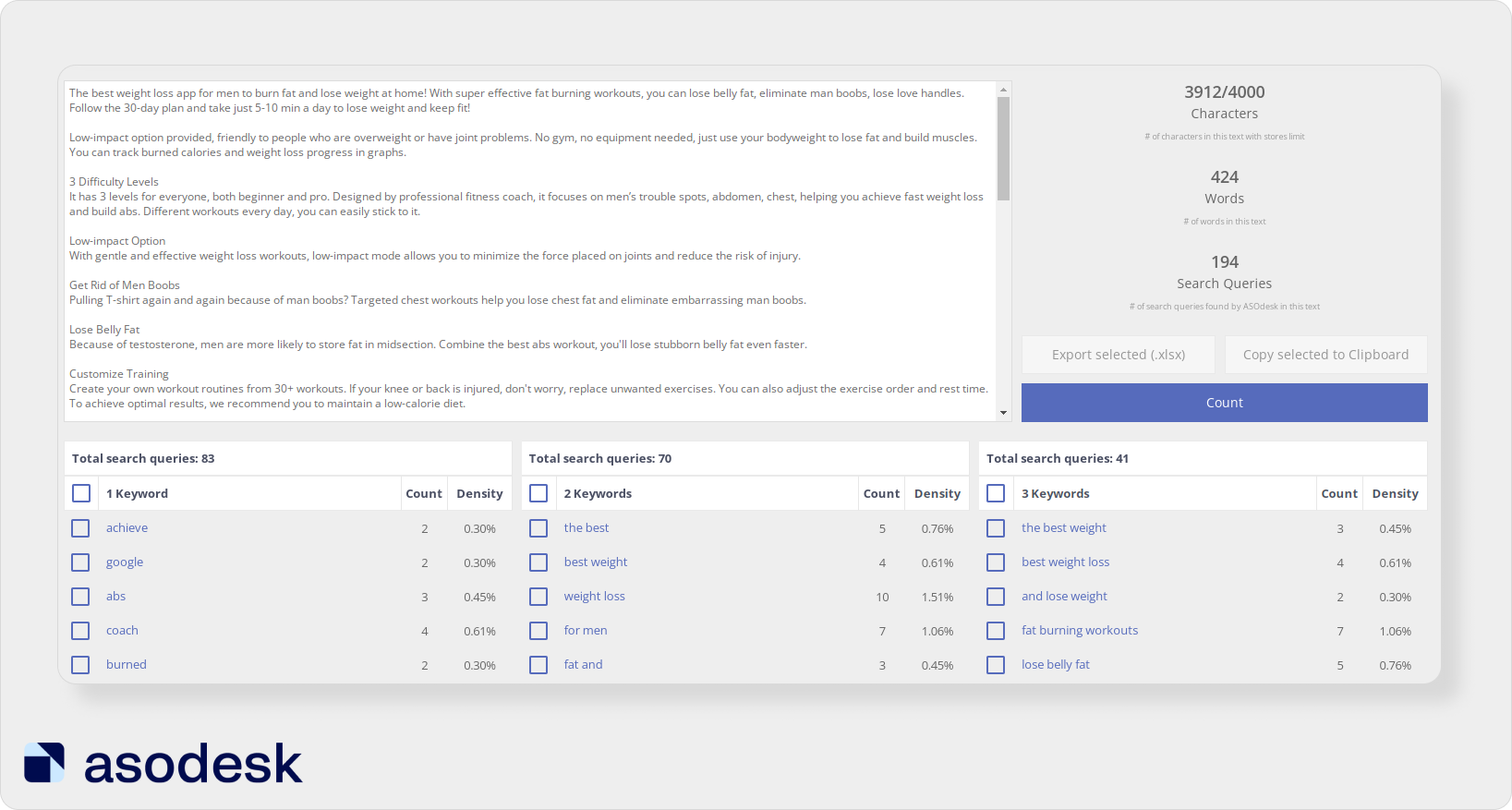 3. Insert the most important keywords in the first and last 180 characters. Google Play developers point out that this can have a positive impact on rankings.
4. Don't chase long descriptions. You can describe all the app's functions in 2500–3000 characters, or make the description 4000. The number of characters will not affect the app's position that much. Most importantly, you should use the necessary keywords in the description and talk about the most important functions of the app.
In the Google Play app description, it is important to choose keywords based not only on their popularity but also on the success of the app. The most important keywords can be added multiple times, especially at the beginning and end of the description.
Structure your app description in Google Play
It is important to make the description clear so that users can quickly and easily read the text. Use bold text and divide the description into paragraphs to highlight the most important information about the app's features. Just look at how much easier it is to read a structured text.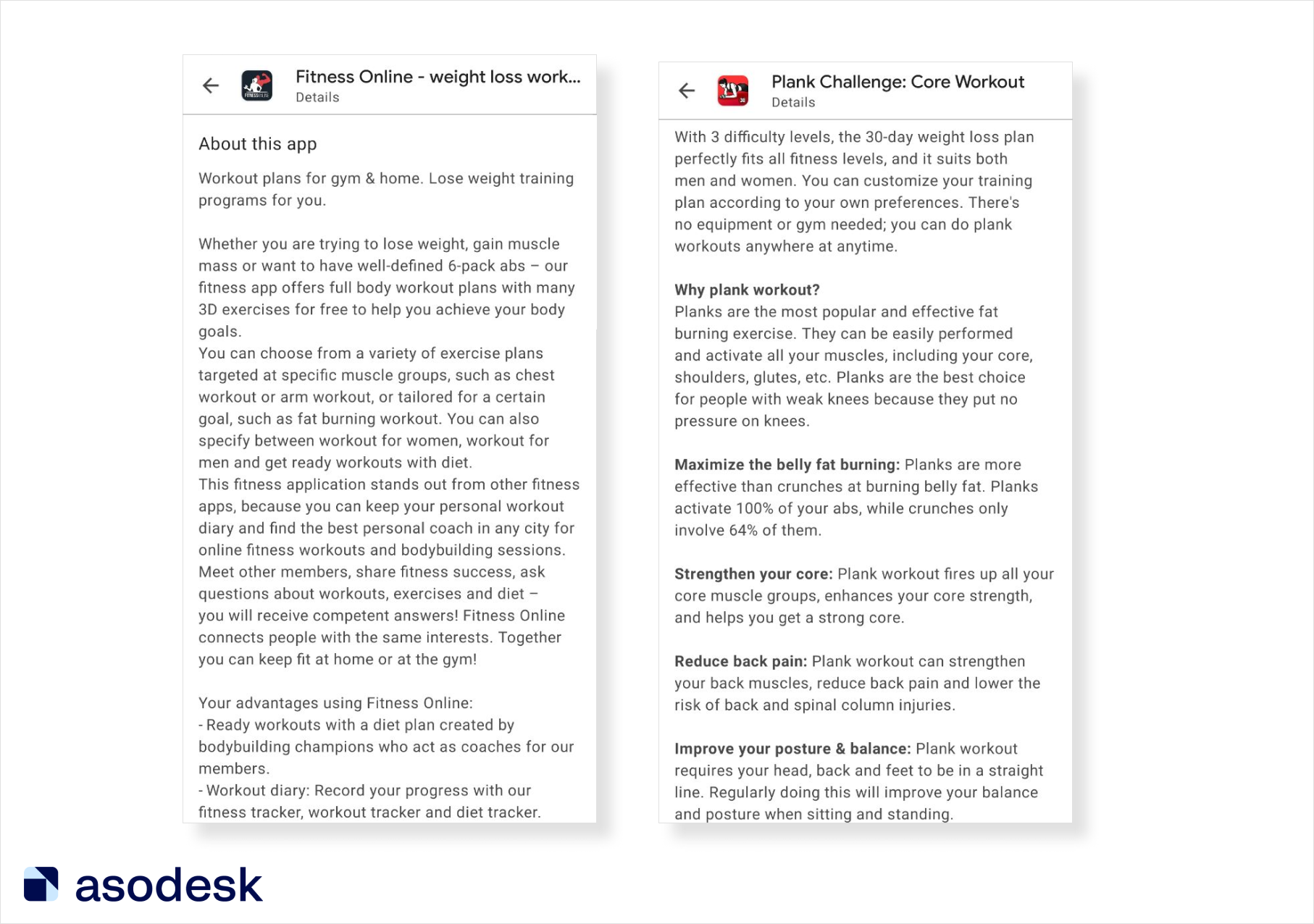 Check the description in Google Cloud Natural Language
Google Cloud Natural Language is a tool that allows you to analyze and extract different types of information from text using machine learning. ASO specialists use this tool to polish a full description. The better Google Cloud Natural Language categorizes your full description, the better your app will rank on Google Play. Find out more about working with Google NL in this Asodesk Academy 11 webinar.
When building a semantic core, pay attention to six sources
The following sources will help you collect keywords for Google Play :
1. Suggestions of ASO tools.. They will significantly speed up the collection of the semantic core and allow you to select those queries that you could not come up with yourself. Read on to learn how to save time building a semantic core with ASO tools.
2. Your own knowledge and logic. You know all of your app's features better than anyone, so you can find the most relevant keywords to promote it.
3. Google search suggestions. Users often use them when searching, so it is important to add suggestions to the semantic core. You can find suggestions in Asodesk's Keyword Analytics.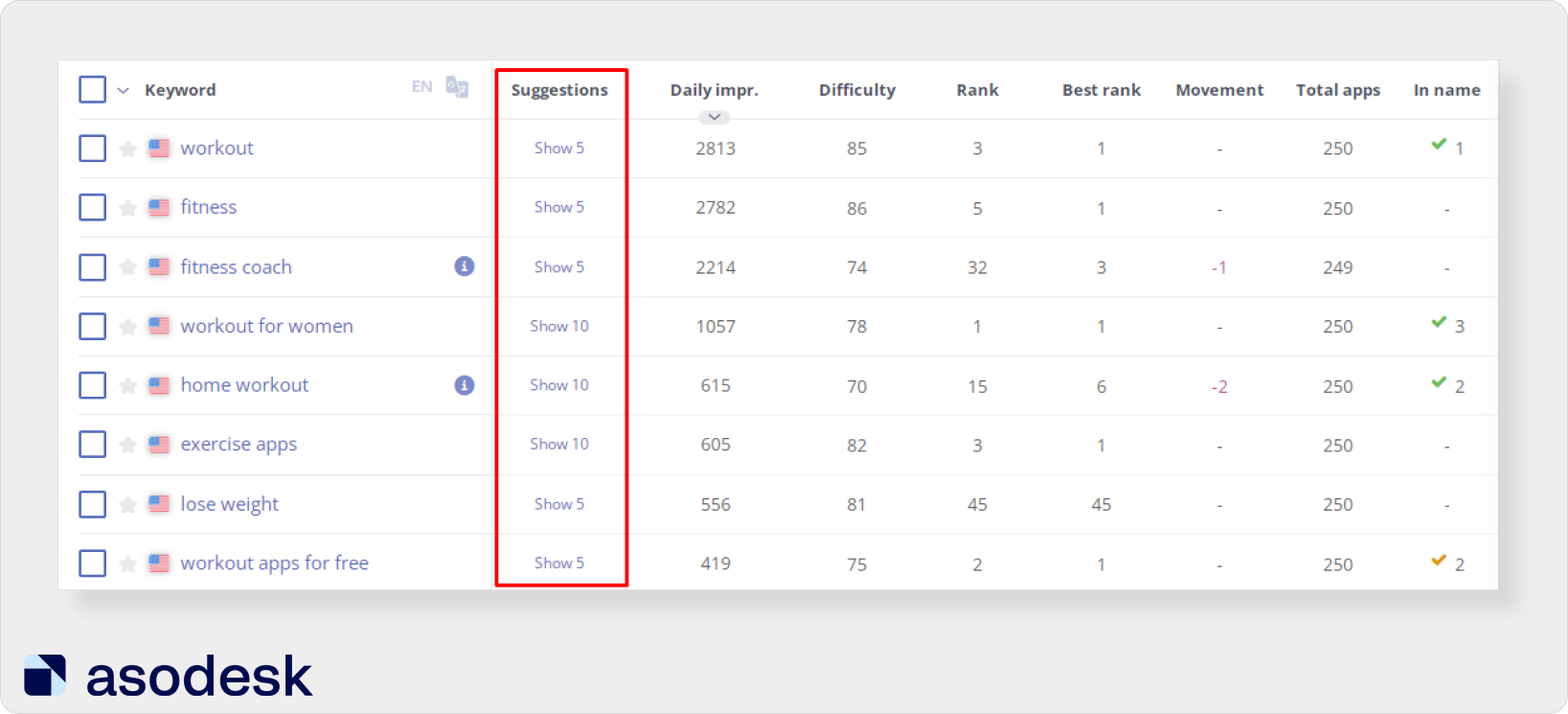 Click on the suggestions button next to the keyword. The tool will show related Google Play queries and search suggestions in a separate tab. You can also estimate their popularity and add queries to the semantic core.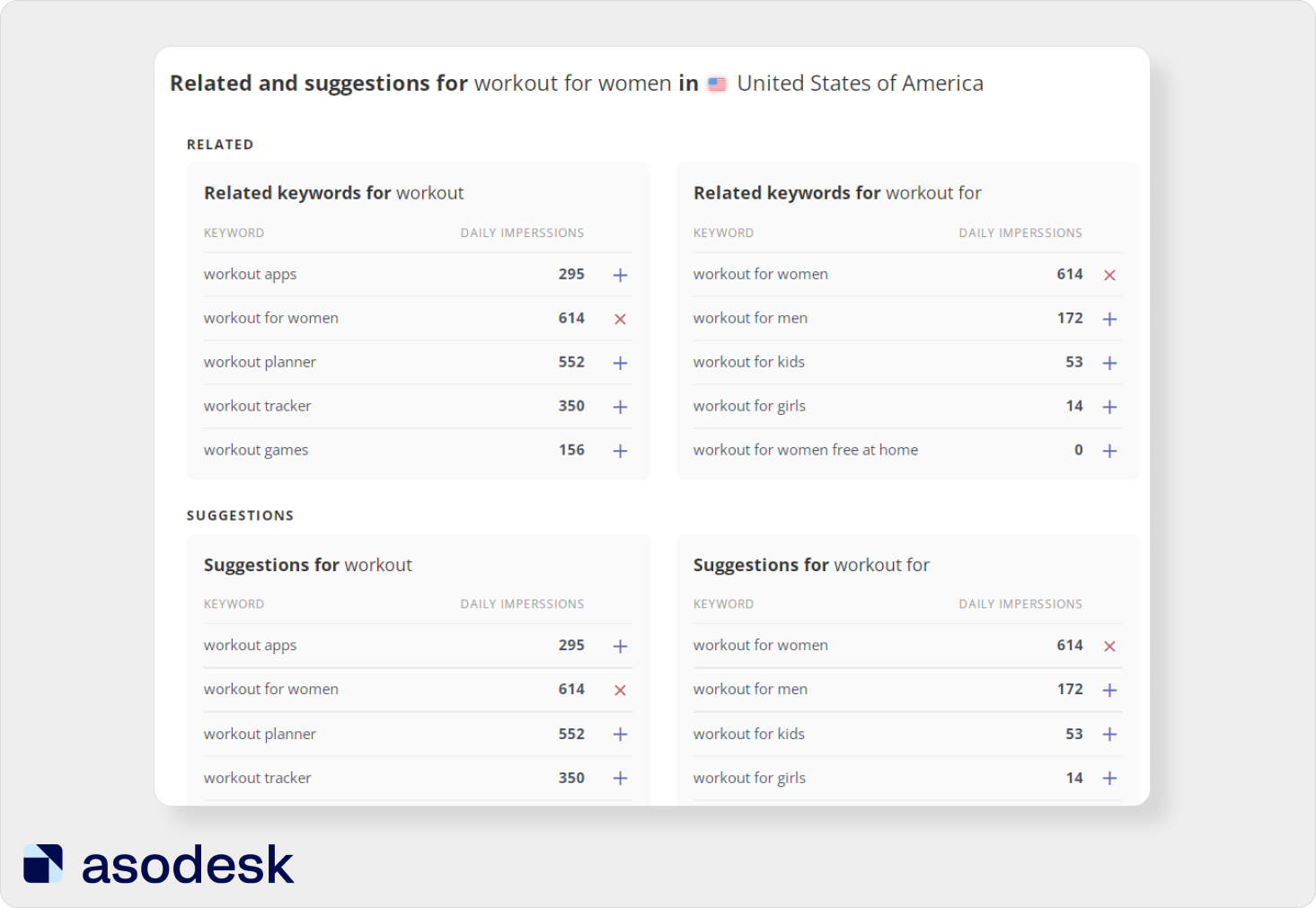 Try this tool for free for your apps.
4. Analysis of competitors' descriptions will help you find interesting keywords, which are not yet in your semantic core, for app promotion in Google Play. Asodesk's Keyword Density Counter will help you choose the most popular keywords from your competitor's description.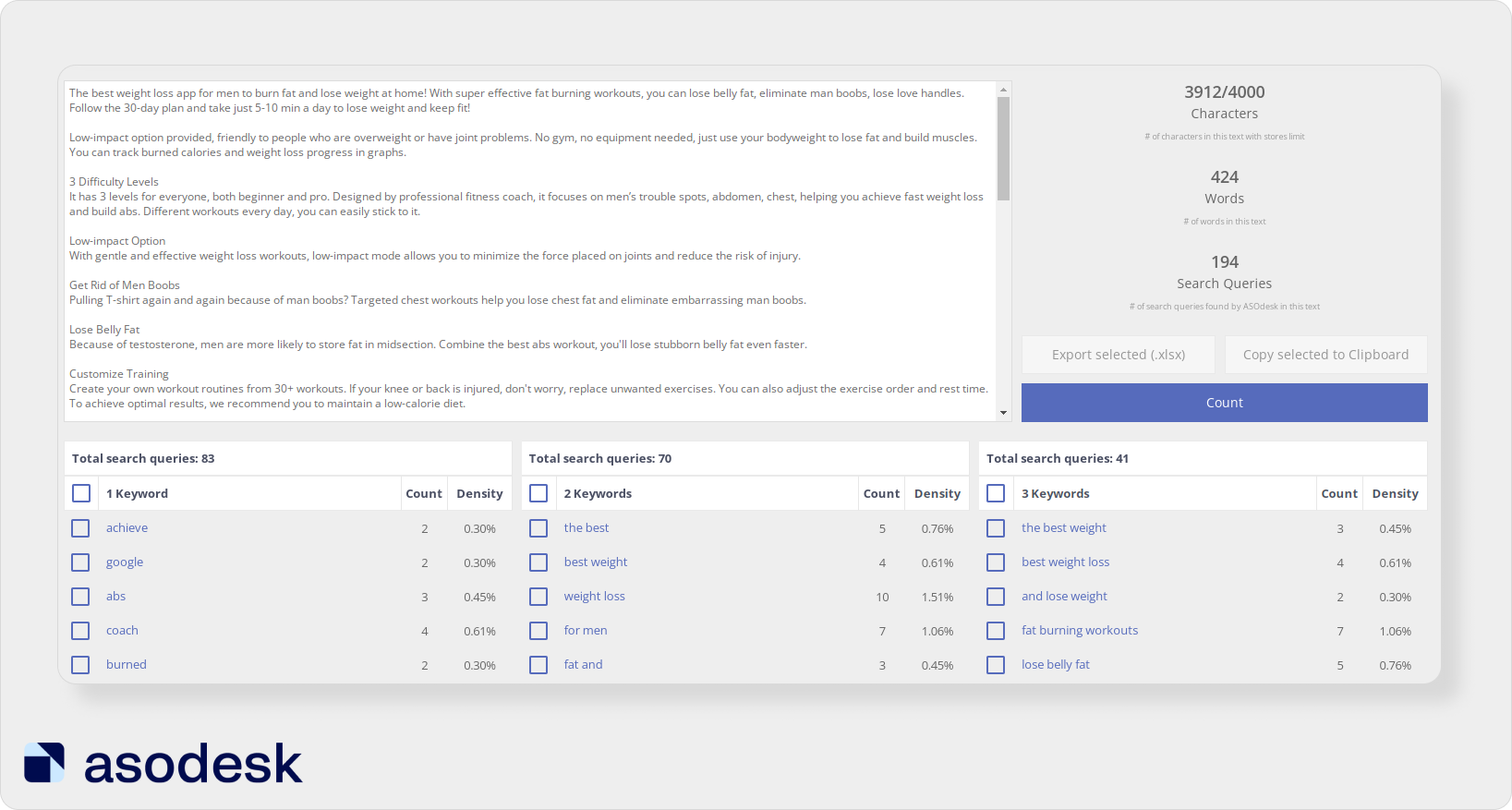 5. Keyword analysis in reviews. Reviews are indexed by Google Play algorithms, so you need to take into account the keywords from them too when building the semantic core. Reviews can also help you better understand the needs and challenges of your target audience.
For easy analysis, you can use Asodesk's Reviews & Replies Board. This tool helps you filter reviews by length, rating, keywords, rating change, and other parameters.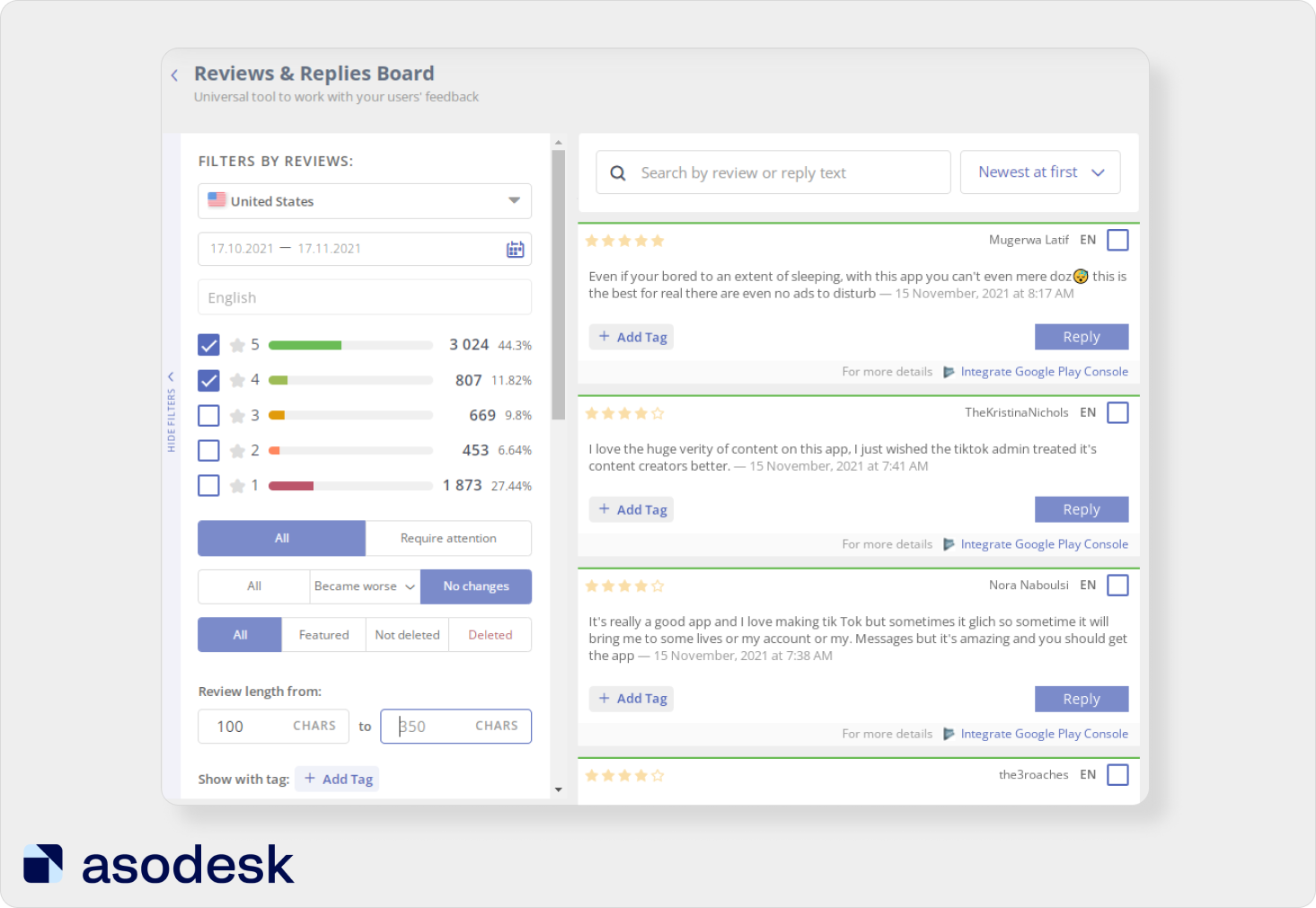 6. Google Ads. Before adding keywords from Google Ads to your semantic core, see how appropriate they are for ASO.
You can add keywords from Google Ads to Keyword Analytics to check popularity (Daily Impressions), difficulty (Difficulty), and competition for them.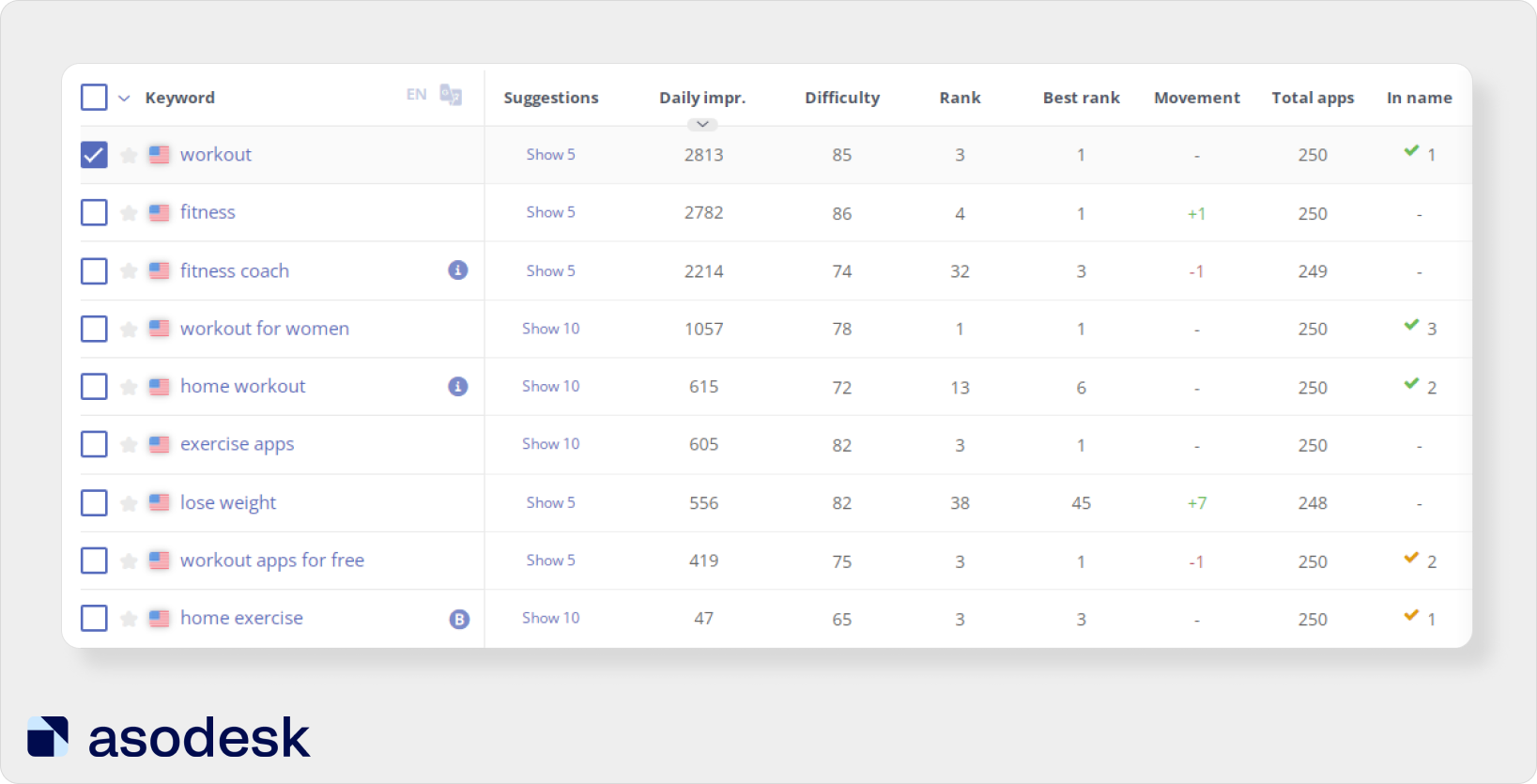 7. Keywords in Google Images. They can suggest good long-tail keywords that you won't find elsewhere. However, before using these keywords, it is important to check their popularity on Google Play.
In addition to suggestions of ASO services, common sense, and competitor analysis, you should also take into account keywords from reviews, search suggestions, and Google Ads queries when choosing keywords in Google Play. Find a step-by-step guide on how to build a semantic core in this Asodesk article.
Visual ASO in Google Play: icon, screenshots, and videos
On Google Play, visual metadata in search is displayed differently from the App Store. This means that when optimizing icons and screenshots, it is important to follow some rules.
Pay special attention to your choice of Google Play Store app icon
In Google Play search results, unlike the App Store, only an icon without screenshots is displayed for general queries.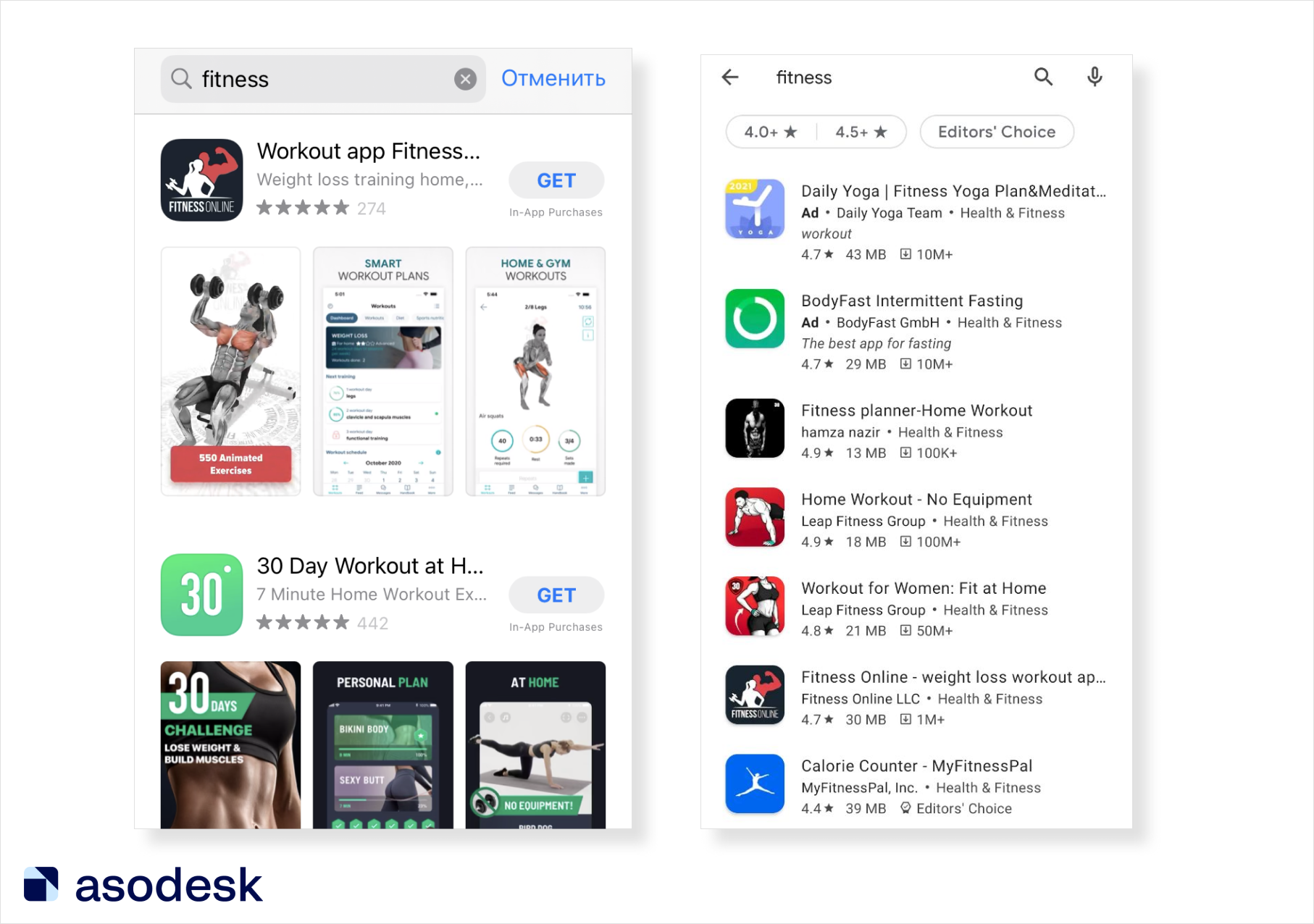 You need to draw the user's attention to your app only with the help of the icon and title. Therefore, choosing an app icon in Google Play is especially important.
Before that, you need to conduct a competitor analysis. With the help of Asodesk's Keyword Charts, you can see the icons of other apps, which are also displayed in search for queries from your semantic core. This way, you will analyze your competitors much faster than checking results for each request manually.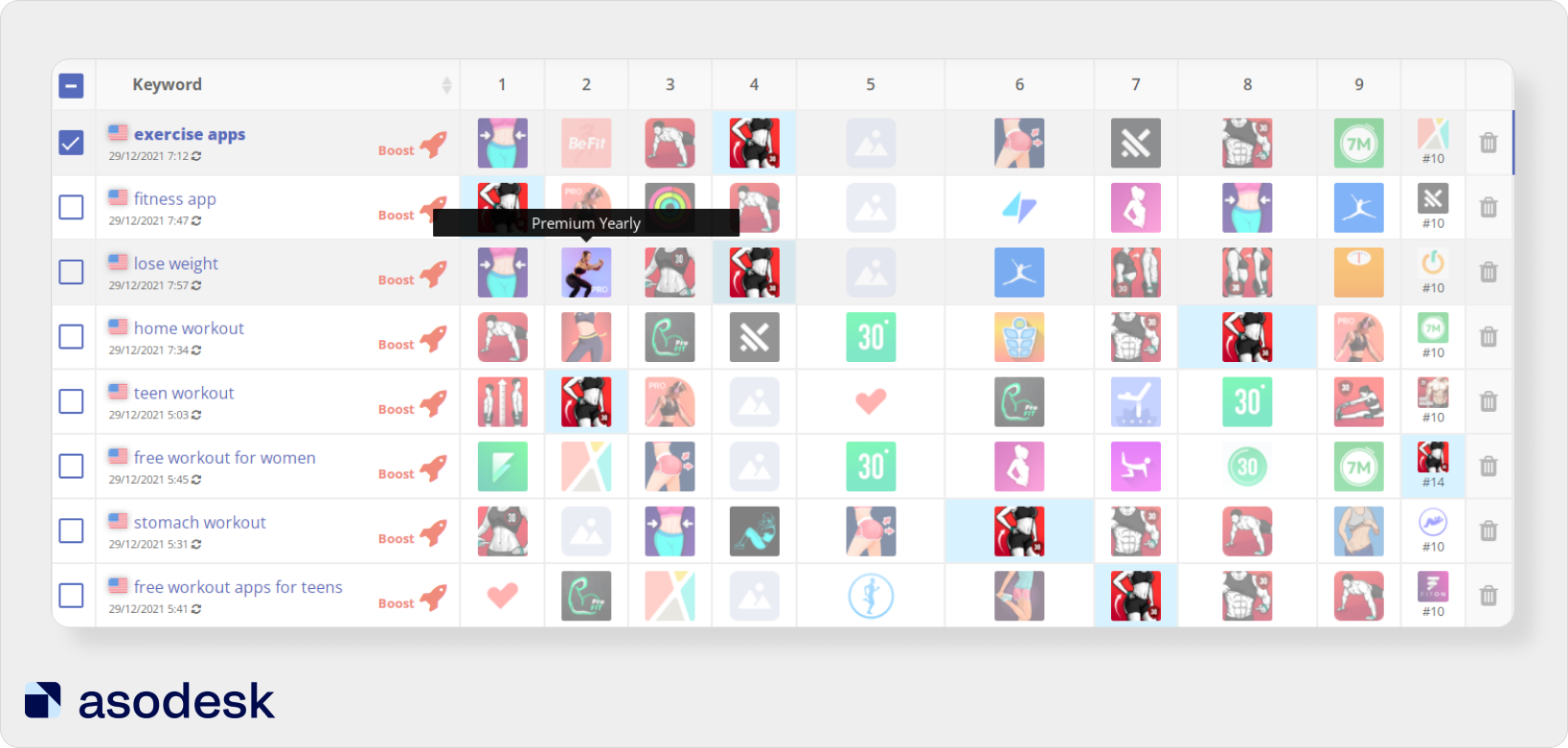 You need to choose an icon that will stand out from the competition, demonstrate the purpose of your app, and be associated with it. Usually, I show the designer the icons of other popular apps and ask to create something that will stand out from them.
It's important to make a few icons, conduct A/B testing, and pick the one with the highest conversion. Read how to conduct A/B tests and choose the best icon for your gaming app in this Black Bears case study.
When selecting Google Play store app screenshots, rely on app features and A/B testing
The following rules will help you choose the best screenshots for your app:
1. Think about what you want to show.
Don't just try to make them pretty. Think about what message you want to convey. Analyze what competitors are offering and try to create screenshots that demonstrate your app's value.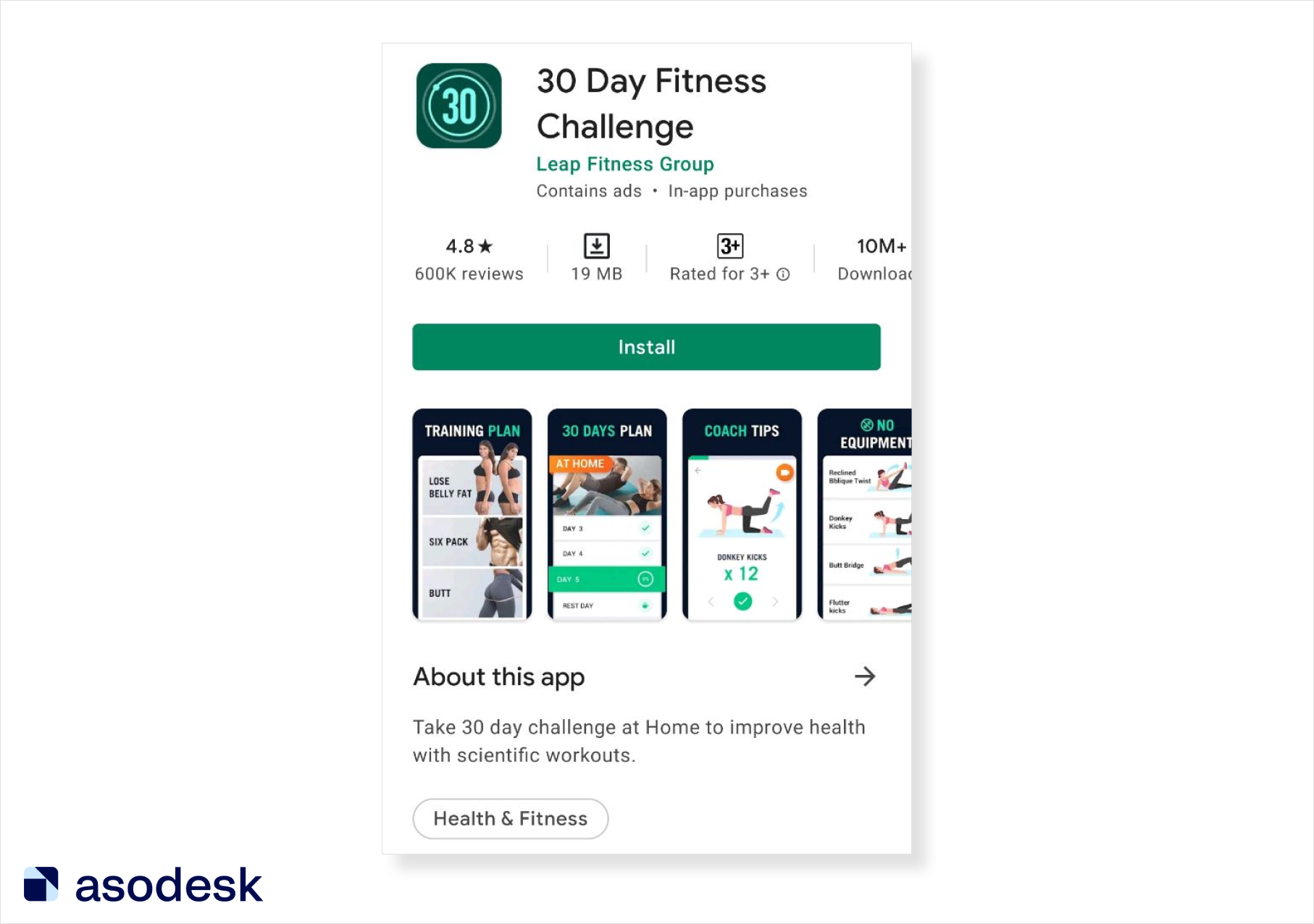 2. Select horizontal or vertical orientation
To choose the right orientation for screenshots, you need to rely on the tasks your app can solve, competitor analysis, and niche features.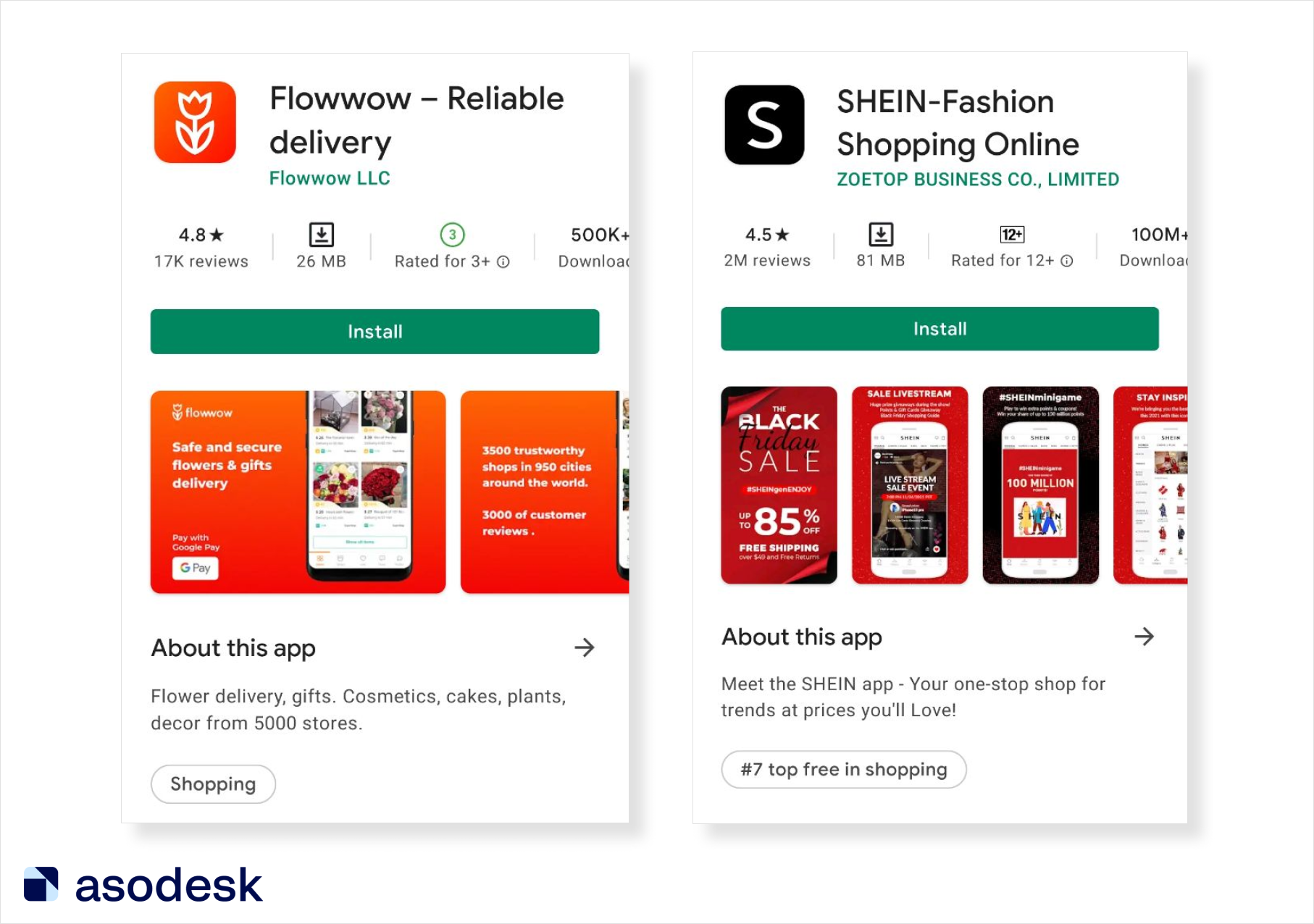 During the Asodesk live room in Clubhouse, ASO experts noted that horizontal screenshots almost always win the tests in their projects. Horizontal screenshots show higher conversion rates even for vertical games.
You can try different orientation options for screenshots in A/B tests and choose the one that suits you. See other hypotheses on app visual optimization in this article.
4. Consider Google Play requirements for screenshots
Currently, in the screenshots and icon, you are not allowed to mention your app's success, awards, price, and advertising. You cannot use the words "Best", "#1", "Popular", "New", "Discount", "Sale", "One million installs". You also cannot add calls to download the app to the screenshots or overload them with small elements. Read on for more Google Play visual metadata requirements. Learn how to prepare Google Play Store screenshots and videos in this Asodesk article.
5. Choose between screenshots and videos
According to research conducted by Asodesk, only 28% of publishers on Google Play use video. Lina Danilchik (Marketing Manager at SplitMentics) recommends conducting A/B tests before adding videos. Experiments on the SplitMetrics platform have shown that video can reduce your conversion rate.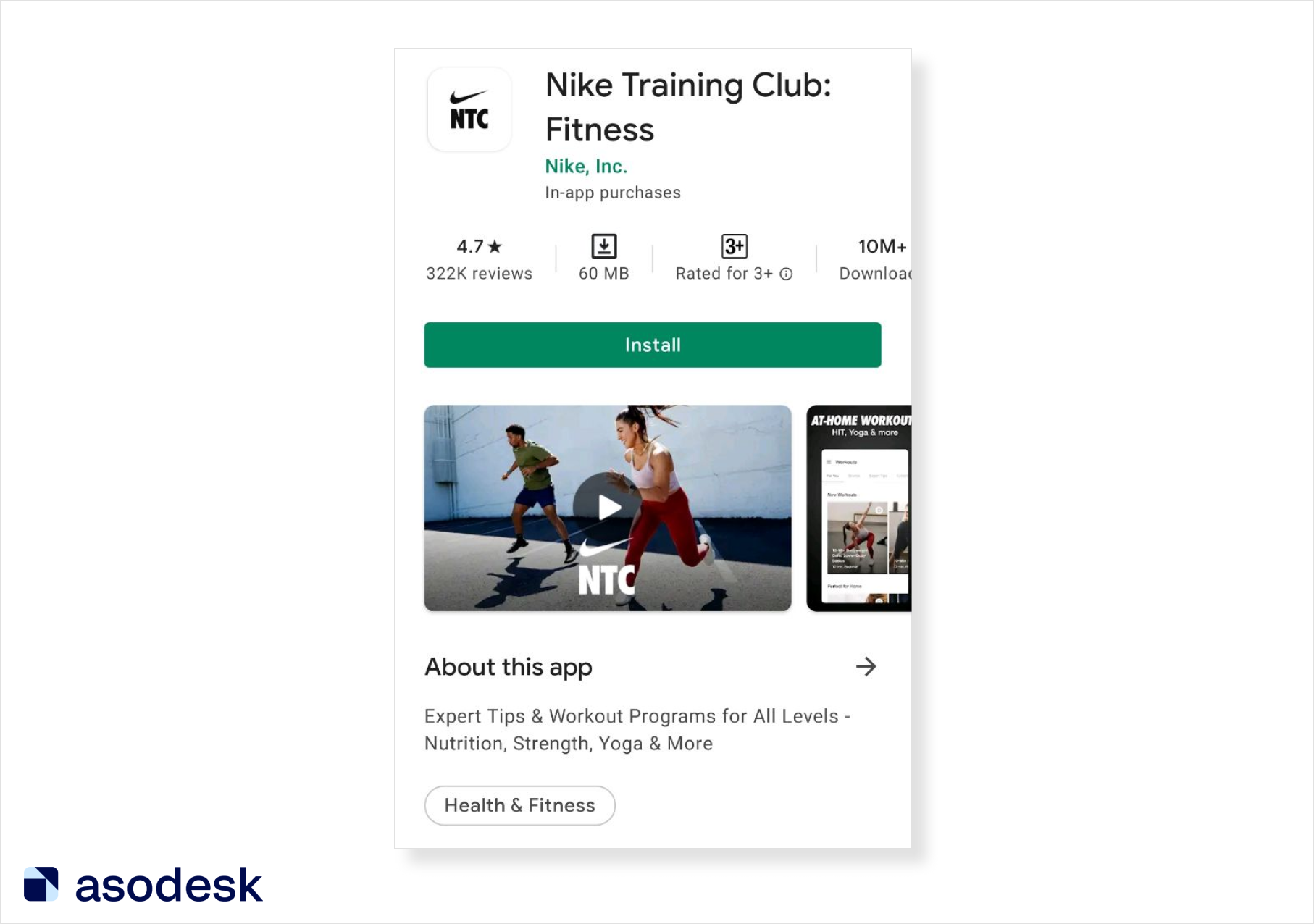 When creating Google Play Store app screenshots and videos, it is important to take into account the Google Play metadata requirements, the essence of the app, and the results of A/B testing.
Working with app reviews on Google Play
When working with reviews on Google Play, you should consider their indexing, as well as the mobility of the Google Play algorithm for working with featured reviews.
Use keywords in your responses to reviews
On Google Play, reviews are indexed by search algorithms, although they do not have a very strong impact on search rankings relative to other factors. If possible, you should add keywords to responses to reviews. They can help to:
Get higher rankings for keywords you use in metadata.
Rank for words that you could not use in the metadata.
Secure positions for branded keywords.
Read how to work with reviews correctly and what mistakes you should avoid.
Check featured reviews regularly
On Google Play, the algorithm for working with featured items is very dynamic; reviews get into this section quickly. I check featured reviews once a week. To remove negative featured reviews, you need to ask your friends to mark them as "Not helpful". You can also ask your friends to install the app and write reviews. This increases the chance that Google Play will not delete their "Not helpful" marks.
"Helpful" responses will help move positive reviews up in the list. When working with featured reviews, take into account the total number of reviews per day. For example, for new and unpopular apps that may not receive a single review per day, it is enough to dislike 1–2 reviews. If you get more than 5 reviews, you can dislike 5 times. These are approximate numbers, you need to test out your own estimations.
You should react in time and not miss negative featured reviews, otherwise, they might lower your install conversion. With Asodesk's Featured Reviews, you can analyze featured reviews from 100 countries in a single table.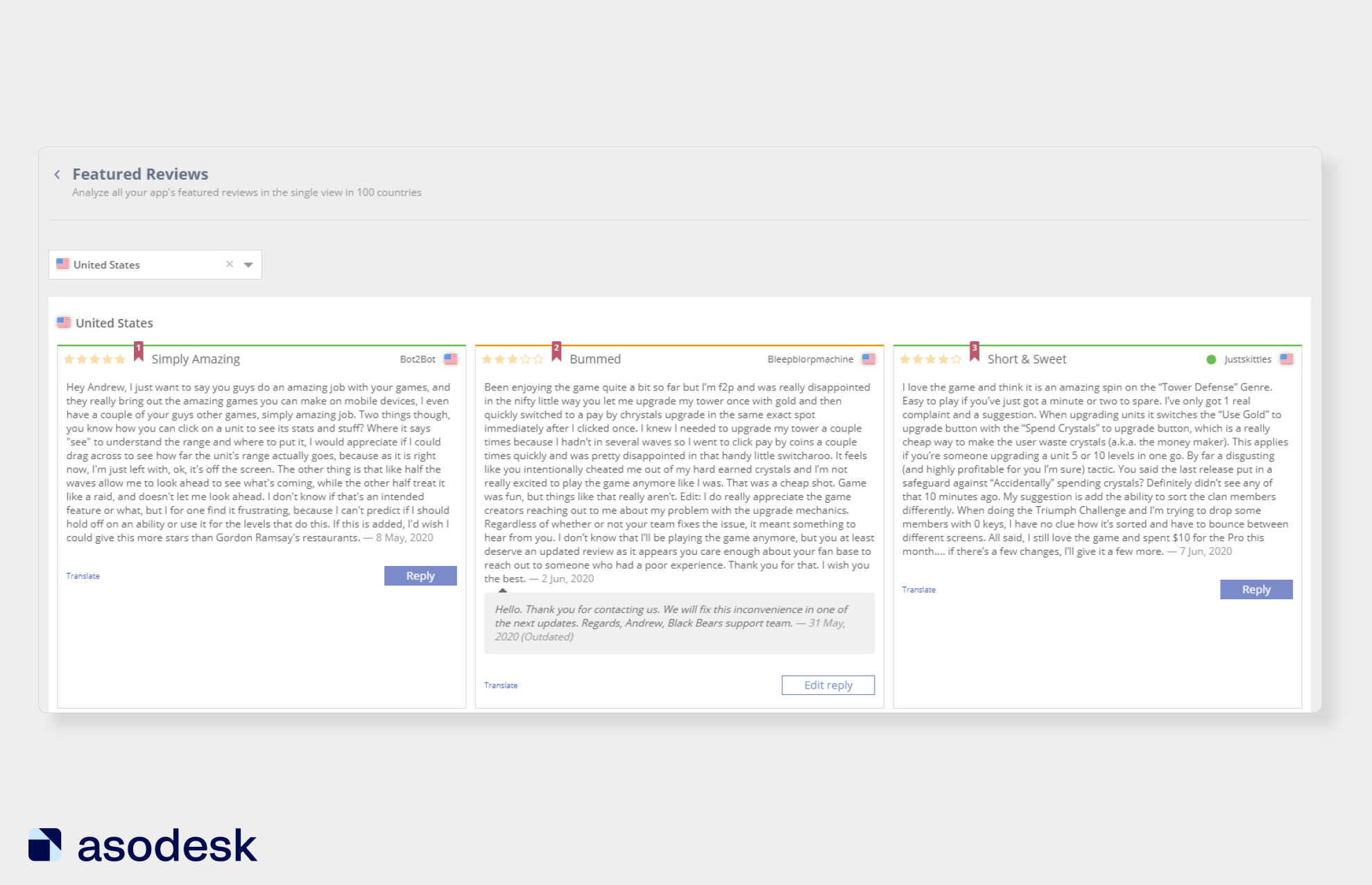 Start using Featured Reviews for your apps at Asodesk.
Events on Google Play
To notify users of app updates and news, you need to use the LiveOps tool and the What's New section. Here, we'll show you how to use these features.
Use LiveOps
This tool allows you to share app events and promotions with users. Here are just a few ways to use LiveOps:
Introduce new in-game items.
Share news about the app's birthday.
Mention app promotions.
Give a promo code for a discount in the app. For example, the publishers of the AliExpress app share a promo code for a discount on orders over a certain amount.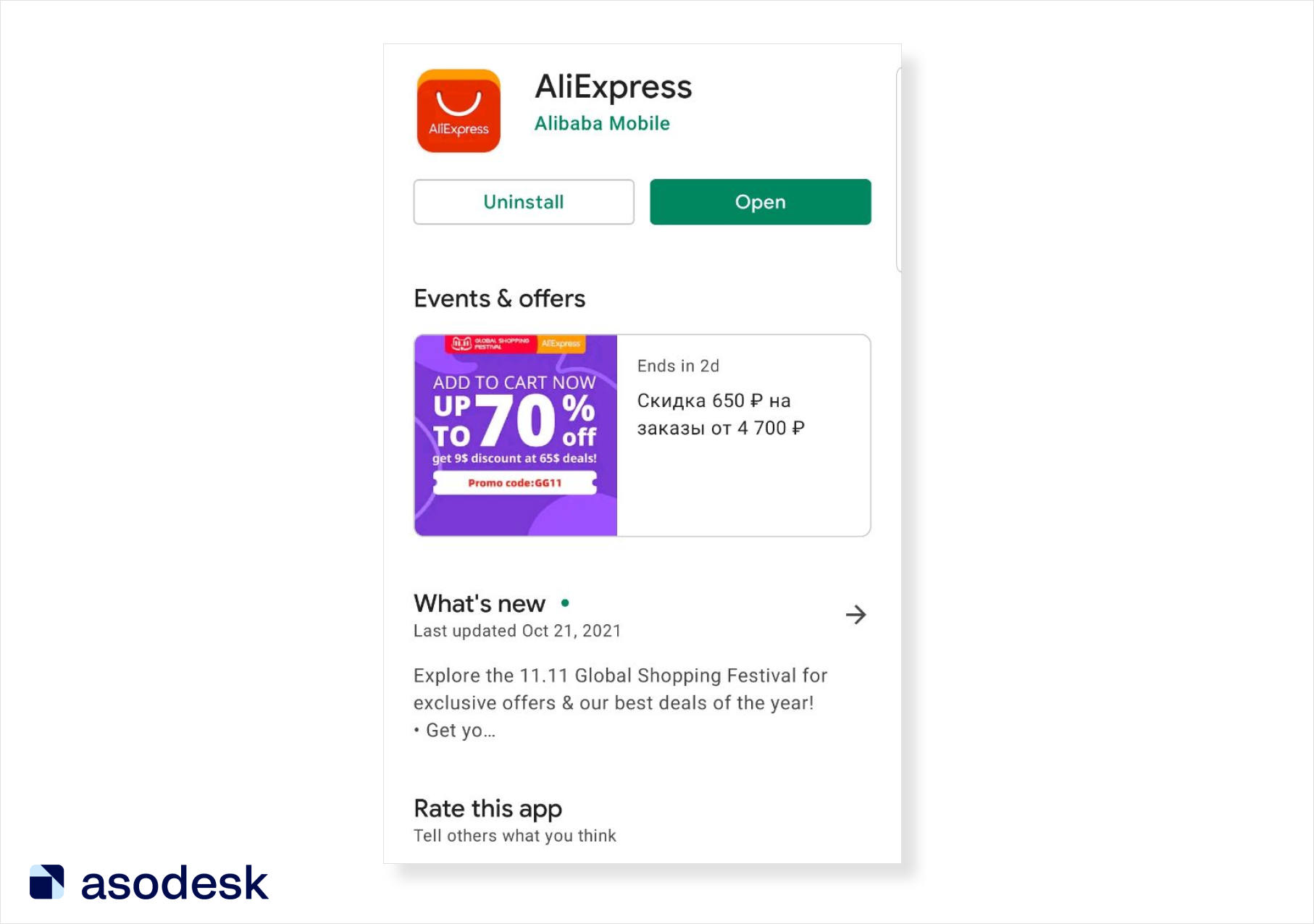 The Events & Offers section will appear in search results for branded queries above the screenshots. This increases the chances that the user will not miss the event and participate in it.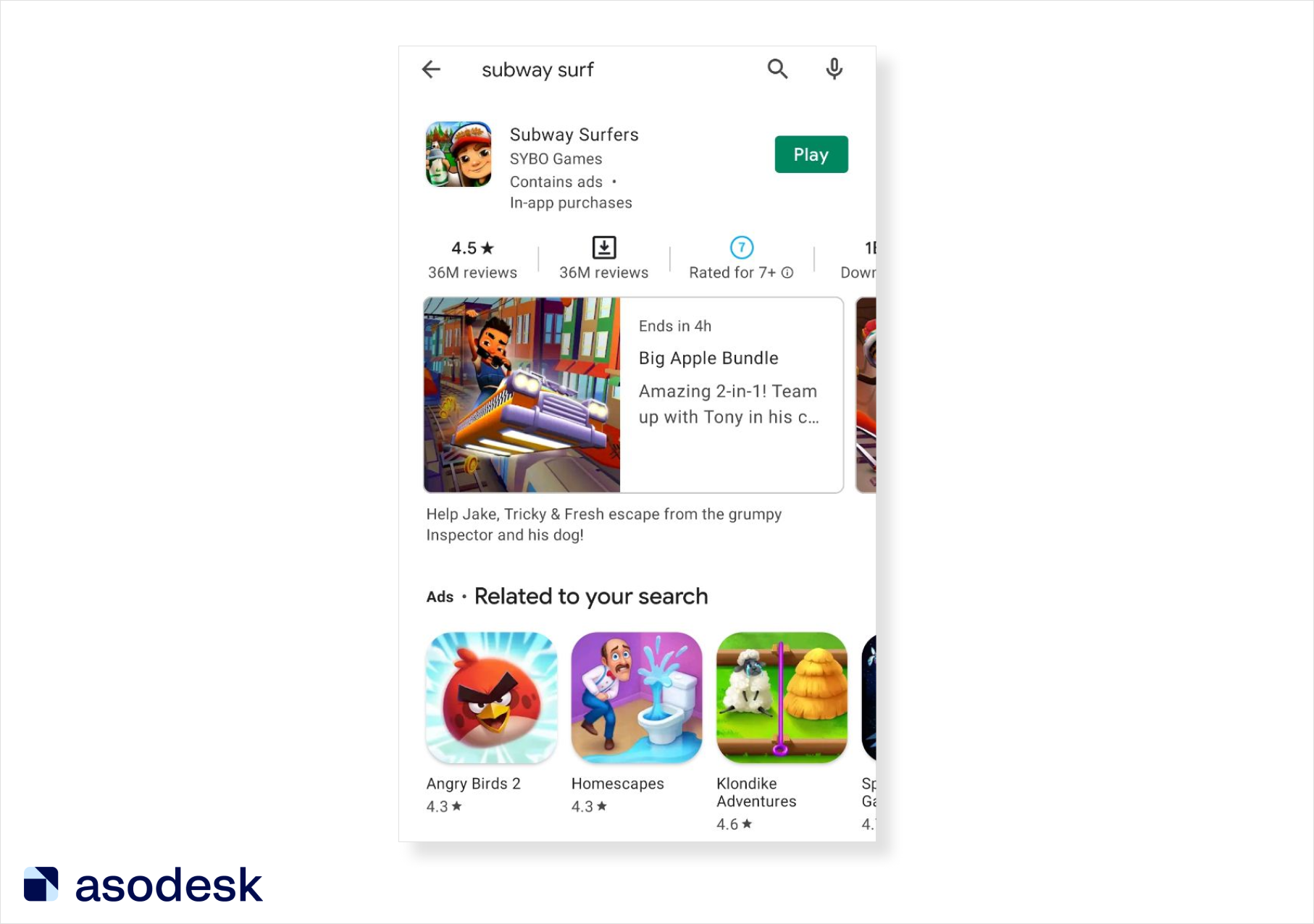 Read Google's LiveOps requirements. Watch Google's presentation on how to use LiveOps for games.
Share news with users in What's New
What's New will be visible only to those who have already installed your app. In this section, you can share news, promos, and awards. For example, on the Subway Surf app page, they share in-game events, while AliExpress talks about their registration bonus.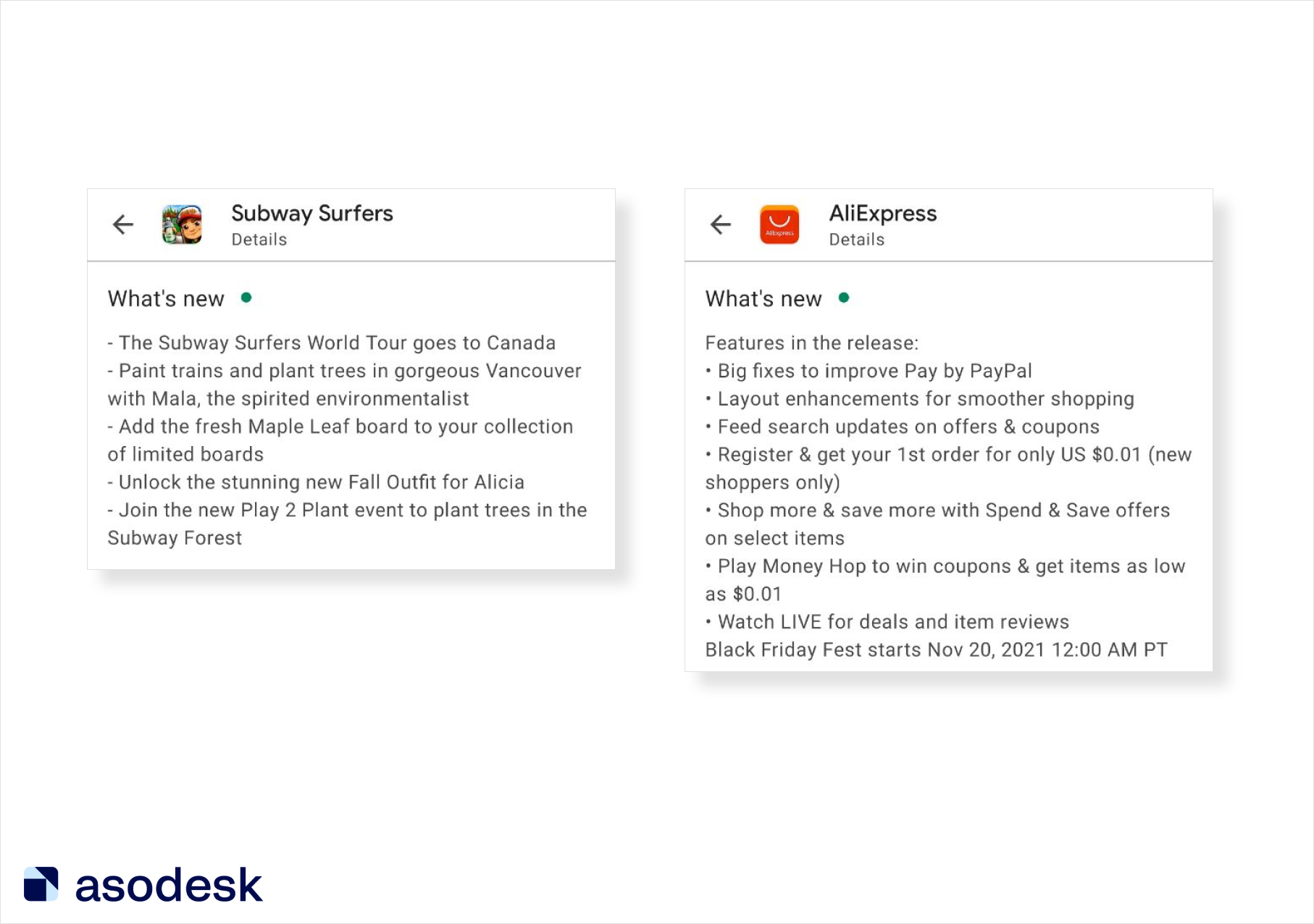 Sergey Sharov noted that calling for users to leave reviews in this section will help increase review numbers. But this section must contain other news too; otherwise, you may get banned.
What to remember about Google Play store optimization
Do not add branded keywords from other companies to your Google Play app page, or you might get banned.
Focus on the icon, as the user's decision to navigate to the app will mostly be based on the app's icon.
When writing a full description, add more keywords to the beginning and end of the text.
Use Google Natural Language to categorize your app more effectively.
Add keywords to your responses to reviews so you can improve your search rankings.
When building the semantic core, consider Google search suggestions and Google Ads queries.
The algorithm for featuring reviews on Google Play is very dynamic, so check the featured reviews promptly.
Use the LiveOps and What's new sections to promote events in your app.
I hope this checklist will help you conduct effective ASO on Google Play and successfully promote your app. Subscribe to our emails to make sure you don't miss useful new articles from Asodesk experts.