Tips on how to create app screenshots and videos for the App Store and Google Play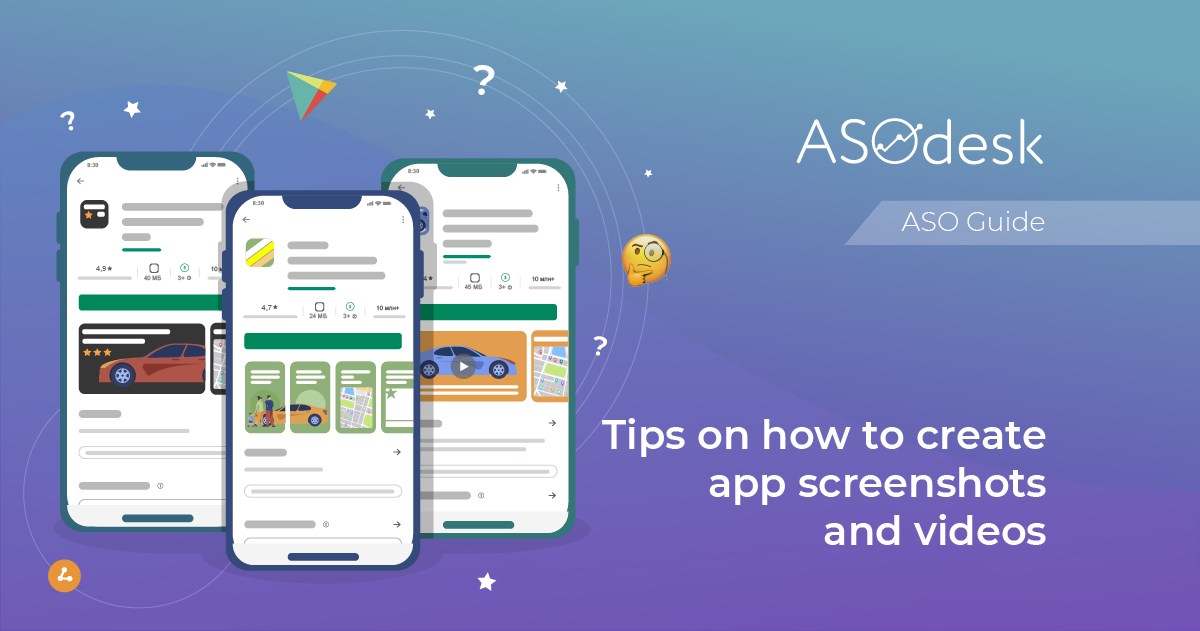 When creating app screenshots and videos, app publishers have a lot of questions. In this article, we will show you how to decide on screenshot orientation, quantity, background, color, and size. We'll also discuss when it is worth using a video for app preview and what it should look like.
According to SplitMetrics, only 2% of users read the full app description. Optimizing screenshots gives a 21-24% conversion uplift; app video previews: 17%. Therefore, it is very important to choose screenshots and videos that will help increase the number of installs. We are going to answer the questions that most developers have when starting ASO.
This article is based on the Performante guide, where Maria Chernoplyokova shares her tips on optimizing screenshots and previews. We have updated and supplemented this guide in accordance with the latest trends and expert opinion. Read on to find out how to make your visual optimization more effective.
The App Store and Google Play screenshot guide
Screenshots: horizontal or vertical?
A 2021 ASOdesk study found that about 96% of the top apps use portrait (vertical) screenshots. But, when we look at games, the statistics vary somewhat — around 80% have vertical galleries.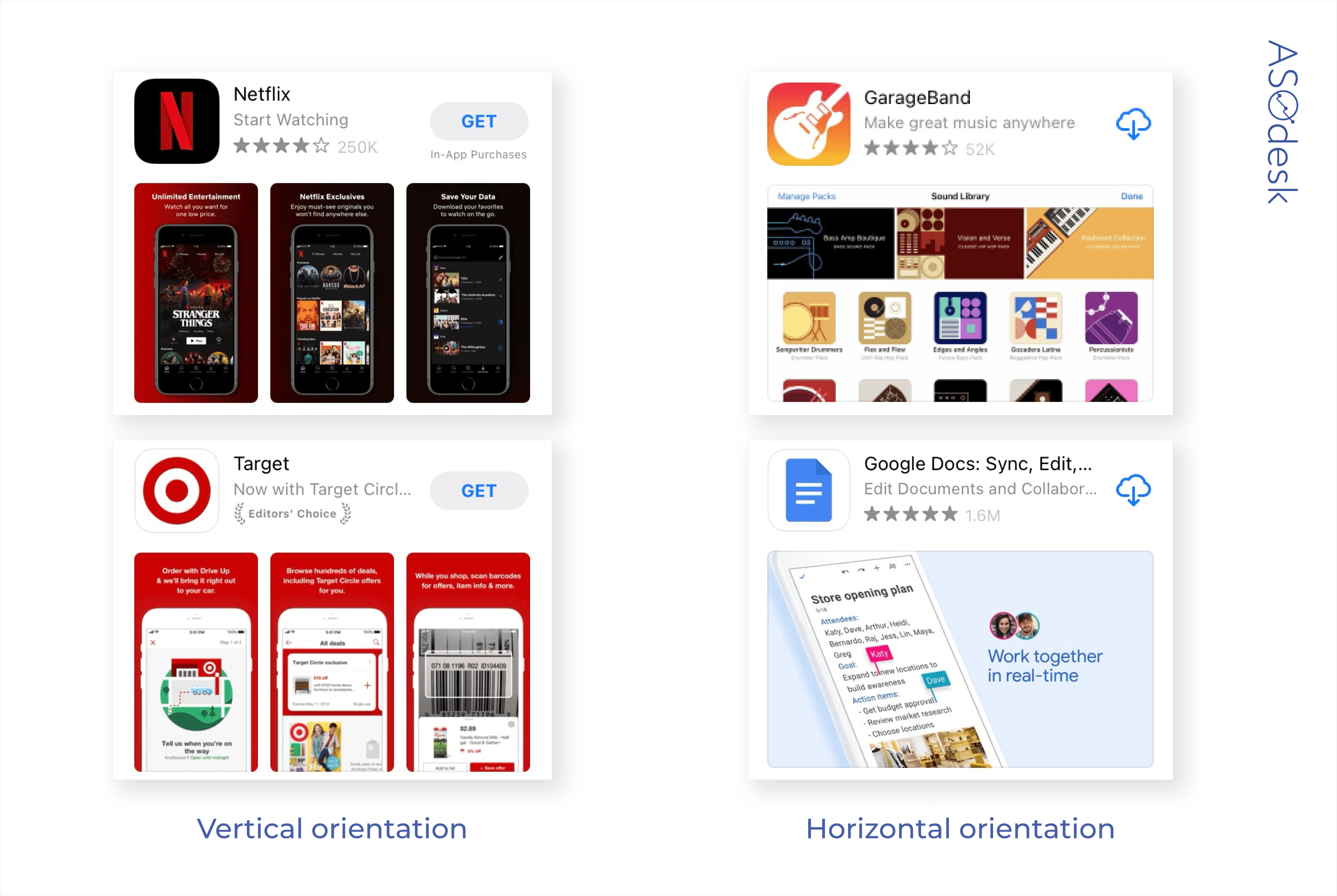 One of the primary goals of screenshots is to demonstrate the superior features of your app compared to competitor apps. Portrait orientation will assist you in offering more information to your target audience. Users can see three portrait screenshots at the same time. If you opt for a landscape orientation, there will be only one screenshot per frame.
Experts also note a higher conversion rate for horizontal screenshots. During the ASOdesk live stream in Clubhouse, Artem Tkachuk and Ekaterina Sibirko stated that horizontal screenshots almost always win in tests. Sometimes horizontal screenshots turn out to have higher conversion rates — even for vertical games. Ekaterina Sibirko said that If your competitors' apps above and below you in the search results have horizontal screenshots, and yours has vertical screenshots, you will be less noticeable in search results and users will be less likely to click on your app.
Google recommends adding three horizontal screenshots. This is necessary for the "Suggested" section where the apps are displayed using one horizontal screenshot. If your gaming app is vertical, you can add horizontal screenshots after the vertical.
Before making a decision, conduct A/B testing of the application page with vertical and horizontal screenshots. Compare conversion rates, and then make a choice.
Screenshots: how many?
With Google Play you are allowed a maximum of 8 screenshots. In the App Store, 10 is the limit. According to ASOdesk, publishers generally tend to use only 5–7 screenshots. Only 12% of publishers make use of the maximum number of screenshots allowed in the App Store. This number is only slightly higher on Google Play, where 18% of publishers use all available screenshots.
The optimal number of screenshots will depend on the specifics of your application. If your app has a lot of features to show, use as many screenshots as possible. If you have a simple application, you can settle on fewer screenshots. For instance, a simple calculator only needs a few screenshots to demonstrate all the main features of the app.
Google Play and App Store screenshot requirements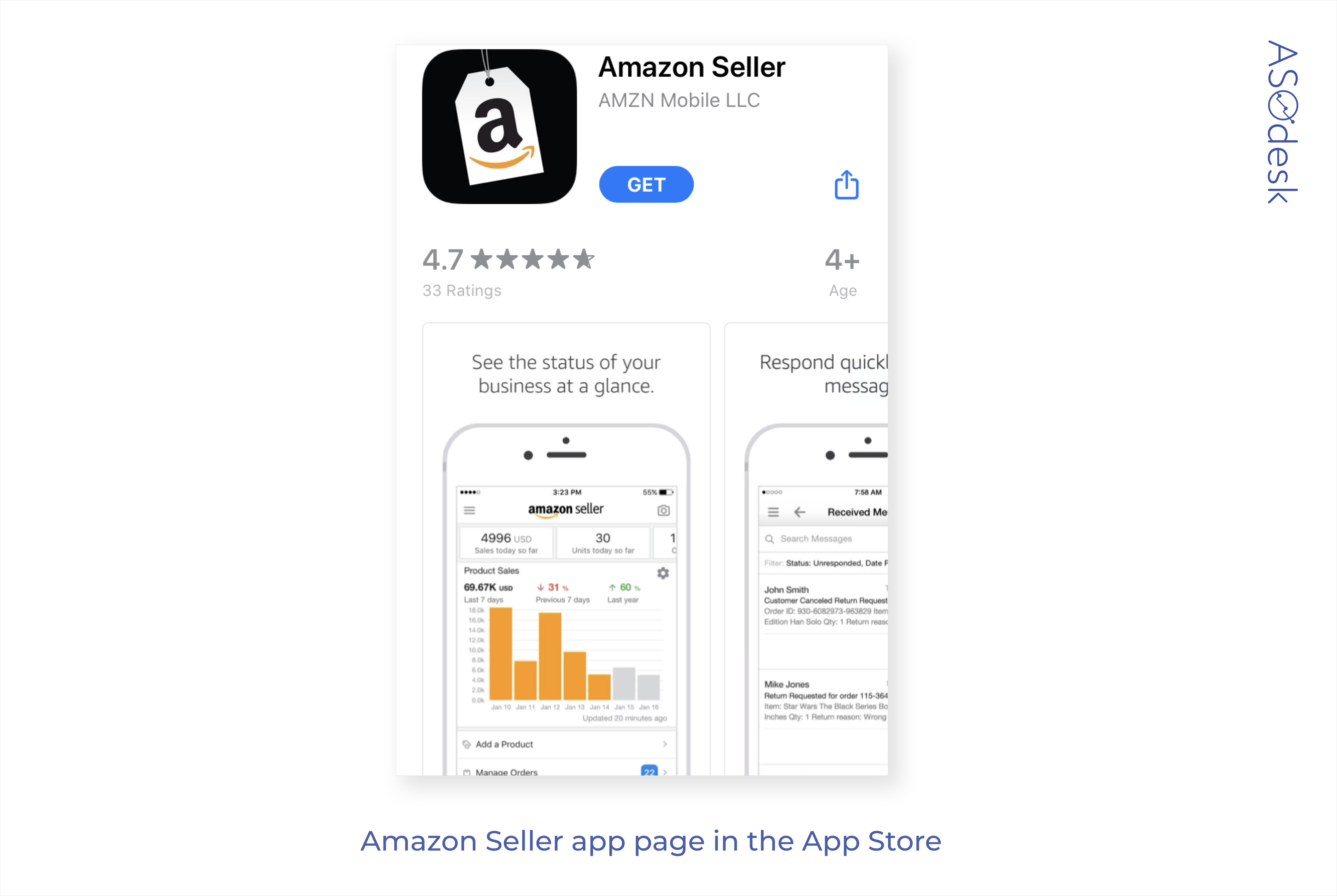 The number of screenshots allowed is 10.
PNG and JPEG file formats are allowed. Naturally, these files should be of the best possible quality.
Screenshots for 6.5-inch iPhone XS Max and 5.5-inch devices (iPhone 6s Plus, 7 Plus, 8 Plus) are required. The good news is that you no longer have to upload screenshots of different sizes for each iPhone model. The system adapts your images to the sizes of every other iPhone generation.
For iPads, you are required to upload screenshots for 12.9-inch iPad Pro (2nd generation) and 12.9-inch iPad Pro (3rd generation).
Read about App Store and Google Play screenshot sizes in the App Store specifications,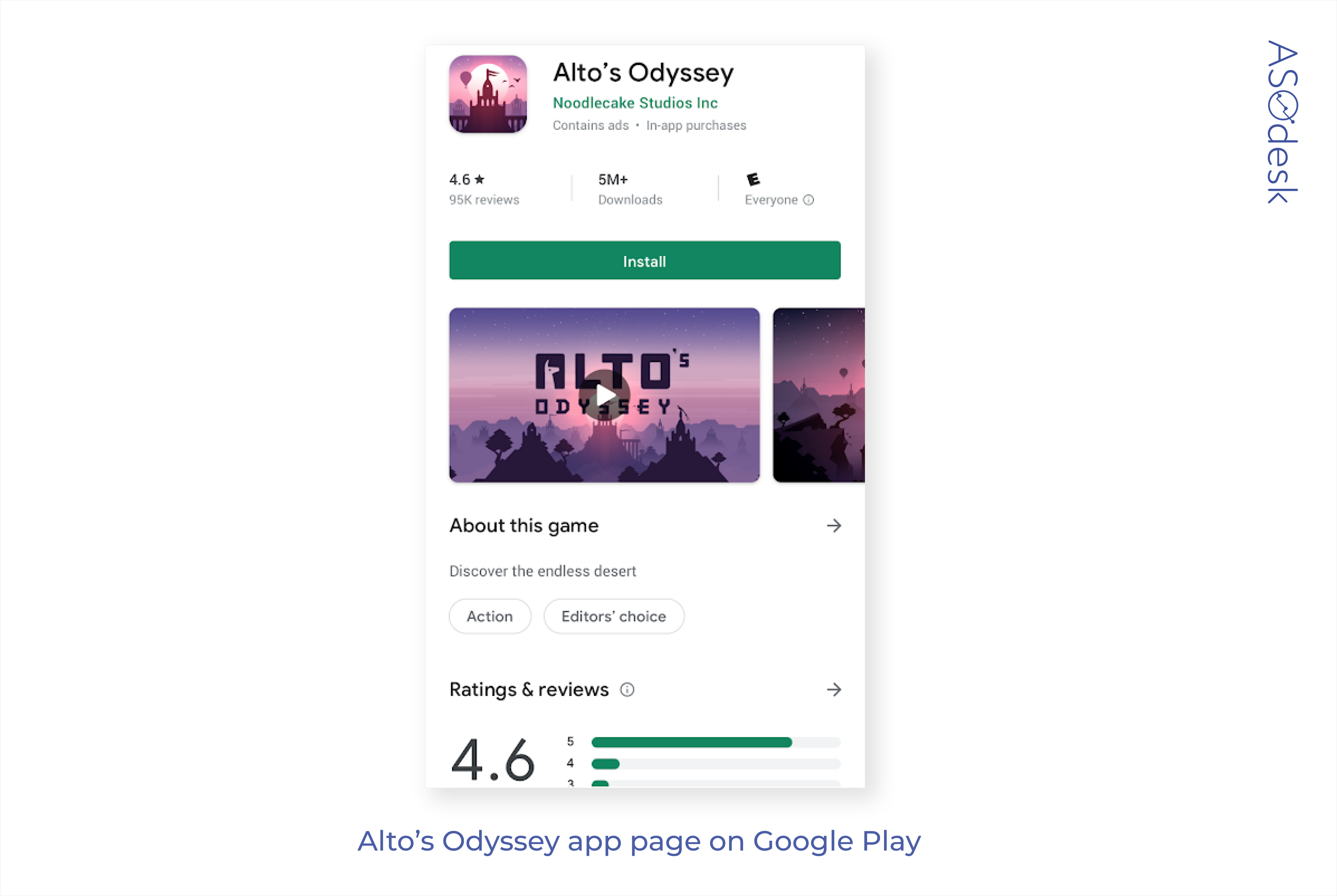 The maximum number of screenshots allowed is 8. If you have created a mobile game, it might be featured only in case the store listing has at least 3 landscape screenshots.
JPEG or 24-bit PNG (no alpha) file formats are accepted.
Google Play also has restrictions on the dimensions of screenshots: the minimum is 320 pixels and the maximum is 3840 pixels. Google then adapts your screenshots to user devices. However, the maximum dimensions of your screenshot can be no more than 2.3 times as long as the minimum dimension.
Google doesn't want you to place any information about the app rating, productivity, price, or ad campaigns in the Play Store on the screenshots.
Google recommends adding 3 horizontal screenshots for games, because "Suggested" only shows horizontal app banners. For vertical games, horizontal screenshots can be added after the vertical.
Be sure to always look out for the latest updates in the App Store and Google Play guidelines and use basic common sense. The screenshots — as well as your app — should not contain upsetting and offensive content. The App Store will reject any screenshots that have realistic guns in them, for example. Fantasy guns need to be in a passive position, in a holster, or worn on the back, while swords and knives must not be aimed towards the user.
How to choose a screenshot background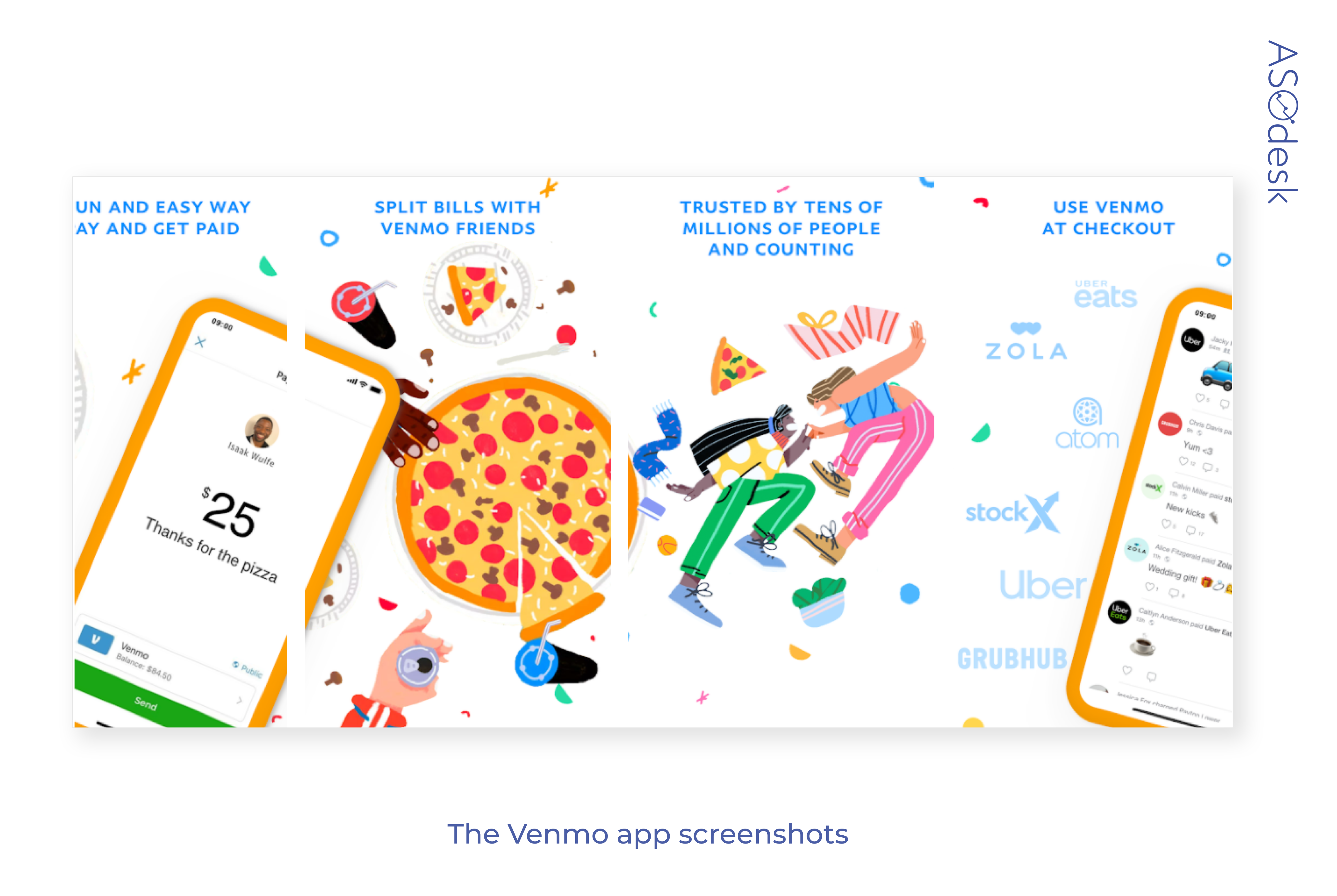 The 2021 report on Visual Optimization trends noted that the top 38% of free apps in the App Store and 42% in Google Play generally choose white as a background color. Bright background colors such as red, yellow, and pink are seldom used. App publishers tend to choose darker, muted shades of blue, black, or green.
However, if you have a shopping or social networking app, then you can consider using brighter background colors. Naturally, the background has to align with your brand identity and color scheme. More importantly, it mustn't be distracting. So it is preferable to opt for a solid background.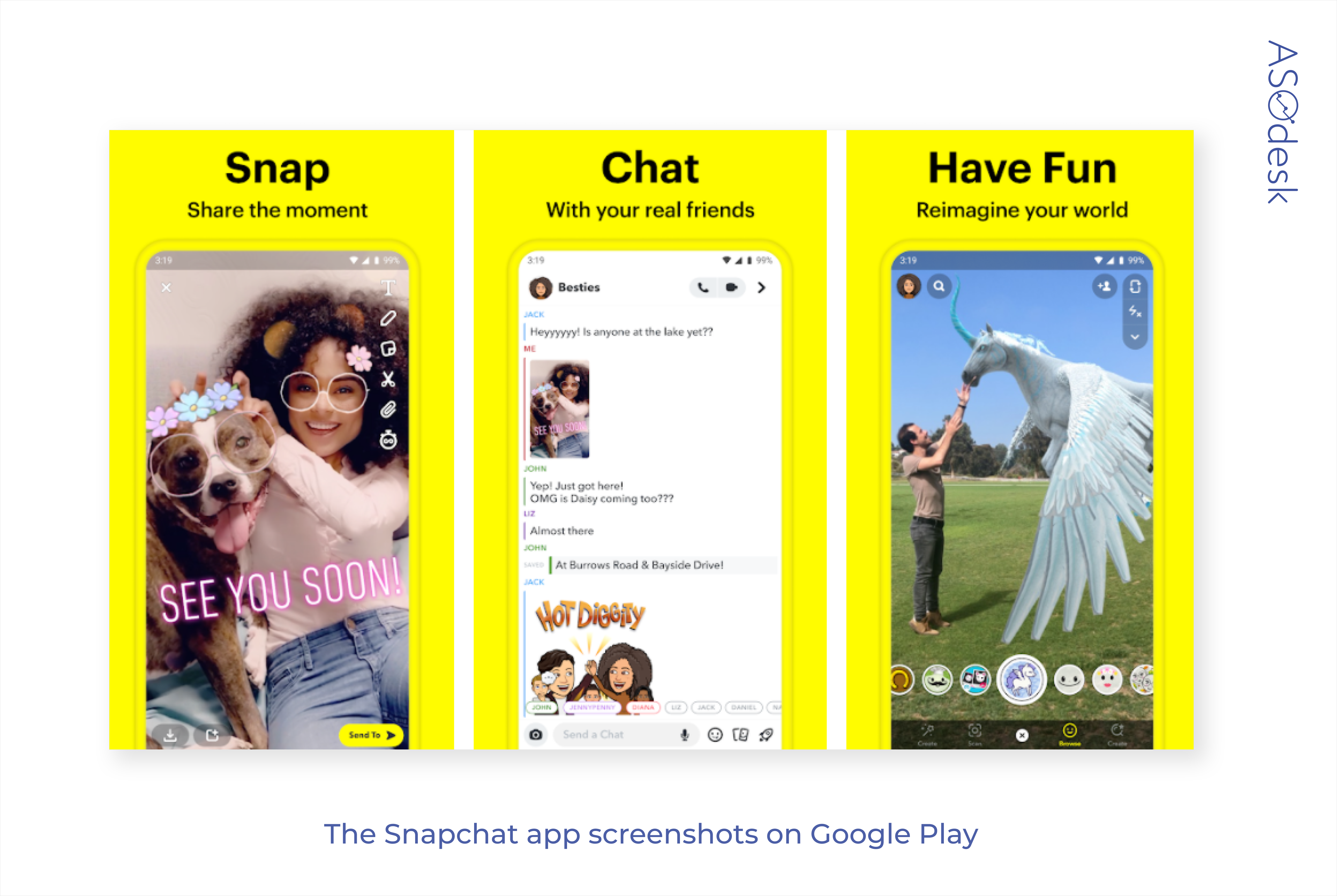 The case is different with the gaming apps — 68% of publishers of top games on the App Store and 72% on Google Play add the game interface on the screenshot without any background. Therefore, gaming app publishers can easily stand out among the competitors by simply editing the screenshots.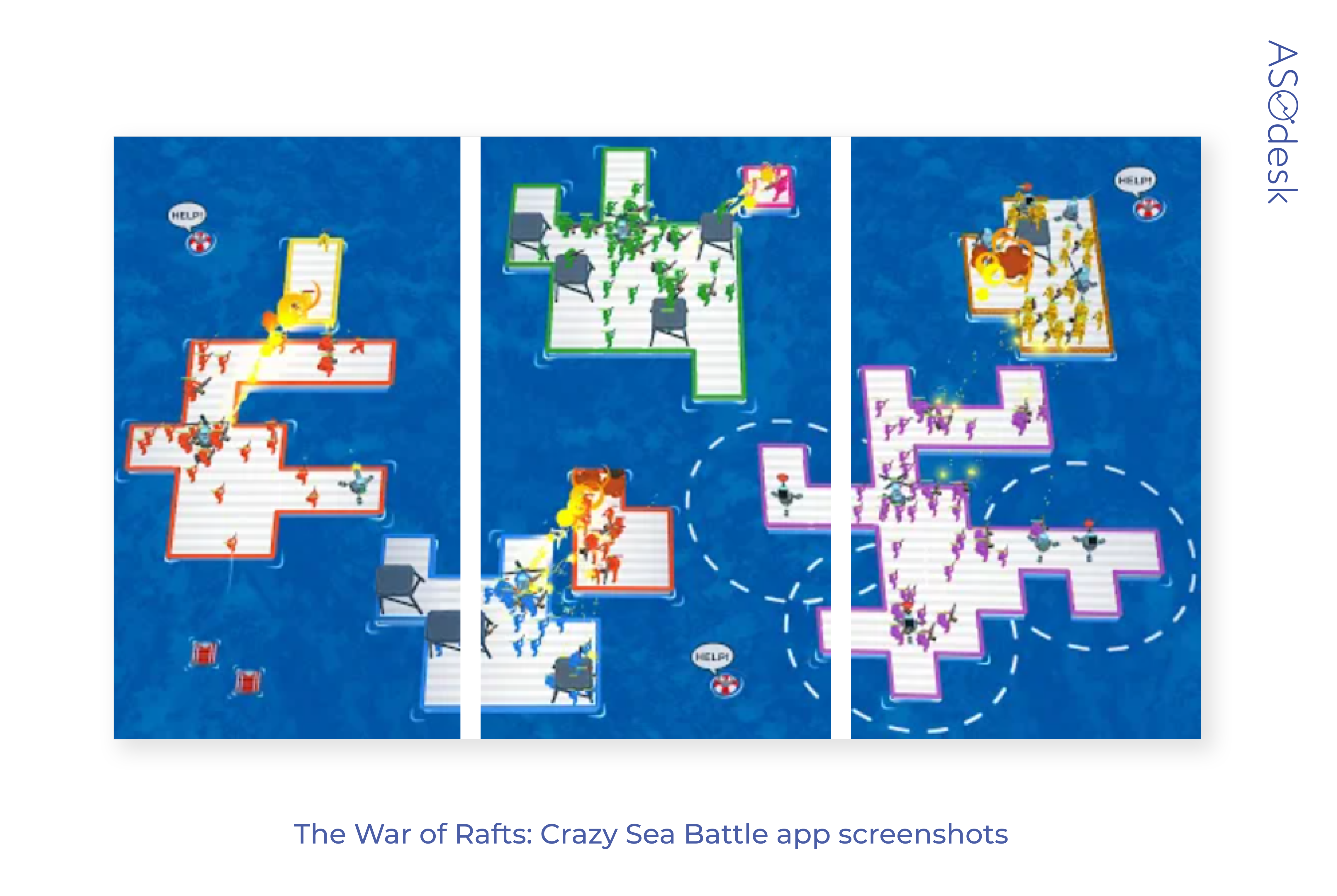 Analyze your competitors and see which screenshot colors they use the most. You need to stand out among them so that your application becomes more noticeable in the search results.
To make analyzing your competitors easier, use ASOdesk. The Keyword Charts tool will show the competitors' rankings for your keywords. This will help you determine which apps you will have to compete with for each keyword.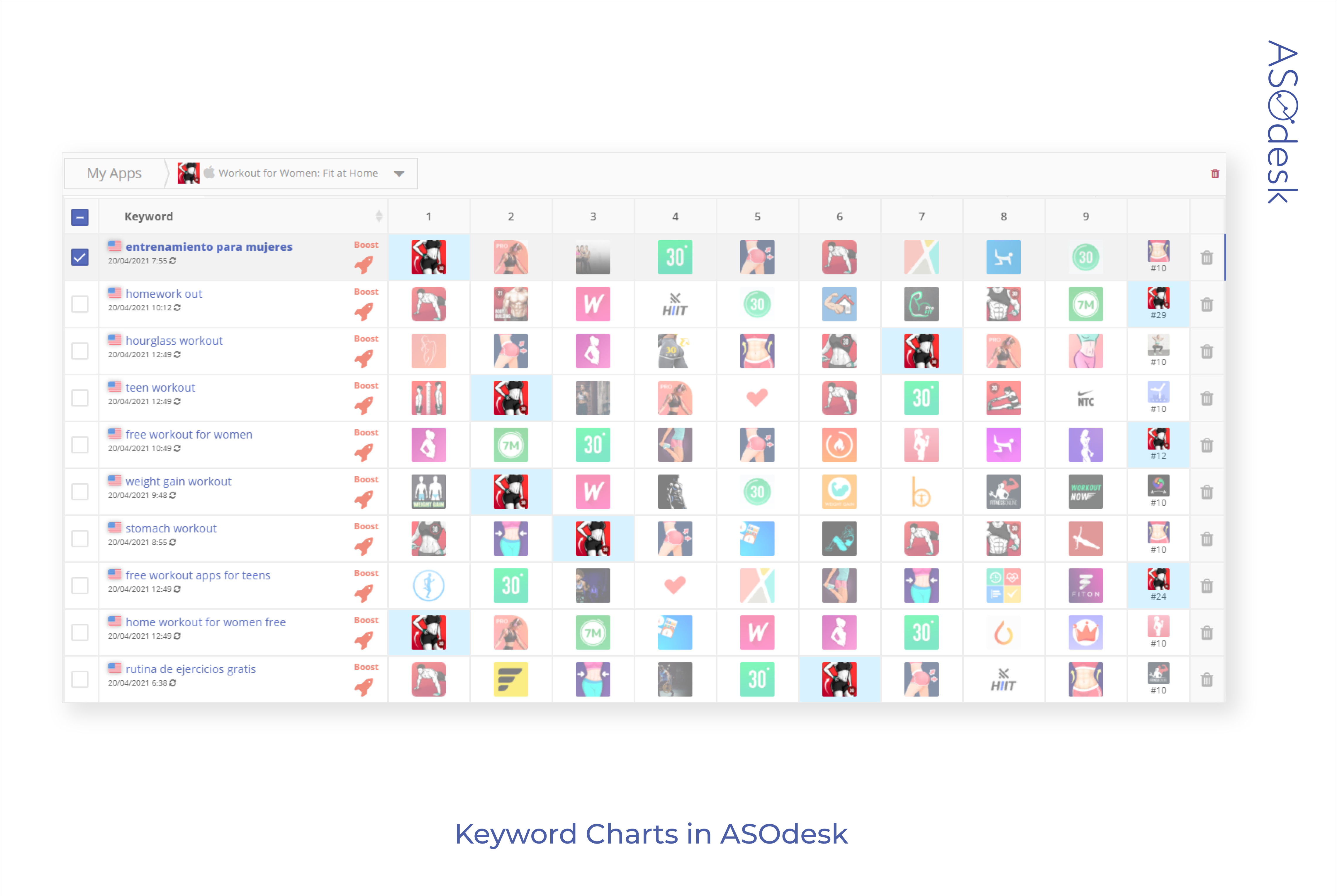 How to choose font and text color for app screenshots
With regard to colors and font, choose the options that work well with your brand identity. The color of the text has to contrast with the background and be legible. The text should be large and easy to read, even on a small device. 48% of the App Store publishers and 56% of Google Play publishers use white as their text color.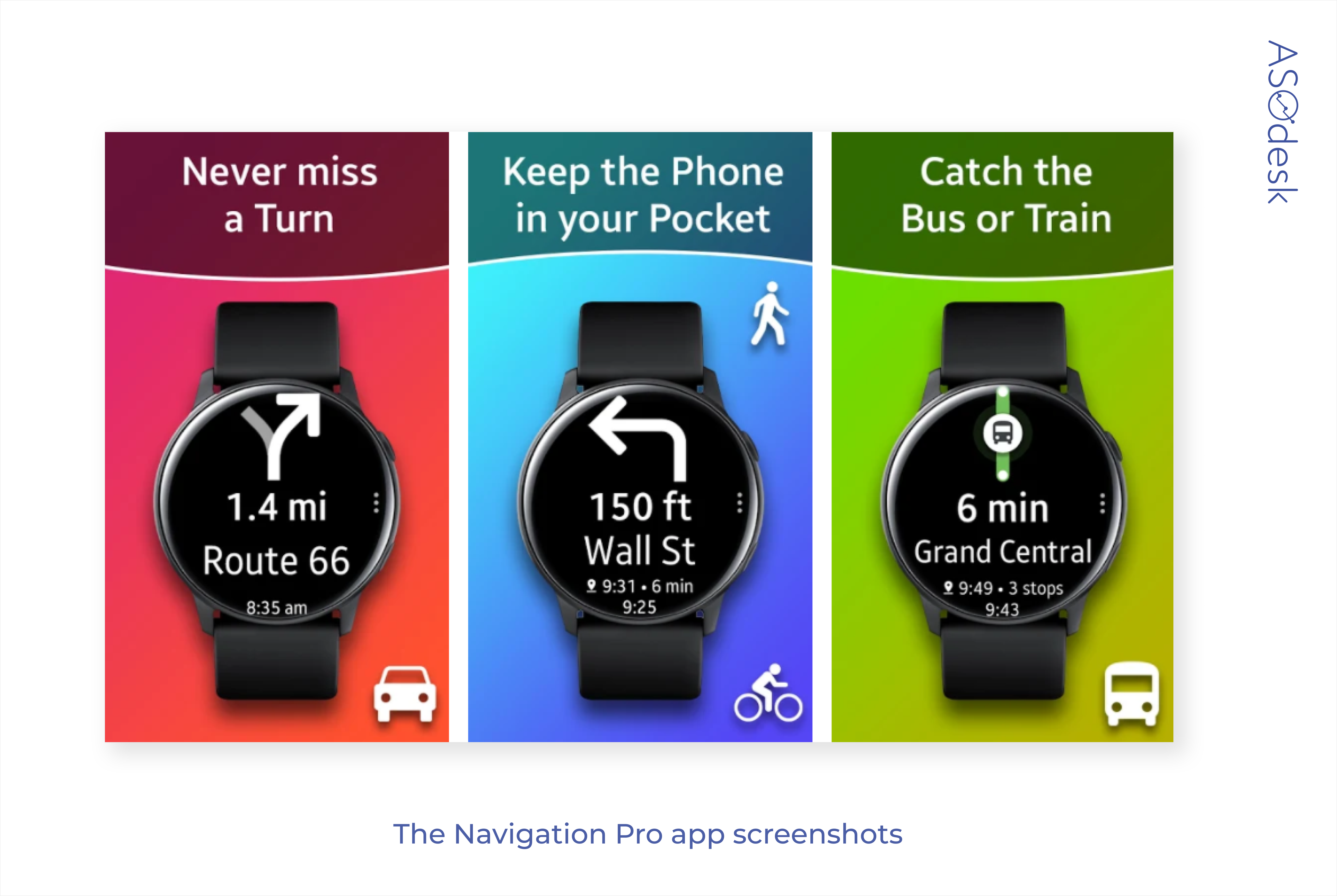 Create a few different options that you can test on various devices. Consistently check on the main KPIs (screenshots will influence the install rate, for example). Furthermore, don't rely on your personal taste. Your screenshots have to be pleasant to the eye but it's recommended that you avoid any artistic extras.
What text should be added to screenshots
Your text has to be legible and visible from the search page. The more words you include, the smaller the font will be. For example, the text on the Amazon Shopping app screenshots is difficult to read from a small device.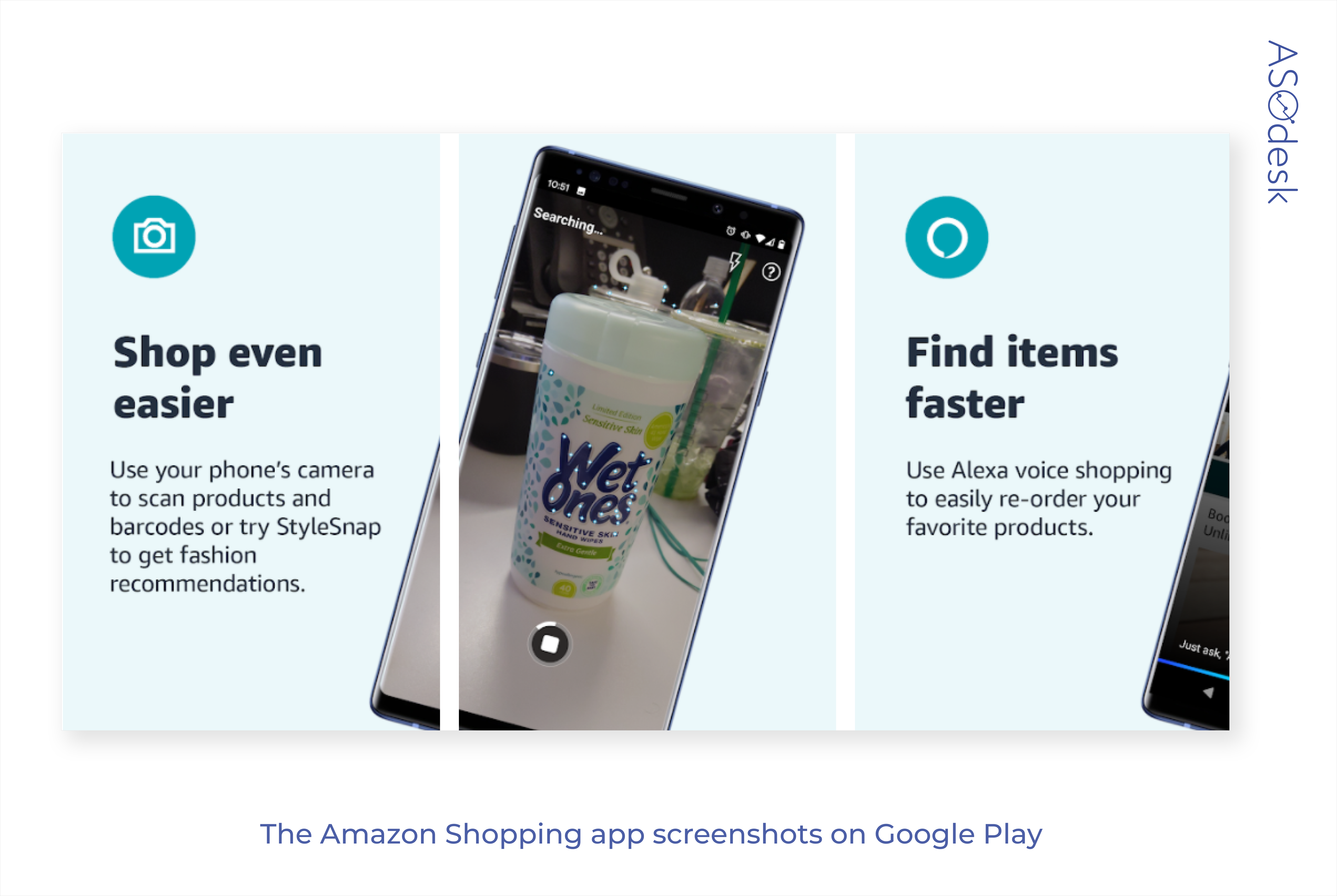 So, it's preferable to place a few catchy phrases on the screenshot that contrast with the background. When it comes to screenshots, less is definitely more. You can use bold fonts to highlight the most important details or simply make key words or phrases bigger.
Add popular search queries to screenshots; this will help reassure the user that they need your application.
If you would like, you could include a screenshot with any awards and mentions your app may have. Parv Bhargava's (ASO Consultant at Phiture) report at the App Promotion Summit noted that social proof helps gain users' trust and affirms the authenticity of your app. By showing the number of app users in the caption, we can take advantage of this innately human characteristic and boost conversion. It is important that data on the screenshots is true, otherwise you might get sanctioned by the Google Play moderation.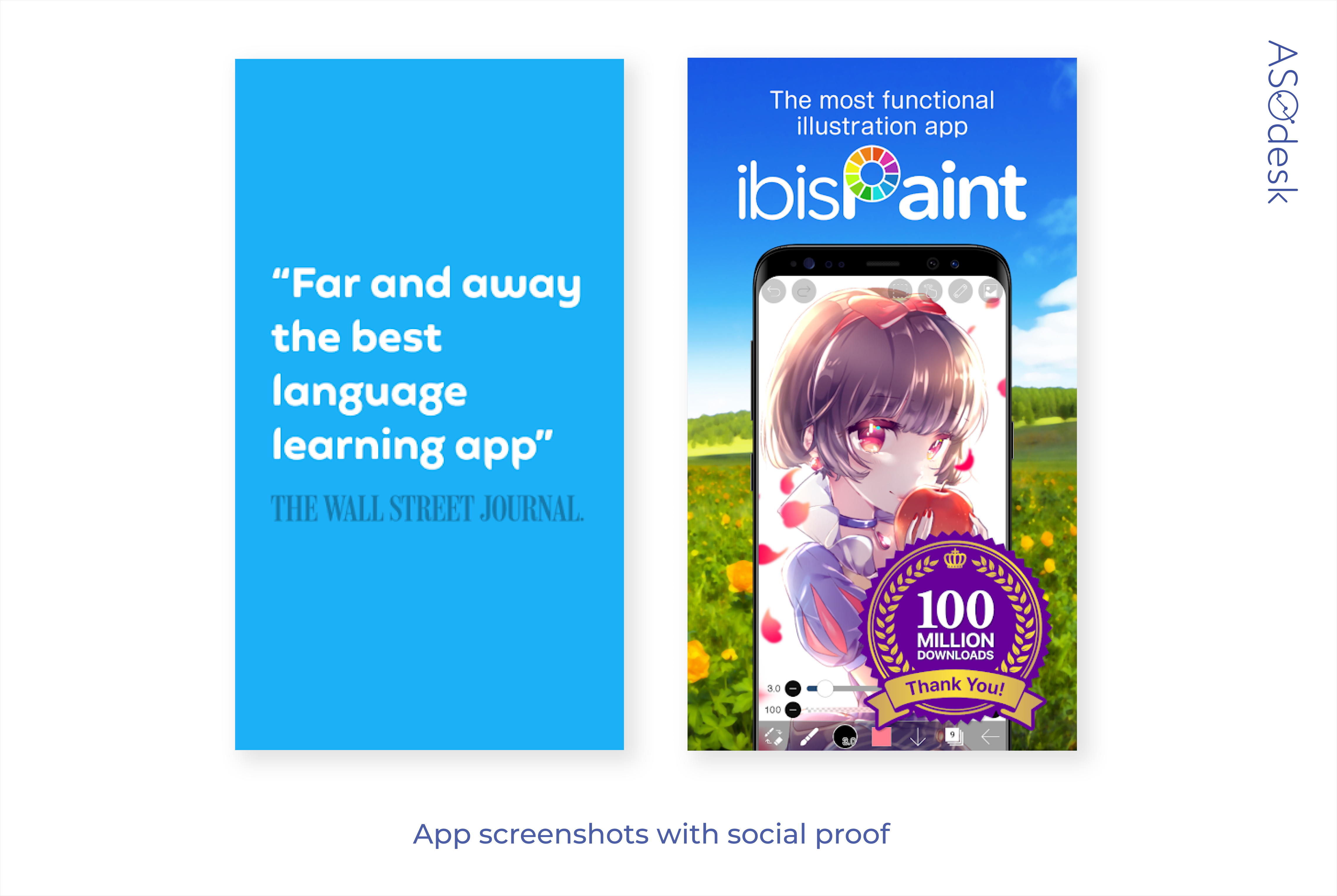 By the way, you can read more about the top reports from the App Promotion Summit in this ASOdesk article.
Constantly emphasize the things that have changed in your app. If, for example, you have created a new feature or updated the app, include this on one of the first screenshots.
It's important that the text on the screenshots is easy to read. Highlight app's best features, social proof, and app updates.
How to create screenshots yourself
These services will help you generate screenshots without the assistance of a designer:
Screenshots Pro helps to create panoramic screenshots for iOS and Android app pages in just a few minutes. The service has pre-made templates, localization, comprehensive customization features, the option to download custom fonts, and the API to automate screenshot updates.
Canva is one of the most user-friendly services out there that can help you make vibrant images. AppLaunchpad generates screenshots right from the app.
DaVinci Apps also specializes in screenshots and offers a vast number of predesigned templates.
App Store and Google Play app preview video creation guide
An ASOdesk report found that only 10% of App Store publishers use videos. At 28%, Google Play publishers use videos roughly 3 times more frequently.
Lina Danilchik recommends conducting A/B tests before adding videos to your page. Experiments on SplitMetrics have revealed that videos can negatively affect your conversion rate.
Add videos only if you have sufficient content and functions within the app. Promo videos are recommended for games, photo and video editors, streaming services, online shopping, and food delivery apps.
Portrait vs. Landscape Videos — Which One Should You Use
On the App Store, your choice should depend on the orientation of the app itself. On Google Play, however, it is recommended to create the video in landscape even if the app is vertical. However, you should note that your app preview video for Google Play will be uploaded to YouTube.
Landscape videos are preferable on YouTube as they look better and more professional. Furthermore, if your video has a horizontal orientation, you can enlarge the text and it will be easier to zoom in and highlight some of the app's features. This is simply because you have more "space" in landscape. You should always test both options and monitor the KPIs to establish which preview is performing better.
App Store and Google Play videos requirements
You are allowed to add up to 3 videos.
Videos are displayed above the screenshots on the app page
Your video will autoplay in mute in the search results.
The app preview must be 15–30 seconds in length.
You need to create a piece in two different resolutions (three, if you want the video to be available to iPad users).
The resolutions are:
1080 x 1920 or 1920 x 1080 (for iPhone 5/6/7/8 and iPhone 6 plus / 7 plus / 8 plus)
886 x 1920 or 1920 x 886 (for iPhone X and iPhone Xs Max / iPhone XR)
1200 x 1600 or 1600 x 1200 (for iPad and iPad Pro)
Your video automatically becomes smaller for any other device.
The maximum file size is 50 MB.
The accepted file formats are .mov, .mp4, and .m4v.
After the upload, the video can take up to 24 hours to process.
Lastly, all videos for the App Store need to be manually approved by Apple. And there are several guidelines that you have to follow. For example, you are only allowed to use captured footage of the app itself.
Apple recommends using QuickTime and iMovie to edit your footage.
You are only allowed one promo video.
It must be between 30 seconds and 2 minutes long.
Your promo video may autoplay inline with muted audio up to 30 seconds depending on the user device, setting, network connection, and surface area. Whenever your video does not autoplay, a play button is overlaid on your feature graphic.
You will have to create a good-quality, landscape-oriented video. The aspect ratio for YouTube videos is 16: 9. The recommended dimensions are: 426 x 240 (240p); 640 x 360 (360p); 854 x 480 (480p); 1280 x 720 (720p); 1920 x 1080 (1080p); 2560 x 1440 (1440p); 3840 x 2160 (2160p).
Accepted video formats include .mov, .mpeg4, .mp4, .avi, .wmv, .mpegps, .flv, 3GPP, and WebM. There are basically no restrictions for the actual content. But it would be preferable to show only Android devices and the Google Play Store logo.
Limit the branding elements and focus on the demonstration of the app's features. Don't add people interacting with the app on the video (for example, touching the screen). You can only do this when the main gaming process or the app is used outside the device. You can highlight the areas that you want the user to pay attention to.
Video length
On the App Store, every video can only be up to 30 seconds long. Google Play recommends making videos short — only the first 30 seconds are played automatically. The preview has to appeal to the user from the first few seconds. This means you don't have any time to spare, so put the most interesting and useful information at the beginning of the video and be creative. Your video should not include any upsetting or offensive content.
Video sound
69% of users watch videos with the sound off in public places. However, 80% of viewers are more likely to watch the entire video if captions are available. So be sure to add text to your preview video. Everything should be understandable without sound.
But that does not mean that you have to neglect the narration or background music (check that there is no copyright violation). The captions must be legible and should not change too quickly — the users need enough time to read all the information.
Top tips for optimization of app screenshots and preview
Conduct A/B testing. You never know which option will bring the highest conversion rate until you test it. Try different colors and orientations, and compare videos and screenshots to find the most effective solution.
Analyze your competitors. You need to explore the designs of other application pages that are closest to yours in the search results. This will help you choose the right design. Otherwise, your application will get lost among similar competitor apps in the search results.
Add search queries, new app features, and social proof to the app screenshots. For the user, it is easier to read the text in the picture than in the app description. That's why you should always highlight important information.
Think about user comfort first. Your task is to tell the user as much about the app as possible. Therefore, the images in the screenshots should be clear, the text easy to read, and the video should have subtitles.