Top 10 ASO mistakes that even big brands make
Ryan Kelley
hi@ryankelley.work
Ryan is a mobile marketing generalist with extensive knowledge of App Store Optimization (ASO) and Subscription Optimization. He has worked for many top agencies, including Gummicube, Phiture, and NP Digital. Currently, Ryan works as a freelance mobile growth consultant, teacher, advisor, and workshop facilitator.
All articles by author
Published: 20.05.2021
Updated: 12.10.2021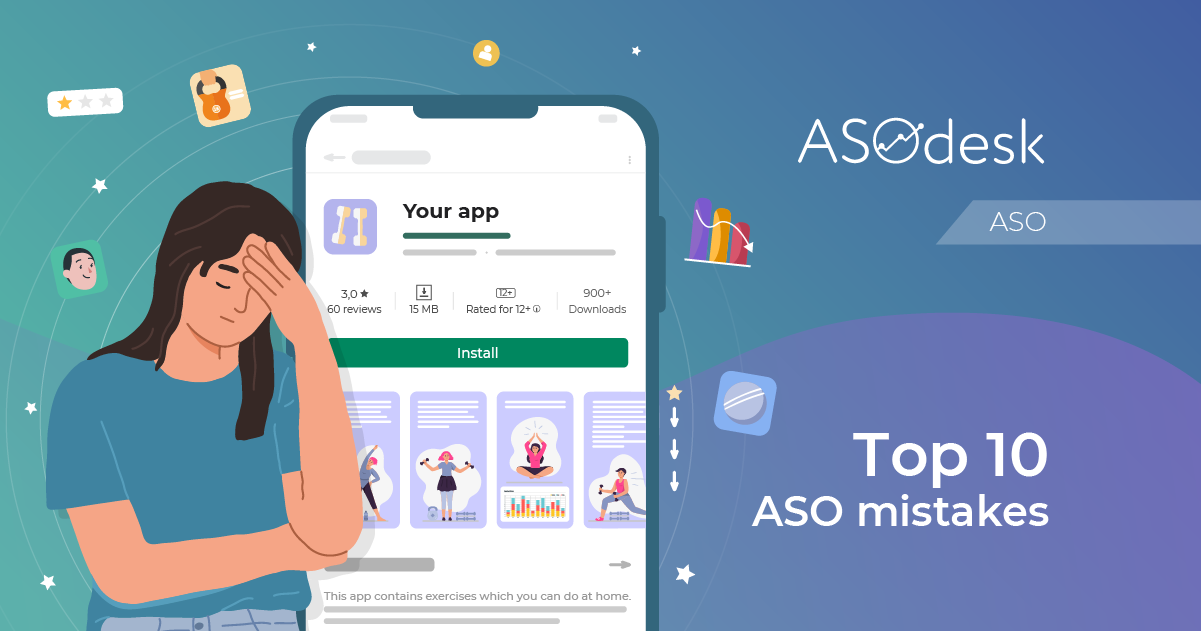 Ryan Kelley wrote an article about the most typical App Store Optimization mistakes. These errors make ASO less effective, negatively affect the level of installs and contribute to lower app rankings in search. Read the article and try to avoid these mistakes in your ASO strategy.
My name is Ryan Kelley. I am a mobile marketing generalist with extensive knowledge of App Store Optimization (ASO) and Subscription Optimization. I have worked for many top agencies, including Gummicube, Phiture, and NP Digital. This article is based on an ASOdesk webinar, where I shared my experience and told about the most common errors in ASO.
Mistake 1: using only branded keywords
If you don't use non-branded keywords, you miss out on traffic. Branded keywords contain brand names: Adidas training, Verv, Google fit. Non-branded or general keywords are search queries without a company name. For example, fitness, lose weight, exercises, etc.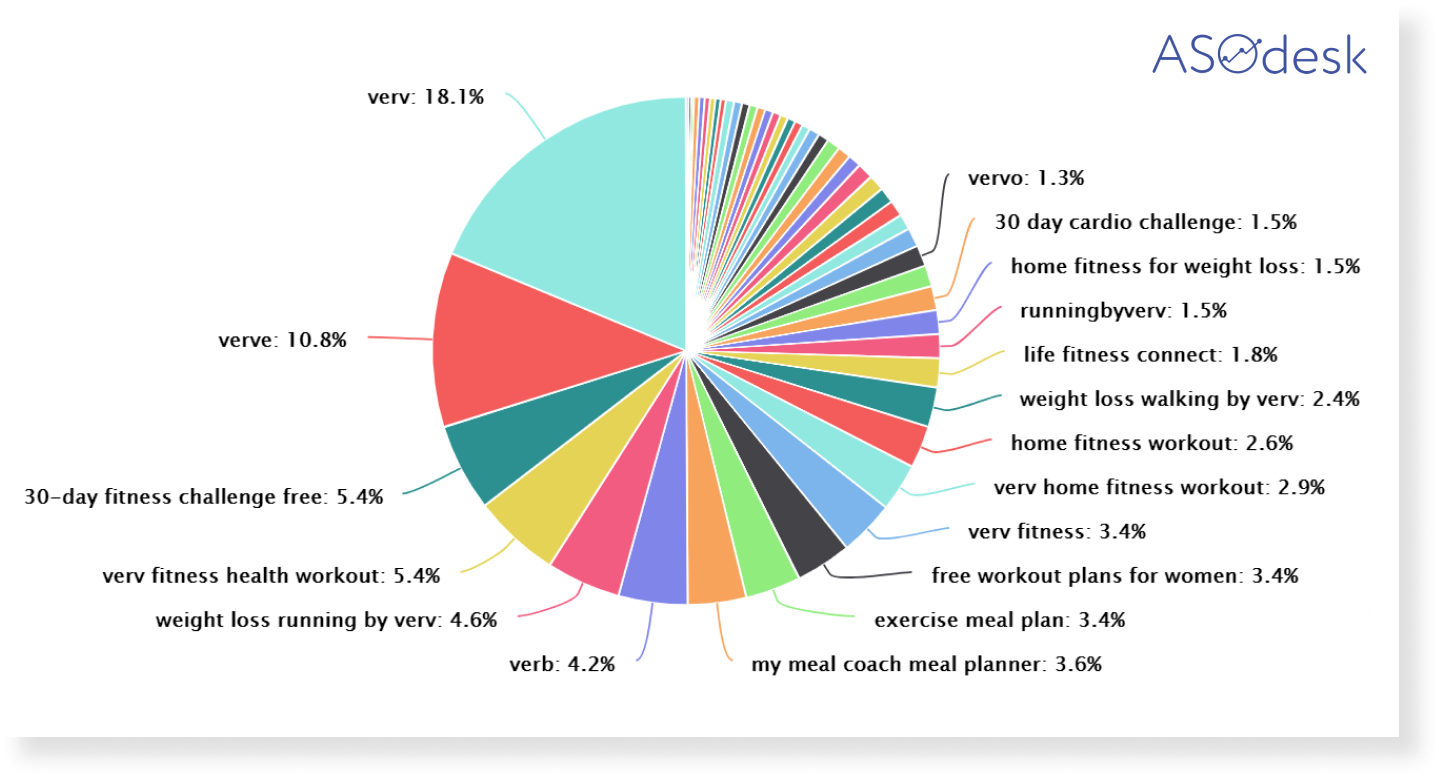 For most big brands, brand search drives up to 95% of all their searches. But there still is that 5%, which is made up of generic keywords or competitor-based keywords. If you only use branded keywords, you miss out on a lot of traffic.
When I started working with a popular fitness app, I realized that it had only two keywords in the keywords field for years. After we started using non-branded keywords, we saw a 1% increase in the number of installs. 1% might not sound like a lot, but when you have more than 100K installs, and you're able to improve by 1%, it can be a lot.
Therefore, it is important to regularly analyze search queries, and use both branded and non-branded keywords — especially in highly competitive categories.
Mistake 2: trusting non-experts to download metadata
Don't rely on other people to make updates for you. You shouldn't ask people who don't have experience in ASO to upload your app metadata — rather do it yourself.
I saw people who asked the developers to upload metadata and put spaces instead of commas between the keywords, and it ended up with six keywords in the keyword field out of 18-20. That's why you should remember that developers write code. Don't let them pick keywords.
Therefore, be sure to control the loading of metadata. Carelessness or ignorance can cause the app to lose thousands of downloads.
Mistake 3: not checking the competition and demand in your application niche
If you're deciding to build a new app, do keyword research and competitor research. You will understand whether it is worth creating an application for this niche and how difficult it will be to promote it.
For example, there are a lot of popular dating apps, and it will be difficult for you to climb the search results for the right keywords.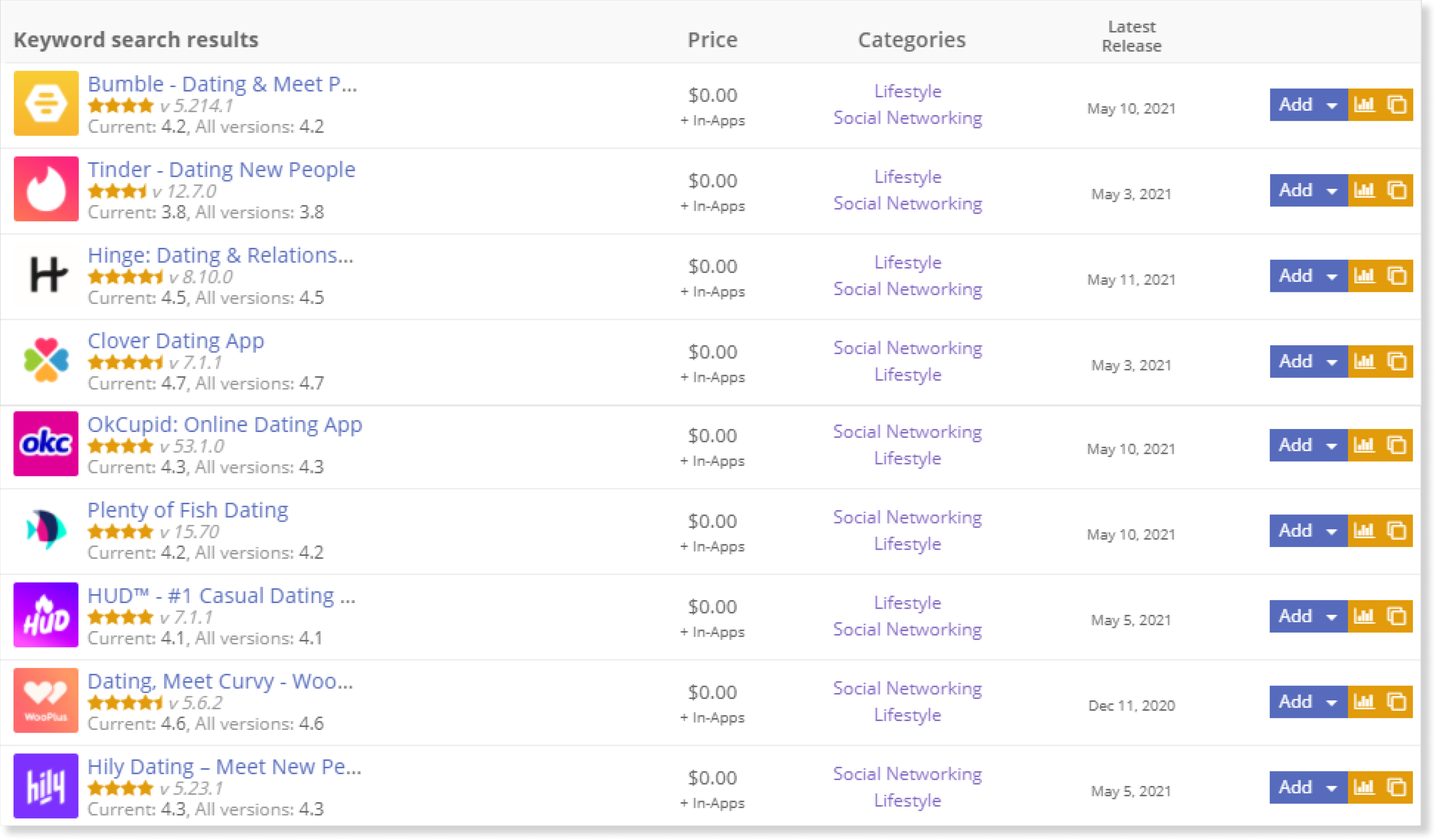 I worked with a startup app that was super well funded. Founders of the app said that they wanted to do ASO. They believed that ASO would help a lot and they planned to have the big launch very soon. But they didn't do any testing and they never had a soft launch. They wanted to launch the product without analyzing demand, competition, and suitable promotion methods. There were only assumptions based on their own ideas, and not on data analysis. This approach is a big mistake.
Before developing the application and starting to work with ASO, check the number of competitors, analyze their apps, check the quality of organic traffic, branded and non-branded search queries. Assess the amount of organic traffic in your niche in this ASOdesk study.
Mistake 4: expecting too much from ASO
ASO is a very long-term activity, so don't expect instant results. It is difficult to predict the number of installs you will gain after working on ASO. But you can estimate demand using competitive analysis with ASO tools, such as ASOdesk. For example, the Organic Report tool will show you the approximate number of installs your competitor gets for each keyword.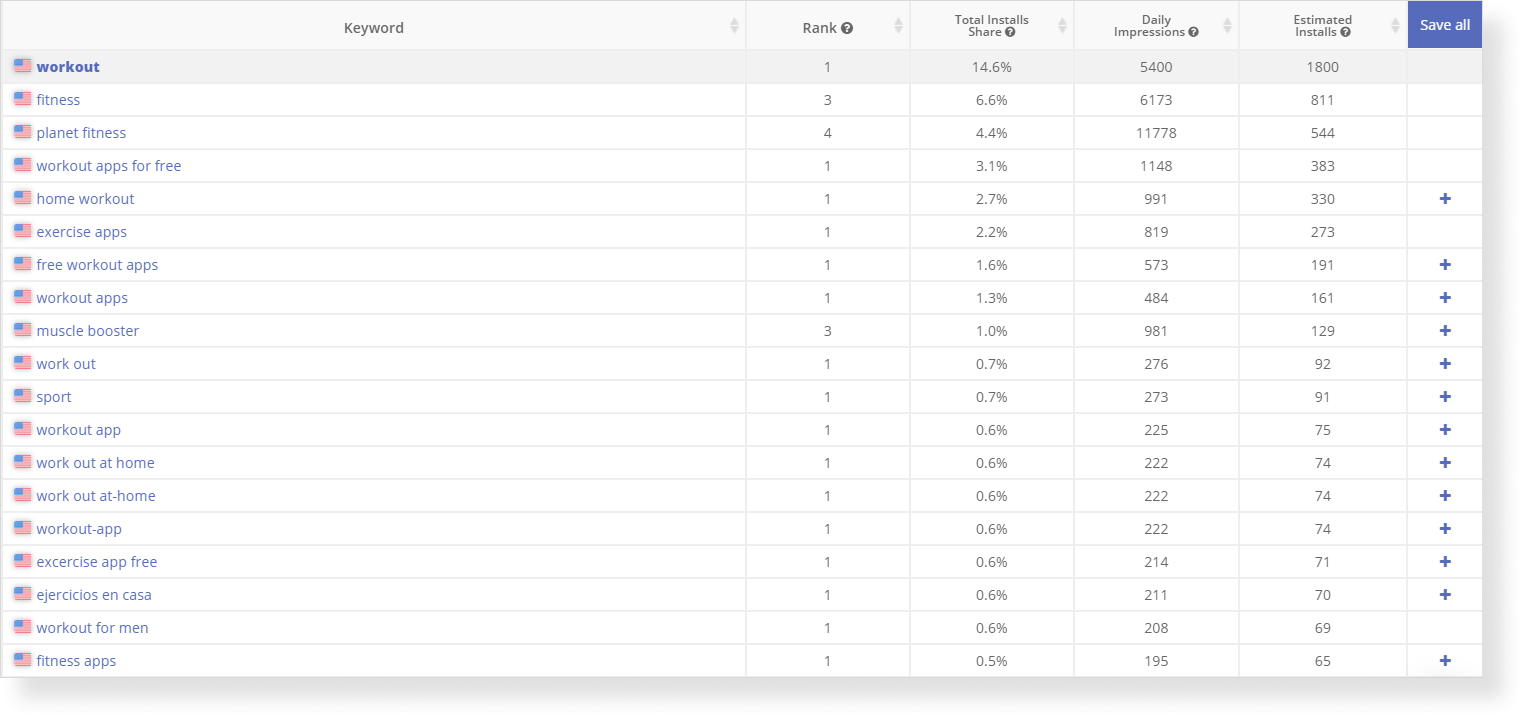 When you have just launched the app in the App Store, your app will be boosted for seven days. During this period, the app will have slightly more visibility because the App Store is helping you. But you will still have limited visibility until you get enough installs. This is why you should promote your keywords.
A new app will require months of testing and indexing. Don't expect that you're going to climb to the top of app stores quickly. I think that a new app takes about two to three years to gain some traction.
Before that, all you're doing is just iterating on the product. You need to speak to your users, figure out what they really want, and try to solve their problems. In the first year, you should find out which of your marketing channels are going to work best for you, as well as what the best keywords and metadata are.
Mistake 5: relying only on ASO as opposed to other promotion channels
When you think about user acquisition, all of that awareness is happening outside of the store. ASO is a really poor User Acquisition channel.
ASO helps increase app visibility in the App Store and Google Play. But positions in search will not grow until the application starts receiving installs. Therefore, it is important to attract traffic from other sources to the page in the App Store and Google Play.

But when you're only doing ASO, you're essentially sitting back on your couch, and you're waiting for users to come to the store. This strategy can only work for simple applications: calculators, calendars, planners, etc. For most categories, that's not enough. You also should think about how to bring users to the store. ASO will work better if the app starts getting more installs from ads, social networks, and websites.
There's a big difference between building an app and building a business. Building an app is easy: you can launch an app and put it in the store next week. But to grow your business, you need to use UA channels and work on brand awareness, which can only happen outside the app stores. That's why you have to have a community brand that you're developing outside of the store.
If your niche has a lot of branded traffic, it's important to work on brand development. Users do not have a demand for a large number of applications, they do not search for or choose them. Therefore, it is important to constantly communicate with the target audience, generate demand through social networks, mailings, articles. You should talk about the application on industry sites and platforms.
It is also worth investing in paid User Acquisition: in-app advertising, Apple Search Ads, targeting, and contextual advertising.
Mistake 6: working with the App Store and Google Play in the same way
Some brands work with the App Store and Google Play in the same way. But these stores have different algorithms and a lot of peculiarities in indexing and rules. If you do not take them into account, you will lose downloads.
In the App Store, the title and subtitle have the most influence on app ranking. You also need to insert keywords into a 100-symbol keyword field in the App Store. Additional localization also allows you to put more keywords in other languages into the keyword field. You may lose in positions if you don't use it.
The App Store description is internally indexed by Apple and used to determine relevance for ASA keywords. Better relevance will lower your bids.
Otherwise, in Google Play there is no keyword field. Google Play requires the keyword phrases to be used in the title, short description, and long description. This way you will be able to rank for a large number of keywords in the search.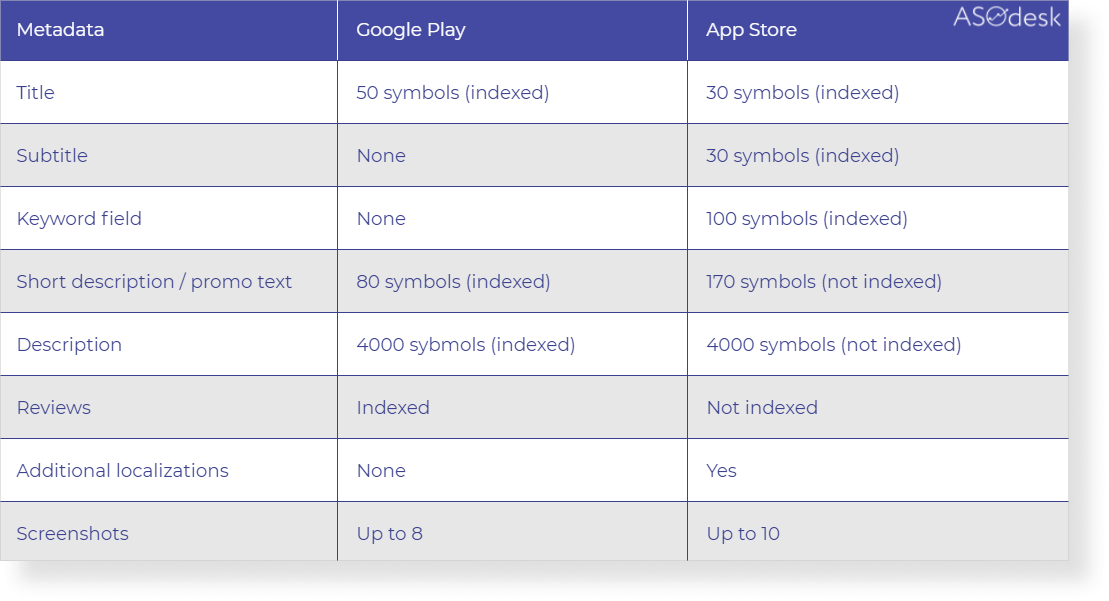 Learn what affects the positions of your app in the App Store and Google Play in the ASOdesk article.
Mistake 7: inserting very few keywords in your Google Play app description
The description of your application in Google Play should be used for indexing, not just for attracting users. Less than 3% of users in Google Play click the "More" button in your description. Therefore, it is not enough to insert marketing text about your benefits in this field.
The description affects your app position in Google Play. Remember that the purpose of that description is to help your app get indexed for as many keywords as possible. That is why you should use more keywords in your description and discard useless words like adjectives.
In my experience, you need 5 "seed" keywords to help you compose a lot of phrases. From 5–8 keywords, you can make about 50 phrases, and then use them throughout the description.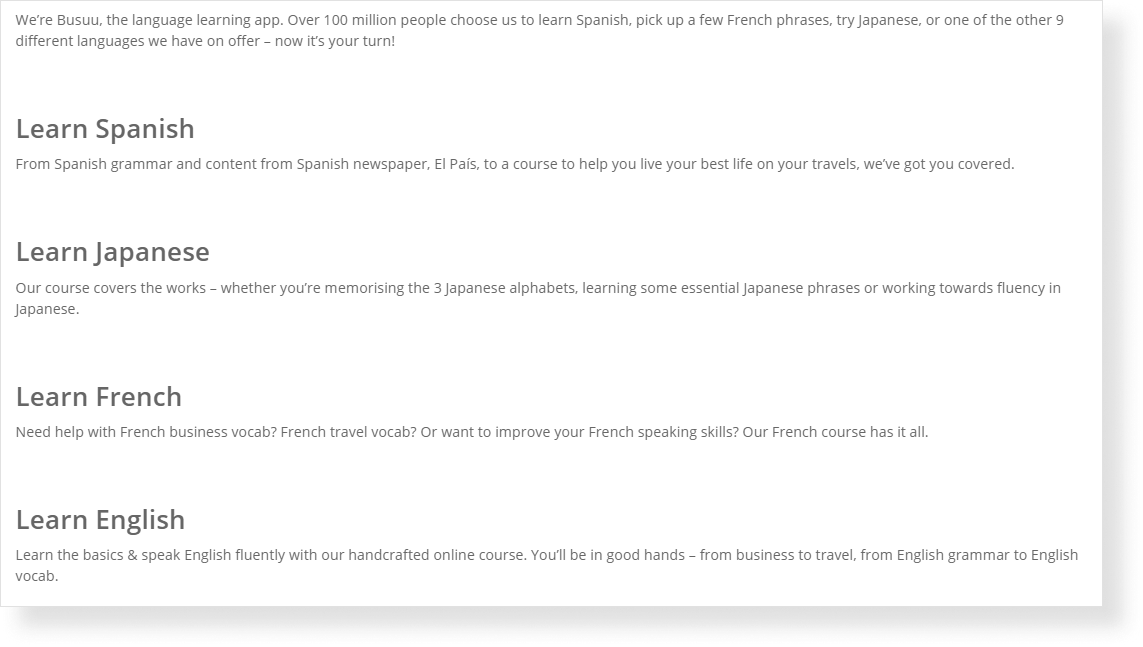 Mistake 8: changing metadata without consulting an ASO specialist
Don't let people who do not understand ASO change the metadata in their own way. I always emphasize that metadata should be formatted exactly the way I wrote it. Other specialists shouldn't change any keywords or the structure.
Sometimes customers change some of the indexed fields. And then a month or two later, the ASO proves ineffective because they changed all the work that specialists did. It is important to convey to the customer that they can't change the metadata.
Problems with ASO often occur in teams where SEO specialists are assigned to control the app store optimization. Internet and mobile search works differently. Therefore, you can't use Google Keyword Planner and other web tools when optimizing your application.
Mistake 9: working poorly with reviews
If you don't work with reviews, it will negatively affect your rating, app ranking in the search, and user attitudes towards your app. Ratings and responses to reviews have a big impact on your ranking in app stores. That's why you should reply to both positive and negative reviews. Even if you use templates, you should customize them for each user. You also can use keywords in your responses, it affects your indexing in Google Play.
Read 9 tips on working with reviews in this article. You can also save time on analyzing and replying to reviews with the help of Replies to Reviews in ASOdesk.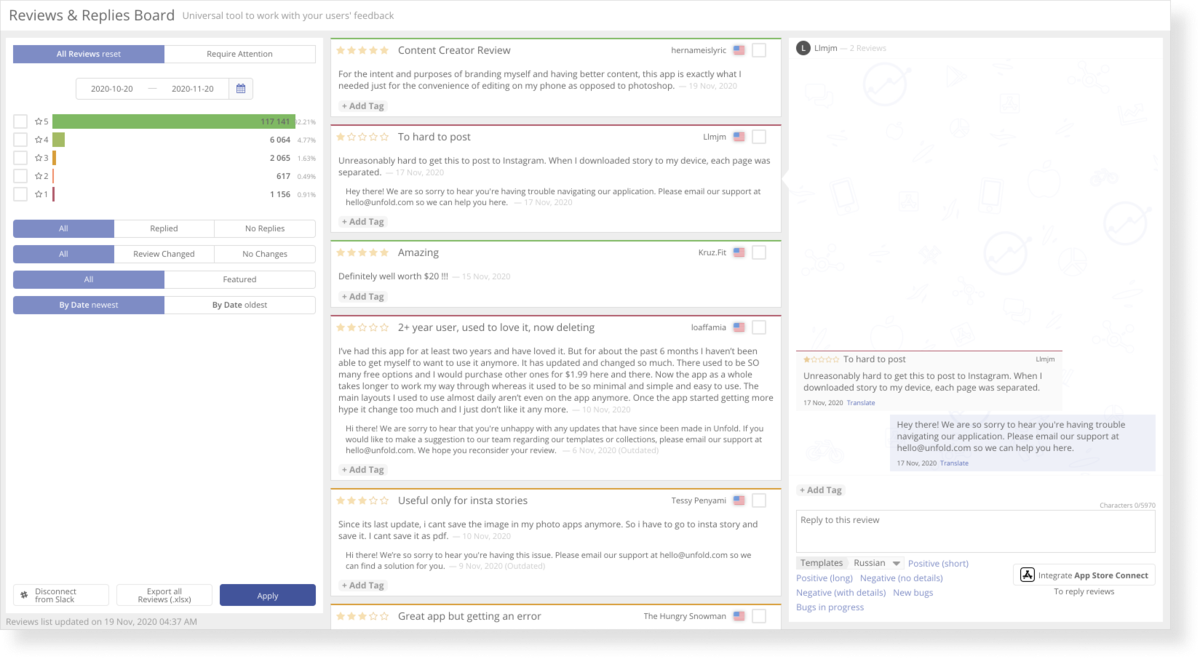 Listen to what users like and don't like in your app. Reviews always give you ideas on how to make your app better.
Mistake 10: working without a realistic goal and clear plan
A lot of people don't have a 12-month plan and their goals are too big and ambitious. For example, gaining a million downloads is an unrealistic 12-month goal. Publishers, whose apps are just starting to grow, need to focus on more practical goals. For instance, get 100 active monthly users. If you can't get 100 daily active users, then you need to change your product. You won't have millions of installs until people want to use your app.
If you do not have a clear promotion plan for the app, you will not see significant results, as all actions will be illogical and irregular. The plan should include all necessary aspects: ASO, advertising, maintaining groups on social networks, etc. All these tasks should be scheduled daily.
Analysis is also really important. Regularly analyze where installs are coming from. For example, you can use the ASO Dashboard in ASOdesk. It shows you from which sources the app is getting traffic and installs in different countries. You can analyze app units, product page views, and Impressions by sources: App Store Search, App Store Browse, App Referrer, and Web Referrer.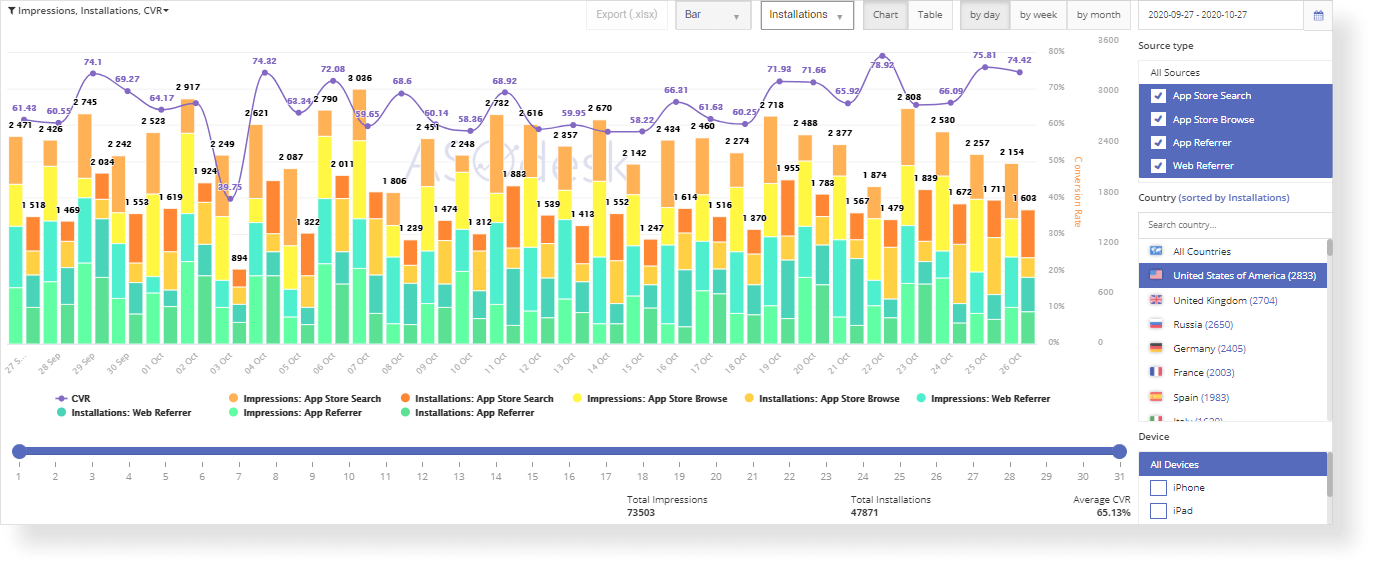 Use CVR Benchmark in ASOdesk to see CVR for apps' categories and evaluate if the index rises or falls. This will help you understand how your CVR differs from the average for similar applications and assess tendencies in demand for your category.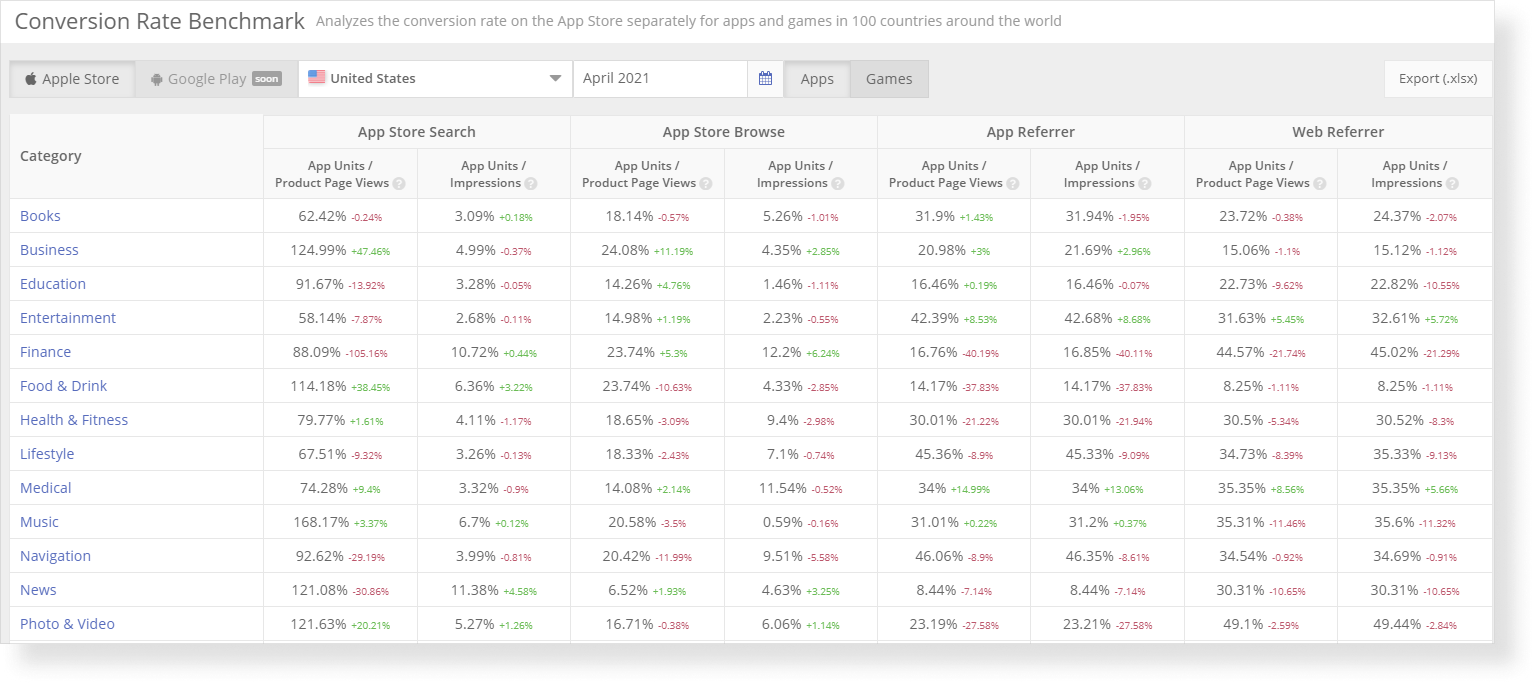 You also need to communicate with users and look at trends in your category. This will help to find new ideas for improving the application so that it always remains relevant and useful to the user.
Track changes in the app stores and ASO trends, as well as the metadata of your competitors. This way, you can change your metadata on time and make your app store optimization more efficient.
Checklist on how to improve your ASO performance
I made a checklist on how to avoid these 10 mistakes and make your app store optimization more effective:
1. Research your niche and your competitors' ASO, which will help you find more keywords to rank for.
2. Don't trust non-ASO savvy people to download your metadata. Otherwise, you can lose a large number of keywords, which will negatively affect your rankings.
3. Evaluate the demand and competition in your niche to understand how appropriate it would be to deal with ASO in your case.
4. Be patient and have realistic expectations. It takes several weeks for ASO to bring the first results.
5. Don't rely only on ASO. Use UA and develop your brand. This will help your app to grow faster in search and you will get more installs.
6. Work with the App Store and Google Play in different ways. These app stores have their own characteristics in indexing and rules that must be taken into account
7. Insert more keywords into the description of the Google Play app, as it will influence your positions in the search.
8. Do not allow other employees to make any changes to the application metadata.
9. Constantly work with user reviews, so you will increase your rating. Improve your rankings and find new ideas for improving the application.
10. Set a realistic goal, make a 12-month plan, work on ASO and promote the application daily. Only in this case will you see significant results from optimization.
11. Use analytics, such as ASO Benchmark in ASOdesk, to evaluate the results of App Store Optimization and paid promotion. Use CVR Benchmark to compare your data with other apps in your category.
12. Study and learn how to use the ASO platform. Read the ASOdesk blog for practical tips on ASO.