How to build a semantic core for your app: step-by-step guide
Published: 30.10.2020
Updated: 08.08.2022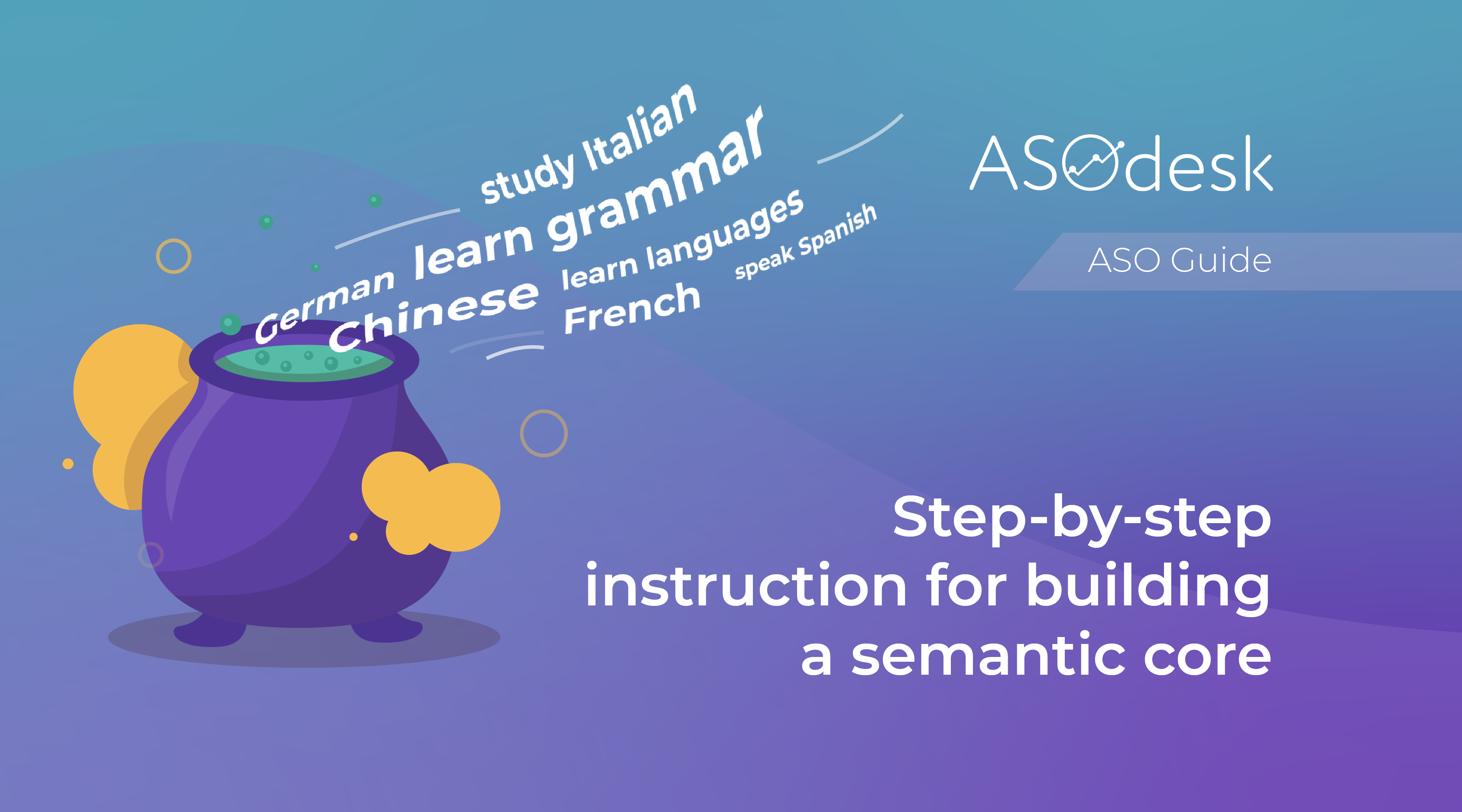 Building a semantic core is the most important part of App Store Optimization, which the effectiveness of further promotion depends on. You need to find specific keywords that will bring you installs from the search. In this article we will explain in detail how to properly build a semantic core.
This is a series of articles based on the ASOdesk Academy lecture materials, where we covered all aspects of App Store Optimization. We have already noted how competitive analysis helps in App Store Optimization, how to work with iterations in ASO, and what is important to consider when optimizing an application for foreign languages. You can watch the original lecture here:
Before building the core, analyze the market and make sure you need ASO. To check if you need it, use this article. You will find the percentage of search traffic in different categories and get instructions on how to check the percentage of branded traffic in your niche. Once you have determined to what extent your application needs ASO, you can move on to building a semantic core.
The result of the search queries analysis will be a semantic core; you will use core's queries in the text metadata. We distinguish the following steps of building a semantic core: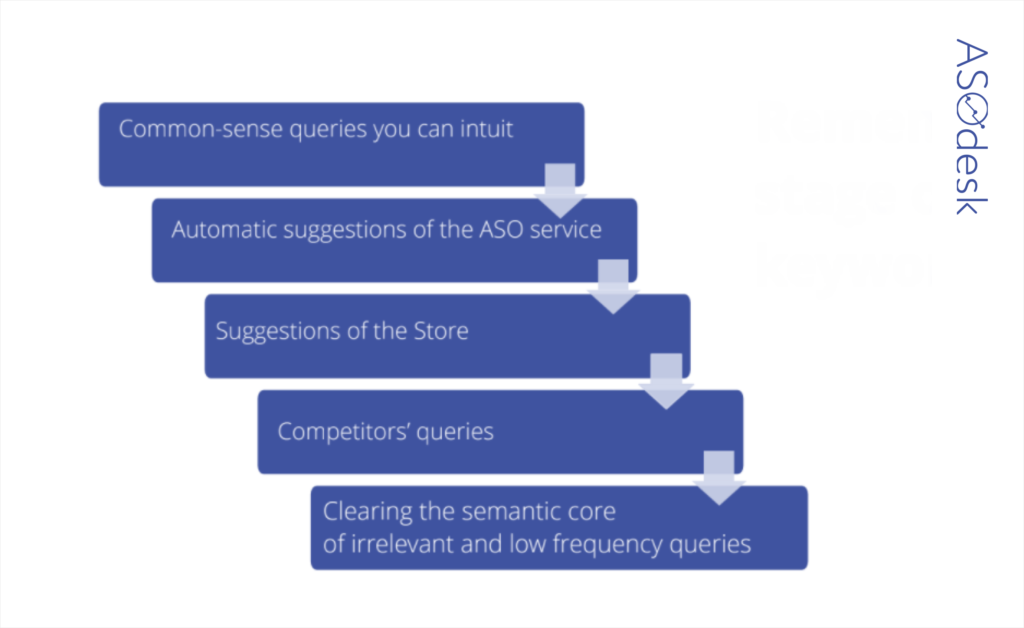 Typically, an ASO specialist makes changes to the semantic core before each iteration (optimization cycle). It takes at least 6-8 iterations to bring the application to the top. Read more about working with iterations in this article.
We will look at how to build a semantic core using the example of the app "Workout for Women: Fit at Home".
Step 1: make up queries and add them
The developer and mobile marketer should know their application and problems it solves well. Before starting promotion, an ASO specialist should also understand the product and know who needs it and why.
Search queries come from the tasks that an app can help with. Therefore, before resorting to search suggestions, write down all the queries which you think users are using to search for similar applications.
Go to ASOdesk Keyword Analytics and enter queries related to your application in the Add keywords field.
If you have a branded app, start with branded keywords. And then enter all general queries. At the first stage, we got 43 keywords.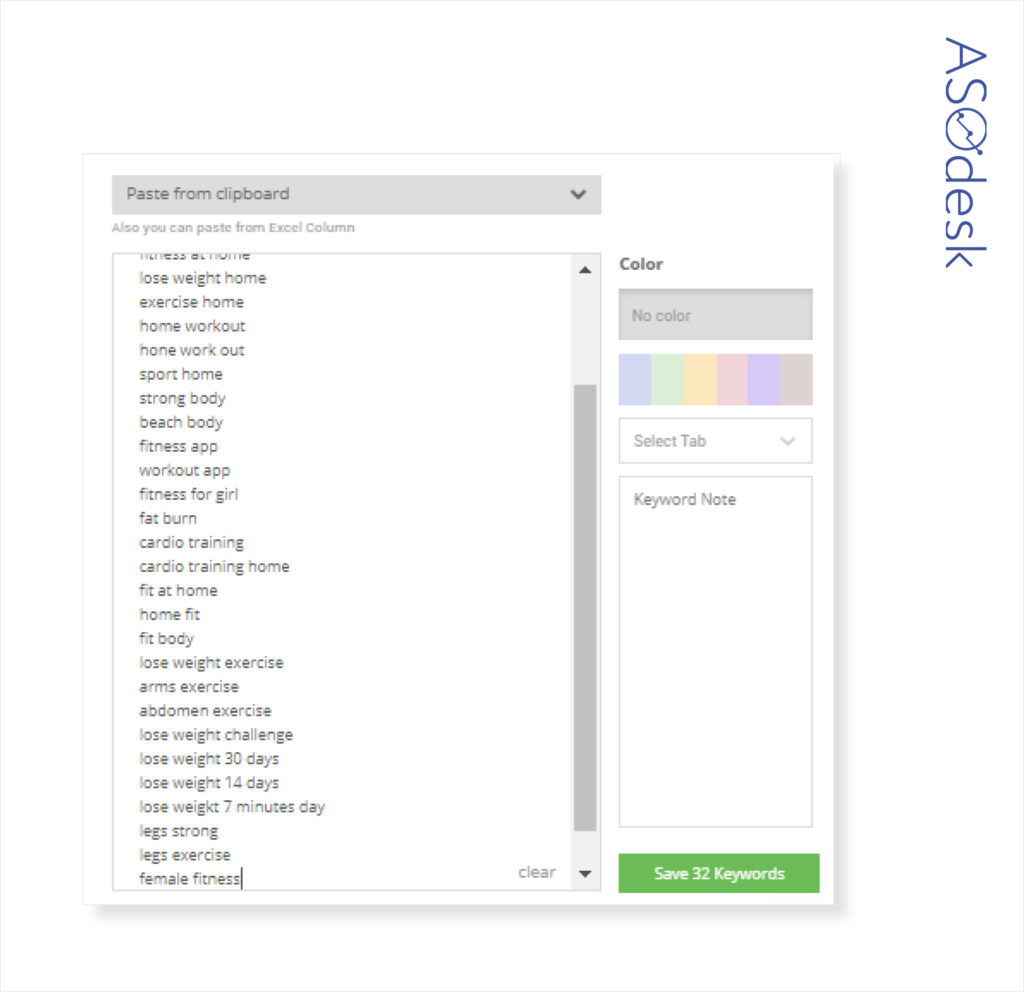 Step 2: add auto-suggestions from the ASO service to the core
You can find from 20 to 100 search queries on your own. But it's impossible to come up with all combinations of keywords yourself. Automatic services will increase the number of keywords by 3-10 times.
Auto-Suggestions in Keyword Analytics
The Auto-Suggestions tool in ASOdesk finds all search queries relevant to the application. The search suggestions feed is endlessly updated, and if you have added all the listed queries, the system will suggest new ones.
Thanks to search suggestions, we found 265 more words for our app.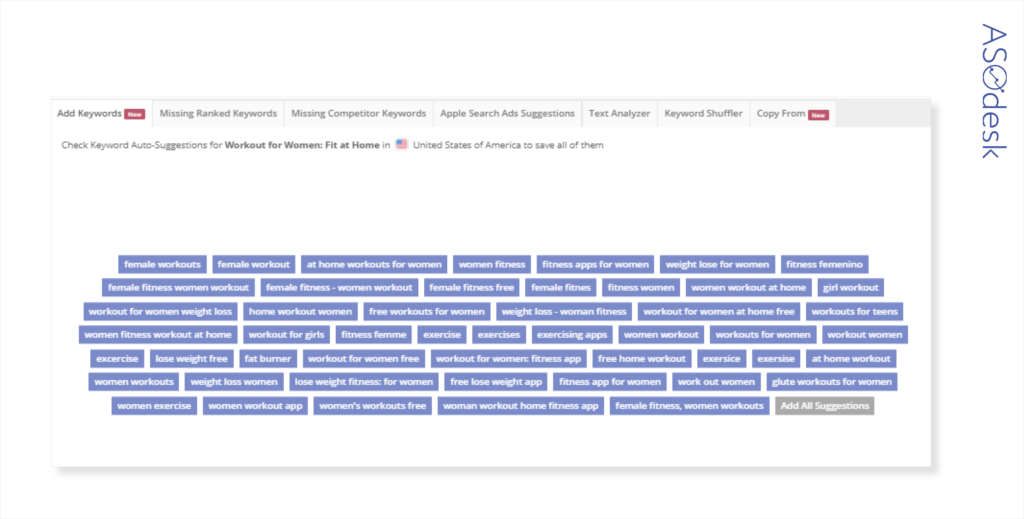 Missing Ranked Keyword
This tool shows search queries that are not in the semantic core yet, but the application is already ranked for them. If Search Ads Popularity and Daily Impressions are high, it makes sense to add them to the semantic core.
Search Ads Popularity (SAP) is a query popularity rate that Apple provides when setting up advertising campaigns in Apple Search Ads. It is better not to use low-frequency queries with less than 5 SAP.
Daily Impressions is a number of users searching for an application using a particular query.
We found 39 words with the Missing Ranked Keyword tool.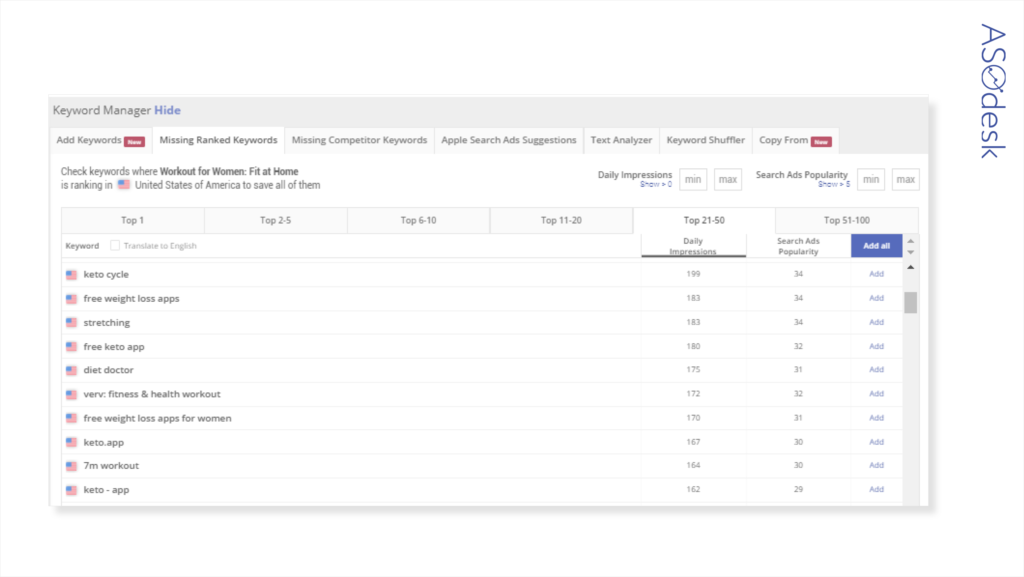 Long-Tail Keywords
About 70% of search traffic comes from long-tail queries. Here you will find the very targeted queries for which the application will have low competition.
From this tool, we have added 29 more keywords for the workout application.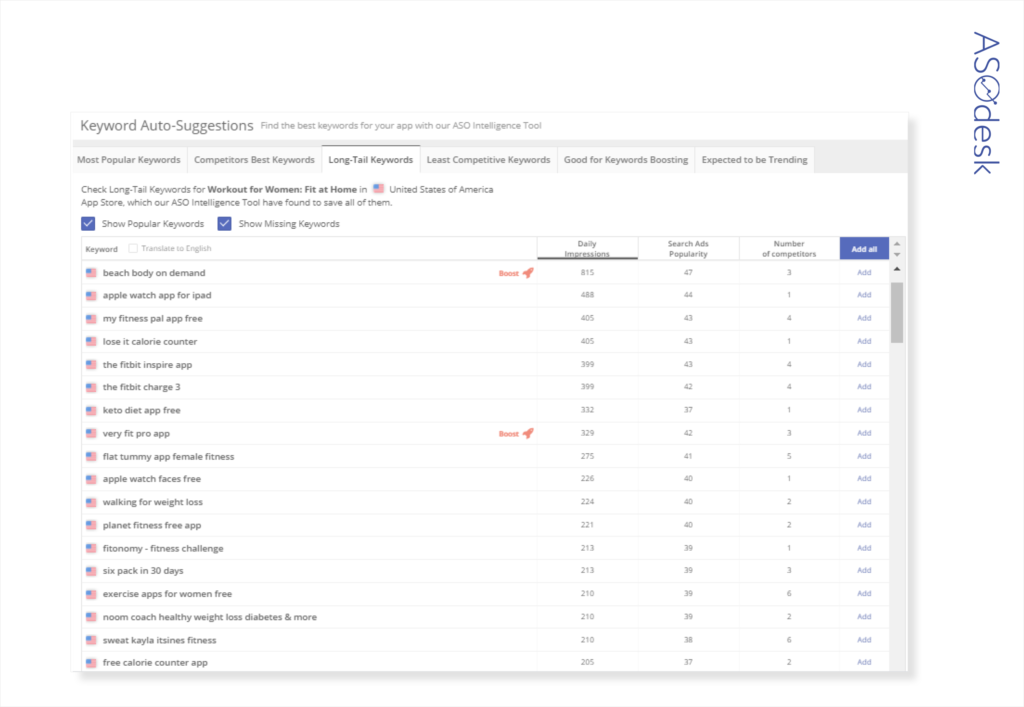 Step 3: Analyzing App Store search suggestions
When searching for an application, a user does not type in the whole request, but clicks on the search suggestion that an app store offers.
Our task is to try to restore the entire search path of the application.
This method is very useful for the 2nd-4th iterations, when you are already using the bulk of the queries, but continue to look for growth points.
With app store suggestions, you can see the picture through the eyes of users and narrow down the core.
For example, you have worked on reach and you are using broad queries ("fitness", "workout", "to lose weight"). Then it's worth finding narrower search queries that fit the specifics of the application: "fitness for women", "workout beginner", "to lose weight in 30 days", etc.
To check your search suggestions, write a keyword and see what the app store suggests to you.
You can go in more detail and type in words character by character in the App Store or Google Play.
ASOdesk will also help you find search suggestions for your queries. They are displayed in the Keyword Table, column "Suggestions". We added 25 words from suggestions for our app.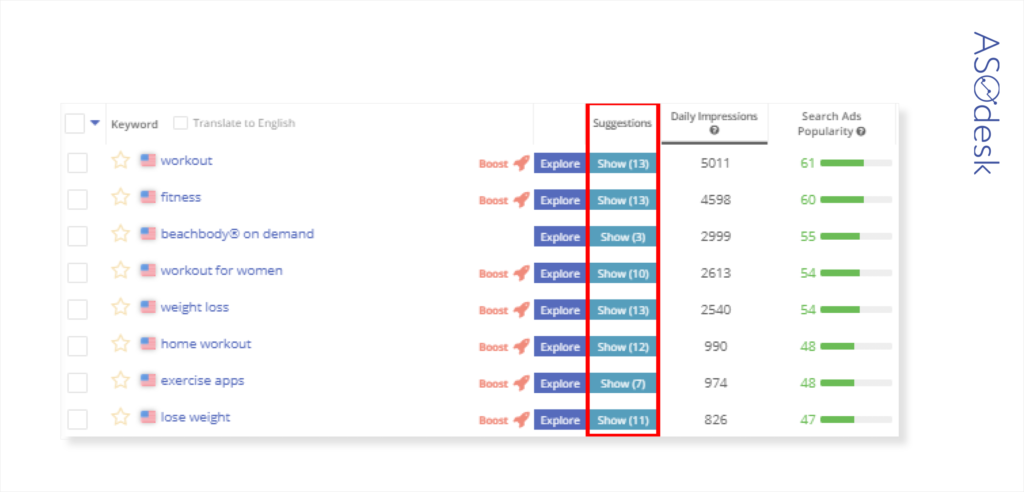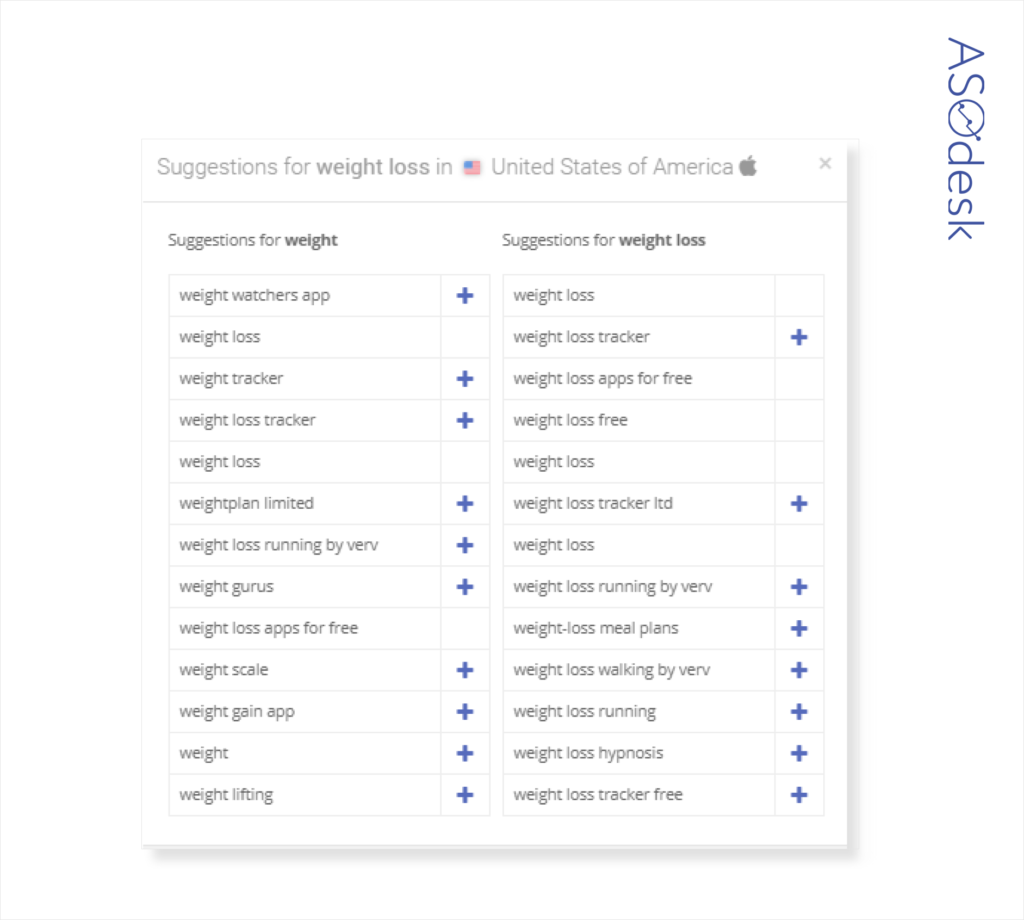 You can also check the suggestions using the Keyword Explorer tool.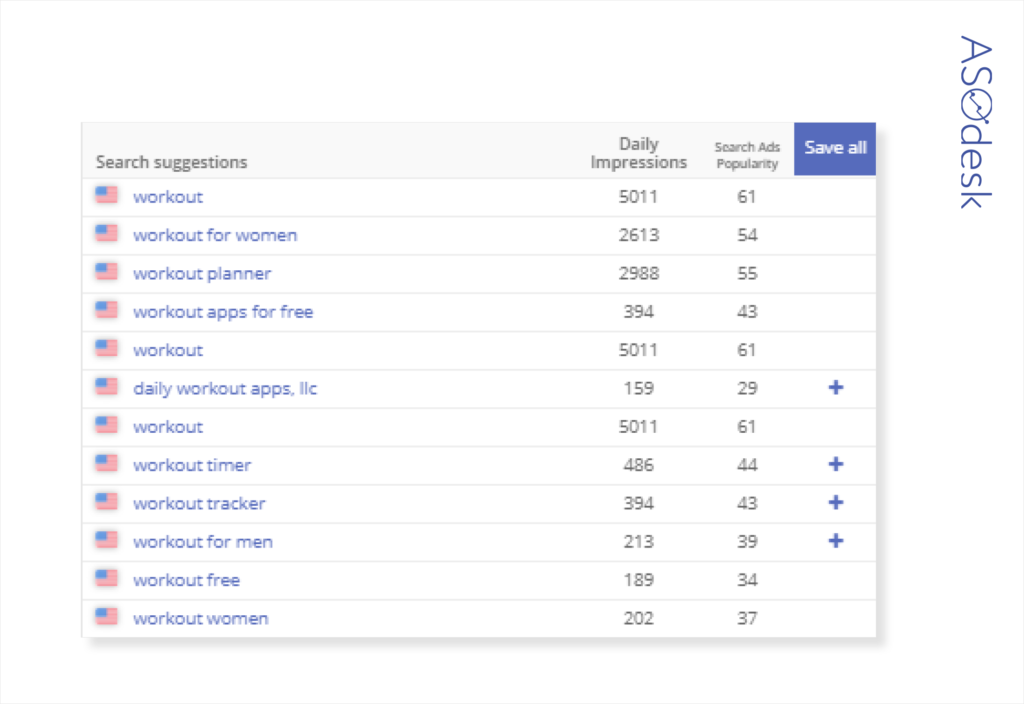 Step 4: analyze competitors' queries
Top competitors provide keyword and metadata insights. You can see a forecast of the number of installs that competitors receive for various keywords. As well as evaluate what words and phrases moderation passes.
For the analysis, you need to find competitors for search queries from your niche. This can be done through the Keyword Explorer in ASOdesk.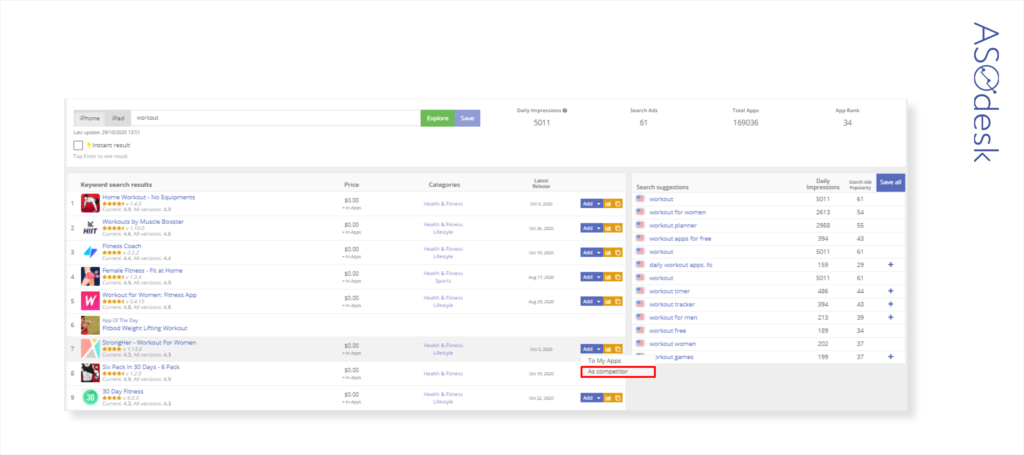 At this stage, we also check the relevance of your search queries. If, while typing a query into a search, you see similar applications of competitors, this keyword can be added to the semantic core. If completely different applications are ranked for this query, you should not use this query.
For example, in search results for the query "body" there are a lot of photo editing apps and games, not fitness apps. Therefore, we need to remove this keyword from the semantic core or use it only in combination with other words (perfect body, healthy body).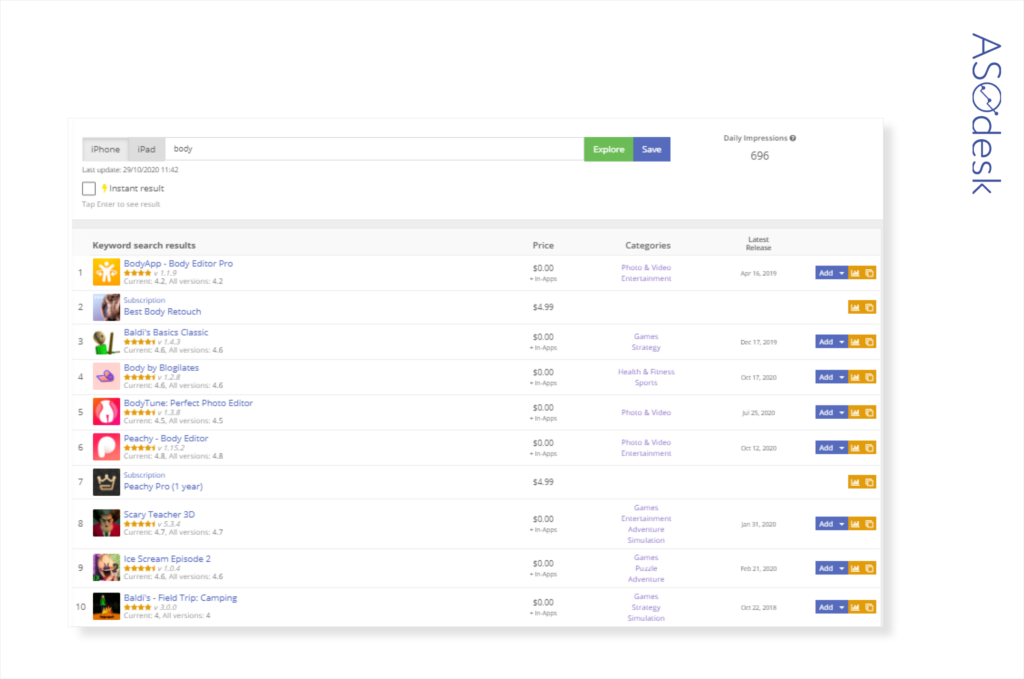 At ASOdesk, you can find and analyze up to 9 competitors at the same time using the following tools:
Organic report
Shows a forecast of installs from search queries for which the competitor's application is ranked (Estimate Installs).
We analyzed the competitor and found search queries. Now we will add the most relevant ones to the semantic core.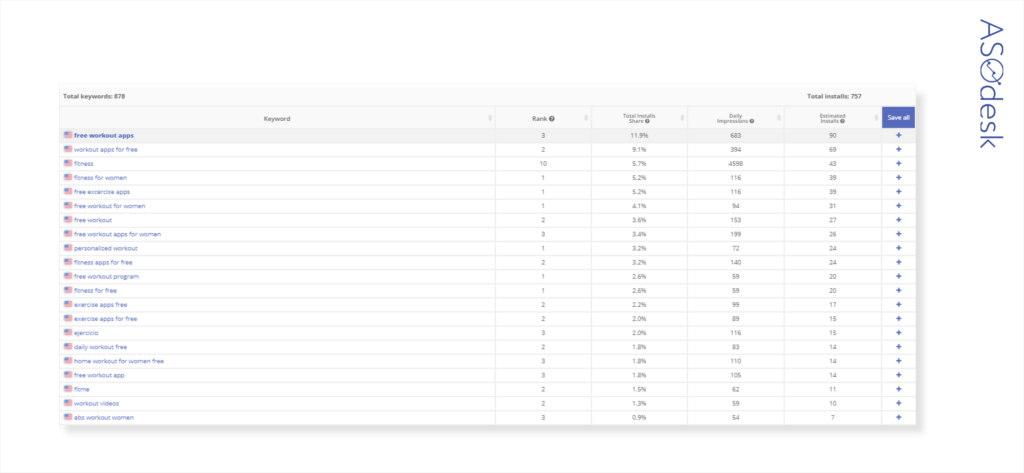 Missing Competitors Keyword
A tool based on competitors' applications shows queries that are not in our core. For these queries, similar apps are in the top 1, top 2–5, etc.
During the analysis, we added 73 queries for the workout application.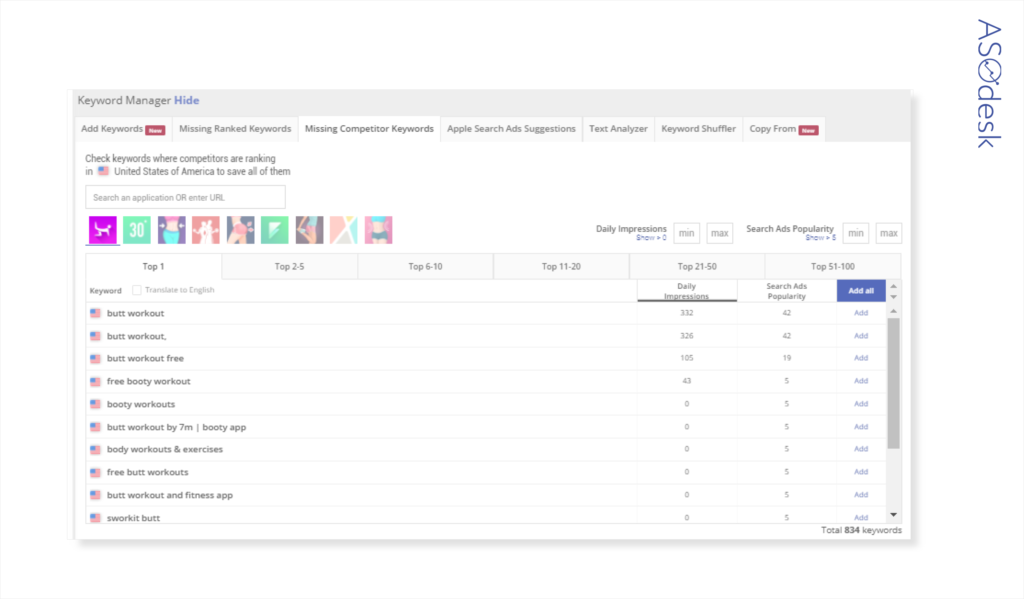 Competitors Best Keywords
Finds the most popular queries that bring installs to your competitors. You can add these queries to your semantic core. We added 24 keywords for our app.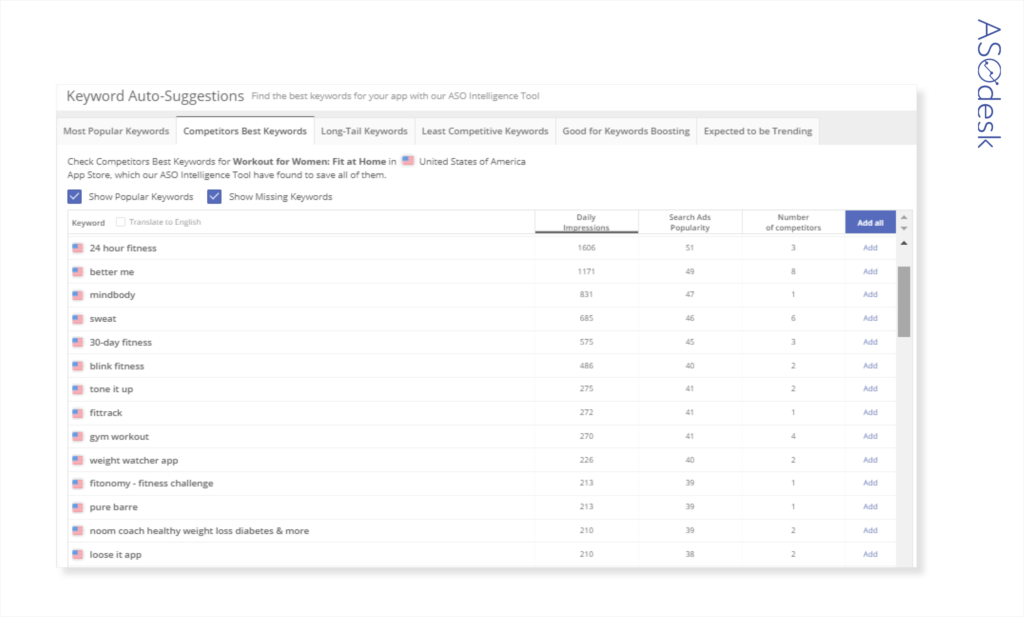 Least Competitive Keywords
If the application is not yet popular, it will be impossible to reach the top for high-frequency queries. Therefore, you need to be ranked for queries with low competition.
As a result of the analysis, we found 30 keywords for the workout app.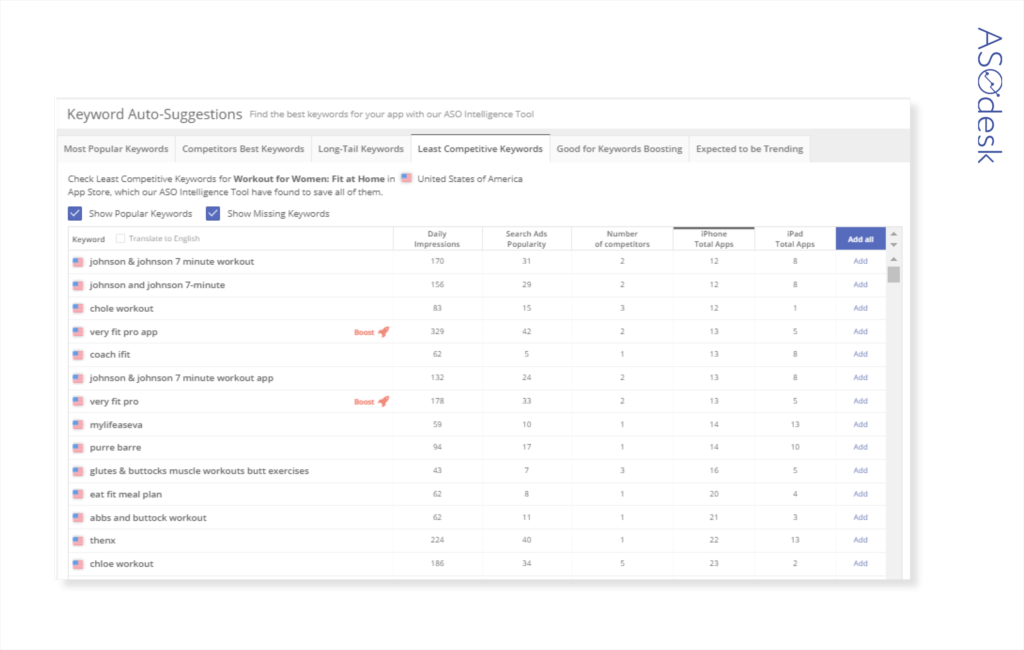 ASO Comparative Report
This tool allows you to see the keywords for which competitors are rising or falling in search positions, as well as recently added keywords.
Keywords can be filtered with the help of movement. We added 27 keywords.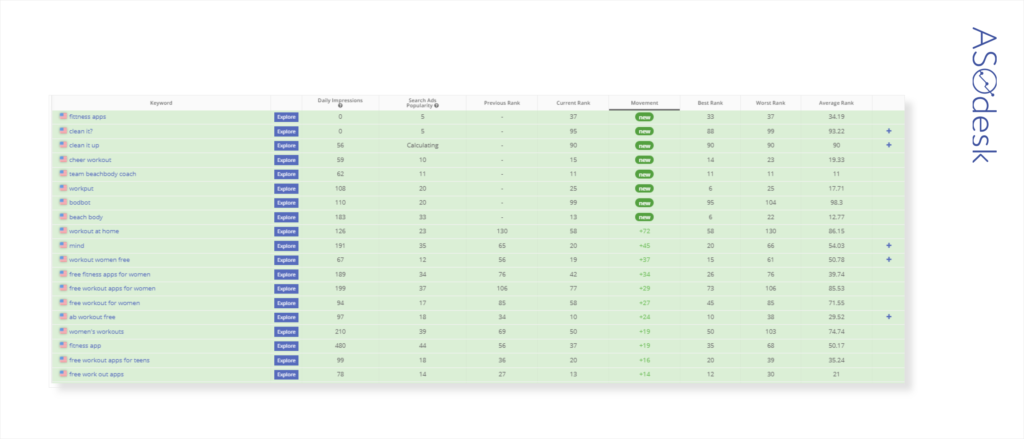 Step 5: clear the core of irrelevant and low-frequency queries
All queries that we have collected during the analysis are displayed in the Keyword Table. As a result of building the semantic core for workout application, we got 439 keywords.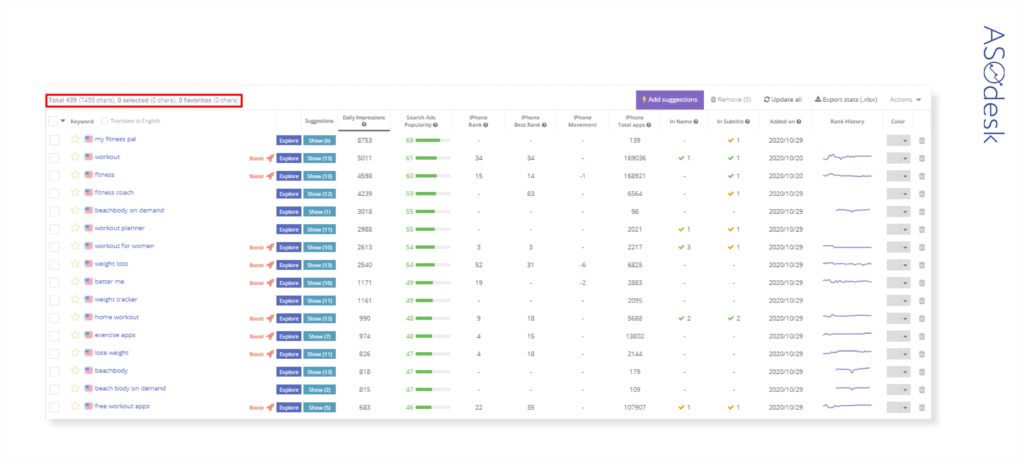 The amount of metadata is limited. Therefore, we cannot include all of the specified queries in the title, description and keywords. You need to choose exactly those keywords that will bring installs. Therefore, it is important to clear the core of irrelevant and low-frequency queries.
Remove irrelevant queries from the semantic core
Your app should only be found by those who are interested in using it.
For example, there are only exercise for losing weight and building muscles in your app, but it lacks diet and count calories function.
In this case, you should not add the keywords "diet", "keto diet" or "count calories" to the semantic core. If users download the app and then realize that they were looking for something completely different, you will receive negative reviews.
The number of deletions will grow, and the life cycle and user retention rate will fall. Therefore, only select relevant queries so that the application is found by those users who really need the app.
Assess whether to use competitors' branded queries
For example, moderation will not pass the queries "Nike training", "GetFit", "BetterMe", for the "Workout for Women: Fit at Home" application.
But we can add a misspelled branded query: "get fitt", "beterme", etc. For such queries, it is sometimes possible to be indexed.
IOS 14 added an auto-correction feature that automatically corrects typos. To see if we should use a misspelled branded query, try typing it into an App Store search bar and see if the app store corrects it.
Use a brand if the app is linked to another app. For example, we can insert "WhatsApp" into the title if we make stickers for this messenger.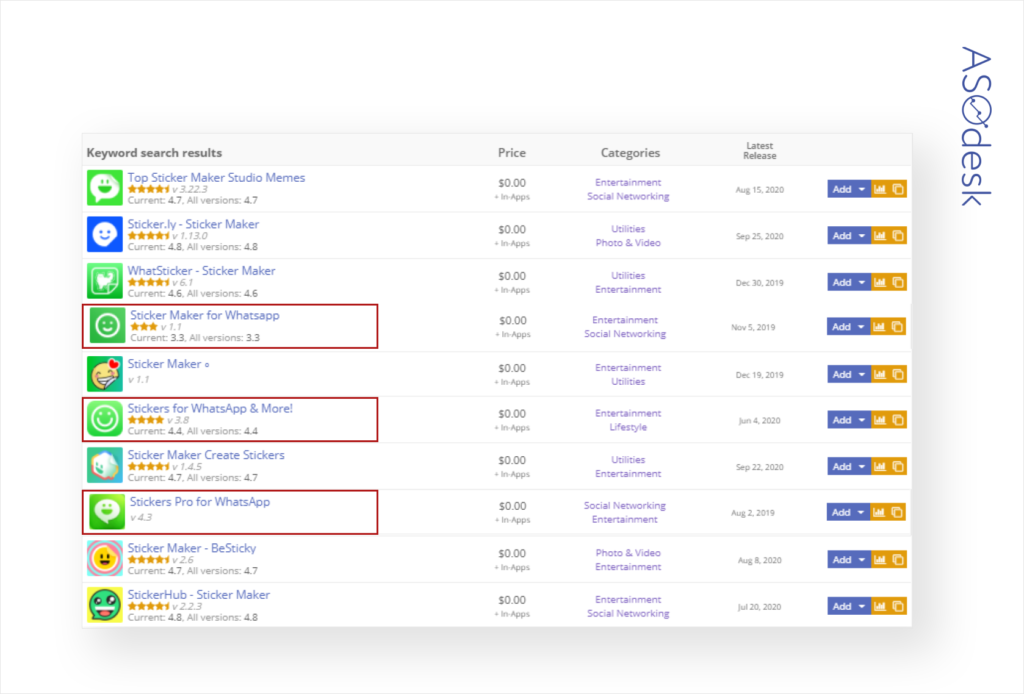 Break the remaining queries into groups
After dekiting all irrelevant keywords we have 411 keywords left. With a smart checkbox, you can sort keywords by Search Aps Popularity, Daily Impressions and other parameters. You can set the desired values, or simply click on the desired indicator, and the system will automatically show the keywords for the maximum or minimum value. For example, in the screenshot, we have filtered the keywords in ascending order: from the lowest SAP to the highest.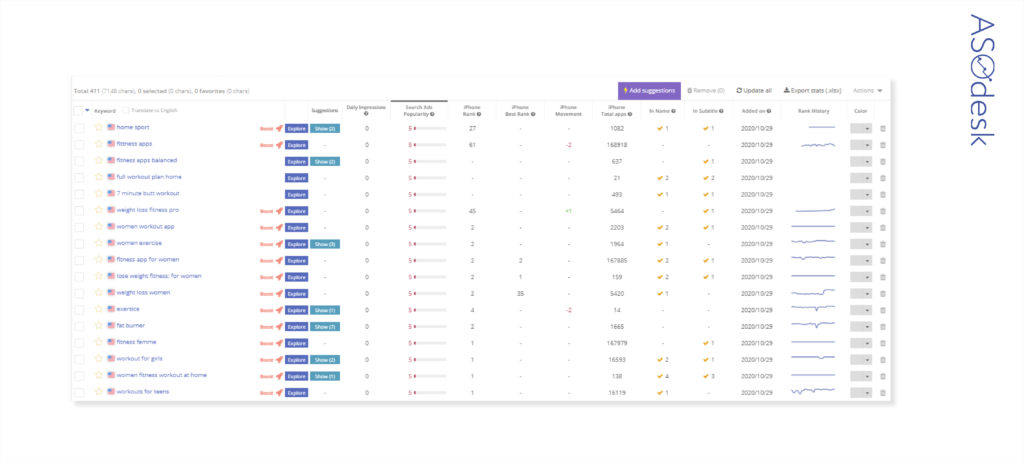 To analyze queries more conveniently, we will divide them into 4 groups:
Low-frequency search queries: Search Ads Popularity from 5 to 15
We will not include queries with SAP 5 in the metadata. They will take up a lot of space, but we will not get installs from them, since they are practically not searched for on any given day.
Requests from SAP above 5 will go to the additional locale. For example, if the secondary locale is only for Spain, the keywords field may contain queries in Spanish that do not fit into the primary locale.
We'll also add them to a separate category and watch how Search Ads Popularity and Daily Impressions change for these keywords. Let's filter queries by Search Aps Popularity and highlight them in blue.
We also deleted keywords, which Daily Impression is 0. Now we have 319 words left.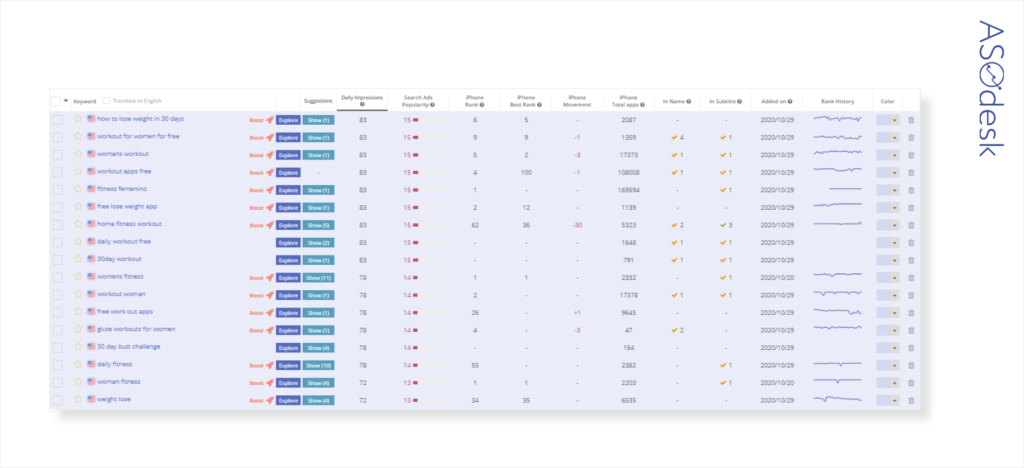 Queries for which the system is currently calculating traffic: Search Ads Popularity Calculating
If you see the word "Calculating", you have found a new query. Previously, ASOdesk users did not search for such queries, so we do not yet have data on their popularity.
Add them to a separate group. You need to wait until the system calculates Search Ads Popularity and Daily Impressions for these queries and then decide whether to keep or remove them.

High-frequency search queries: Search Ads Popularity over 40
Popular searches won't work for apps that are just entering the market. The competition for them is already high and you will not gain positions. Therefore, do not focus exclusively on top search queries. It is better not to use keywords with Search Ads Popularity over 40 in the first iterations.
Plus, high-frequency queries will show up in your metadata anyway. For example, our application metadata will include the queries "workout", "home workout". You just need to keep track of such queries during the optimization process.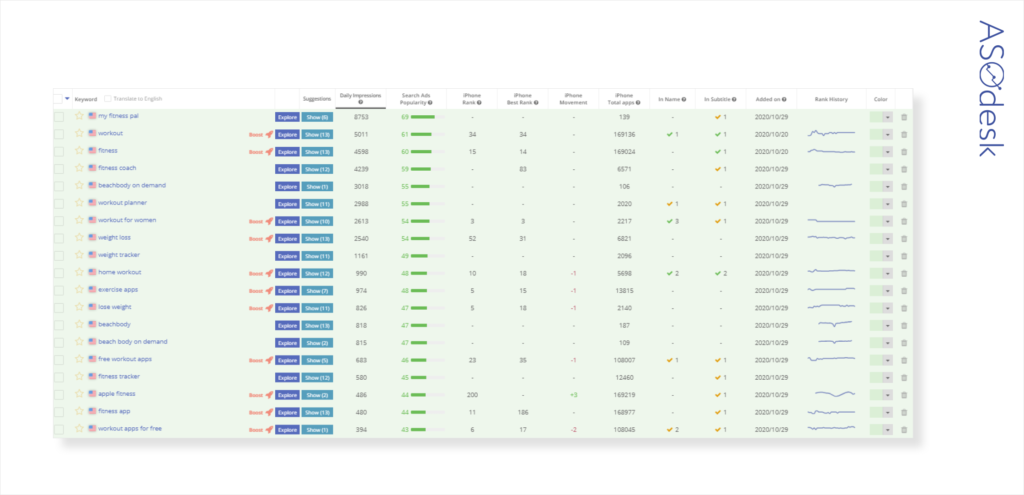 Medium-frequency queries: Search Ads Popularity from 15 to 40
If your application is just entering the market, add search queries with popularity from 16 to 40 to the semantic core.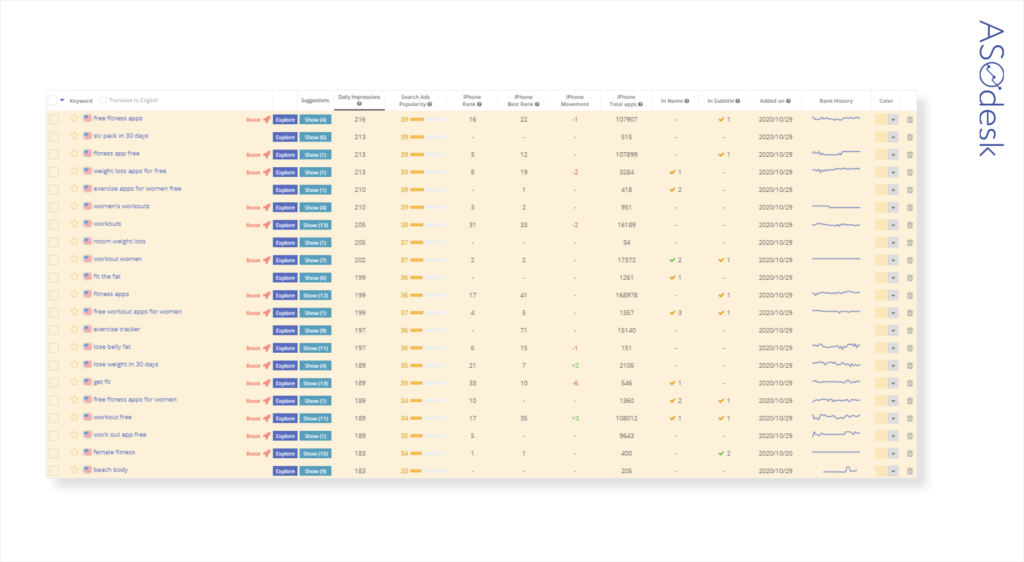 It is necessary to study search queries before each iteration and include them in the semantic cohorts. For example, during the core-narrowing iteration, we can see that the queries with "weight loss" are gaining popularity in the search. Then it's worth adding more similar keywords to the metadata.
Conclusions
To build a semantic core, you need 5 simple steps:
1. Add all the search queries that are related to the application, based on your opinion.
2. Extend the semantic core with automated ASO service suggestions.
3. Add keywords from app store auto-suggestions.
4. Analyze your competitors. Find requests for which the applications of competitors: rise in search, get the largest number of installs, are at the top of search results.
5. Сlear the core of low-competition and irrelevant queries. We should leave only those keywords that will bring us installs.
Based on the built semantic core, prepare the metadata. When doing this, keep in mind the App Store and Google Play rules and in-store app ranking factors. Read more about these factors in our article.