Checklist for finding app growth hypotheses
Published: 26.07.2021
Updated: 30.01.2023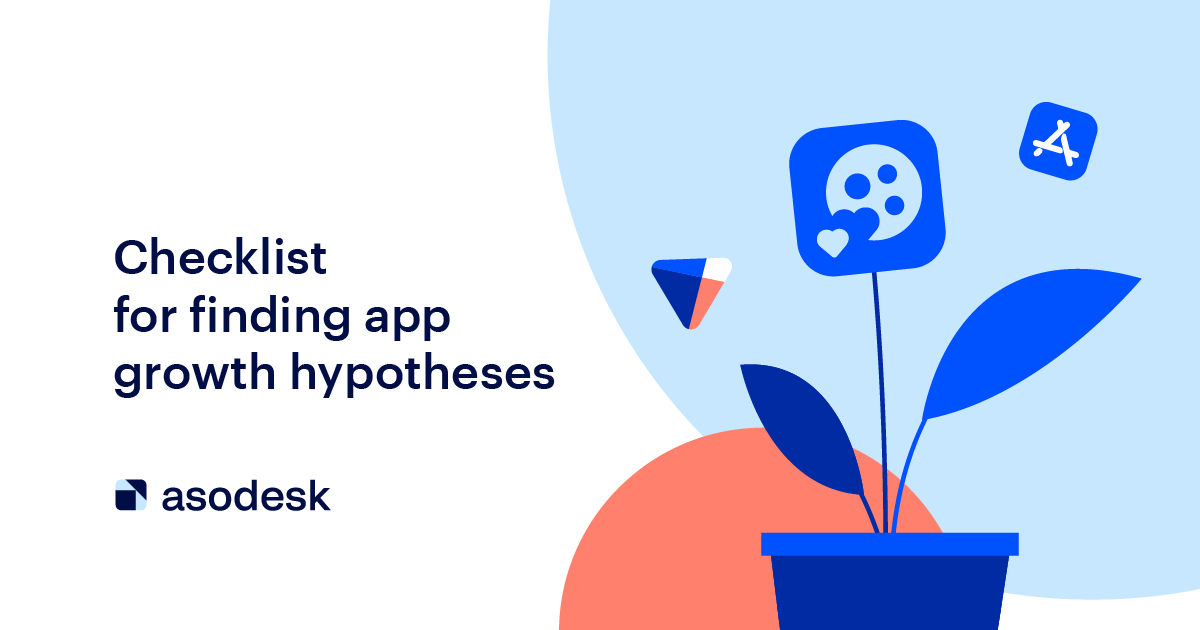 In this article, we have compiled various hypotheses that can increase your app's conversion rate and number of installs, along with successful case studies of Belka Games, DEVGAME, and Toplyvo UA.
The article is based on the app growth hypotheses lecture by Artem Tkaczuk at Asodesk Academy.
Finding growth hypotheses is the fifth stage of ASO. You should look for growth hypotheses only once the processes of collecting the semantic core, preparing metadata, measuring the optimization performance, and working with iterations have been completed. You need to regularly check the application and add to the list of hypotheses that can help the application grow.
Depending on your goals of promotion, there are two types of hypotheses: increasing conversion and maximizing installs.
To increase conversion, you need to work on visual and textual metadata. Your app's App Store and Google Play pages should convince the user of its usefulness and motivate them to install it. Conversion rate is also influenced by app size, update frequency, and reviews.
To maximize installs, it's important to work on the fields that affect your app's search rank:
Metadata: title, subtitle, keywords, short description, description
Additional localizations
App Store in-app purchases
New reviews' rating and frequency 
We'll go over all the metadata elements, as well as some internal elements of the application, and show you how to find growth hypotheses for them.
Сontents
Icon
Screenshots
Rating and reviews
Title and subtitle
Promo text and short description
Description
App Store keywords
What's New
App Store in-app purchases
Localization and use of additional locales
Internal application parameters
A checklist for finding growth hypotheses
Icon
Using the icon, you can positively influence app conversion.
Brand on the icon
Placing a logo or brand name on an app icon is one of the possible growth hypotheses. This will help you stand out among the competitors, as well as save characters in the app title and add more keywords instead.
For example, the McAfee brand name was placed on the icon while the keywords "VPN" and "Safe WiFi" were indicated in the app name.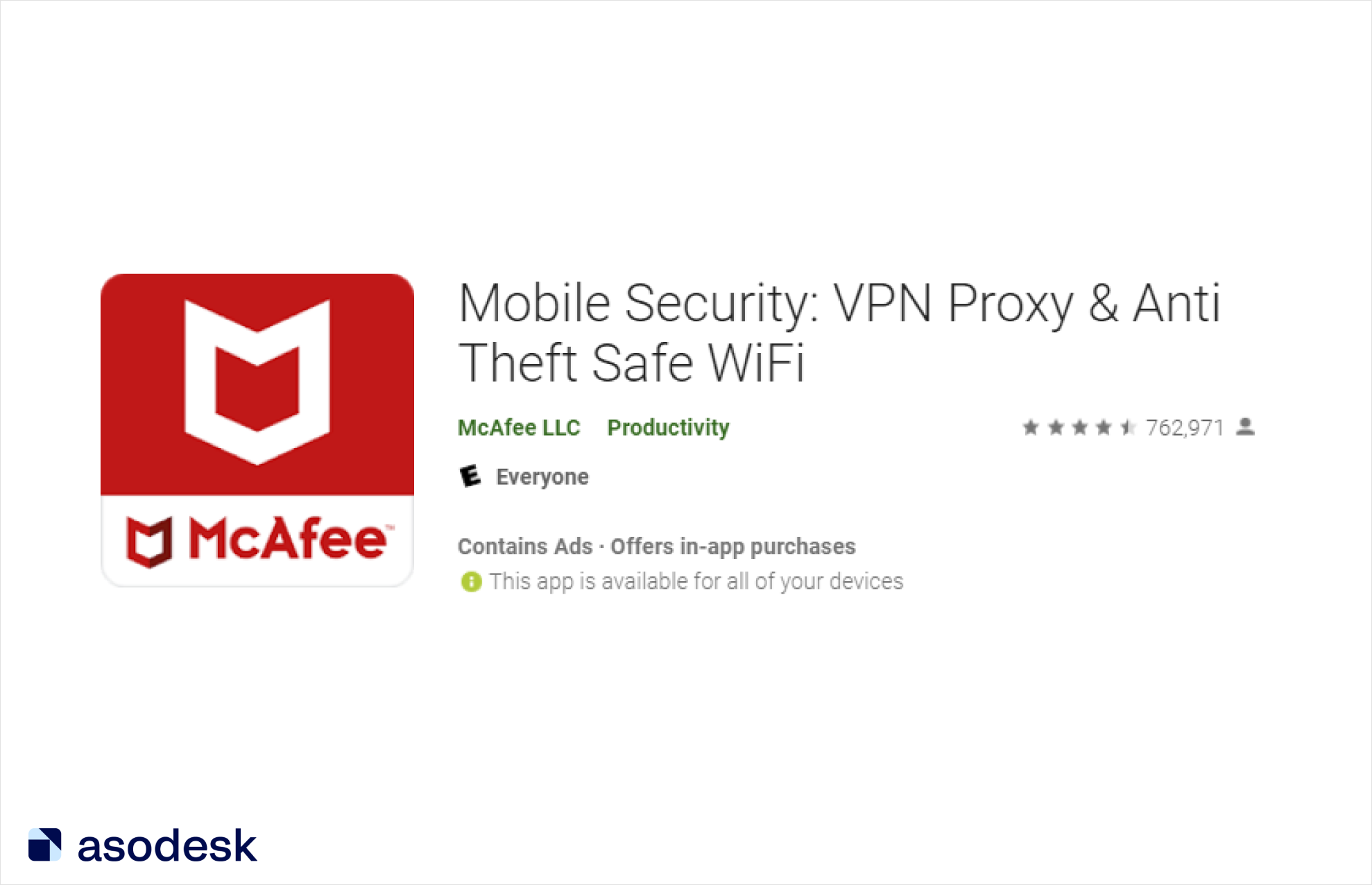 Event on the icon
You can place the app's achievements on the icon and thus improve your app image. For example, ABBYY added the number 10 to their icon to show how long they have been in the industry.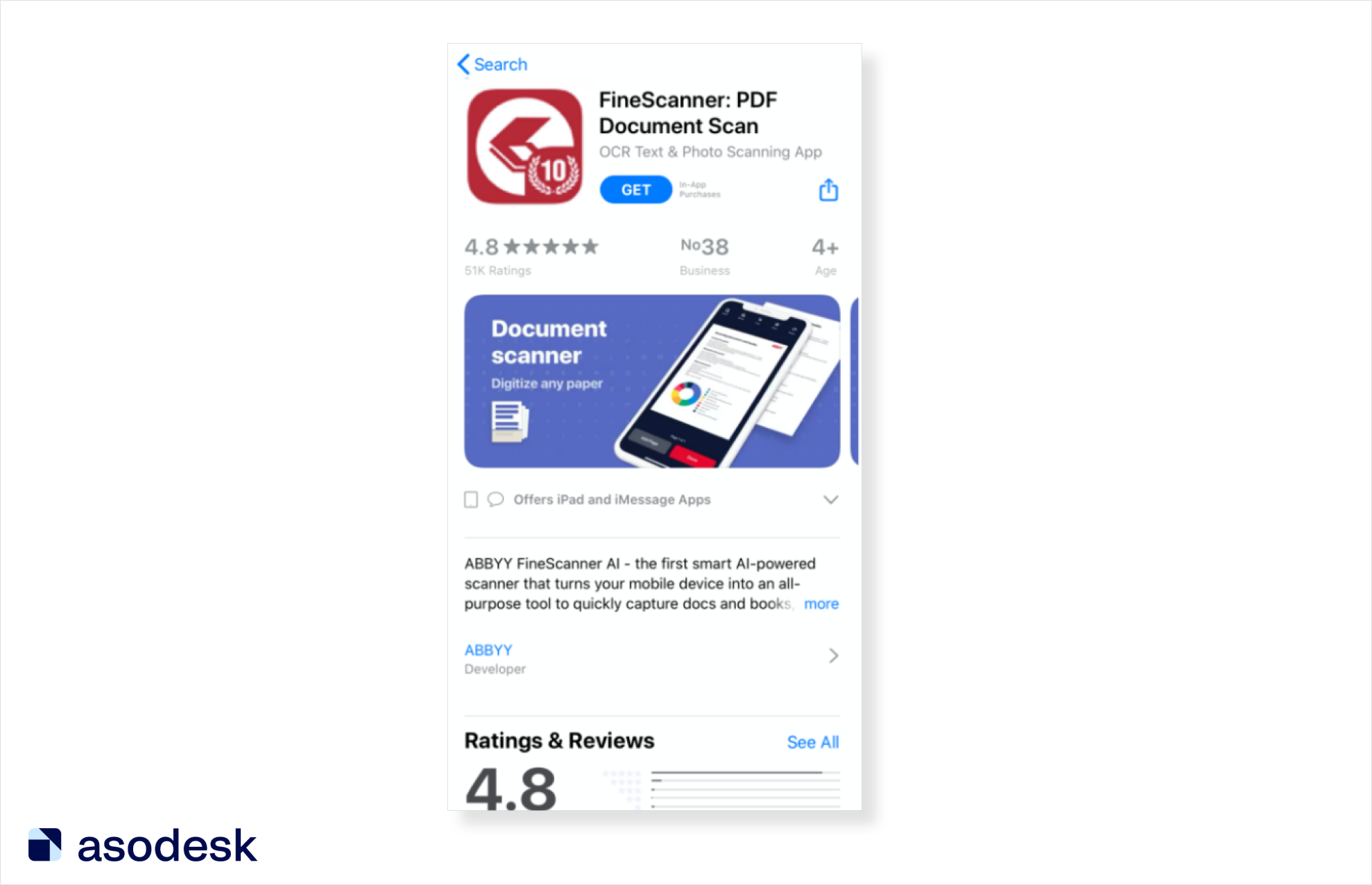 You need to be careful with icons like this on Google Play. According to the company's policy, you should avoid information that doesn't describe the features of your app. Don't write about Google Play performance, rankings, awards, user testimonials, or price and promotional information, such as, "Best," "#1," "Top," "New," "Discount," "Sale," or "Million Downloads." You should also avoid calls to action here, such as: "download now," "install now," "play now," or "try now."
Events on the icon can also include holidays, time of year, etc.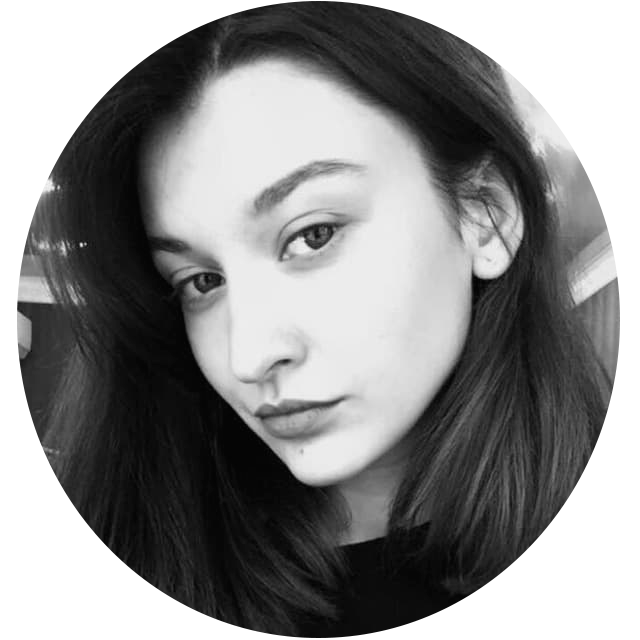 Anna Antsiferova, Head of ASO at DEVGAME


I have put forward the following hypothesis for the Three Cats app: an icon that shows a seaside holiday will have a positive effect on conversion in summer. Therefore, I decided to change the neutral icon with the character underwater to a brighter version.

After three weeks, installs have gone up:
26% from all traffic sources;
24% from search;
26.5% from browse.
In addition to the increase in installs, this also affected the app rank: the number of keys in the top 10 has grown by 1.5 times.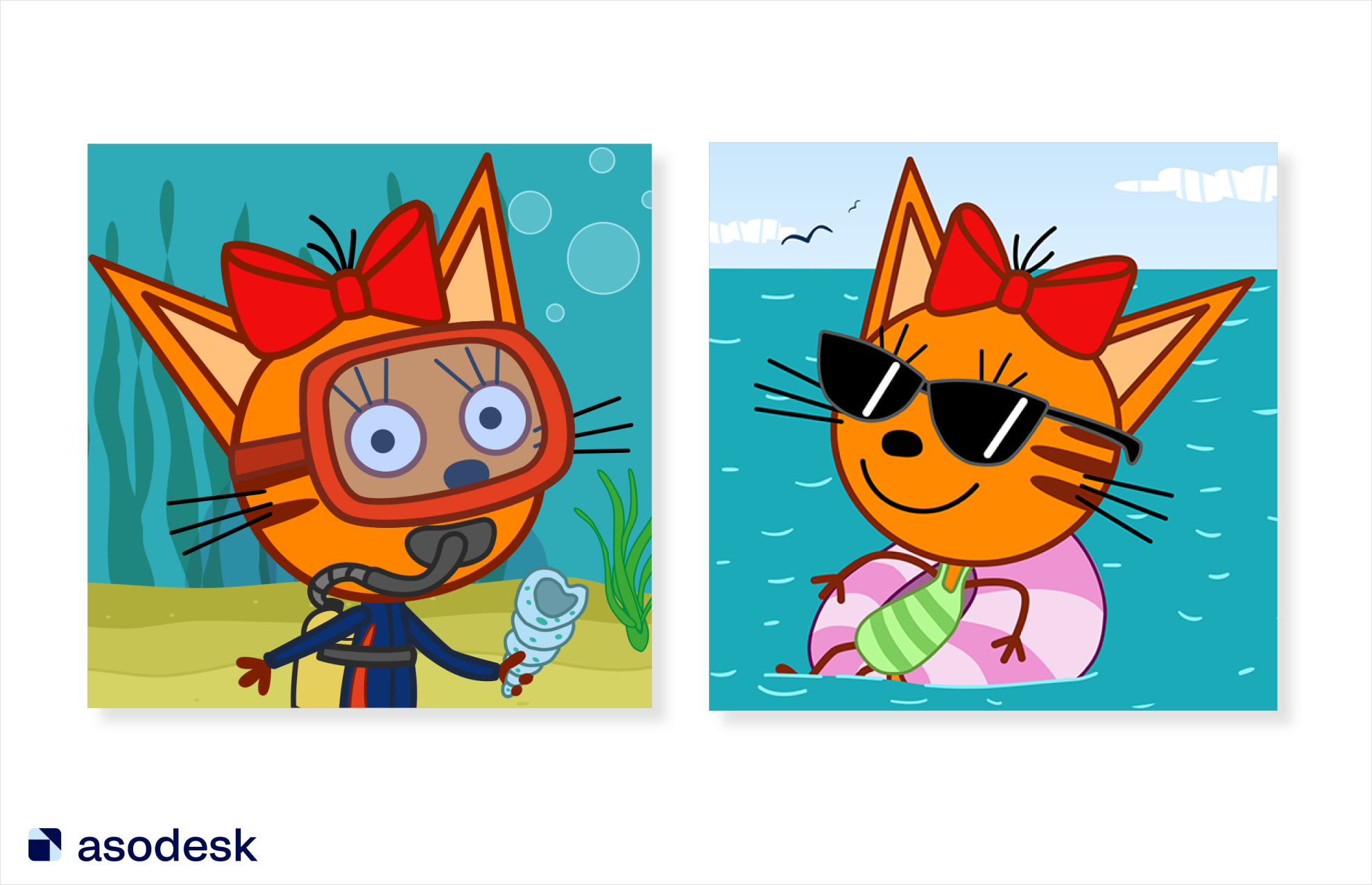 Icon and screenshot combination
The well-balanced combination of icons and screenshots is especially important for the App Store, where users can see screenshots in search results.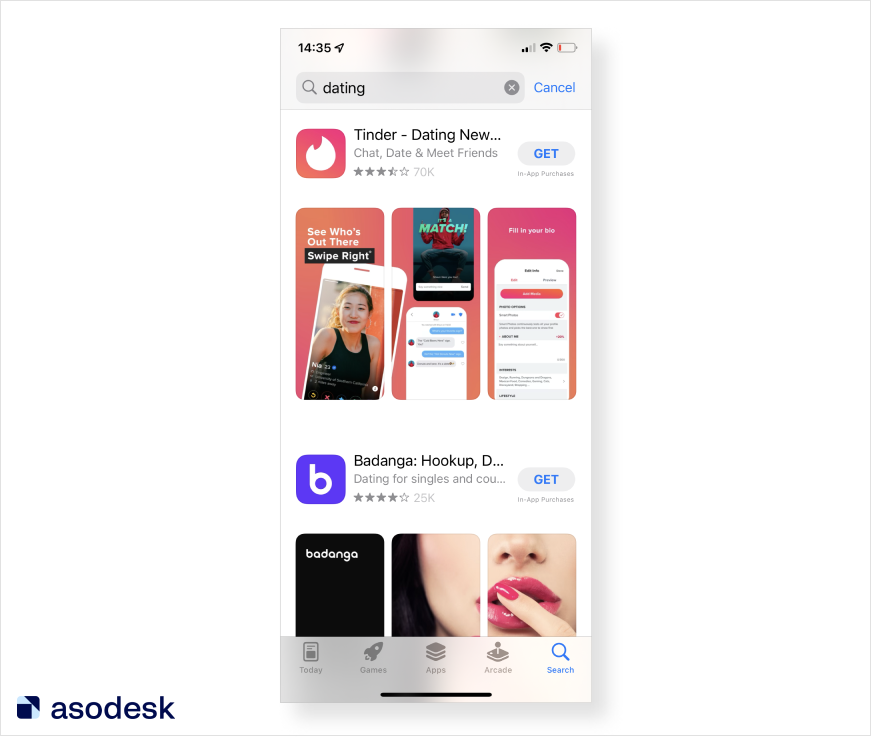 The opposite hypothesis can also be put forward: icons and screenshots of different colors will attract more user attention and help increase your conversion rate.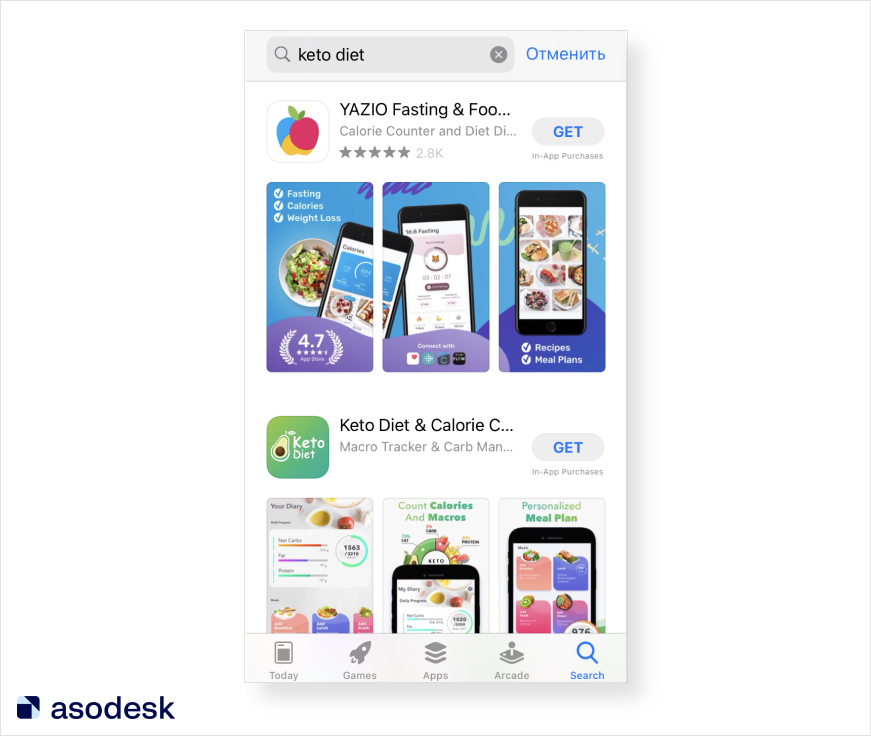 Making your icon stand out amongst its competitors
Your icon should be different from competitors and not merge with them in the search results. That is why Anna Benkis chose the light green icon for the Know & Go app to stand out from other travel apps that opted for blue, light blue, white, and black.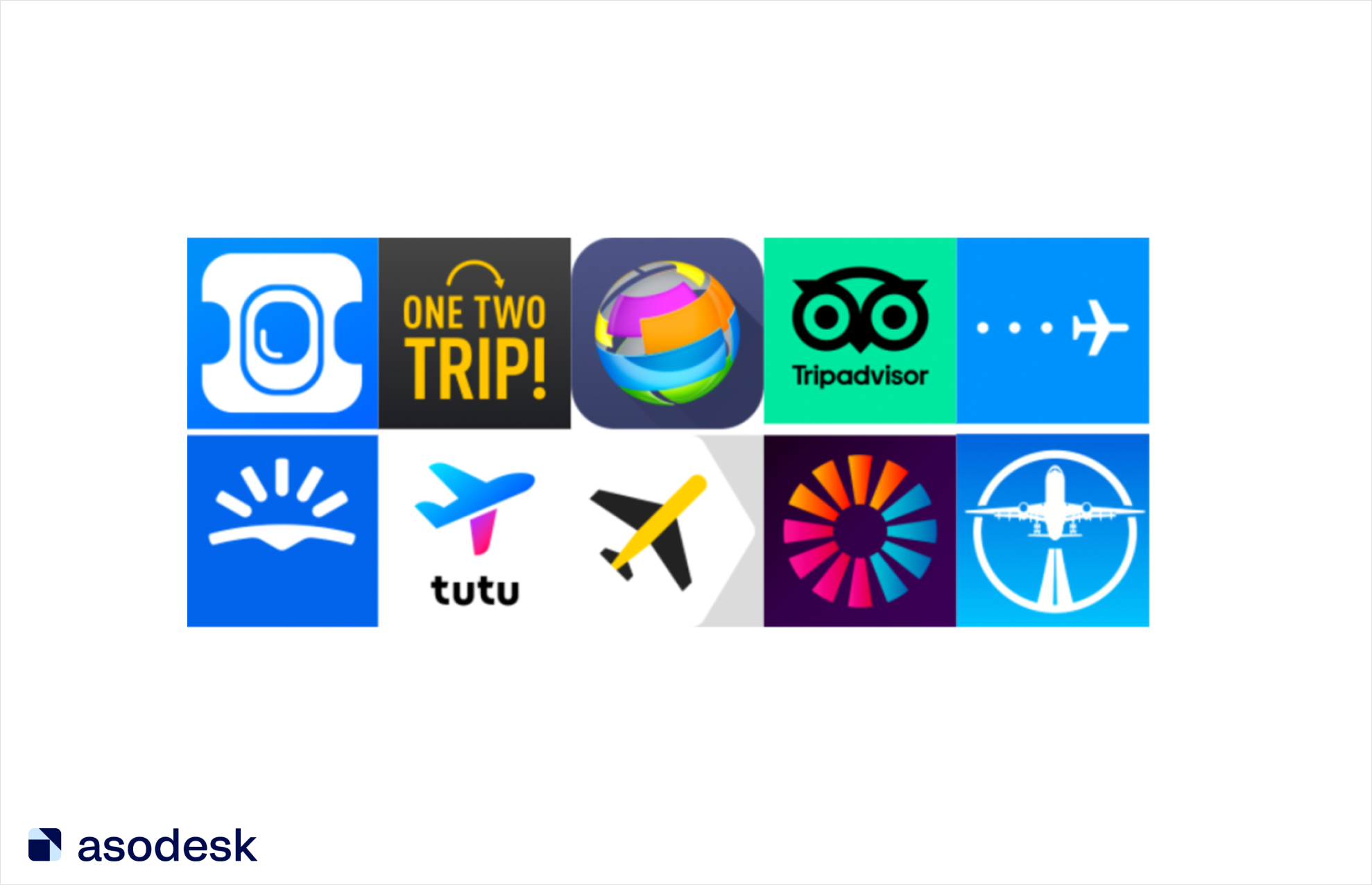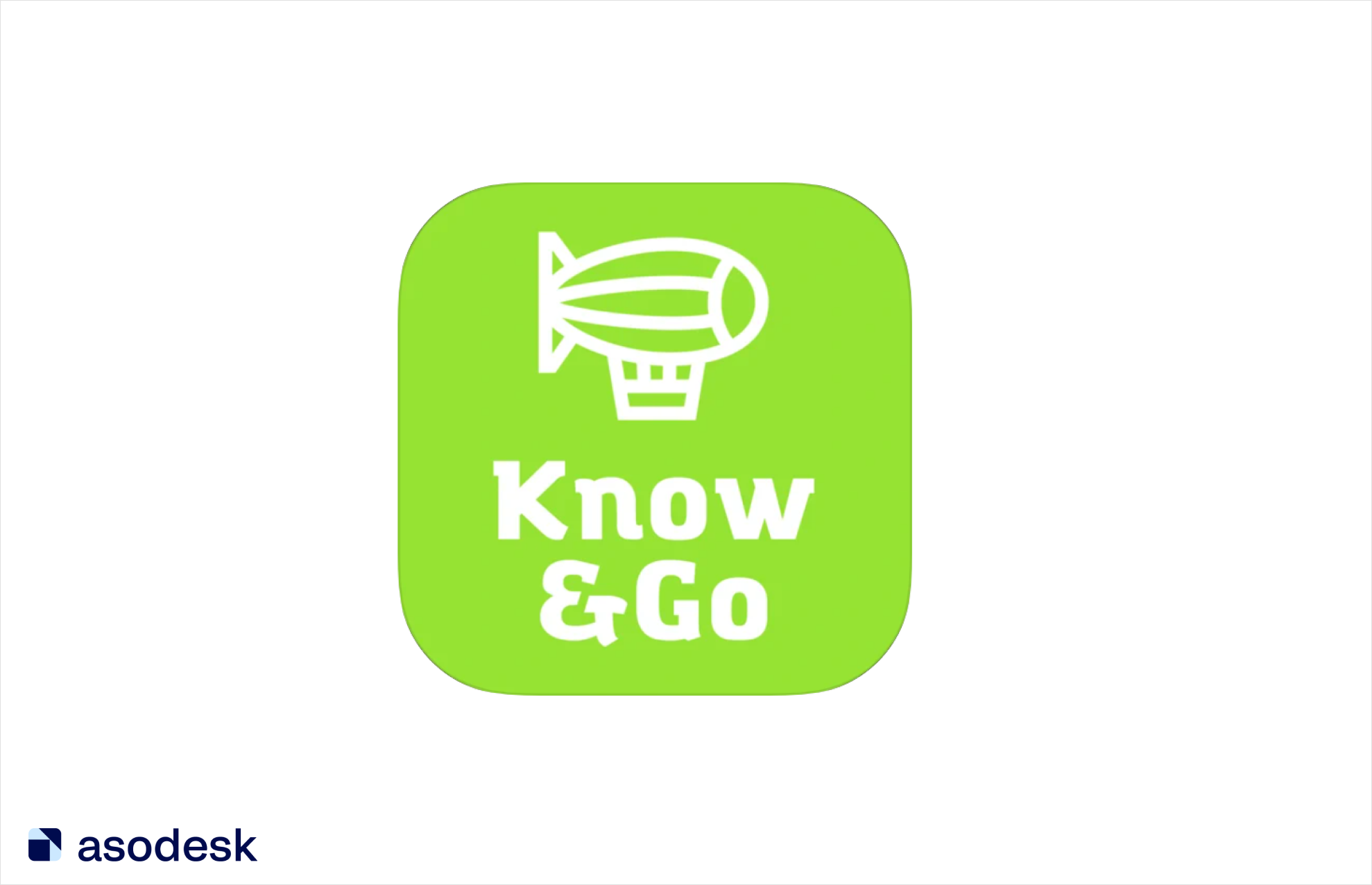 As a result, this change in the icon, combined with a new name and screenshots, helped to increase their conversion rate by 32%. Read a detailed case study on updating icons and screenshots for the Know & Go app.
To improve your conversion rate by changing the icon you need to:
Consider using a brand name.
Test the event.
Check if the icon and screenshots go together.
Think about the ways to make the icon stand out from the competition.
Screenshots
App conversion is influenced by orientation, color, as well as the number and content of screenshots.
Screenshot orientation and number
When choosing horizontal or vertical screenshots, you need to take into account the specifics of your niche, competitor analysis, as well as what user problems the application solves. Artem Tkaczuk noted that a lot of app interfaces are very similar to each other at the moment. Therefore, sometimes it is worth focusing on the app's achievements and rather talk about its functions. For this, horizontal screenshots are more suitable.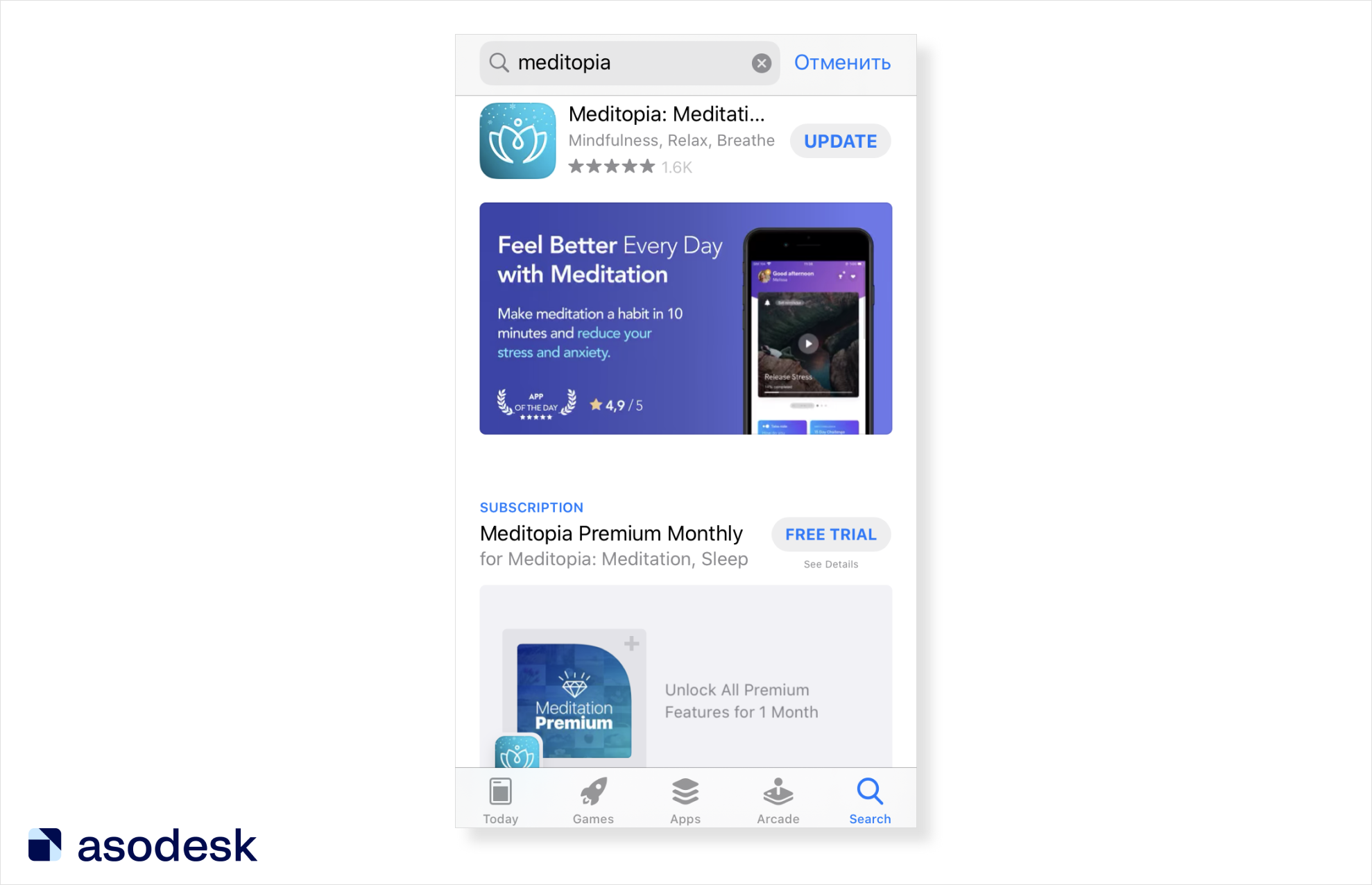 If competitors above and below you in search use horizontal screenshots, an app with vertical screenshots will be less noticeable in the search results. Read Asodesk's research on current trends in visual optimization for apps and games.
Screenshot text
You can test screenshots with different text sizes. For example, make the font 25% larger and see how the conversion rate will change.
It is important to choose the text option that will most closely match the text metadata. For example, look at the name of the Live Video Dating app. The first screenshot also has "dating". Looking through the search results, new users will see words in the screenshots that exactly match their search query.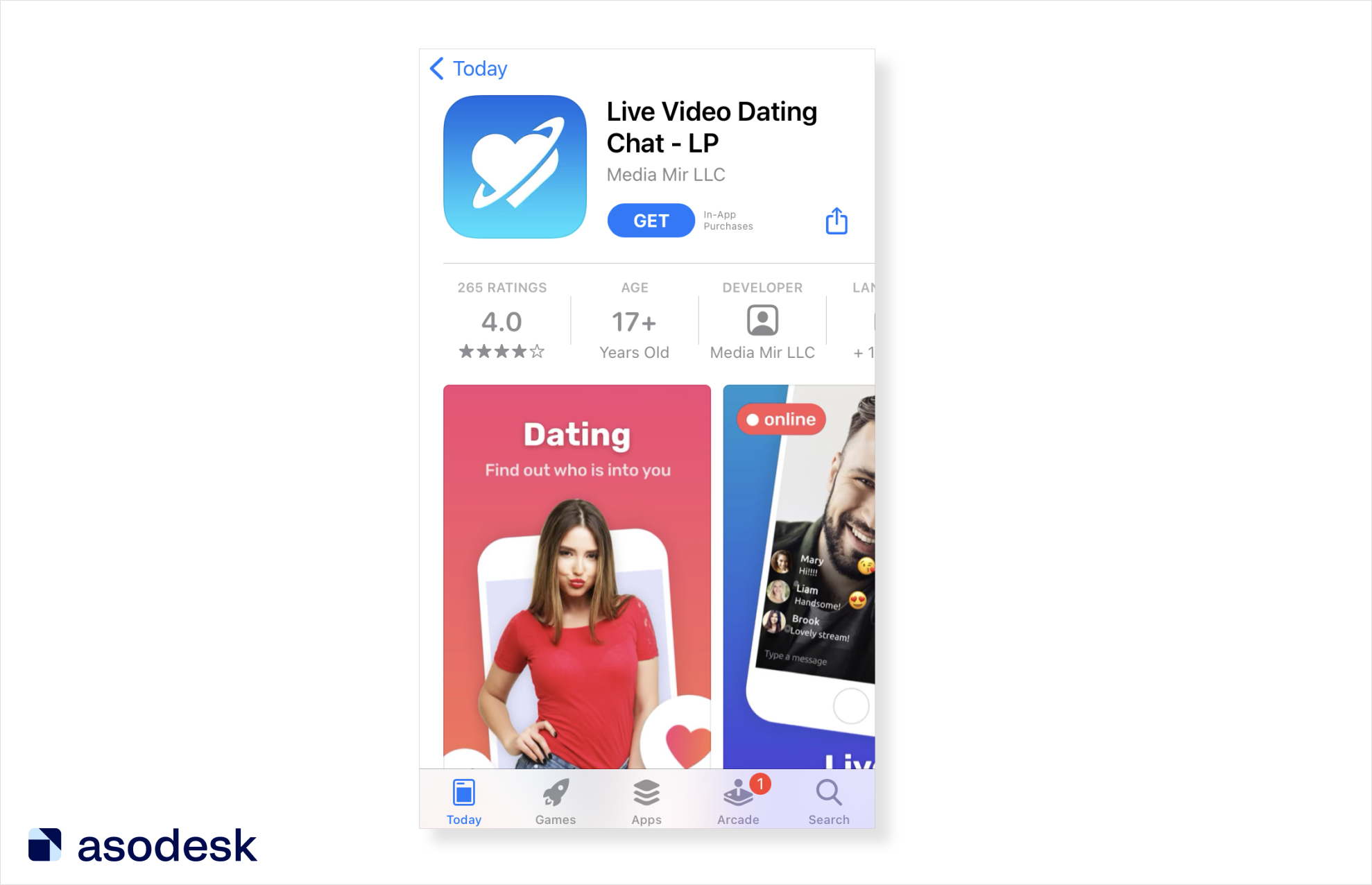 Screenshot content
The application must match the target audience and their needs.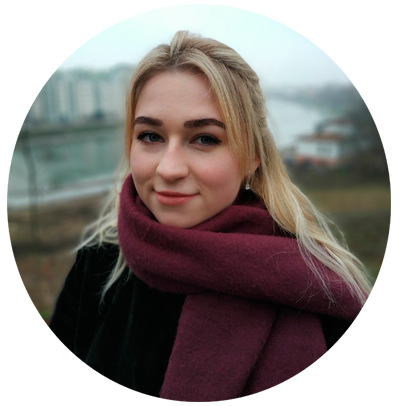 Maria Chernoplyokova, ASO expert


For the screenshots, we decided to use information that would match the needs and interests of users as closely as possible. For this purpose, we collected data on popular content and frequently used functions.
For example, users of the application spend a lot of time playing games. So we placed an image with the most popular games, which led to a 2% increase in conversion.
Screenshot color
The color of your screenshots can impact conversion rates, so it's important to test different variations. If your brand has a strong visual identity, consider using colors associated with your brand in your screenshots. It's also important to make sure your screenshots stand out from your competitors, particularly in App Store where users can view screenshots in search results.
Screenshot layout
It is important to correctly distribute the information in the screenshot and video, depending on the current purposes of the application. For example, in the first video, the AliExpress app has information about promotions, while the app's functions are displayed in the following screenshots.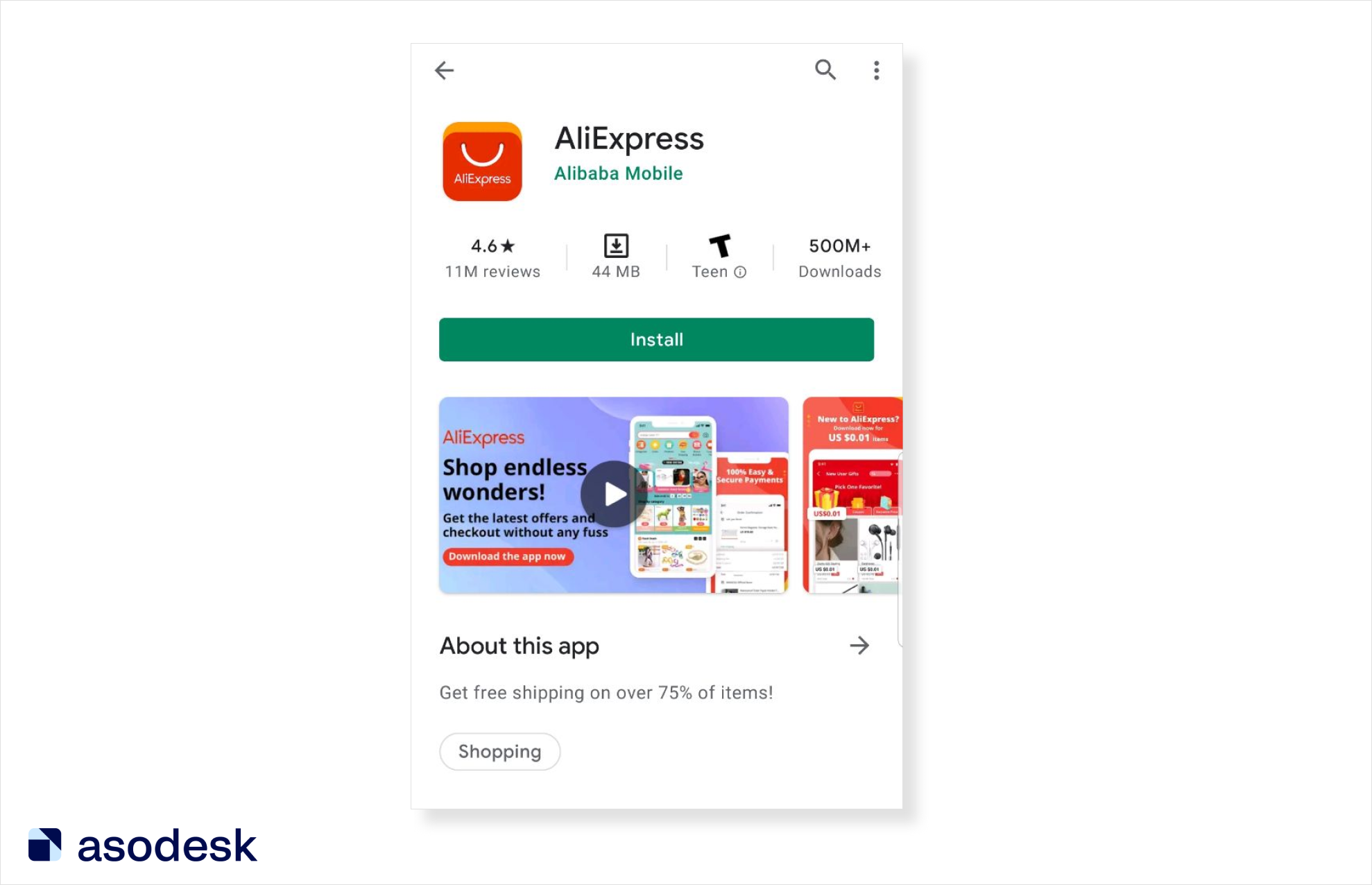 Sometimes design tricks can also affect conversion. For example, using a panoramic composition may increase app conversion. But you should test it to see how it will work for your projects.
To improve your conversion rate, build hypotheses based on the following screenshot parameters:
number and orientation
text size and message
screenshot text responding to target audience needs
layout
Rating and reviews
Positive reviews and high ratings don't just improve conversion but also help the app rise higher in the search results. Let's look at hypotheses that will help improve your app's rating and conversion:
1. Regularly respond to reviews. It's crucial to consistently reply to reviews, as hasty responses can decrease the chances of conversion. Learn how to improve your work with reviews in our pdf guide "33 hacks for working with reviews".
2. Work with featured reviews that are displayed on the app page. They shouldn't include negative reviews. The conversion rate may drop if a featured review becomes negative, so you need to keep track of this.
Featured Reviews at Asodesk will help you analyze featured reviews in all countries. You can also find helpful tools for automating analysis and responding to reviews.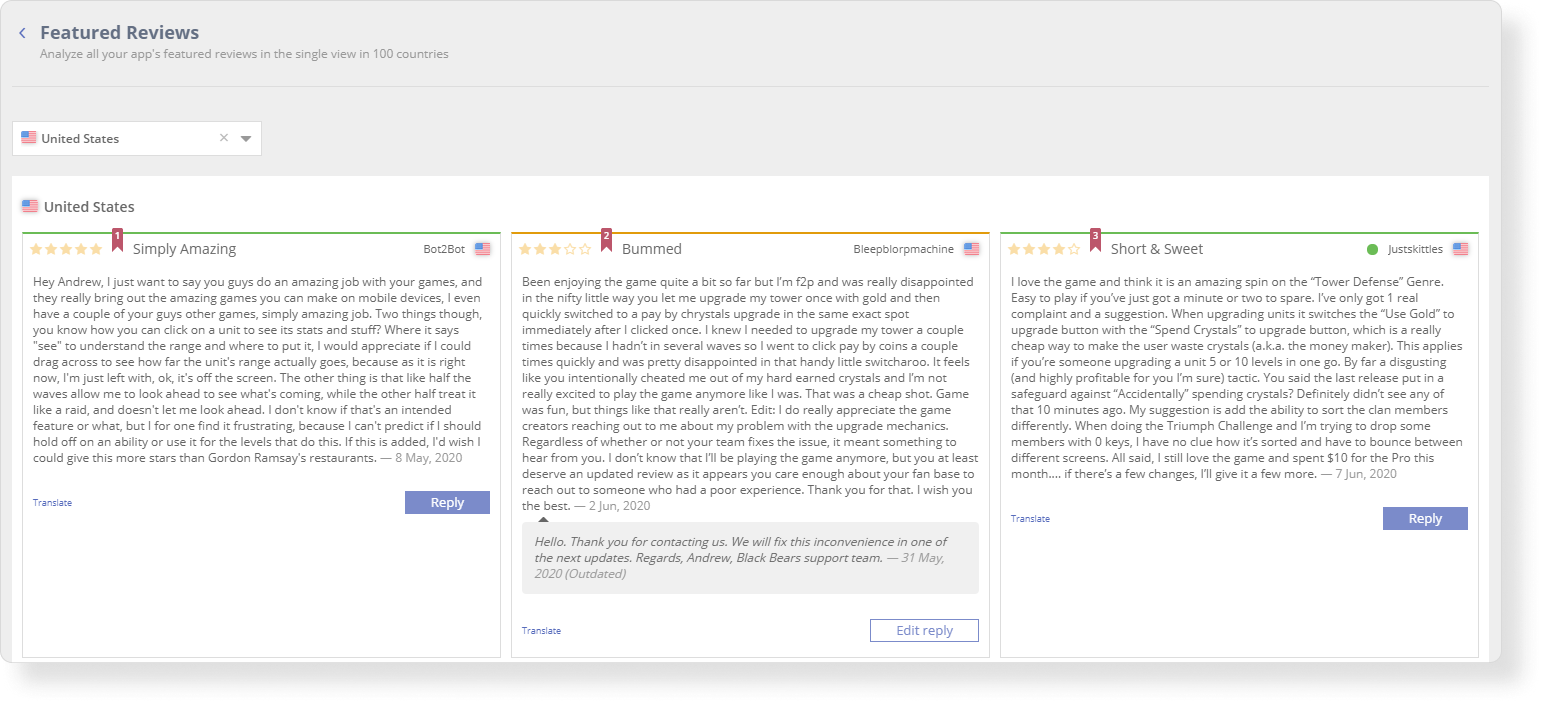 You can also find helpful tools for automating analysis and responding to reviews. Sign up to Asodesk and try them.
3. Put in-app motivating messages in the right places. The user should only get them after having a positive experience with the application. For example, after passing several levels in a game or finishing a workout.
4. Purchase app reviews. Before making a purchasing decision, it's important to understand why the app has so few positive reviews. The reason may be in the application itself; in this case, you need to fix the app's problems.
5. Give bonuses for leaving reviews. Promotions help increase your app's rating significantly. A good example is a promotion used by the app Toplyvo UA. The app's rating dropped to 4.2 in Google Play and the App Store. The developers aimed to increase it to 4.9–5 stars with the help of a promotion.
According to its terms, users had to leave a review in the App Store or Google Play in exchange for $2, which they could spend on buying fuel through the application.
In the first 2 days of the promotion, more than 1,000 reviews were received, and the rating increased to 4.9 in each app store.
Therefore, the following methods will help you increase your conversion rate and the number of installs:
regular responses to reviews
analysis of featured reviews
in-app motivating messages
review purchase
bonuses in exchange for reviews.
Title and subtitle
Optimization of the app name and subtitle visibility in search
The visible area can be viewed in the search without navigating to the application page. Optimizing this zone will help improve conversion.
Small apps need to include high-frequency queries in the visible part of the app title. If the title contains a brand, but it is not very well known, you can put it at the end.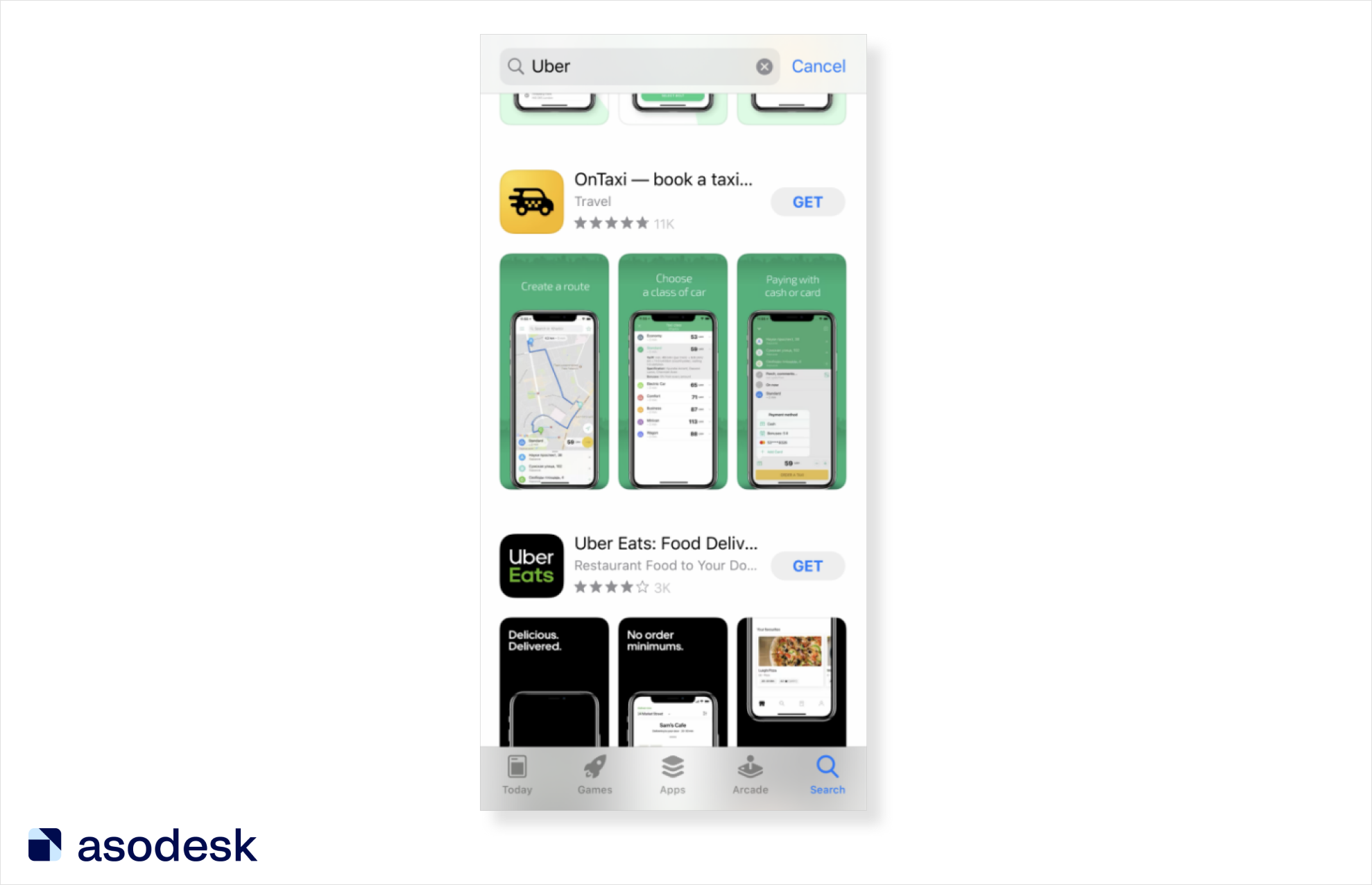 Using available characters
You should decide whether to use all the available characters in the title or only some of them. Remember that too many keywords can confuse the user, and as a result, conversion will drop.
On the other hand, you need to include more keywords in this field to help improve your app's search rank. It is important to use as many characters as possible while still making the app title clear to users.
The need to use branding
One of the hypotheses for increasing conversion might be artificial brand creation. It often happens that some niches have almost no branded apps. If we artificially create a brand, we can stand out amongst the competitors.
Some brands are reluctant to use some of the keywords in their app titles because they can negatively impact brand image. You need to determine what is more important to you: the correct brand image or position in the search.
For example, Google Play shows many non-branded apps for the query "quiz". If we try branding the query app, the install conversion may decrease if people in this category are used to installing unknown apps.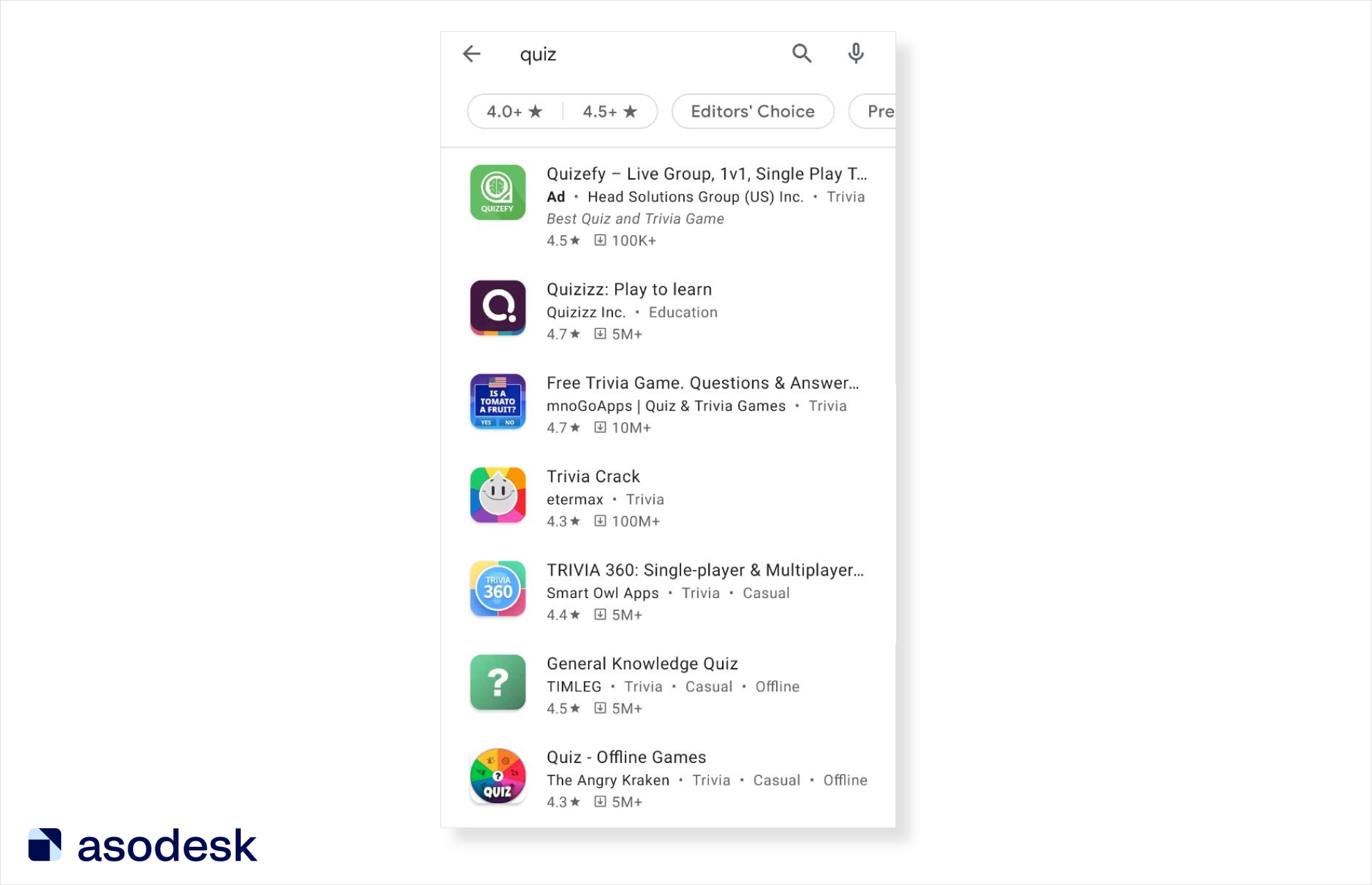 It is also important to consider where to place the brand name. One of the hypotheses is placing the brand name after keywords. This will help maintain the branding but focus on popular keywords first. In this case, the app title will be combined with search queries, and the user is more likely to open the app page.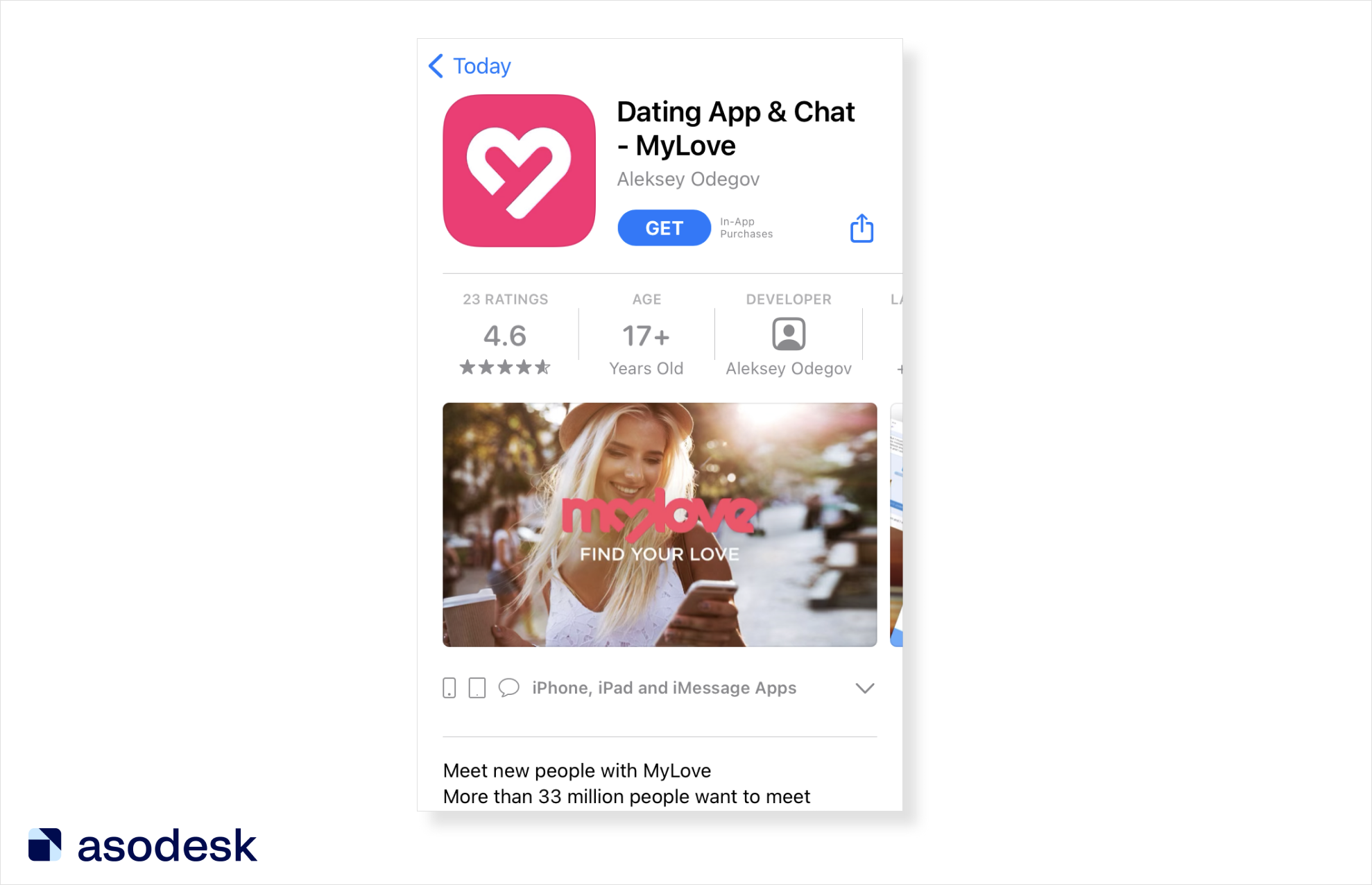 If the popularity of your brand queries is very low, it may be worth putting the brand name on the icon and using the app title exclusively for keywords. This approach will help maximize installs.
Suitability for the user
The user sees the app title and subtitle before any other part of the app page, so they should be as transparent as possible. Therefore, you cannot place an incoherent set of keywords separated by commas. Otherwise, the app might not be accepted by the moderators. Even if the moderators accept it, the name will be unclear to users.
For example, this name won't give any clue about the app's functions.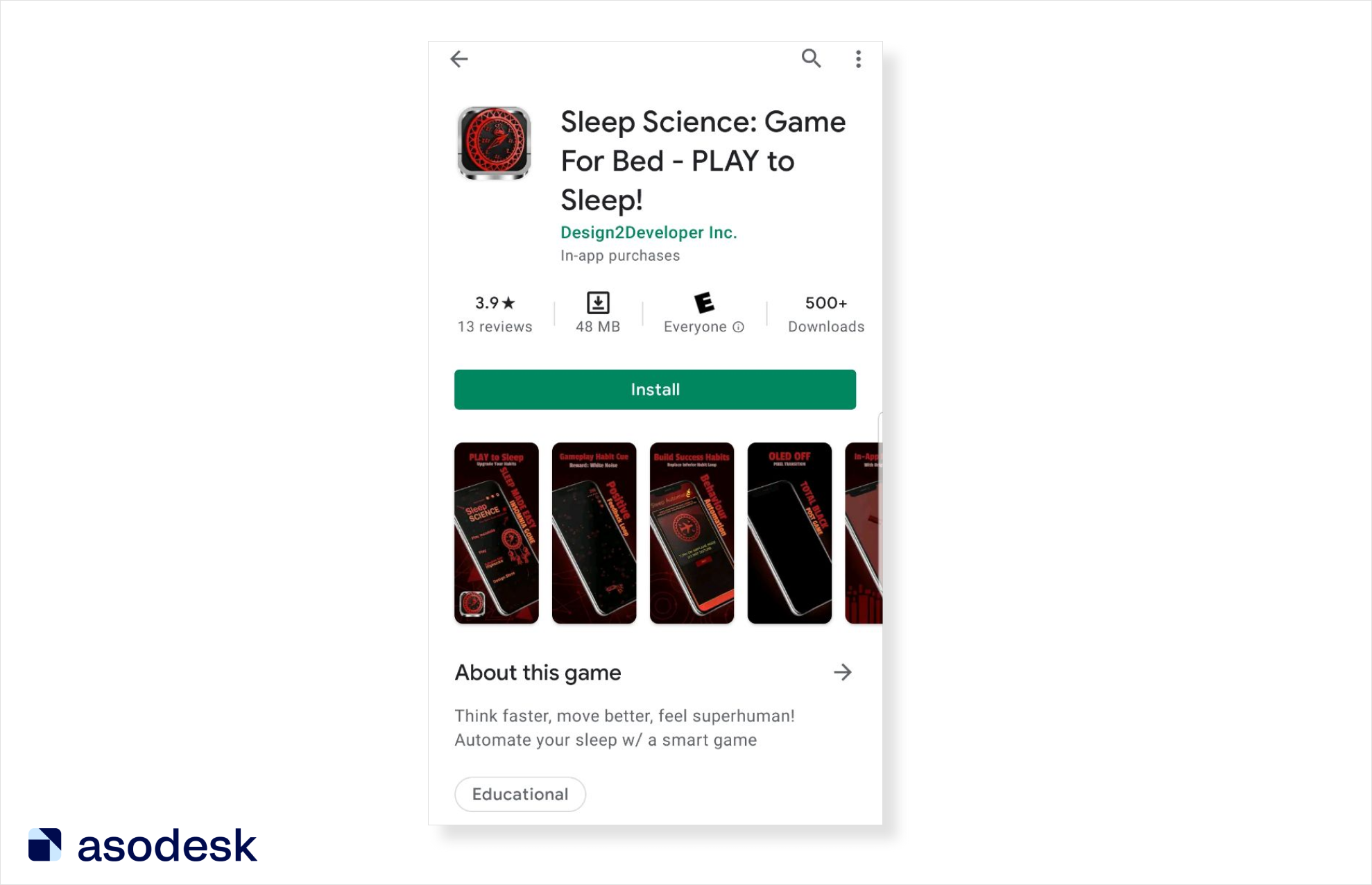 The presence of strong generic keywords
Strong generic keywords are the most obvious and popular keywords for your application. For example, an English learning app cannot help but include the query "English" in the title. Such keywords contribute to ASO, as well as help users to quickly understand the purpose of the app.
You can see the popularity of keywords for your niche using the Daily Impressions and Search Ads Popularity metrics at Asodesk.
Daily Impressions uses Asodesk's algorithm to show the number of impressions per request per day.
Search Ads Popularity is the official metric by Apple.

You can check the popularity of keywords for your application using Asodesk's tools. Sign up and find popular keywords in your niche.
Adding strong generic keywords to the title and subtitle can have a significant impact on app rank, as Toplyvo's case study proves.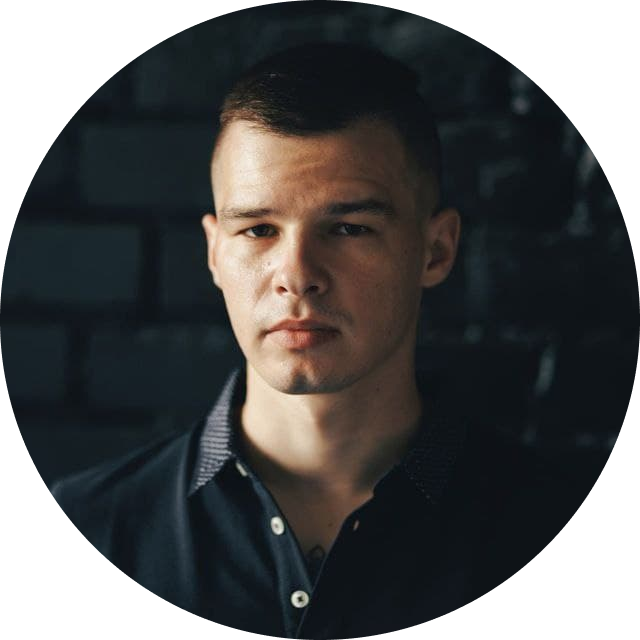 Nikita Bobyr, PPC & ASO Specialist


Previously, the Toplyvo UA app was ranked on average by 20–30 keywords in the app store, and organic traffic was only 5% of the total. To increase the percentage of organic traffic and conversion, we decided to change the metadata in the App Store and Google Play.
For this purpose, strong generic keywords "discounts" and "gas stations" were added to the app title. With these keywords, you can compose many relevant key phrases; they also bring the most targeted traffic. A conversion phrase was added to the beginning of the title, and the brand name was kept at the end. In the subtitle on Google Play, we placed significant keywords that generated relevant key phrases.
In the keyword field, we added the brand names of gas stations and competitors, as well as other relevant keys: "Navigator" and "Fuelmeter". A/B tests have shown that over 90% of users find the app using branded keywords. With the added keywords, many key phrases were generated, for example: "Gas station Okko", "Gas stations Wog", "Shell Ukraine", etc.
After optimization, the number of ranking keywords increased to 120–130 on average. The percentage of organic traffic has grown to 10% of the total traffic, and the page conversion has increased by 15%.
To maximize installs from search, ask yourself the following questions:
How important is it to use branded keywords?
Are you using all available characters in the title?
Are there any strong generic keyword in your title?
Should you use branded keywords?
To improve the install conversion, you need to answer two more questions in addition to those listed above:
How are you using the visible area in search?
Is your description clear to the user?
Promo text and short description
The App Store's promo text informs users about the latest updates for your app. You don't have to use this section if you don't have important updates. You can leave it empty and then users will see the beginning of your app description in this section.
On Google Play, there's a short description. In this section, the developer can add basic information about the application in 80 characters.
Using available characters
This parameter is especially important for Google Play because the short description directly affects the app's position. The short description is taken into account when indexing in Google Play, while the App Store's promo text does not affect the rank.
It is important to check if you are using all the available characters in the short description. If you add too few keywords, your app's position on Google Play may be lower than it would be using all available characters.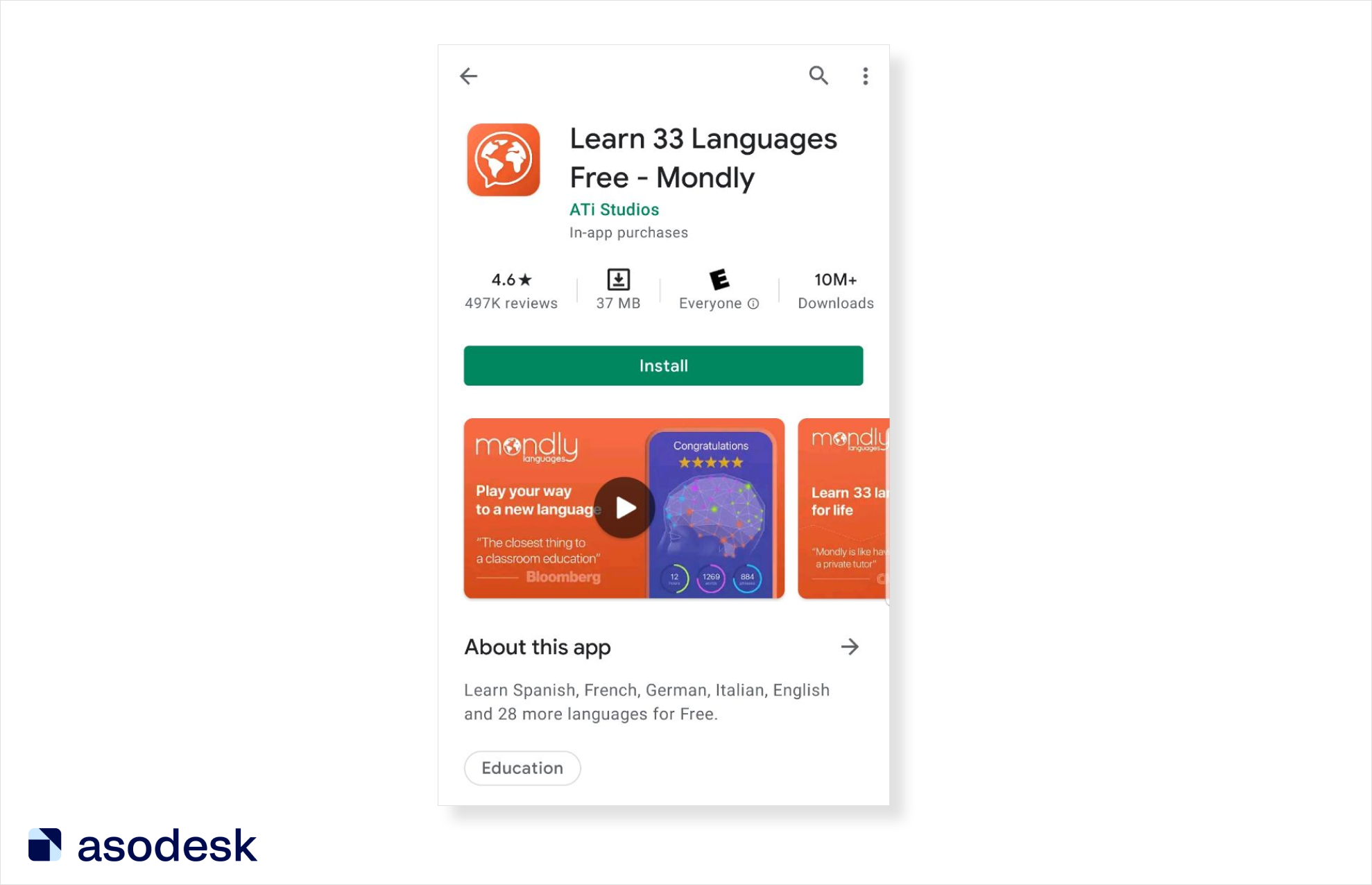 Data about updates and app rewards
You can place information about updates in What's New, but this section is only available to users who have already installed the app. Therefore, you can add all the important information about the app in the short description.
We need to test how much this information will affect conversion and the number of installs. It is important that the characters in the Google Play short description are used logically and do not take up potential keyword space.
In the short description, you can add not only facts about your achievements but also information about promotions or discounts, as the publishers of the ABBYY Scanner application did.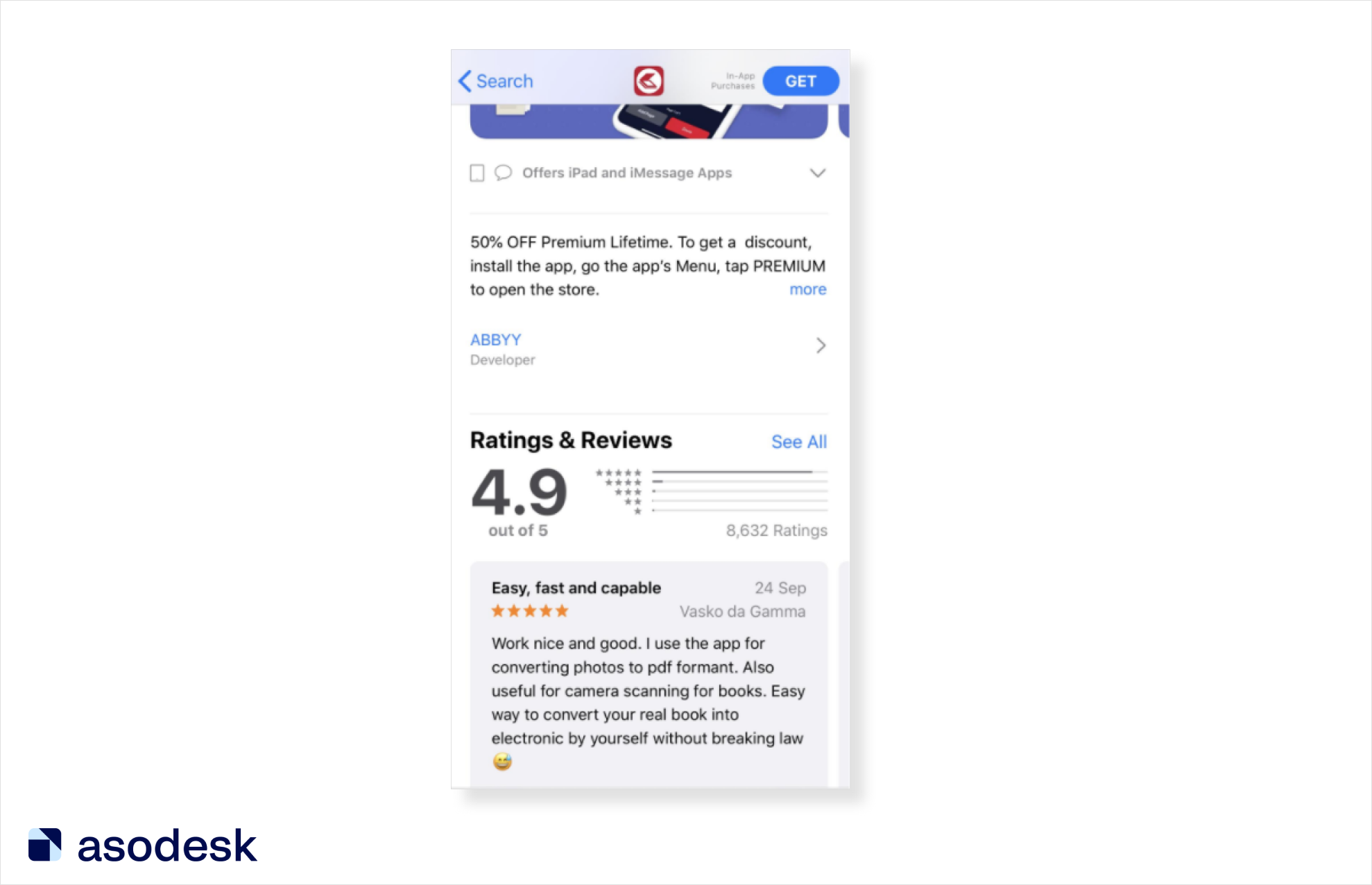 Be careful with posting achievements in the Google Play descriptions. In the second half of 2021, new guidelines will be released, according to which developers are not allowed to publish information about the number of installs, awards, app rating, reviews, and critics' ratings in the application metadata.
Transparency and absence of spam
Like other metadata elements, the short description and promo text should be clear. These sections shouldn't include spam or a long set of keywords that is difficult for the users to read.

If you are localizing your app into foreign languages, get it proofread by a native speaker before publishing. Otherwise, the local audience may notice obvious mistakes in the description and you'll lose their trust.
The presence of strong generic keywords
On Google Play, it is especially important to use popular keywords in the short description, as they will help improve your ranking and get more installs from the search.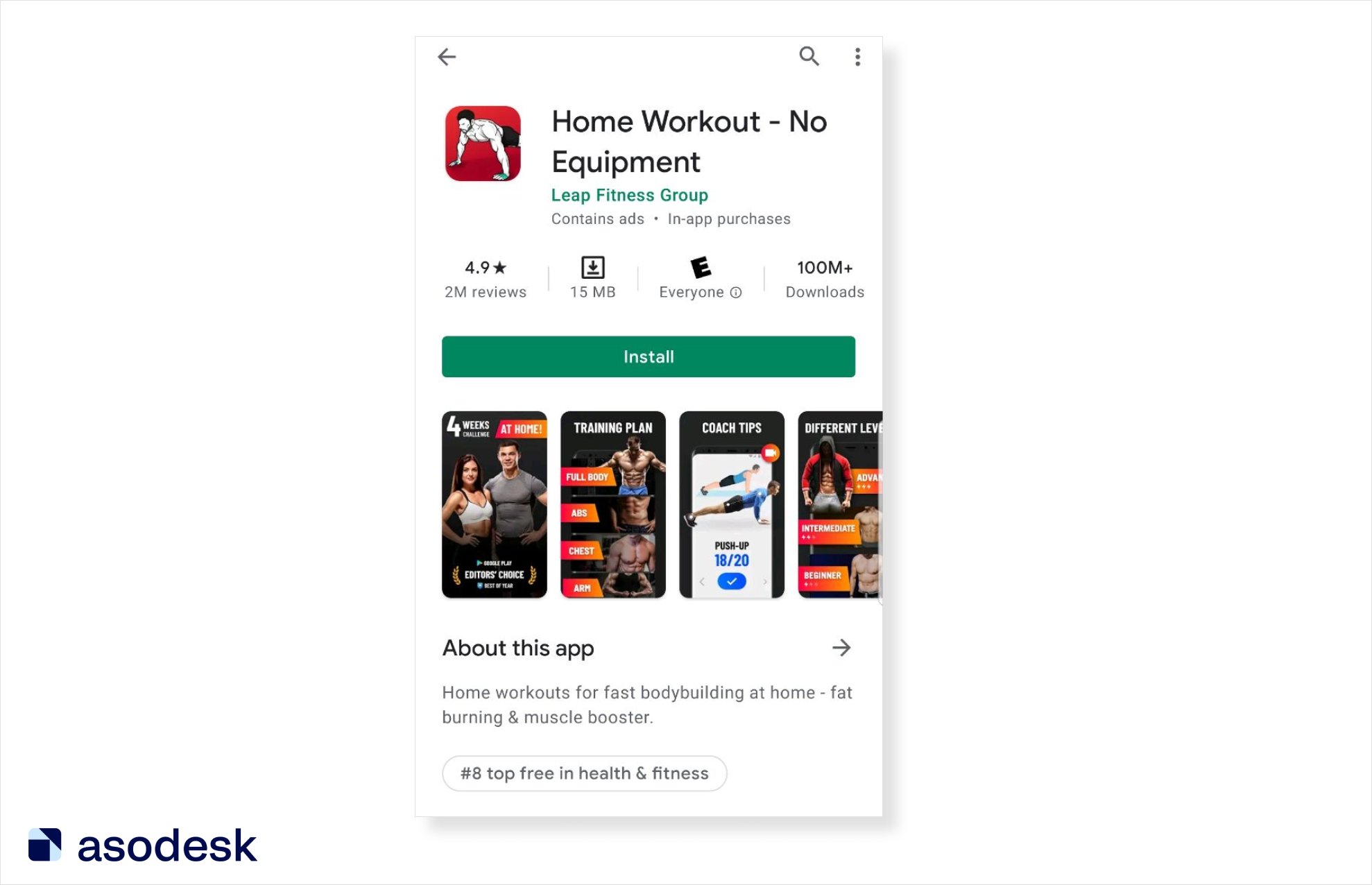 In the App Store, it is also important to include popular keywords in your niche that match a large number of searches in promo text or at the beginning of an app description. Strong generic keywords will show users that they have chosen the right app.
To increase your conversion rate with the help of a short description, you need to check the following:
Are you using all available characters?
Will conversion change if you add information about promotions to the short description?
Is the short description clear to the user?
Are you adding strong generic keyword to this section?
Description
Correct description structure
The app description should have a clear and concise structure. By reading the description, the users should understand exactly how your application will help them. Here, you should also describe the app's functions.
On Google Play, it is important to include keywords in the description. According to statistics, only 5% of users open the full description. However, it helps the app's ranking, so it is important to include more keywords and phrases in the full description; this will help improve the app's position in search.
In the description, you can use special triggers that work for your niche audience.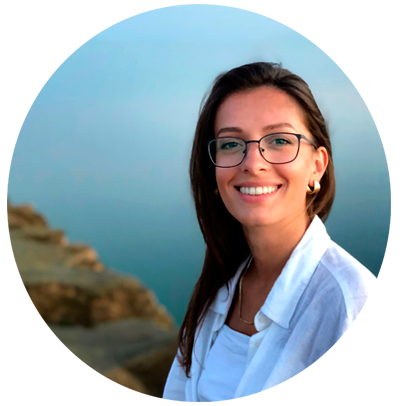 Anastasia Lichnaya, ASO Lead at Belka Games


In the test, adding a call to rescue (Be the hero and rescue the townspeople) gives up to a 47% increase in conversion.
Description design
Use emojis, separate paragraphs, indentation, and bold text to ensure that all information about the app is properly structured and clear to the user.
Let's compare structured and unstructured app descriptions. Text divided into paragraphs and marked with subheadings and emojis is much easier to read than a long solid text.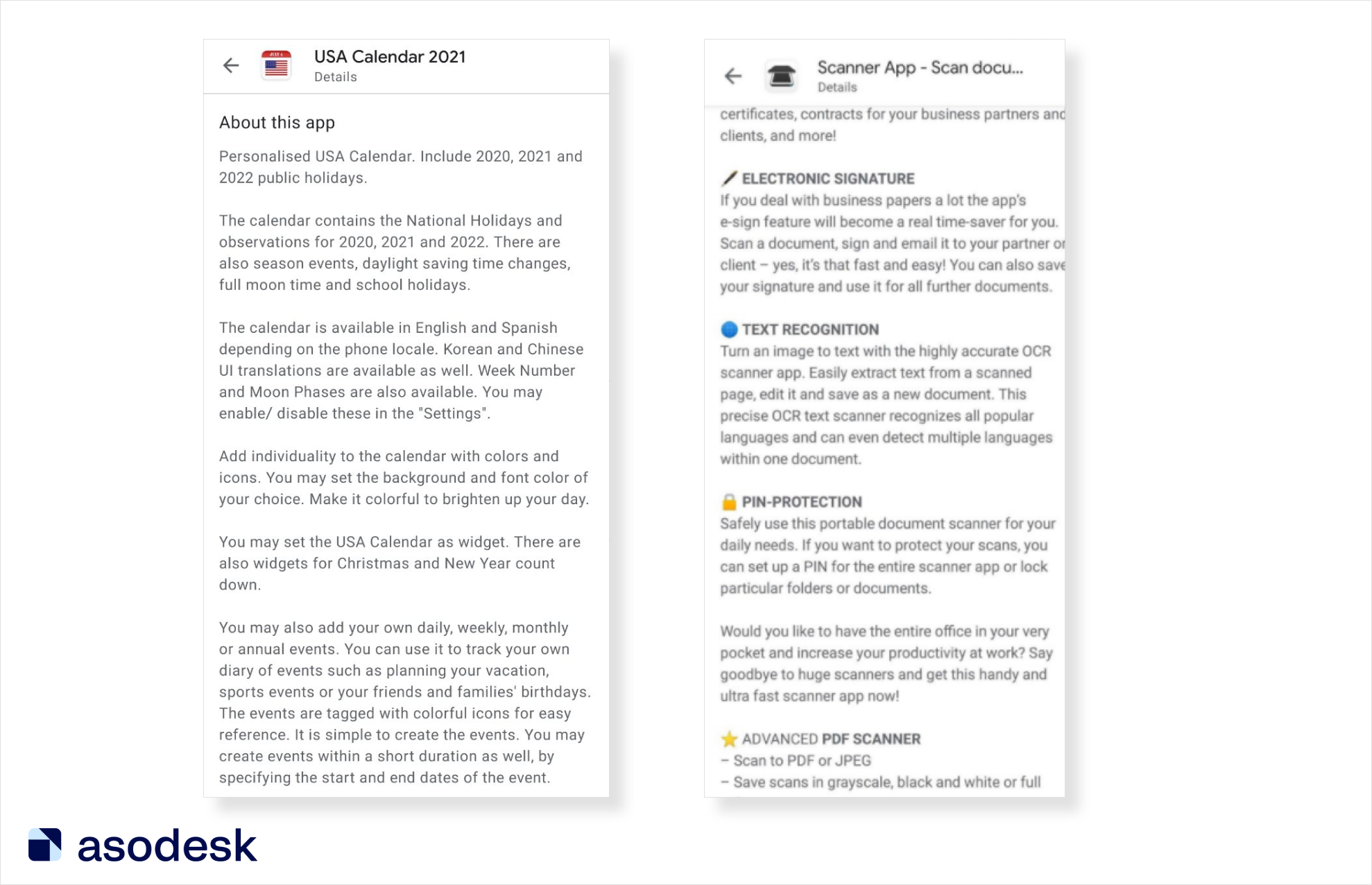 Media reviews and awards
Awards and media opinion builds credibility. But you should be careful with this section on Google Play. In 2021, new guidelines will be released, according to which developers are not allowed to publish information about the number of installs, awards, app rating, reviews, and critics' ratings in the application description.
Absence of spam
Like other sections, the description should not contain spam or incoherent sets of words separated by commas. Spam will alert the user and will be detrimental to the app. We saw this a few years ago when we added the same word to the description on Google Play 15 times, which led to a drop in search positions.
In the description, it is important to:
Make the structure clear and format the description
Avoid spam
Add awards and media reviews to the App Store
App Store keywords
The keyword field does not appear on the app page but is indexed by the App Store. You need to use it correctly to maximize your installs. You can add up to 100 characters to the keywords field.
Remember that for US English, it is enough to add the keywords in the singular form; they will be added in the plural form automatically. For other languages, it's important to add singular and plural forms of the words, as well as their conjugations — if that is relevant for your niche.
It is important to use all available characters and avoid extra spaces or characters that will interfere with app rankings; you should also check keyword popularity with Daily Impressions using Asodesk.
What's new
The What's New section is shown to users who have already installed your application. In this section, it is important to share news, media references, and awards.
In the experience of our ASO experts, motivating messages to leave a review in this section will help increase the number of reviews. To avoid being banned, at the top of this section, you can ask to leave a review and share news, and later on, add information about the update.
It is also important to provide links to social media and support team contacts so that the user can follow you on social media or send a request by email.
App Store in-app purchases
In-app purchases help you get more traffic on the App Store and maximize installs. Thanks to in-app purchases, the app can take up more screen space in the search results: it won't just be your app that will come up in search, but also the functions of in-app purchases.
For example, a search in the App Store shows the Meditopia app, as well as a subscription that can be purchased in this app.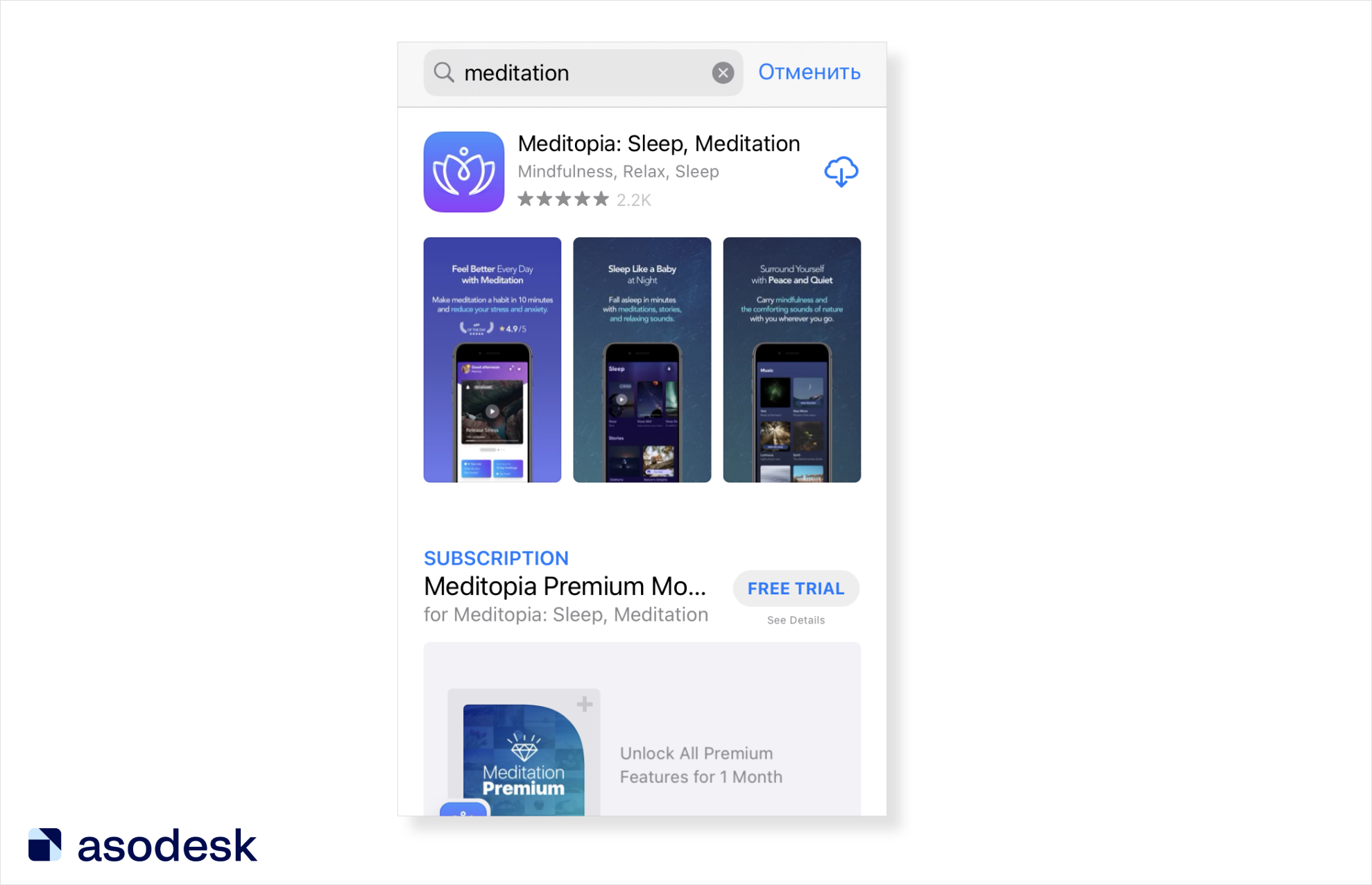 Localization and use of additional locales
App localization
Localization helps to expand the audience of the application and get more installs from different countries. It is important to localize the entire application page for new markets. Especially for those countries where a small percentage of users speak foreign languages.
You need to adapt the image and text on the icon for the country where you are promoting the app.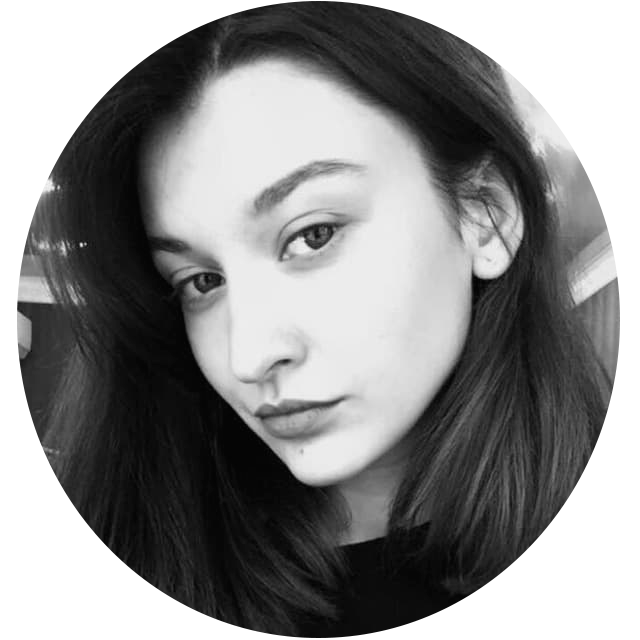 Anna Antsiferova, Head of ASO at DEVGAME


In the Robocar Poli project, we localized the icon for Brazil. We did an experiment and the icon in Portuguese won. After changing the icon, app installs doubled.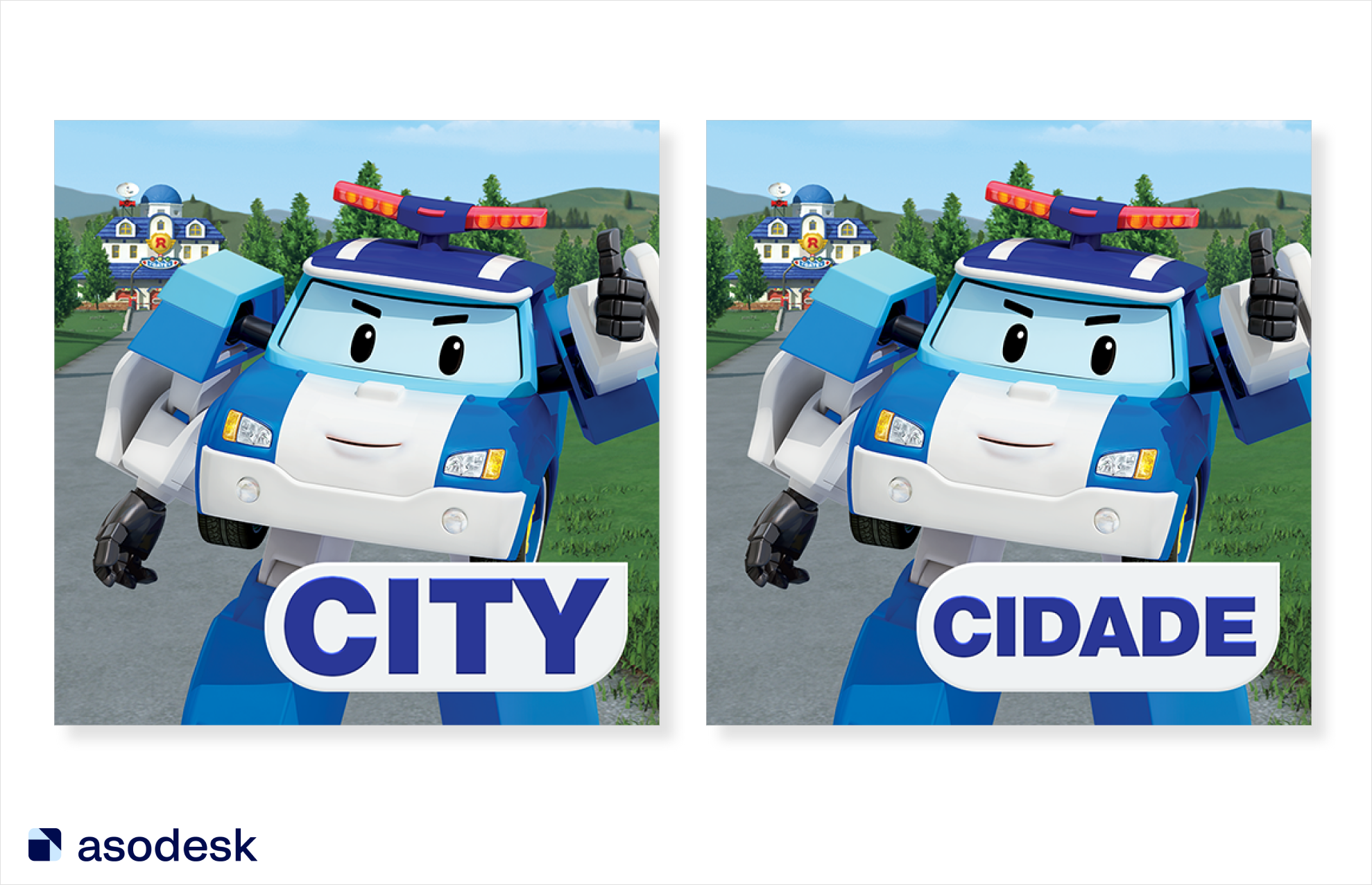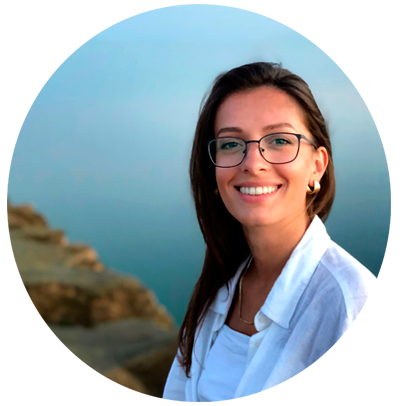 Anastasia Lichnaya, ASO Lead at Belka Games


The localization of the brand name gives a growth of conversion up to 20% in different countries.
Learn how to localize your app for foreign markets in this Asodesk article. You can also automatically translate user requests from any language to English. This makes localization and popular keyword search easier. Try this feature at Asodesk.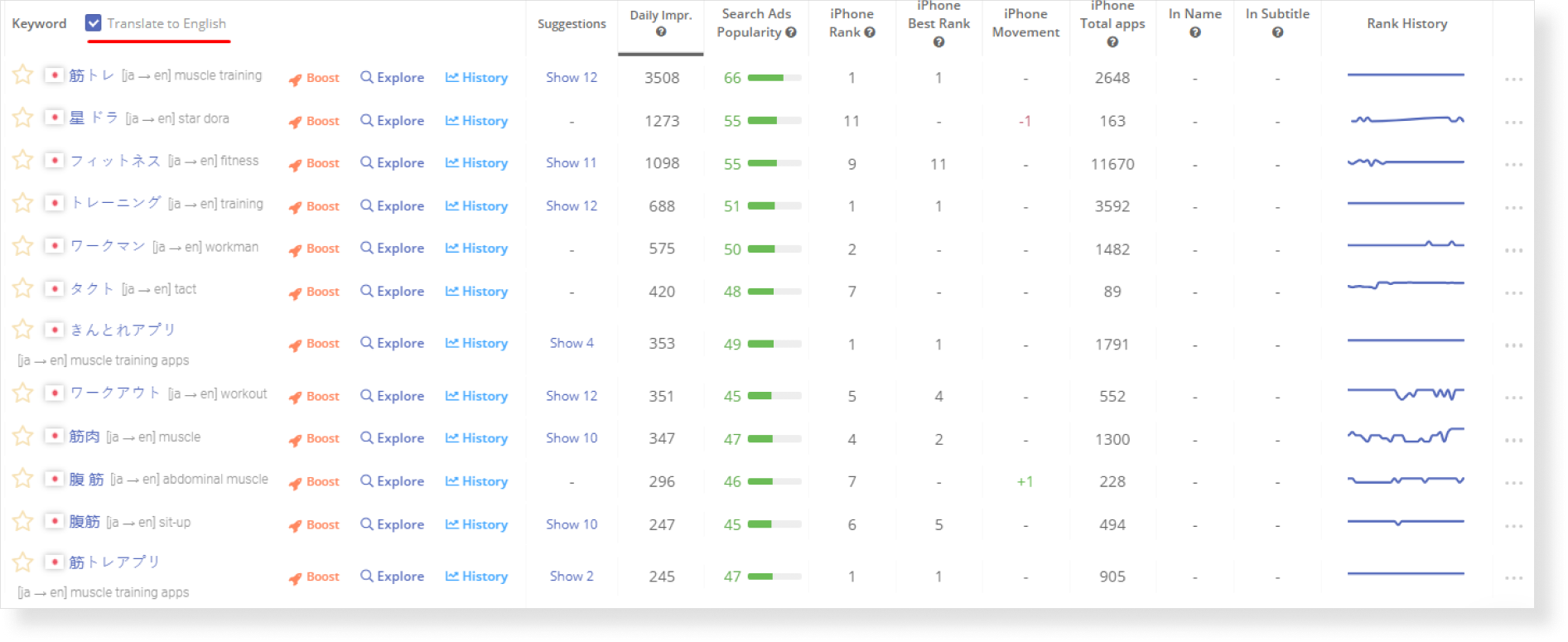 Cross-localization in the App Store
For each country in the App Store, you can add metadata in 2–3 languages. The title and subtitle each have 30 characters available for every secondary language, while the keyword field has 100 characters. This gives you 160 more characters for indexing. This field will help increase the number of installs from the search.
See the table where you can always find up-to-date information on all available localizations for different countries.
Internal application parameters
Application size
Due to its large size, the application is likely to be installed less often and deleted more often. Many users have limited space on their smartphones, so they will prefer to choose an app of a smaller size. In addition, Wi-Fi access is required to install big apps.
If users run out of space, they might delete their biggest apps. Therefore, it is important to reduce your app's size.
Check your app for any extra SDKs. If you can't make the app smaller, it might be worth adding its light version to the app store.
Update frequency
Update frequency affects the app rank in the App Store. In the first 72 hours after the update, the app will get a boost, and the app store's algorithms will actively promote it.
Additionally, update frequency is very important for some users, as it is an indicator that the application is well maintained. Therefore, frequent app updates are beneficial for both increasing installs and optimizing conversion rates.
A checklist for finding growth hypotheses
1. Analyze the app icon. Decide whether you should add a brand name or event to the icon and see how much it stands out from the competition and how compatible it is with the screenshots.
2. Find hypotheses for screenshots. Consider different options for screenshot orientation and layout. Make sure the text and image in the screenshots match the needs of the target audience.
3. Make sure the title, subtitle, and short description are clear and transparent and check if you use all available characters and popular keywords. Consider whether you should use your brand name in these fields.
4. See if it's worth adding an event to the short description.
5. Analyze the structure of the description and its design. Try adding media reviews and awards to your App Store description.
6. Add motivating messages that ask to leave reviews, as well as app news, and awards, to the What's new section. Don't forget to add support team contacts and social media links.
7. Compare your app size to competitor apps. Consider the update frequency.
8. Check the keyword field in the App Store for spaces, and analyze keyword popularity.
9. See if in-app purchases from the App Store are ranking in search. Check install conversion from the app page.
10. Start working with featured reviews and analyze the shortcomings of your work with reviews. Put motivating messages in the app and analyze its performance. If your rating is low, consider buying reviews or resetting your rating.
11. Consider localizing your app for new markets. Check if you are using App Store localization fields for different countries.
Subscribe to our newsletter to keep up to date with news digests, as well as useful articles on ASO, mobile app marketing, and working with reviews.