Recap of the Top 6 reports from the App Promotion Summit London 2021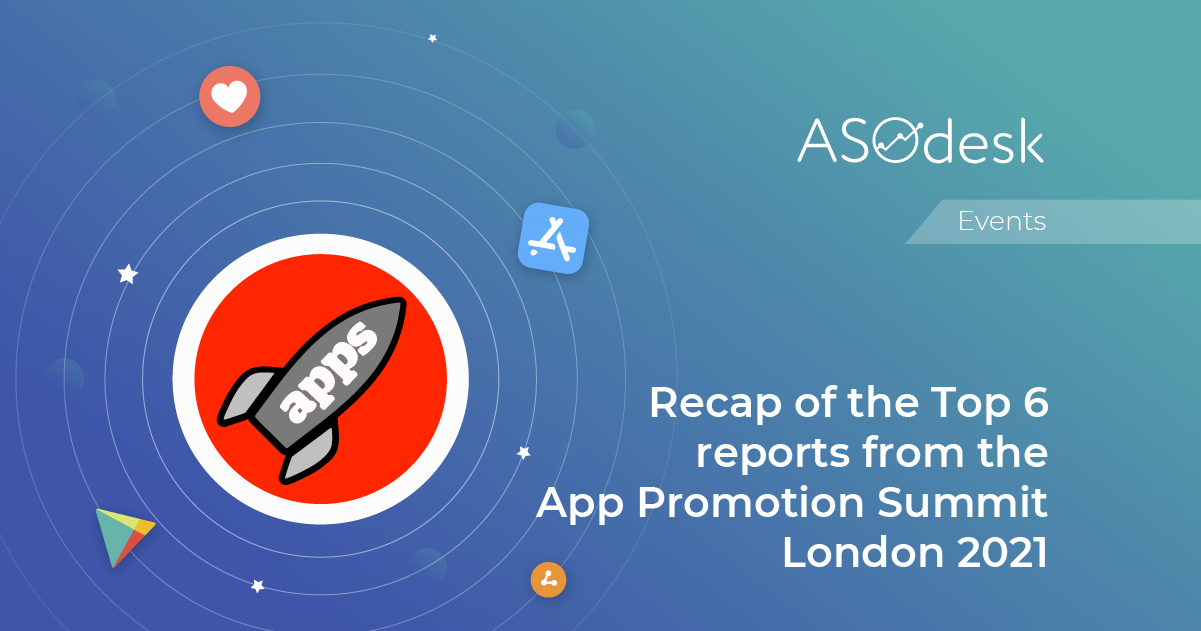 The App Promotion Summit London was held from 18–25 March 2021. It is the largest conference on mobile app marketing. We listened to 6 insightful reports on mobile app marketing and highlighted the main points. Read our article to learn more about ASO strategy in 2021, trends in mobile app marketing, and tips for making ad campaigns in HUAWEI.
The Ultimate Guide to ASO — Everything you Need to Know to Grow Your App
Speaker: Parv Bhargava, ASO Consultant in Phiture
Parv gave essential information on increasing app visibility and getting traffic from Search and Featuring in the App Store and Google Play. He provided useful tips for keyword optimization, getting Explore traffic, visual ASO, and working with reviews. Here are some key points from his speech.
1. App Store Optimization can be divided into two aspects: improving visibility and increasing conversions. To get more views for an app page, you need to work on Search, Browse, and Explore traffic. It's important to perform keyword optimization to get the app categorized and featured. To optimize your conversion rate, you should work on app rankings and also do A/B testing.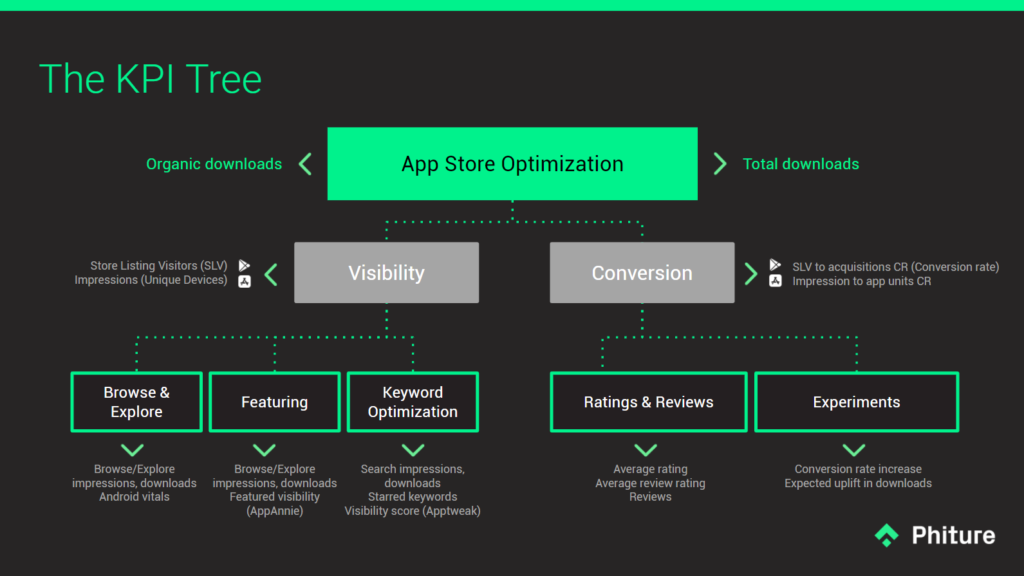 2. Follow these steps to establish a successful ASO strategy:
Market Intelligence. Answer the question: who are your competitors and what do they do better?
Product Analysis. What are the strengths and values of your app?
Increasing Visibility. How can we get your app in front of more people in the stores?
Increasing Conversion. How to convert visitors into downloads?
Vitals. Which vitals and tools should you consider in order to be successful with ASO?
3. To conduct App Store Optimization, follow these four steps:
Research. Write words that come to your mind, analyze competitor apps, use Auto-Suggestions on ASO platforms. Editor's note: Learn more about building a semantic core in this step-by-step guide from ASOdesk.
Prioritize. You can't include all keywords in metadata, which is why it is important to choose keywords that will give you more installs.
Target. Choose which keywords will be used in the title, subtitle, description, icons, and screenshots.
Measure. It is important to track changes in positions for different keywords.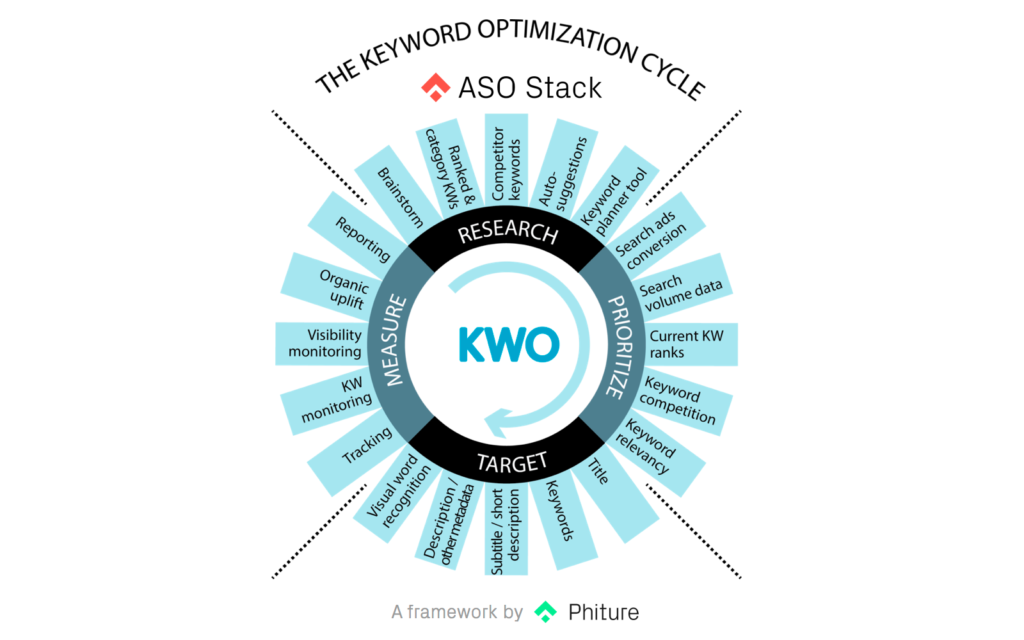 4. Google penalizes the app's visibility if it exceeds the bad behavior threshold either for Crash rate or App Not Responding (ANR) rate.
5. Adding tags might increase the Explore visibility of your app.

6. The icon, title, subtitle, and screenshots influence app visibility most of all. See other factors which will help your app to grow in the search in the visual below.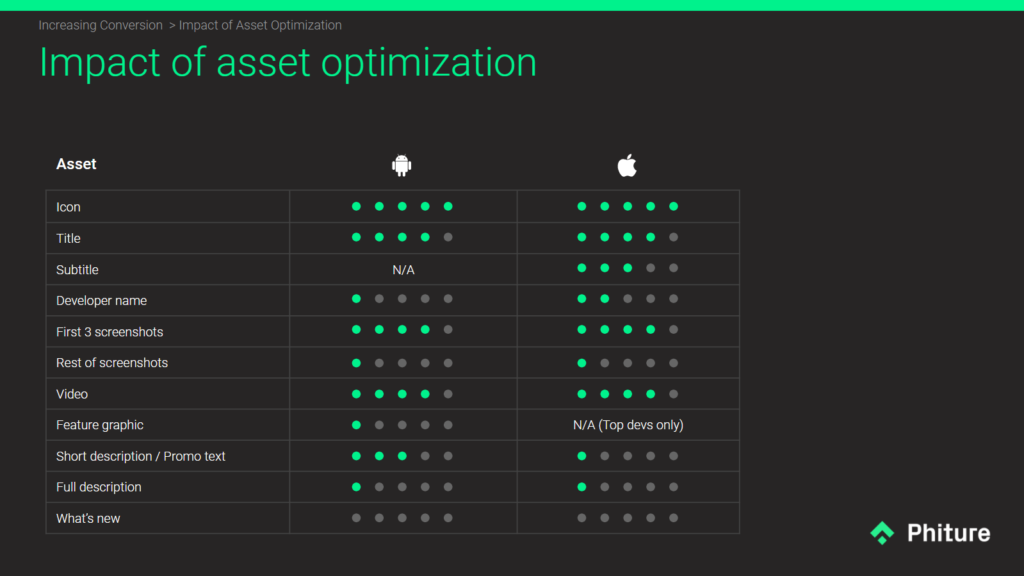 6. Here are some tips that will help to improve visual optimization:
Add the benefits and features of the app to the first 2–3 screenshots.
Social proof helps gain users' trust and proves the authenticity of the app. By indicating the number of app users in the caption, we can tap into this innately human quality and increase conversion.
Add seasonal elements into the screenshots.
The main point of the speech is that all promotion channels should go to one place: the product page in the store. You should work on Explore traffic, make PR campaigns, run ad campaigns, and conduct effective ASO and SEO. This holistic approach will help you to maximize installs and improve conversion rates.
ASO Strategy 2021: How to Trigger App Growth
Mari Tripolskaya, App Growth Expert in SplitMetrics
In this article, we are going to focus on a few key points from Mari's speech: tips for visual optimization and A/B-testing. Mary offered useful hacks for improving ASO and making A/B-testing more effective. She also discussed unusual metadata, which you can test in the App Store and Google Play.
To make icons and screenshots attract more user attention, follow these hacks:
Choose contrasting colors so the app is more eye-catching in Search or Browse.
Highlight calls-to-action on screenshots with salient colors that contrast with the background.
Place tilted elements on icons or screenshots.
Add a horizontal screenshot instead of or in addition to the vertical ones. For horizontal screenshots, it's better to put text on the right side and people or characters on the left side. This is based on how we process graphic information and think logically.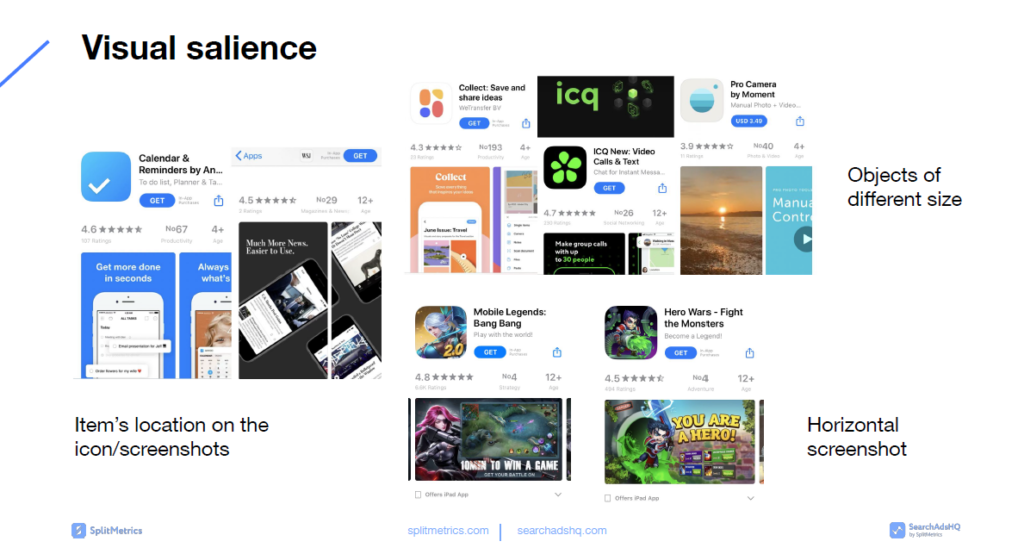 Experiment with the positioning of an item on icons or screenshots.
Place an item of a larger or smaller size among objects of the same size on the icon.
Reflect unique selling propositions on screenshots with the help of captions.
Use keyword findings for your screenshots and icon: put the most relevant and best-performing keyword on the first screenshot.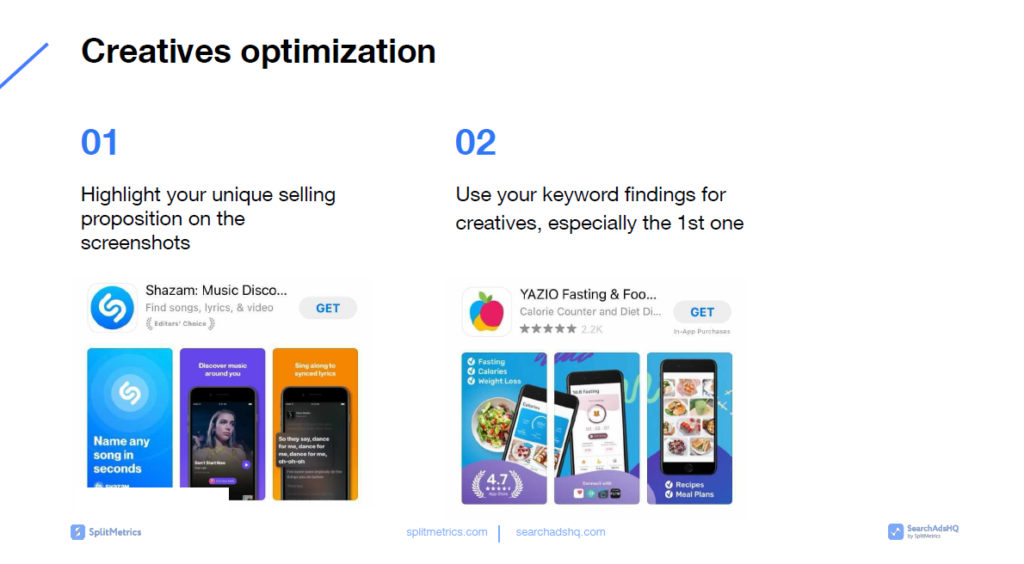 For RPG games test showcasing gameplay on screenshots just as it is — without any captions.
Show user reviews on screenshots and app previews.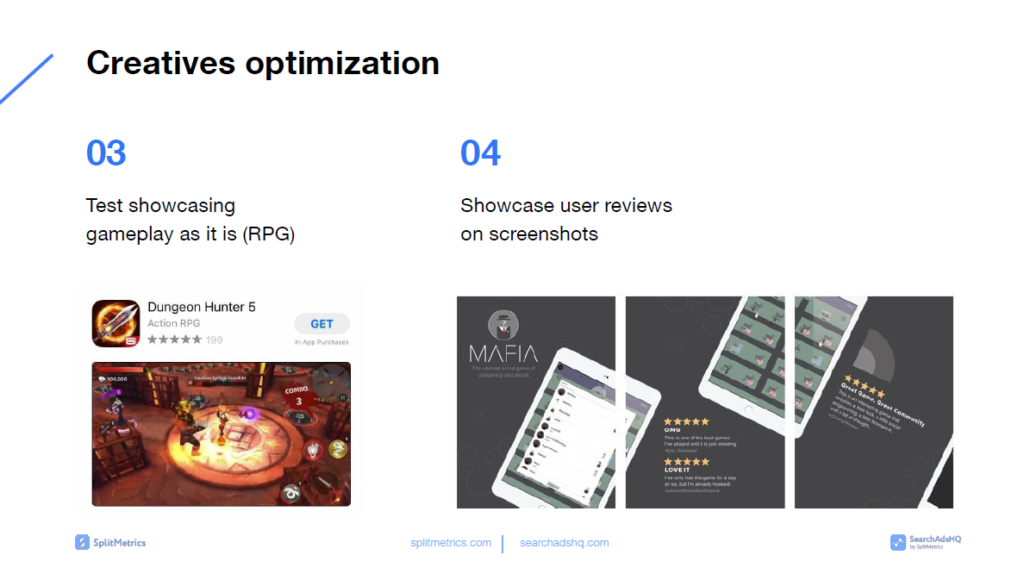 Editor's note: You can read about visual optimization trends for apps and games in these ASOdesk articles.
The first step of prioritization is to pick the product page element that you want to start with. According to SplitMetrics ASO benchmarks report: optimizing screenshots gives a 24% conversion uplift icons: up to 22%; app video previews: 17%.
To conduct effective A/B testing, follow these steps:
Research. Study in-app user behavior, best-performing app and game features, key competitors, best practices for each category, global design trends and establish the traffic sources and target audience.
Prioritization. Decide what to test first.
Form strong hypotheses based on the research.
Create testing variations. The more variables you have, the harder it will be to recognize the change that led to the final result. Avoid having more than four variables and only test one particular change at a time.
Set up and run A/B testing experiments. Users are split equally and randomly among variations. It is vital to choose a traffic source and establish a target audience before starting an experiment. The SplitMetrics platform does everything else.
Analyze user behavior data. A disproved hypothesis is not a problem. Negative results prevent us from making changes that could cost us thousands of installs.
Prepare the follow-up experiments. A/B testing is an ongoing process, so you should do multiple iterations.
You can conduct an A/B-test of extraordinary elements in the App Store:
Poster frame in the App Store. Make your thumbnail high-converting, especially if the experiments show that most of the installs are direct (users do not interact with your app listing before clicking on the "GET" button).
Privacy information section. It helps to understand how users react to the quantity and quality of data types you require access to. Run A/B tests to find out if users scroll through the app page to the description. According to SplitMetrics benchmarks, it's opened by 2% of all app store users.
App Clips. Users get a chance to quickly check out a mini version of an app and try out what it has to offer, so ensure strong wording and eye-catching visual assets through app store A/B testing.
In Google Play you can test feature graphics. These are used everywhere if an app or game is featured:
When users run a brand search.
In the "Recommended" section.
In the "Ads" section.
Mari also talked about effective User Acquisition channels in 2021. She advised using Apple Search Ads Because of the IDFA's new rules, it is one of the best ways of reaching your target audience. You should also pay attention to Reddit, Snapchat ads, TikTok ads, Taboola, Outbrain, and Clubhouse (as a part of your acquisition channels).
Future-proof App Store Marketing: Tips and Trends [Interactive Panel]
Speakers:
Julius Nkemdiche (Sales and Partnerships Manager at Jellyfish)
Paul Davey (Senior Mobile Marketing Manager at Auto Trader)
Dimitris Drakatos (Head of SEO and ASO at Peanut)
Tamara Marshall (SEO & ASO Manager at IG).
Experts discussed the challenges that marketers can expect in 2021 and give some advice to help overcome them:
1. Look at competitor apps, and understand the sort of keywords that they're ranking for, and what they are doing successfully in terms of screenshots, titles, and subtitles. It is a starting point for an effective ASO strategy.
2. Constantly work on improving conversions. Make sure your ad messages match the message on app pages.
3. Test everything. Just because you had great results from an experiment you performed earlier, it doesn't mean that it will be the top performer forever. Don't be afraid to experiment, and never stay static.
4. Conduct localization. What works for a US audience, doesn't necessarily work for a French or UK audience.
6. Put more emphasis on the app page. Because of the iOS 14 changes, you need to have a stronger unique selling proposition that converts through to the install.
There are also some insights about the mobile app marketing industry that should be noted:
Companies will also try to find a way to the database. The most important aspect is improving your search visits and conversion rate. Easier user onboarding will be even more crucial than before. Google announced that they will block third-party cookies. In the upcoming months creating a solid and holistic organic acquisition strategy is a must.
The pandemic has accelerated the marketplace. If you look particularly to the UK, many of the supermarket brands didn't have apps 12 months ago. Now some of these new apps are in the top 10 for their category.
Young app stores will continue to grow. For example, AppGallery is a great new platform for distributing applications.
Editor's note: Read about other mobile app marketing trends, which we should expect in 2021.
The main point is that the app page has become even more important now due to new IDFA rules. So you should work on it: adapt the best competitors' strategies for your app, test metadata, conduct localizations, and constantly work on communicating for the audience.
Creative Testing In User Acquisition
Jan Sawicki-Hughes, Director of Growth in Tripledot Studios
Jan described how to optimize and develop creative strategies for the best results. He advised us on different ways of creative testing in Facebook and Ad Networks and gave us some tips.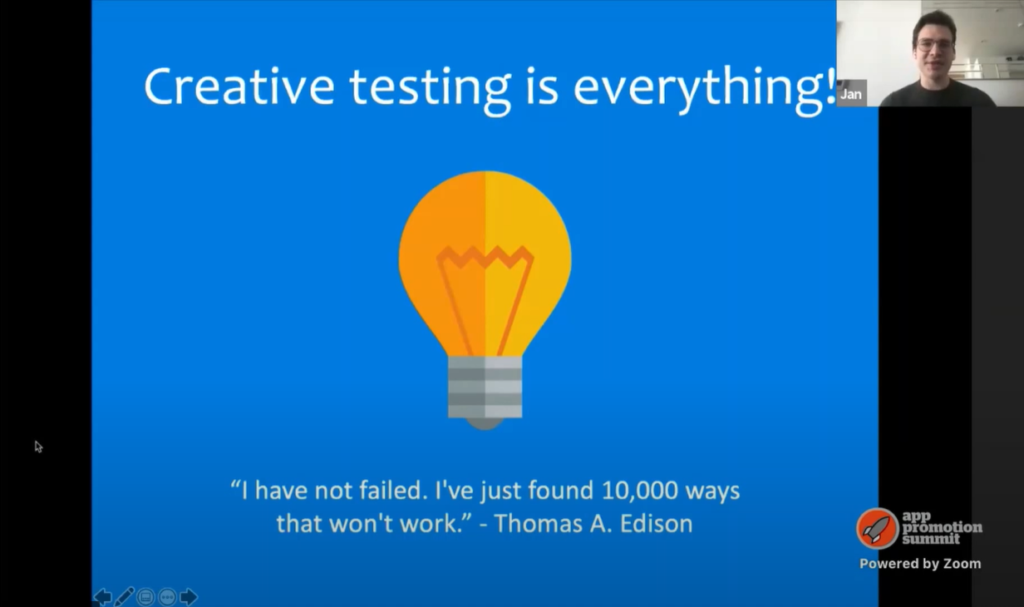 How to plan creative testing effectively:
Find your winning concept(s) with regard to the UA.
Utilize all dimensions.
Try different types, lengths, colors, texts, fonts.
Optimize and innovate your variants and then repeat testing.
Ways of testing in Facebook:
Automated app ads (AAA) is a fairly new tool. You can automatically test up to 50 images but you have a small chance of receiving earnings and it is difficult to track results.
A/B Testing gives reliable results. You can even track the same impression splits, however, these tests are expensive.
Separate campaigns take the type of audience into consideration. You can receive direct earnings from it. But there is also the risk of cannibalization.
Video Ad Networks has far fewer possibilities than Facebook:
Adding ads to the main campaign has a low risk of distributing performance, but a high risk of not receiving impressions.
A separate campaign gives results faster but costs more.
What you should remember about A/B-testing:
Audiences get bored quickly, algorithms react dynamically.
Make sure that the audience you are targeting is broad enough.
Before you completely change your creative concepts, try to make small tweaks.
Keep testing all variants — including multiple concepts. Don't forget to add new variants.
When analyzing the results of a campaign, look at the combination of metrics.
The main point is that with drastic changes coming from Apple and with iOS 14 images would become the least changed element of the app page. So, it makes sense to pay extra attention to this aspect moving forward.
User Acquisition in 2021 [Interactive Panel]
Speakers:
Omri Argaman (CMO at Zoomd)
Claire Rozain (User Acquisition Manager at Product Madness)
Ryan Thorpe (Chief of Growth at Reflectly)
Dan Whitehead (Head of Performance Marketing at Cuvva)
Charlotte Swead (Senior Performance Marketing Manager at Depop).
Experts discussed challenges which the UA industry faced in 2021. They discussed the impact of lockdowns on users, new UA channels, and iOS 14 changes.
The impact of the pandemic on mobile app marketing
Surprisingly, the industry didn't suffer much, but clients' habits changed. App publishers simply accommodated their services to the new reality. During the lockdowns, there was a demand for sustainable shopping and lifestyle, as well as entrepreneurial spirit. There was exponential organic growth in terms of new users — including those who bought subscriptions.
New User Acquisition channels are gaining popularity
Three experts actively started using TikTok as a User Acquisition channel. There are new methods of interacting with the community that allow users to share their stories — such as TikTok which gives the viral effect. YouTube worked the best in terms of influencers. Dan said that Facebook started to lose its steam. Ryane Trop transitioned from spending on social media ads to engaging with existing ecosystems and communities (cross-businesses, partnerships, newsletters).
iOS 14 will lead to some changes in costs and brand positioning of apps
It is a massive change because it will affect internal measurements (cost per registration), so you should build predictive models to assess marketing performance. Building a strong brand is key: if a user already knows you and trusts you, the coming changes won't affect their choices. Claire believes that it will make marketers better: now they will spend our budgets reasonably. The agency, Product Madness, uses a holistic approach to data and focuses on ASA. Ryan said that in Reflectly they build models to identify traffic sources based on basic data.
The main point is that you should focus on brand development, ASA, and new User Acquisition channels, such as Tik Tok.
Huawei Ads & Search: Top Tips for Driving Growth on a New Ad Platform
Speakers:
Fernando Garcia Calvo (Head of Search Operations at HUAWEI Mobile Services Europe).
Alisa Nikitina (Senior Business Growth Manager at HUAWEI Mobile Services Europe).
Speakers discussed the future of HUAWEI AppGallery Search and Ads. Experts advised on campaign optimization, share cases, and innovations.
It's a real-time marketing platform built to engage HUAWEI Device owners and deliver performance results.
Reasons to use the HUAWEI platform for developers:
700M registered HUAWEI IDs globally.
500M Monthly Active Users (MAU) in AppGallery.
Main advantages of the platform:
Point targeting. Precise delivery of advertising messages to users.
Powerful Placements, which include devices, HUAWEI Apps, AppGallery, and third-party apps.
Performance Results. One-click installation and smart bidding options to deliver strong ROI.
Experts outlined best practices for campaign optimization:
Use attractive design, clear CTAs.
Analyze ad performance via reporting.
Prepare at least 13 formats.
Try to cover as many placements as possible, test them for 2-3 days, and evaluate.
Rewarded video is the best format, followed by Native Video, Native Large, and Smart Banner (these are types of ads used on the HUAWEI platform).
Make sure to duplicate the best-performing tasks. Repeat something that has worked well.
Cheap downloads at scale: running a campaign in a local language with as many assets as possible.
Case study: AppSamurai achieved a 200% download growth ($0.15 cost per download). These were some of the objectives before starting the campaign: new UA, testing new opportunities, and looking for alternative platforms for customers. Ads were targeted to Turkey, Egypt, UAE, and Saudi Arabia. During the campaign, 16 ads were used. To achieve these results, the company ran tests with 7 AppSamurai clients, apps, and games, utilizing best practices for HUAWEI ads.
HUAWEI introduces its innovation: Petal Search. This provides premium positions in channels, entry points, and seasonal campaigns.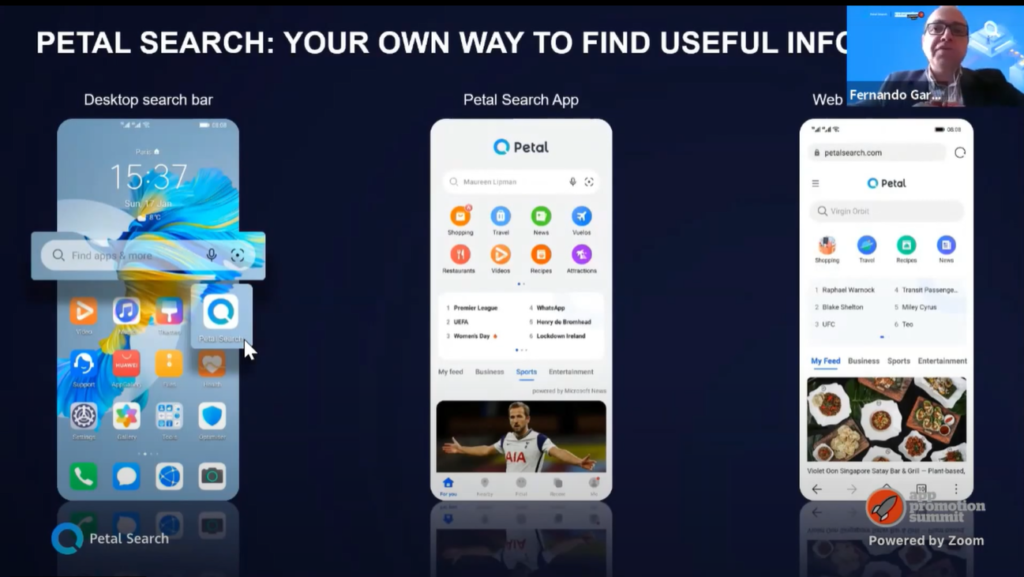 It's a global search platform where users look for apps, news, images, videos, goods, and more. So, ad placement is possible in all these channels. Each category offers a set of local services to make search even more precise and personalized. Petal Search is certified by the European Privacy Seal for following GDPR rules.
The main point is that HUAWEI offers many advertising opportunities: different placement, several ways of performing the results, collaboration with search. Try different placements and formats of ads to find the one that suits you the best.
Key insights from the App Promotion Summit London 2021
After listening to the reports, we highlighted the main insights from the conference:
Because of new IDFA rules, you should consider a holistic approach to in-app marketing and develop your brand.
Due to Apple's new rules, visual creatives in the app page will be a decisive factor in ASO, as for now they won't be affected by iOS rules.
To improve your conversion rate and get more installs, work on Organic and Paid UA together.
Conduct regular A/B-testing, make clear hypotheses, and test even unusual metadata options.
Use different User Acquisition channels, such as Apple Search Ads, Tik Tok, AppGallery, and HUAWEI ads as User Acquisition channels.