The revolution in the Keyword Research: absolutely new Keyword Auto-Suggestions
Sergey Sharov
ss@asodesk.com
Co-founder of ASOdesk and Angle Connect Agency. In ASO since 2013. Creator of the ASOdesk Academy, author of courses, Knowledge Base, certification and testing programs, organizer of ASO Wine Time, and ASO Fuckups events.
All articles by author
Published: 15.09.2020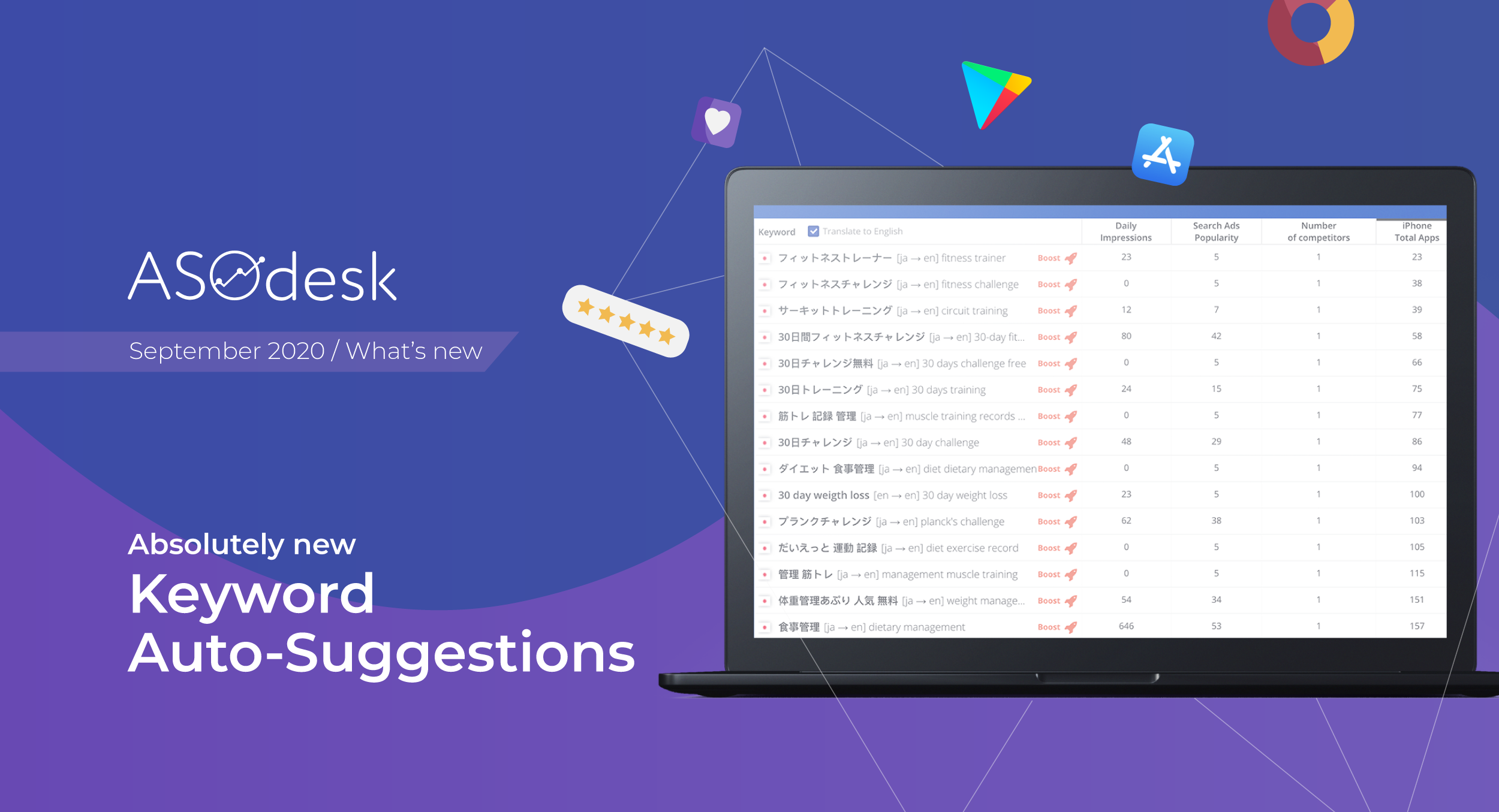 Keyword Auto-Suggestions will revolutionize your ASO. The tool selects and groups the most appropriate queries for the App Store Optimization in just few seconds.
Most Popular Keywords
It selects hundreds of the most popular search queries for your app in chosen country.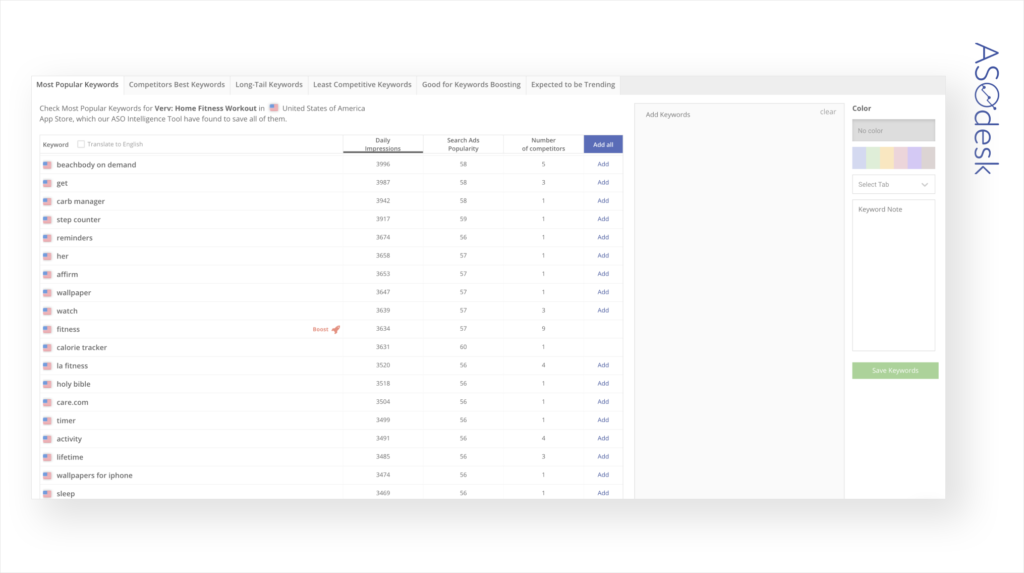 Competitors Best Keywords
It shows the most popular queries of your competitors that give them installs.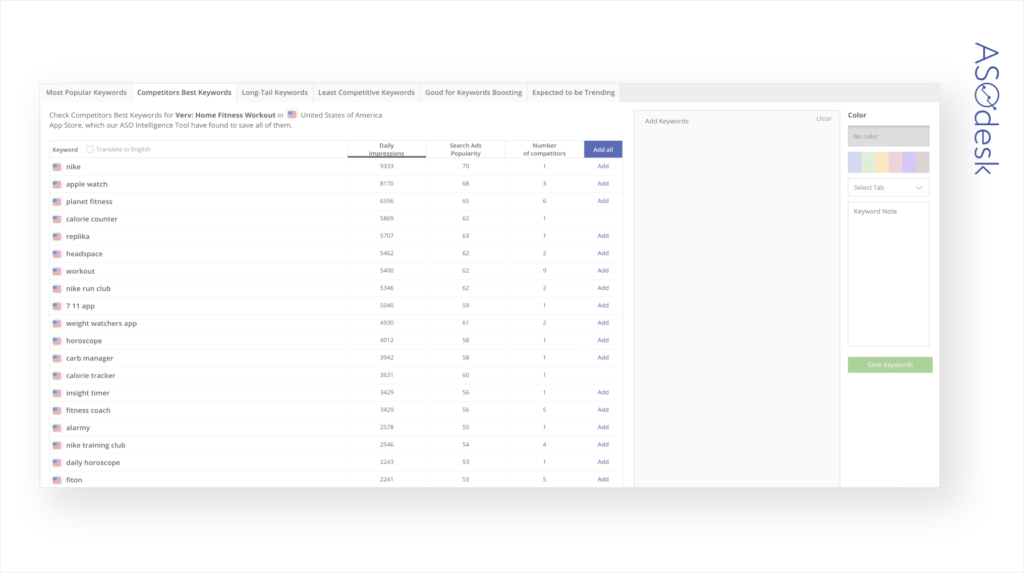 Long-Tail Keywords
Those applications are successful in ASO that thoroughly develop the semantic core and do not miss long-tail queries. About 70% of search traffic comes with long-tail queries. We've found out how to pick them up for your app. Here you will find the most targeted queries on which your app will have low competition.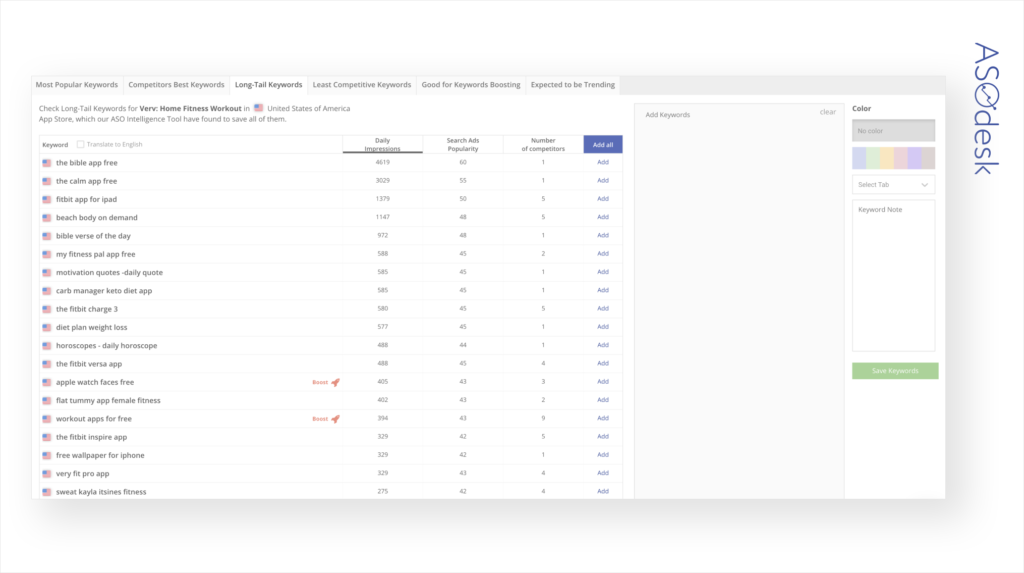 Least Competitive Keywords
At a stage when your application is not yet popular enough to fight for the top positions on the most popular searches, your task is to find queries where the competition is low. We've already found such queries for you. In this list you can directly see the number of apps and popularity among your competitors for each query.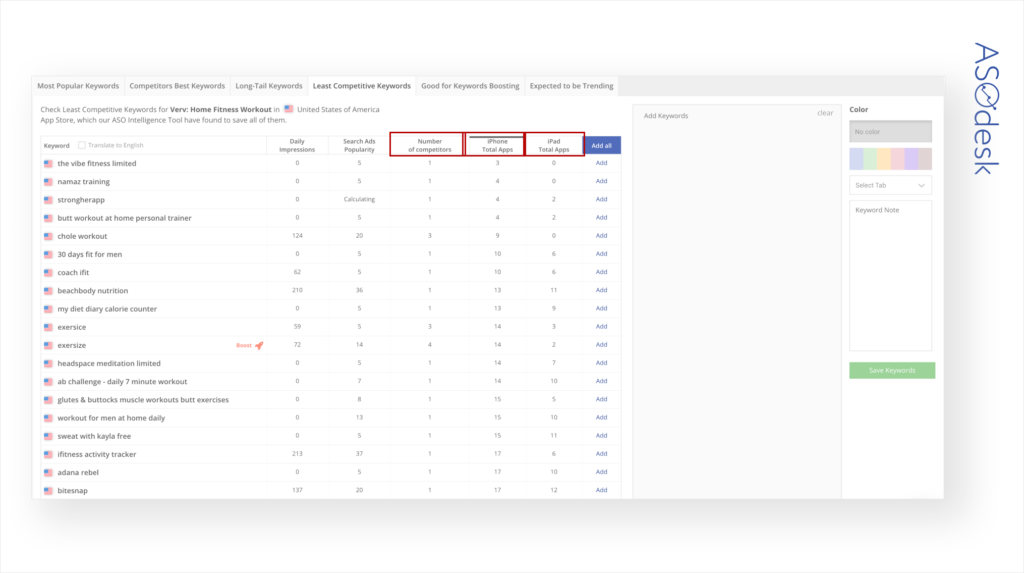 Good for Keyword Boosting
This one shows the queries most suitable for promotion to the top. Promoting to the top has a number of nuances, such as: initial application position, traffic volume, relevance of queries to your app. We have already taken into account all these nuances. Choose queries, and the Boost button allows you to create a campaign for promotion to the top in a couple of clicks.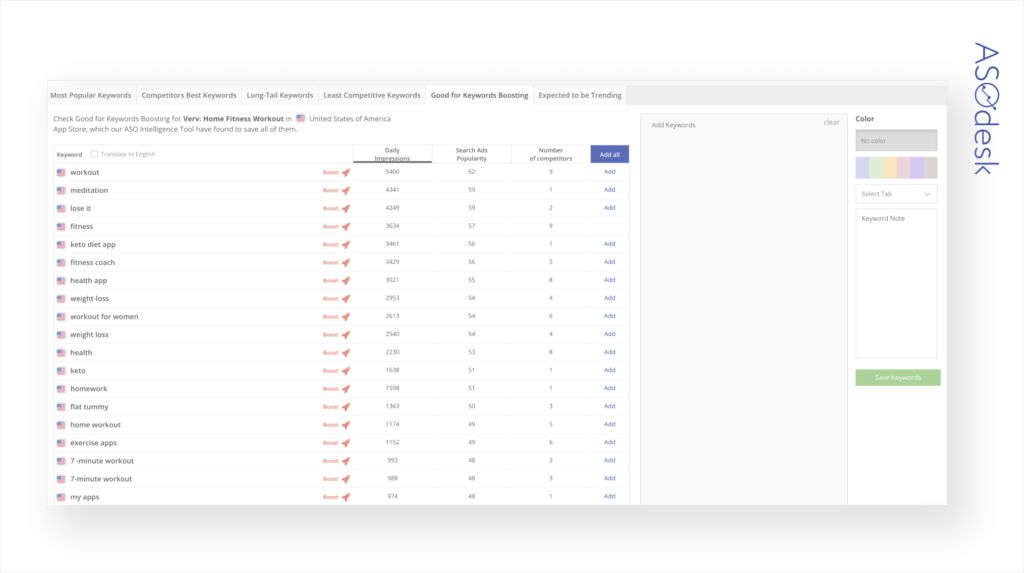 Expected to be Trending
It shows queries relevant to your app that have recently been on the App Store search startup screen and have a high chance of getting there back in the near future. If the request was in the "Search Trends" section, then within the number of impressions increases in a few hours. This means that your application will be able to receive an additional number of installs at the top of this request.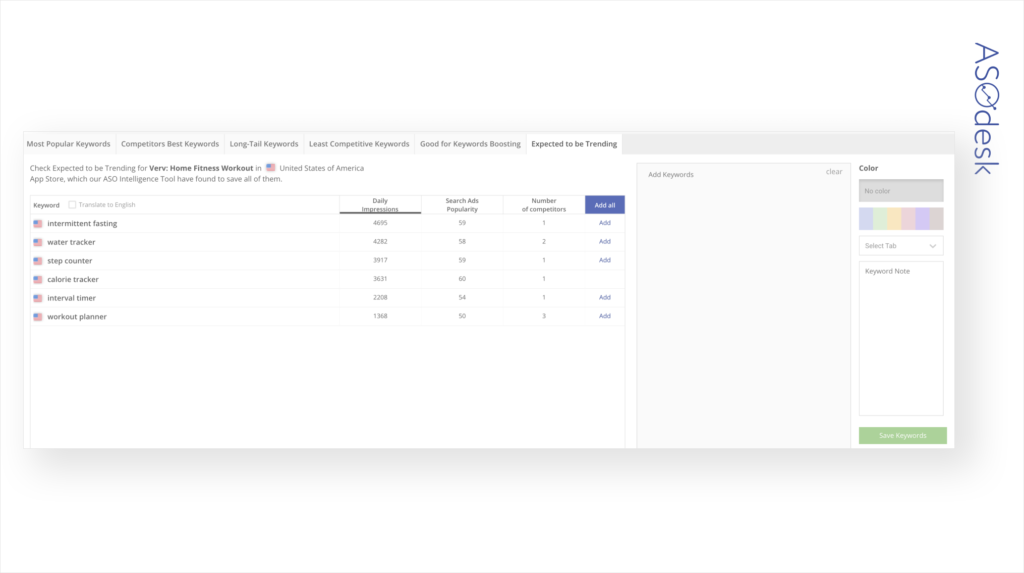 Other functions
Keyword Auto-Suggestions is integrated with the Keyword Analytics table. You can save queries directly to a specific tab, attach a note, do colour marking to selected queries.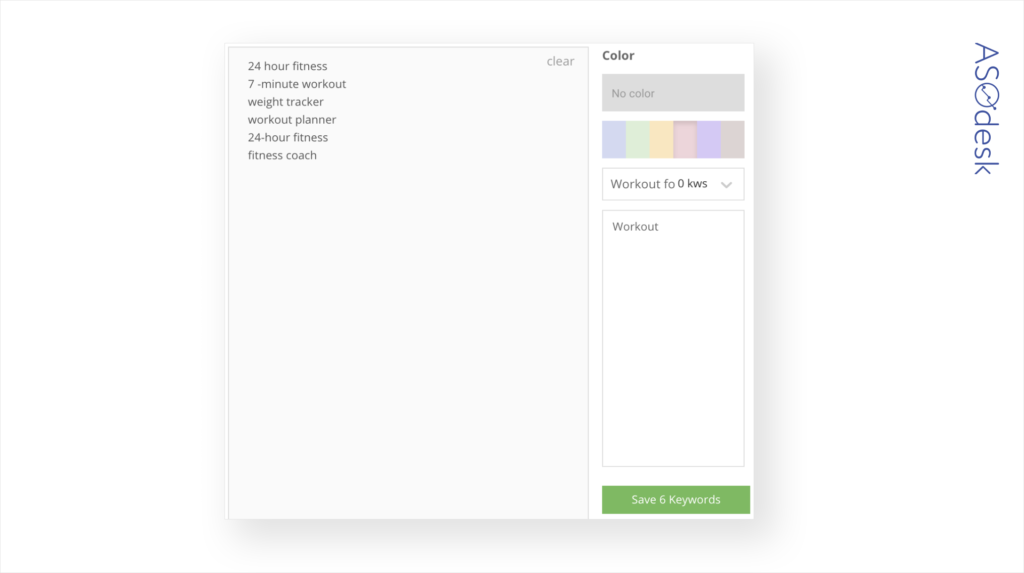 And you certainly are granted access to translation of queries into English for convenient work with languages you don't know.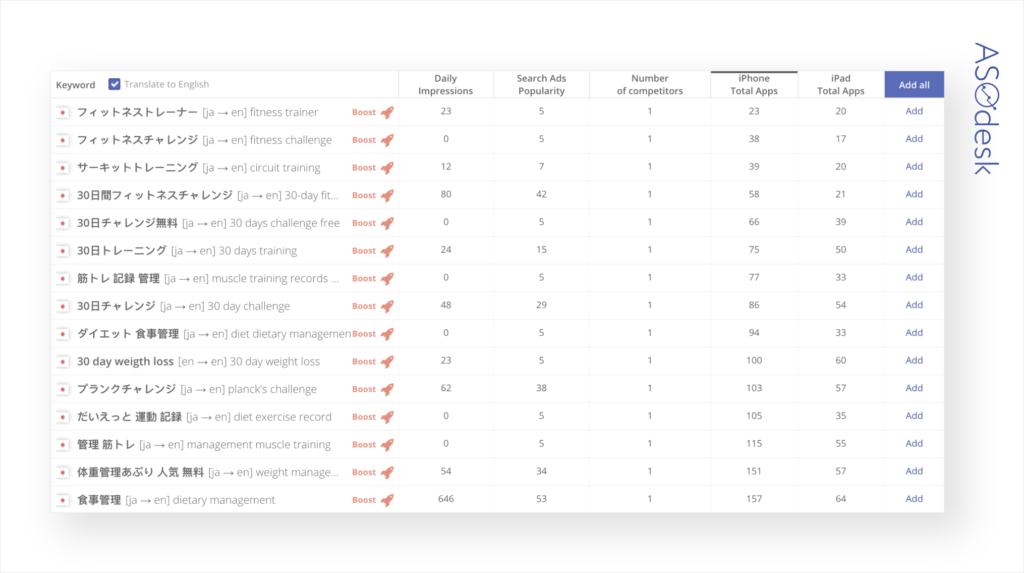 The tool is available with Startup XL and beyond. Test all Keyword Auto-Suggestions functions.
Start optimizing your app with ASOdesk
No credit card required
Last month we presented a new free tool for Keyword Research and description optimization for Google Play. Read about it here.