Promote an App Faster with Asodesk's New Navigation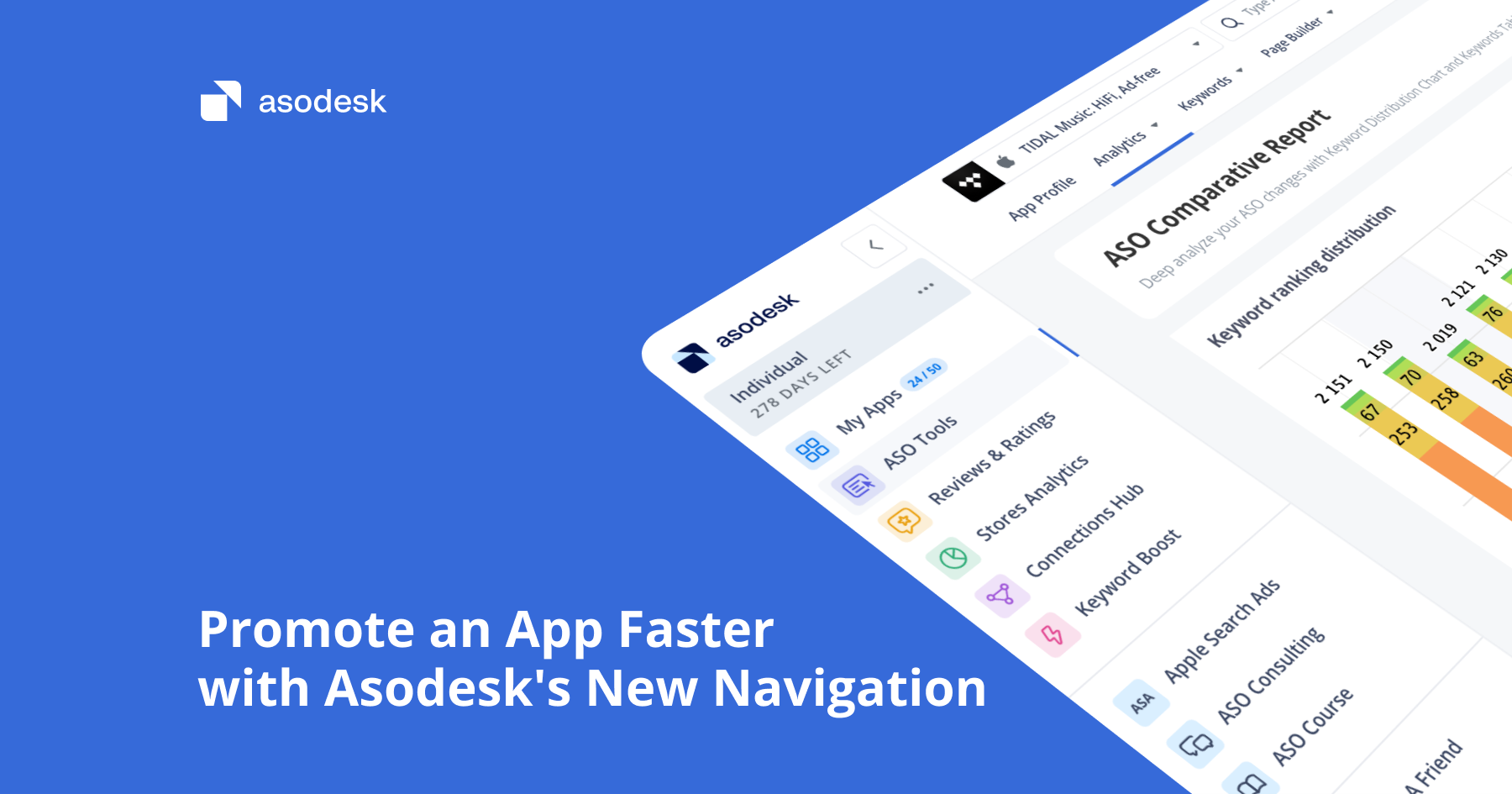 Introducing Asodesk's biggest navigation update since 2020. We conducted dozens of interviews with ASO specialists to help create the most intuitive and efficient product that is easy to master for specialists of any level. Learn how the new navigation works, how tool names have changed, and what to expect from Asodesk in the future.
Contents
Why we created a new navigation
How the new navigation works
How tool names have changed
Future updates
Start using Asodesk with up to 45% off
Why we created a new navigation
The ASO market is stagnating: different services are copying each other's tools and interfaces. We decided to revolutionize our approach and create the most practical ASO tool. The new navigation is the first step in that direction.
To do this, the Asodesk team conducted dozens of interviews with ASO specialists of various levels — from beginners to professionals. Based on their ideas, we created a map of the ASO specialist's job that describes the entire process of ASO work: from the initial analysis to the publication of new metadata.
At this stage, we realized that all ASO services just provide users with tools and leave them to their own devices. That is why we set a goal of creating a platform that focuses on the practical aspects of ASO, cover the entire path of App Store Optimization, and help lower the threshold for entering the industry.
How the new navigation works
You can learn how the new navigation works in our video.
The entire interface is now divided into sections:
1. Global navigation: everything related to section navigation and platform/account management.
Our platform is used not only by ASO specialists, but also by product managers, marketers, and support specialists. This is why we have created a global navigation that directs users to the appropriate section without overloading them with unnecessary information.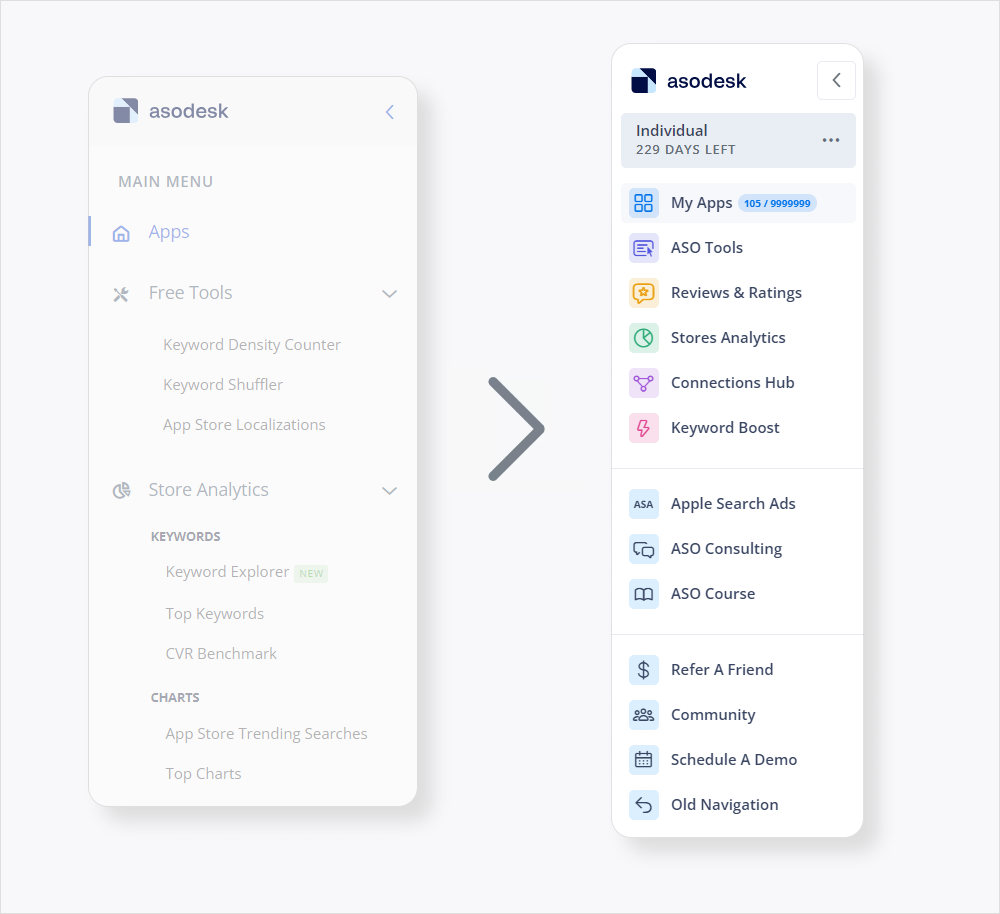 2. Local navigation: everything that allows you to navigate through the tools and pages within one section, as well as select apps, countries, and other settings.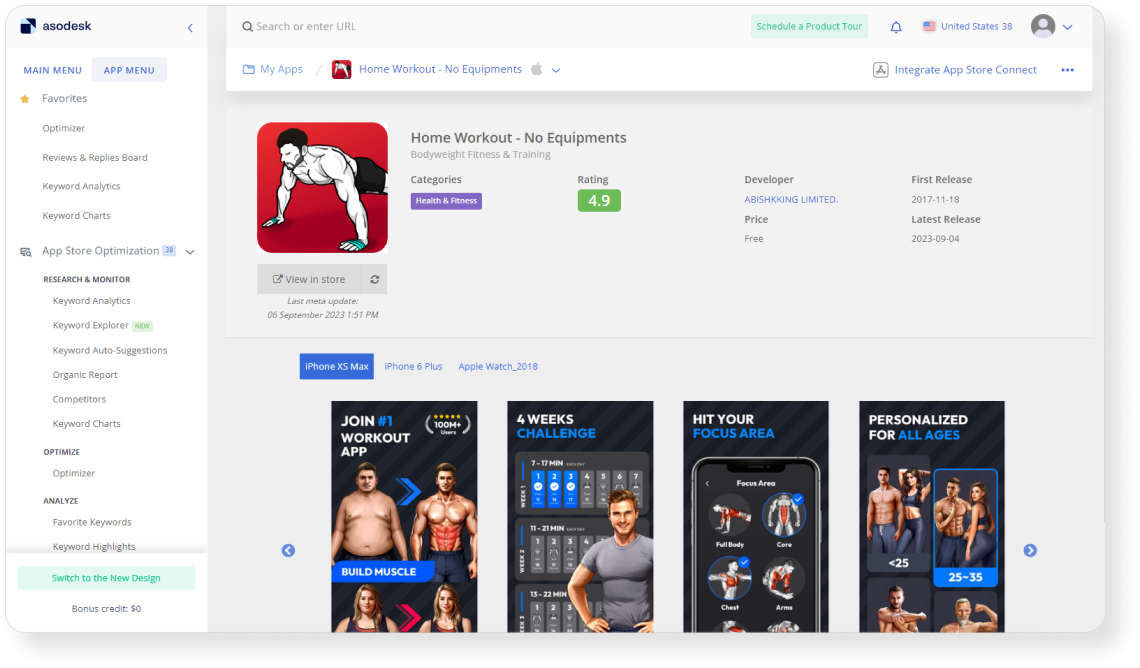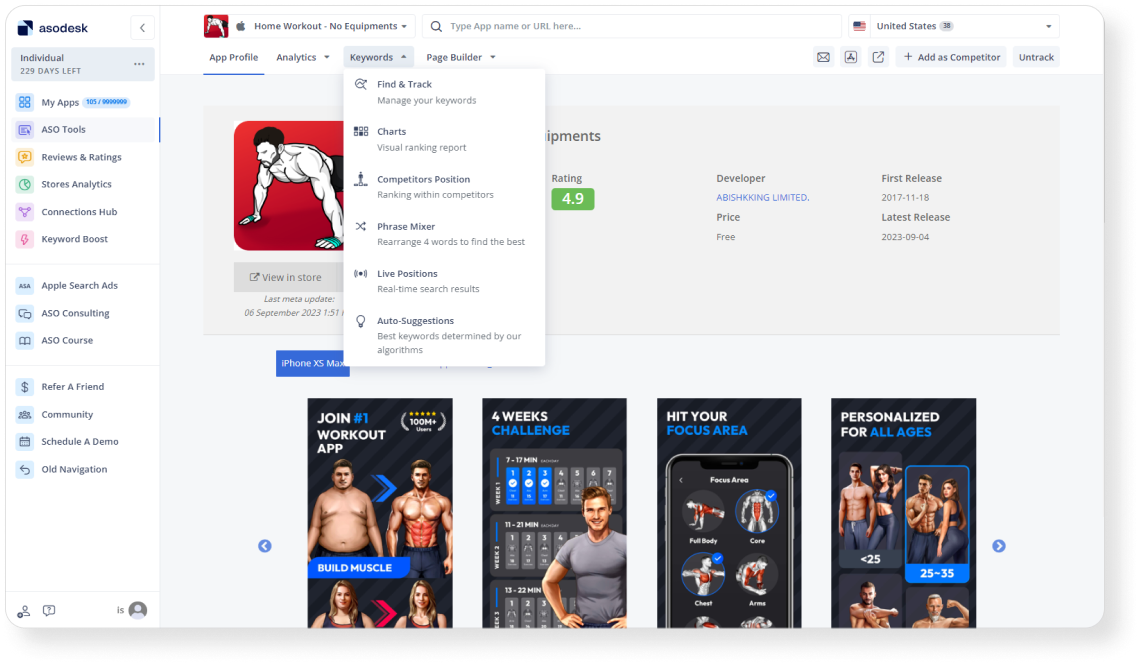 Local navigation reflects the iterative and consistent work of each specialist and also contains a list of tools with new names and brief descriptions that tell you what each tool does.
The configuration of the upper panel is unique for each section, but it follows the same rules, so users will only need to learn how it works once.
3. Workspace: the tool or page you selected in the local navigation. With our new design, the workspace has become larger — simplifying the work process.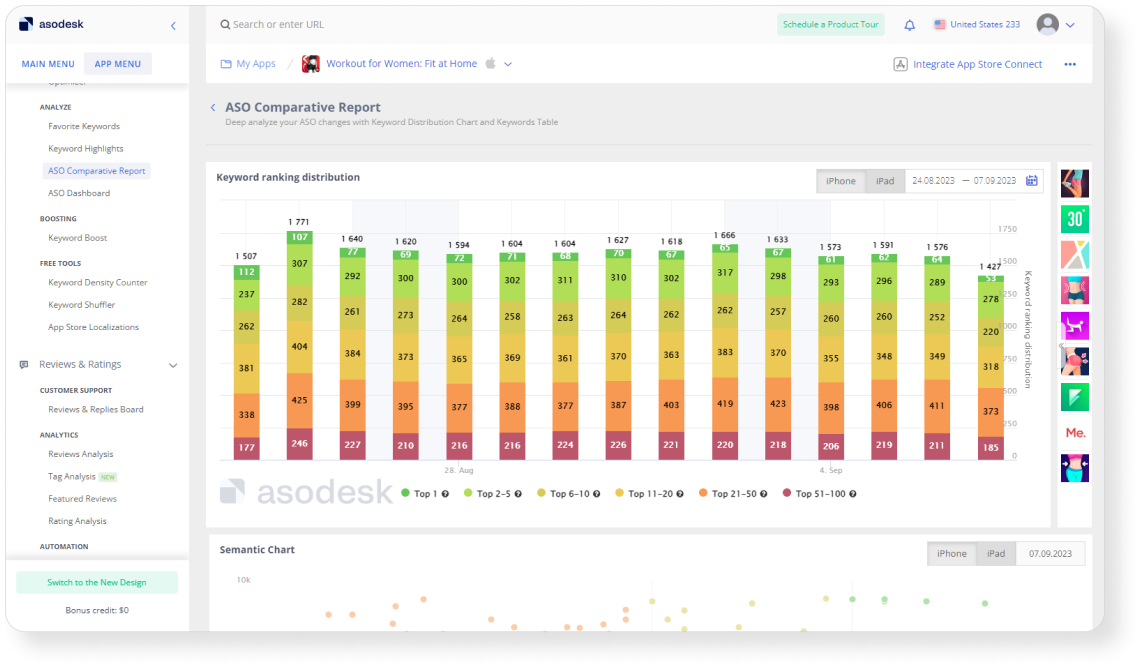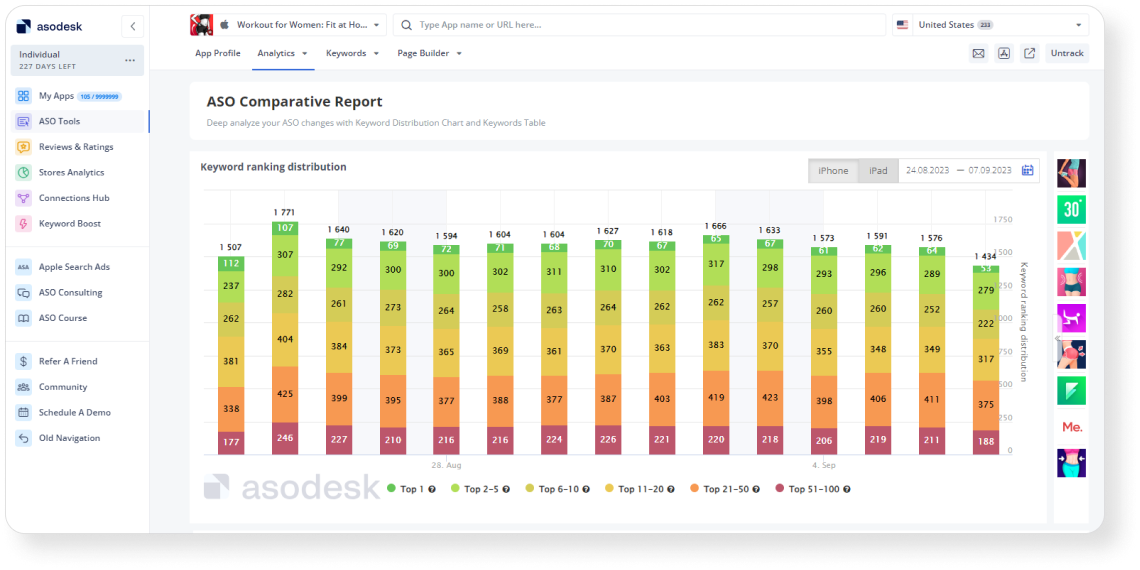 Despite the unique combination of each section, they all follow the same logical rules, so you can easily find what you need once you've learned how the system works.
The new navigation allows you to ignore unnecessary data that you do not need in your work. For example, if you work in support, you will not see all the ASO tools. You will be able to view the relevant sections in the global navigation, but you will only work with tools related to reviews.
As a result, we have the simplest, cleanest, and most intuitive navigation in the ASO market that both simplifies your work, as well as trains new users.
How tool names have changed
We have changed some of our tools' names to reflect the main functions of the tools more accurately. Asodesk now also has prompts next to each tool that help you understand its function.
In this chapter, we'll walk you through the new local navigation in more detail, as well as show you the new tool names.
ASO tools
We divided ASO tools into 3 categories based on their function:
1. The Analytics section allows you to analyze the effectiveness of your ASO and competitors' ASO.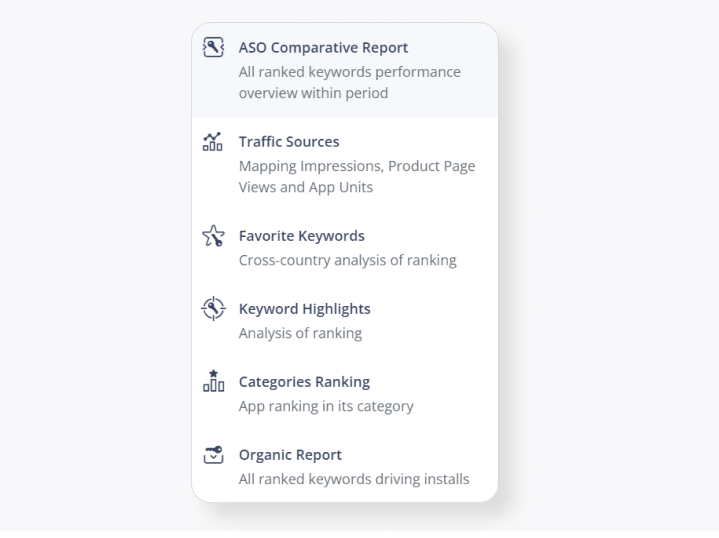 Traffic Sources (formerly ASO Dashboard). This tool allows you to find out which traffic sources your app is getting organic installs from.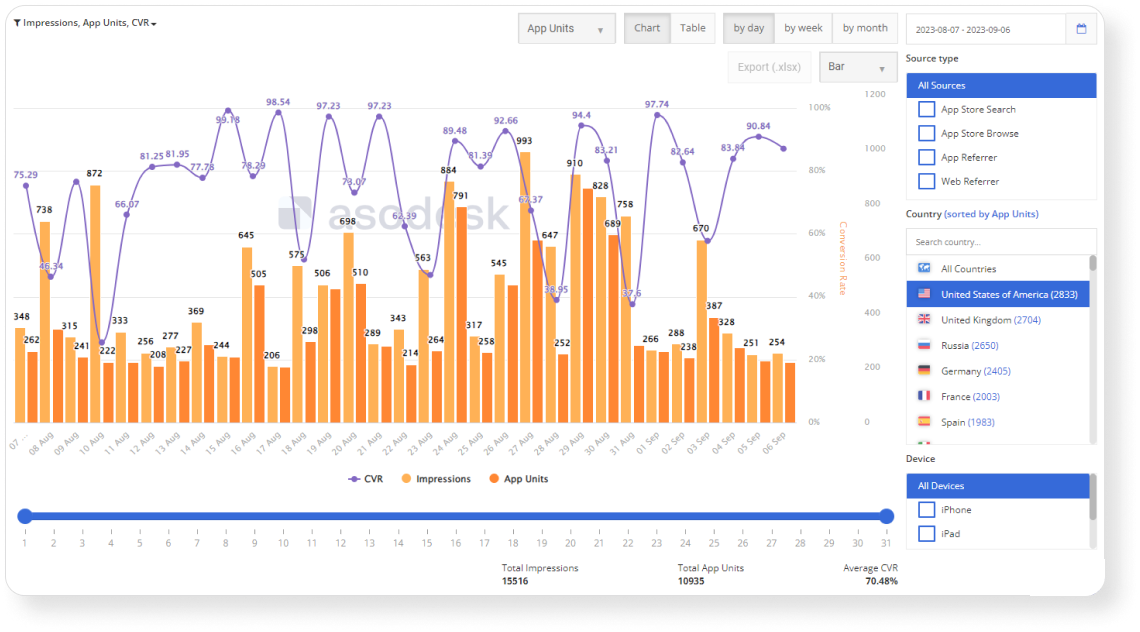 2. The Keywords section allows you to find keywords, add them to your semantic core, as well as track the positions of your app for these keywords.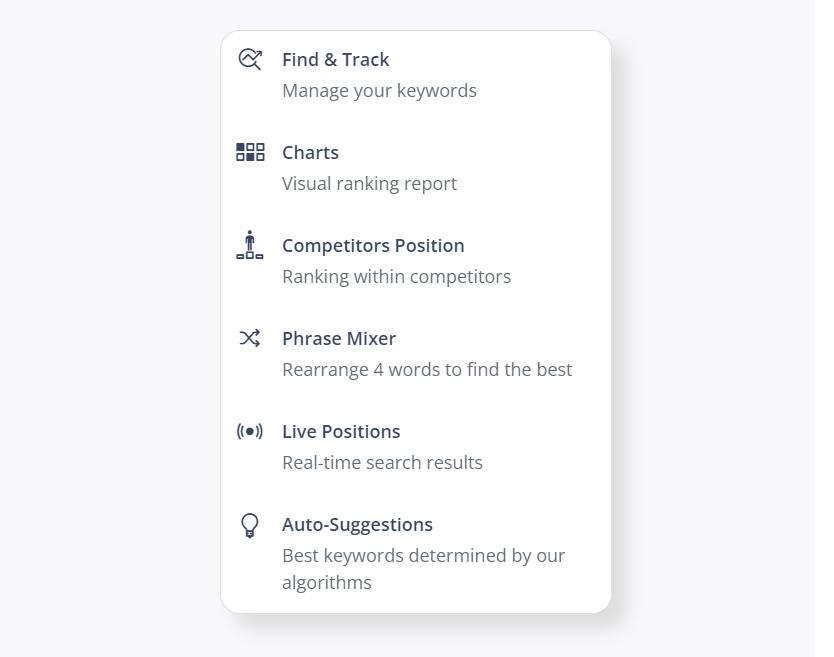 Find & Track (formerly Keyword Analytics). Suggests the best keyword options for your app. Allows you to collect a semantic core and tracks changes in your app's positions for keywords.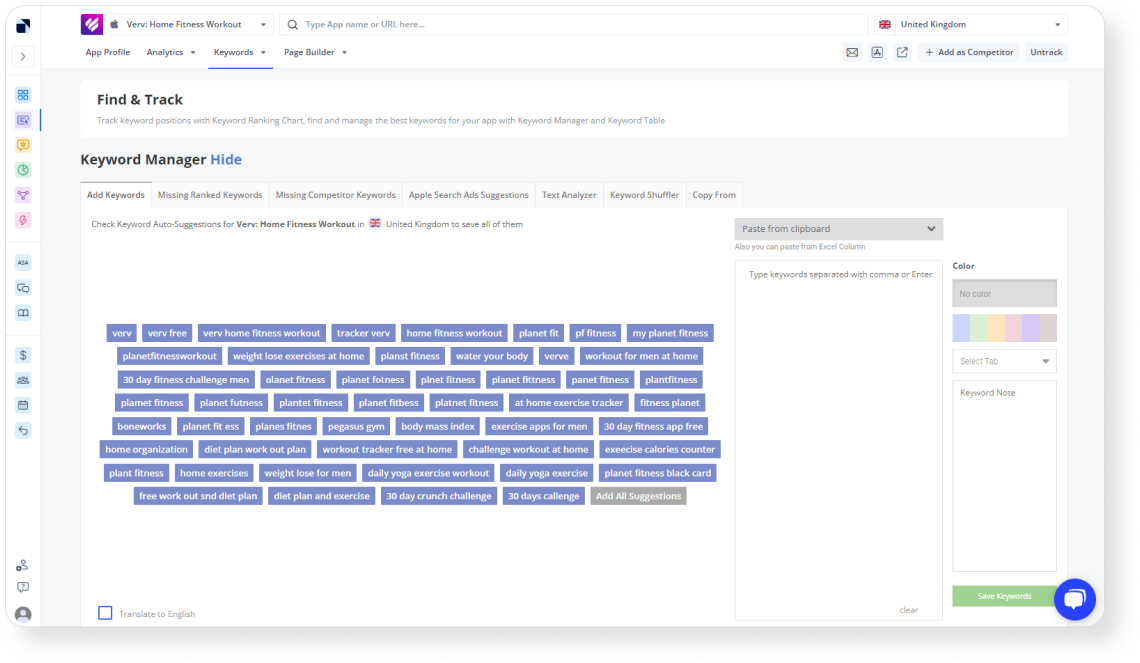 Charts (formerly Keyword Charts). Allows you to monitor changes in positions using a convenient visual report.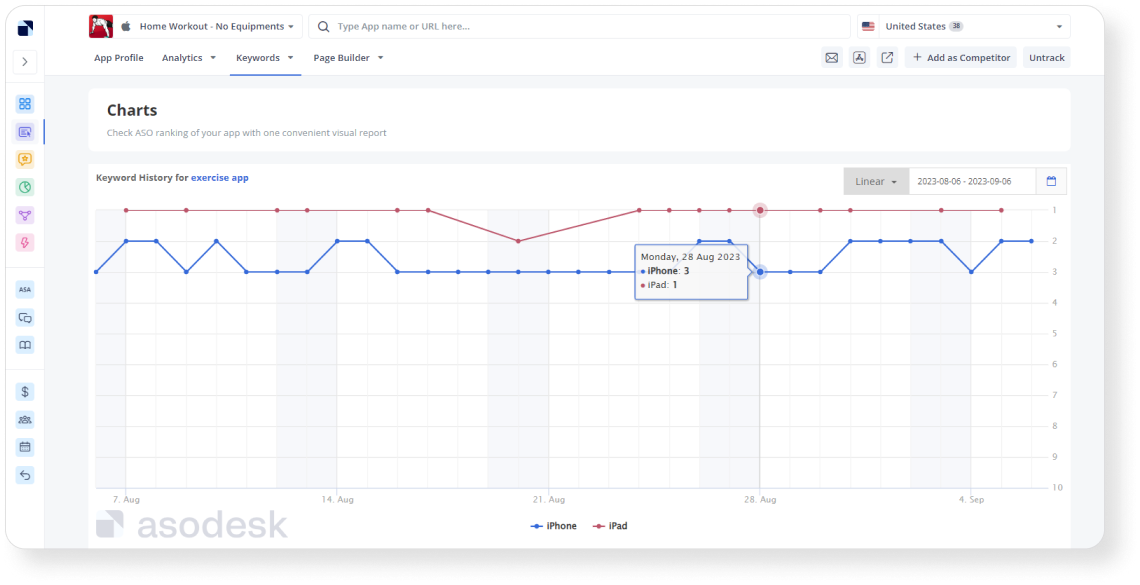 Competitors Positions (formerly Competitors). Compares the positions of competitors for each keyword.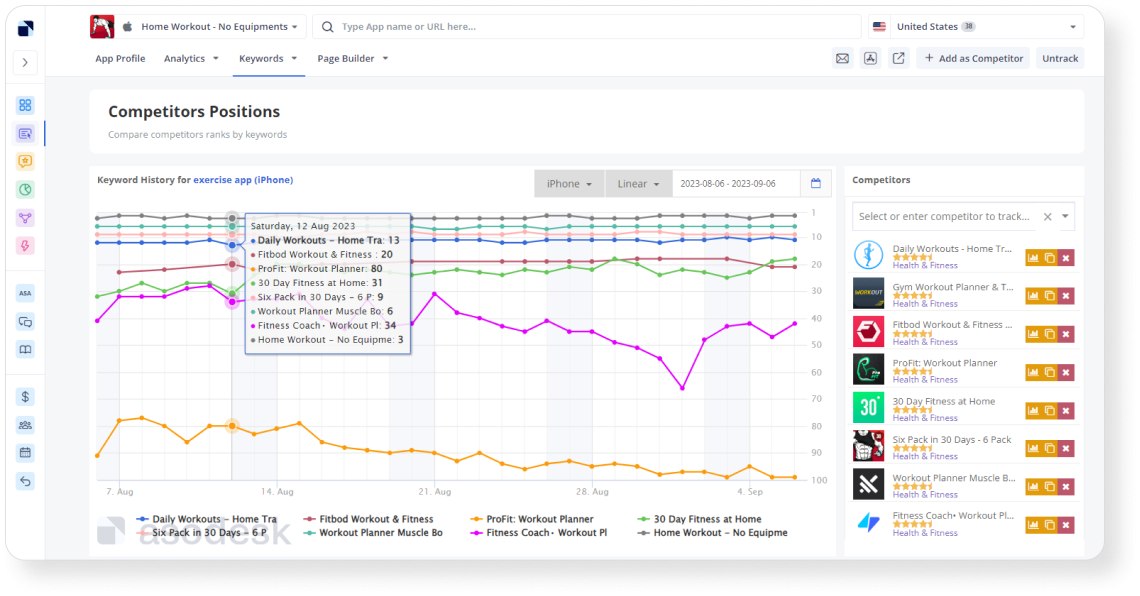 Phrase Mixer (formerly Keyword Suffler). Creates all possible phrases from your keywords.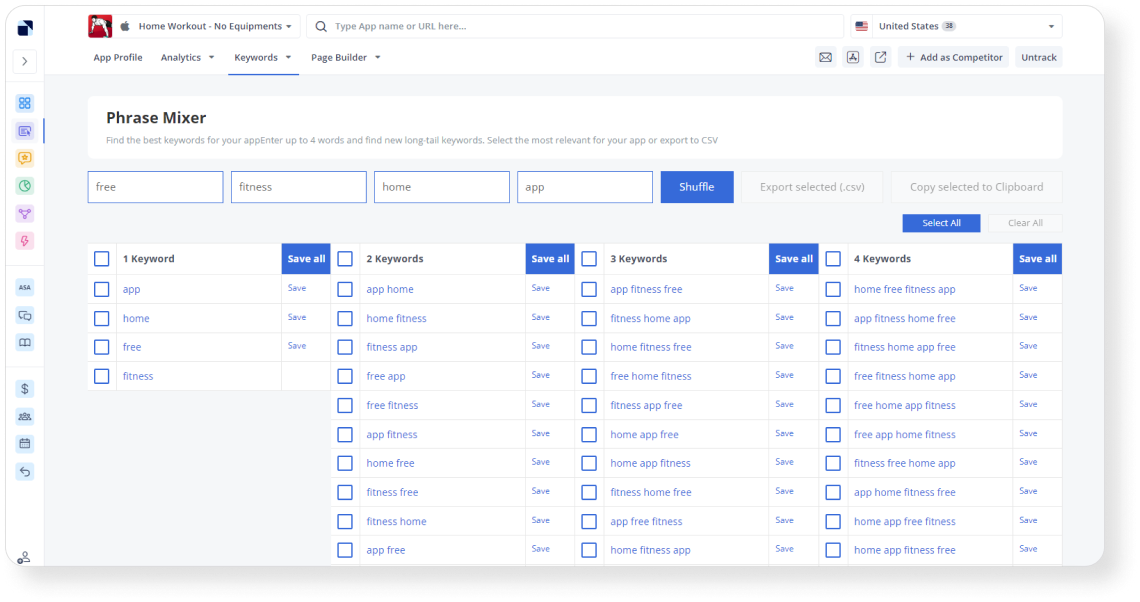 Live Positions (formerly Keyword Explorer). Shows App Store and Google Play search results in real-time.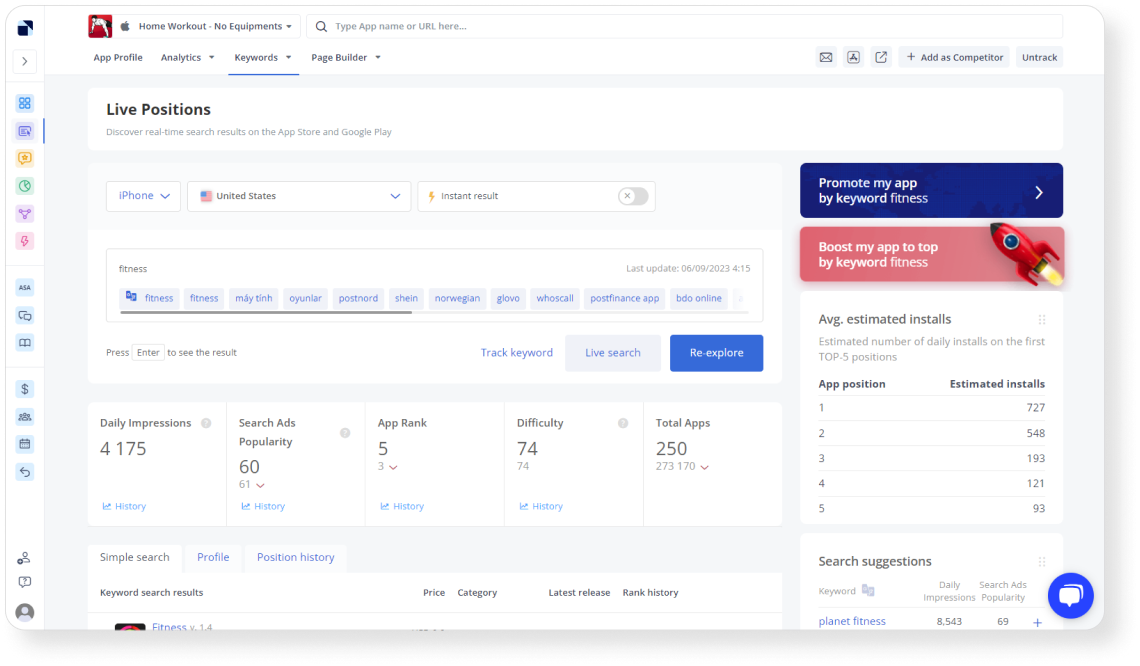 Auto-Suggestions (formerly Keyword Auto-Suggestions). Suggests the best keyword options for your app.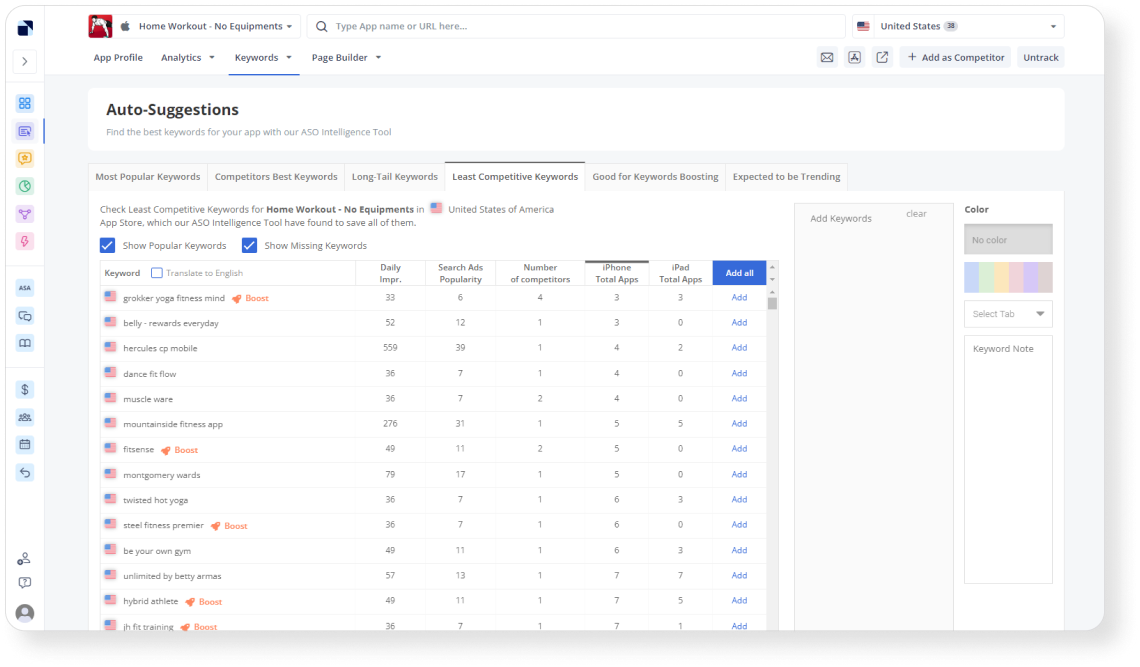 3. Page Builder section. Consists of tools that allow you to create the most effective metadata for your app.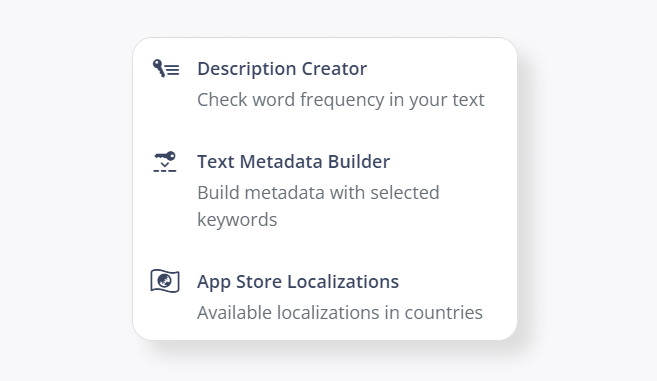 Description Creator (formerly Keyword Density Counter). Checks the frequency of keywords in your app description.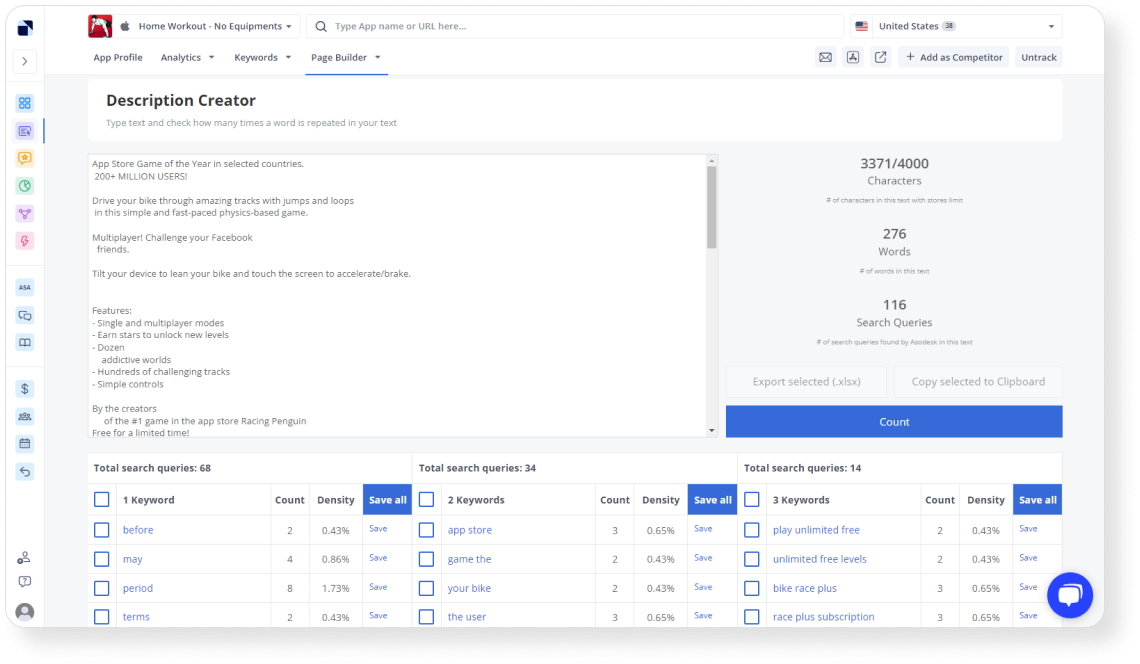 Text Metadata Builder (formerly Optimizer). Allows users to create the best title, subtitle, and keywords for your app. Underlines stop words and repetitions in metadata.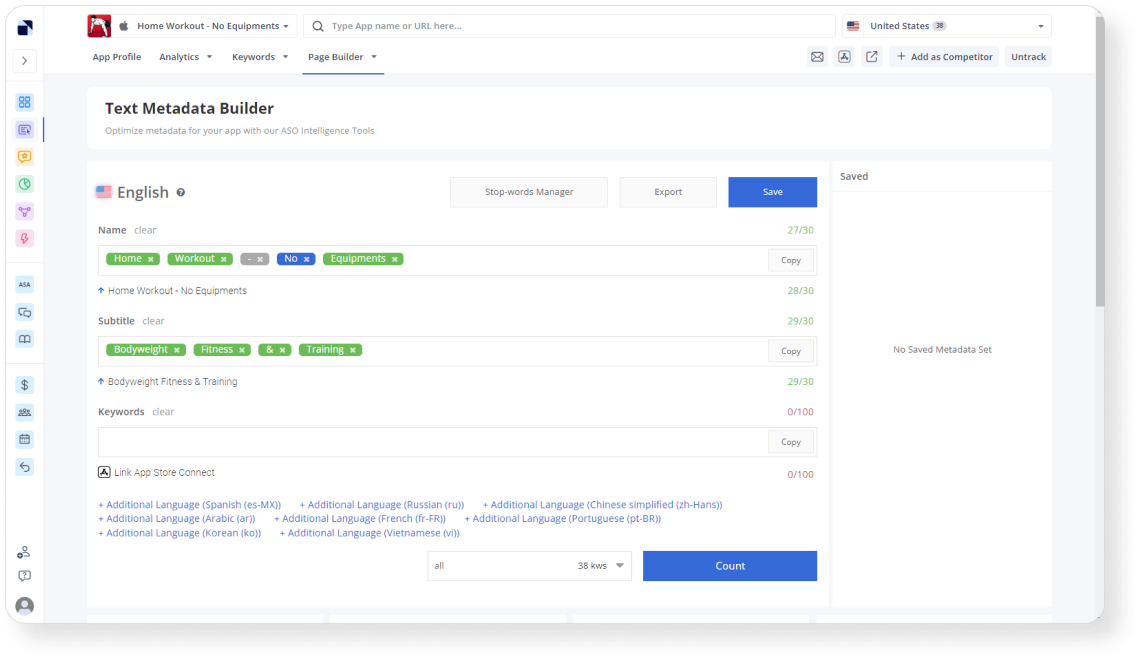 Reviews & Ratings
Here are the tools for working with ratings and reviews on the App Store and Google Play. This block consists of the following sections:
1. Reviews & Replies Board: a table that allows you to respond to user reviews, as well as analyze and sort reviews by groups.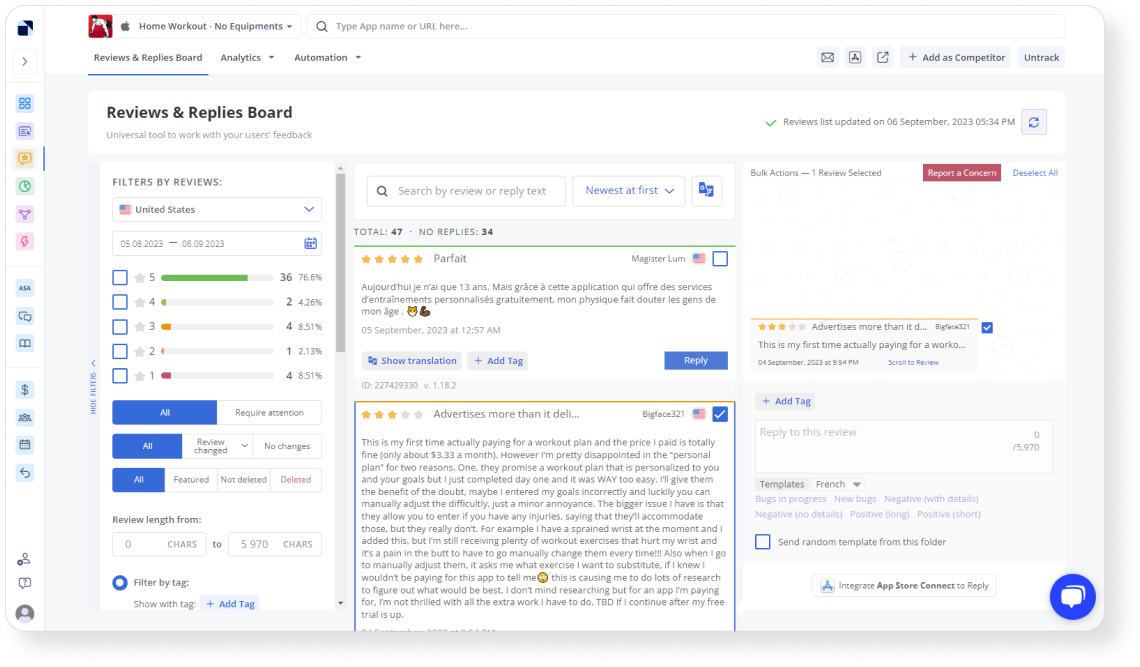 2. Analytics: a set of tools for analytics of reviews.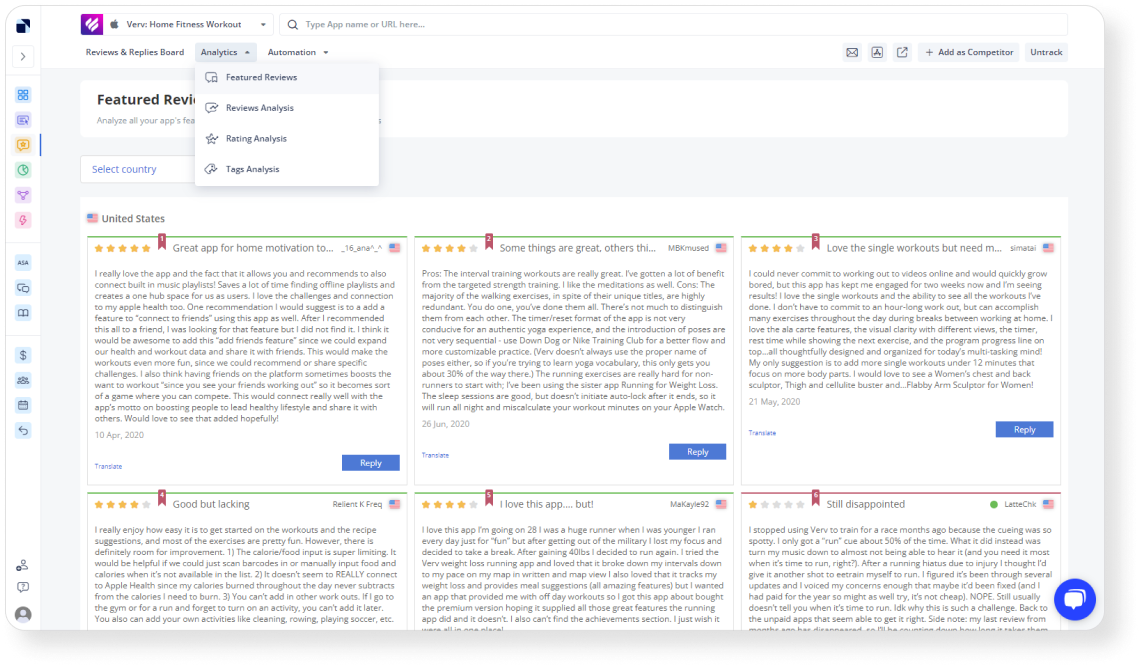 3. Automations: a set of tools that allow you to automate your work with reviews.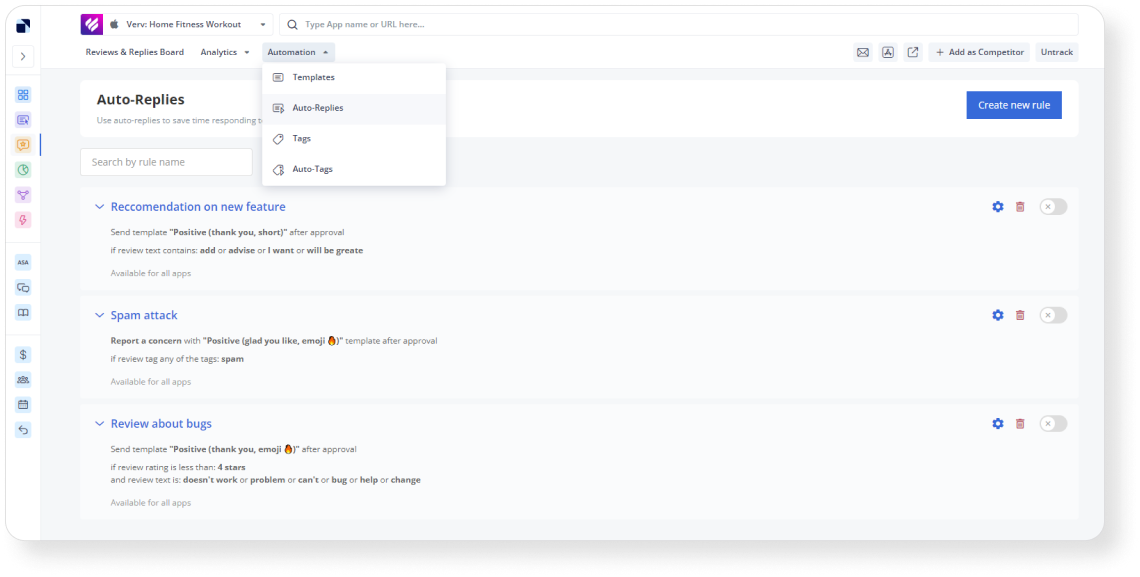 Store Analytics
This section includes tools that allow you to analyze store data: search results by word (Search Explorer), top charts (Top Charts), average CVR in each category (CVR Benchmark), popular keywords (Top Keywords), and trending queries (App Store Trending Searches).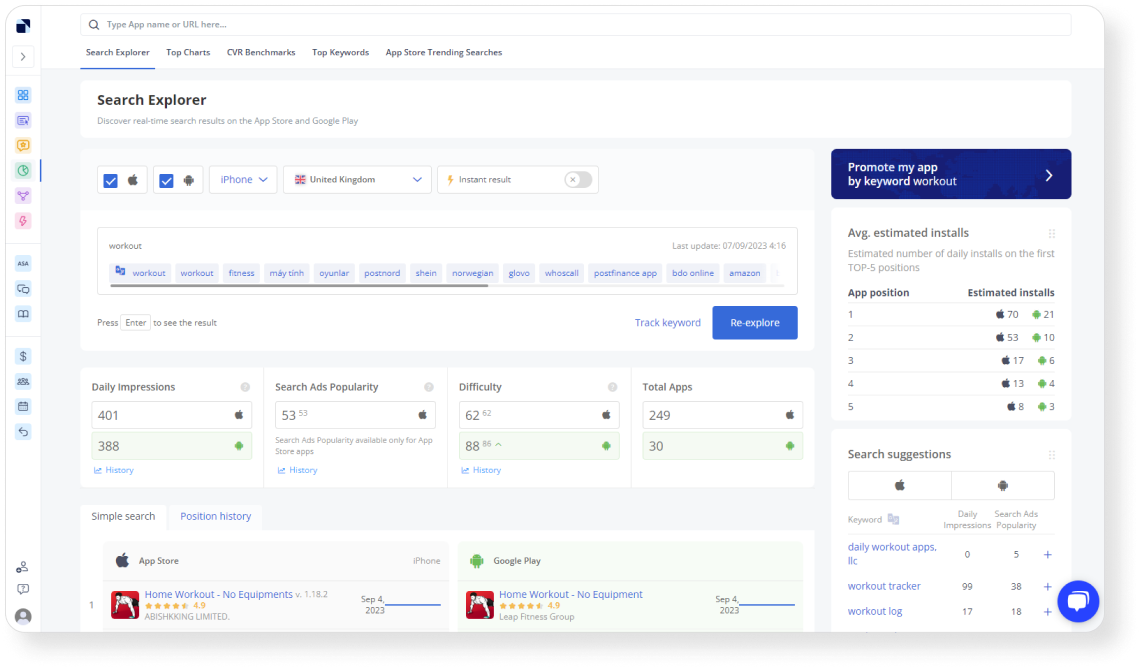 Connections Hub
Includes tools to improve the performance of your work with ASO and reviews:
1. All Reports Settings helps you set up reports and notifications so that you can promptly learn about changes in your app's positions in search and categories, as well as monitor new reviews and other promotion metrics.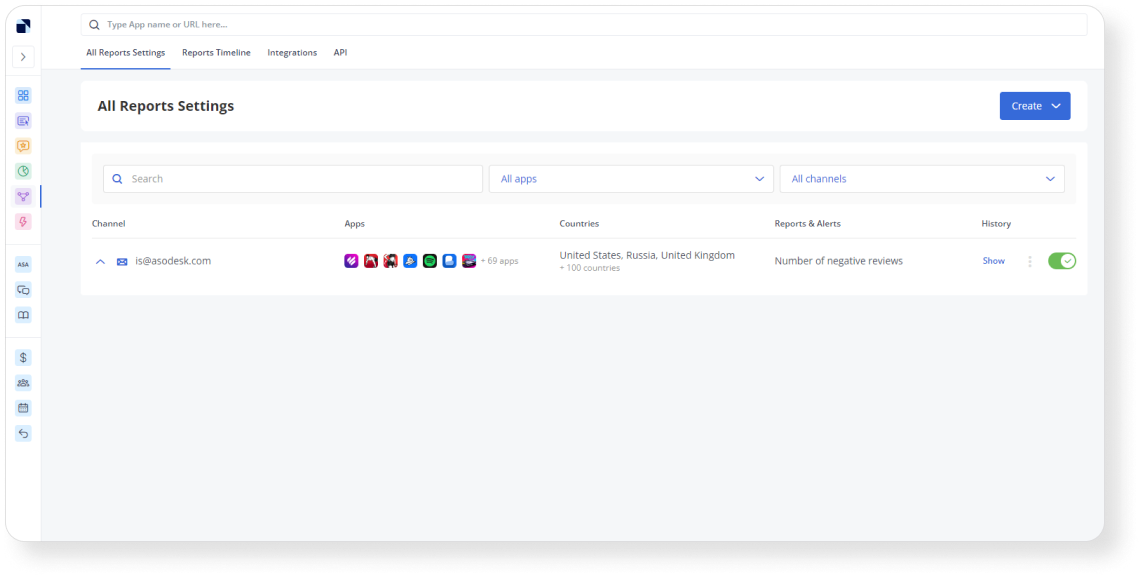 2. Integrations allow you to integrate Asodesk with other programs so you can get accurate data and work with ASO and reviews even more efficiently. You can integrate Asodesk with App Store Connect, Google Play Console, Zendesk, Omnidesk, and Usedesk.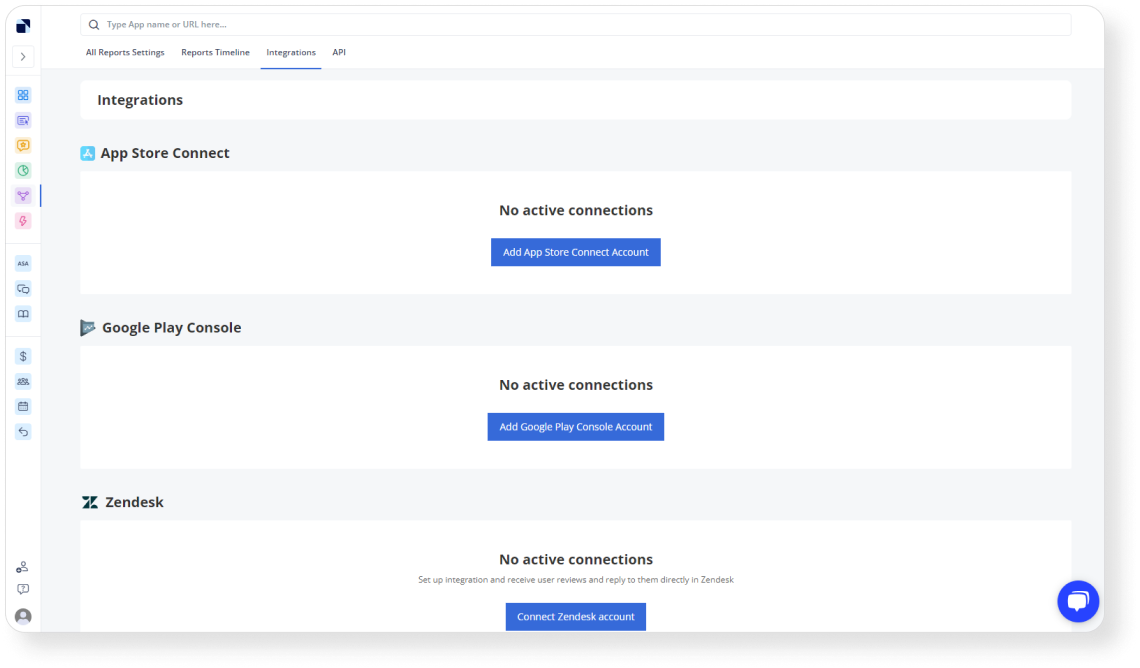 3. API helps you create custom reports and access data for any period.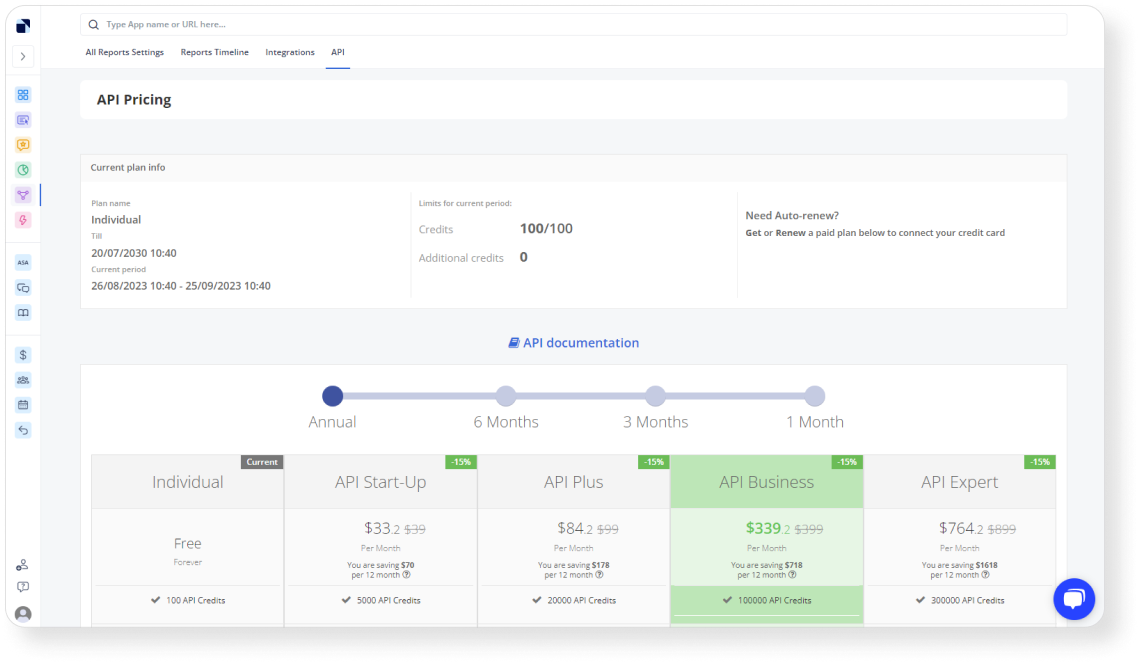 Future updates
You can expect new features that will allow you to conduct ASO even more efficiently:
The most accurate ASO index
Option to add up to 100 competitors per app
Visual Optimization Tool
Improved tools for keyword collection
New tools for market analysis
Start using Asodesk with up to 45% off
Now is the best time to master Asodesk's professional tools with a new simplified navigation. Register and get a free 14-day trial.
After the trial, you can sign up for a three-month Asodesk plan with up to 45% off. Learn more and choose your plan.
We hope that the new navigation will speed up your work with ASO and reviews. If you have any questions or suggestions, please contact us by email danila_c@asodesk.com.