How should ASO specialists work with reviews: Top 6 skills + PDF guide
Published: 28.04.2022
Updated: 01.06.2022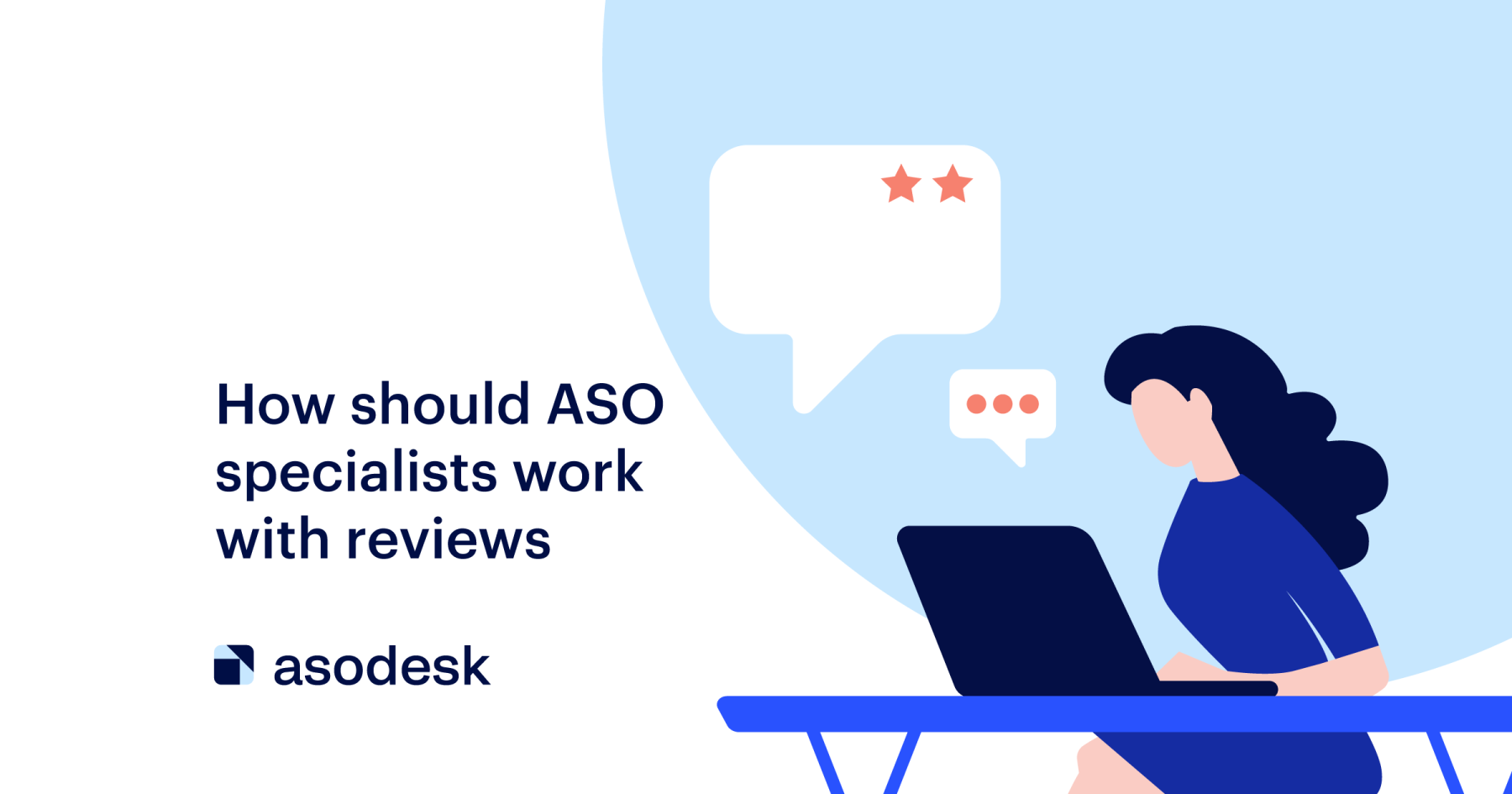 Due to low ratings, ASO can go slower. The number of installs does not increase, and the conversion rate drops. You can solve these problems with effective work on reviews. In this article, we'll discuss why it's important for an ASO specialist to work with reviews, what skills will help improve an app's rating, and influence the app promotion in the App Store and Google Play.
Contents
6 reasons why it is important for ASO specialists to work with ratings and reviews
5 important skills for ASO specialists when working with reviews
Things an ASO specialist should remember when working with reviews
6 reasons why it is important for ASO specialists to work with ratings and reviews
1. Working with reviews affects install numbers and increases the conversion rate per install
One of the main goals of ASO is to increase the number of installs from the search as well as conversion to install. App rating is the factor that influences conversion the most.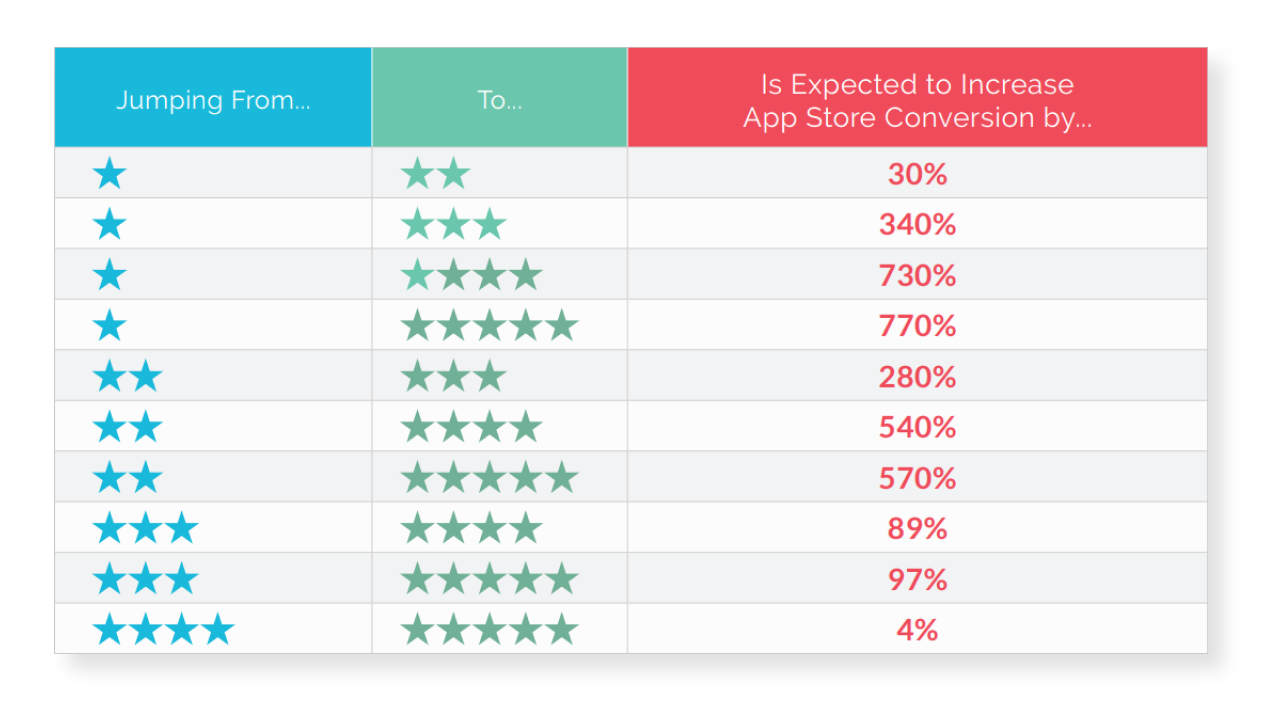 According to Apptica, changing ratings from 3 to 4 can increase conversion in the App Store up to 89%, and from 3 to 5 — up to 97%.
That is why ASO specialists should pay attention to app rating if they want to increase install numbers. App ratings are based on app reviews, so it is important to work with reviews as well.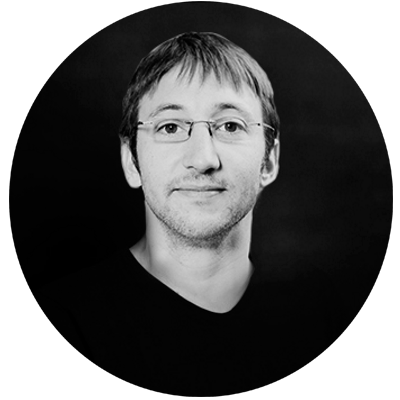 Thomas Petit, a world-renowned mobile marketing thought leader and independent app growth consultant


Ratings & reviews are an essential part of ASO because they influence both the algorithm (mostly through volume) and user conversion (mostly through quality). Ratings are very visible to users in particular. An important goal is to balance quantity and quality. Reviews are also a great source of insights into users' expectations and satisfaction.
Learn tips that can help you to increase your app rating in our PDF guide.
2. Number of reviews' influence on app positions in the search
The position of the app for keywords is the main factor on which ASO specialists should work. Number of reviews can influence app positions — especially for new apps. According to the CEO of Asodesk Sergey Sharov, if a new app with few installs gets at least 10 reviews, it can climb from 300 positions in the Search to 100–150.
App rating also influences the number of installs, and the number of installs is one of the main factors that influence app positions in the search. That is why ASO specialists should work on app rating and reviews to improve app ranking.
We conducted a study on what rating apps from the top positions in search have. The average rating of the apps at the top of the App Store is high — 4.4–4.5 stars, while in Google Play it is lower — 3.6–3.7 stars.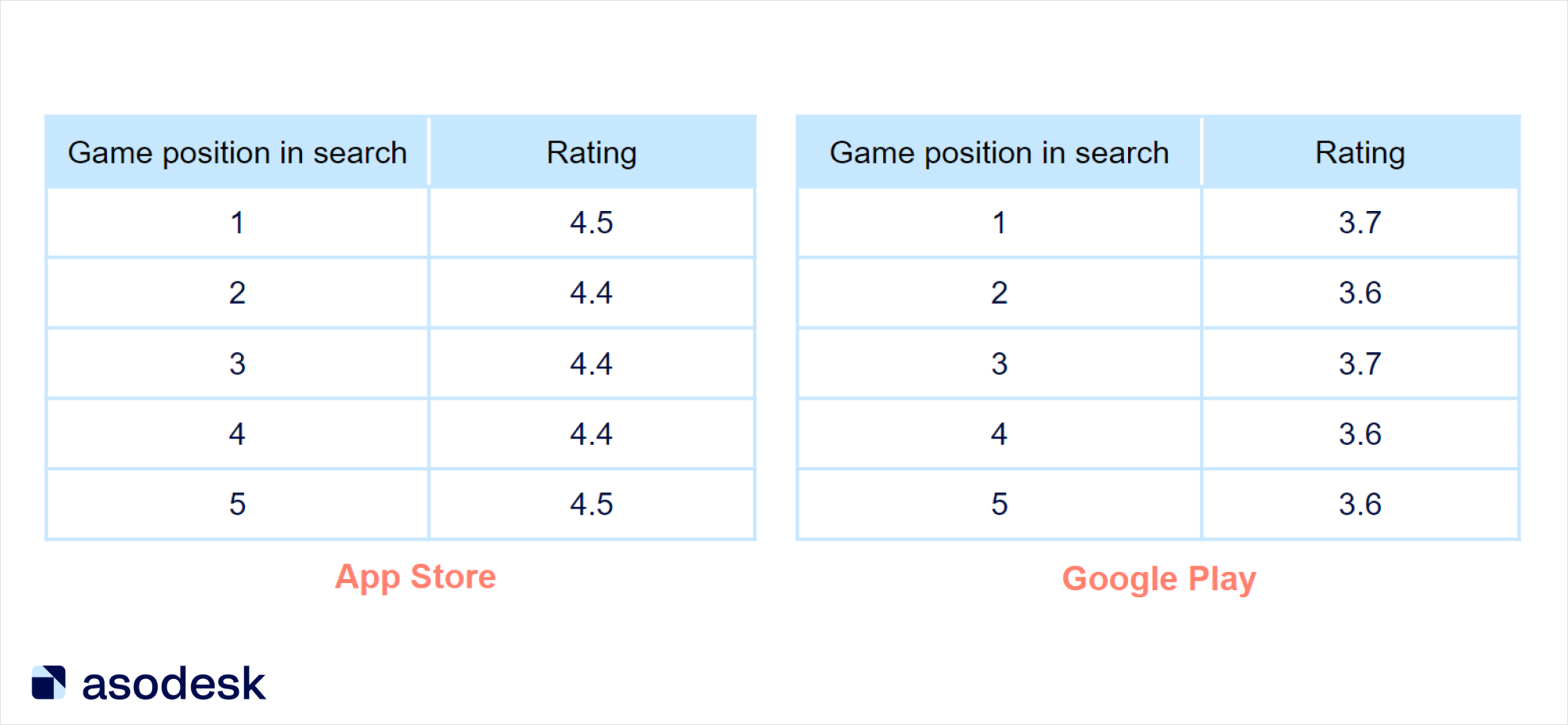 3. Reviews and replies to them are indexed by the Google Play algorithm
If you add keywords to your replies to reviews, you can:
strengthen your app positions in Google Play search for keywords that you already used in your title or description;
start ranking for keywords that you couldn't add to your metadata;
claim positions for branded keywords.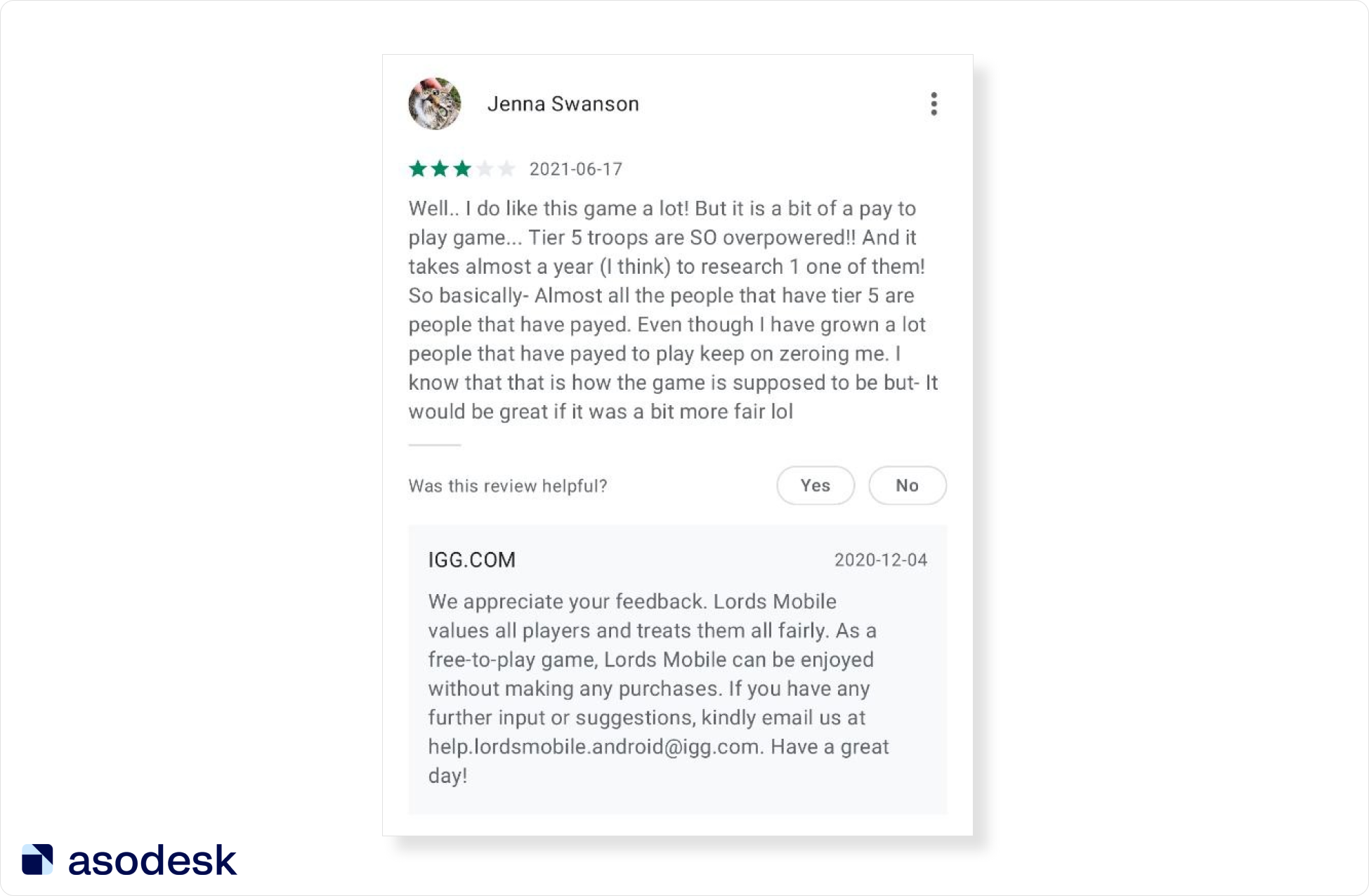 Remember that keywords in replies to reviews have a low impact on indexing in Google Play. But otherwise, you can claim some positions by using them. Read about all the factors that have a significant influence on app positions in the Search.
4. In small companies, working with reviews is one of the tasks for ASO specialists
Sometimes apps get several reviews from the App Store and Google Play in a day or a week, which is why there is no need to hire specialists who will work with reviews only. In such cases, ASO specialists can work with reviews in the App Store and Google Play.
In companies that get a high number of reviews, Customer Support managers usually work with reviews but sometimes they collaborate with ASO specialists and even use the same platform for their work. For example, Asodesk has tools for ASO and working with reviews, as well as Marketing & Product Management Tools.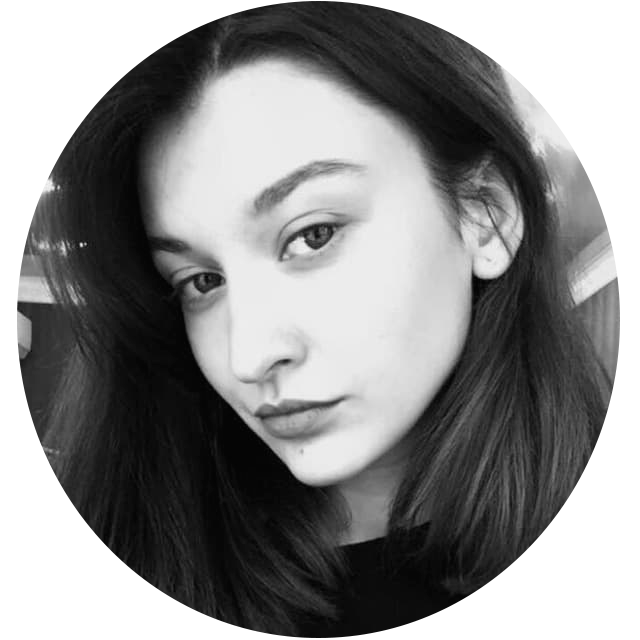 Anna, Head of ASO, DevGame


An ASO manager is responsible for working with reviews in our company. On average, one or two days a week are allocated, it all depends on the flow of reviews. It often happens that with the release there is a need to increase this time. The whole process is simple, we use templates for replies. Therefore, the task takes no more than two hours. In addition to the ASO manager, the ASO lead takes part in the work and monitors the featured reviews.
5. Through review analysis, ASO specialists can find new ideas for changes to text metadata
Sometimes you can learn about the best features of your app not from the product team, but from users. For example, in positive reviews, many users can compliment several features in the app. We can test the idea of putting these features on the screenshots of the app, perhaps then conversion to install will increase.
6. It is important for ASO specialists to analyze reviews in order to recognize a competitor's spam attack fast
If you don't notice spam attacks from competitors fast, your rating can fall down over several days. Then your app position for keywords in the search can become lower, as rating influences it. That is why it is important for ASO specialists to overcome the attack in time and prevent a rating drop.
5 important skills for ASO specialists when working with reviews
1. Understand the reasons for negative and positive reviews
To avoid missing the moment when the rating drops, you need to regularly monitor the number of negative and positive reviews and understand what causes them. For example, if the app started receiving several times more negative reviews, but nothing has changed in how it works, this may indicate a spam attack from your competitors. It is important to notice spam attacks in time and take measures before your app rating drops.
Often, the rating drops after an update. In the Reviews Analysis tool in Asodesk, you can not only track negative reviews but also view them for any version of the app for the desired period.
For example, the app received 56 negative reviews on the day of the update on April 11. The number of negative reviews was more than usual: the average rating for that day was 3.17, while the average rating for a month was 3.65. We can conclude that some users experienced errors in the app after the update, which is why the number of negative reviews increased.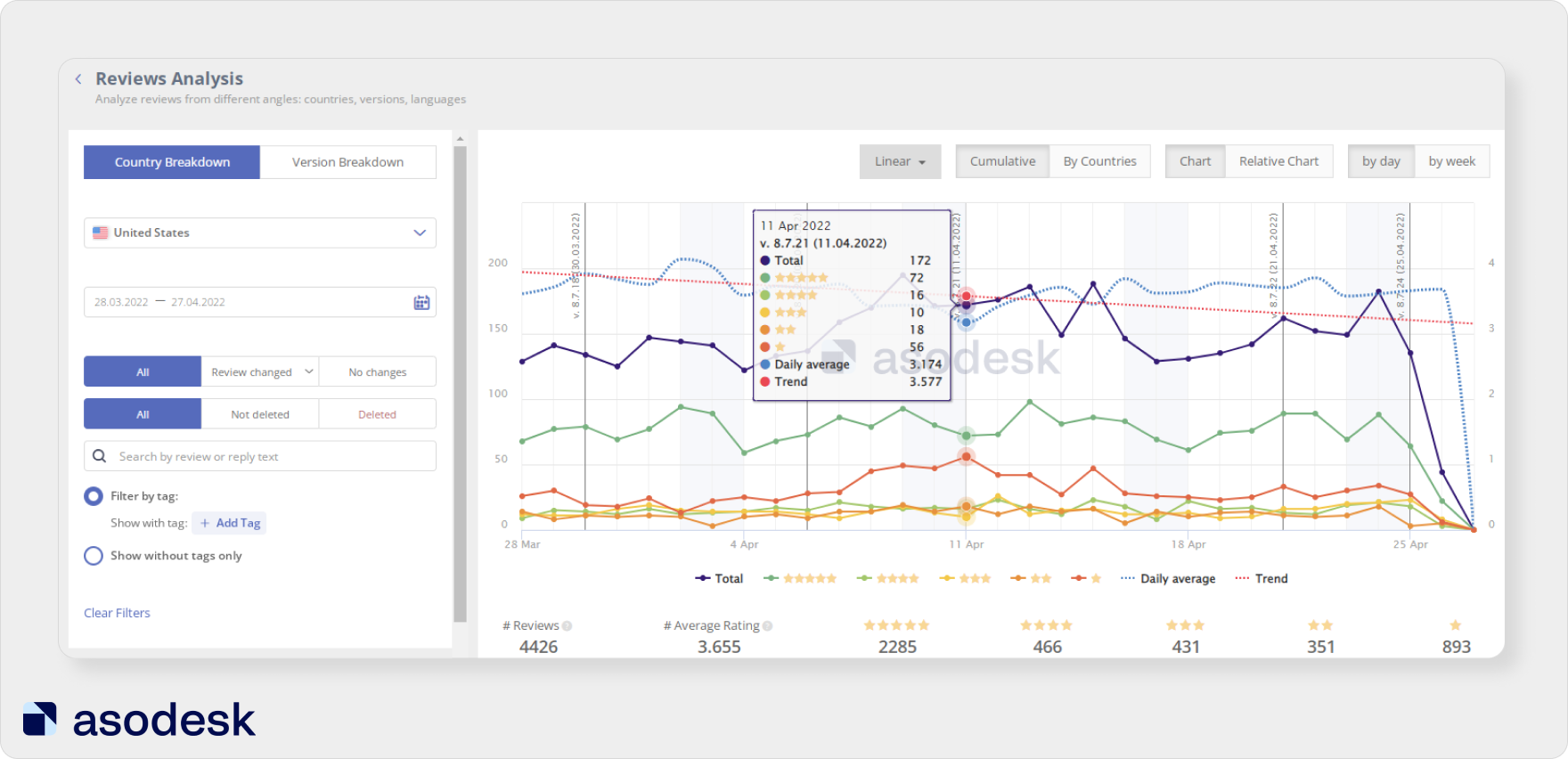 Thomas Petit, a well-known app growth consultant, also advises analyzing the reasons for rating changes.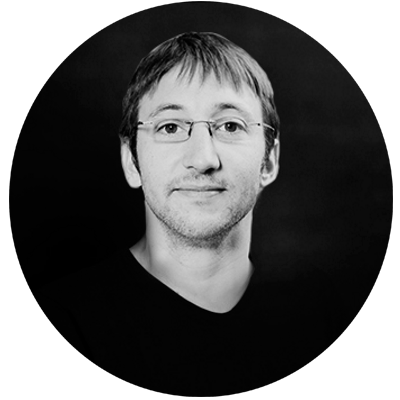 Thomas Petit, a world-renowned mobile marketing thought leader and independent app growth consultant


I look at both ratings & reviews slightly differently. I also try to consider both quantity and quality/average. For reviews, it's about getting reputation management and building customer relationships, while ratings are more of a quantitatively oriented task, the two are related.
Even when things are going well, I highly recommend keeping a close eye on volume & average for recent users, especially after each release.
2. Find ideas for textual and visual optimization in user reviews
For an ASO specialist, it will be useful to analyze positive reviews and find out what users especially like about the app. User ideas can be used in textual and visual optimization. For example, put the users' favorite feature on a screenshot and perform an A/B test to see if this change affects the install conversion.
In their reviews, Headspace users often note that the app helps them to feel relaxed and sleep better. We can see this by using the word search in the Reviews & Relies Board in Asodesk.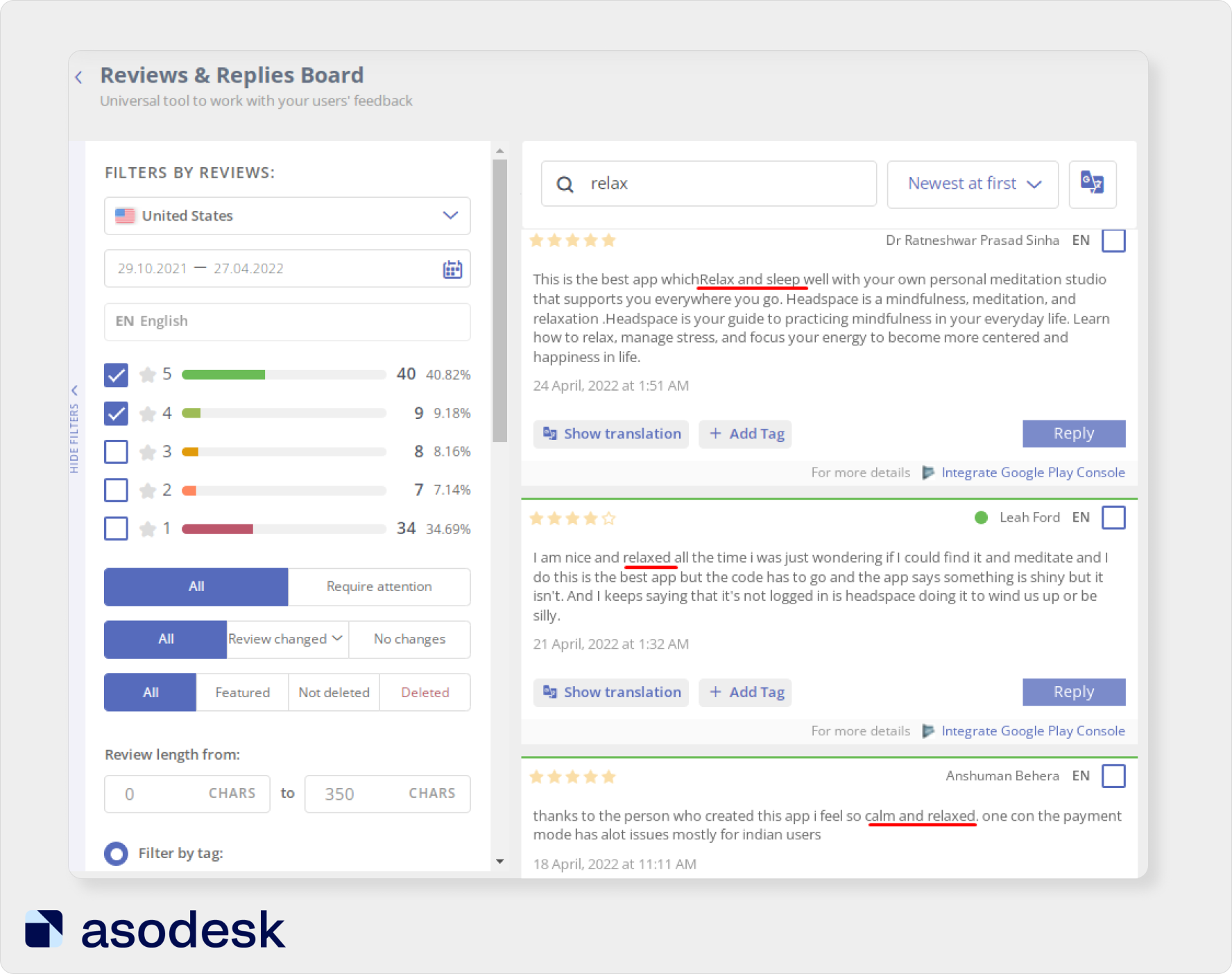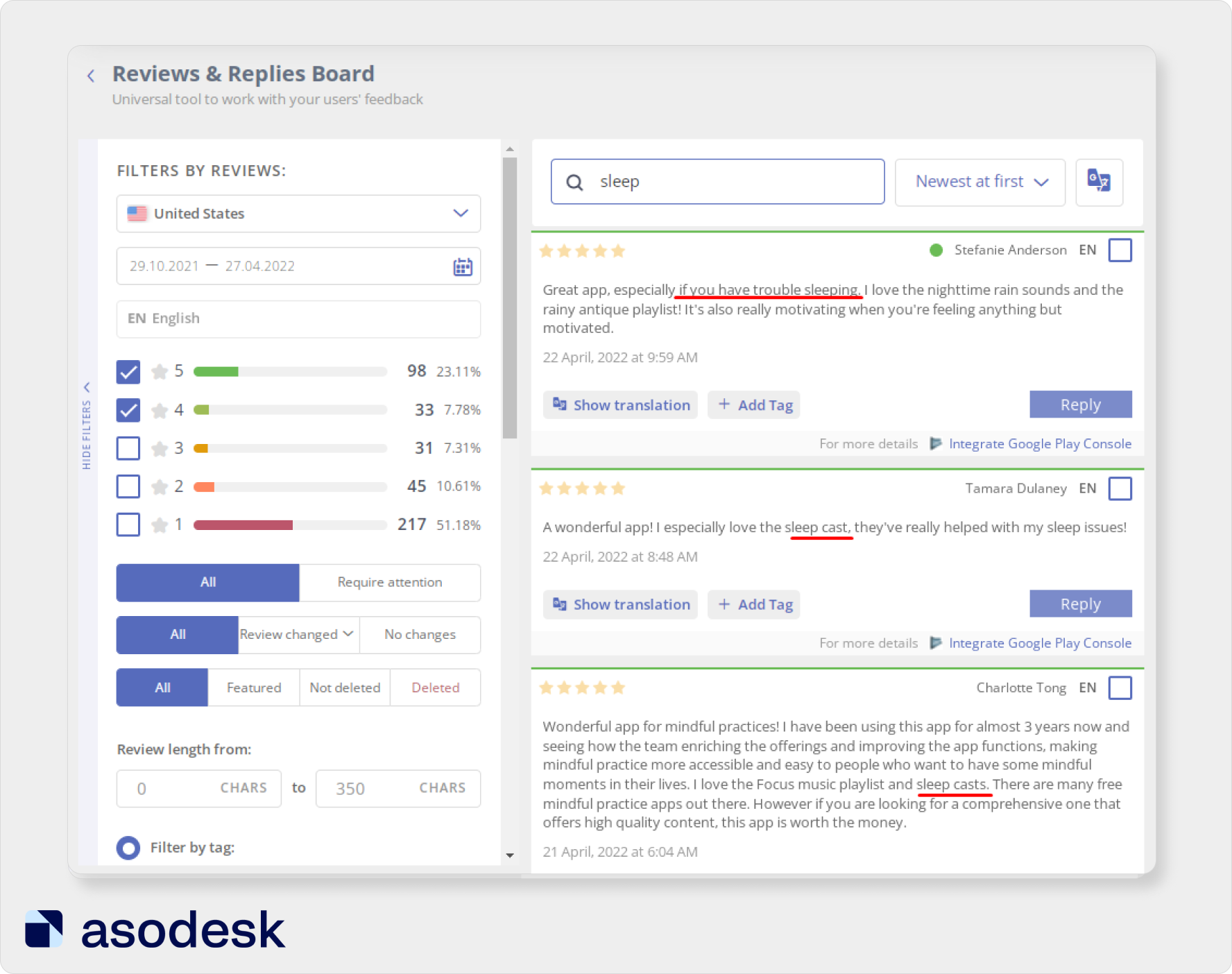 In the screenshots, developers also added information about how the app helps users to relax and fall asleep to stories and music.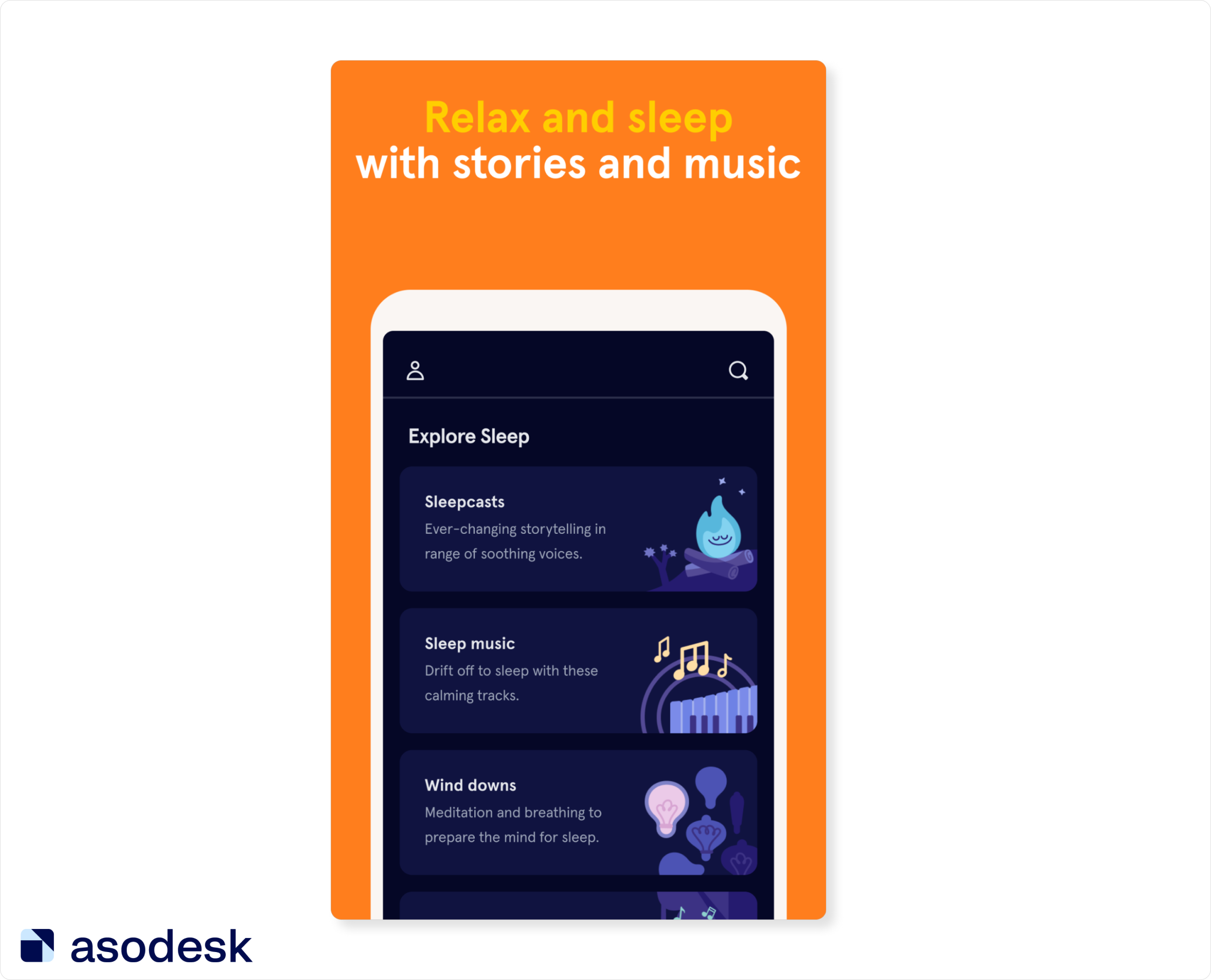 Learn how to analyze reviews more effectively and never miss a thing in our PDF guide "33 hacks for working with reviews".
3. Correctly use templates in responses to reviews
ASO specialists have a large number of tasks in addition to working with reviews, and using response templates will help save time. But if the template is written badly, replies might seem robotic and unnatural. In the example below, the manager didn't even read the reviews, but simply sent a template response that doesn't solve user problems.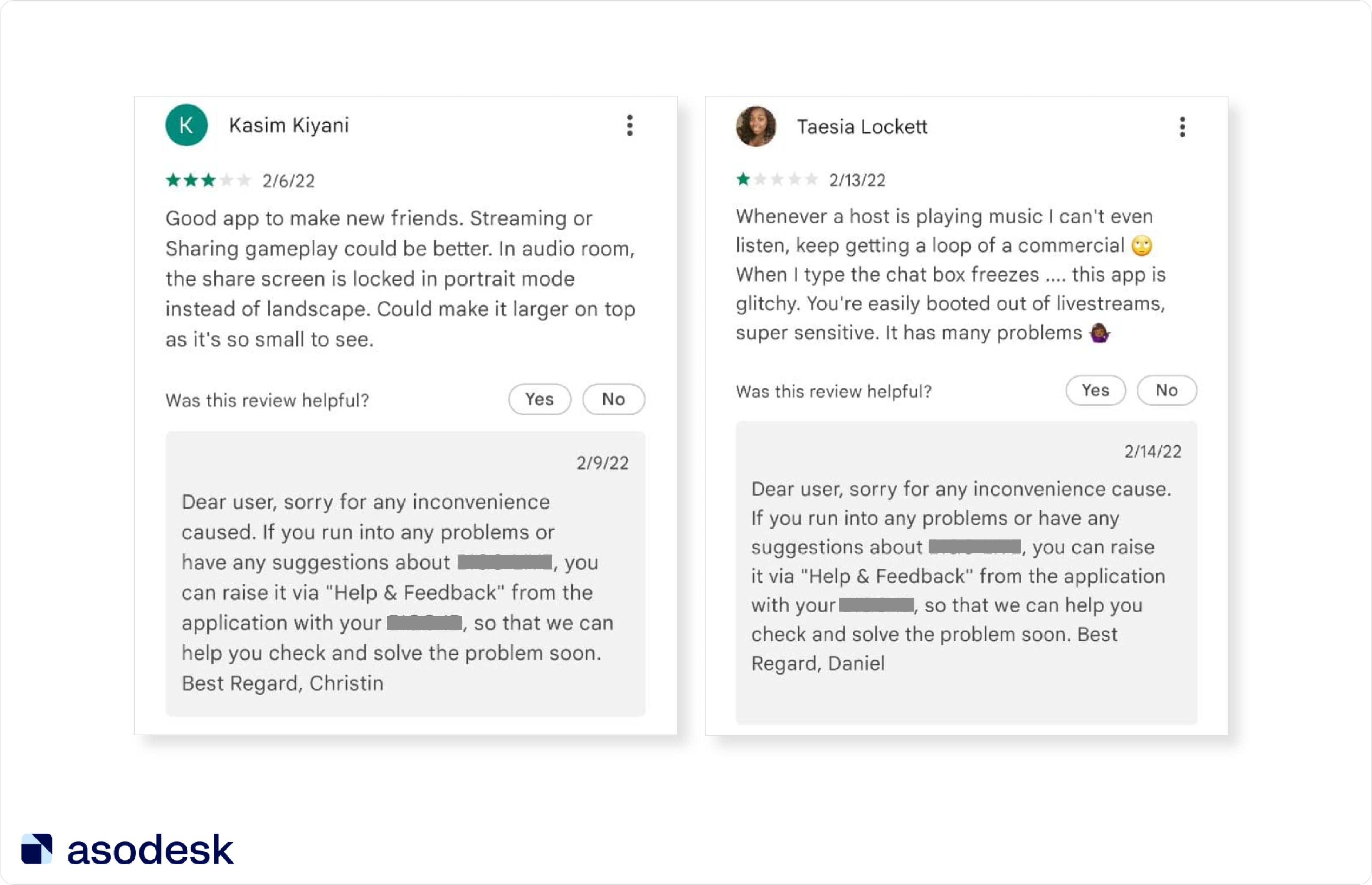 Therefore, it is important to make the users feel as though they are talking to a real person. To do this, you can use more informal and diverse phrases, and add emojis, a username, and and regards from the manager.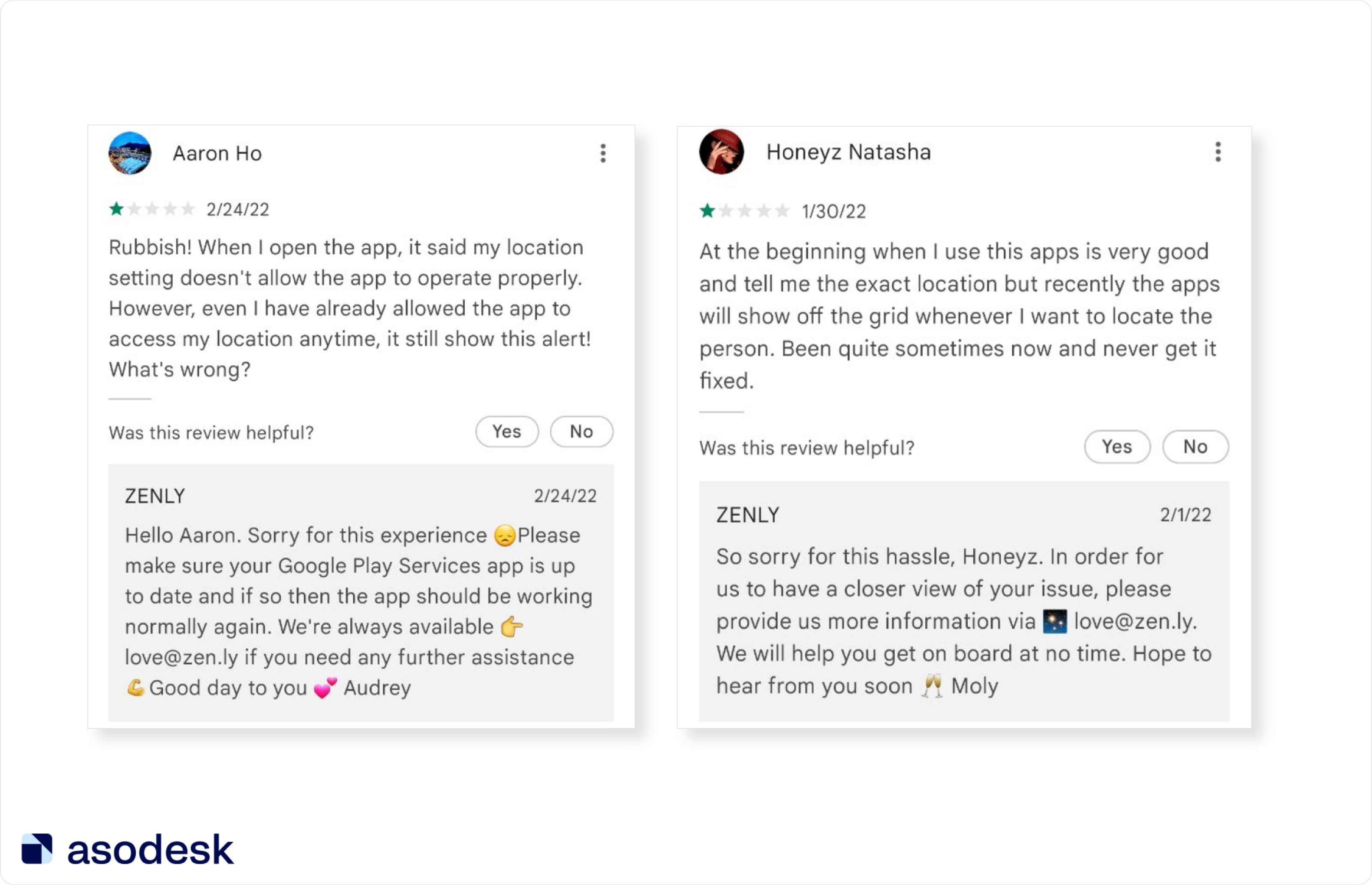 Nikolai Peremyshlev, Customer Service Manager created a table that allows you to form different responses to the user thanks to different combinations of words and emojis. You can create similar combinations for your projects.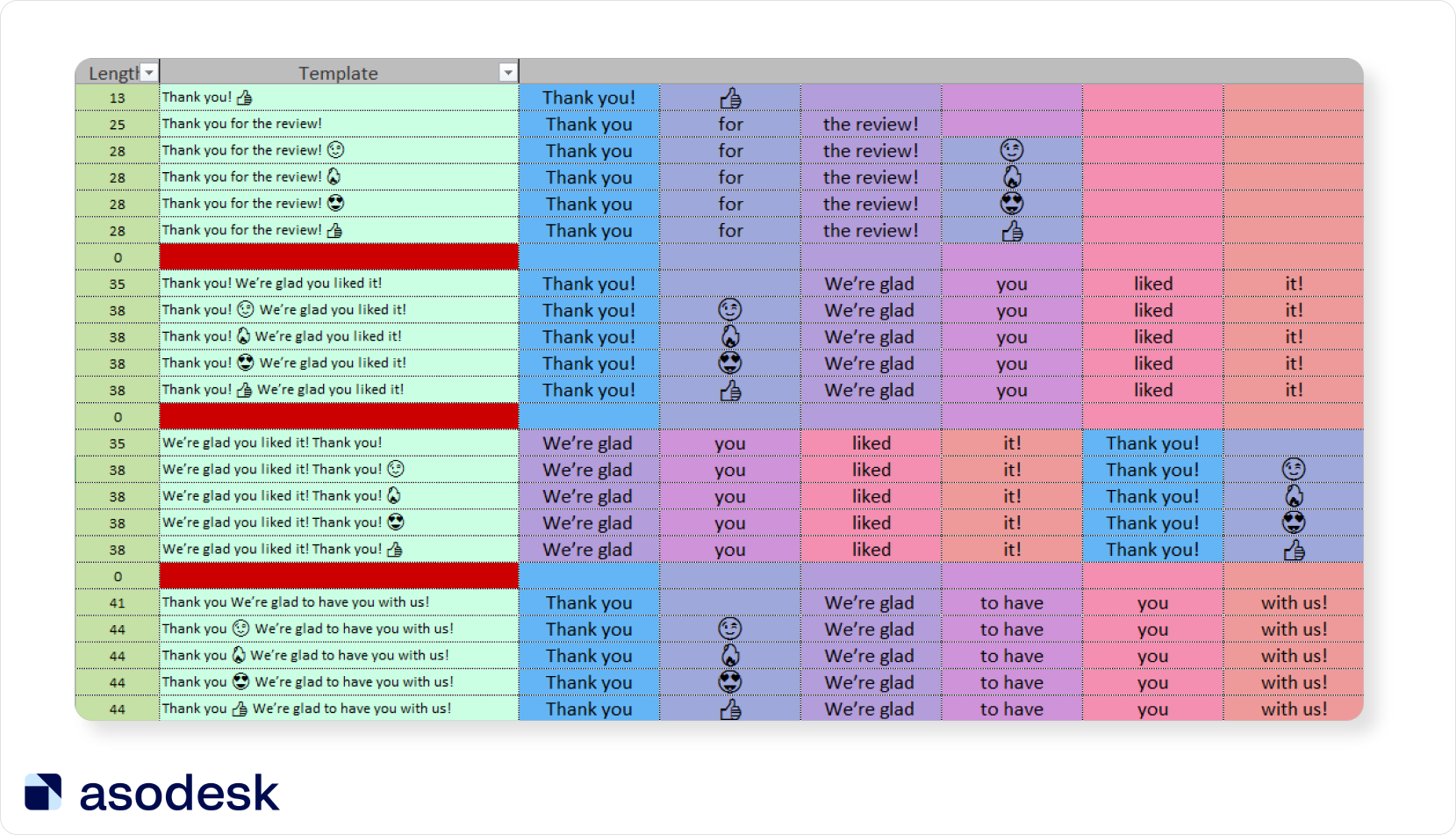 In the Templates tool, you can add your own response templates or use standard ones.
4. Automate your work with reviews to save time
Automation will help reduce time spent working with typical reviews and allocate more time to solving complex user problems. This is especially important for an ASO specialist since working with reviews is often considered an additional and not a priority task.
You can create automatic responses to reviews that will depend on the length, rating, and content of the review. Read our guide on how to reduce work with reviews using automatic responses.
5. Seek App Store and Google Play support to delete unfair reviews
Each negative review affects your app's rating. However, sometimes the app gets negative reviews unfairly. For example, competitors may arrange spam attacks to lower your app's rating. Or users can write short, uninformative, and obscene reviews.
App Store and Google Play require reviews to be objective. But an angry review that is several characters long cannot accurately reflect the real experience of using the app. It is important to remove these reviews from app stores and there are several ways to do this:
1. Report them via the developer console or Report a Concern in Asodesk. In the Reviews & Replies Board in Asodesk, you can report a large number of negative reviews at once thanks to the Bulk Action feature.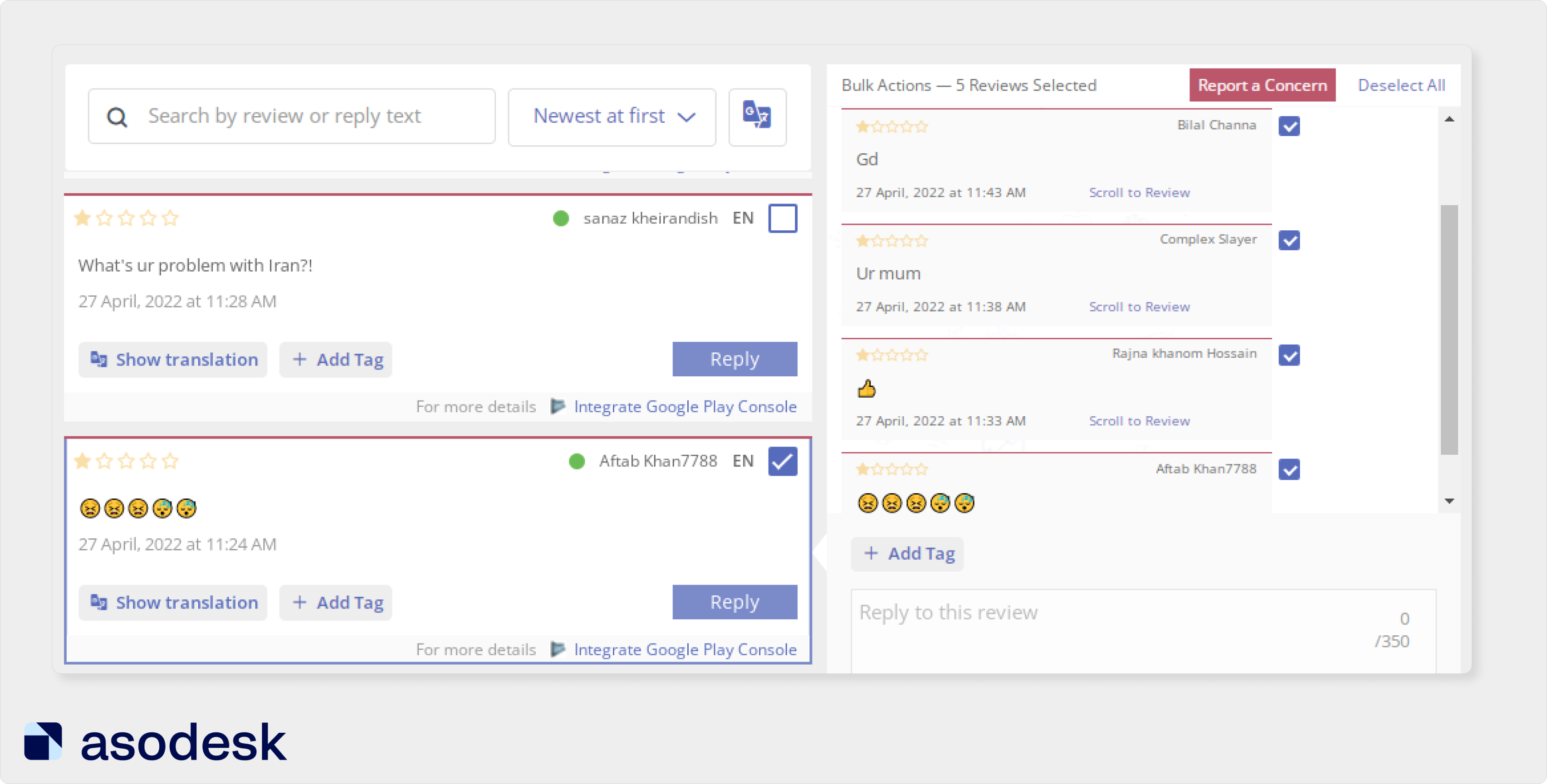 However, moderation often doesn't respond to publishers' complaints, so you have to resort to other means.
2. Write to the support chat with a request to delete reviews. Using this method, our expert Artiom Tkachuk fought a competitor spam attack. As a result of the attack, the app started receiving 30–80 negative and short reviews daily, and most of them were almost the same and contained the words "bad service", "bad app", etc.
Initially, Artiom contacted support via the Google Play console three times but did not receive a response within 10 days.
After that, he wrote to the Google Play support chat and received a response after 2–3 attempts. In his messages, Artiom pointed out the following arguments on why reviews should be deleted:
their similarity;
abnormal quantity;
a screenshot from Android Vitals as a confirmation that the app is working okay.
The agent accepted the request and asked to submit all unfair reviews, and after a few days, they disappeared.
3. Translate reviews into English. Google Play support asked Anna Antsiferova (Head of ASO in DevGame) to translate the reviews into English to make sure that they were incorrect. Anna created a table with reviews in their original language, their translation, the date of writing, and their author, after which the support removed all unfair reviews.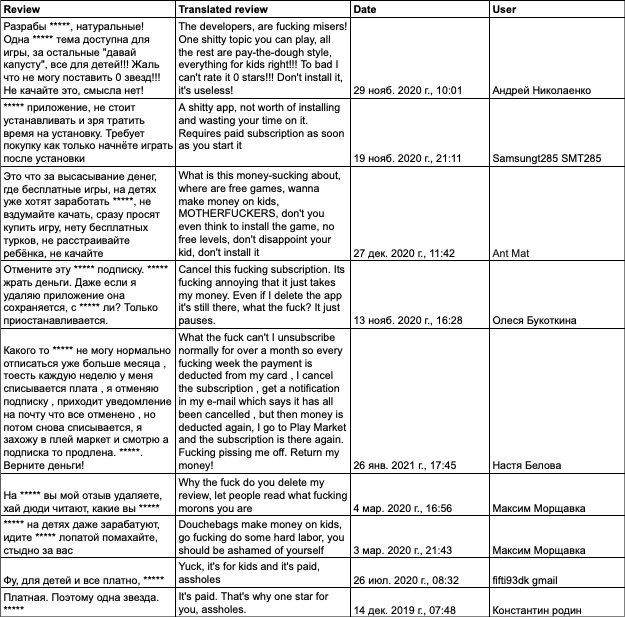 4. Dislike negative reviews and write complaints on behalf of users. It is important to use this method for ASO specialists in the App Store since moderation is more likely to respond to user feedback than to developers' comments.
When submitting complaints on behalf of users, you should install the app on the device; then Google Play is less likely to consider the complaint a fake and more likely to delete the review.
If you want to improve the process of analysis and responses to reviews qualitatively, opt for our PDF guide. There you will find 33 expert hacks for working with reviews.
Things an ASO specialist should remember when working with reviews
1. Track negative reviews. This way you can prevent a rating drop before it starts affecting the conversion rate and the number of app installs.
2. Look for ideas for textual and visual optimization in reviews. Often, users suggest which functions you should add to the app metadata.
3. Use response templates and implement optimization rules. This will help save time when working with reviews and respond to all users in time.
4. Try different ways to remove unfair reviews: send complaints as a developer, write to the support chat, translate reviews from foreign languages into English, and complain about reviews on behalf of the users.
Tips from this article will help increase the app's rating, which will boost the install conversion, too. Subscribe to our newsletter to receive new articles on reviews, ASO, and mobile marketing.