Ratings of the top mobile games on the App Store and Google Play
Published: 19.10.2021
Updated: 15.11.2021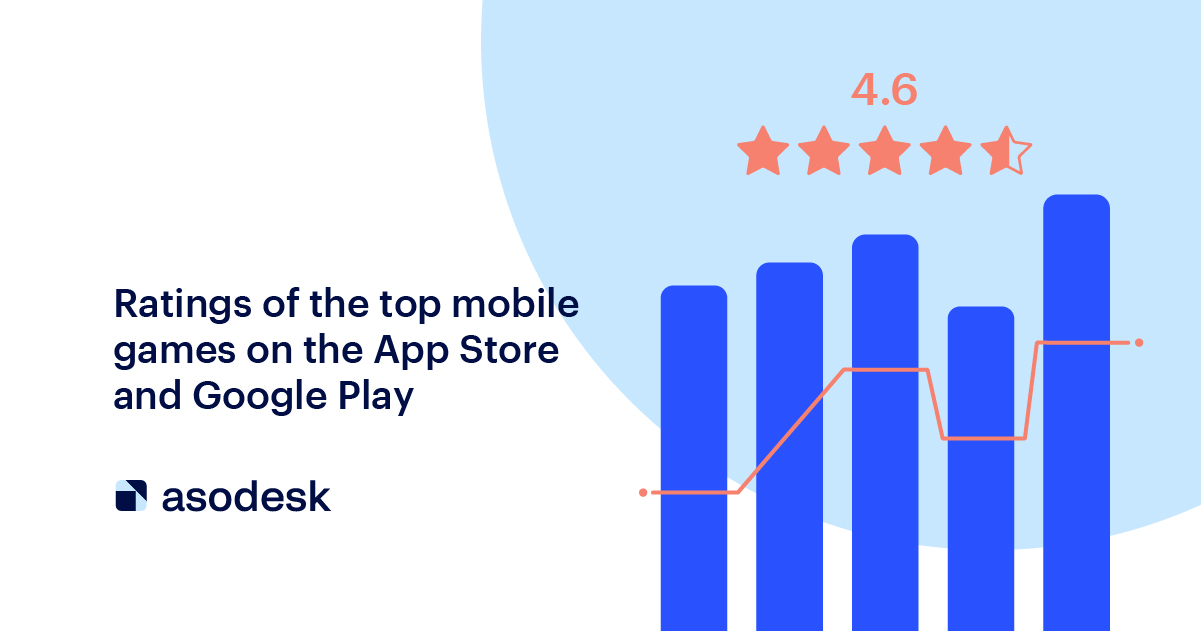 We conducted research and found out the average rating of games that hold top positions in search, Similar Apps, and Top Charts on the App Store and Google Play. Read insights from the research and learn how to improve the rating of your gaming app.
Contents
Insight 1: The rating of games from the top of App Store search is higher than on Google Play
Insight 2: Similar Apps and Top Charts feature highly-rated apps
Checklist: how to increase your app rating
Insight 1: The rating of games from the top of App Store search is higher than on Google Play
We analyzed 30 thousand keywords used by App Store and Google Play users to search for gaming apps in the United States. Through our research, we found that, on average, games at the top of the App Store have a high rating of 4.4–4.5 stars.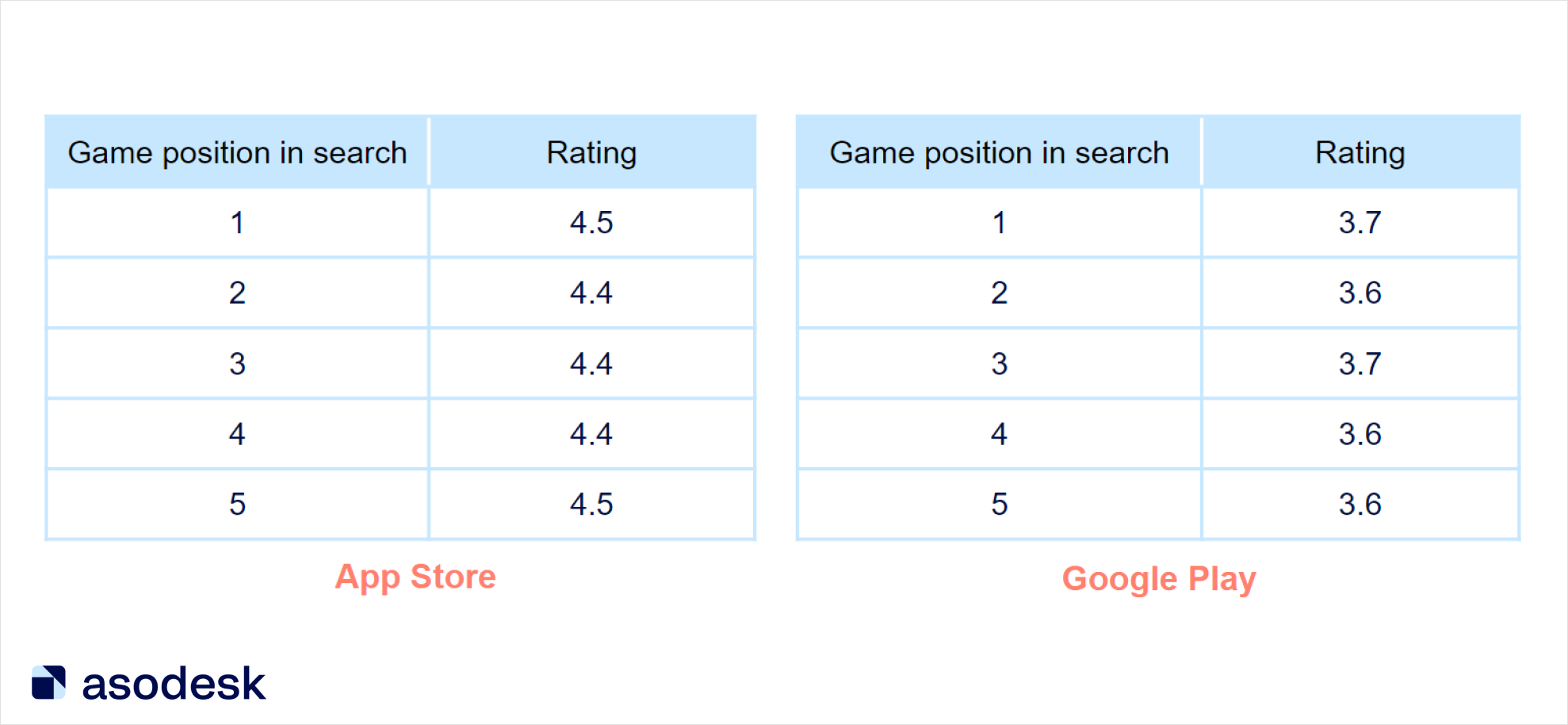 However, the average rating of games from the first 5 positions in Google Play is lower — 3.6–3.7 stars. This is largely because Google Play users leave reviews more often.
We compared the number of reviews of five popular games on Google Play and the App Store and found out that Google Play users left 12–65 times more reviews than App Store users.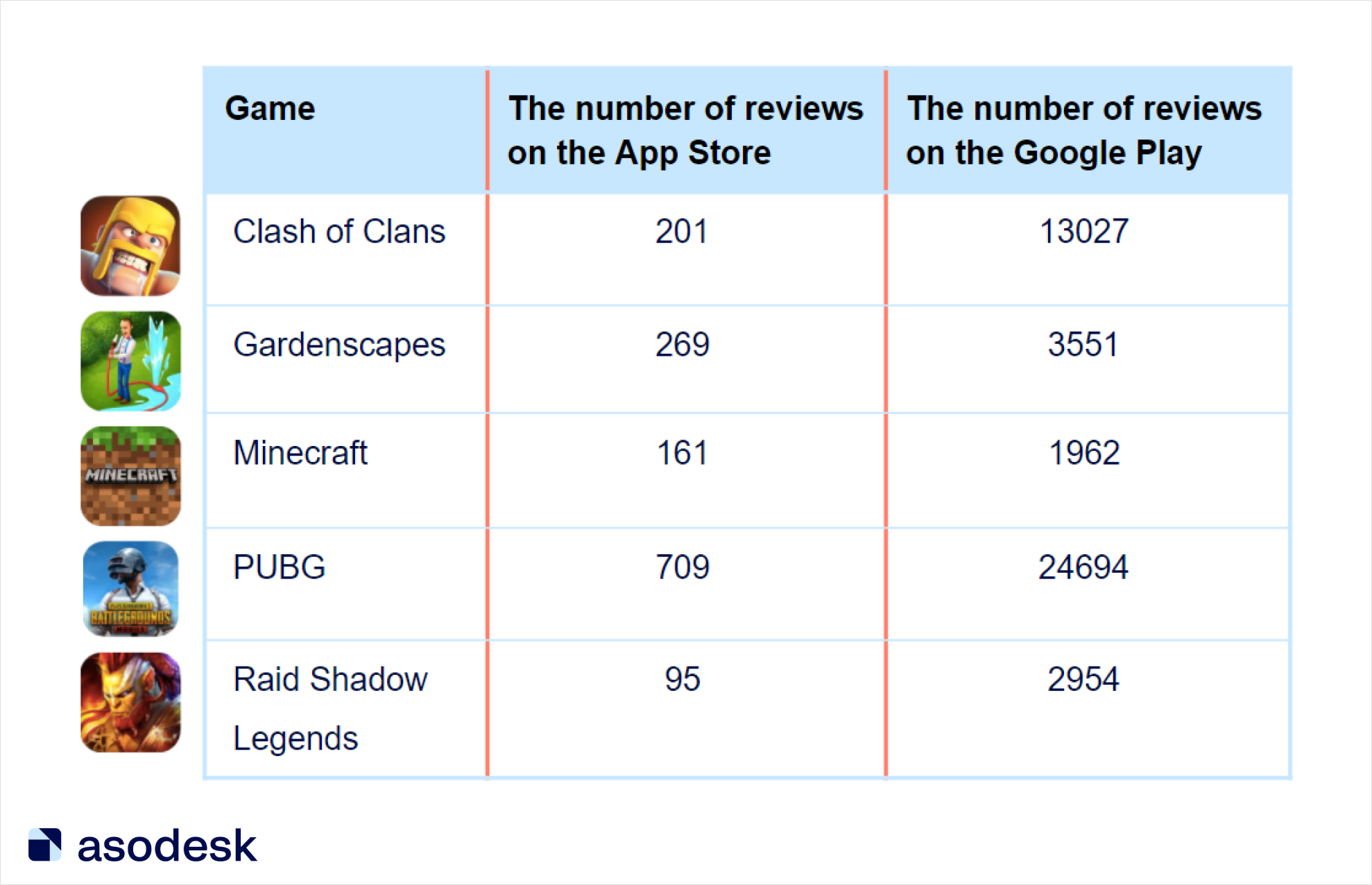 Research shows that the behavior of Android and iOS users is different. According to Slickdeals, iPhone users are 27% happier than Android users. According to Asonalex, Android users are 29% more likely to save money, while iPhone users are 26% more likely to spend it.
Due to this difference in behavior, we see a higher number of negative reviews from Android users, including complaints about high prices. Game publishers need to pay particular attention to how they work with reviews on Google Play.
Insight 2: Similar Apps and Top Charts feature highly-rated apps
We analyzed the average rating of over 2,000 apps from gaming categories.
It turned out that the average rating of apps from Similar Apps in the App Store for the United States is 4.4, while in Google Play it's 4.3.
The average App Store rating of "Game of the Day" in September was 4.52 stars.
Apps from the top charts in the App Store also showed a high rating. On average, it ranges from 4 to 4.6 stars for the 10 apps.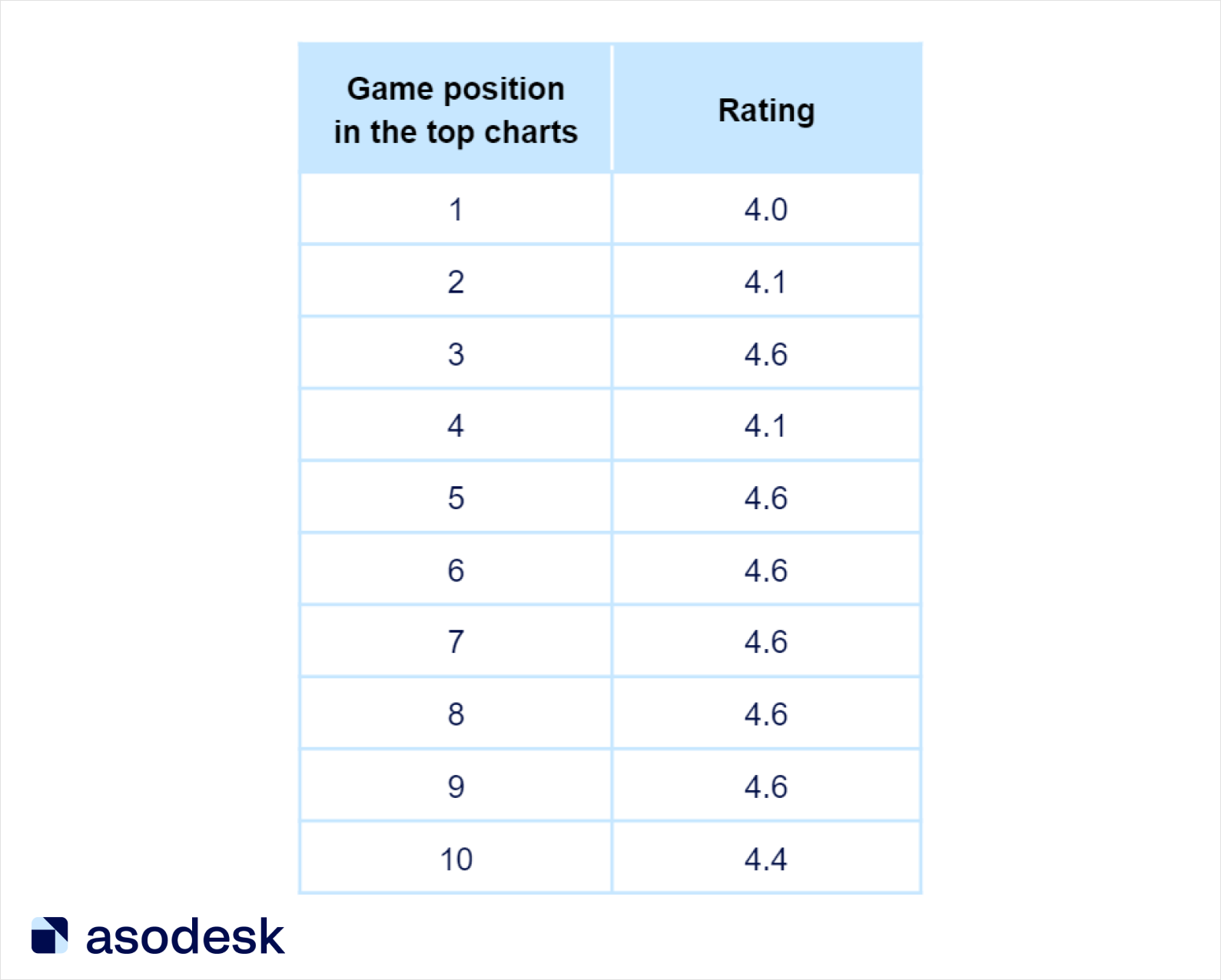 Conclusion
Research data shows that the top of the App Store categories and charts, as well as similar apps on the App Store and Google Play feature highly-rated games. The top of the search results is a little different: App Store apps have a high rating, while Google Play apps have a medium rating. This is caused by the difference in iPhone and Android user behavior.
App publishers should improve app ratings to get featured and boost to the top of the search results. They should also focus on working with reviews on Google Play where users give a low rating more often.
Checklist: how to increase your app rating
To gain the top positions in search and categories and get a lot of organic traffic, you need to work on your app's ranking.
1. Ask for reviews on the app. It is important that you ask for reviews only after a positive action in the game. For example, if a user has passed a level, ask them to rate the app. When rated 4–5 stars, ask users to go on the App Store and Google Play. If the rating is below 4, offer to write a review inside the app. Read about other ways to get positive user reviews in this Asodesk article.
2. Implement updates in stages. If you update your app for your entire audience right away, your rating can drop drastically as users notice bugs. With Google Play's staged rollout, you can update your app for a part of your audience.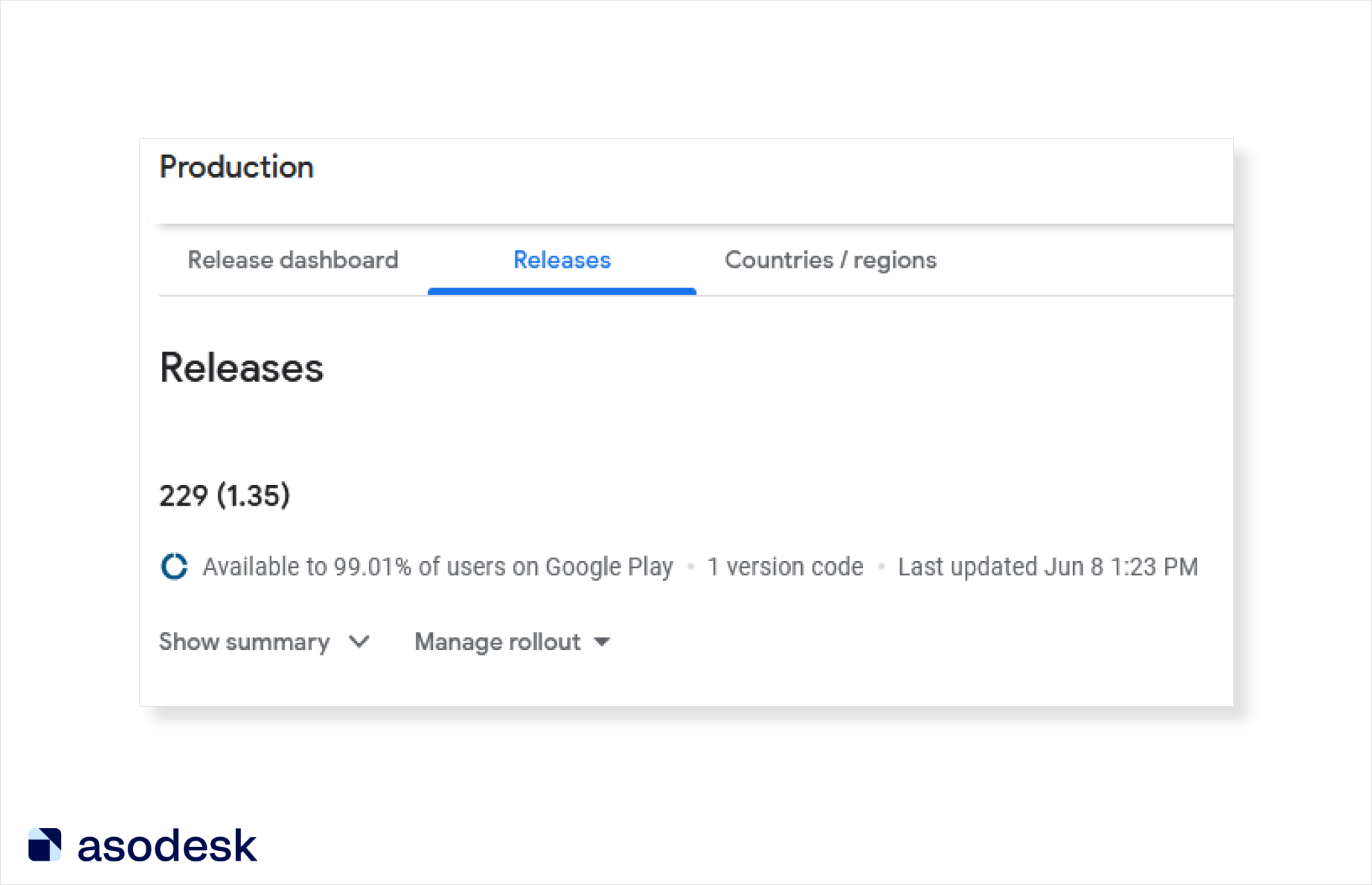 Google Play Help explains how to use this feature.
3. Use beta reviews. Only users of the beta version can leave these reviews. These reviews are separated from others, do not reflect in the app store, and do not count towards the overall rating.
4. Add a support chat and a feedback form to the app, and leave your contacts in "What's new". This way, users will be more likely to talk about their problems via other communication channels rather than reviews.
5. Respond to reviews and resolve user problems as quickly as possible. The faster you respond to reviews and help users, the more likely they are to improve their rating. Here are some tips on how to improve your replies to reviews.
In Asodesk, you can get reports about new reviews in Slack. This will help keep track of all reviews and to respond to all user problems in time.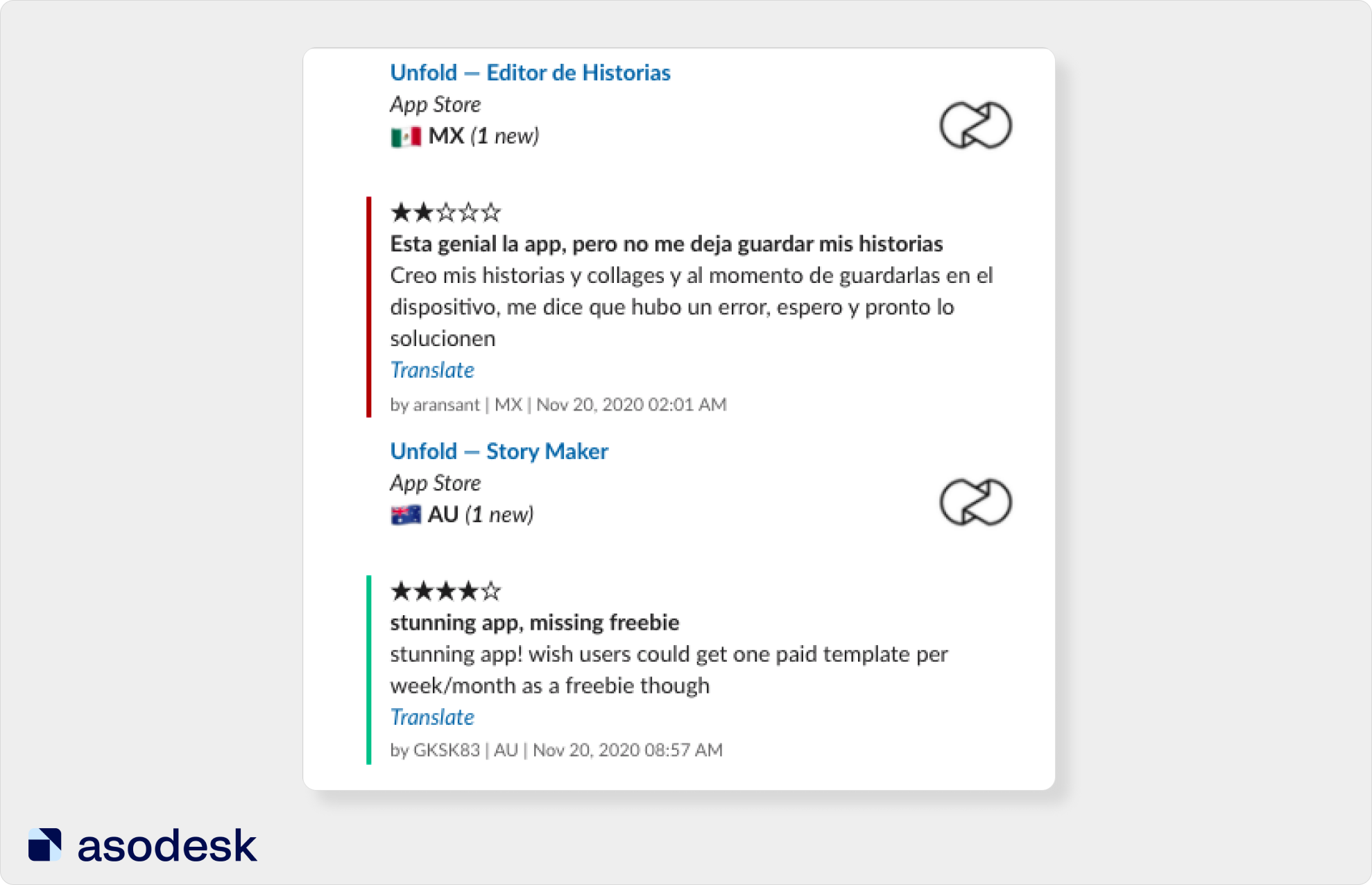 Use automatic replies in Asodesk. If the review meets the specified criteria, the user will receive an automatic response. This will speed up the process of responding to typical user reviews. Learn how Auto-Replies work.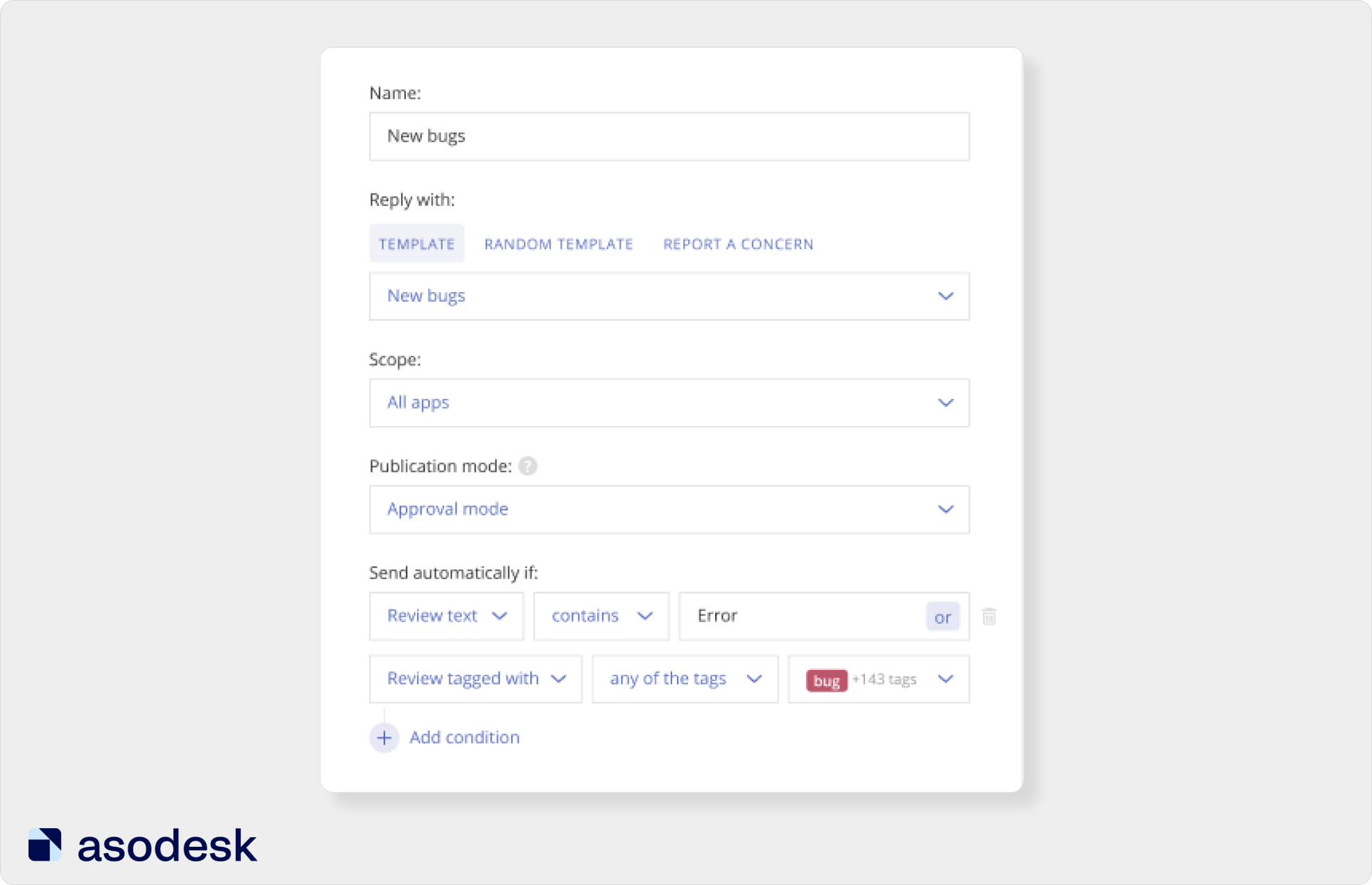 6. Ask users to change their rating. Sometimes users write positive reviews but give a rating of 1–2 stars by mistake. This often happens with kids. You can point out their mistakes and ask them to correct their rating. For example, the publisher of 1С jokes that the stars got lost and asks the user to find them.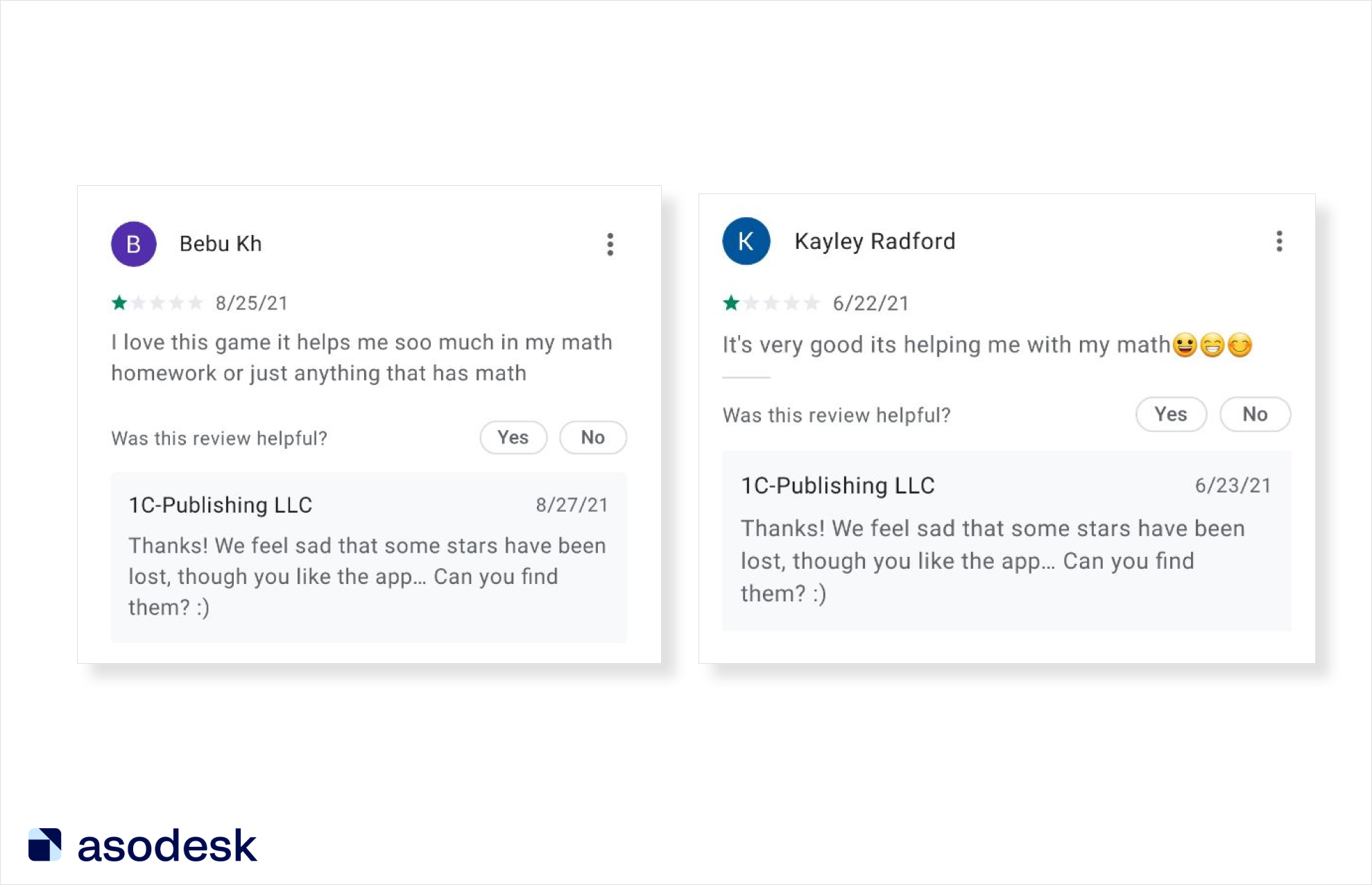 In the Reviews & Replies Board, you can check if the user has corrected their rating after your request. The Replied filter will show reviews that you have already replied to. With the Reviews Changed filter, you will see reviews that have gotten better or worse.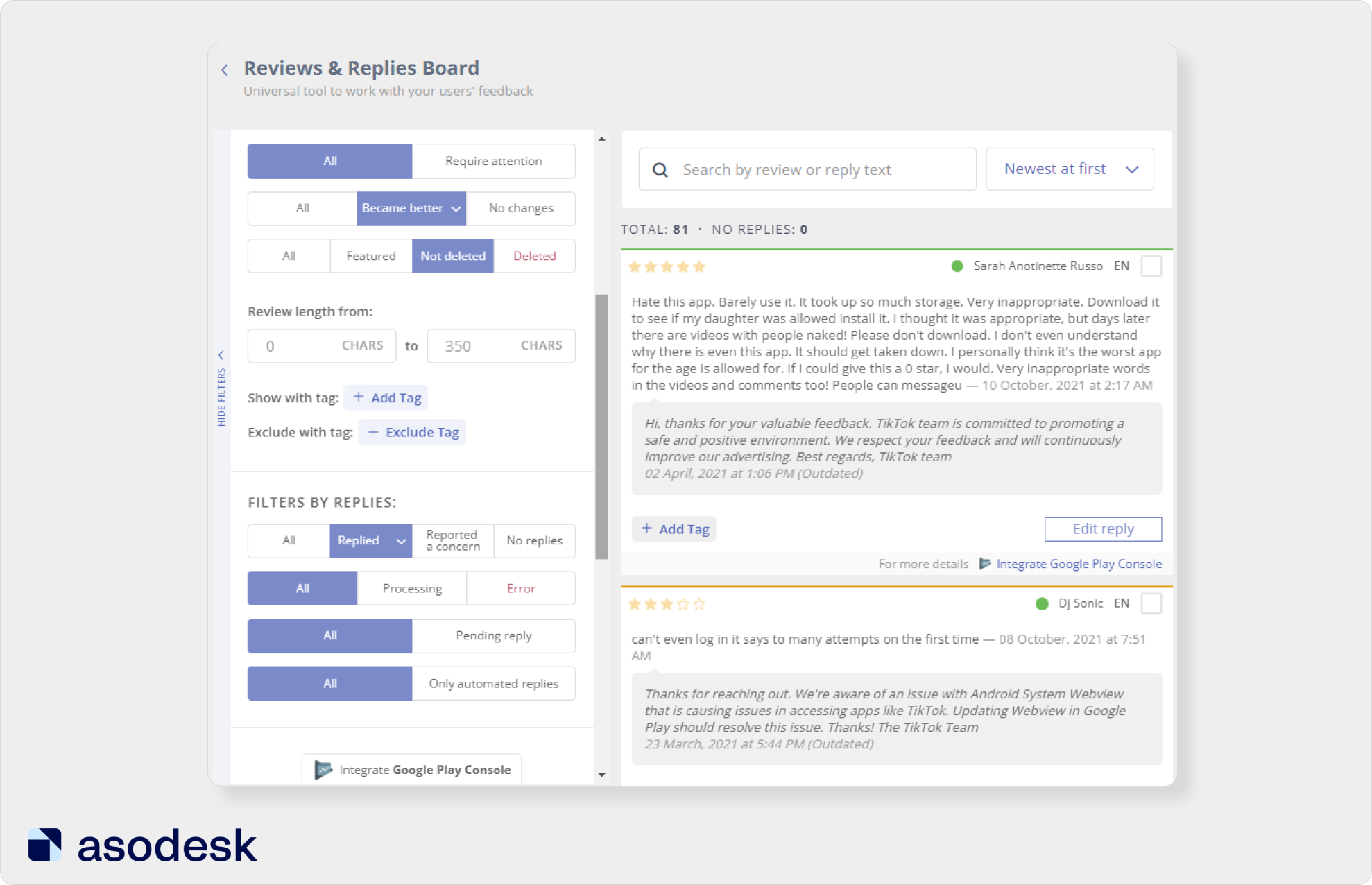 7. Analyze your ratings and reviews regularly. If you notice a change in your rating, you can quickly take action. In Asodesk, you can analyze the ranking by country and app version for any period using Rating Analysis.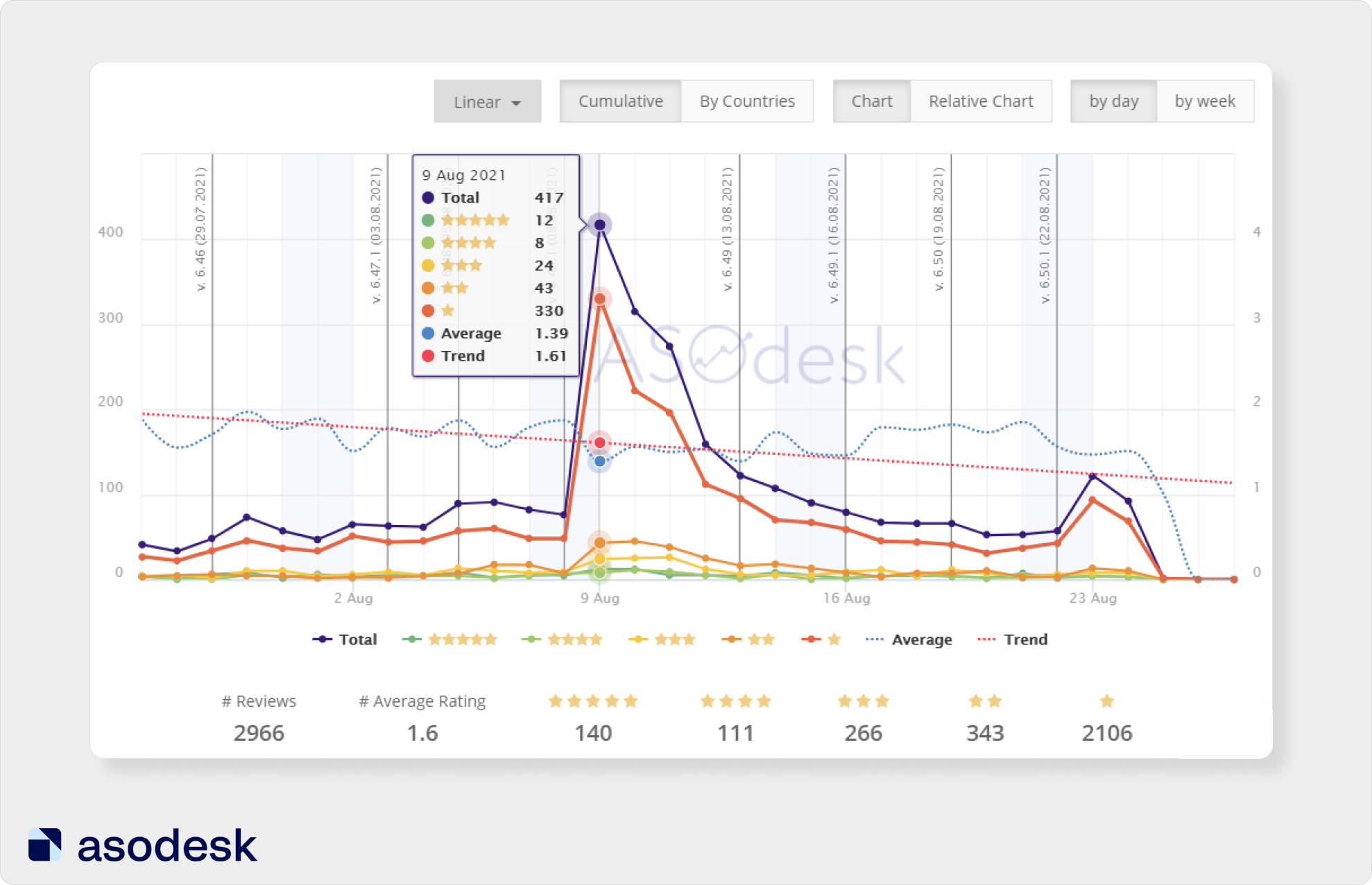 Try the Asodesk tools for rating and review analysis for free.
Remember that regular work on ratings will help improve your app's position in search and categories. Higher rankings will generate more organic traffic.
In our blog, we post helpful articles on ASO, mobile app marketing, and working with reviews. We also share our research and news on the App Store and Google Play. Subscribe to our newsletter and never miss out on useful new materials!