How ASO and advertising help attract users to mobile applications
Published: 08.12.2020
Updated: 17.12.2020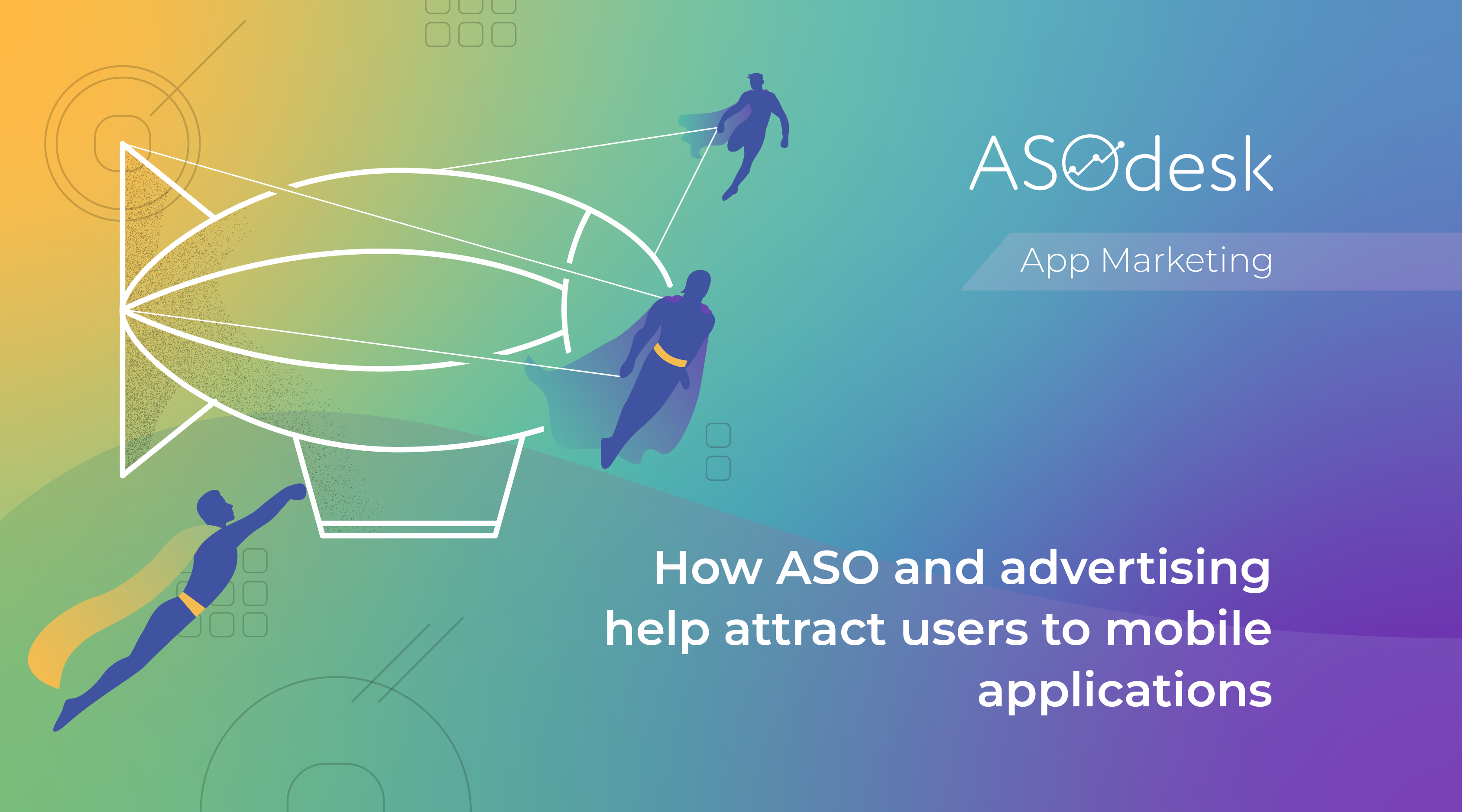 To keep the installs of your application constantly increasing, you need to use ASO and advertising together. In this article, we will tell you what work with paid and organic traffic consists of, give examples of App Store Optimization and advertising, and share tips on how to increase the effectiveness of your promotion.
My name is Anna Benkis and I have been working in mobile marketing for four years. I started my career at ASOdesk, working with products and doing ASO for various mobile applications. Later I created my own ASO-agency called App Rise Up. I am also a Marketing Coordinator at Dabltech where I do ASO and work on commercials.
Advertising in mobile marketing
To promote mobile applications, you need to use the potential of Apple Search Ads, Google Ads, in-app advertising, and targeted advertising on social media.
Before launching an advertising campaign, it is important to analyze the promotion of competitors, see their strengths and weaknesses, and adapt advertising ideas for your application. Using Facebook library, you can search for a competitor by name or keyword, and check the ads of any brand.
To evaluate competitors' advertising campaigns, you can also analyze the search results of the App Store and Google Play, and track competitors' in-app ads.
The picture shows all advertising services that can be used to promote applications.
Google and Apple Search Ads
Apple Search Ads (ASA) is a platform for promoting applications to the first result of the App Store search. The platform helps attract users and protect the brand from competitors. For example, with the right approach, your application can be included in the ASA advertising, and obtain first place in the search results. Then the entire Apple screen will be occupied by one application, and most users will install it.
Mikhail Shubin, Search Ads consultant and co-founder of Angle Connect, spoke in more detail about how to launch and scale advertising in Apple Search Ads in his article.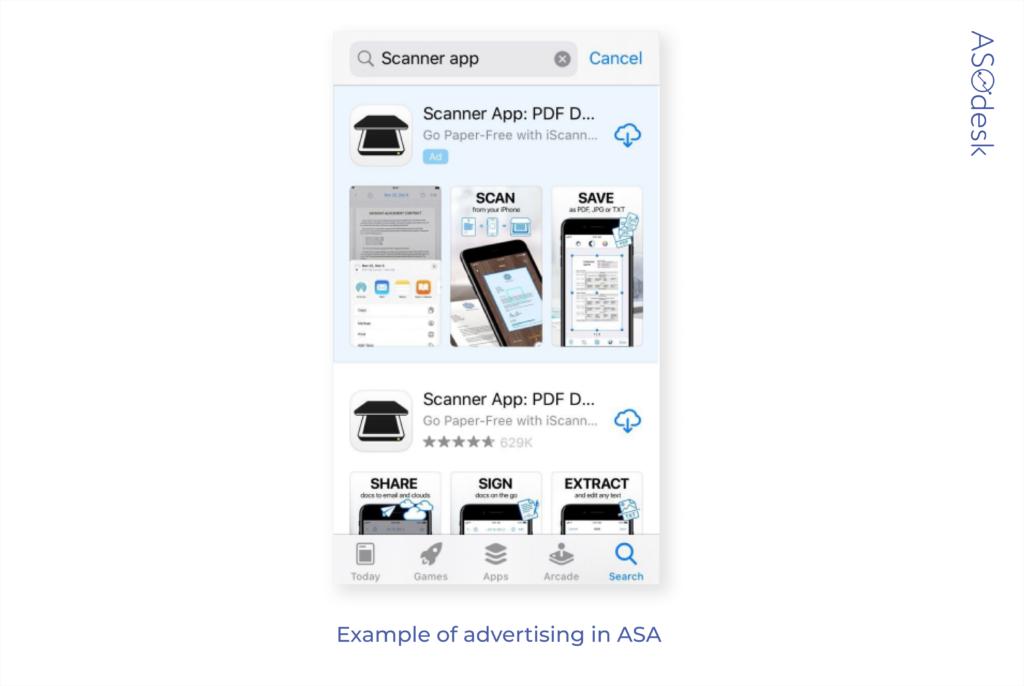 Google also allows you to promote an application in the Play Store search, as well as on other resources: in the Google search engine and on Youtube.
Your ads may appear in Google Play search results, in the sections "You might also like", "Similar apps", on the main page of the app store, and in "Suggested for you".
The ad text for Google Play Store and Apple Search Ads can be based on your app's metadata.
In-app advertising
Due to the variety of formats, advertising in mobile applications opens up a large number of testing opportunities. It is important to choose exactly applications that your target audience uses.
There are the following in-app ad formats:
Banner ad: a static banner in a certain part of the screen.
Interstitial ad: a static banner or video banner that appears in the transitions between actions within the application.
Playable ad: the user can perform basic game actions in your ad; the ad itself is a little game.
Rewarded ad: for viewing this type of ad, the user receives points, bonuses, or in-game currency.
Native ad: advertising messages that are disguised as the design and content of the application itself. For example, advertising posts in Facebook, which differ from the other posts only by the "advertising" inscription.
Targeted advertising
With the help of targeted ads on social media, you can target users by interests, device type, marital status, and other parameters. You can also add a pixel to the website and show ads only to its visitors.
For example, Facebook ads allow you to adjust to users' interests, devices, location, behavior and job position.
Tips and creative examples of advertising
I've analyzed ads for travel apps and highlighted tips that you can use to promote your app.
1. Personalize your ads. If you do, a user belonging to a certain group will pay attention to your creativity. Trivago service selects different creative approaches for each target audience.
For example, older couples are offered a romantic getaway close to home. The video conveys a calm and romantic atmosphere.
For couples with children, Trivago offers hotels for the weekend. The video shows how parents play with their children, which looks like fun.
2. Use a native format. For apps that sell flights, you can use creative designs with a view from the plane window. It doesn't look like an ad, but rather an actual photo of the user.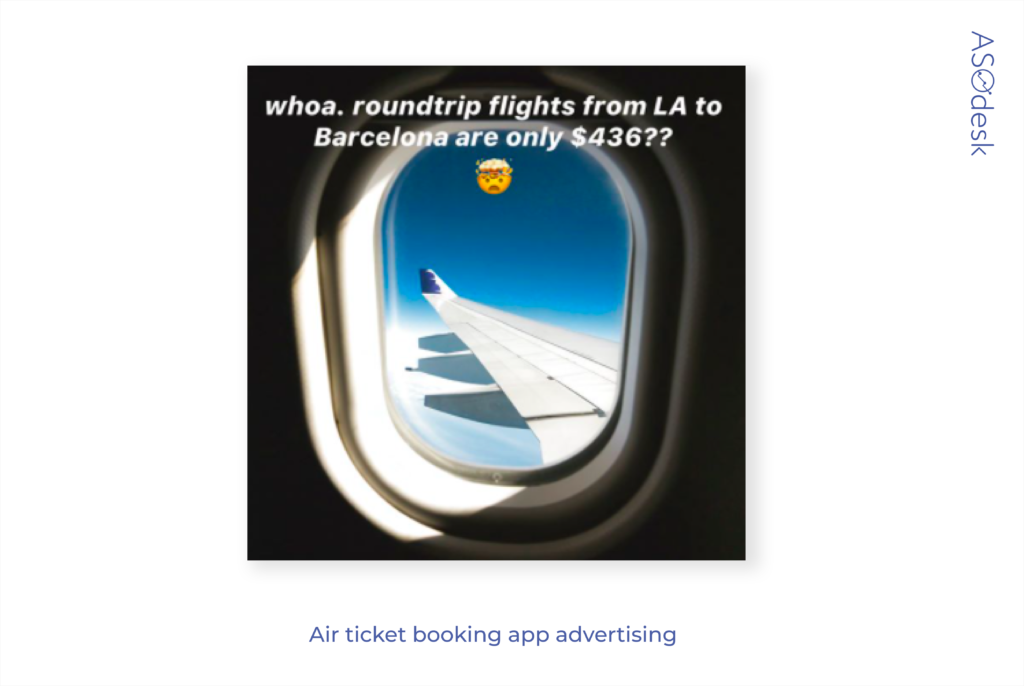 3. Make a simple animation out of a static banner. You don't need to shoot professional videos to have vivid and memorable ads; the easiest way is to add animated stickers to your ads. This kind of creative design can be produced in a few minutes, but the user will remember it better than a static image.
4. Tell the story in an unusual way. You can use special effects, such as reversed video. Airbnb advertised for Independence Day in the United States and showed what the world would be like without traveling. This video tells the story of the past and inspires traveling.
5. Use personalized recommendations and create the necessary atmosphere. In a commercial, it is important to create the right atmosphere and mood for users. For example, an ad on Expedia portrays a trip to Barcelona from the perspective of the photographer, Demas Rusli.
The video does not contain boring historical summaries and tourist attractions, but it perfectly conveys the atmosphere of the city. The users look at Barcelona through the eyes of the photographer Demas Rasli, associate themselves with the traveler, and experience special moments together with him.
Videos like that can be produced not only about traveling, but about fitness, games, learning languages, reading etc.
Personal recommendation videos — where users talk about a product with their phone in hand — work well too.
You don't need to have a large budget to create it. You can advertise with a local model from anywhere in the world. For example, we used videos of models from different countries for our advertising campaigns, as a person speaking the local language gives users more credibility.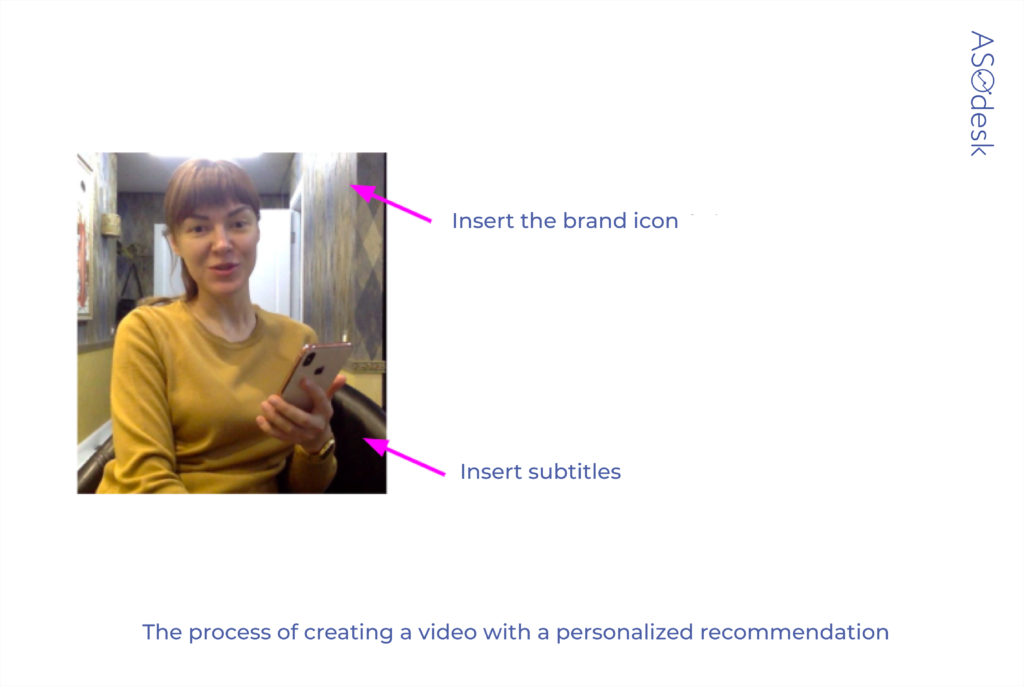 After the model records the video, subtitles are made so that users can watch the video without audio. The designer adds a logo and a brand icon.
We have a large database of diverse models. If you want to create something like that, you can contact our agency.
App Store Optimization in mobile marketing
App Store Optimization is a set of actions used to optimize your application in order to increase its visibility in App Store and Google Play search. Why ASO is necessary for promotion, Artiom Tkaczuk explained in the first lecture of ASOdesk Academy 11.0.
There is textual and visual App Store Optimization.
Textual optimization
You need to find relevant keywords by which the application will be indexed in Google Play and App Store. Keywords are inserted into the text metadata of the application: title, subtitle, short description (Google Play), description, keyword field (App Store).
To understand the features of optimization in the App Store and Google Play better, let's look at how search works in app stores. The user types a query, clicks "Search" and sees a list of the most relevant applications.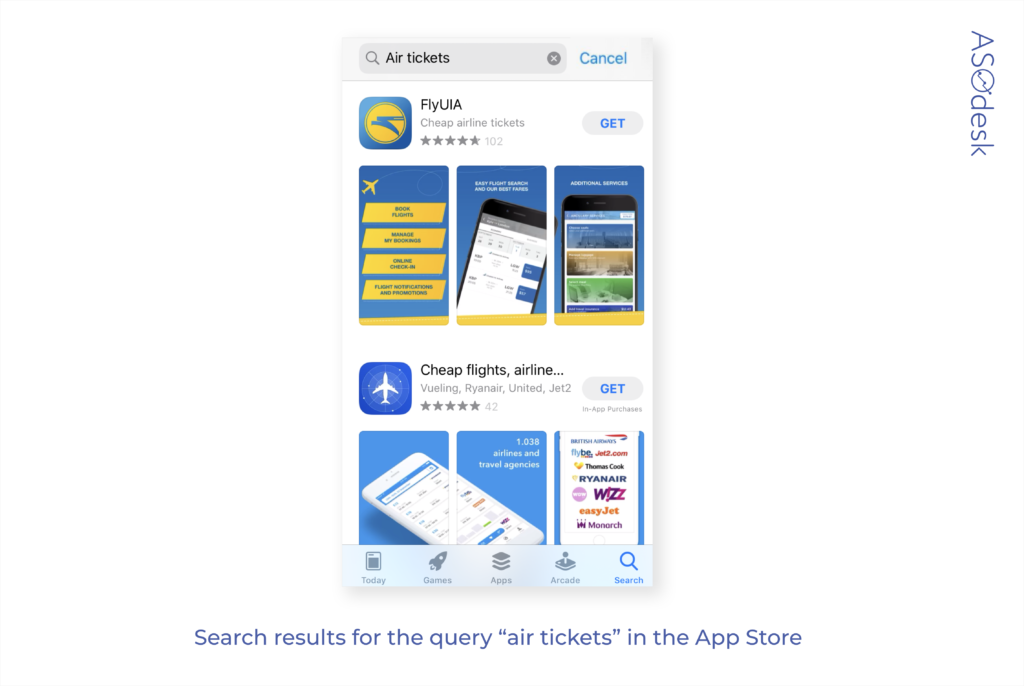 App publishers insert search queries into their app's metadata. Before choosing keywords for metadata, it is important to check their popularity in the App Store and Google Play. This can be done using the Daily Impressions rate in ASOdesk. In the Daily Impressions column, you can see how many users are searching for this request per day.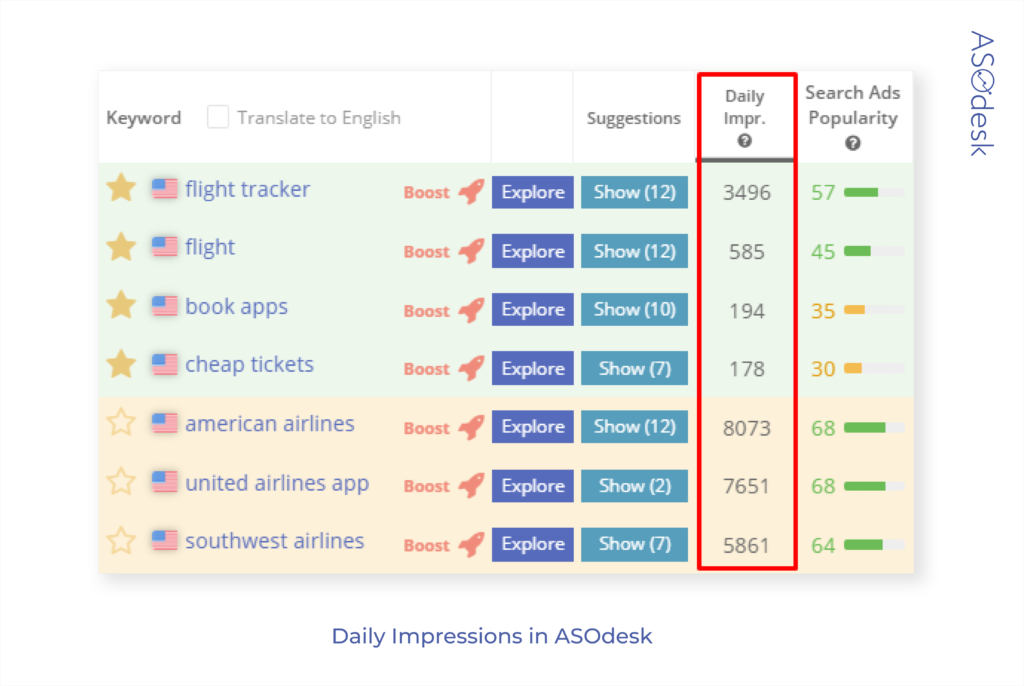 The first-placed search result of the App Store and Google Play is an application that is promoted using paid advertising. The "Recommendations" section also appears in the App Store search results.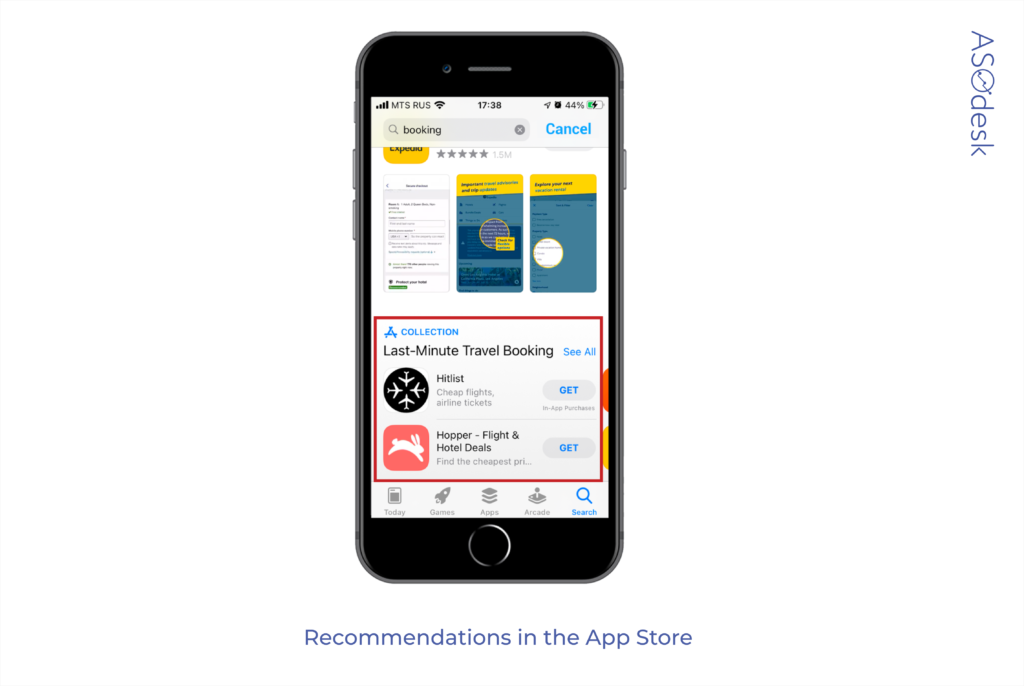 The rest of the applications that you see in the search are indexed by the App Store and Google Play algorithms.
In the ASOdesk article , you can learn about the main factors that influence an app's position in search.
Visual optimization
Visual optimization includes creating icons, screenshots, and videos on the application page, in accordance with optimization trends.
The main goal of visual optimization is to convert app page views into installs.
According to Storemaven, it's important to show the user what the app can do in less than 3 seconds. Having looked at the icons, screenshots and videos, the user should understand how the application can solve their problem.
Tips and examples of app store optimization
Let's look at some tips on app store optimization using the example of travel and fitness applications.
1. The word in the title is ranked higher than in the keywords or subtitle. Therefore, you should put the keyword that is included in as many search queries as possible in the title.
For example, the publishers of the "Travelocity" app used the words "Hotels & Flights" (App Store) in the title. The app's position for these search queries will rank higher than if they put this keyword in the subtitle or keyword field.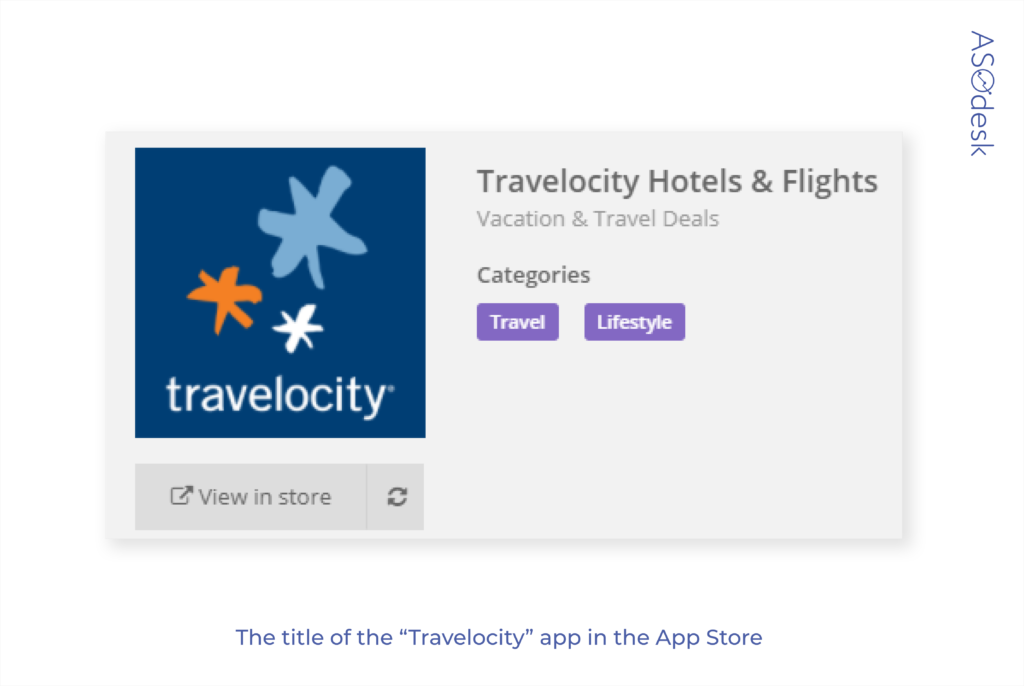 2. The intersection of keywords in the title and subtitle should form a query that is included in your semantic core. It is important to choose a combination of metadata from individual words that will cover your semantic core as much as possible, by combining individual words into search queries.
In the picture you can see an example of how a subtitle can be a continuation of a title.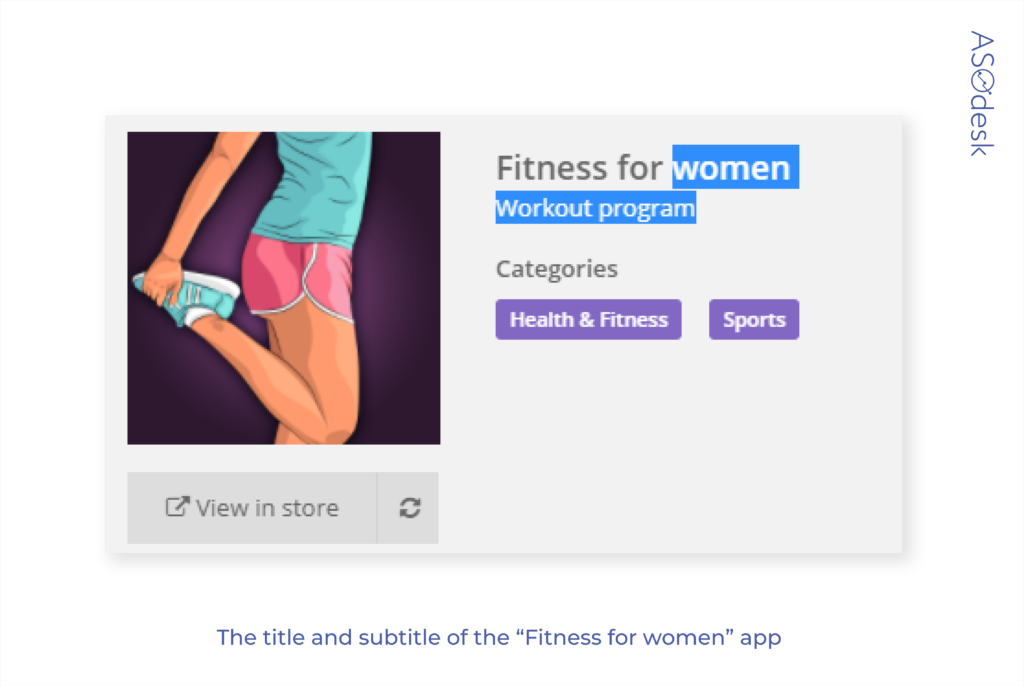 3. The icon should reflect the essence of the application. It is displayed in the search, and the user decides to visit the application page, thanks in large part to the icon.
Therefore, it is important that the image on the icon is associated with the majority of search queries. If the app is not a strong brand, you can opt out of the corporate color and logo. Instead, make an icon related to the niche of your application.
For example, travel and ticket booking apps most often use airplane icons.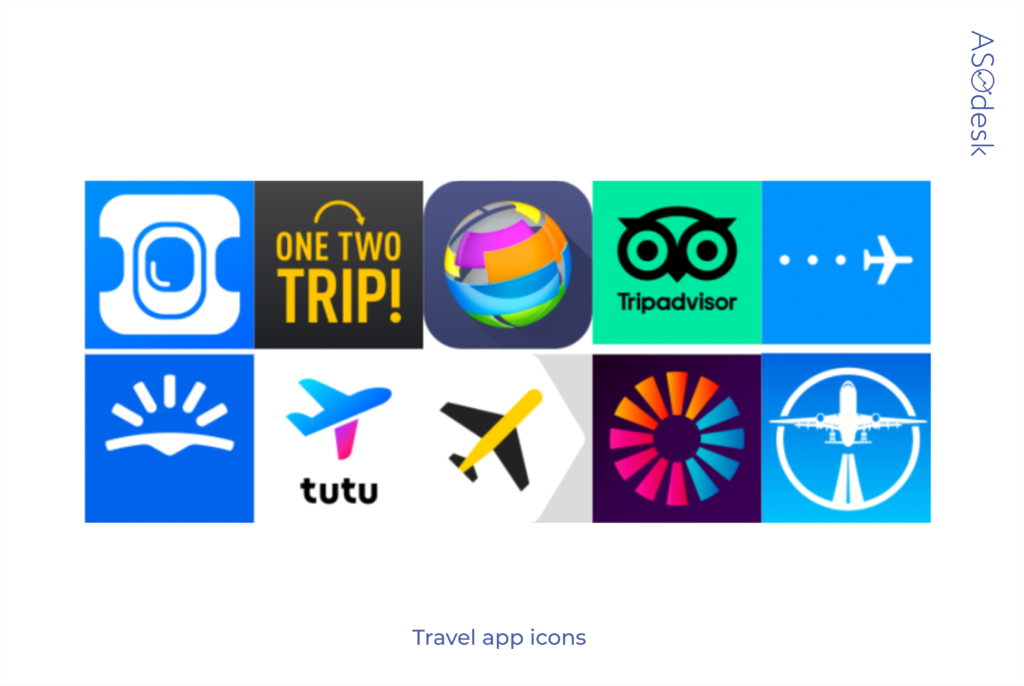 On the icon of my application for finding flights and hotels, I decided to put an airship, which is associated with traveling.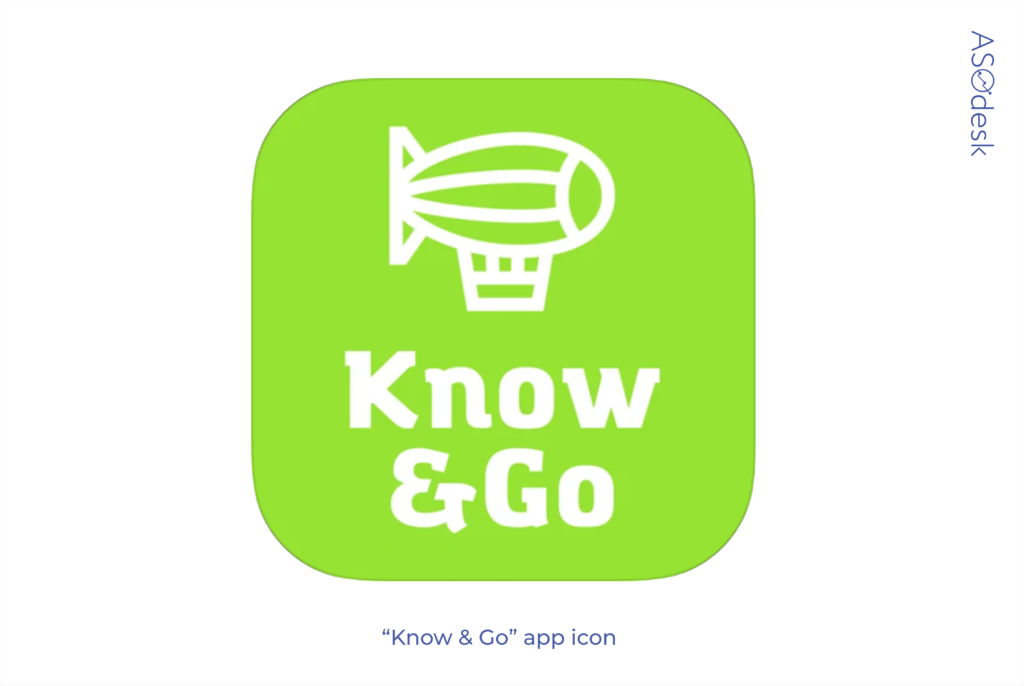 4. Screenshots should quickly and clearly describe the functions of your application.
It is important that videos and screenshots demonstrate the main features of your application. For example, in the screenshots "7 Minute Workout: Fitness App" shows what the app can do.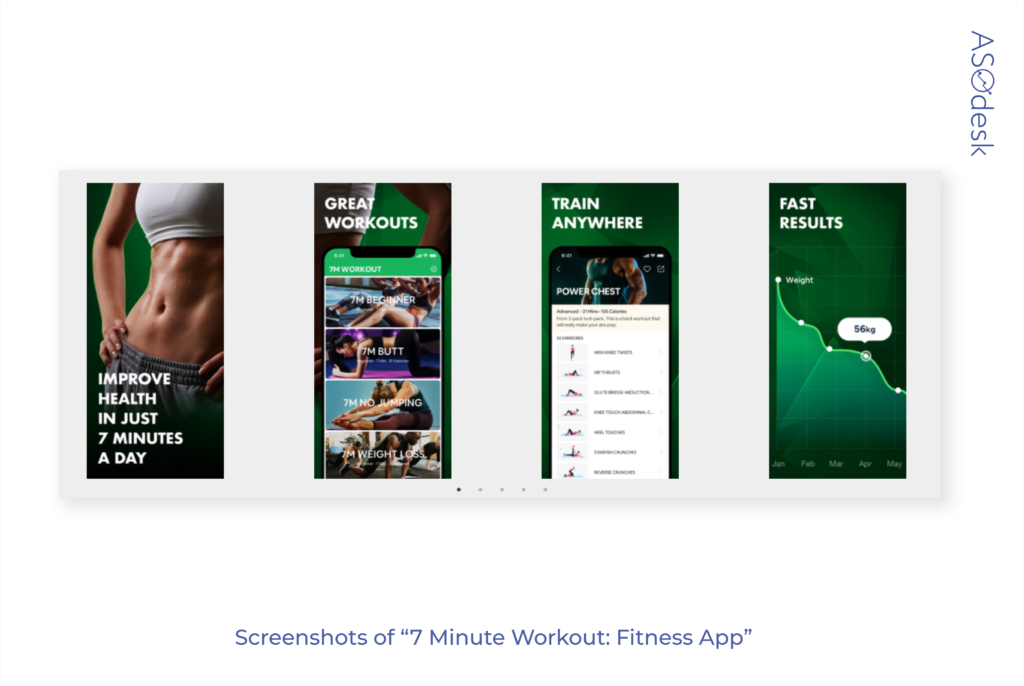 It was the change in the icon and screenshots that helped increase the conversion of the "Know & Go" app by 32%. In this case study, I talk about how I managed to achieve this result.
5. Before taking your own screenshots, be sure to analyze your competitors. Spot the mistakes they make and don't repeat them. For example, in the screenshots of the application "Fitness Online — weight loss, workout app with diet", the interface and text are difficult to see and read. Therefore, it is difficult for the user to understand the main functions of the application.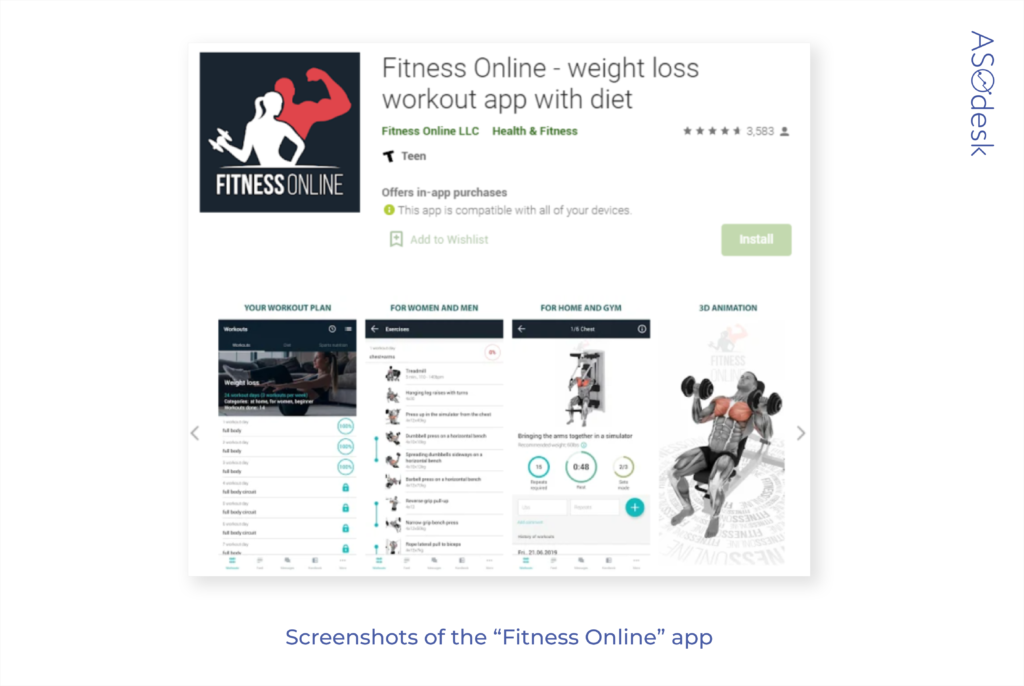 6. Focus on USP and competitive advantages. For example, looking at the screenshots of the "Lose Weight in 30 Days" application, we immediately see its competitive advantages: focused on trouble zones, 4 week training plan, exercise without equipment.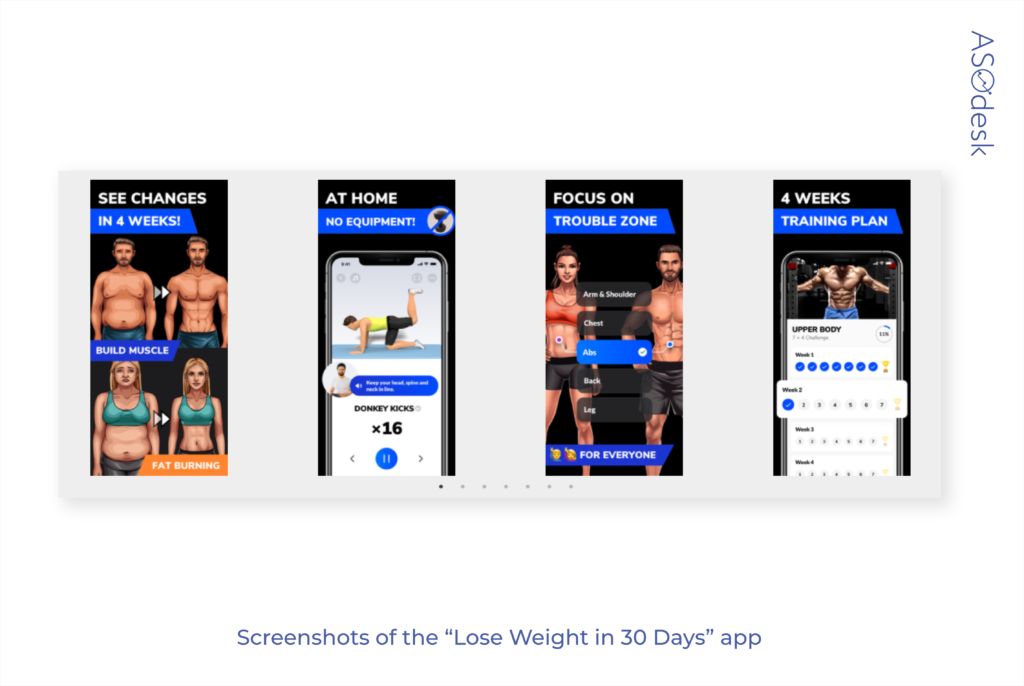 How to measure the effectiveness of app promotion
Analysis of the effectiveness of ASO
In the Play Store Console and App Store Connect, you can check installs from each traffic source in app stores: installs from search, ads, and external links.
To have a complete picture of the promotion's effectiveness, it is advisable to use several services. For example, in AppsFlyer you can see how organic installs correlate with non-organic installs.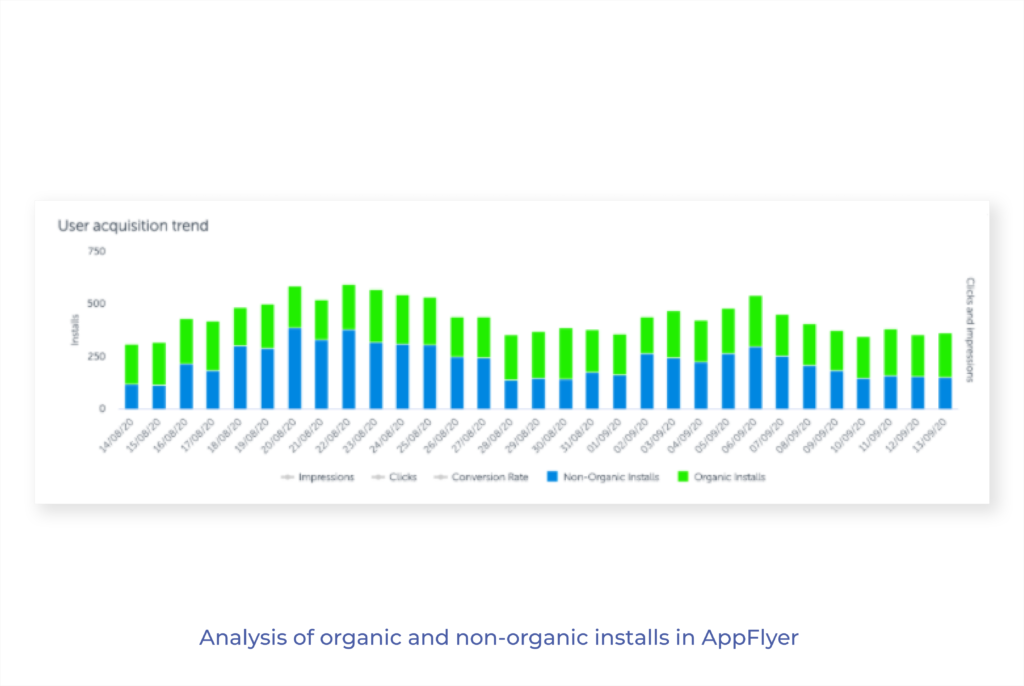 The service also integrates with App Store Connect and Google Console.
With ASOdesk service you can:
1. Compare the number of requests for which the application was ranked in the App Store and Google Play searches in different periods. The ASO Comparative Report tool shows how many queries the app was ranked for during the selected period. You can evaluate both your positions and those of your competitors.
For example, in the screenshot we can see that the fitness app on September 30 was ranked for 124 searches, although on September 1 it was ranked for 236 requests in the App Store. It is important to understand the reasons why such a recession happened.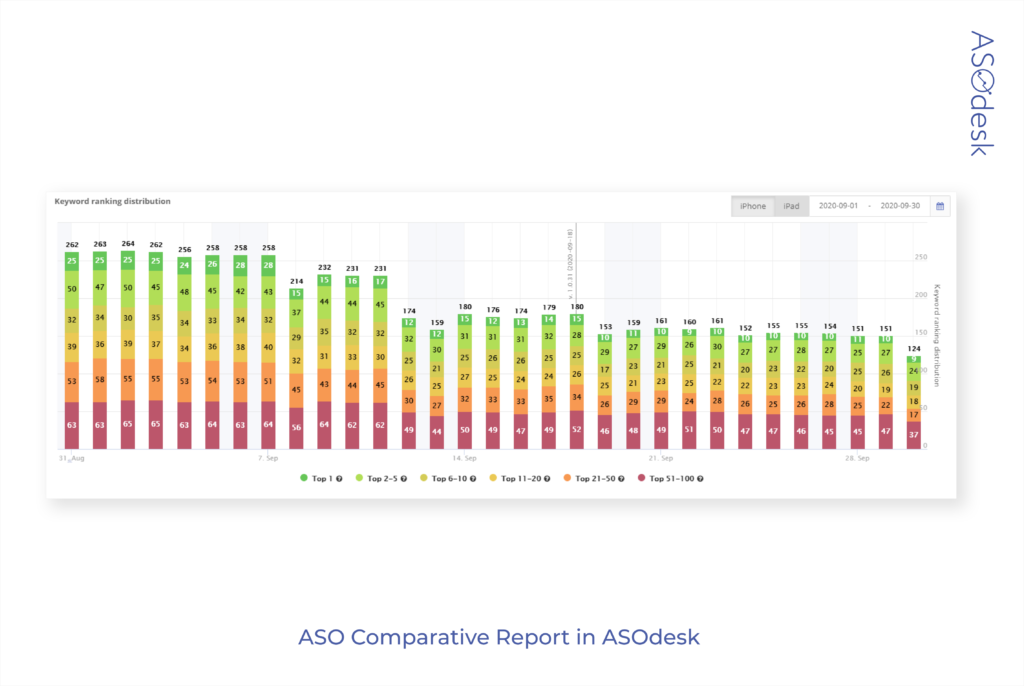 2. Watch the dynamics of the app ranking for keywords in the search. The ASO Comparative Report table shows for which queries the positions rise, fall, and remain unchanged. The "new" mark indicates that the app is just beginning to rank for this request. The "out" mark indicates that the application is no longer shown for this request in the search.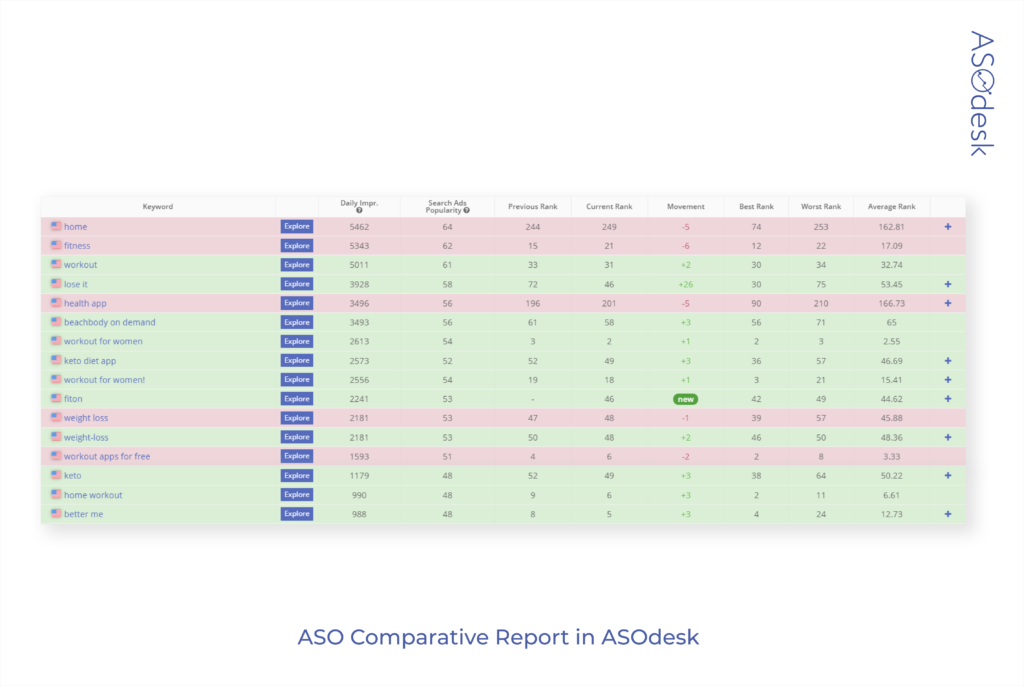 The tool allows you to analyze not only your application, but also the applications of competitors.
3. Control application installs by keywords. In Organic Report, you can see the exact number of installs if you integrate the app with the App Store Console. You can see the approximate number of installs of competitors.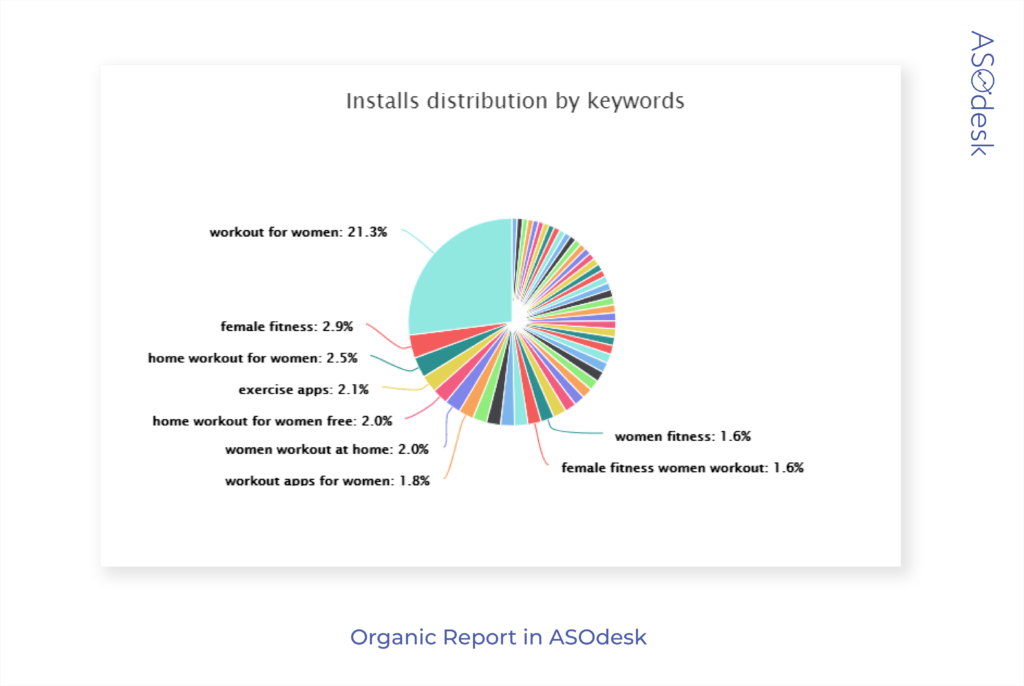 2. Compare the positions of your applications, and the applications of your competitors, by keyword using Keyword Charts. The tool is also useful for finding visual optimization ideas, since you can see all competitors' applications in one table.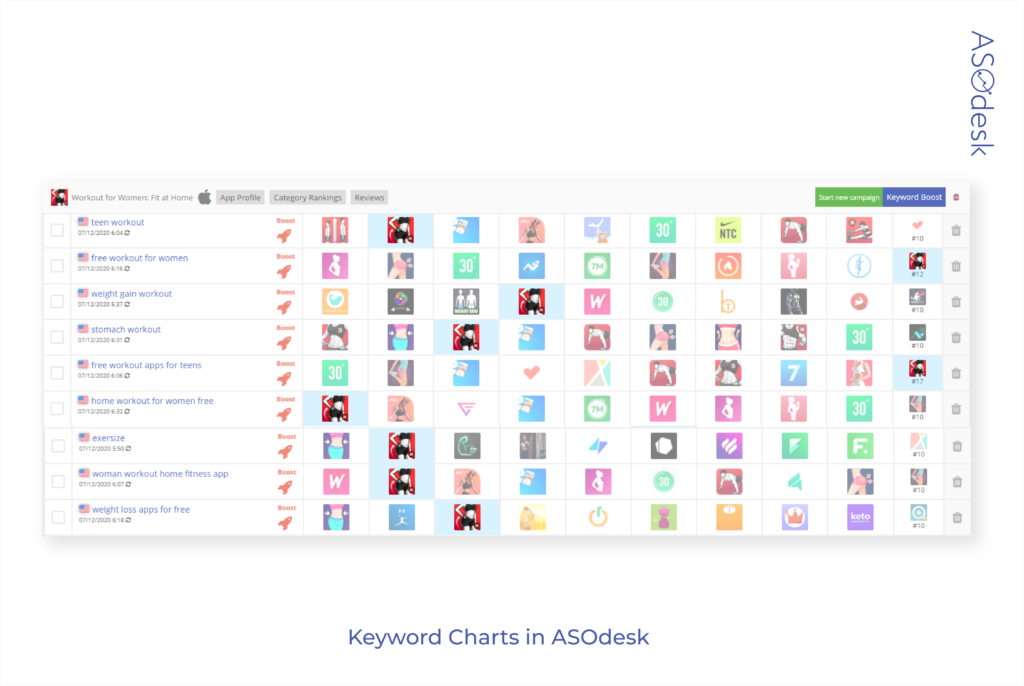 You can learn how to use Keyword Charts data for visual optimization ideas in this article.
Analysis of advertising effectiveness
It is important to evaluate advertising campaign effectiveness, financial performance, and also to see how the advertising campaign affected the user life cycle. In this article, I will provide just a few indicators of performance analysis.
Financial performance of advertising:
Return on Marketing Investment is a cost-effectiveness indicator of investments in advertising.
ROMI = (Profit from advertising campaign – Marketing expenses) / Marketing expenses * 100%.
ROAS (Revenue from Advertising Spends) is a return on ad spends. With the help of ROAS, we will determine which marketing activities were successful and which were unsuccessful as a part of the advertising campaign.
ROAS = Advertising revenue / Marketing expenses * 100%.
Advertising performance metrics:
CTR: click-through rate. CTR: the number of users who clicked on the ad/the total number of views.
CPI: cost of one installation. This indicator can be compared with the period before the advertising campaign.
CPI = Total costs of an advertising campaign / Number of installs for a certain period.
CPC: cost per click. CPM: cost of 1000 ad impressions. These metrics will vary and depend on the competition in your industry. For example, there is high competition in the info business, so the cost per click is expensive.

If you set CPC or CPM too low, the ad will not be shown to users. Low CPC and CPM rates also show the effectiveness of your banner ad.
Indicators reflecting the user life cycle:
DAU is the number of active users per day. WAU is the number of active users per week. Using these metrics, you can estimate on which days users launch the app more often. You can compare the results before and after the ad campaign.
Retention Rate (RR) is the percentage of users who returned to the app after installing it. This indicator is especially important to monitor during the promotional period, because some users install the application under the influence of advertising and promises of discounts, but do not use it later. The metric should be evaluated on the first, seventh and thirtieth day after the installation.
RR = Returning users / Total number of users who installed the application * 100%.
How to improve the effectiveness of mobile app promotion
I want to share my tips on how to improve the effectiveness of promotion.
Conduct A/B testing
It is important to conduct A/B testing to be able to select the metadata option that will bring the most installs.
As a part of testing, you divide your audience into several groups and show users different metadata options. It is important to track the result for at least 7 days. You will be able to estimate which version of the application page will have the best conversion to install rate. Most often, visual elements are tested in this way.
You can do free testing on Google Play or App Search Ads (Apple advertising service), or use paid services such as SplitMetrics and Store Marven.
You can also use A/B testing in targeted social media ads. The essence of testing is that you take different variants of one parameter, and leave all other parameters unchanged. Then we can make an unambiguous conclusion about which ad with which parameter was more effective.
For example, using the Facebook ad settings, you can compare different creative approaches, audiences, placements, and optimization strategies.
Localize your app for other countries
Entering foreign markets opens up more opportunities for development and increases traffic and app installs. It is important that your application is adapted for other countries.
ASOdesk tools allow you to collect a semantic core in languages from 100 countries and automatically translates foreign queries into English.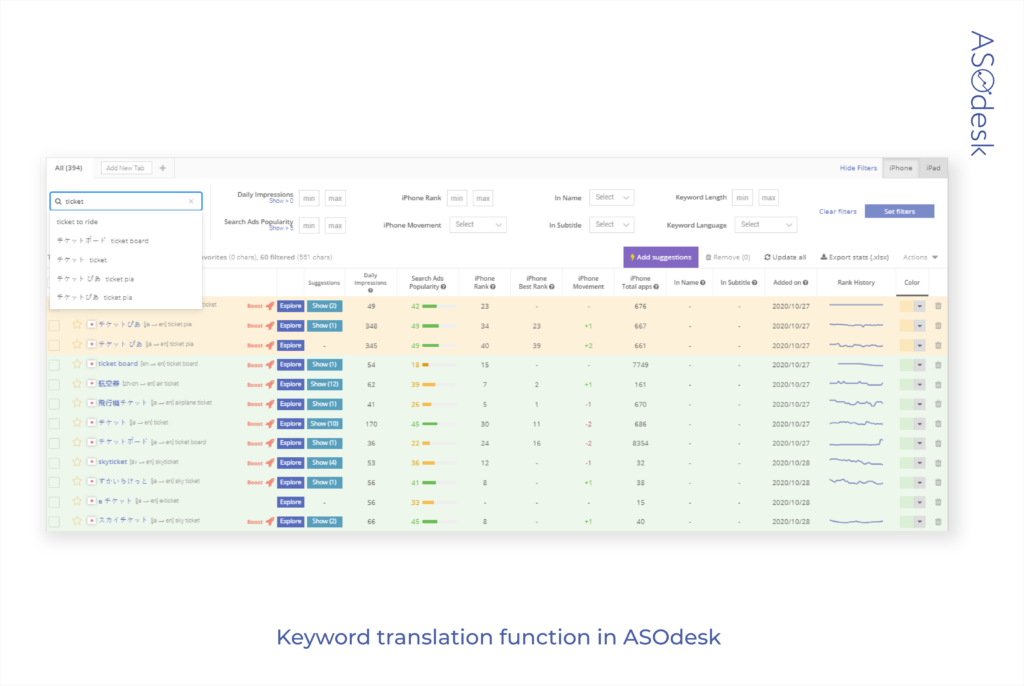 In order for the translation of the application and the metadata page to be of high quality, it is important to seek the assistance of native speakers. This is because they know the specifics of the country for which you are translating the application. For example, in oriental languages, characters will have different meanings in different combinations. You can read more about optimization for oriental languages in this article.
It is important to complete not only textual, but also visual optimization. Pay attention to the perception of colors in different countries. For example, in China, red is a wedding color and white is a mourning color. Therefore, the use of white can elicit negative emotions in the user.
You also need to understand the mentality of the country for which you are optimizing. For example, Arab countries are very religious, so you should avoid revealing clothes and certain symbols in the screenshots. You can read more about the features of textual and visual optimization for different countries in this ASOdesk article.
Do app store optimization and run ad campaigns regularly
Optimization alone is not enough to increase installs and significantly improve your ranking. It takes 6– 8 iterations to bring an application to the top of App Store and Google Play. Additionally, user preferences and market trends are constantly changing.
It is important to track popular queries, analyze competitors, and make changes to your ASO strategy. Only in this case, the application will reach the top, and the number of installs will grow. Read more about why one iteration is not enough and how to make the optimization process effective in this article.
Advertising campaigns also need constant optimization. During the two-week test period, you need to test 15–20 audiences and creative approaches, and choose the best ones.
After the test period, audiences can also burn out: the number of installs and the CTR of ads will begin to fall. Then you need to try new options for audiences and creative approaches. Monitor your competitors and follow the trends in your industry, so you always have ideas for new audiences and creative approaches.
Use ads, motivated traffic, and ASO at the same time
The growth of positions in searches and charts depends on motivated traffic and advertising. Motivated traffic is users who perform a targeted action in the application in exchange for material or non-material incentives. App installs are growing, which encourages the growth of app's position based in the search results. Your app is shown higher in search, which will also increase the organic installs.
If you do optimization and paid promotion at the same time, the effect of app store optimization will also come faster. You will be able to grow by the keywords through installations from ads. The more often an application is installed, the higher it is in the search results. Therefore, the effectiveness of promotion is influenced not only by ASO, but also by advertising, as well as by motivated traffic.
For example, you run an ad on Facebook. Users install your app from an ad, App Store and Google Play algorithms note that the number of installs has increased. Then the position of the application in the search begins to rise.
This results in lower installation costs (eCPI). Meaning you spend the same amount on advertising, but you get more installs. On the chart, you can see how organic installs have grown after paid traffic increased.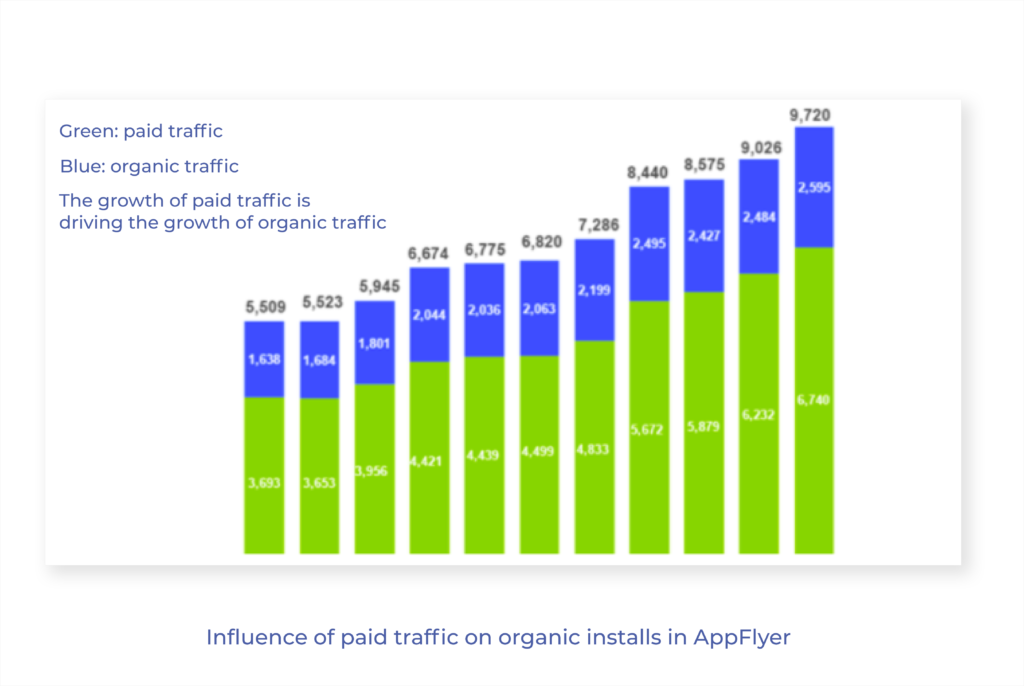 Organic installs increased by 8% thanks to paid traffic. From this data, we can conclude that paid traffic contributes to the growth of organic traffic.
Useful Links