How to use AI for app marketing
Published: 21.03.2023
Updated: 04.05.2023
In 2023, app publishers can leverage AI for marketing to improve their app rankings and conversion rates in the app stores, create effective ad campaigns, and ultimately drive more downloads and revenue. In this article, we will explore the various ways in which AI can enhance ASO, UA, monetization, and Retention and give you practical examples of how to use AI for marketers.
The mobile marketing landscape has become increasingly competitive over the last few years — reaching 4.876 million apps in total on the App Store and Google Play. This has prompted mobile experts to explore more effective strategies, including the use of artificial intelligence for marketing, to stay ahead of the competition with improved ASO, UA, and Retention.
In this article, we will show examples of AI in marketing which could also help you:
1. Improve CVR on your app store page
2. Speed up and improve keyword research and optimization for ASO
3. Improve your User Acquisition experience with AI-powered solutions
4. Improve app monetization and in-app purchases
5. Increase app retention and decrease churn with improved user experience of apps
Improve CVR on your app store page with an AI algorithm for generating creatives
Visual assets are critical elements that influence your page visits and conversion to app download rate. Designers should create a large collection of screenshots, icons for app pages, and banners for ad campaigns.
AI algorithms now have the capacity to generate a vast number of creative assets for app icons, screenshots, and in-app event sections. Tools like Runway or Canva AI Image Generator can help to reduce the workload of development and design teams while validating various app marketing hypotheses.
AI-powered ad banner-generating solutions can also aid mobile advertisers in keeping up with the trend of customizing and enhancing the ad experience for mobile app users. These solutions generate various creatives for ad campaigns, analyze user behavior, and match advertisements to a user's preferences.
Adext AI and Bannerwise were designed to automate the banner creation process and generate ad banners in various sizes and formats based on the user's input and preferences. Users can input their ad creatives and targeting criteria, and the AI algorithms analyze the data to create optimized ad banners.
AI can also provide personalized recommendations based on individual user preferences, and predictive analytics can help app developers and marketers anticipate future trends in user behavior.
So, the use of AI tools in design can save designers time and money by automating repetitive tasks and streamlining workflows.
Speed up and improve keyword research for ASO
Keyword research and optimization is one of the key parts of App Store Optimization. As a part of ASO keyword strategy optimization, AI algorithms are widely used to do research and provide insights into keyword difficulty, search volume, and competition.
ChatGPT is a language model trained by OpenAI that can be used to generate natural language responses to user queries. For ASO keyword research, ChatGPT can generate keyword ideas based on user queries related to a specific app or category.
By entering a seed keyword, ChatGPT can provide a list of related keywords that are relevant to the app or category.
ChatGPT can create app titles, subtitles, and descriptions for the App Store and Google Play. By providing ChatGPT with information about the app, it can generate creative and relevant titles, subtitles, and descriptions that accurately represent the app's features and benefits.
Here is an example of how ChatGPT generated an app title and subtitle with the required keywords.
However, not all examples contain the required keywords that we have written in the request. Sometimes you need to refine the request several times so that the tool understands what you require.
As an AI language model, ChatGPT doesn't have access to real-time data for keyword popularity in the App Store and Google Play. Writesonic and Kewrd.AI may also help you generate keywords, but they base their suggestions only on SEO data, which can differ from App Store and Google Play keywords popularity.
However, there are ASO tools like Asodesk that provide access to data from app stores. For example, the Keyword Auto-Suggestions tool will suggest different keywords for your app divided by groups and show the Daily Impressions, Search Ads Popularity, and the number of competitors per keyword.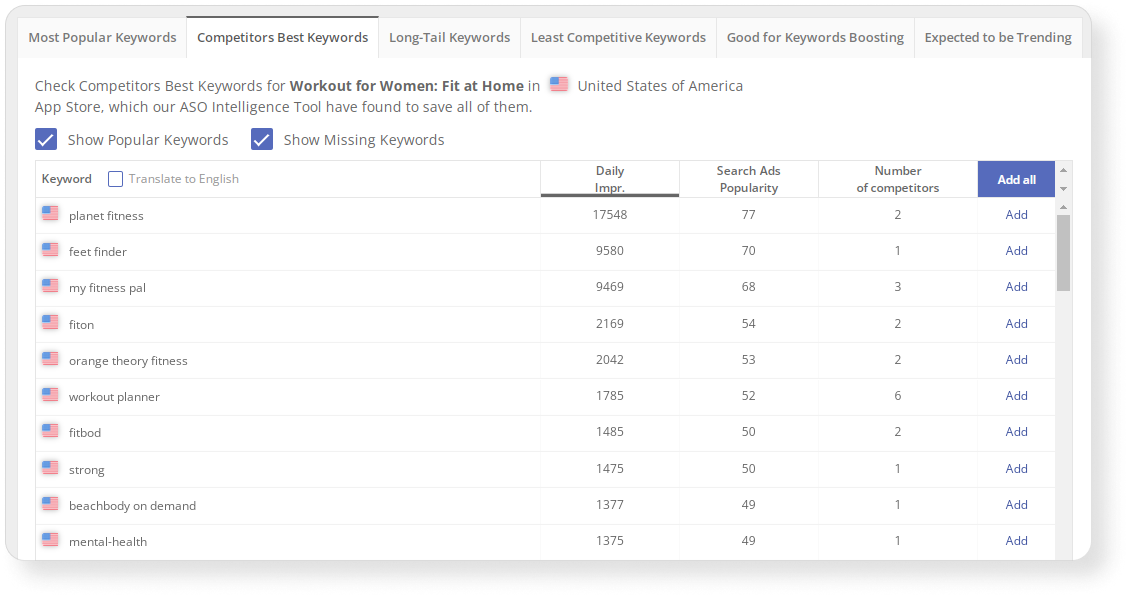 These auto-suggestions will help you to find the most relevant keywords for your app and save time collecting your semantic core. Read how to collect your semantic core in this article.
Optimizer on Asodesk can help you to compose metadata based on your keywords from semantic core. The tool will suggest which words are better to use in your metadata. Optimizer has a table of words that you have and haven't used in your title, subtitle, and keywords.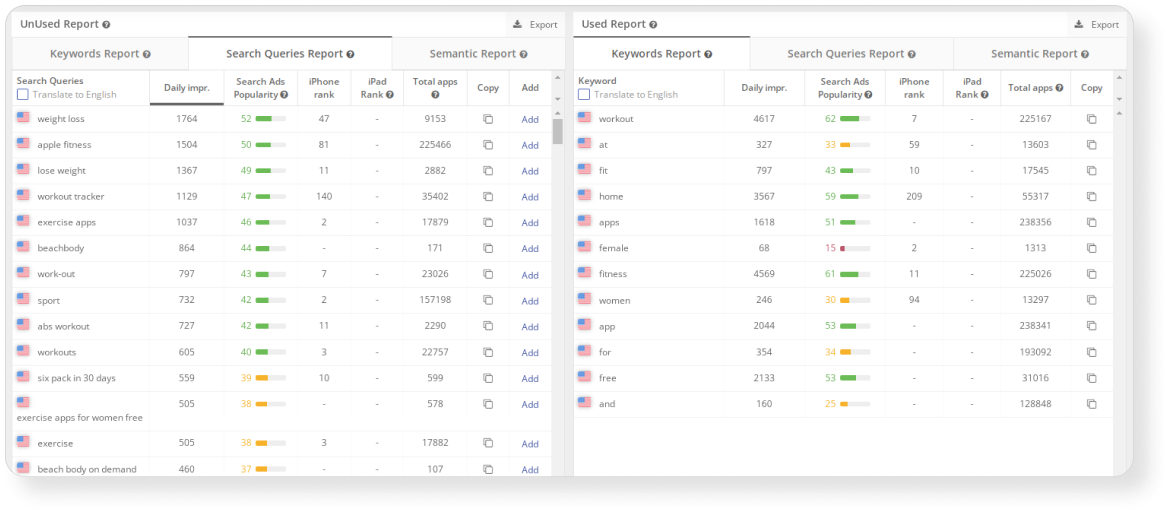 The tool will also tell you which words you should remove from your metadata. Repeated keywords are highlighted in yellow, and stop words that need to be removed from the metadata are highlighted in blue.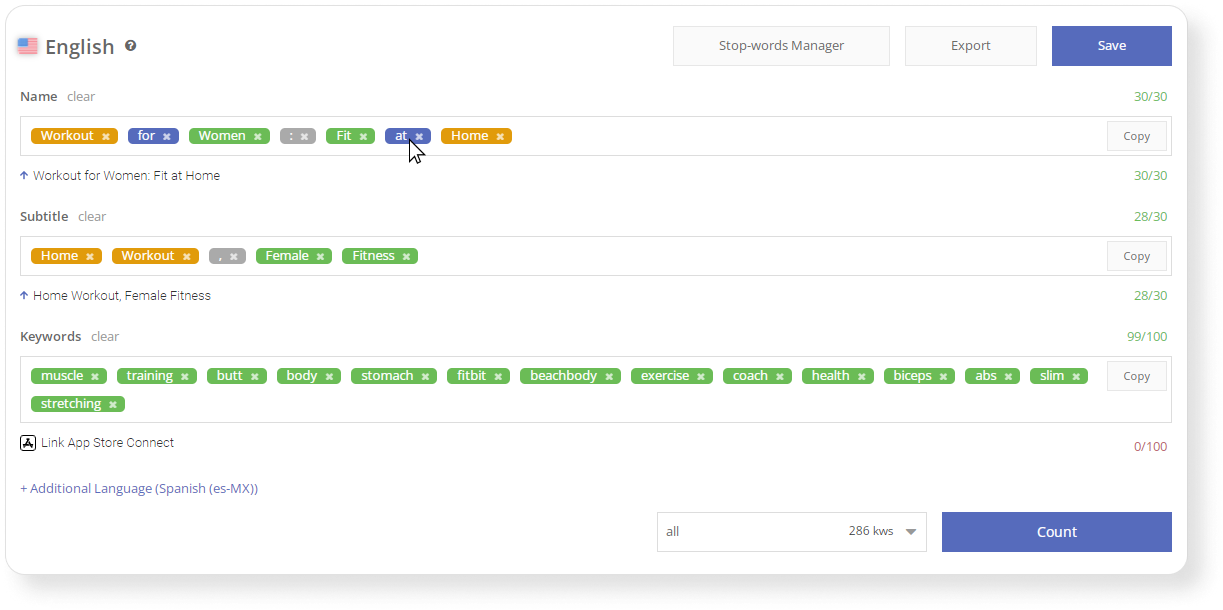 AI tools can speed up the preparation of metadata for your app by suggesting various keyword combinations. However, they lack real-time data on keyword popularity in app stores. To ensure effective ASO, it's best to use ASO platforms in conjunction with AI tools.
Improve your user acquisition experience with AI-powered solutions
Artificial intelligence can assist mobile advertisers in enhancing the efficiency of their mobile ads monetization. The use of AI-designed algorithms enables UA managers to outsource competitive analysis, search term research, and keyword testing, as well as automate daily bid management.
SplitMetrics Acquire has an AI-driven technology stack for advanced competitive research and provides insights and smart recommendations on keywords and bids for Apple Search Ads advertisers.
With the help of AI algorithms, mobile app marketing solutions can evaluate campaign performance across multiple ad channels, making it valuable for an omnichannel ad promotion strategy.
Unity's Luna is an AI-driven solution that optimizes over 30 channels and analyzes the performance of mobile ad campaigns. Its machine-learning algorithms process a vast amount of user behavior data, bid auctions, and keywords, which are then presented on an interactive dashboard with useful insights and recommendations.
As you can see in the screenshot below, these recommendations include adding competitor keywords for testing, pausing low-performing keywords, and adjusting bids on a keyword, ad group, or campaign level.
Additionally, AI algorithms can also assist in identifying influencers or users with a large following who can help to promote UGC campaigns. By analyzing user data and identifying the most active and engaged users, app publishers can approach them to create user-generated content and share it with their followers, thereby increasing the reach and effectiveness of the UGC campaign.
Upfluence is an AI-powered influencer marketing platform that analyzes social media data and identifies the most suitable influencers for a given campaign. The algorithms analyze factors such as follower count, engagement rate, and content quality to determine which users are most likely to be effective at promoting a brand's UGC campaign.
In this way, AI tools can be extremely helpful when it comes to monitoring your ad performance and selecting effective keywords for your advertising campaigns or identifying the most relevant influencers and active users for a successful UGC campaign.
Improve app monetization and in-app purchases with smart algorithms
Consumer spending on apps and games has declined for the first time, with revenues decreasing by 3% in 2022 to $129 billion. App marketers and growth experts should continuously search for ways to improve their app monetization strategy to increase profitability and ROI.
AI algorithms can help by analyzing the efficiency of current app monetization models, identifying weaknesses, gathering best practices, and testing different in-app monetization ideas to find the most effective and efficient ways to generate app revenue.
Oolo's Machine Learning analytics platform delivers context-aware data insights, identifies any anomalous data permutations, optimizes your setup, and maximizes ARPDAU with total data transparency and alerting.
Furthermore, AI for marketers can also analyze user behavior to suggest the best in-app purchase options, upsells, and subscription plans for users based on their past decisions and behavior. This allows app developers to provide a more personalized and engaging experience to the user, leading to increased in-app revenue.
In addition, AI algorithms can generate paywalls, which are an effective way of monetizing mobile apps. The paywalls can be designed in a way that entices users to subscribe or make in-app purchases. With A/B testing, AI algorithms can help app developers and marketers generate paywall designs and determine the most effective paywall type (hard, metered, freemium, hybrid, or others) while also running the prelaunch tests and validating app subscription hypotheses.
Adapty.io uses machine learning algorithms and equips app publishers with various capabilities including predictive cohort analytics. The software analyzes user behavior and engagement data to provide personalized and effective messaging to users.
Mobile publishers can enhance their app monetization strategies by utilizing AI algorithms for more precise cohort analysis, trend identification, and short- and long-term forecasting. This enables better hypothesis validation and strategic decision-making. Meanwhile, app users can benefit from personalized offers and sales tailored to their preferences and past app interactions, leading to increased in-app purchases.
Increase app retention and decrease churn with improved user experience of apps
Retaining user attention and engagement, and bringing them back from churn is one of the most important yet challenging tasks for app publishers. Thankfully, AI algorithms can help provide a better user experience throughout the user's lifecycle.
App publishers can customize their strategy and deliverables for each app user segment by testing different options for app onboarding. App developers can use neuro-linguistic programming to create personalized in-app notifications that offer incentives and increase purchases by re-engaging users after installation. Customizing notifications in this way can effectively enhance app engagement and drive sales.
Phrasee is an AI-powered platform that uses NLP algorithms to generate personalized and engaging texts for marketing and advertising campaigns, including in-app notifications.
Apart from that, app publishers are integrating AI tools into app support, providing round-the-clock customer service with chatbots and virtual assistants, improving user experience, and gathering insights into users' behavior, product bugs, and use cases. For instance, AI algorithms can identify the types of content that users engage with the most, such as videos, images, or quizzes — and suggest UGC campaign ideas based on these insights.
Artificial intelligence for marketing can analyze user data to provide personalized recommendations and tailor the user experience of apps, which can increase user satisfaction and engagement. By identifying pain points and addressing them through improved user experience, app developers can increase retention and decrease churn. Additionally, smart algorithms can track user behavior to optimize app performance and provide proactive support, which can further enhance user experience and prevent churn.
Key take aways on using AI for app marketing
The highly competitive mobile app and game landscape drives app publishers to actively integrate AI-driven solutions for both day-to-day and strategic tasks. AI algorithms can be used widely in ASO, UA, Retention, and monetization to help apps beat the competition.
The use cases of AI for marketers in mobile app growth include but aren't limited to:
intelligent data research and analysis
testing of hypotheses
tracking user behavior and advanced analytics
recommendations and predictions based on the detected trends
validating monetization strategies
generating keywords and content
customizing and improving user experience
There's no doubt that the use of artificial intelligence in mobile is expected to continue to grow in the future. As mobile users have access to more data, companies are using AI more often to make predictions and personalize experiences. Moreover, AI will likely be integrated with other technologies such as augmented reality (AR) and virtual reality (VR), creating even more immersive and engaging mobile experiences.
We hope that our article about AI for marketers will help make your work faster and more effective. Subscribe to our newsletter to receive digests on ASO, as well as useful articles on mobile app marketing.