July 2019: Renewed Organic Report, ASO Dashboard Huge Update
Published: 25.07.2019
Updated: 13.10.2022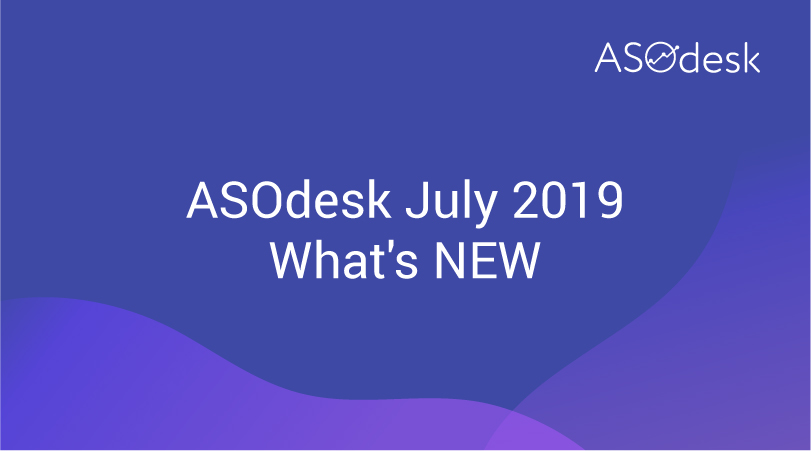 In the July ASOdesk update: a new Organic Report with a possibility of connecting to the App Store Connect. We updated ASO Dashboard filters and added saved filters to the tool. Also, we added a new chart type and colors to the ASO Dashboard. Export to Keyword Analytics has been updated, and now you can also choose separate queries for export via check-boxes. Now Top Keywords tool works faster.
Renewed Organic Report
We are glad to present you with updated Organic Report.
The main goal of Organic Report is to show an approximate amount of installs from search queries for your application. To make sure that all data are as precise as possible, we have made it possible to connect Organic Report to App Store Connect.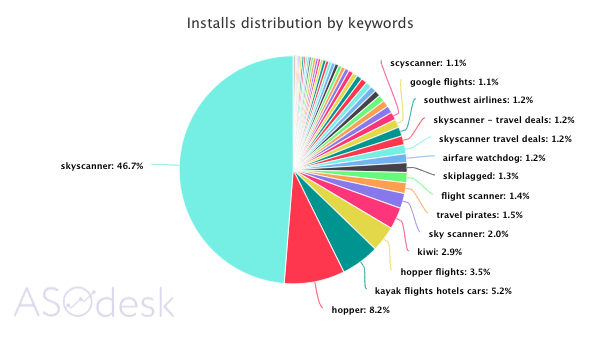 Now you can know rather accurately, from which search queries your application receives installs by connecting to App Store Connect. We will show you how your App Units are distributed by Source type App Store Search between search queries from our base of 14 million queries.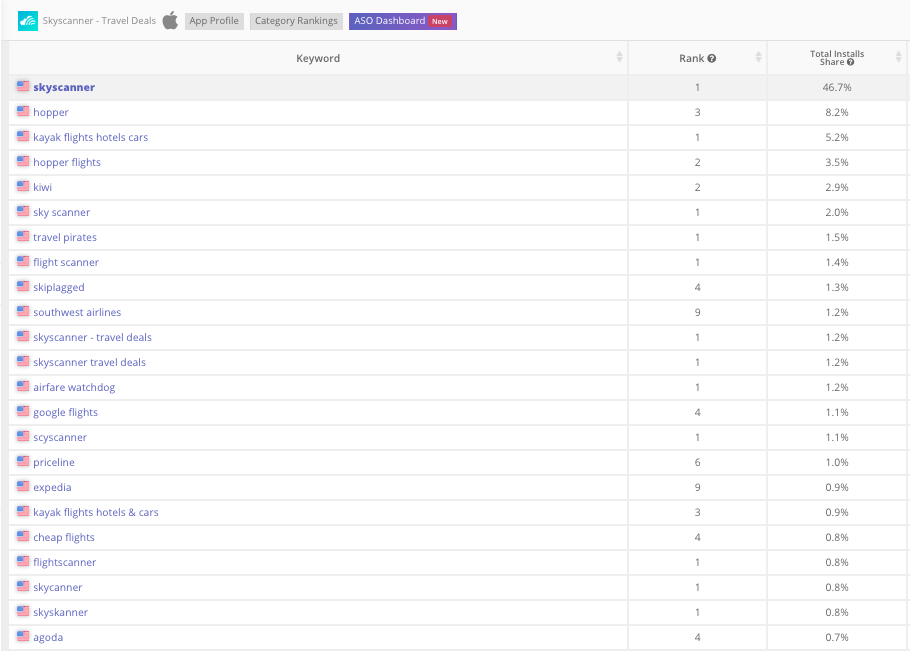 The second goal of Organic Report is competitive analysis. Organic Report can still work without connecting to App Store Connect, so you can always see each competitor's projected amount of installs from search queries in any country on the App Store and Google Play.

We brought the Total Organic History chart back into Organic Report that shows data on installs from App Store Search and App Store Browse when it's connected to App Store Connect. In case of not having a connection to App Store Connect and in a case with Google Play apps, the projected installs amount isn't divided by source.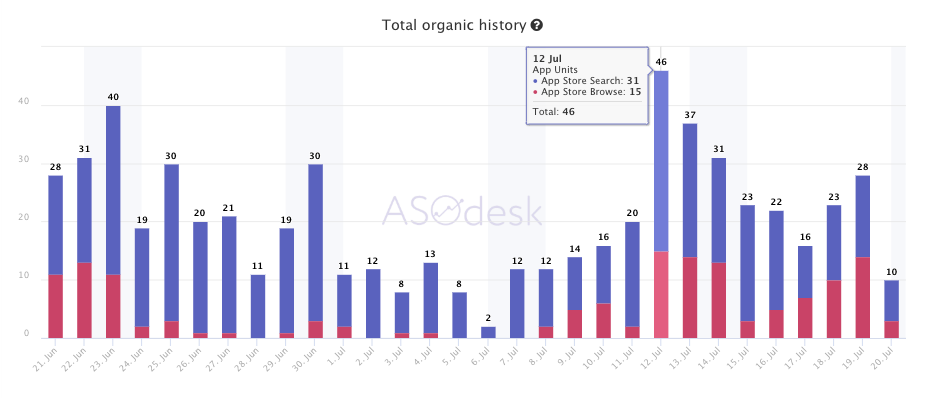 We have also added some new charts – Keywords Distribution, like in ASO Comparative Report.


Big ASO Dashboard Update
The first large-scale ASO Dashboard update after its initial release
Saved Filters
Now you can save the needed chart settings for regular analysis. You can save: traffic source filters, country filter, device filter, period, chart type (Bar, Line, Percent), displayed data (Impressions, Product Page Views, App Units, Installations, Conversion Rate). You can give a name to each filter. Filter adjustments are made in the chart name.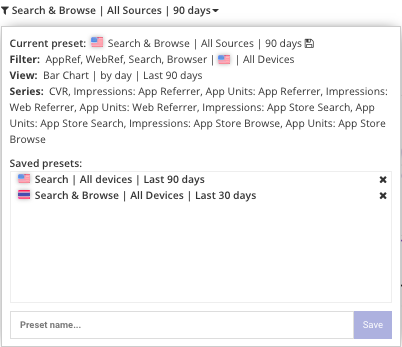 New Filter Functions
For a more convenient data analysis, we re-made the filter control scheme. Now, each filter has additional check-boxes, which reduces the time on data adjustments. For example, if previously, when choosing a different Source Type, you had to choose a new one, turn off the old one, and spend two clicks on the action, now you can do it with one click, named Source, while check-boxes allow choosing several.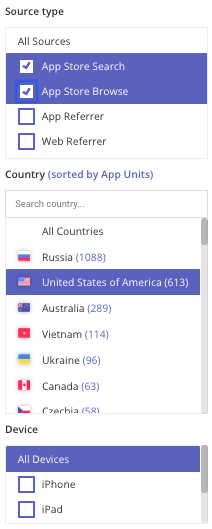 New Chart Type – Percent
We have created a new chart type, Percent, along with Bar and Line. This chart shows your data by traffic source by country or in all countries at once in percent (%). This chart type will be useful for the analysis of one traffic source's influence on the other. For example, you will be able to quickly answer the question of how search traffic changes in dependence on advertising traffic.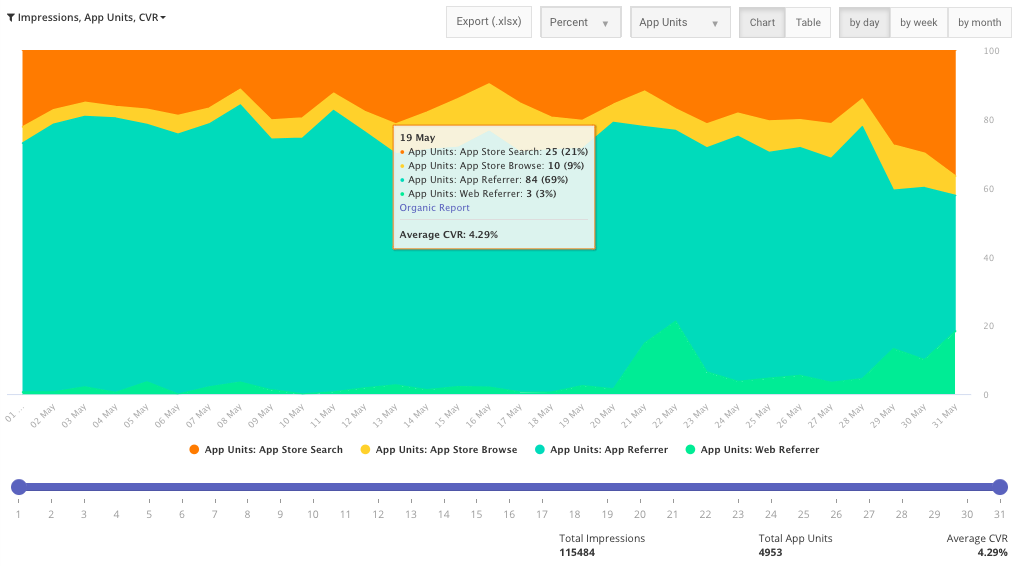 New Chart Colors
We updated the chart color spectrum for more convenient visual data analysis by traffic sources. Now, color patterns for organic traffic (App Store Search and App Store Browse) and external traffic (App Referrer, Web Referrer) are different.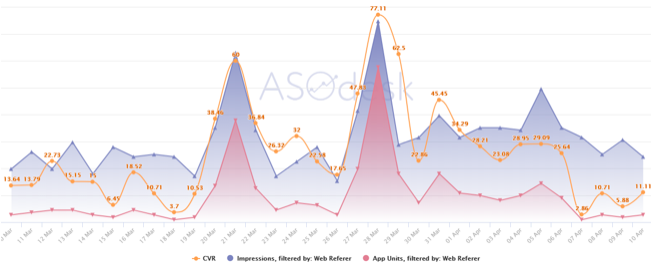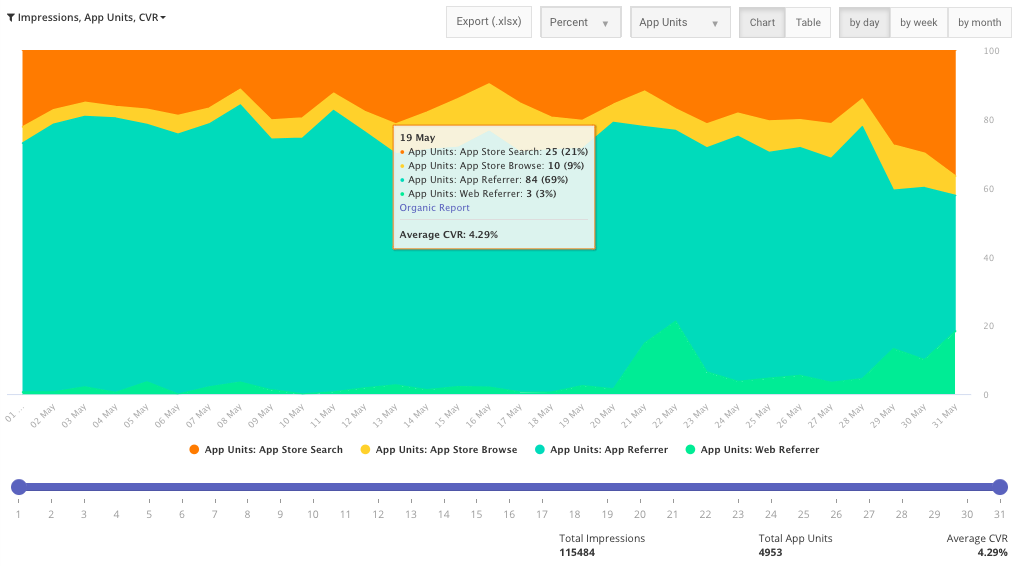 Connection to the Organic Report Tool
If you want to study how your users find your application in detail, we have made a quick link to Organic Report that will show you a breakdown of your installs from the search by search queries.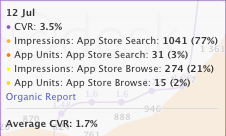 Read our recent article about how ASO Dashboard is used for analyzing sources from the App Store Connect by Gambino Slots. It's a useful read for ASO managers, ASO directors, and marketing directors. Here you can read more about how to use ASO Dashboard for practical analysis of traffic sources.

Keyword Analytics Export Update
At your request, we have made it possible to export only the selected search queries in Keyword Analytics. You can simply choose the queries, whose history you would like to see, using check-boxes and choose a period, for which you need the position history: 1 day, 1 week, 1 month, or 3 months.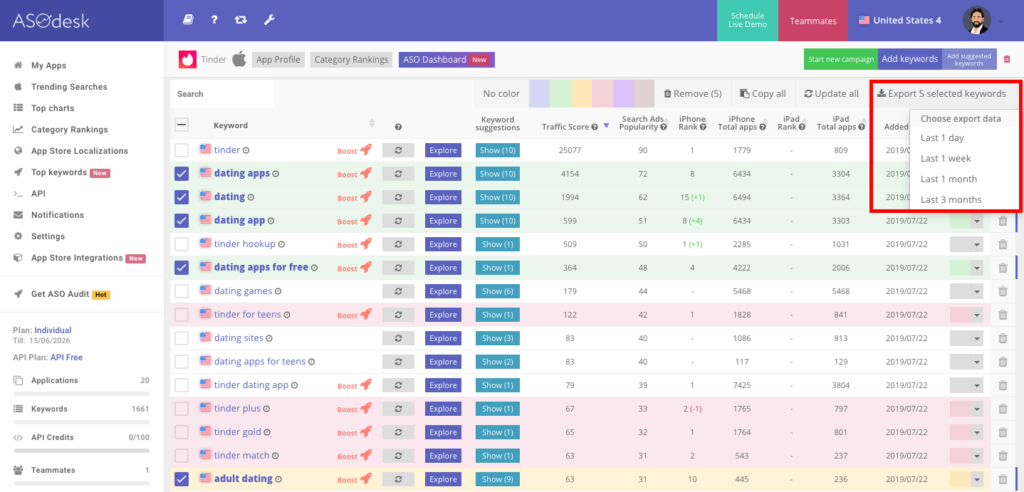 Now Top Keywords Tool Works Faster
We significantly increased the working speed of the Top Keywords tool. Now, the tool page loads very fast.
Top Keywords tool shows the most popular of the current search queries in a selected country. It shows the most popular queries in the chosen country, depending on Traffic Score.
New brand main page with the full description of all of ASOdesk's products
Visit our main website page and enjoy new update. We have updated our Website Main page and ASO Dashboard description. Now you can easily in one click find all information about ASOdesk products and services on the main page.
Previous updates
If you missed our previous updates, here you can read about the latest product's changes in June 2019: SO Dashboard & Top Keywords