Winning UA strategy for your app in 2023
Lorenzo Rossi
lorenzo@rplg.io
Co-Founder and Head of Growth at REPLUG. Lorenzo is a Mobile Marketing veteran. He has worked in leading companies such as Zalando, LOVOO, and Free2Move, where he gained unique experience in scaling mobile app marketing activities and retention strategies.
All articles by author
Published: 23.02.2023
Updated: 06.04.2023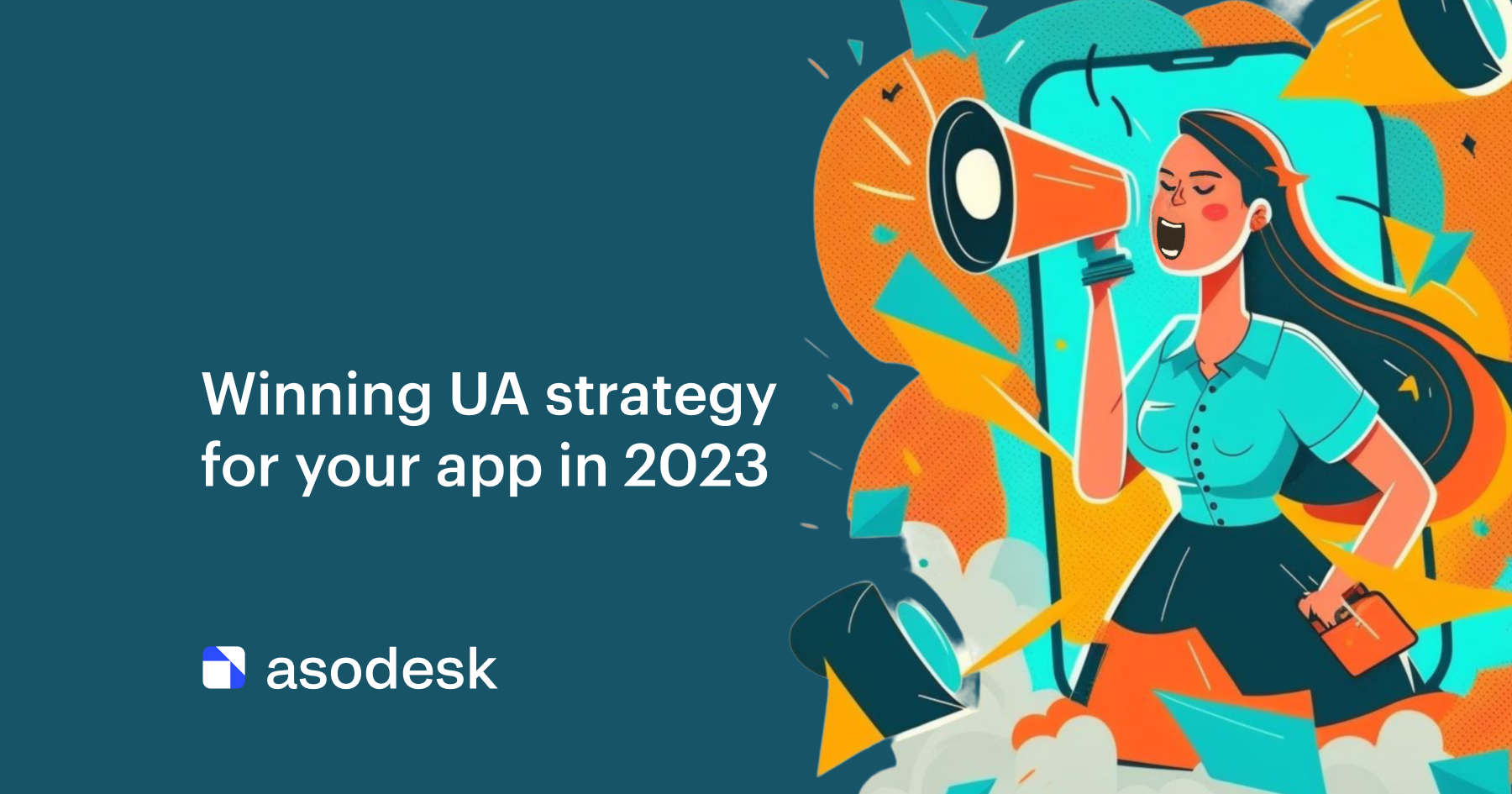 The realm of paid User Acquisition (UA) has become increasingly challenging, with tracking limitations, growing competition, changes in user behavior, and inefficient spending posing more problems to developers. To achieve optimal outcomes for your app's paid user acquisition in 2023, it's essential to reconsider and structure your approach. You can learn how to accomplish this through a 5-step paid UA system by reading further.
My name is Lorenzo Rossi. I'm a Co-Founder and Head of Growth at REPLUG. Today I will share with you a 5-step paid UA system, wich is a combination of process and framework. I explained it in the App Growth Trends webinar hosted by Asodesk. You can watch the webinar recording using this link.
I suggested working with paid UA in 2023 with 5 steps:
1. Audit and setup
2. Strategy
3. Implementation
4. Analysis
5. Optimization and testing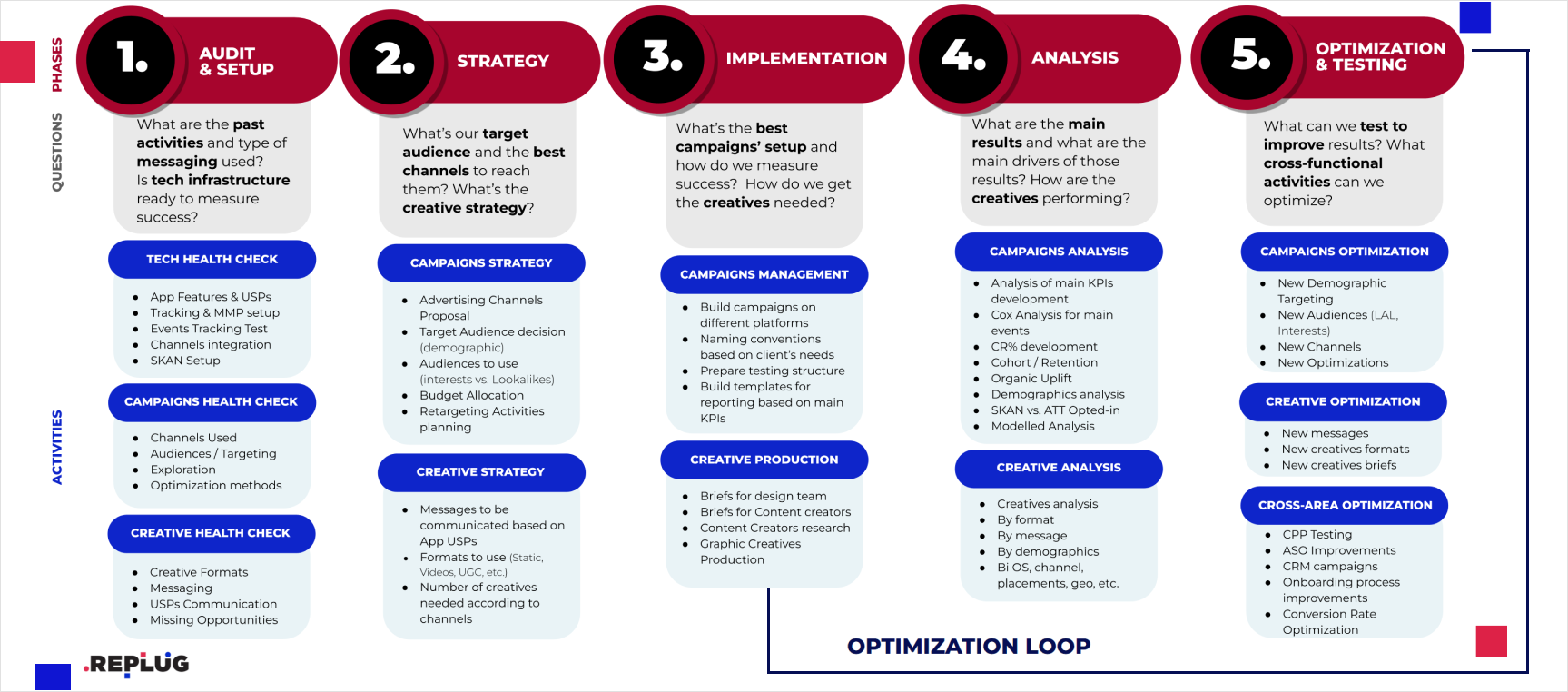 Once we have gone through all 5 stages, we need to return to "Implementation" and repeat stages 3, 4, and 5. Implementation, analysis, and optimization create a UA loop — the endless improvement process for your ad campaign.
We identified specific activities you need to engage in to succeed in UA in 2023. I also recommend reading our article on how to scale paid user acquisition in 2023. Let's talk about each step in more detail.
1. Conduct an audit and establish a UA campaign for your app
The audit and setup stage aims to analyze your past activities and use these experiences for your next campaigns. Here you should ask yourself what your past activities are and what type of messages have been used. You should also evaluate if your tech infrastructure is ready to measure success.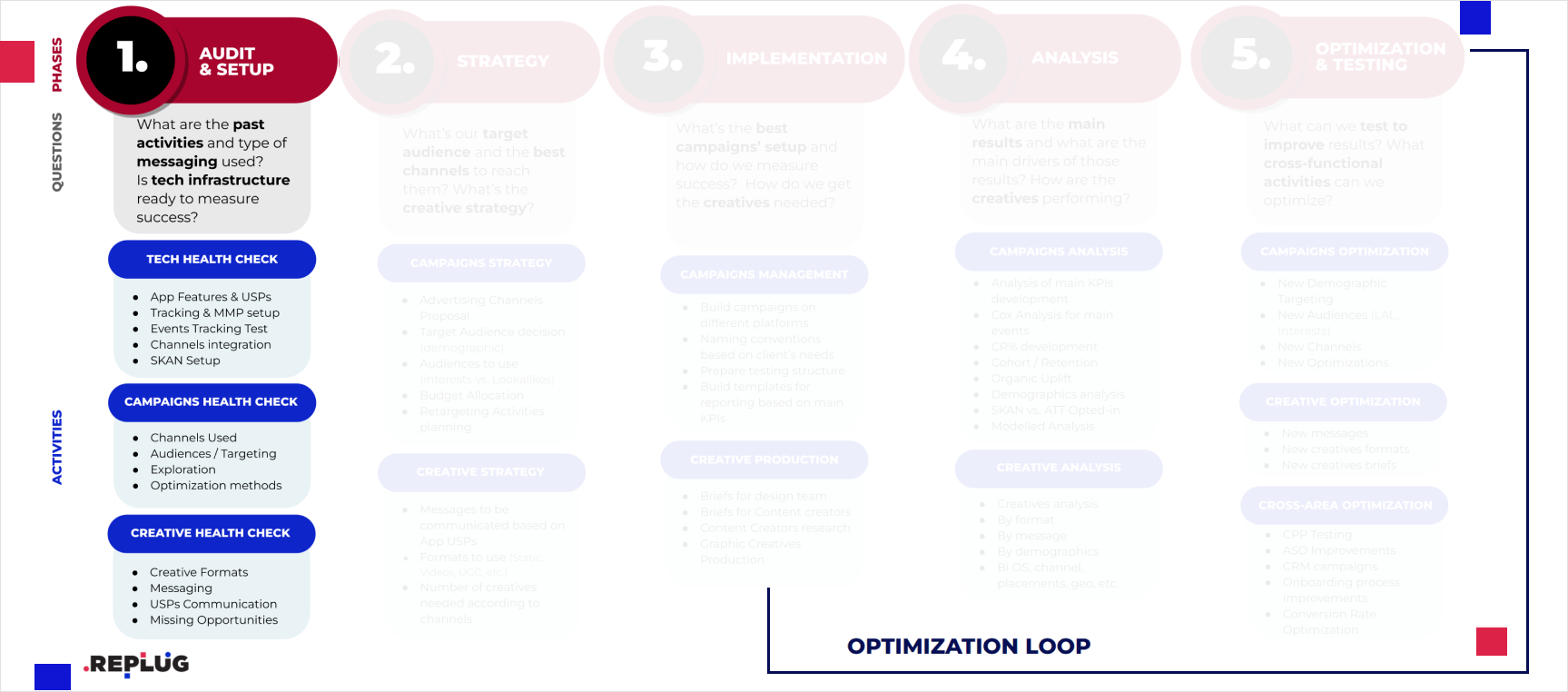 If you're starting from scratch or taking over some activities from a former colleague, the first step should be to pause and evaluate the previous work to ensure it's suitable for scaling or expenditure.
This phase is divided into 3 areas:
1. Technical check
Here we need to check:
App Features & USPs
Tracking & MMP setup
Events Tracking Test
Channels Integration
SKAN Setup
During the technical dining audit, we need to check if the tracking of the Mobile Measurement Partner (MMP) is correctly set up and if you're prepared to measure the success of your campaign.
Editor's note: Mobile Measurement Partners are third-party tools that app marketers use to measure the performance of their mobile advertising campaigns.
Let's see what we should do during the audit phase:
Find mistakes with current ad campaigns
In the picture below, you can see the most common findings from the audit phase.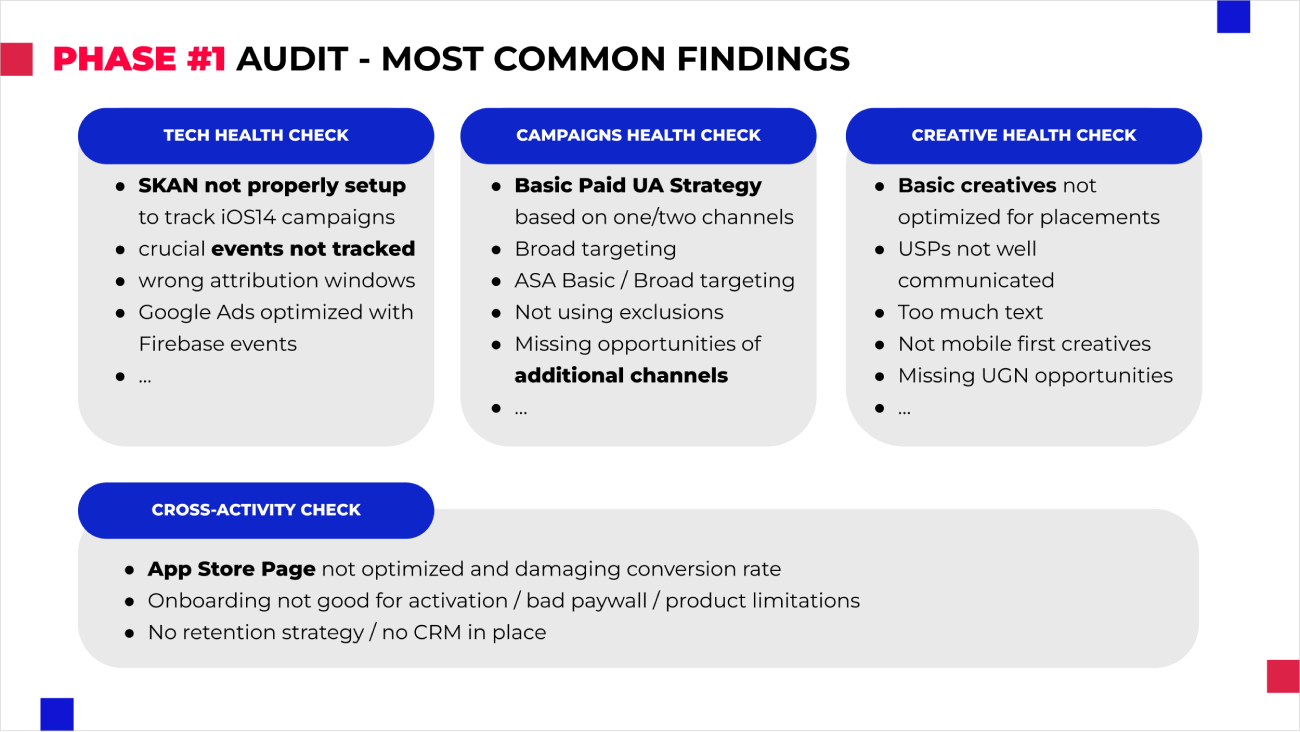 The most common finding we have during the audit in terms of a tech health check is that the MMP is not ready for tracking, especially since iOS 14 was released. It happens so often that SKAN is not properly set up so you cannot track your installs and events.
For example, we see that some crucial events are not tracked, such as several important demands that you need to define your success. Sometimes, essential settings are wrong, such as Google campaigns that are not optimized with Firebase events.
Sometimes, we see basic UA strategies instead of advanced strategies. For instance, some strategies are based only on two channels: Facebook and Google.
Several additional factors may enhance your outcomes, such as choosing Apple Search Ads basic accounts rather than advanced accounts and creating campaigns with broader keyword targeting. Even minor advancements in these areas have the potential to enhance the results of your advertising initiatives.
It is also important to conduct cross-activity checks. Check your app page in the App Store. If it is not optimized and looks bad, paid UA campaigns can lead to wasting your budget, and you won't achieve the necessary results.
Conduct funnel analyses
We also suggest that you perform a funnel analysis to identify any issues that may be hindering users from completing the desired conversion event, such as registration. You should assess the conversion rate at each stage of the user journey and identify any drop-off points.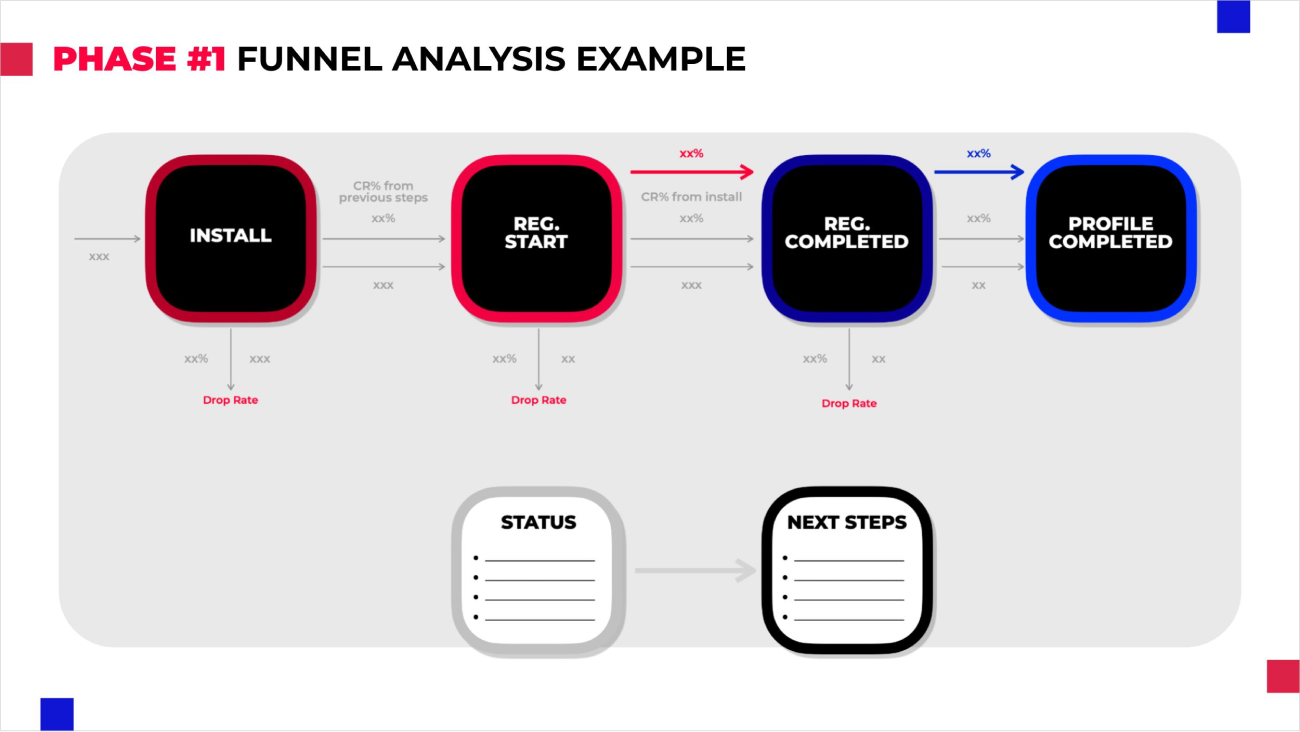 Find out which events are not tracked. You can map all the touch points and color events that are tracked in green and events that are not tracked in red. This will help you to find a clear idea of where you can intervene before starting your campaign.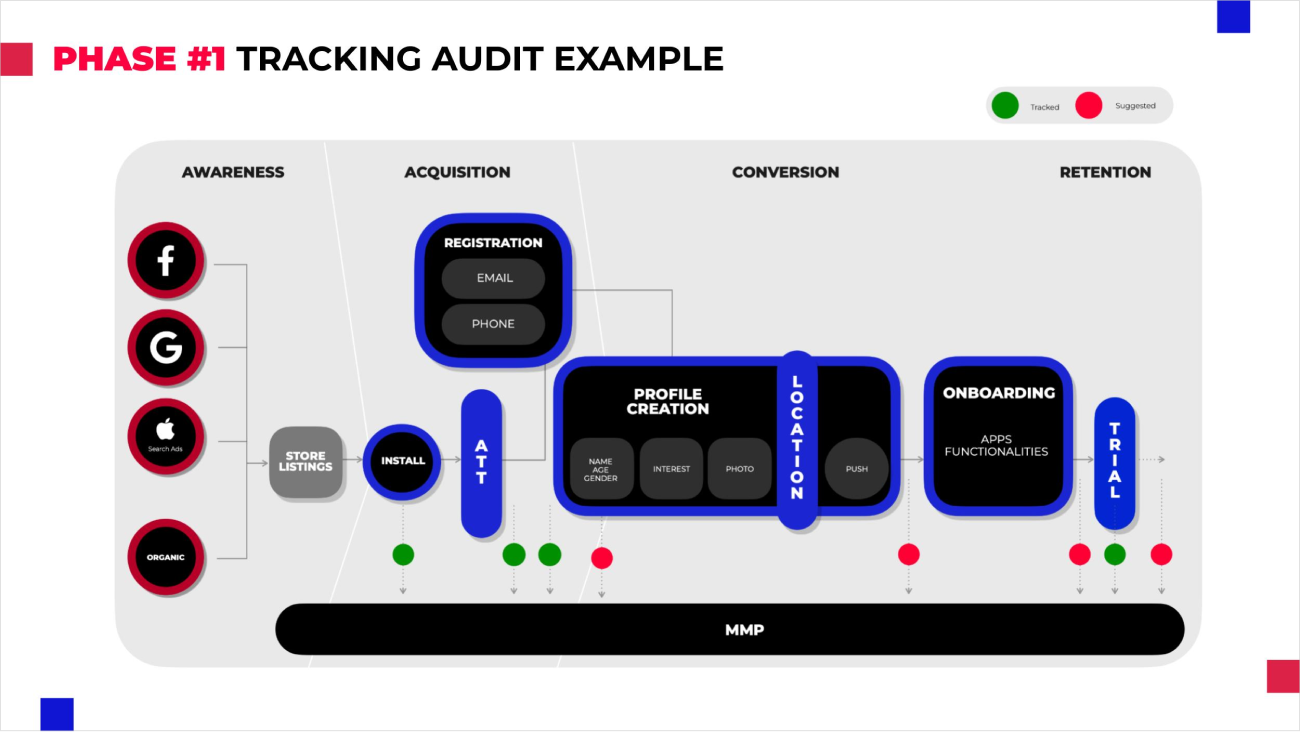 2. Campaign health check
Here we need to answer several questions that are related to ad campaigns:
What has been done in the past?
What kind of messages have you used?
What kind of targeting have you used?
What kind of channels and groups of activities have you used?
Usually, the audit is completed only when you have a clear idea of the status quo. Once you have done this, we suggest you go to the next phase.
3. Creative Formats
During this stage, you need to check:
Messaging
USPs Communication
Missing Opportunities
In the slide below, there is an example of an ineffective ad. The ad's title contains overly lengthy text, and the banner includes even more text, making it challenging to read. The call-to-action headline is truncated, and users cannot read the complete sentence.
The proposition is unclear, and the banners are muddled and confusing. It is difficult to discern what this app can accomplish based on the ad.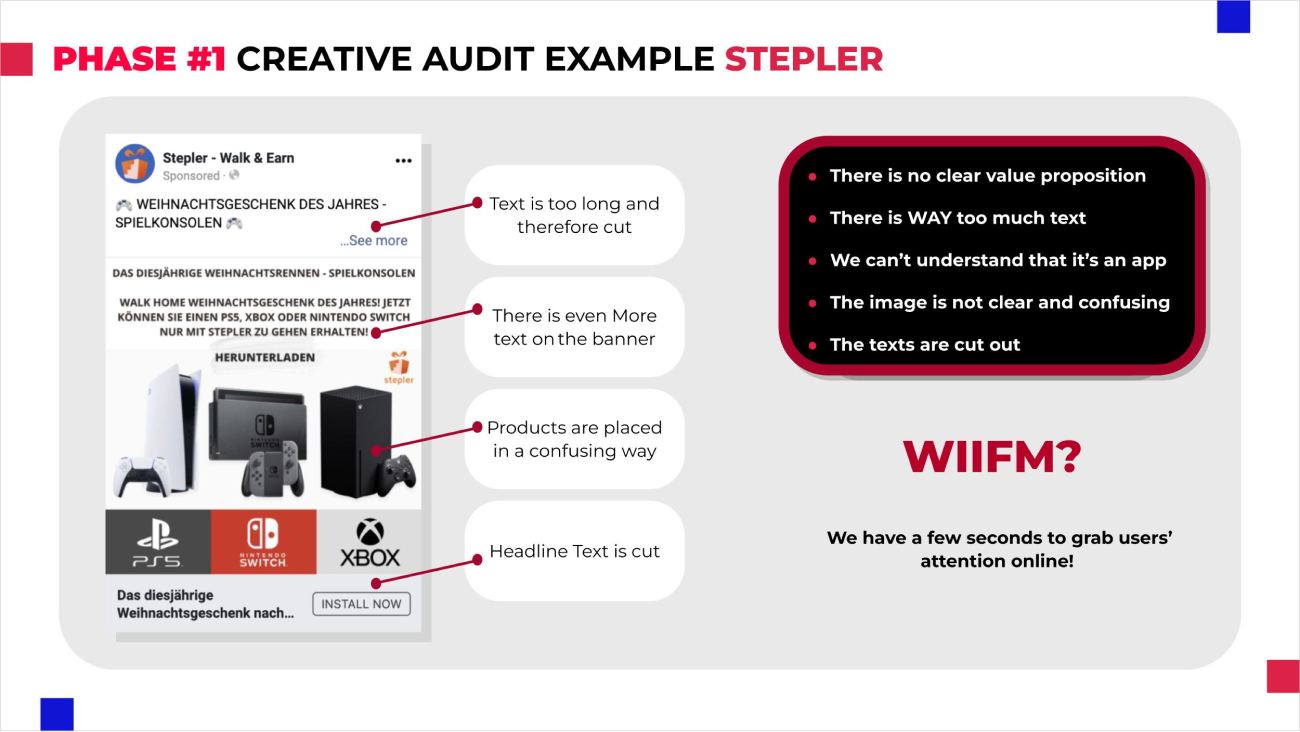 The audit stage is very important as it helps you to understand what is wrong with your ad campaigns and prevents your company from burning through its budget on bad ads.
2. Form an ad strategy for your app
During the second phase, you need to form the best strategy for your UA promotion. Here you should understand the target audience and the best channel to reach it. We should define the creative strategy according to the target audience and the channels we want to use.
This stage is important because sometimes when we start a new campaign for an app, we don't think enough about the target audience and the peculiarity of the channel. These tactics can lead to failure.
Here you need to define your campaign strategy and creative strategy.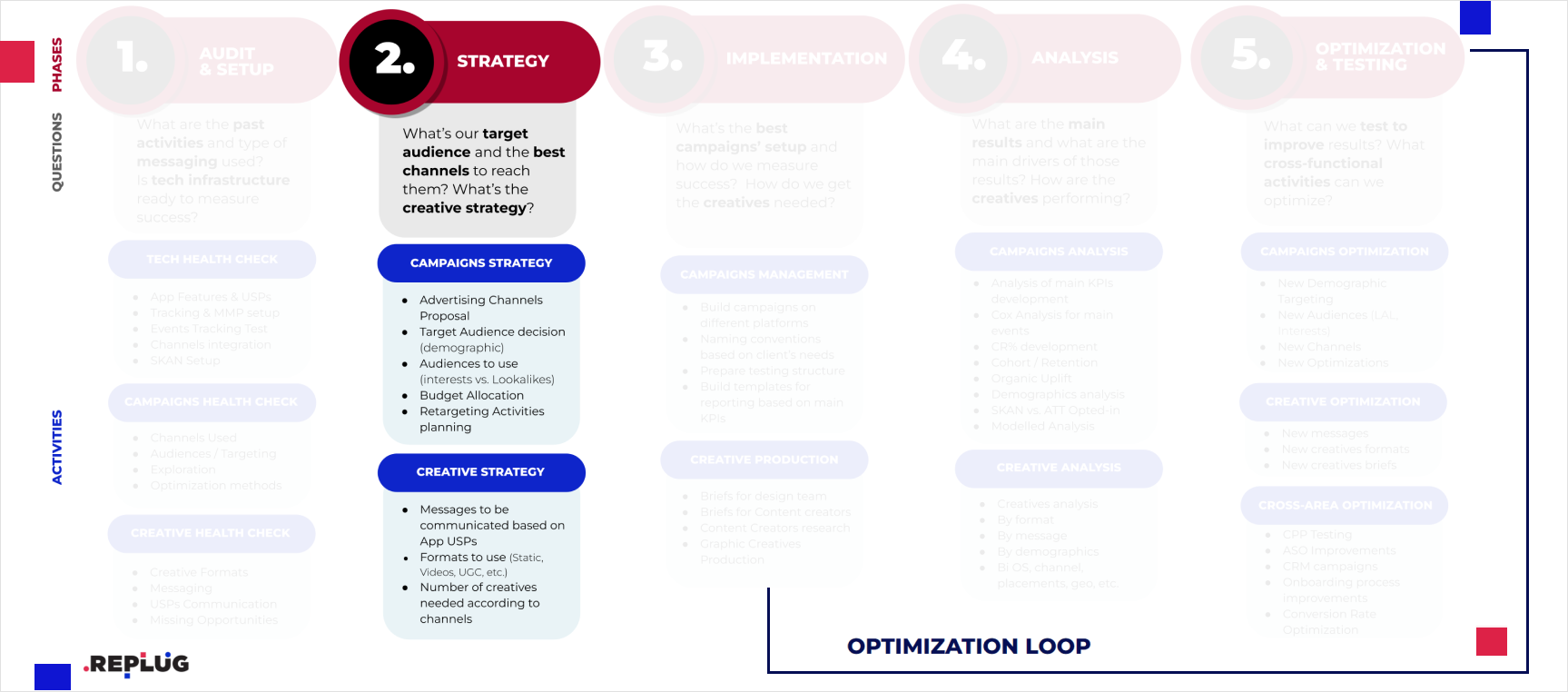 In the campaign strategy, you need to:
Decide on the target audience
Choose an advertising channels proposal
Choose how to reach your audience (for example, with interests or Lookalikes)
Decide on budget allocation
Plan retargeting activities
Plan the best campaign setup based on your goals
In the creative strategy, you have to decide:
What messages to choose based on the app's Unique Selling Proposition (USP). Thanks to the USP, you can differentiate your brand from competitors and boost conversions.
Which formats to use (static, video, etc).
How many creatives you will need for the channel. Your budget will depend on the number of creatives that you use for your app.
When we finish with the strategy phase, we can move to the implementation phase.
3. Implement your UA campaign
At this stage, we need to start our UA campaign. The implementation phase is something that we should pay close attention to. Sometimes, the implementation of an ad campaign can be careless, which can lead to bad results. For example, after the campaign implementation, we can realize that our campaign structure and exclusions are incorrect. That is why for this campaign, it's best to prepare the scaling structure for the future.
The main questions at this stage are: what is the best campaign setup, and how do we measure success? How do we get the creatives we need?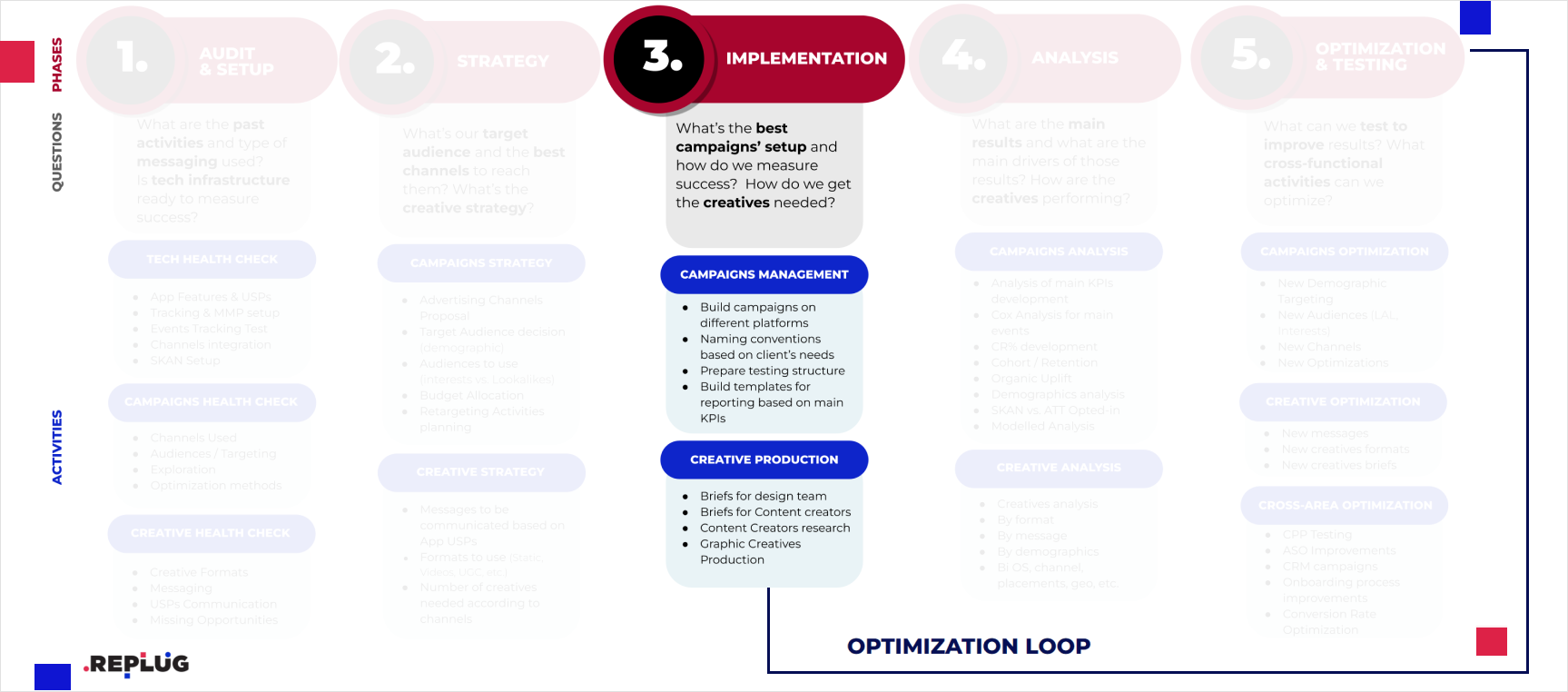 We can divide the implementation phase into two parts:
1. During the Campaign management phase, you need to:
Build campaigns for different platforms.
Establish conventions based on the client's needs.
Prepare testing structures.
Build templates for reporting based on the main KPIs.
2. During the creative production phase, you should:
Write briefs for the design team.
Write briefs for content creators.
Search for content creators.
Create graphic designs for your ads.
We also made a list of strategy and implementation activities that you need to engage in when starting your app campaign. You can see them on the slide below.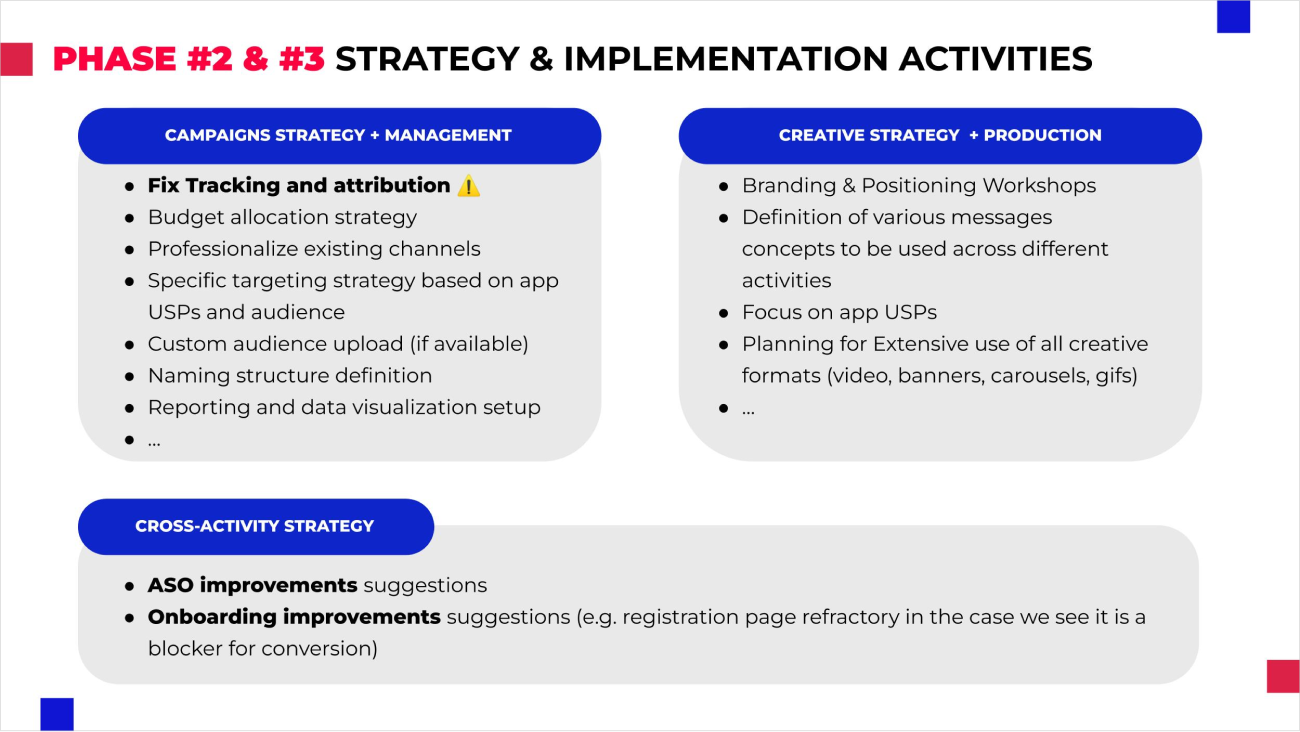 It is also important to choose the right name for your ad campaign. Otherwise, you can get lost in your campaigns. If you change the campaign name after it has launched, your Marketing Measurement Partner won't work, and you will not be able to measure the results.
That's why we always suggest precise names for the channel, country, and device. You can use our naming structure template to choose your app name.

We would like to provide an example of the importance of improving UX/UI before commencing an ad campaign. One of our clients at REPLUG sought to launch ad campaigns aimed at boosting registration. The image on the left displays their original registration page.
We recommended enhancing the registration page by incorporating the option to register using Google, Facebook, Apple, and other accounts. We also included a value proposition to encourage users to register immediately.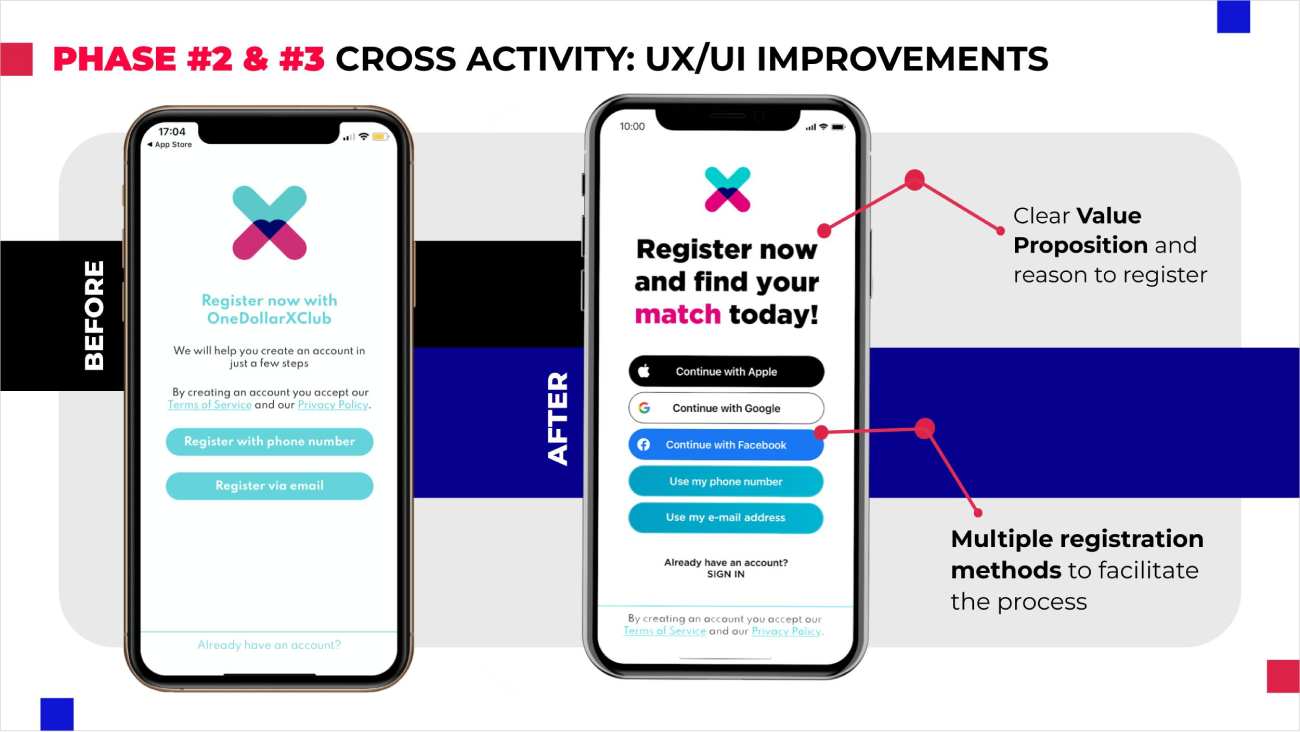 4. Analyze the results of your UA campaign
After the implementation of your ad campaign, you need to analyze the initial results. Here we should evaluate the main results and understand the drivers for those results. You also need to analyze how the creatives are performing.
Here you should answer the following questions:
What are the results of your activities regarding main KPIs?
What drives those results?
How did the creatives perform?
How can we improve current results based on new channels to test, audiences to explore, and new creative approaches to adopt?
What cross-functional activities can be optimized?
The analysis stage's main aim is that you really need to know what is working and isn't working in your ad campaign. We divided the analysis stage into the campaign and creative analysis.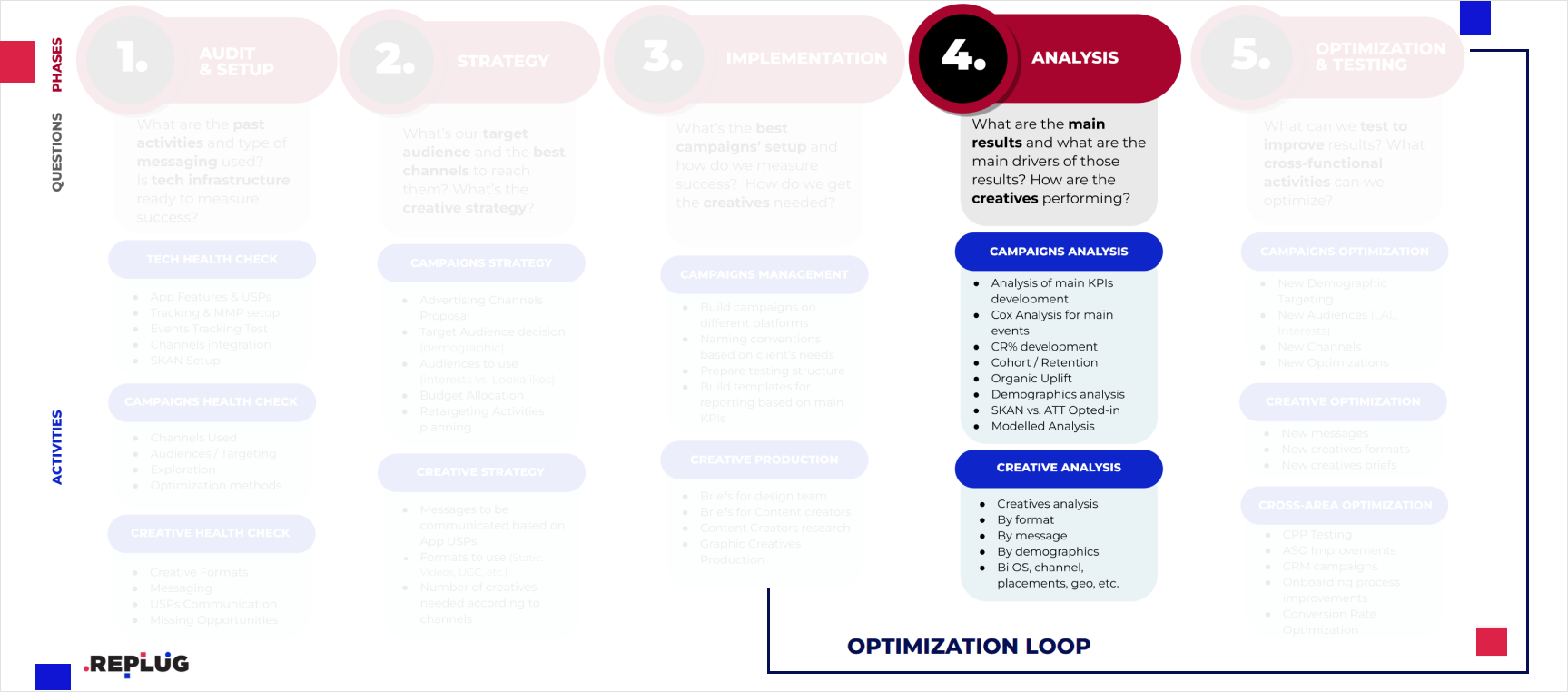 While conducting the campaign analysis, you should evaluate the following:
Main KPIs development
Cox Analysis for main events
CR% development
Cohort/Retention
Organic Uplift
Demographic analysis
SKAN vs. ATT Opted-in
Modeled Analysis
You should analyze your creatives by:
Format
Message
Demographics
OS, channel, placements, geo, etc.
On the slide below, you can see the table we created to find the best concept in terms of banners.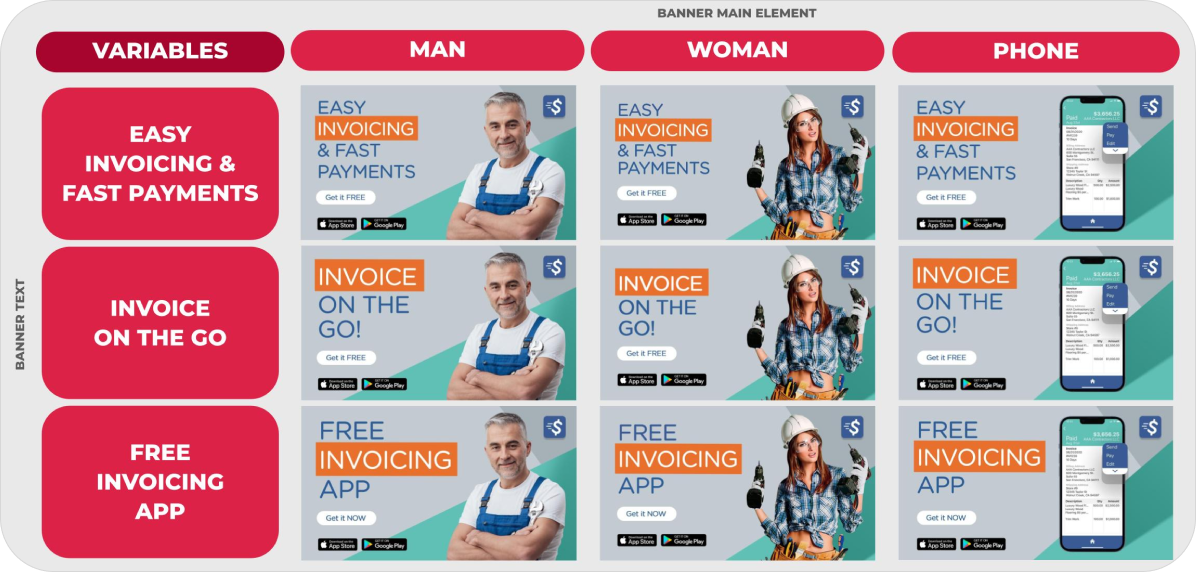 There are three variations of the main elements: man, woman, and phone. On the vertical axis, you see the variations of banner texts. You have nine banners with the same background, button, and call to action. Thanks to this table, you can find out what text and image work better.
After we analyzed our UA strategy, we need to go to the optimization and testing phase.
5. Optimize your UA campaign and test different variations
The purpose of the optimization and testing stage is to find ways to improve the results of your ad campaigns. Here you should also think of what cross-functional activities you can optimize.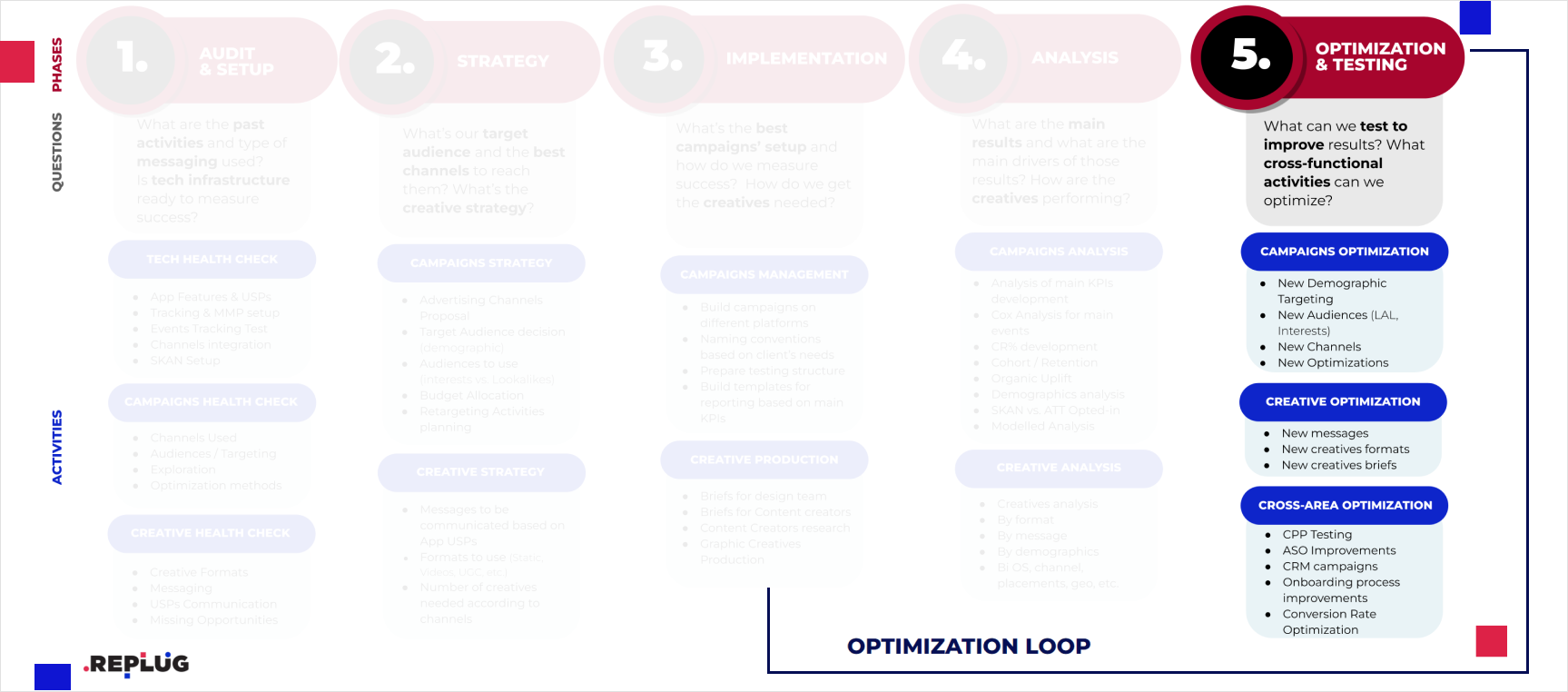 At this stage, you should think about:
Сampaign optimization: test new targeting, audience, channels, and optimization.
Creative optimization: try new messages, creative formats, and briefs.
Cross-area optimization: test Custom Product Pages (CPP), work on ASO, CRM campaigns, onboarding process, and optimize your Conversion Rate.
This is a crucial phase that allows you to explore beyond Paid UA and discover new opportunities that can benefit you.
Cross-activities are one of the best secrets for successful campaigns. You should find ways to combine different app promotion methods, as it can lead to better results for your app campaign. For example, we ran an influencer campaign on Facebook with the girl you see on the left, and we put the same girl on the Custom Product Page.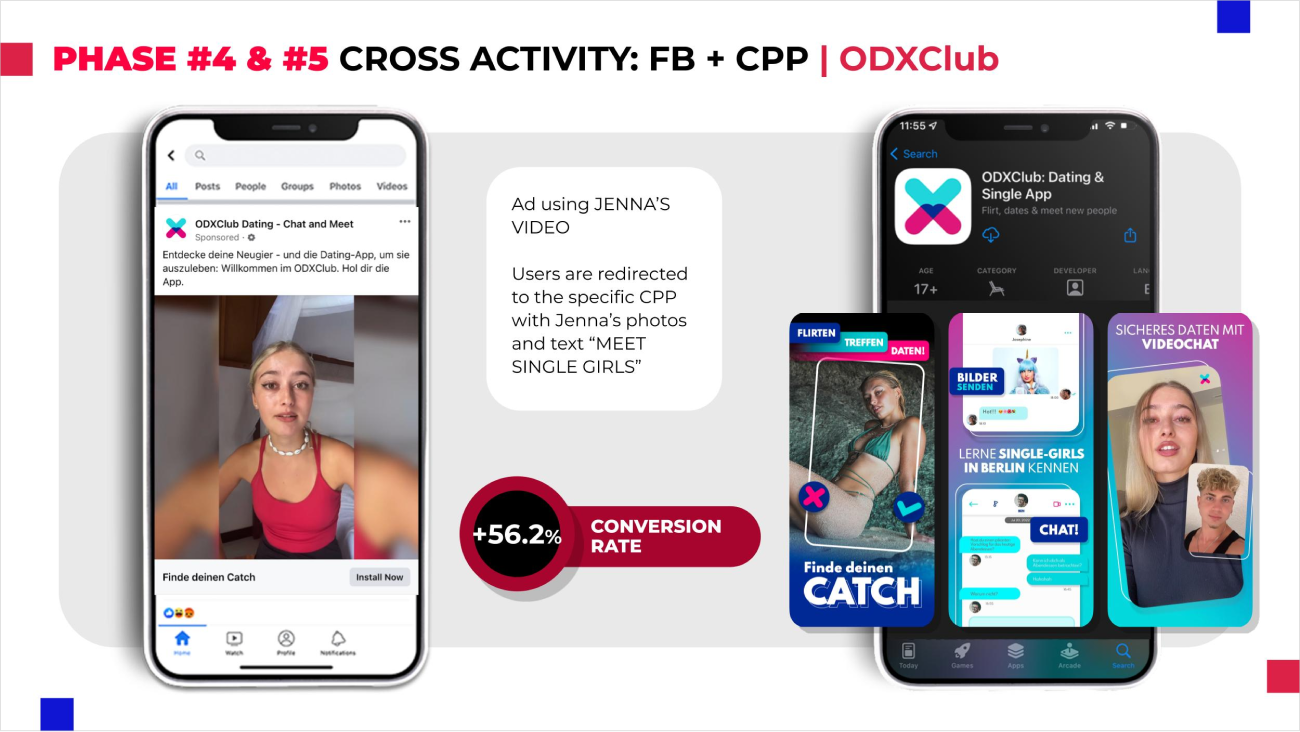 This combination helped us to increase our conversion rate by 56.2%.
With In-App Events (IAP), you can also increase the reach of your App Store page. That is why we tried IAP for ODXC to celebrate Singles Days.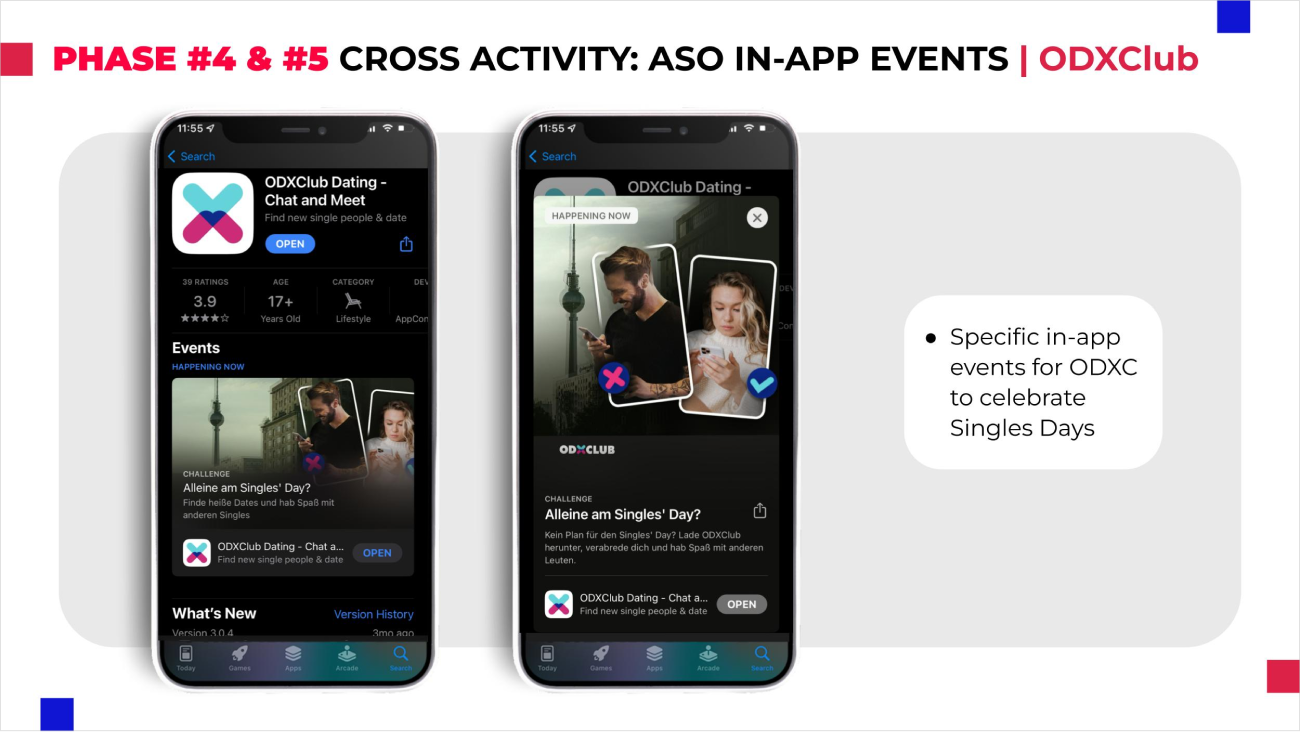 Having a poor onboarding experience can result in a waste of your ad budget and a lower number of registrations. Therefore, it is essential to streamline and optimize your onboarding process. For instance, the onboarding process for Missed App was excessively challenging and not user-friendly.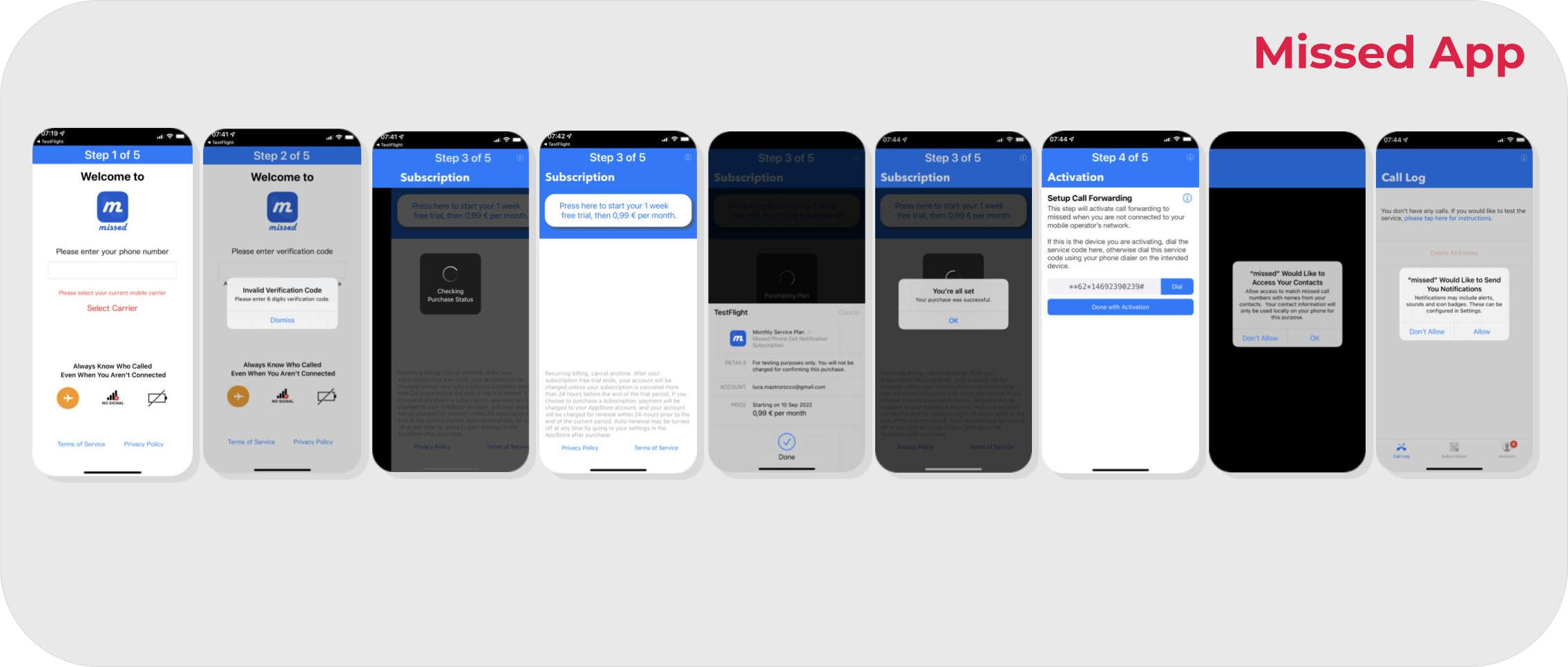 After we made it easier to use, the Missed App start trial rate increased by 37.7%.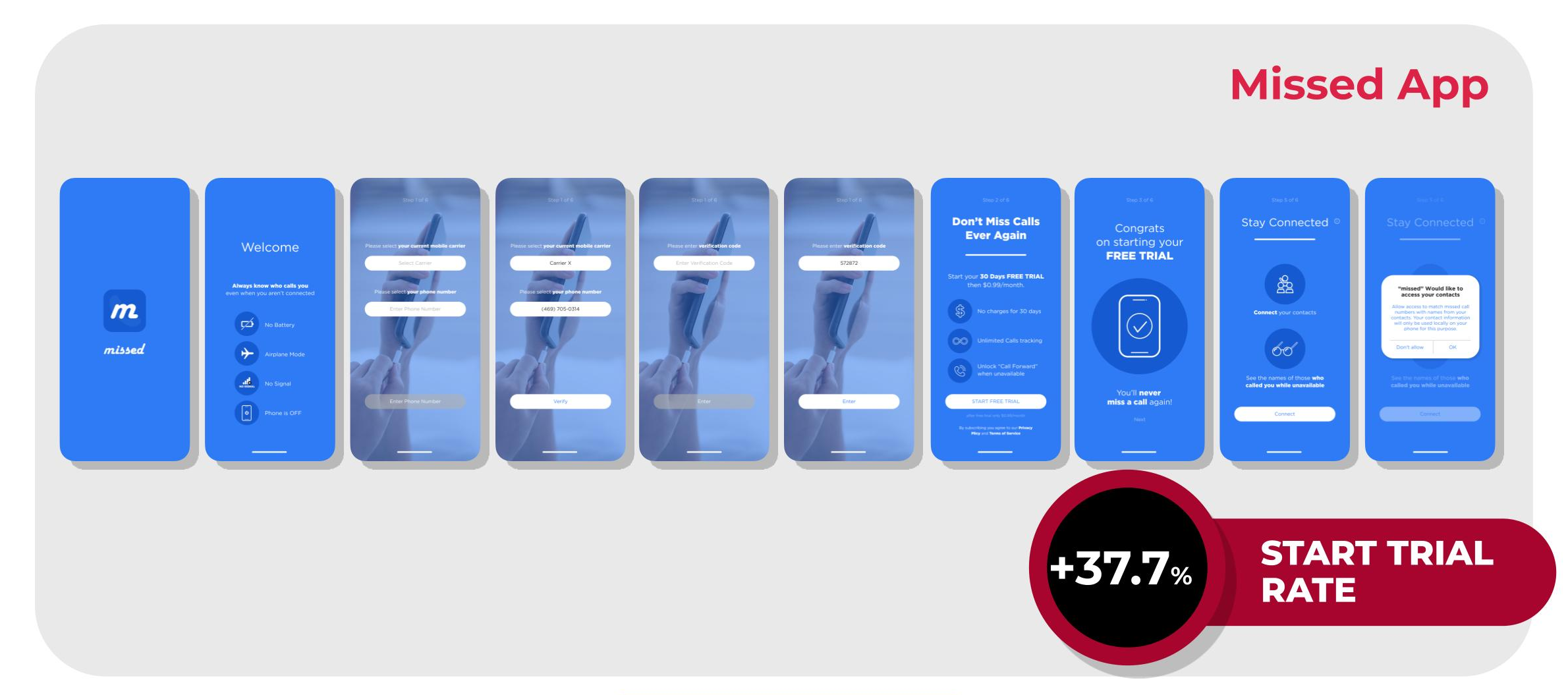 Once you have identified some new tactics to enhance your campaign in the fifth stage, you must return to the third stage and implement them for promoting your app. The third, fourth, and fifth stages form a continuous loop, as the optimization process is perpetual.
DOs and DON'Ts of paid UA in 2023
DOs
1. Ensure Tracking is perfectly set up. You need to be sure that the MMP is set up correctly and that you can test everything.
2. Think Holistic. Paid UA, ASO, UX — everything is connected and can influence the results of your campaign. Read how to increase your app installs with ASO and app advertising.
3. Improve onboarding. It's the beginning of the user journey, and if your onboarding is not user-friendly, you can lose out on registrations. Read how to increase your app subscriptions in this article.
4. Repeat testing. You should always search for how to improve your ad campaign.
DON'Ts
1. Don't put all your eggs in one basket: diversify your channel strategy. Read more about this in Thomas Petit's article.
2. Don't reject any promotion methods: in 2023, to grow efficiently, you need to fit all the pieces together. For example, you shouldn't think that your app doesn't need Custom Product Pages. Rather find ways to test this method.
3. Don't stop refreshing your knowledge: keep on learning! For example, you will need to change the way you measure your ad campaigns with your SKAD 4.0 again.
4. Don't be scared to try! Our work looks complicated, but you will quickly understand it if you start using it for your app.
We hope this article will help you improve your app's paid UA strategy. Subscribe to Asodesk's newsletter to receive our news digest and the top articles on ASO, app marketing, and reviews management.