NEW Keyword Analytics: save 70% time on ASO
Katerina Belohvostova
kb@asodesk.com
ASOdesk Marketing Manager. She is behind all the rough work on social networks, blogs, newsletters, webinars, and ASOdesk Academies. Event organizer of ASO Wine Time and ASO Fuckups. Lovingly solves all your issuies at our events ?
All articles by author
Published: 16.04.2020
Updated: 10.09.2020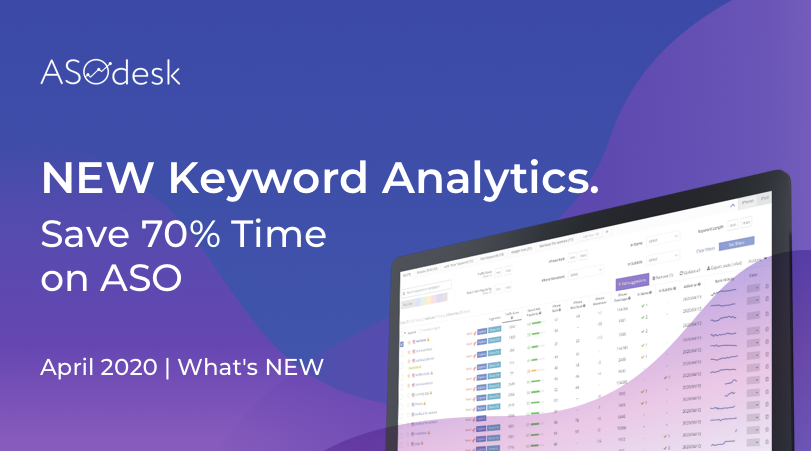 We are proud to introduce a new Keyword Analytics table that allows you to save up to 70% of the time you spend on keyword research and monitoring changes. You will find the new data such as Best Rank, In Name and In Subtitle, Rank History, Tabs, Professional Filters, Keyword Notes, Advanced Keyword Suggestions, just to name a few.
New Keyword Analytics Table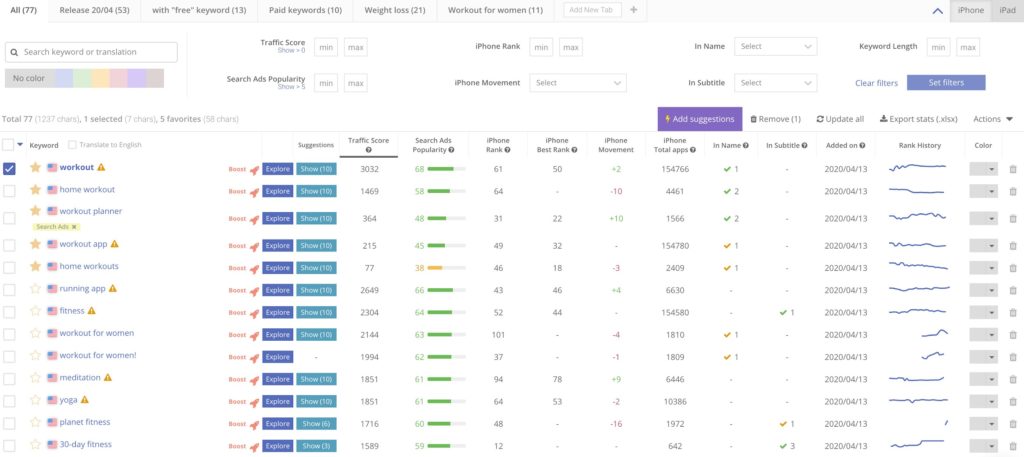 The new data in Keyword Analytics table now is available for the most efficient work:
Best Rank stands for the best rank of application for a certain search query in the country for a specific period. This is to evaluate the long-term effectiveness of your ASO strategy.
In Name / In Subtitle / In Short Description are indicators showing if there is a search query in the Name, Subtitle or Short Description (Google Play) of your application. Search queries containing words from these components have more chances to reach top ranks.
Rank History is a history of your application rank for a search query for a selected period. This will help in quick monitoring of rank for search queries over time.
Search Ads Popularity now has a color indicator for the quick evaluation of a search query's' relevant popularity.
Tabs

Now Tabs are available in the Keyword Table. With them, you can group your saved keywords by various criteria, for example, to separate keywords from the same semantic group "workout for women" or "weight loss", paid queries for Apple Search Ads, and to conduct keyword research for a certain release of your application.
Favorites

You can mark important keywords with an asterisk. These keywords will always be at the top of the table and you can always filter the table only by your favorites. Nothing important will be lost anymore!
Professional Filters

In the new release, we have added Professional Filters for working with search queries. For example, if after the next ASO text iteration, you want to analyze those particular queries pushing your app up and containing "workout", the filters will help you to find such queries.
Advanced Keyword Suggestions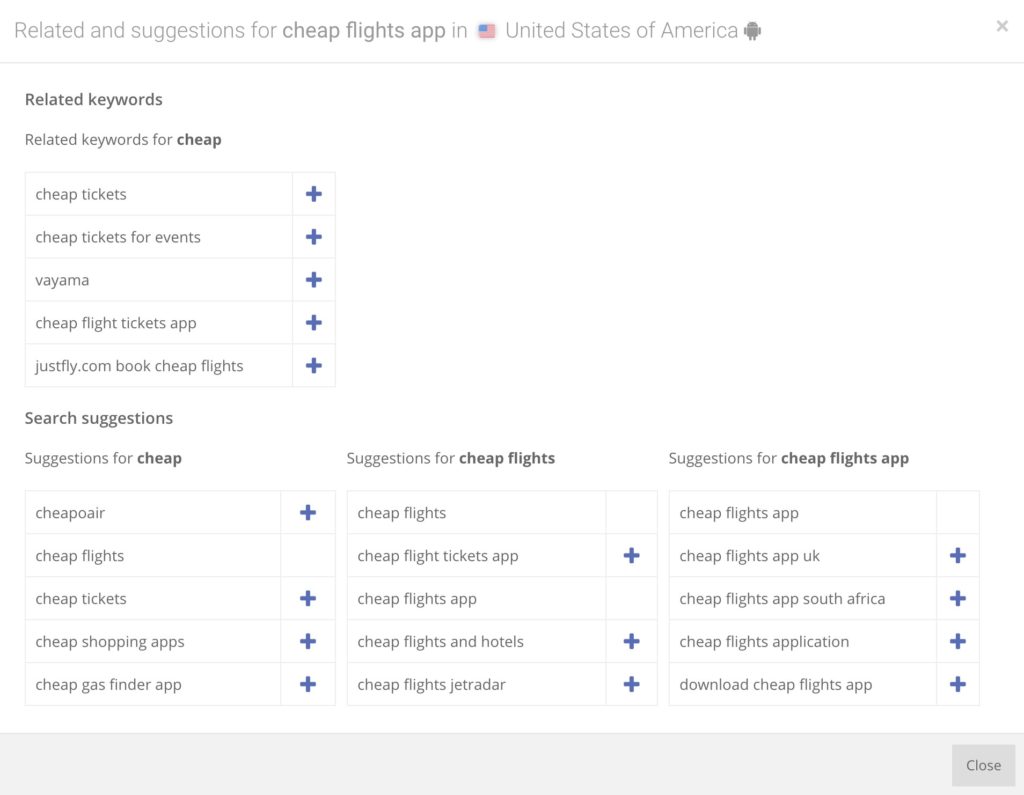 Now, while viewing Keyword Suggestions for each word, you will see more suggestions. For example, for a query "cheap flights app" you will also see suggestions for "cheap", "cheap flights" and "cheap flights app" from the same perspective as a user can see when he enters a search query in the App Store or Google Play. And for Android, we have added Related Searches — keywords recommended by Google Play in search results. Now the keyword research process will take less time.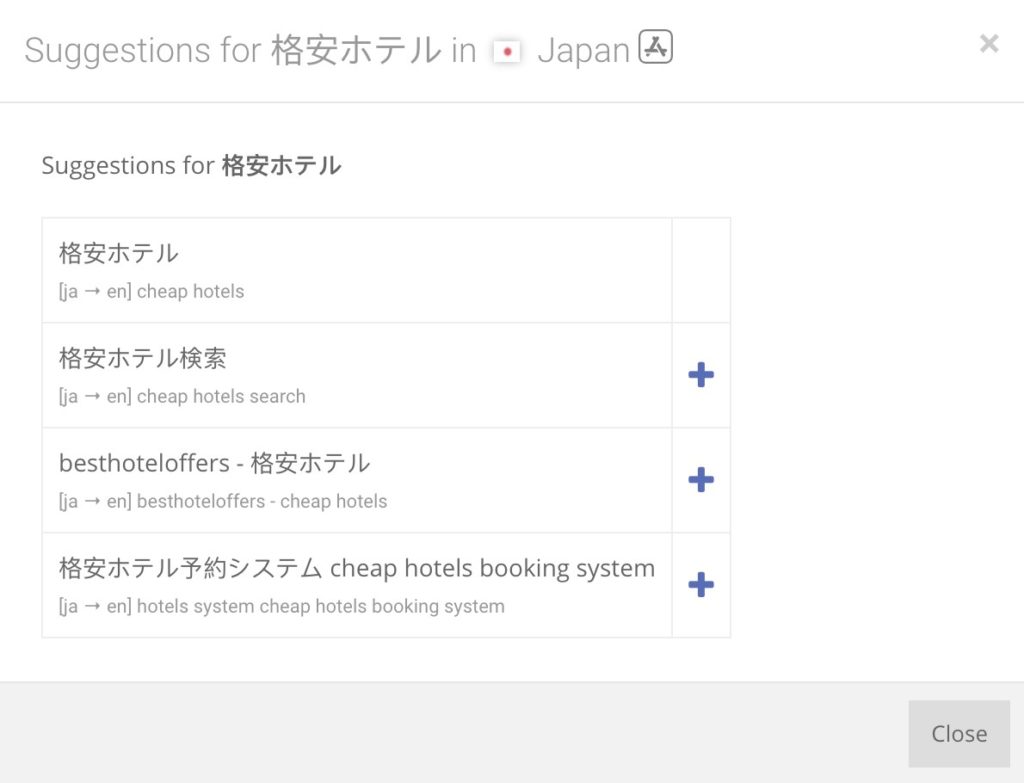 All keyword suggestions are translated into English automatically.
Smart Search

When you make ASO translation into languages you don't know, it is extremely important to have the option to select only those keywords that are relevant to your application. We have added the possibility to search not only by original search queries but also by translations into English. In the image above, you can see a search by original queries in Japanese that include the word "hotel" when translated.
Smart Checkbox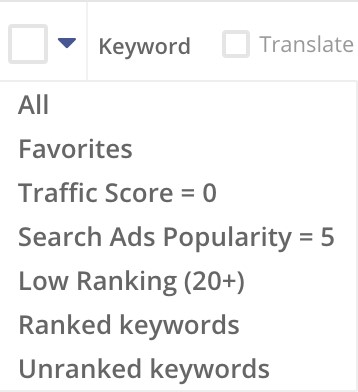 We have added the ability to quickly select keywords for your further work. For example, you can quickly select keywords with Traffic Score = 0 to delete them or to select keywords by which your application is not ranked to transfer them to a separate tab for further work.
Keyword Notes

Now you can add a text note for each keyword. For example, a note that this is your competitor's brand request.
Custom Traffic Score

In the new release, we have made it possible to mark the Traffic Score values. For example, if you think that Traffic Score ASOdesk forecast differs from yours, you can always place a mark next to the value.
Magic Button 'Add Suggestions'

To help you in the keyword research process, we have created a "magic" button — Add Suggestions. Every time it adds new keywords you haven't found yet.
What Remained
Translation

All keywords are automatically translated into English indicating the original language.
Colors

Keywords in the table can be marked with color.
Update Rank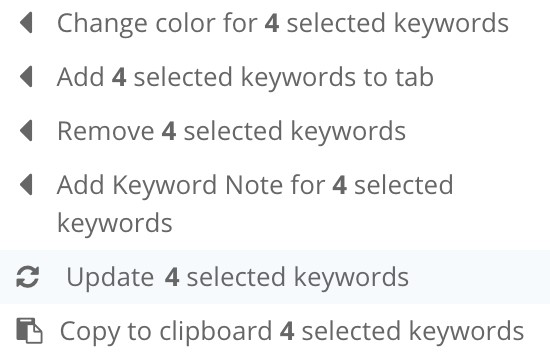 You can compulsorily update ranks for all keywords.
Previous updates
NEW Organic Report & January Update & NEW ASO Comparative Report