ASOdesk global update and advanced tools for replying to reviews
Sergey Sharov
ss@asodesk.com
Co-founder of ASOdesk and Angle Connect Agency. In ASO since 2013. Creator of the ASOdesk Academy, author of courses, Knowledge Base, certification and testing programs, organizer of ASO Wine Time, and ASO Fuckups events.
All articles by author
Published: 10.12.2020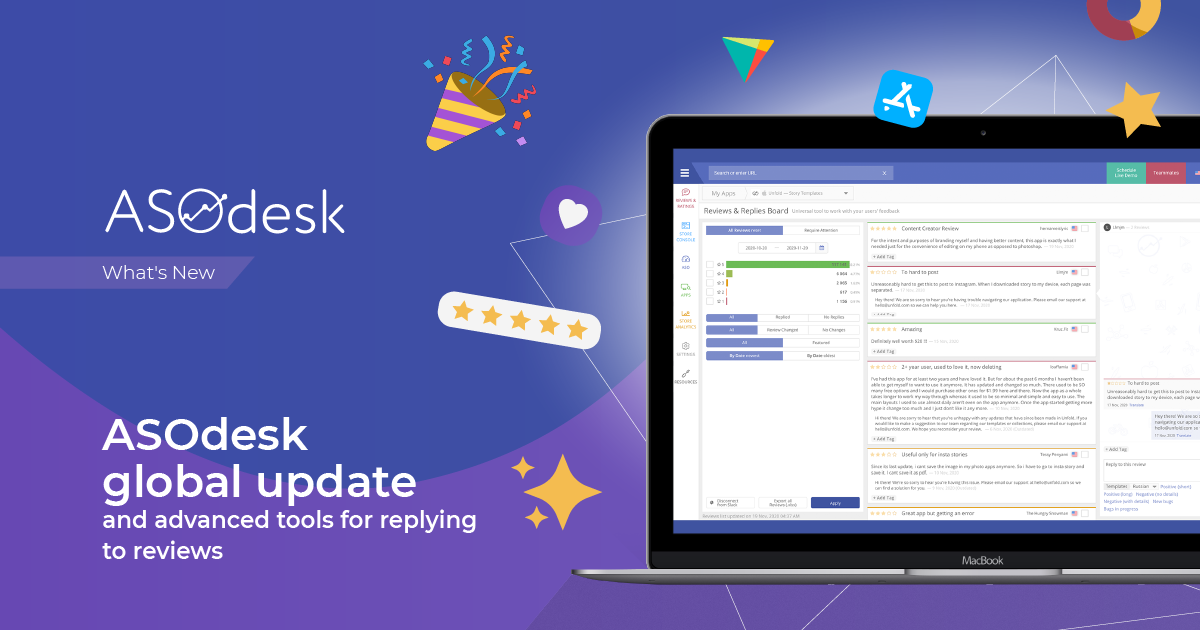 We would like to share with you a significant milestone in the history of our product development — a global update of the entire ASOdesk platform, and the emergence of new tools for working with reviews in the App Store and Google Play. Let's start from the beginning.
Initially, ASOdesk was focused on solving all ASO tasks: from building a semantic core to assessing the frequency of search queries with users. We started in 2015 and revolutionized the field by creating over 30 professional tools for ASO professionals, both paid and free.
Then we realized that our products are used not only by ASO specialists, but also by marketers, product managers, and support specialists, who constantly have requests that go beyond ASO.
To enhance the capabilities of the system and make it useful for all types of users, we needed to completely review the product and think through our next steps. It took a lot of time and effort, but we made it. ASOdesk, with new and improved navigation and tools for working with reviews, is already available in beta.
New navigation and significant performance boost
We have completely changed the navigation in ASOdesk between tools and applications, keeping all the basic app-first principles. It will be easy for you to return to the application from any tab of the system.
ASOdesk now has the function of selecting a country from search. Now it is easy to switch to any application from any page, as well as inside the My apps folder.
Thanks to this transition to the latest technology, the ASOdesk system works even faster.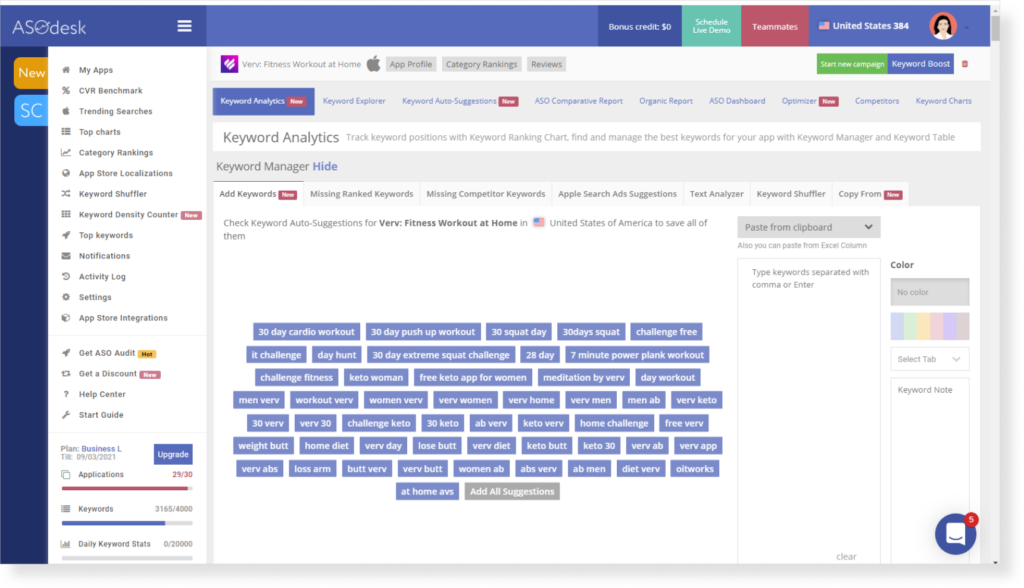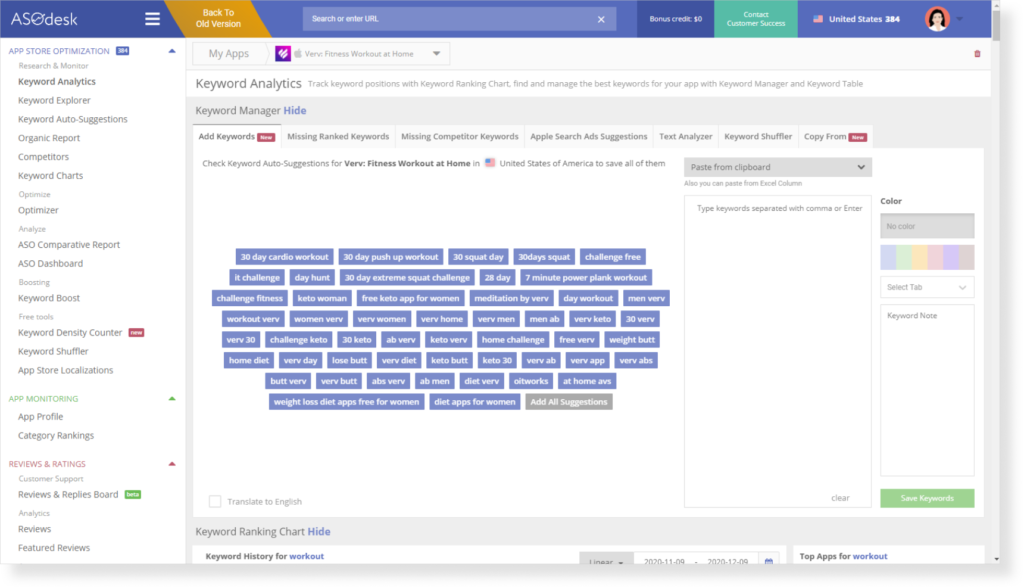 Now using the platform will be convenient for everyone: ASO-specialists, marketers, support specialists, product managers, etc.
Analytics of reviews and Replies to Reviews tools
Many clients wanted ASOdesk to have instruments for working with reviews. We made advanced tools that allow you to respond to reviews using ready-made templates, work with all applications from the App Store and Google Play in one interface, use filters and tags to sort reviews, send complaints, receive regular reports, and track reviews from 100 countries. This way, you will save your technical support department time and increase customer loyalty.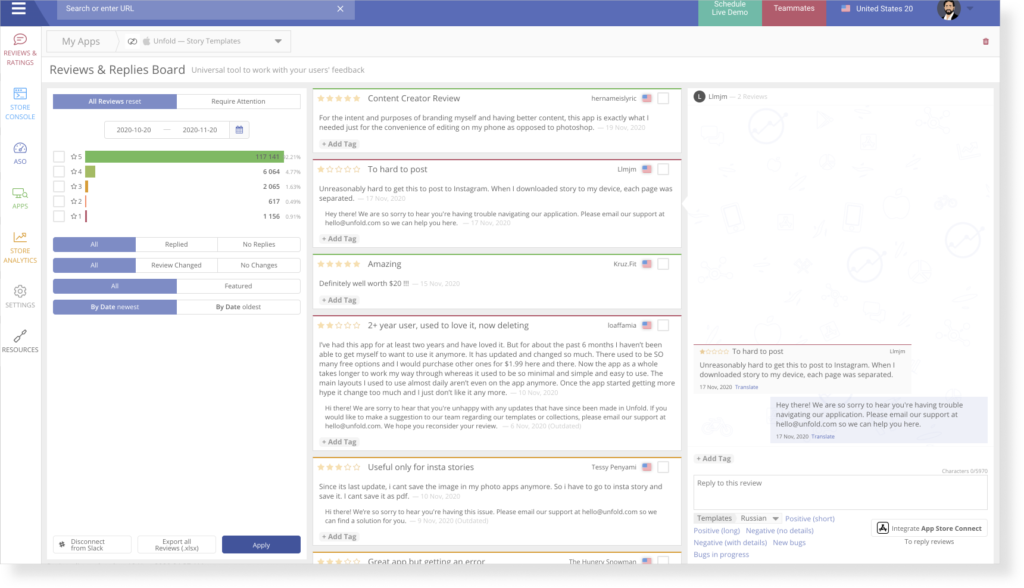 Analytics and Replies to Reviews tools make your work easier and faster because of:
1. All applications in one interface. Integrate an unlimited number of App Store Connect and Google Play Console accounts, and work with all applications in one interface.
2. Ready-made templates in 10 languages. We have created templates for replying to various user questions, as well as both positive and negative reviews. You can also create your own templates, divide them into sections and subsections, and reply to reviews in a few clicks.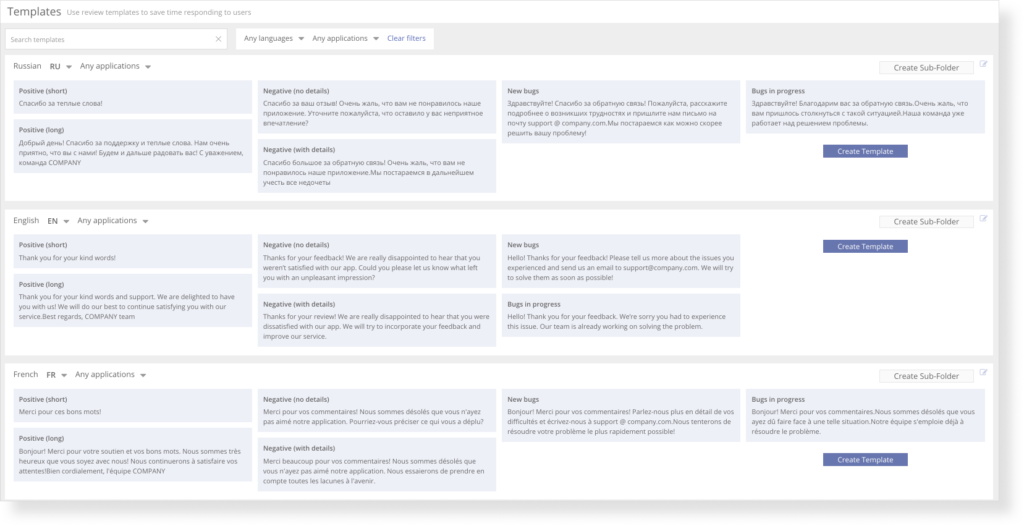 3. Tags for convenient analytics. With this feature, you easily can organize your reviews, which will simplify the process of analyzing them and help you ensure you don't miss any important insights.

4. Advanced filter capabilities. For example, with the Require Attention filter, you can highlight those reviews that require special attention.
5. Bulk actions. With the help of this feature, you will save time and be able to perform the necessary actions simultaneously with a large amount of data.
6. Full support of the Report a Concern feature on the App Store Connect and Google Play Console within a unified interface. The bulk action feature allows you to report a large number of reviews in one click.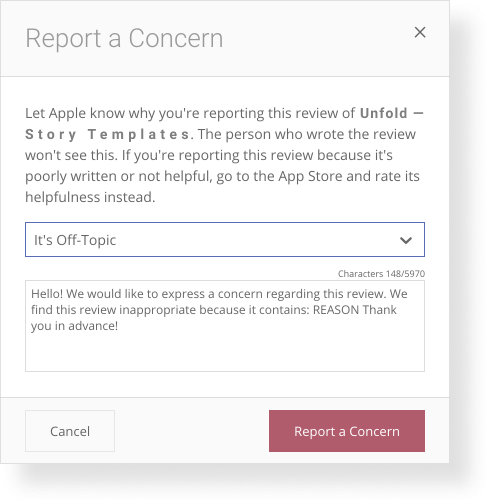 7. Export reviews. You can export reviews in an Excel file.
8. Featured Reviews tab. Explore all featured app reviews in 100 countries on one page.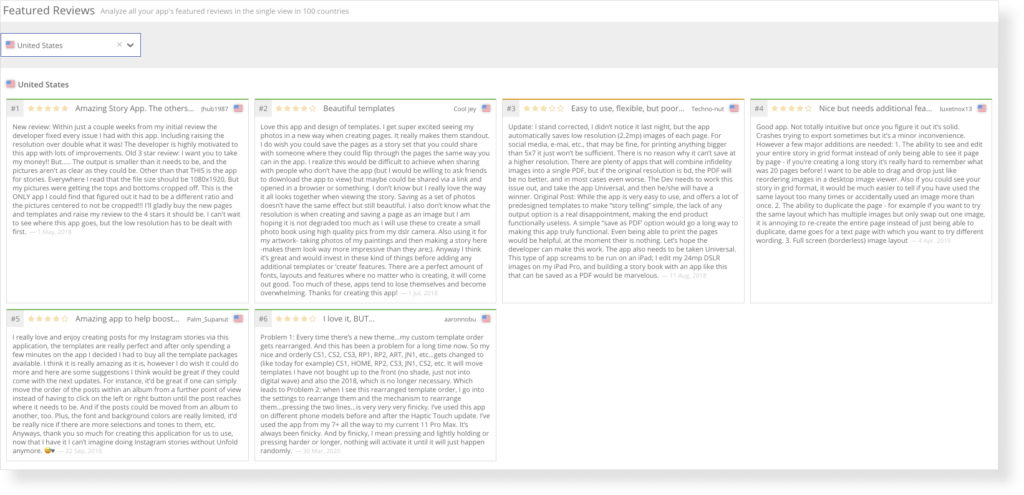 9. Reports on new reviews. Get daily and weekly reports in Slack so you don't miss a single review.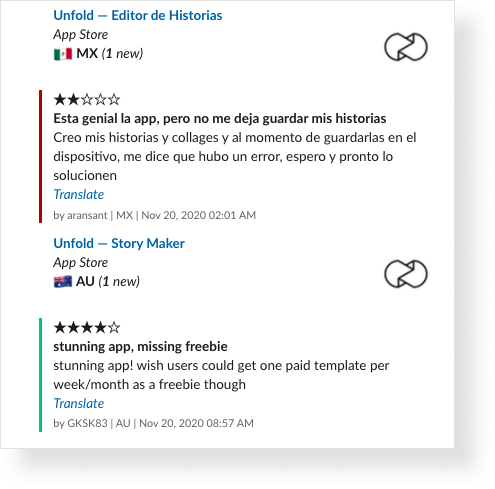 Read more about the functions of these tools here.
Take part in unlimited beta testing
For the next 2–3 months, the new ASOdesk will work in beta format. To gain free access to the new tools for working with reviews, you need to submit an application. We will gradually connect all users. You will have unlimited access to all tools, with no limit on the number of replies to reviews.
Upon expiration of beta testing, we will provide all participants with a personalized plan that will be much more affordable than the standard rates.
We continue to refine ASOdesk and we will take your feedback into account. Please leave your feedback and suggestions for improving user friendliness of the new system and tools for working with reviews. Share your thoughts with ASOdesk support through the Intercom window in the lower corner of the screen or follow this link.
The current version of ASOdesk will continue to work as well. You can go to the updated version, or continue working through the old one. New ASO tools will be available in both versions. We have also recently released the Optimizer tool for working with textual metadata, the Keyword Auto-Suggestions tool, and a referral program through which any ASOdesk user can receive bonuses.