A Quick Way to Make ASO on Other Languages
Katerina Belohvostova
kb@asodesk.com
ASOdesk Marketing Manager. She is behind all the rough work on social networks, blogs, newsletters, webinars, and ASOdesk Academies. Event organizer of ASO Wine Time and ASO Fuckups. Lovingly solves all your issuies at our events ?
All articles by author
Published: 05.02.2020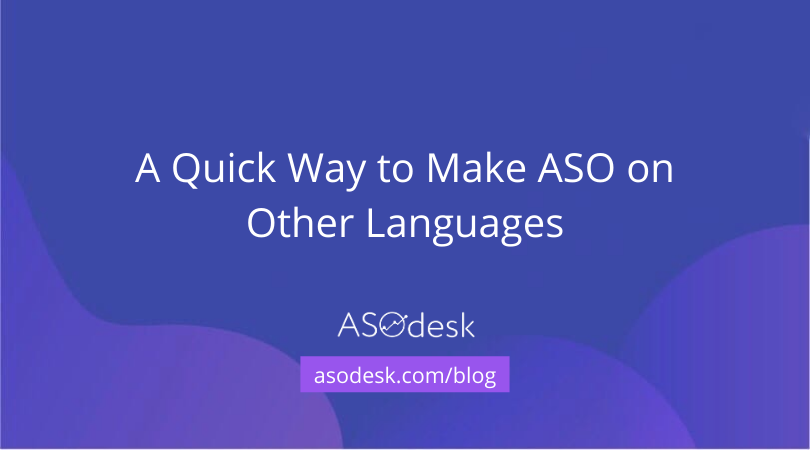 Entering new markets could be one of the possible growth points for your mobile applications. For a competent new market entrance, it is crucial to conduct localization not just for the texts within the app, but also for metadata that is available on the app store page.
In most cases, a local language isn't native to us. This is why the localization of even indexed metadata can take quite a lot of time. It's hard to understand what a particular search query means. Indexed metadata is text fields taken into account by the search algorithm when it's ranging your application. In the case with the App Store they are Name, Subtitle, and Keywords, whereas in the case with Google Play they are Name, Short Description, and Description.
What is the difference between collecting a semantic core in a language you know and doing the same in a language that is new to you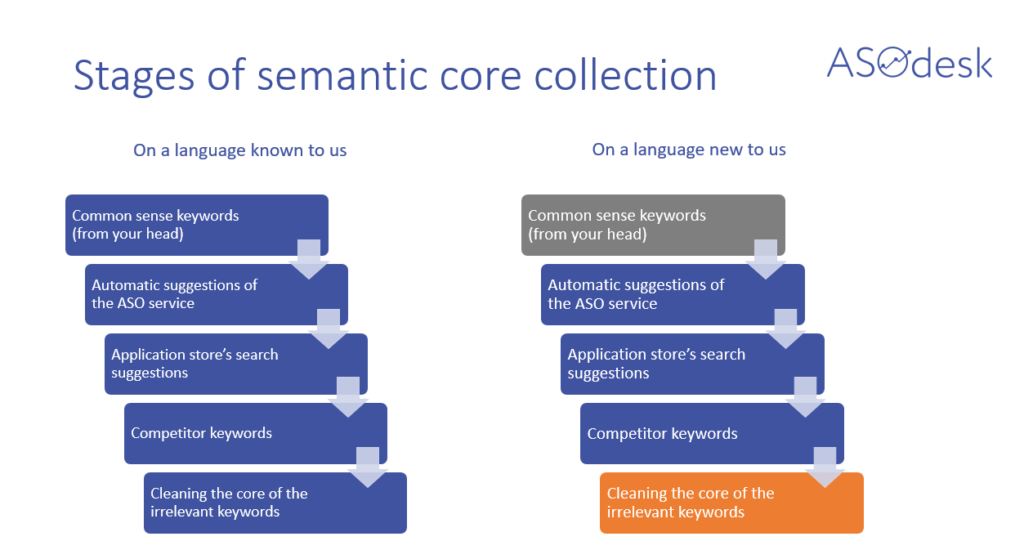 When we start collecting a semantic core on a language that we know, at the first stage we select keywords based on common sense — that is, we contrive keywords taking app's functionality into account. For example, when localizing Skyscanner in Russia, you instantly think of such keywords, as авиабилеты (air tickets), купить авиабилеты (buy air tickets), авиабилеты дешево (cheap air tickets), and so on. Based on these keywords, you can look for keyword suggestions and for competitors for further analysis. In case of working with a language that is new to us, it's rather difficult to select such keywords.
The second difference appears on the stage of semantic core cleaning of irrelevant keywords. One of the ways to determine keyword relevance is also common sense. This, however, requires you to understand a keyword's translation. We don't recommend to use just this one way. For a guaranteed determination of keyword relevance, you must check the top of the search results – what applications with what functionality take the top spots.
One of the ways to solve this is to use a tool that recommends a large amount of keywords on a local language for further work during the first stage and that provides automatic keywords translations on the local language during the core cleaning stage.
Today we are going to show you a quick way of creating a semantic core for other languages. We are going to use Skyscanner iOS in Japan as an example.
Stage 1: Search for queries
If we take a look at localizations used in the Japanese App Store, we are going to see Japanese and English US. This means that in Japan's case, the language that can primarily cause us trouble is Japanese. Here you can always check what localizations are used in each available country in the App Store.
In order to solve this issue, we have created a number of tools that help to quickly create a semantic core in a language that's completely new to you.
Step 1: Automatic ASOdesk Suggestions
Let's add Skyscanner iOS, open Keyword Analytics->Keyword Manager in Japan as country, and as soon as we do it, we can see 50 automatic suggestions from ASOdesk right away.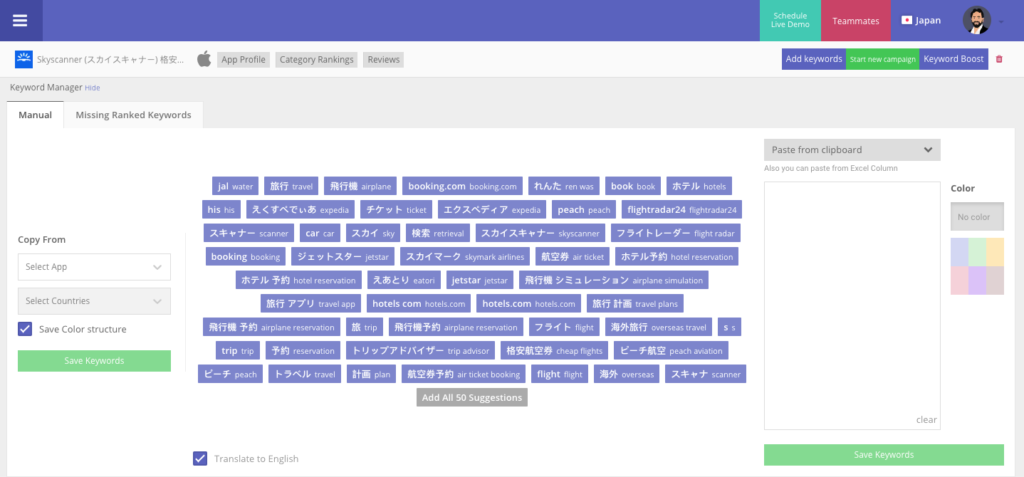 The most important thing here is that these suggestions are accompanied with an immediate automatic translation into English — you just have to tick the Translate to English below the suggestions. Automatic translation allows you to choose only those tips that are relevant to your app and save them in your table. This helps save a lot of time at the stage of semantic core cleaning and doesn't let you spend more tariff plan limits in your account than you need.
The second and same in importance aspect that helps significantly reduce the time spent on ASO is that the suggestions are constantly automatically renewed. For example, if you click Add All 50 Suggestions, you are going to see the next 50 suggestions in the next moment. Thereby, you get 150-200 relevant keywords in the local language in just 3-4 clicks.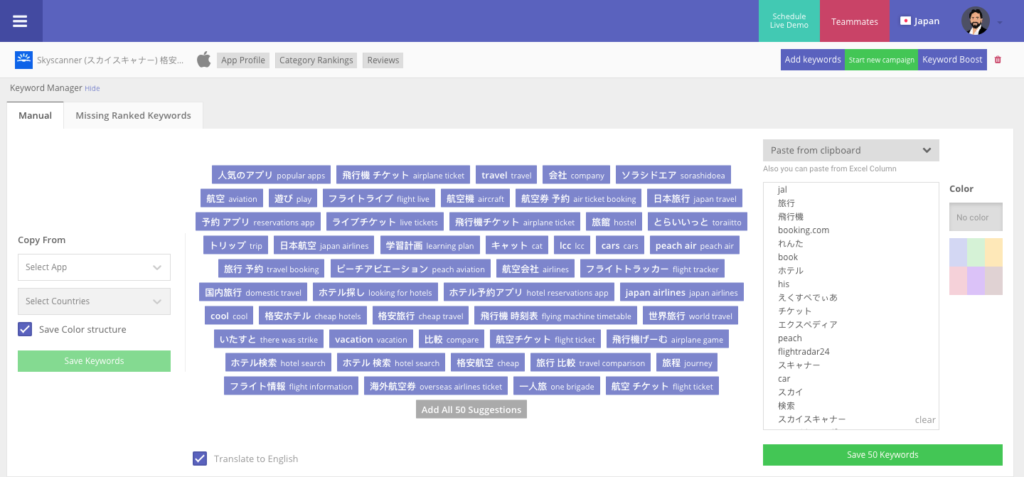 Now we just have to press the Save keywords button and the keywords are going to be saved into the table below.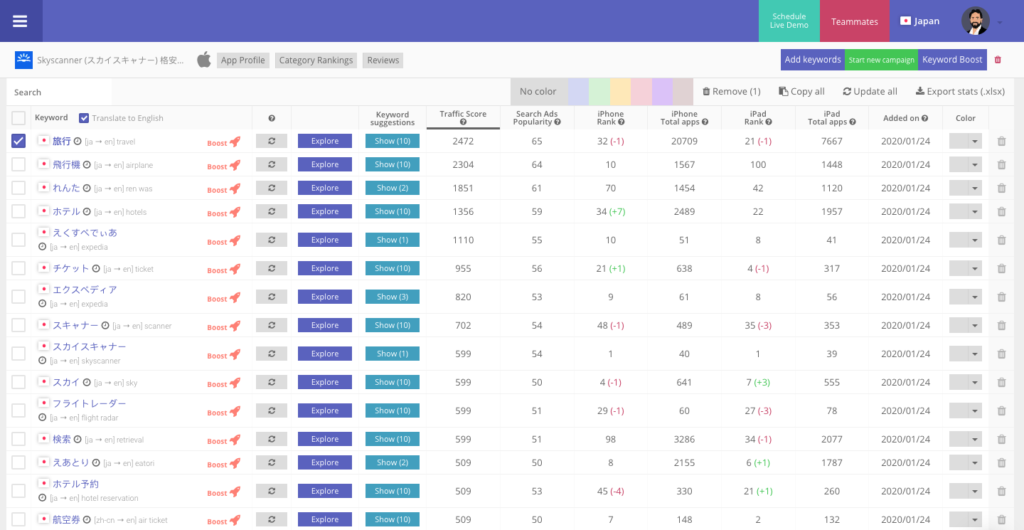 Step 2: Missing Ranked Keywords
Keyword Manager has the Missing Ranked Keywords tools that shows keywords, in which your app is ranged in a given country, but that you haven't yet saved for yourself. These queries are divided by ranging categories — keywords by which your app is Top 1, Top 2-5, and so on.
It's important that this tool allows you to filter keywords by Traffic Score popularity and by Apple Search Ads Popularity at the stage of keyword selection before saving them in the table, which allows no wasted time when cleaning the core from null keywords.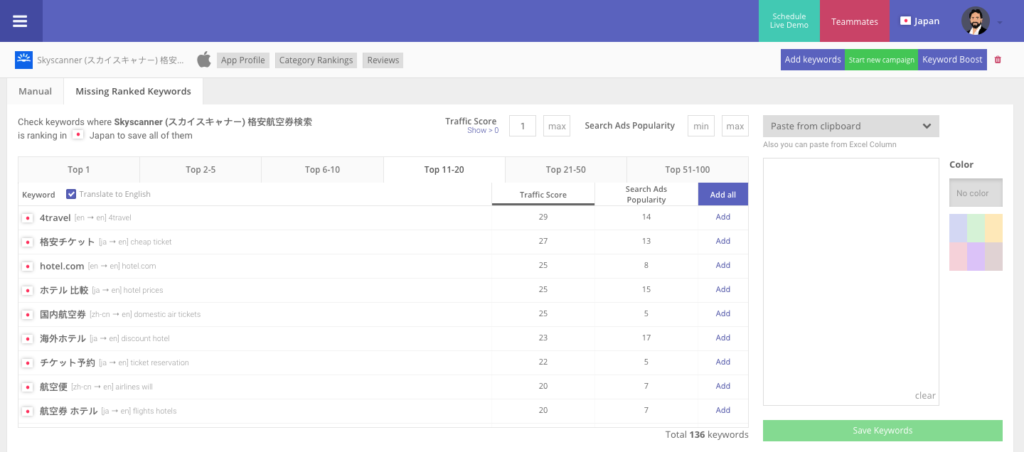 Automatic English translations are available in the Missing Ranked Keywords, too. This helps to save only the relevant keywords for your app, which also helps you to save your valuable time.
Step 3: Competitor Keywords
During this iteration it's important to find keywords, by which your competitors are ranged right now or have been ranged previously. A part of these keywords are going to be relevant to your application. In fact, we see Missing Competitors Keywords, because if a keyword hasn't been saved by you previously, it's going to have a "+" in the rightmost column for keyword saving.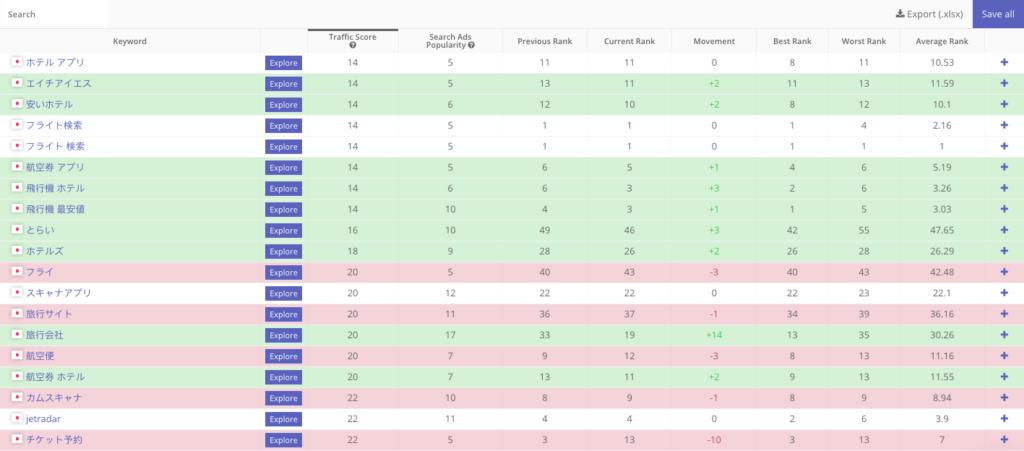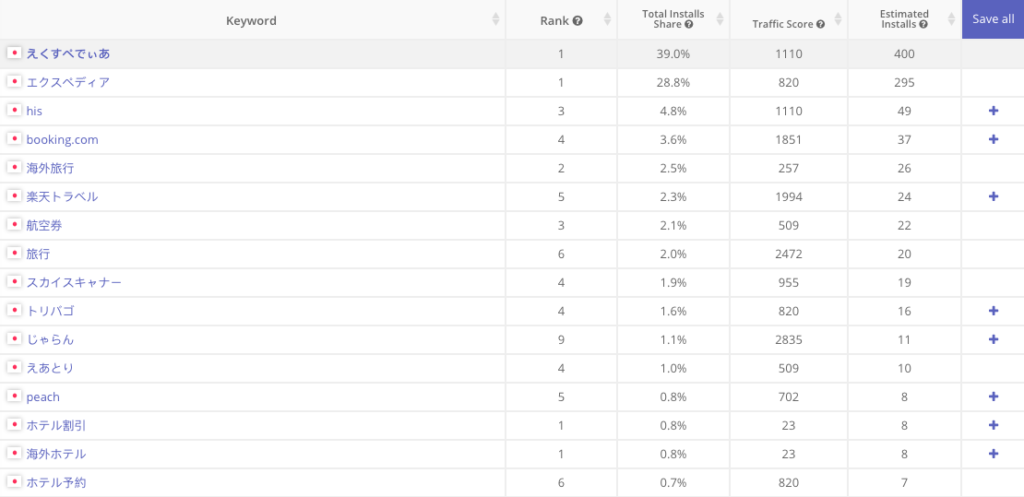 Step 4: App Store Suggestions
At the final stage, it is important to check keyword suggestions in the app store. Users are actively using suggestions when searching for your apps. There are two ways you can do it.
In the Keyword Analytics table, each table has the Show button that lets you see keyword suggestions in the app store. If you see the "+" sign, it means you've missed these suggestions.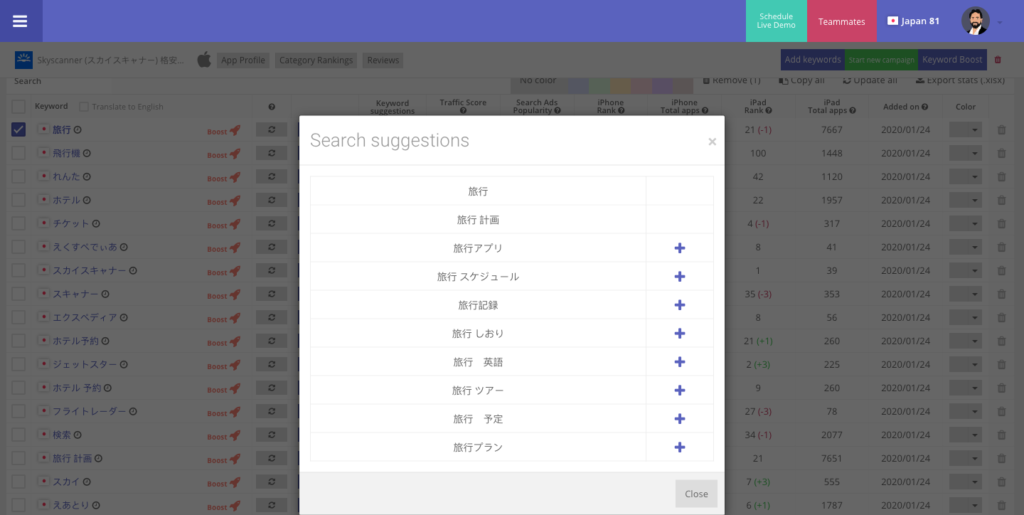 In the Keyword Analytics table, each keyword has the Explore button that opens Keyword Explorer on the selected keyword. You can see keyword suggestions along with actual search results. If you see the "+" sign, it means you've missed the suggestions.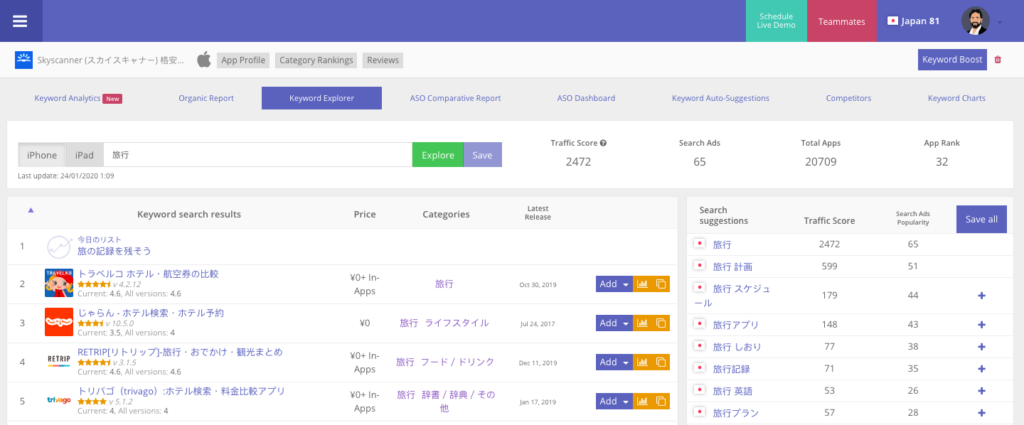 Stage 2: Core Cleaning
Core cleaning of irrelevant keywords is an important stage of the process.
Step 1: Remove Null Keywords
If during the first stage some clearly null keywords that aren't used in the app store searches have somehow gotten into your core, you might want to get rid of them.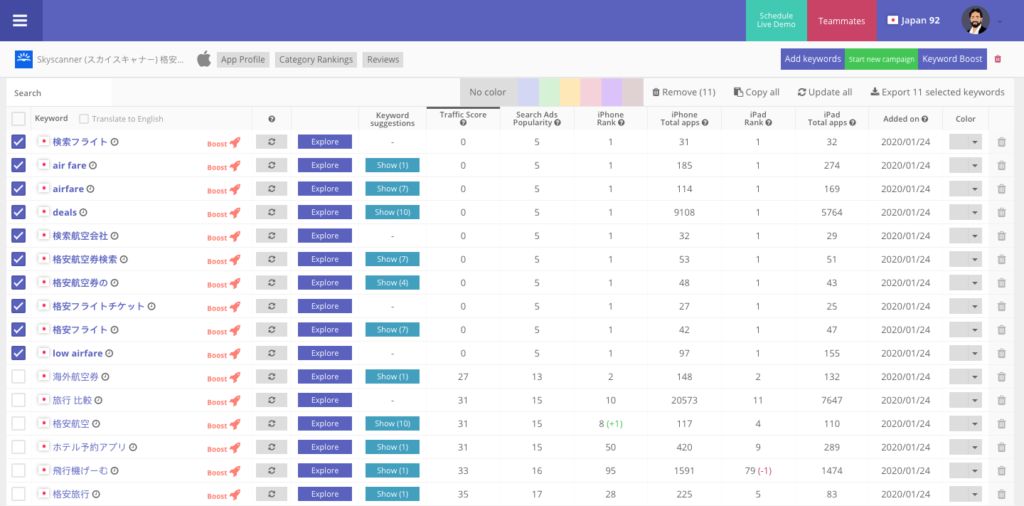 Step 2: Remove Irrelevant Keywords
One of the simplest ways to define a keyword's relevance is checking its English translation. All keywords in Keyword Analytics are automatically translated, which helps to quickly spot the irrelevant ones.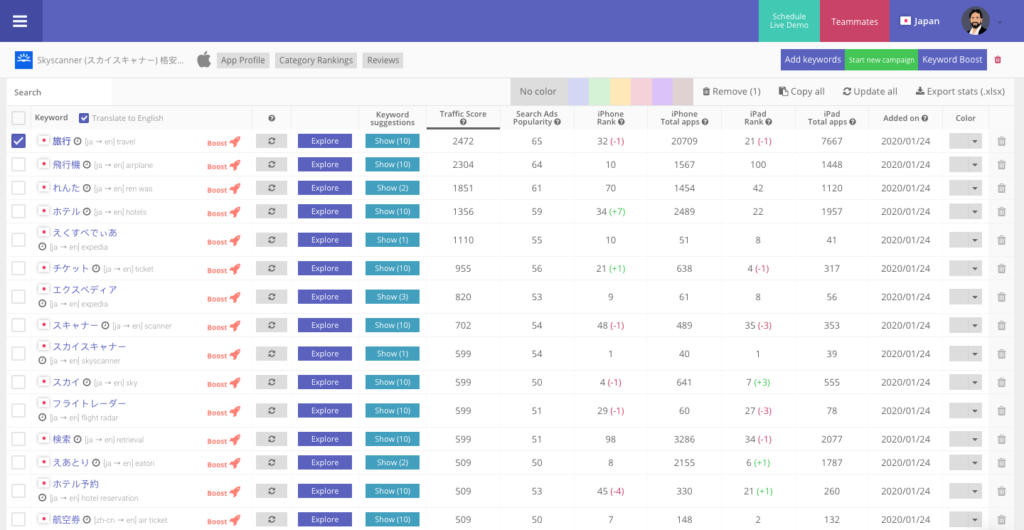 Errors that can be made when collecting a core in another language
Some languages are visually similar to each other, while they can be absolutely different to your users. For example, there are two Chinese languages in the App Store — traditional and simplified. The simplified version is used throughout mainland China, while traditional is used in Hong King and Taiwan.
It's very important that when selecting keywords in another language, we check with the original language to make sure we don't get any of the wrong keywords into the core.
For example, Taiwan's main language is Traditional Chinese, but some of the keywords in simplified Chinese can get into your core. Such keywords are normally useless, because they aren't popular in this region, and we can see this by the Traffic Score index, which equals 0. ASOdesk allows you to see the original language of the keyword. For example, keywords displayed below have the zh-cn code, which means simplified Chinese.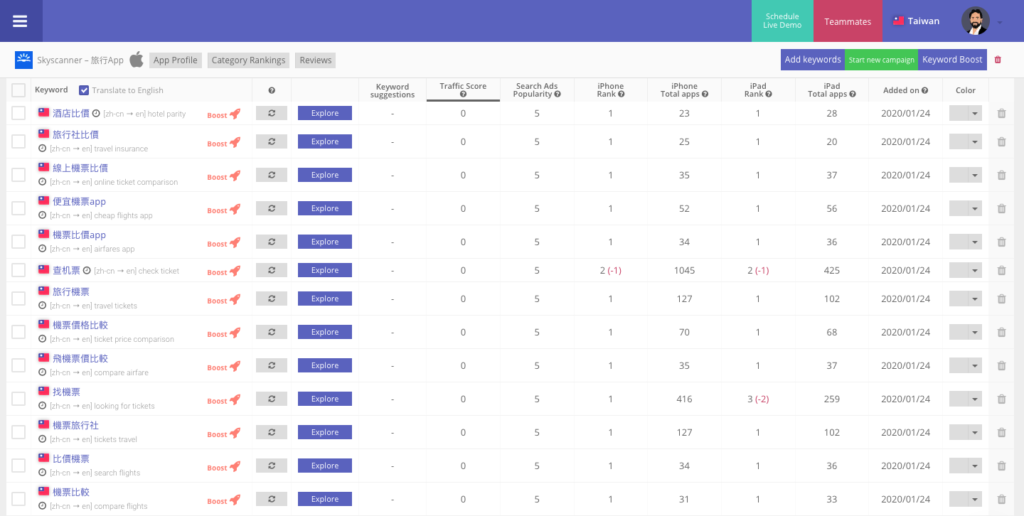 A little ASOdesk lifehack on how to collect the core quicker, if you have already collected it in other countries or for other applications
As we remember, each country has a main localization and an additional one. For Japan, English US is the additional localization. If you have previously collected a core for your application or another similar app, for example, for the USA, it can easily be moved through Copy from within ASOdesk.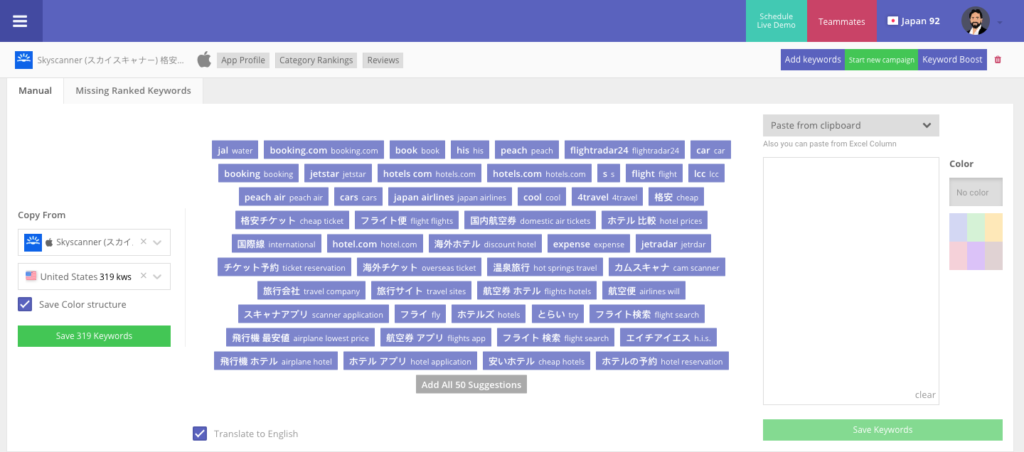 We hope that this guide will help you save a lot of time with handling ASO for multiple regions.