Digest ASO News, July 2020
Katerina Belohvostova
kb@asodesk.com
ASOdesk Marketing Manager. She is behind all the rough work on social networks, blogs, newsletters, webinars, and ASOdesk Academies. Event organizer of ASO Wine Time and ASO Fuckups. Lovingly solves all your issuies at our events ?
All articles by author
Published: 11.08.2020
Updated: 13.09.2020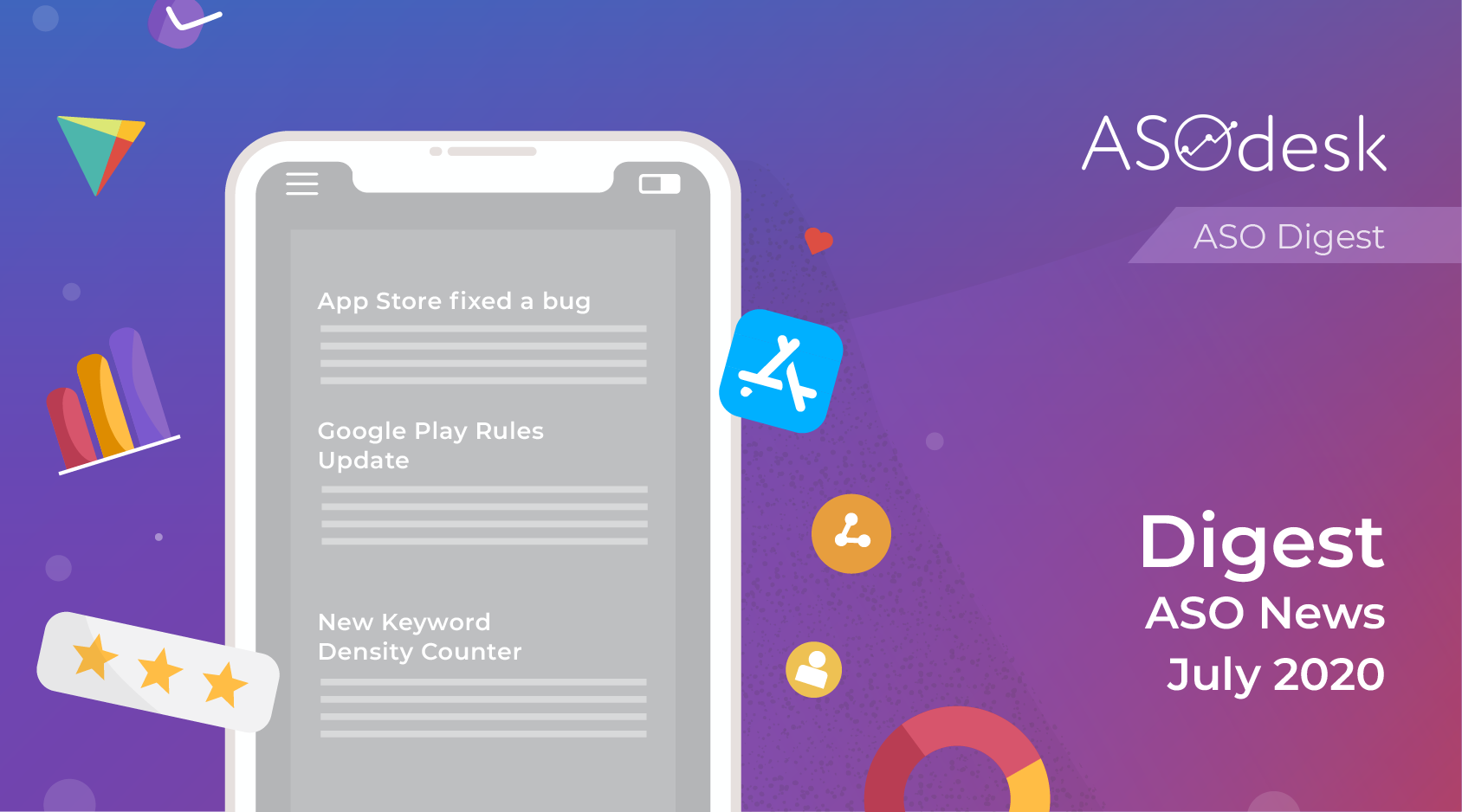 In July Digest, we'll talk about new regulations for app stores, changes to Google Play rules, the launch of App Store Connect API, discuss the latest new ASOdesk product — a free Keyword Density Counter tool and other July updates.
New regulation for app stores
In July, a new regulation for the relationship between developers and app stores came into effect in the EU. According to the document, the App Store and Google Play within the EU must:
Notify the developer of the application 30 days before the deletion.
Explain the reason for the deletion in the notice so that developers have time to make changes or appeal the decision.
Notify developers of the agreement change 15 days in advance to enable them to prepare the application for the new conditions.
Not to give any benefits to large projects and ensure equal conditions to all applications.
App Store News
App Store Connect API
Apple has launched new App Store Connect APIs that automate workflow in development, beta testing, metadata management, and reporting. The update allows to:
Create a page on the App Store and manage metadata (screenshots, text descriptions, keywords).
Create new versions of the app, manage preorders, and releases of updates.
Send the app for validation to App Review.
Track application metrics; get information on sales and installs.
Manage other resources associated with the developer account — certificates, App ID.
To request access, click the Keys tab under Users and Access on the App Store Connect.
App Store fixed a bug
In June, a bug was found on the App Store because of which a whole list of keywords was not indexed in the search. This bug has been fixed. We checked these keywords, and they all work now:
US ball
US puzzle games
US collection
DE puzzle spiele
GB abc
GB amazon books
GB audio books
GB bluff games
GB bookworm
GB canon app
GB cool fonts
US bubble
GB bubble
FI bubble
RU bubble
UA bubble
RU car wash salon
VN driver
AU lab
RU lab
TR lab
US lab
AU learning
CH learning
GB learning
RU learning
US learning
DK monday
Google Play News
Google Play Rules Update
In July, the platform made changes to the following sections:
The store updated the requirements for access to the storage of the user's device. For instance, Android devices of R version (Android 11, API level 30) need to be checked against the claimed access list.
New requirements for news apps (such as news aggregators). This will affect their placement and promotion on Google Play.
The classification of apps in the Google Play section has been changed to establish clear boundaries between news and other apps. All apps in the News and Journals category must now contain specific information on the app's Google Play page, provide additional information, and meet developer authentication requirements.
Advertising and monetization
The rules of monetization added a clarification about the banning spam ads and manipulative monetization schemes.
Requirements to content and recommendations
Google Play has updated the item about the promo video. It can now automatically be played without sound within 30 seconds or less (depending on the user's device, settings, network connection, and on-screen location). If the video is not played automatically, a play button is available in the description picture.
New ASOdesk tools
Keyword Density Counter
Keyword Density Counter is a new free tool for Keyword Research and Description Optimization on Google Play.
We've analyzed some SEO tools and realized that we can do a better solution not only for keyword research issues but also for preparing Google Play descriptions.
With the Keyword Density Counter, all you need is to paste a description of your app or competitors' app and click the "Count" button. ASOdesk will show you all the queries with 1, 2, and 3 words in separate tables with the information on the number of occurrences and popularity in the text. It counts the number of characters, words, and search queries. The results can be easily copied or exported.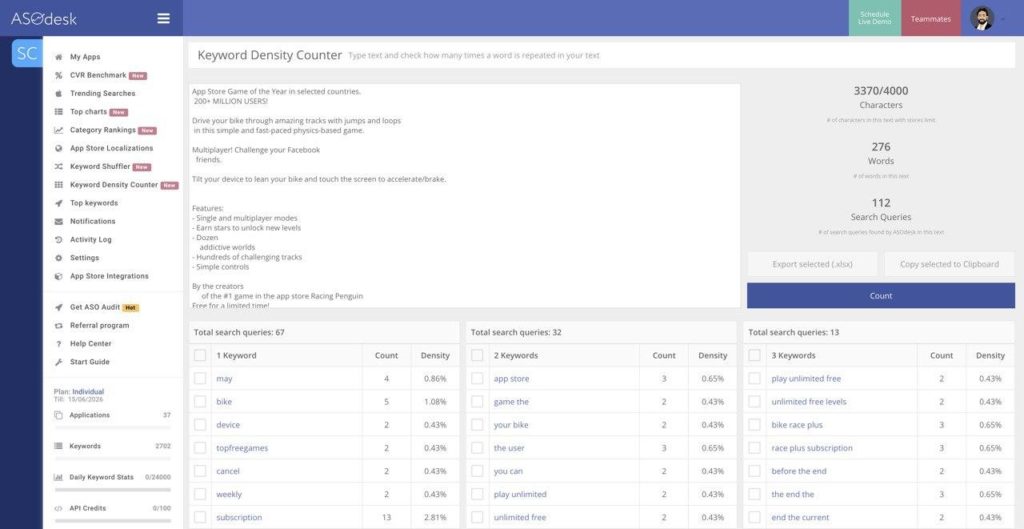 CVR Benchmark
The new free CVR Benchmark tool analyzes the conversion level on the App Store separately for apps and games in 100 countries. The tool shows 2 types of conversions: from Impressions to App Units and from Product Page Views to App Units separately over to 4 sources: App Store Search, Browse App Store, App Referrer, Web Referrer.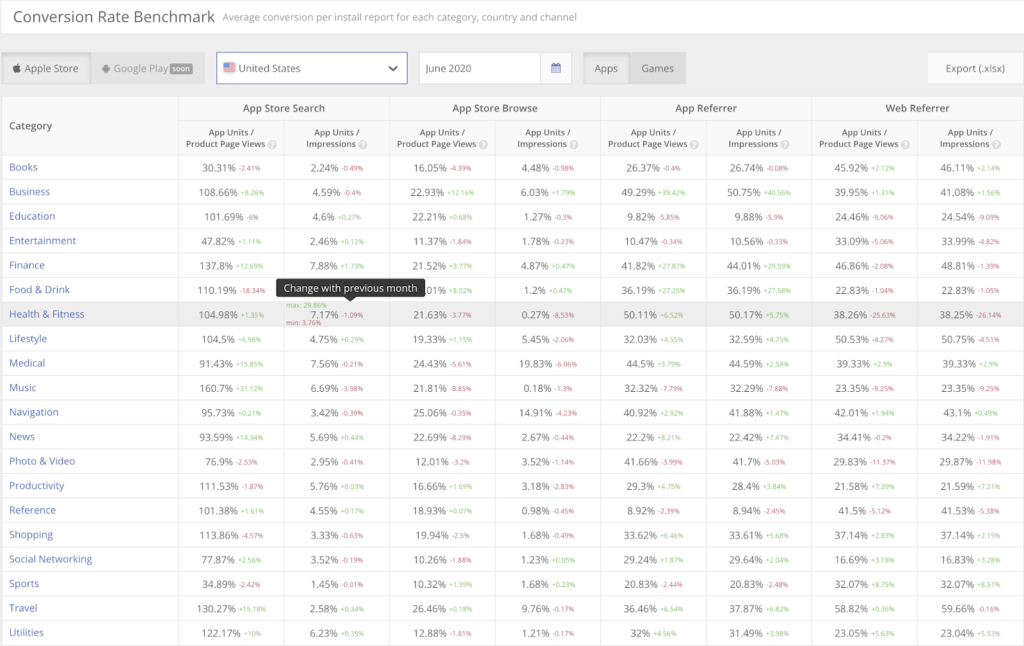 Daily Impressions в App Store
Daily Impressions on the App Store is a fully updated algorithm for estimating the popularity of search queries on the App Store for 100 countries. It accounts for more data for the forecast, such as Impressions and App Units apps on the App Store.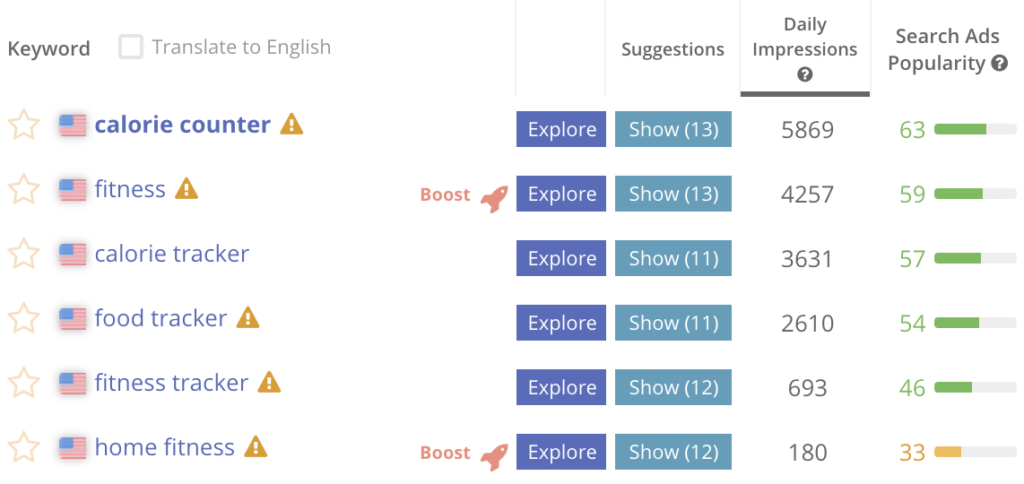 Google Play Top Charts
Google Play Top Charts is support for overall charts and categories on Google Play with historical data, export, API is available in the paid version of ASOdesk. Checking the current data for the last 24 hours is free of charge.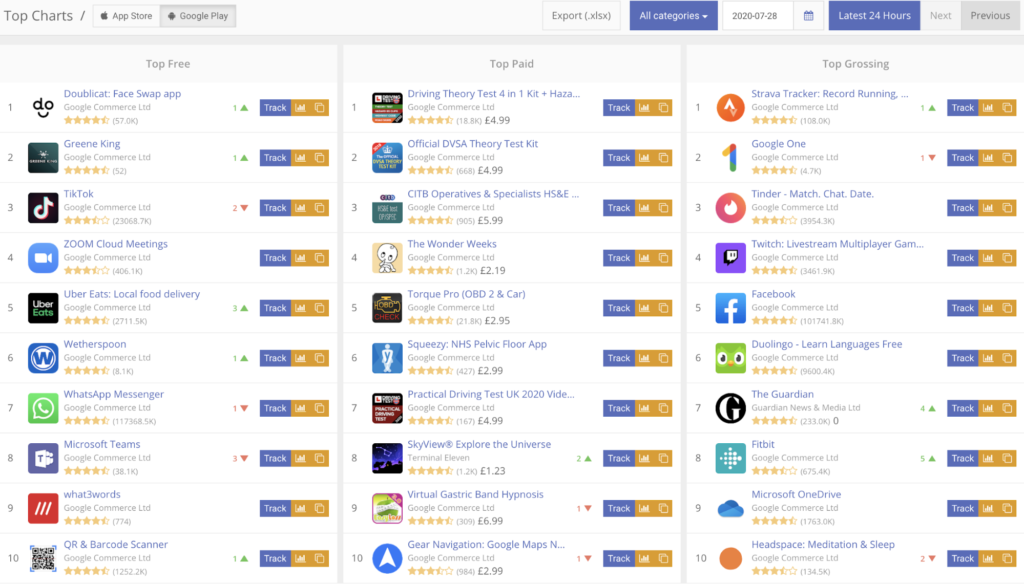 Google Play Category Rankings
Google Play Category Rankings helps monitor your app's positions in categories and top Google Play charts in 100 countries.
Keyword Analytics and ASO Dashboard chart updates
We added application version numbers on Keyword Analytics and ASO Dashboard charts. Now the charts can be seen from version to version. It is more convenient to compare the position of different versions of your app on search queries and other metrics like Impressions, Product Page Views, App Units.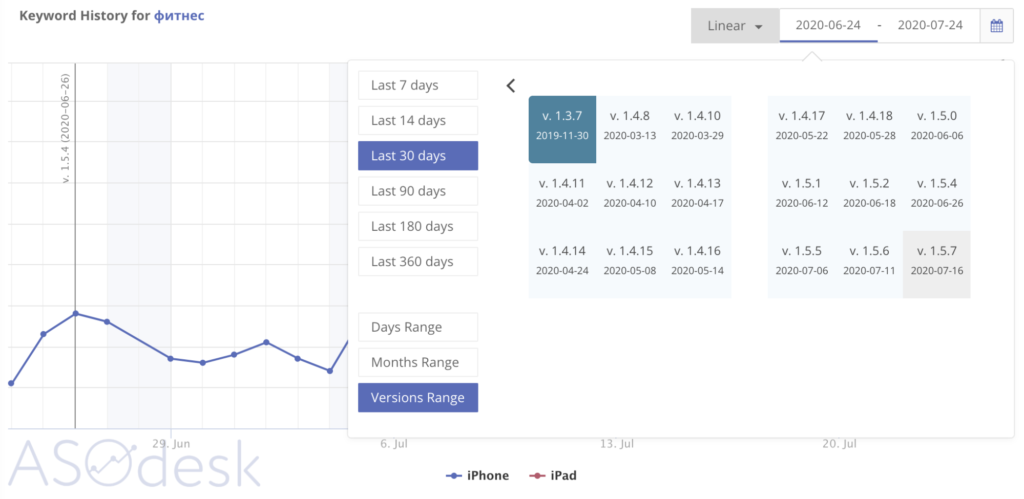 Update in Keyword Manager
We made Keyword Shuffler inside Keyword Manager. Keyword Shuffler is perfect at the Keyword Research stage, so as not to run through all queries manually.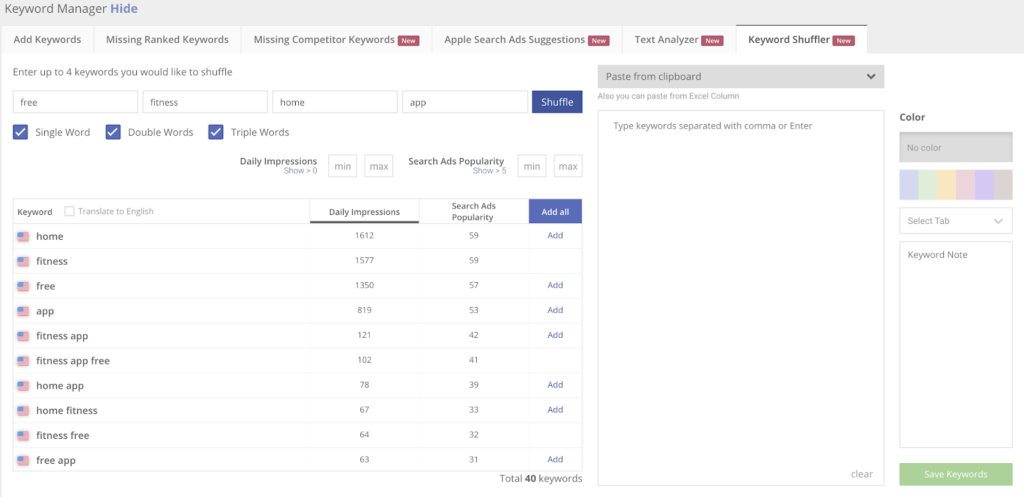 Daily Keyword Stats
We have expanded the limit of the number of queries that can be added per day for all tariffs. Previously, we had a limit of 1000 queries per day, exceeding the limit was threatened with a ban. We studied the use of tariffs and introduced a new metric — Daily Keyword Stats.
For example, having Startup XL, you can add 4500 queries per day, having Business M add 7500, and Business XL gives you 70,000 queries. No more limits.
Boost your ASO skills
Our Youtube channel contains webinars and lectures of the ASOdesk Academy. We explain how to build a semantic core in different languages, how to measure the effectiveness of ASO, and what is the difference between ASO in the App Store and Google Play. Subscribe!
Join our community on Slack
Here you can find all the news and our ASO experts can answer any questions about ASO, review your apps, and give feedback at any time. Keep your finger on the pulse!