Top 21 free tools for app promotion in the App Store and Google Play
Published: 21.04.2022
Updated: 07.07.2022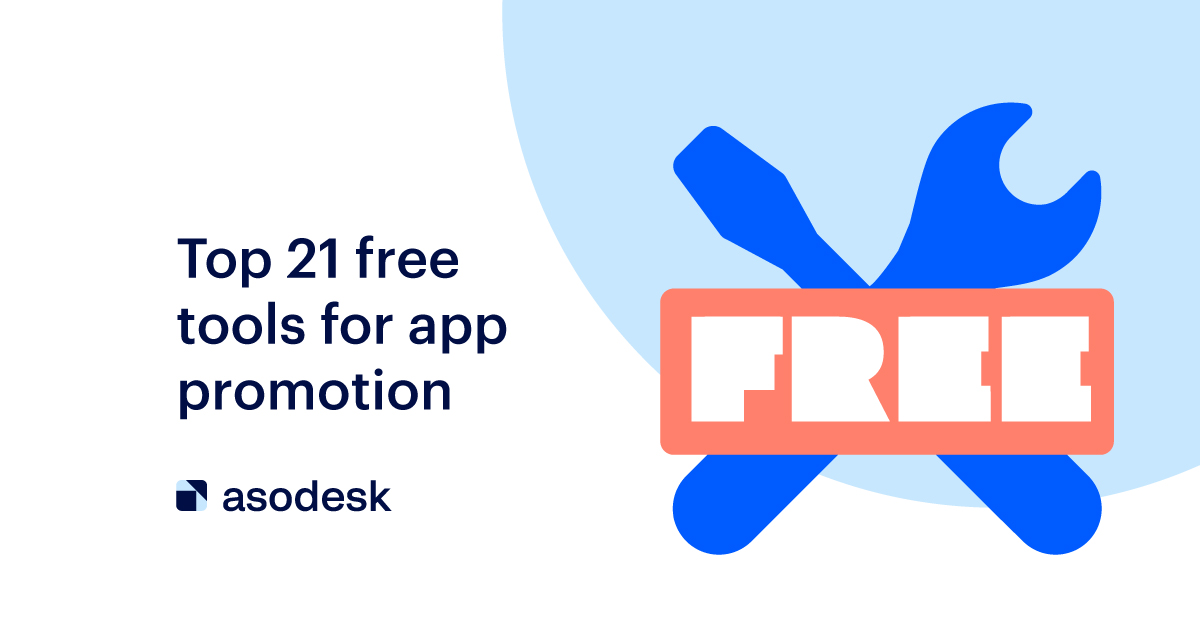 Many tasks for app promotion can be solved without any budget — just using free tools. We have made a selection of 20 free tools that allow you to get insights from market research, conduct App Store Optimization, create banners for ads, and analyze app reviews and promotion efficiency.
Contents
Market research tools
Design tools
App Store Optimization tools
Analytics tools
How to solve app promotion tasks for free
Market research
Find the main competitors in your niche with Top Charts
With Top Charts in Asodesk, you can discover which apps are popular in the App Store and Google Play in more than 100 counties.
This tool helps with marketing analysis so you can see the main competitors in your niche. You can analyze popular apps from any app category and see if they are changing with time.
Analyze the hottest releases of the last three months
To keep up-to-date on the situation in the market and develop the app at the right pace, you need to regularly check how your competitors update their apps and what new players appear in the market. The Hot Releases section in Apptica allows you to see the top-30 apps from all countries and categories that were released within the last 3 months.
Check which queries are getting more popular with Trending Searches
With App Store Trending Searches you can find which queries are becoming popular and use this information for your app promotion. For example, you can see that the query "learn spanish" from your metadata made it into the trending searches, which means that it is becoming popular and you should leave it in the metadata.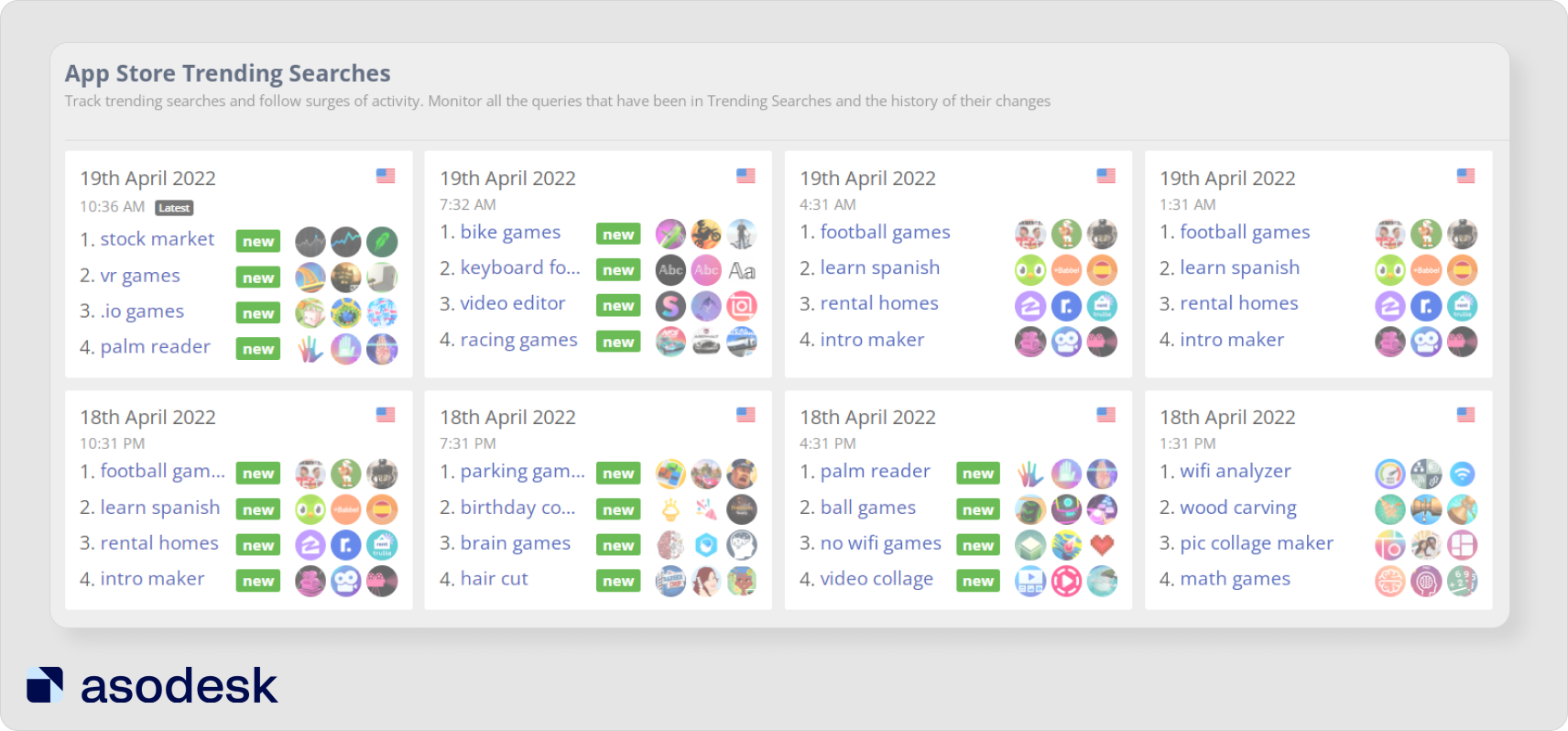 Find the most popular keywords with Top Keywords
It is important to analyze popular queries to understand user preferences and demands for different apps. You should also understand how demands for different apps depends on the country. For example, in Turkey the query "vpn" is in 1st place among the 250 top keywords, in the USA it is in 27th, and in Spain, it is only in 100th place. This means that in Turkey, demand for VPN apps is very high right now relative to other countries, and perhaps you should think about choosing this market for your VPN app if this tendency will remain in the future.
You can check popular queries for more than 100 countries in Asodesk's Top Keyword tool.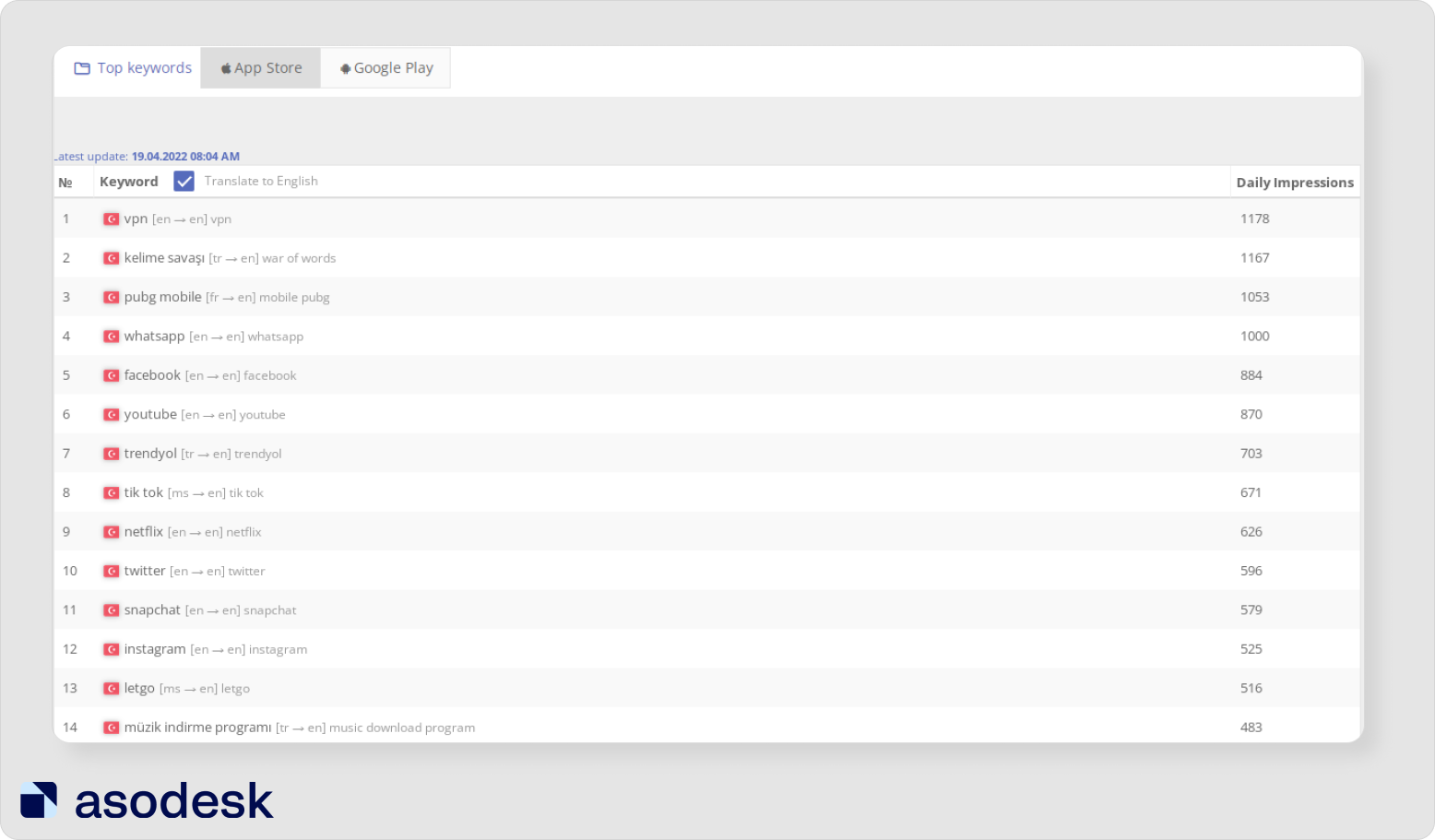 See which of your competitors advertise most effectively
To build an effective ad strategy it is important to analyze how your competitors work with ads. In Apptica's Advertisers section you can find the top-30 most seen in-app advertisers. Also this free tool shows the number of countries in which their creatives are served, the number of all ad networks they use, the total number of their ad creatives, and the percentage of the distribution share of ad impressions.

Analyze the ad creatives of your competitors
To stand out from competitors, you need to analyze their app creatives. Creative Gallery in Apptica allows you to check the top creatives your competitors use for app promotion and see if they perform well.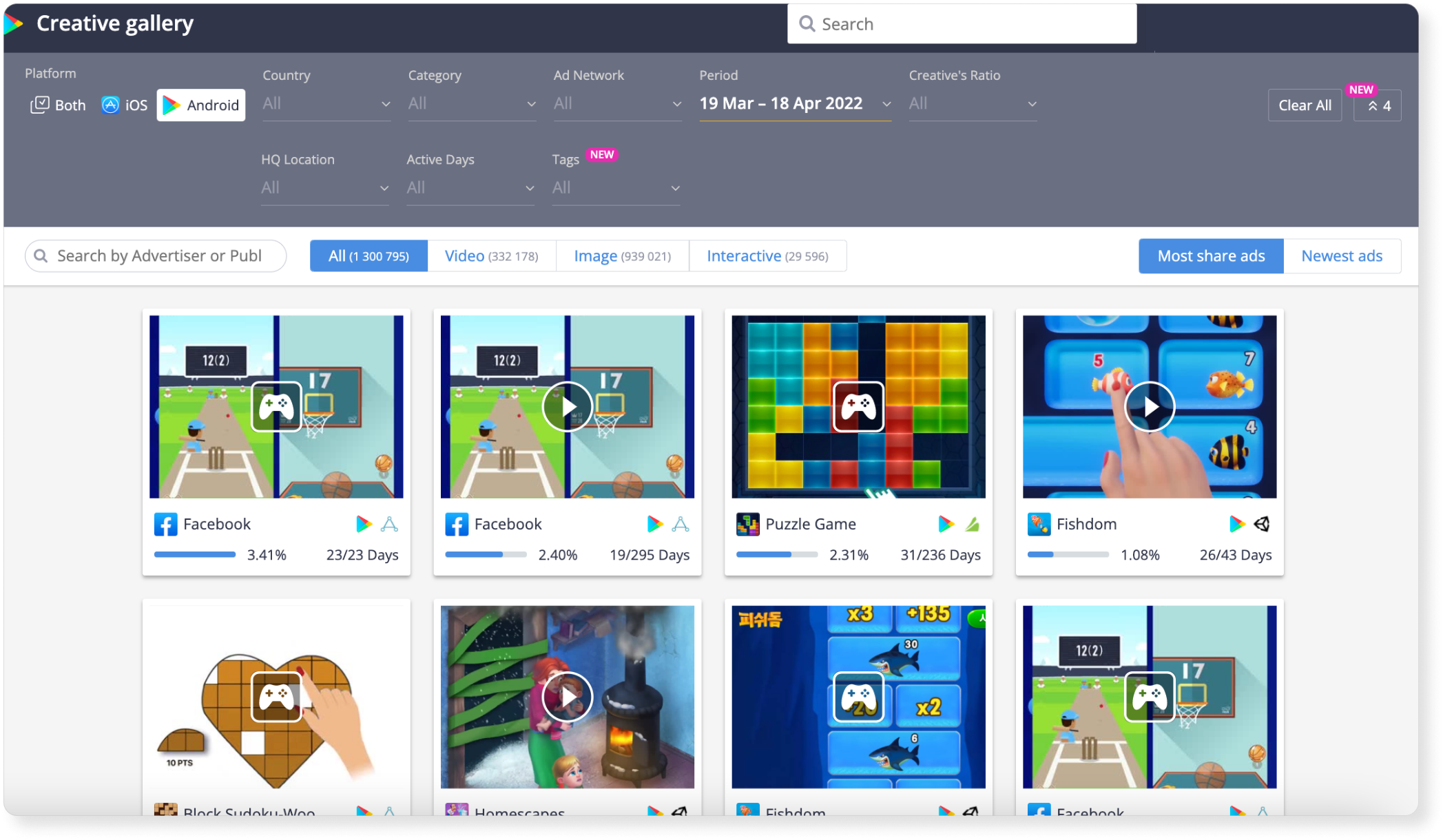 In the free version of this tool you can see the top-30 ads on the iOS and Android platforms with the biggest number of impressions (so-called Most shared ads): you can click on each ad to watch the whole creative.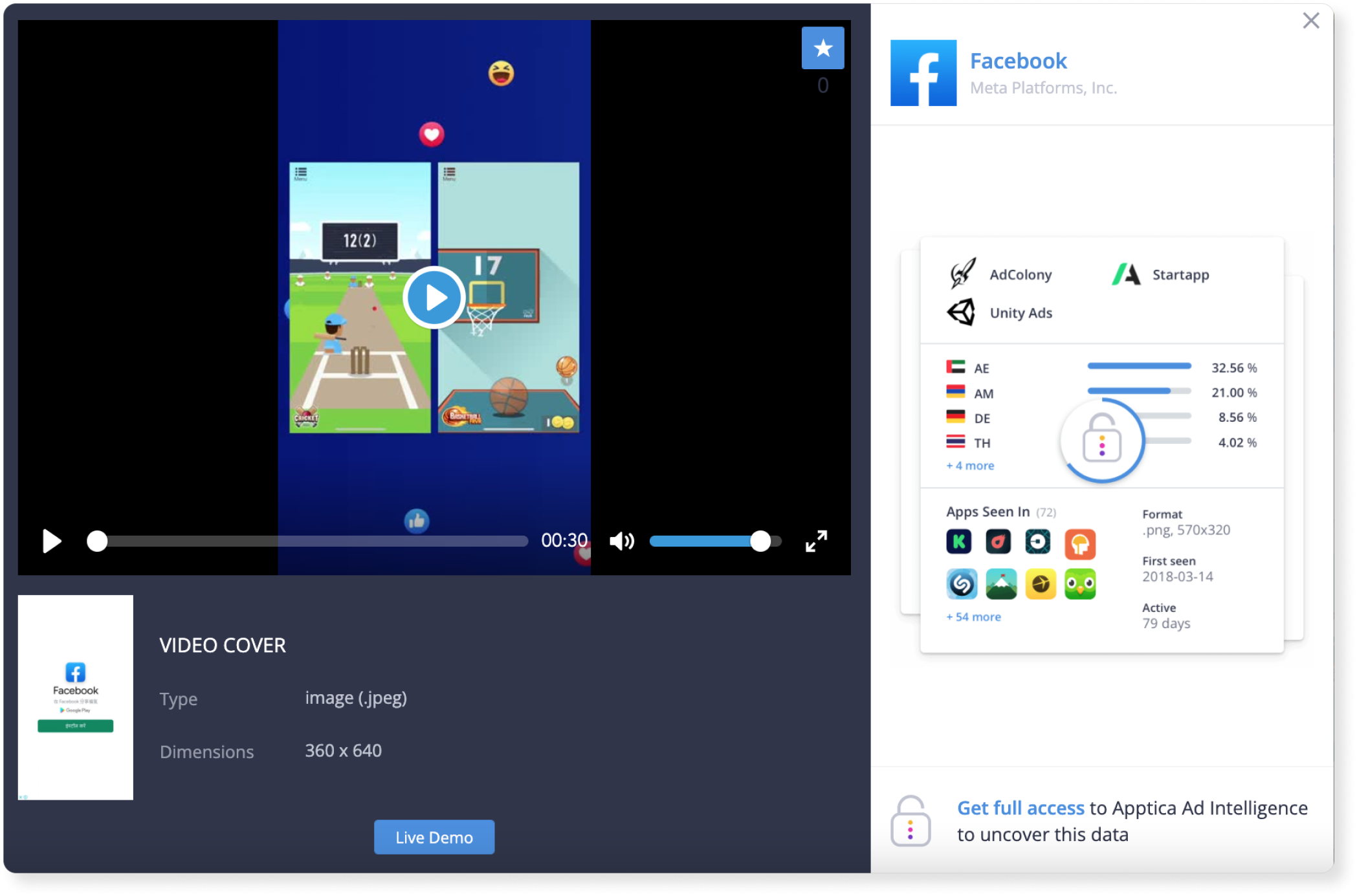 Creative Gallery, Advertisers, Hot Releases, and other useful tools are available on the free plan after registration. You can get access to all system functions after subscription.
Design
Make banners for ads or screenshots filed with Screenshots Pro, Canva, Figma, and App Store Promote tool
Aesthetic app store listings attract more clicks and convert better. Screenshots Pro can help you create beautiful panoramic mockups for App Store and Google Play listings. The free part of the service allows you to browse pre-made templates, pick the one you like, upload your screenshots and automatically export in all required sizes (and there are a lot). The Pro part is for advanced users who need API integration, localization, and further customizability.
Canva lets you create banners for ads as well as videos. On the free version, you will have up to 250 000 templates, 100 design types, and possibilities for collaboration with teammates.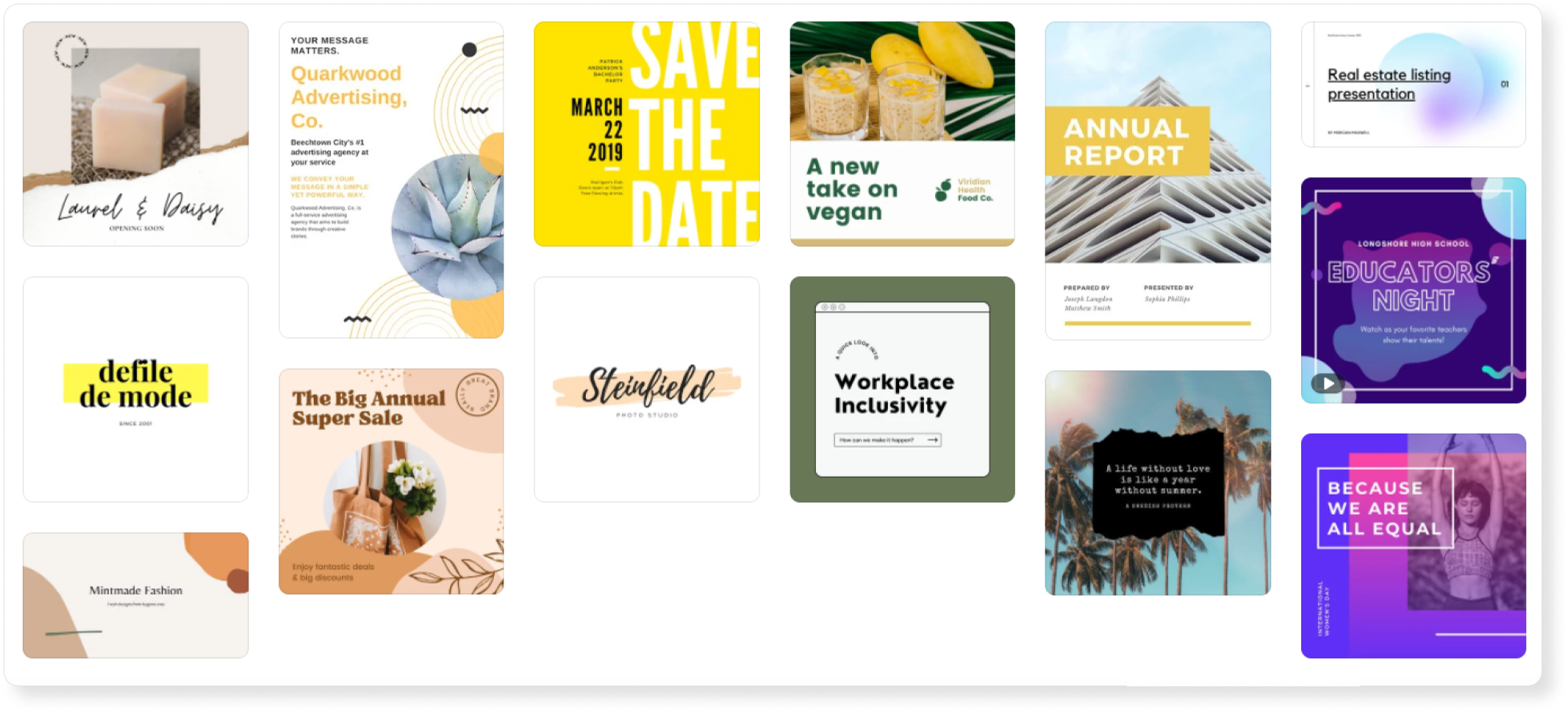 The free version of Figma also allows you to create banners and screenshots for apps. You can collaborate with your teammates, use plugins and templates, and store unlimited personal files. In the Figma Community, users share their templates, which you can copy for your projects.
If you don't have time, you can create banners for promotion in the App Store with a free App Store Promote tool. In the tool, you only have three background colors and banners for different situations.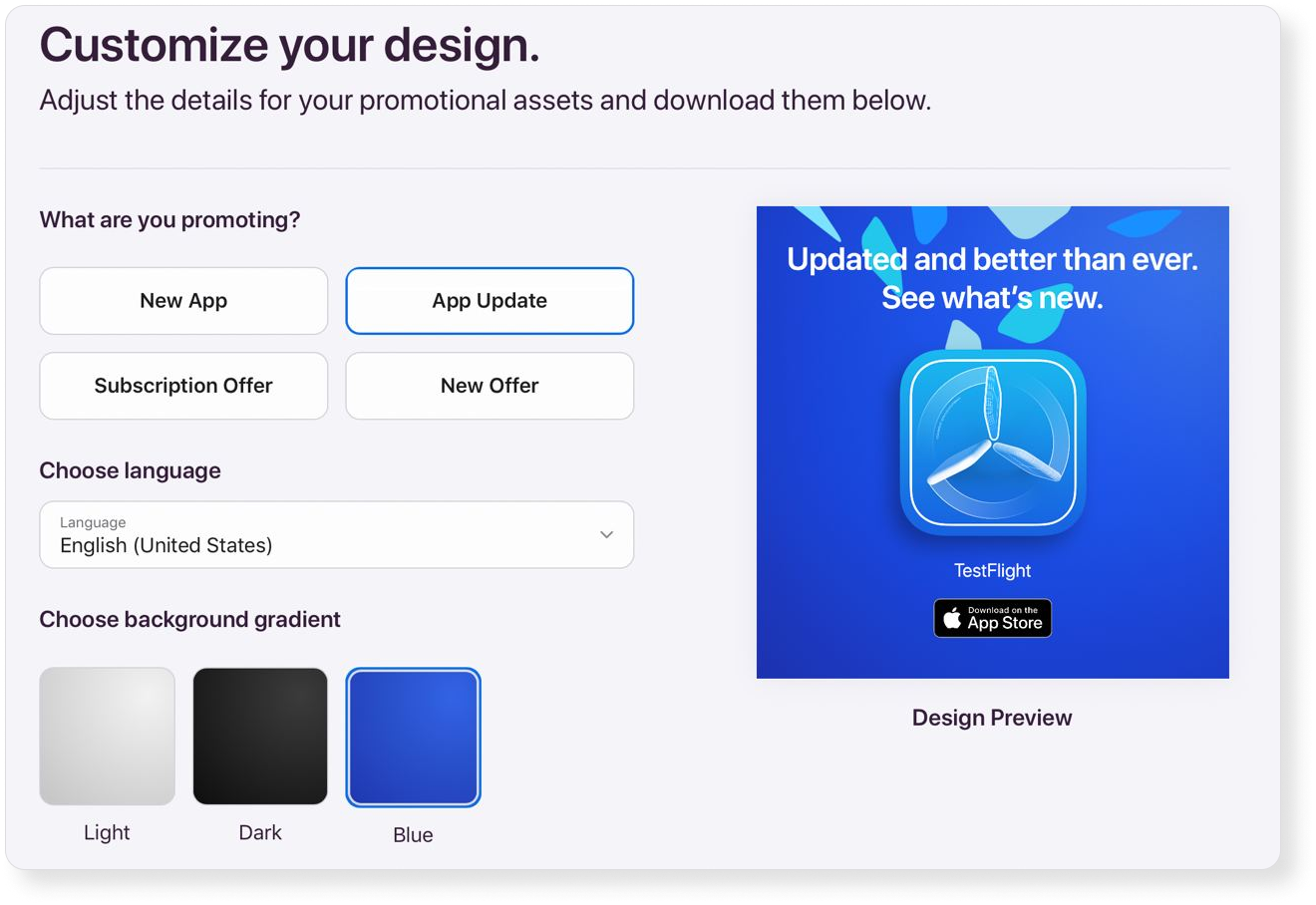 App Store Optimization
See the localization for any country in the App Store Localization Table
One country in the App Store can have several locales. In this situation, the language of metadata fields depends on the language of the user. For example, the main language in Cyprus is English, but users also can choose Greek or Turkish. So when promoting your app in Cyprus, it is better to localize an app page for all the regional languages. It will help to widen your app audience and get more traffic from App Store Search.
You can find all additional localizations for all countries in the free App Store Localization Table in Asodesk.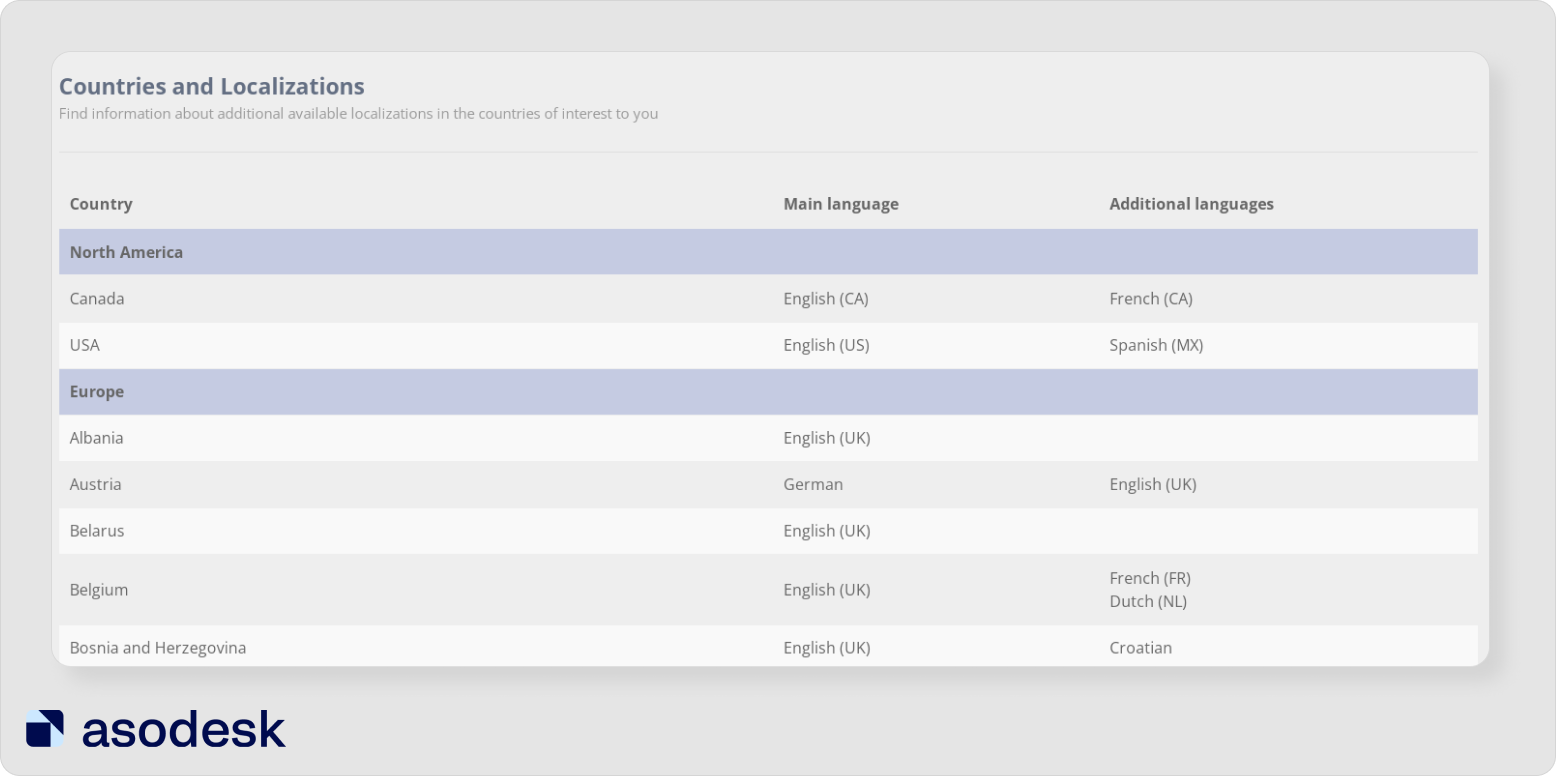 Find the best keywords for promotion with Keyword Manager
It is important to use automatic ASO tools as they help you find all the keywords which may bring traffic to your app.
In Keyword Manager you can check:
1. Missing Ranked Keywords — the keywords that are relevant for your app but you haven't added to your semantic core yet.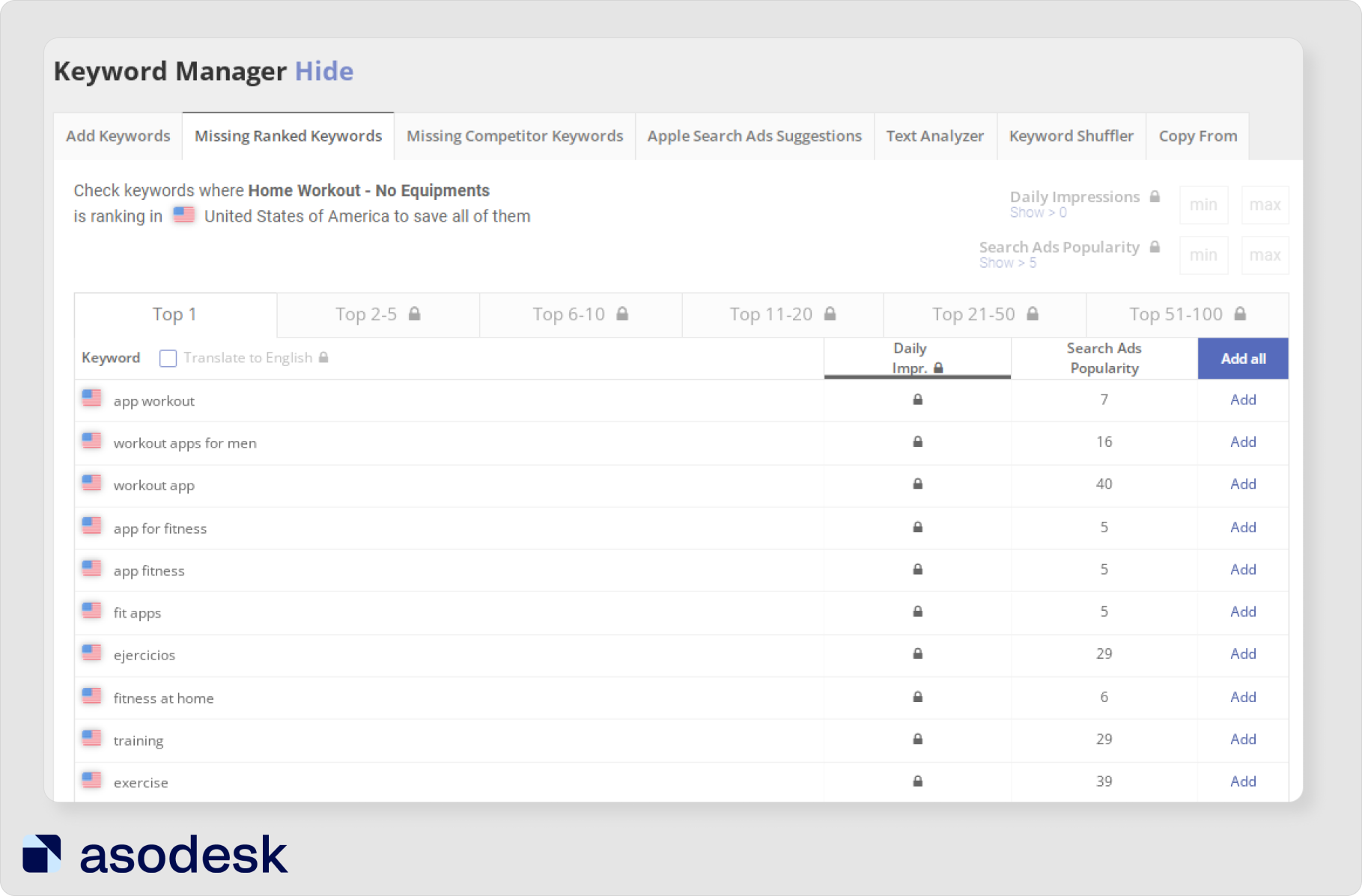 3. Missing Competitors Keywords — keywords for which your competitors are already getting positions.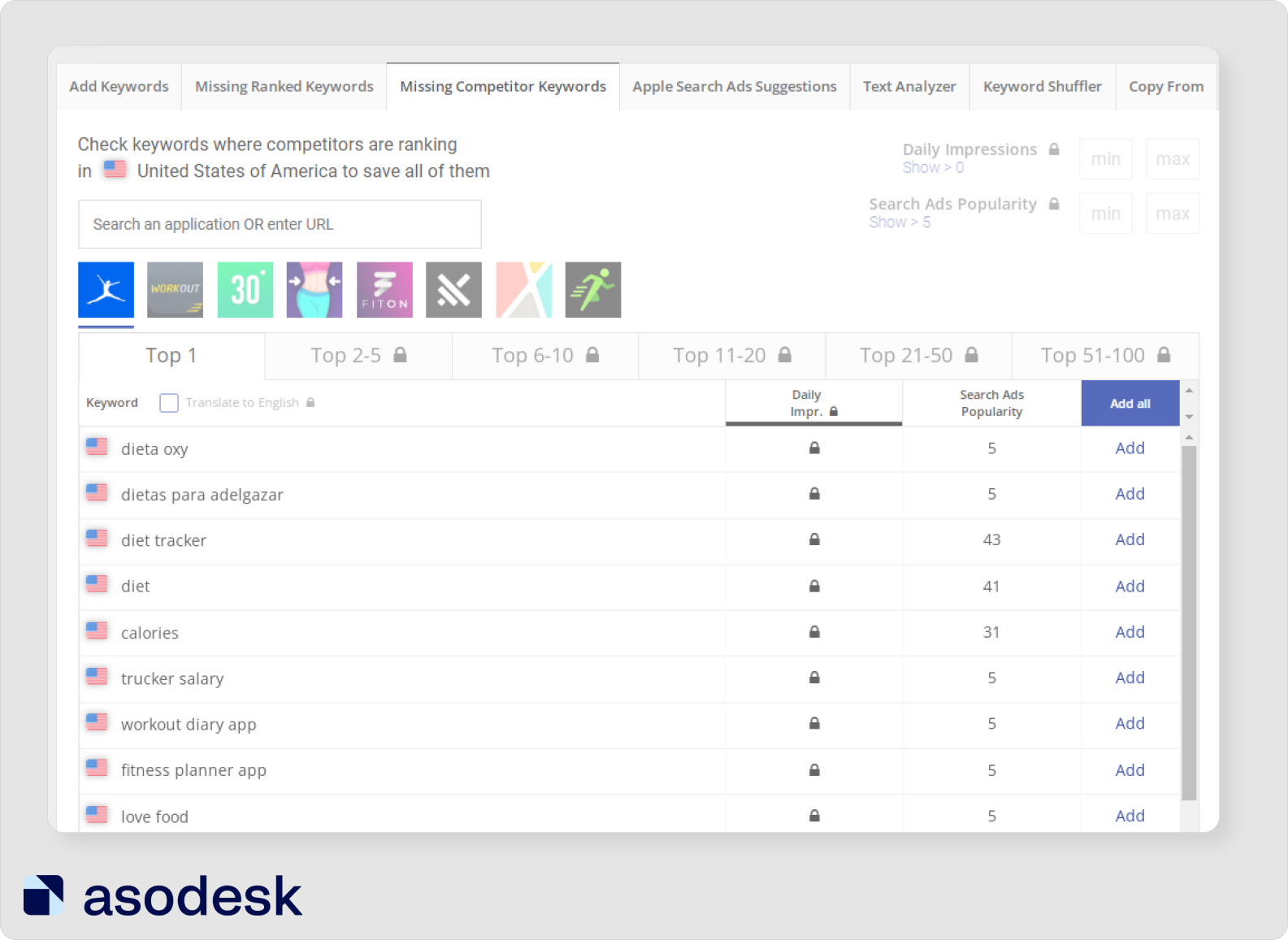 4. Apple Search Ads Suggestions show recommendations of keywords for your or your competitors' apps from Apple Search Ads.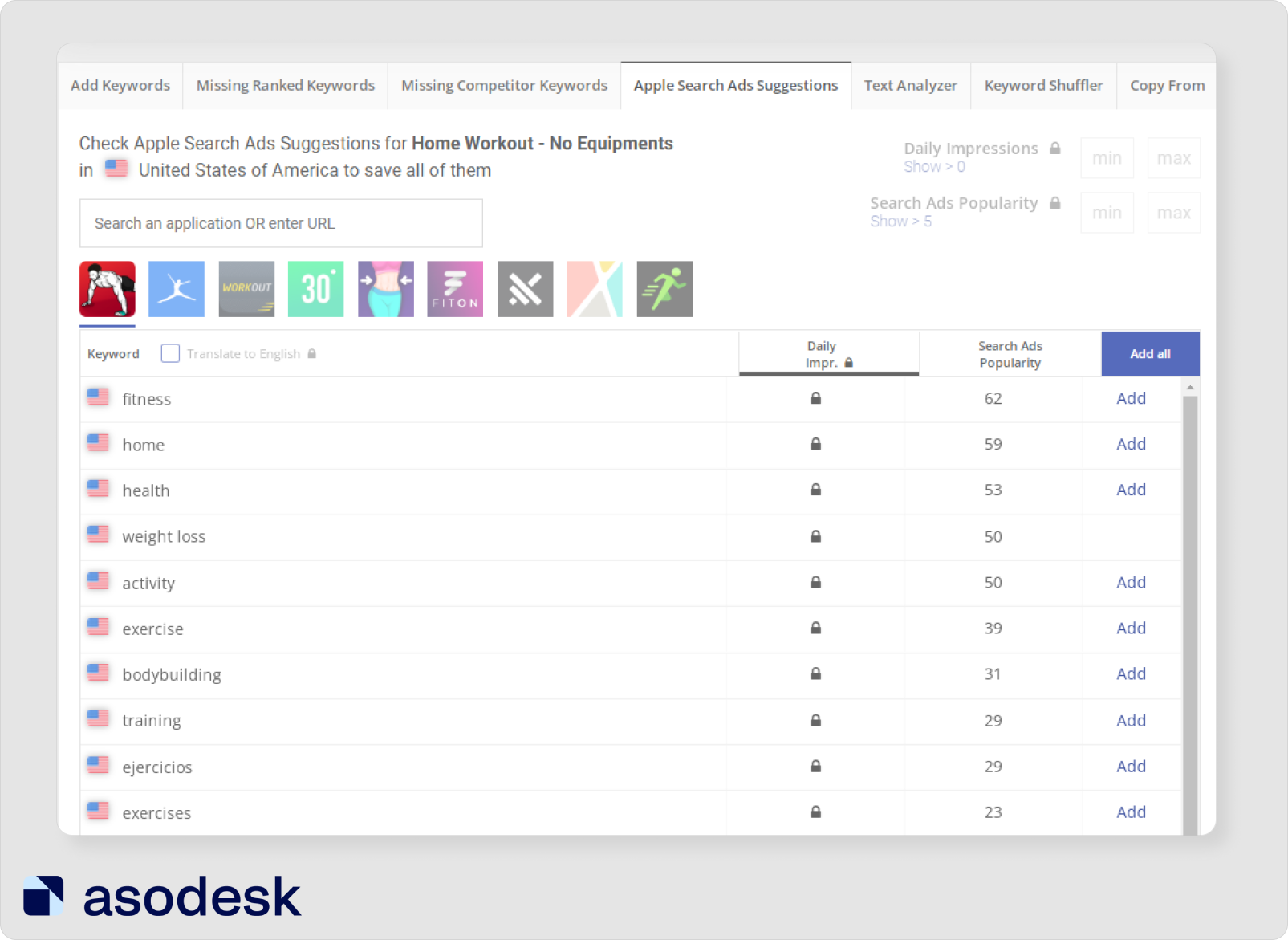 With Keyword Manager, you can find new relevant keywords for your app metadata. On the free version, you will see several Apple Search Suggestions and Missing Keywords. But you will also have a free trial of the full version of Asodesk for 7 days after you register on the platform.
Analyze and manage all keywords in one place with Keyword Table
It is really convenient to have all the keywords of your app in one table, as it makes the analyzing and managing of keywords much faster. With Keyword Table in Asodesk you can:
Analyze your app position on keywords;
Check all Search Suggestions;
Analyze your current position in the search (iPhone Rank), as well as iPhone Best Rank and movement.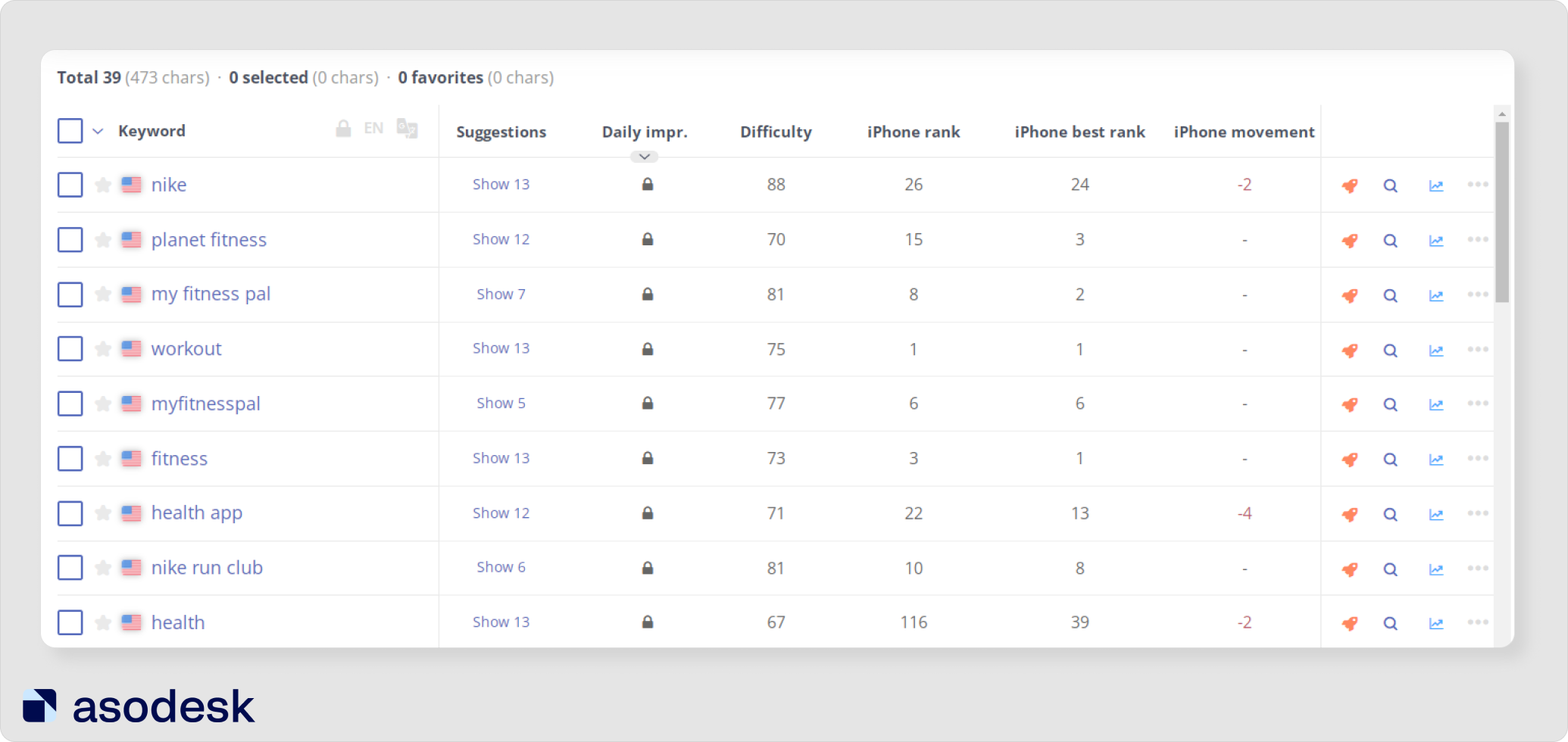 Just register in Asodesk and get access to the full version with all Asodesk tools for 7 days. After that you can stick with the free account, which has some limitations. For example, you can only add up to 200 keywords in the Keyword Table and analyze 1 app on the free version.
See all varieties of keyword phrases with Keyword Shuffler
Keywords in your app metadata should make as many keyword phrases as possible. This will help the user to find an app for similar queries. The rule applies both to words from one field and also from different metadata fields.
For example, keywords from App Title, Subtitle, and Keyword field should form more keyword phrases. In Google Play, keywords from the App Title, Short Description and Full Description should also form keyword phrases.
Before adding keywords to metadata, you should analyze what keyword phrases can form. You can do it quickly with Keyword Shuffler. Just write 4 keywords and the tool will show you all variants of keyword phrases.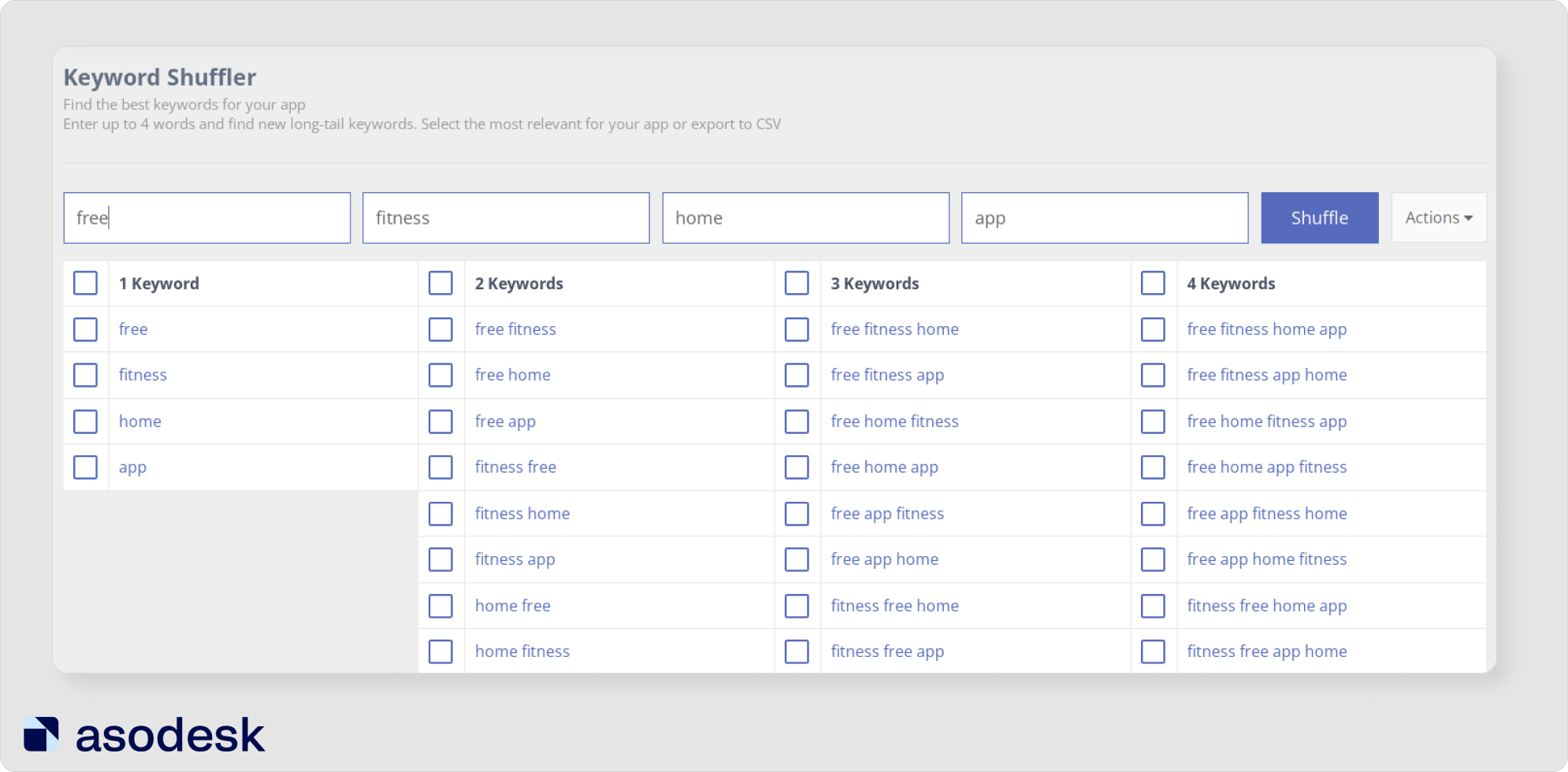 Make the clearest app description for Google Algorithms with Google Cloud Natural Language
Google Cloud Natural Language (GNL) is an official Google tool that helps uncover the structure and meaning of text using machine learning.
With Google Cloud Natural Language you can check how Google categorizes your app. It is especially important for installs from Explore in Google Play. We advise you use this tool for making the most understandable description of the app in Google Play.
Pay special attention to the confidence indicator, which shows how Google categorizes your app.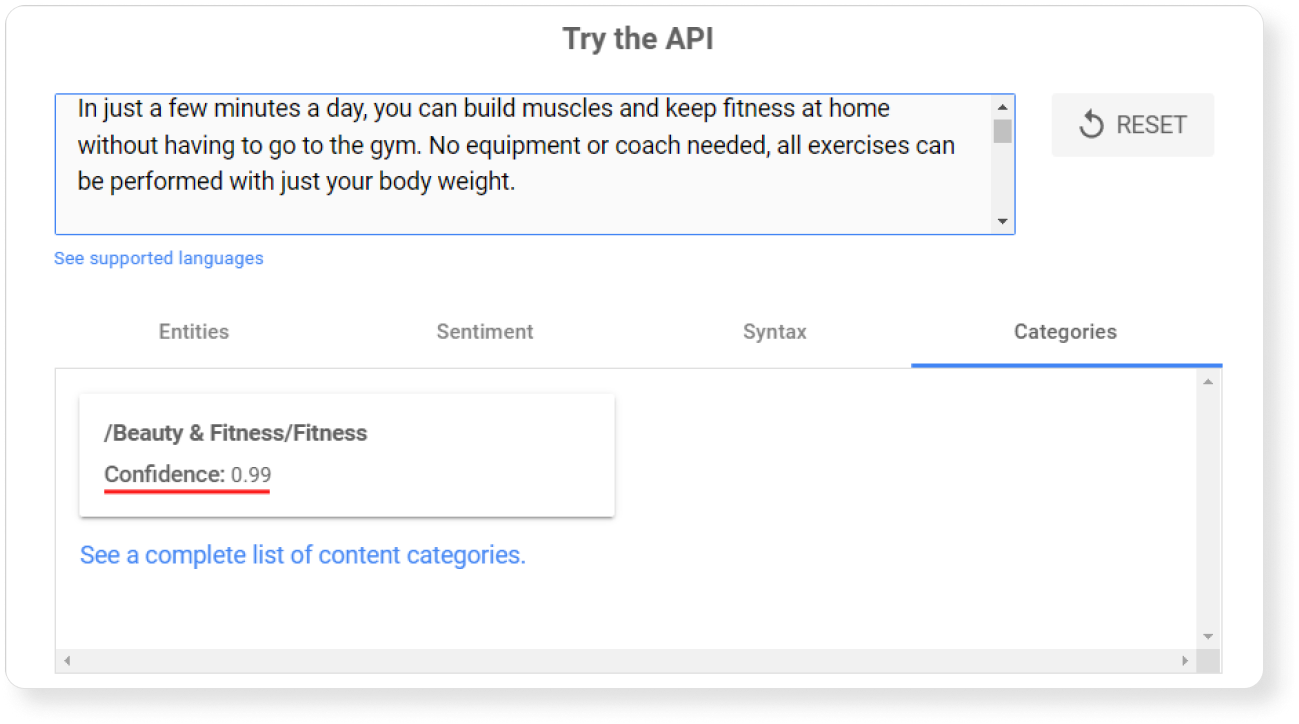 You can try the demo version of this tool and use it for free if you send less than 5 thousand queries per month. Read our article and learn how to make app descriptions with Google Natural Language.
Find keyword repetitions in app metadata with Keyword Density Counter
In Google Play, you can repeat keywords in the description several times but it is important to avoid too much repetition. Otherwise, search algorithms may find your description is spam.
Our expert, Artem Tkachuk, advises adding less than 5 repetitions of keywords if your description is less than 3500 characters, and 3–4 repetitions if your description is 2000-2500 characters.
You can check how many times you repeat your keywords with the Keyword Density Counter in Asodesk. The tool shows the number of repetitions of keywords and the percentage they occupy in the description.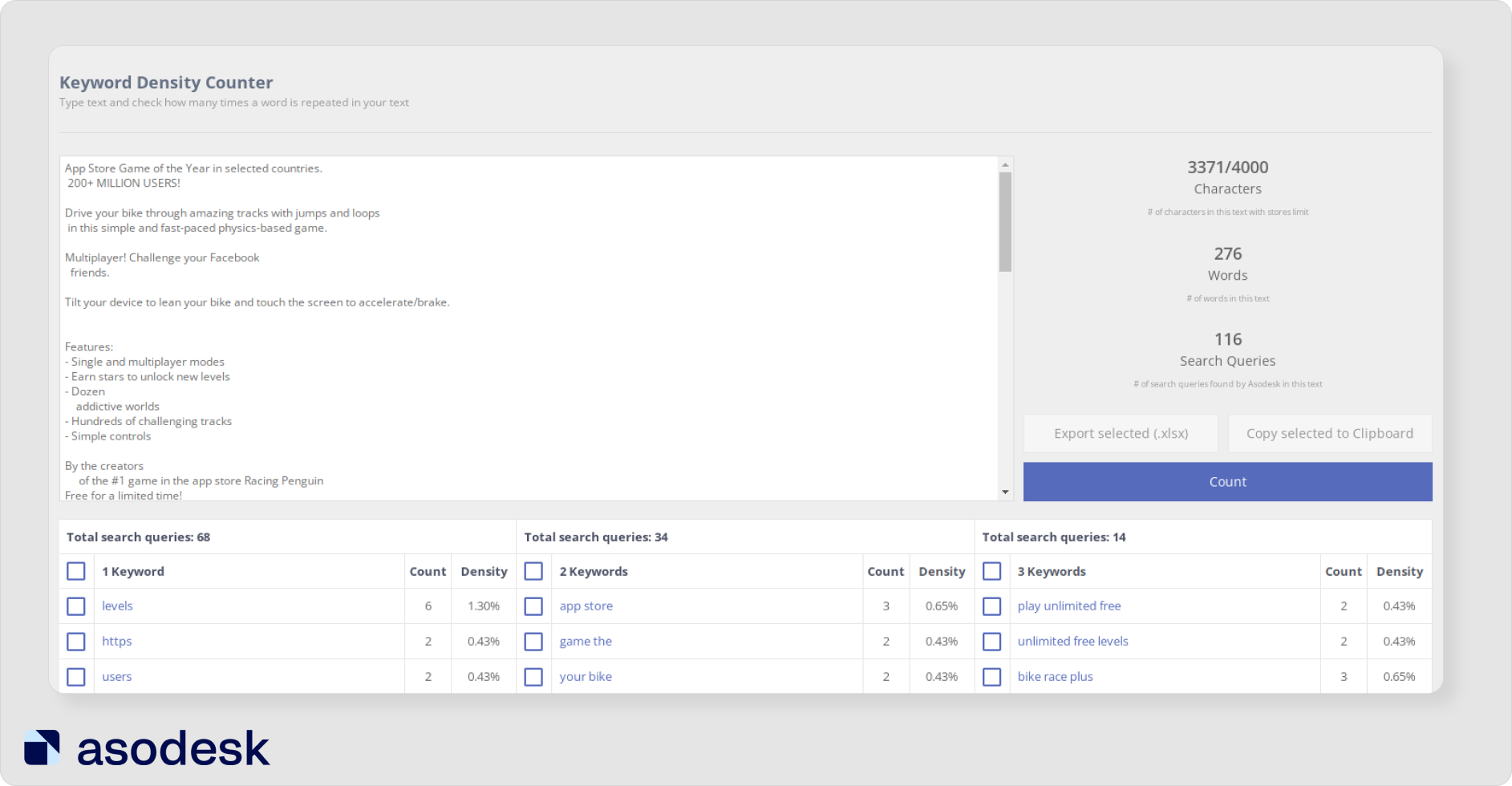 Analytics
Compare your conversion rate with the average conversion rate
Sometimes it is difficult to understand if your conversion rate is high or low because it depends on your app's category and traffic source. To compare you conversion with competitors you can use Conversion Rate Benchmark in Asodesk.
Here you can see the average conversion rate (CVR) in every app category. The tool analyzes CVR from App Store Search, App Store Browse, App Referrer, and Web Referrer. You also can see the Conversion Rate from the Impressions and Product Page Views.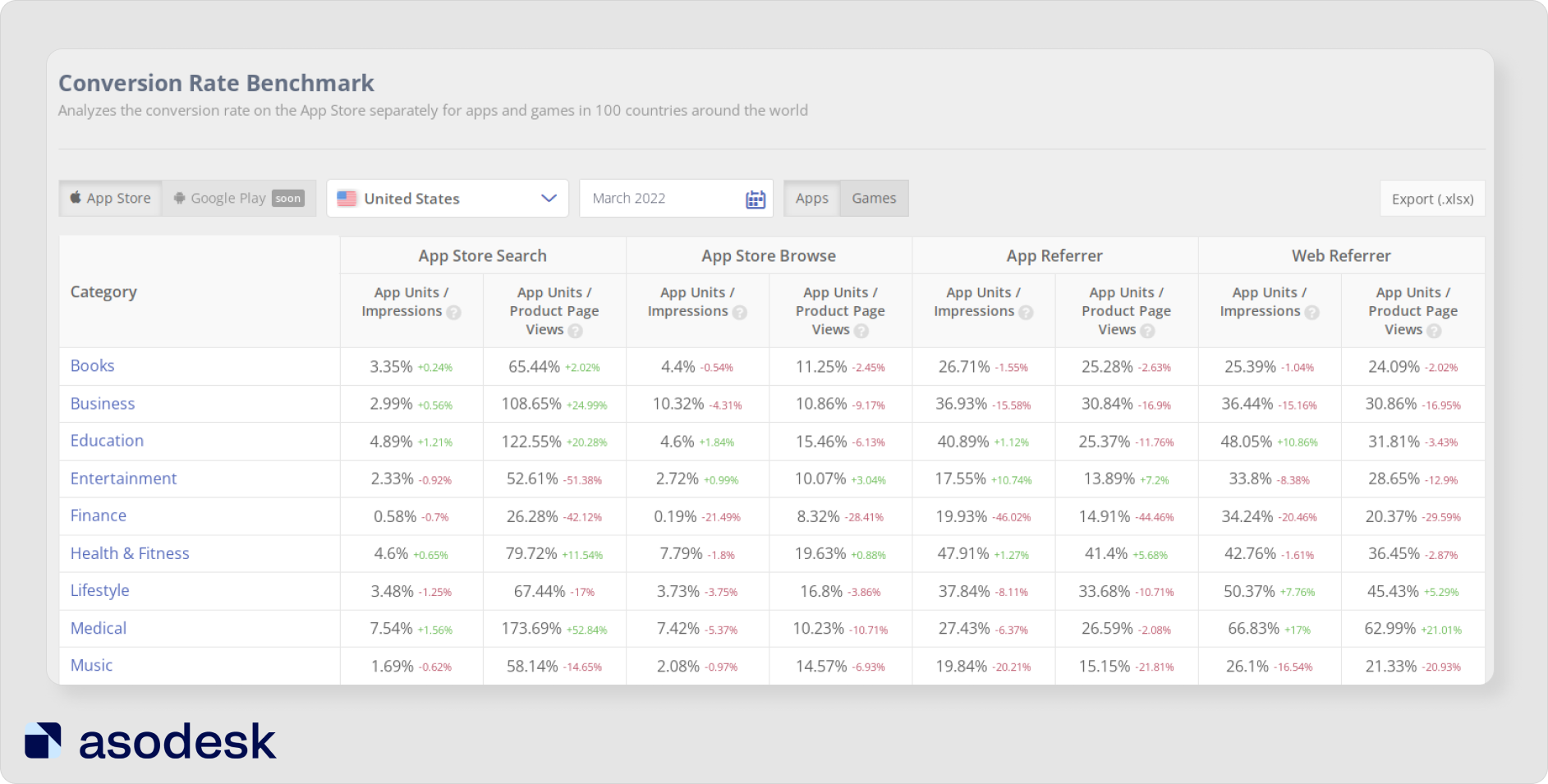 Get accurate subscriptions analytics
The main principle of data-driven decisions in marketing is to have accurate data on time. But getting the data on mobile subscription events is a daunting task that requires a complex server infrastructure and a significant resources allocation to that. With Qonversion you can accurately track your subscription app's performance metrics, such as conversion rates, retention, churn, MRR, ARPPU, revenue, and refunds, and use some other tools that help you win lapsed customers back.
For instance, within the cohort dashboard you can check subscriber retention by months and the factors driving it. Based on this information you can use churn prevention tool — Automation, that help you to automate your customer communication, set up triggers for in-app purchases events, and build logic around your notifications.

Qonversion is free to use if you have less than $10,000 in MTR.
Analyze featured reviews of your app in the App Store and Google Play
When people come to your app page, they see featured reviews first. That is why it is especially important to work with them and avoid having negative reviews in Featured.
To analyze featured reviews of all countries in one place you can use the Featured Reviews tool in Asodesk.
Just select the country you need and analyze all featured reviews in it.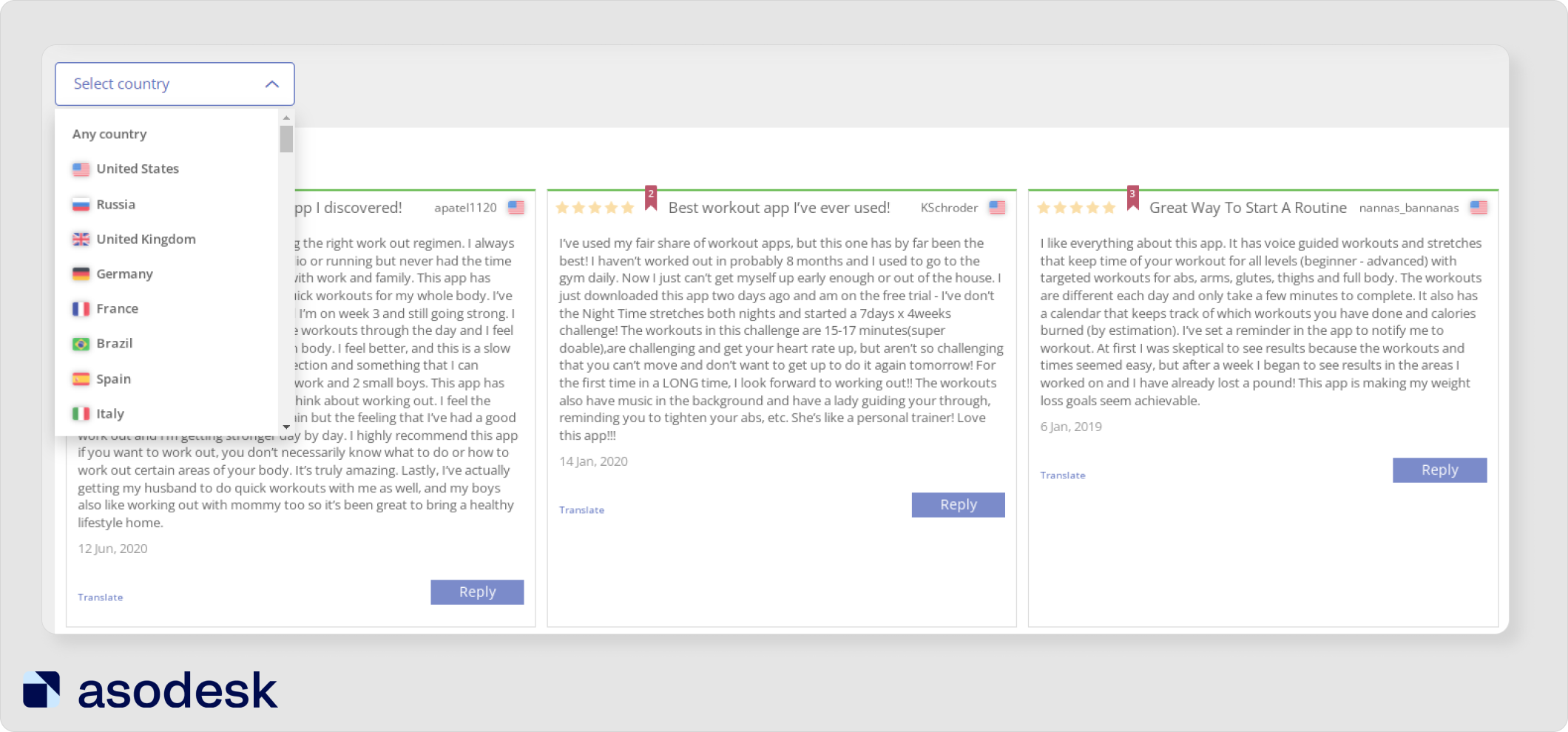 See the analytics of your reviews
It is important to analyze reviews regularly to keep up-to-date with your users' opinions. Otherwise, you risk missing out on a spam attack by competitors or a downgrading of your app's rating after it's been updated. For example, you can see that after the app update we received 56 reviews with a 1-star rating.
To check the statistics on your reviews, you can use the free Reviews Analysis tool in Asodesk. You can analyze reviews for different countries and versions for every desired period.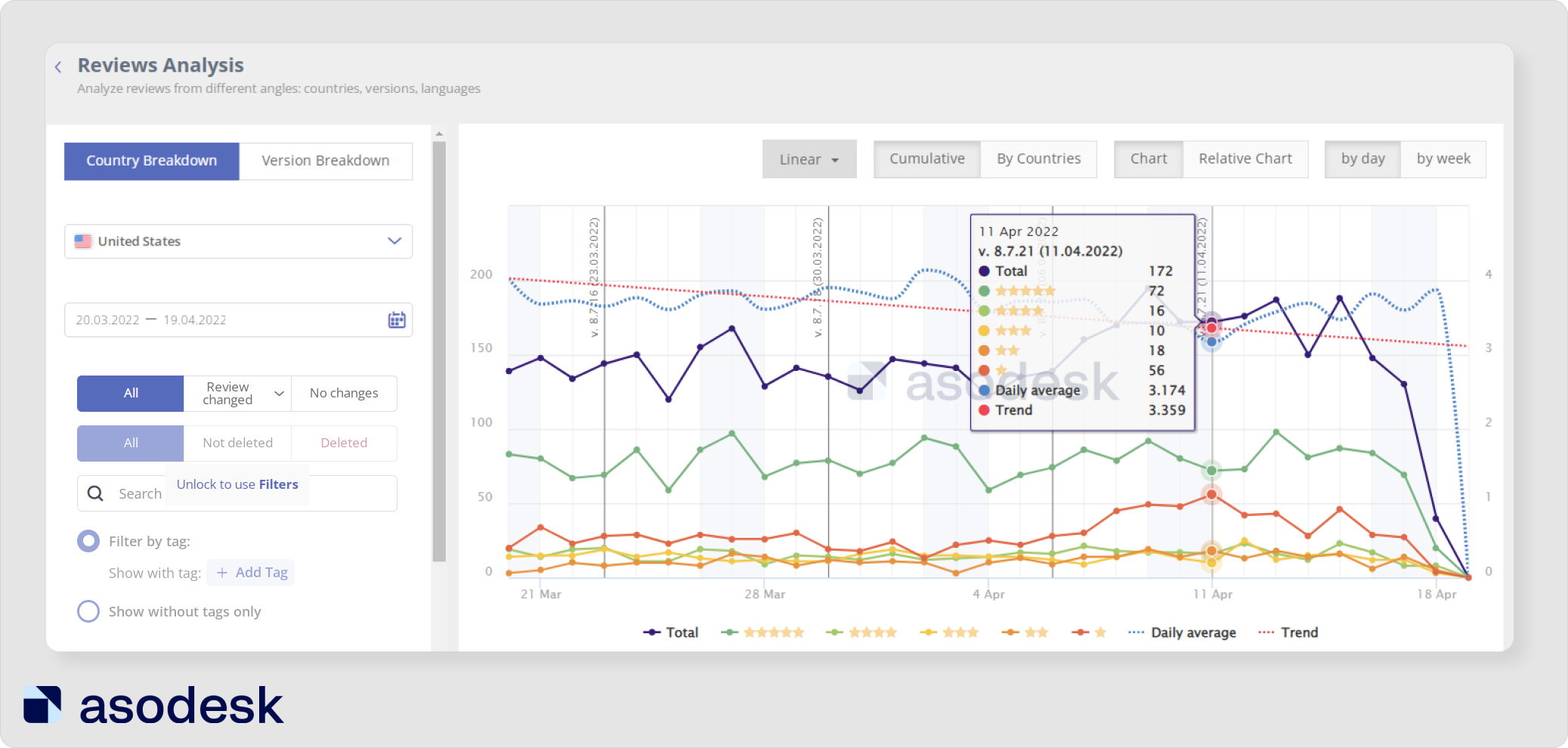 Start using Asodesk in a free plan and get access to reviews tools.
Analyze how people use your app with Mixpanel
With Mixpanel you can see how often users perform meaningful actions, and monitor the growth of different users' cohorts. You can also:
Analyze which users convert and why
Discover which actions users make before they make a purchase
Сheck the stickiness of your users
Identify which user groups retain best.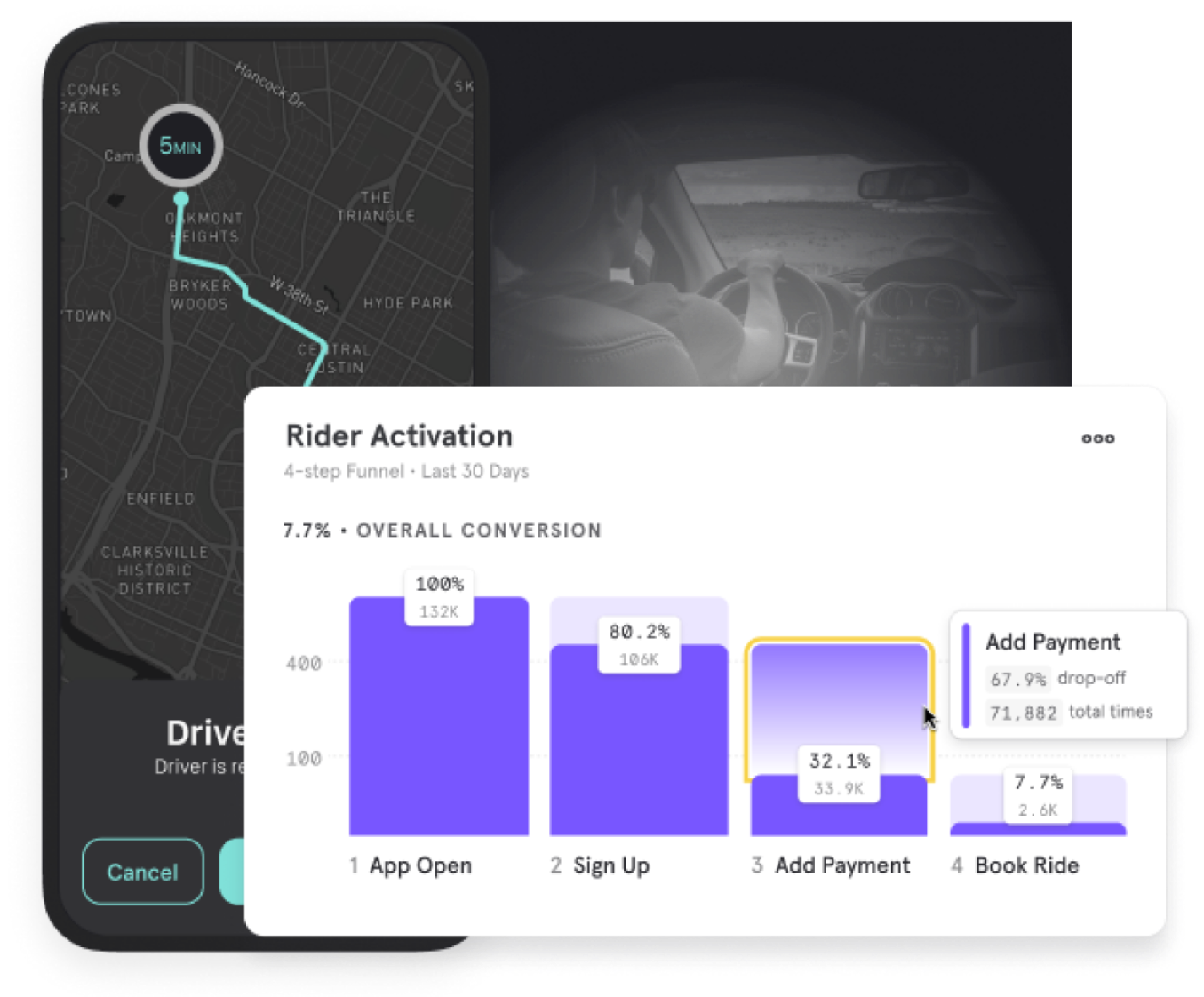 How to solve app promotion tasks for free
1. Find the best apps in your niche with Top Charts.
2. Analyze the releases of your competitors in the last three month with Hot Releases in Apptica.
3. See which search queries are getting popular with App Store Trending Searches.
4. Analyze which queries are the most popular with Top Keywords.
5. Learn which competitor ads work the best with Advertisers in Apptica.
6. Analyze the ad creatives of your competitors with Creative Gallery in Apptica.
7. Check localization for your app with the App Store Localization Table.
8. Create banners for ads and screenshots with Screenshots Pro, Canva, Figma, and Apple Promotion Tool.
9. Find keywords that you missed and which are popular among your competitors with Keyword Manager.
10. Check Apple Search Ads Popularity, Ranking of apps, number of competitors, and search suggestions for every keyword with Keyword Table.
11. See all keyword phrases from your words with Keyword Shuffler.
12. Make the best app description for Google Play with Google Cloud Natural Language.
13. Learn how many times you repeat keywords in your description with Keyword Density Counter.
14. Compare your Conversion Rate with the average in your category with CVR Benchmark.
15. Analyze your app's performance metrics from all sources with Qonversion.
16. Check featured reviews of your app for all countries with Featured Reviews.
17. Analyze your reviews statistics for any country, version, and period with Reviews Analysis.
18. Analyze the behavior of your users with Mixpanel.
Subscribe to the Asodesk newsletter and get expert articles on how to work with reviews and App Store Optimization, as well as ASO news digests.