News Digest ASOdesk #6 June 2019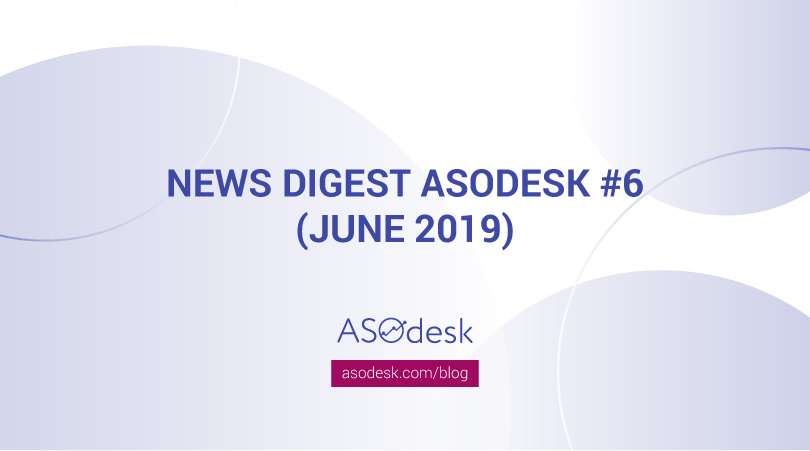 In the latest digest from ASOdesk, you will find the latest market news, our most recent product updates, and announcements of events for ASO professionals!
ASOdesk celebrates three years from the launch of our first product. We are celebrating our anniversary, and we are happy that you are with us. From our launch to the present days, we have done a lot, and we are proud of our achievements.
We launched 23 major product releases and three projects on Product Hunt. More than 17,500 companies from 40 countries trust us today. Our employees work in 4 cities.
Today in ASOdesk:
Over 14 million keywords updated daily
More than 9 million applications from the App Store and Google Play
Over 100 countries
More than 15 tools for ASO optimization and analytics
Every day we make ASOdesk a more efficient and convenient service. We are implementing new features and solutions for ASO and apps analytics. Because of our anniversary, we want to give you more opportunities for ASO optimization of your applications.
New Top Keywords tool
We are introducing the new free tool, Top Keywords, which you can use to research top queries in any country represented in ASOdesk.
Top Keywords tool shows the most popular keywords in the selected country. Unlike Trending Searches on the App Store, it shows not the most trending keywords, but the most popular search words or phrases in a selected country, based on the Traffic Score.
You can check the Top Keywords for the selected country.
ASO Dashboard – effective analysis of traffic sources on the App Store
Dmitry Kofman, the ASO Director for Gambino Slots, told us how they work with App Store Connect data and why correct data visualization is essential for both the ASO manager and the marketing director. He told us how they now use ASO Dashboard from ASO desk for traffic analysis and data visualization.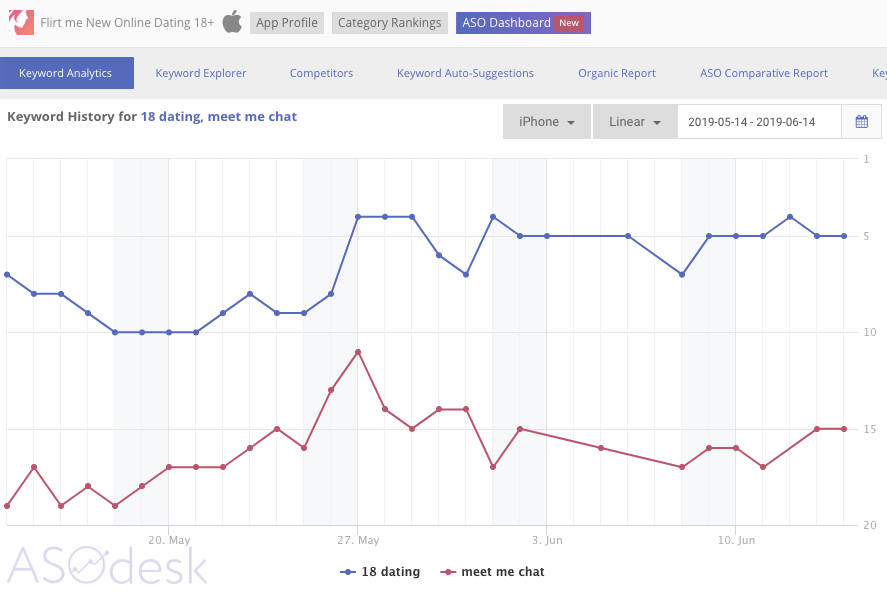 Here are the main advantages of ASO Dashboard that Dmitry Kofman highlighted:
Tracking of unique installs, interactions, or page displays and conversion to installation ratio;
Conversion analysis by country;
Comparison by traffic channel;
Analysis of the general picture over a particular period and setting actionable KPI (this one's more useful for weekly or monthly overviews);
An interesting possibility to compare data by Installs vs. App Units;
ASO Dashboard is a great tool for data analysis and, it's good not only just for organic traffic, but for advertising traffic as well. This tool will help you understand the ASO sphere better and deeper from your own point of view due to its flexible visualization.
We offer an expanded trial for ASO Dashboard connection, just send us request!
Important market news
Changing the App Store Algorithm
In the AppStore search, we observed changes in the indexing of the Mexican locale; most applications were affected.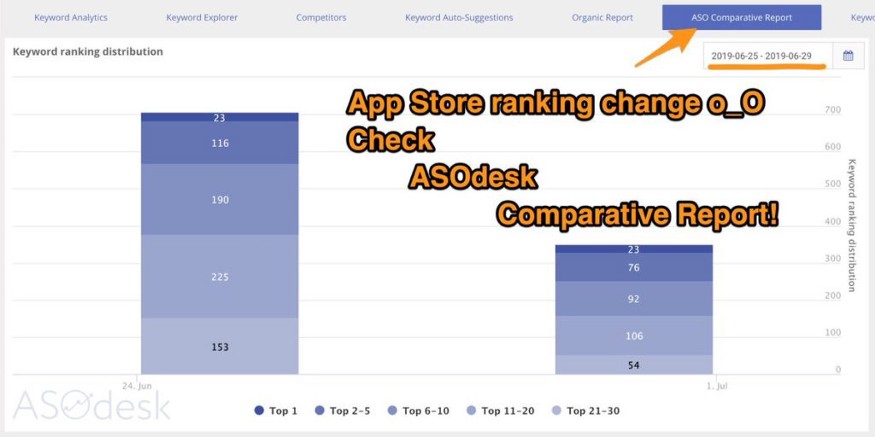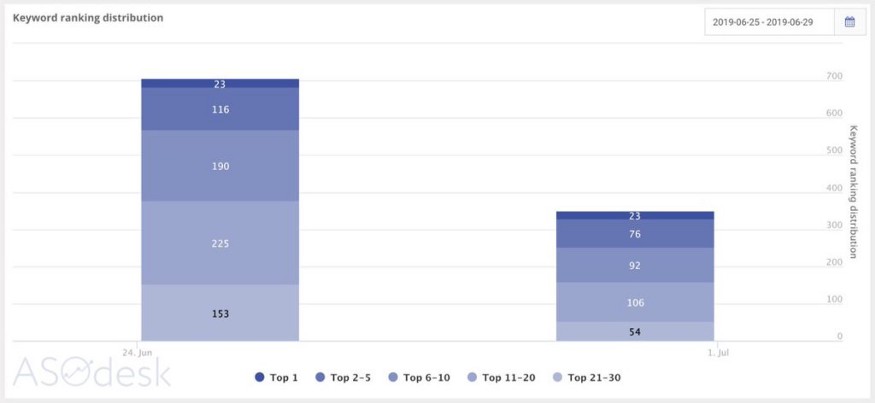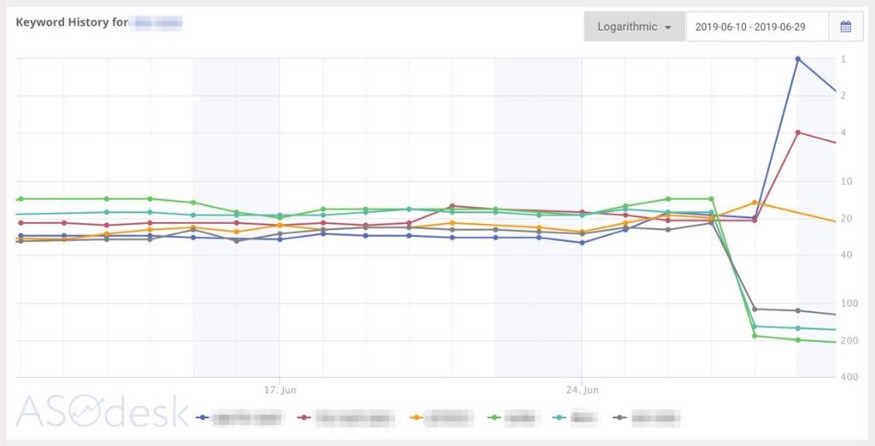 Apple WWDC 2019 Review: iOS 13 and More
Apple announced the update of the operating system for iOS devices. We chose the essential points that will be important to application developers, marketers, and, of course, ASO managers.
iOS 13 what to expect?
FaceID unlocks up to 30% faster.
App Downloads are going to be 50% smaller, with 60% smaller updates.
App launch speed will be accelerated up to twice as fast.
Dark Mode is now available on iOS devices – a nice update for our eyes. If a third-party application is designed strictly according to Apple's guidelines, it will also support Dark Mode and provide an opportunity to enable it.
iOS 13 protects users privacy with a feature called Sign In with Apple.
With iOS 13 you can use new Memoji Stickers in Messages
New audio sharing will allow more than one person to listen to your device.
New tools for editing photos and videos, like portrait lighting effect which changes how your images look.
New maps with detailed landscapes look impressive, also was added a feature similar to Google Street View, but fully animated.
New languages in the App Store Connect: Arabic and Hebrew
Recently in the App Store Connect were added new languages: Arabic and Hebrew. Now developers can localize their applications for users in the countries where these languages are dominated.

You can use Arabic for localization your apps in Algeria, Bahrain, Egypt, Kuwait, Lebanon, Mauritania, Oman, Qatar, Saudi Arabia, Tunisia, United Arab Emirates, and Yemen. For application in Israel you can use Hebrew now.
If countries listed above is in priority for your product promotion, now you can use all capabilities of App Store Optimization and expand amount of keywords for the app, adding Arabic or Hebrew in selected countries.
We updated our table of countries and localizations of ASOdesk, where you can also check all current localizations in the App Store.