How to increase app downloads and subscriptions in the App Store and Google Play
Published: 29.08.2022
Updated: 15.09.2022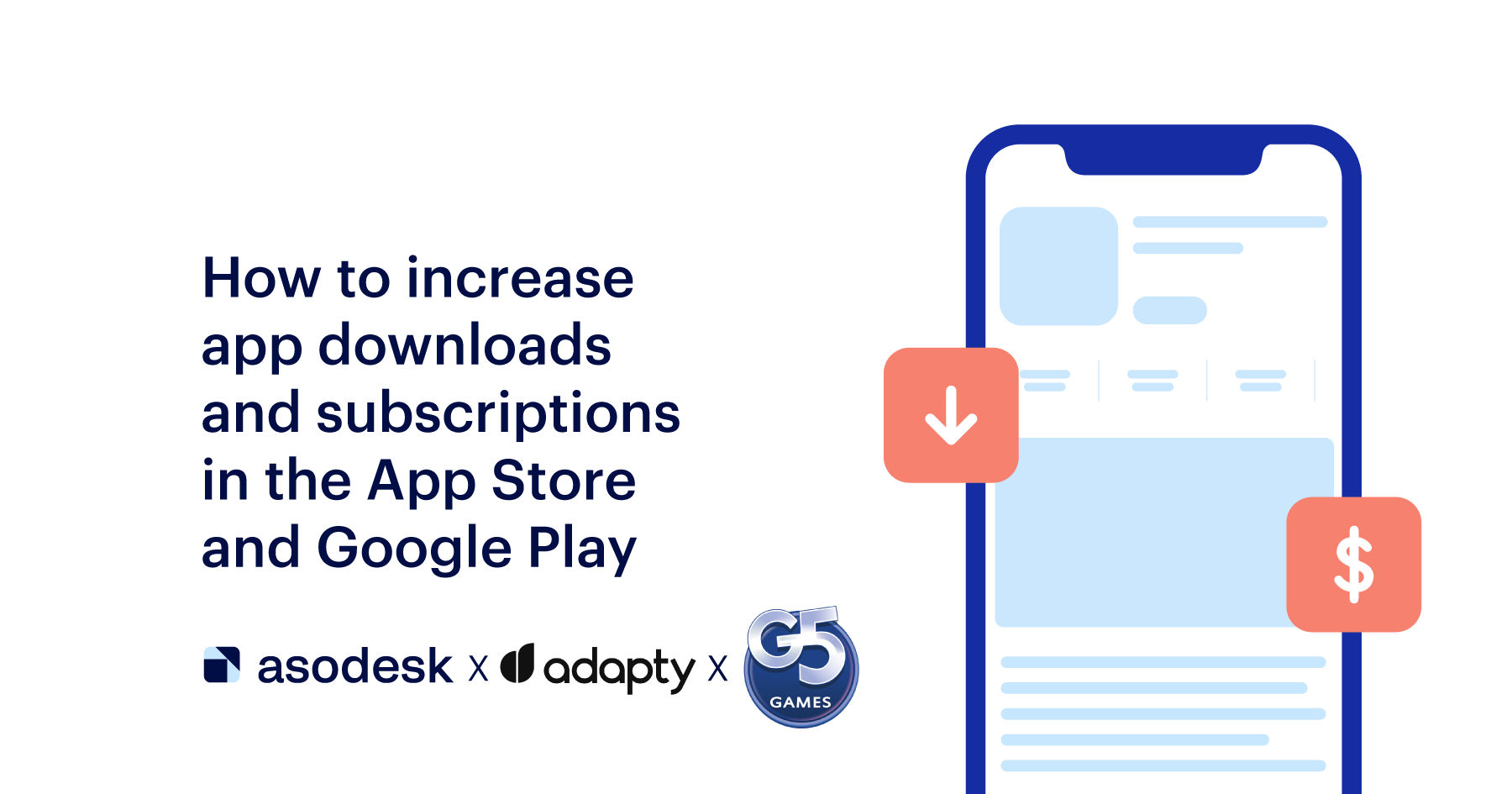 To increase app revenue, you should work on User Acquisition as well as convert free users to paid subscribers. In this article, experts from Asodesk, Adapty, and G5 Games explain how to boost app downloads in the App Store and Google Play and share tips for increasing the number of paid subscriptions. 
The article is based on a free webinar with Julia Abramovich, Senior ASO manager at G5 Games, Elizabeth Komarova, Customer Success Lead at Asodesk, and Nikita Maidanov, CPO at Adapty.
Contents
4 ways to get more app downloads from the App Store and Google Play
5 ways to increase app subscriptions
Key tips for increasing app downloads and subscriptions
4 ways to get more app downloads in the App Store and Google Play
1. Work on your text metadata
To boost your app's position in the search results, you need to format your textual metadata correctly and put keywords that can bring you installs in the metadata fields. In the picture below you can see the requirements for the metadata fields in the App Store and Google Play.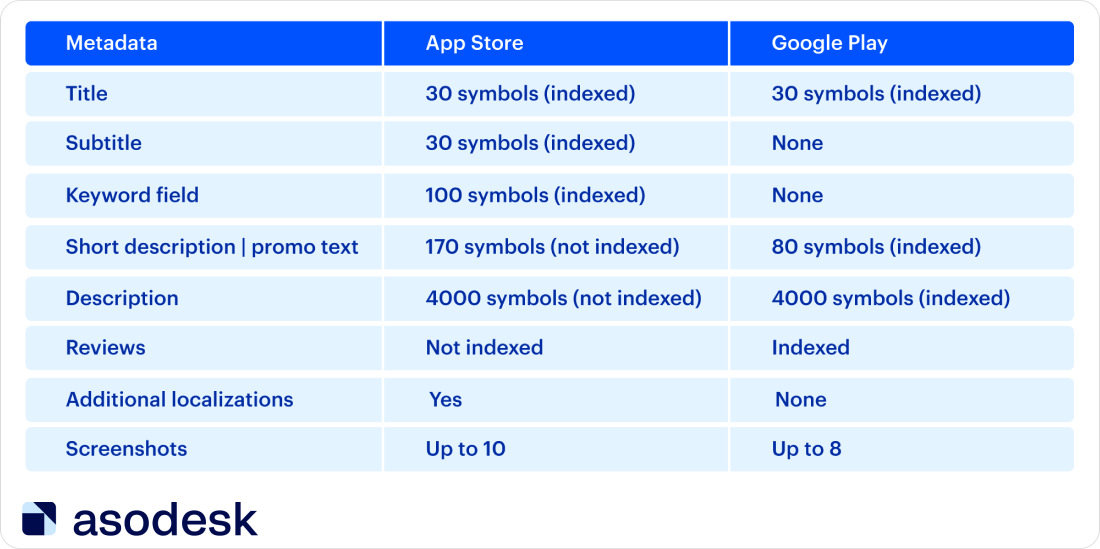 Here are several tips on how to prepare your textual app metadata:
App Title and Subtitle
Optimize your Title and Subtitle visibility. Your users usually don't see all the characters of your Title and Subtitle in the search results. That is why it is important to put strong generic keywords at the beginning of your app title, as they will help your app to rank higher in the search and help users understand what they can do with your app.
Use all available characters. Even if you can describe your app with less than 30 characters, it's best to use the maximum characters allowed and add as many important keywords as possible. This will help your app to rank higher.
Think about whether you should use your brand name. If you want to put your brand in the Title, but your company is not famous yet, we advise you to put its name at the end of the Title or even move it to your app icon. This can increase your conversion as users will see what your app is about.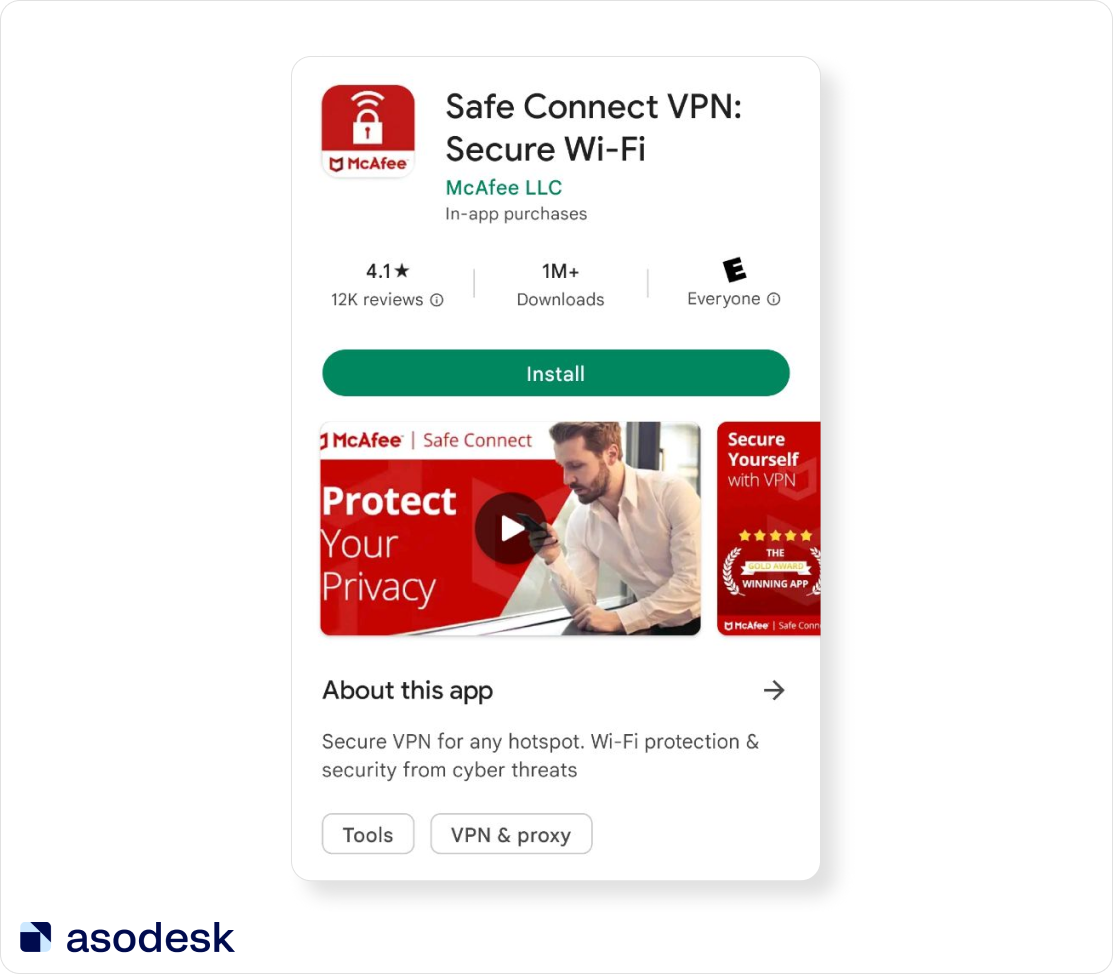 Put high or medium-frequency keywords in the Title and Subtitle. It is important to put general keywords with which users search apps from your niche most often. These keywords can easily make keyword phrases with words from your subtitle, short description, and long description, which help your app to rank higher on more phrases. You can find strong keywords while analyzing competitors' metadata, suggestions from ASO services, and search suggestions from the App Store and Google Play. Collect all the necessary keywords with Asodesk tools.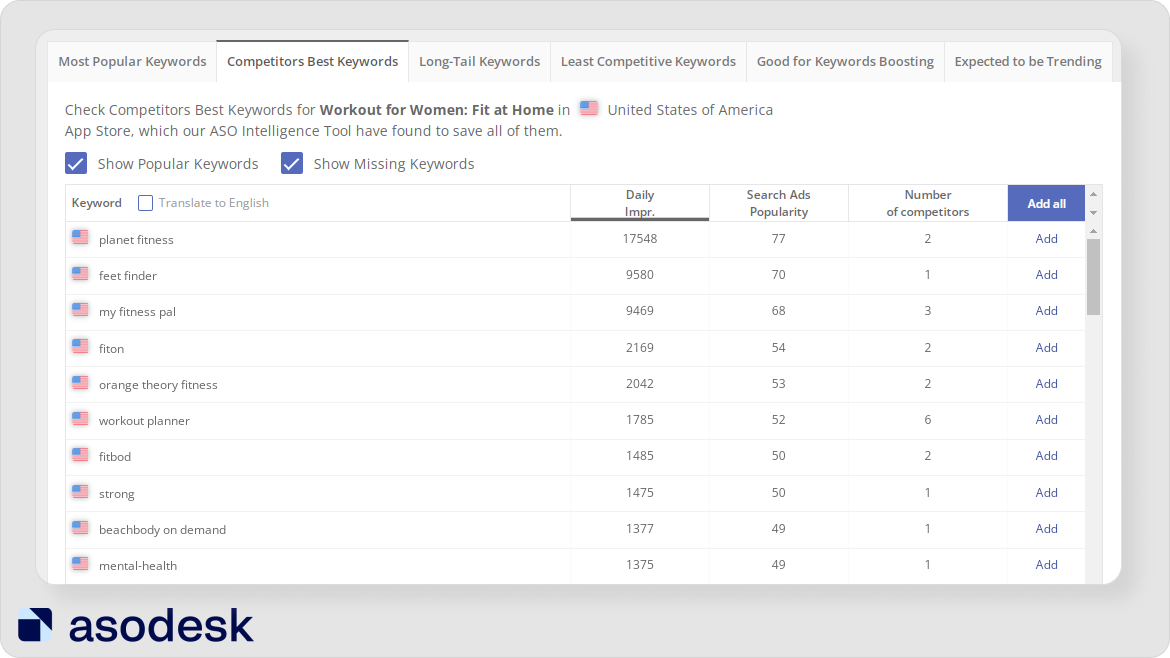 It is important to choose keywords that will not only get you better positions and more downloads, but will also boost subscriptions and revenue. Read how to find these words in our article.
Description
Put keywords in the full description in Google Play. This field is indexed by the Google Play algorithm, which is why it is important to put keywords there. You can use keywords that you still want to rank for, but are not as important as words in the Title and Subtitle. Unlike other metadata fields, you can repeat keywords several times in this section, but do it no more than 3-4 times in a 2000–2500 character text. Check how many times you have repeated keywords with Asodesk's free tool Keyword Density Counter.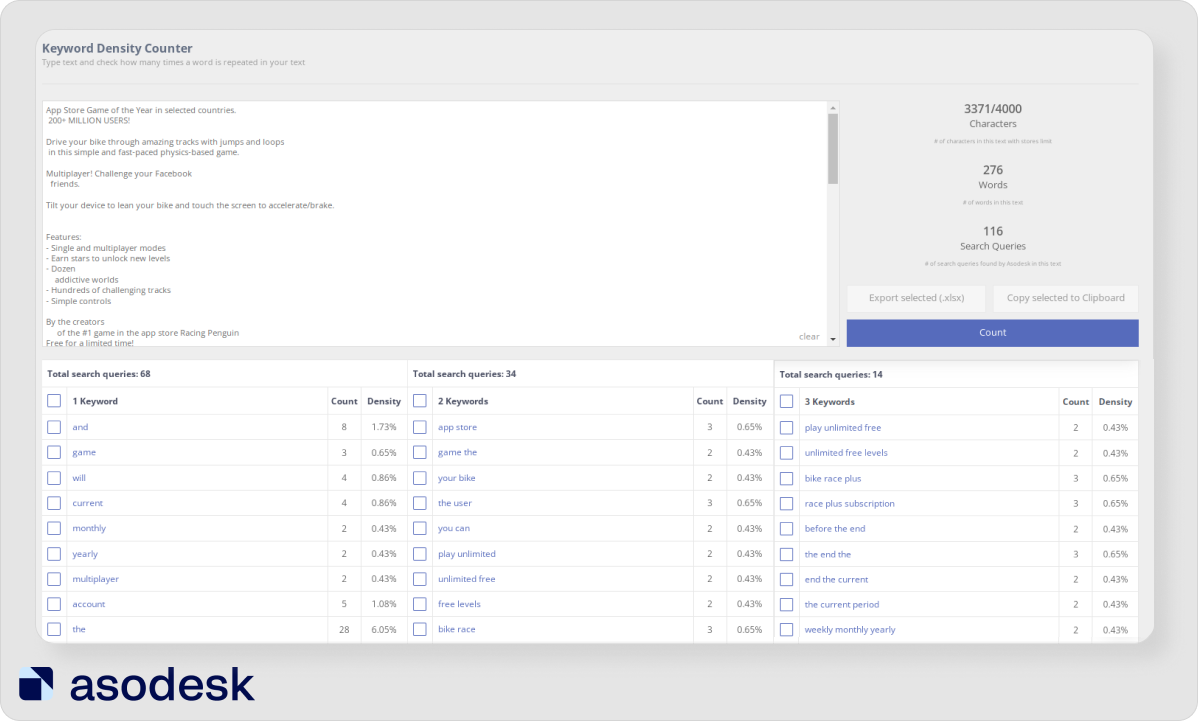 Use a clear structure. It will be difficult to read a solid text without paragraphs and indents. To make your description easy to read, divide it into paragraphs, and use subheadings and emojis. Compare texts both with subheadings and without it.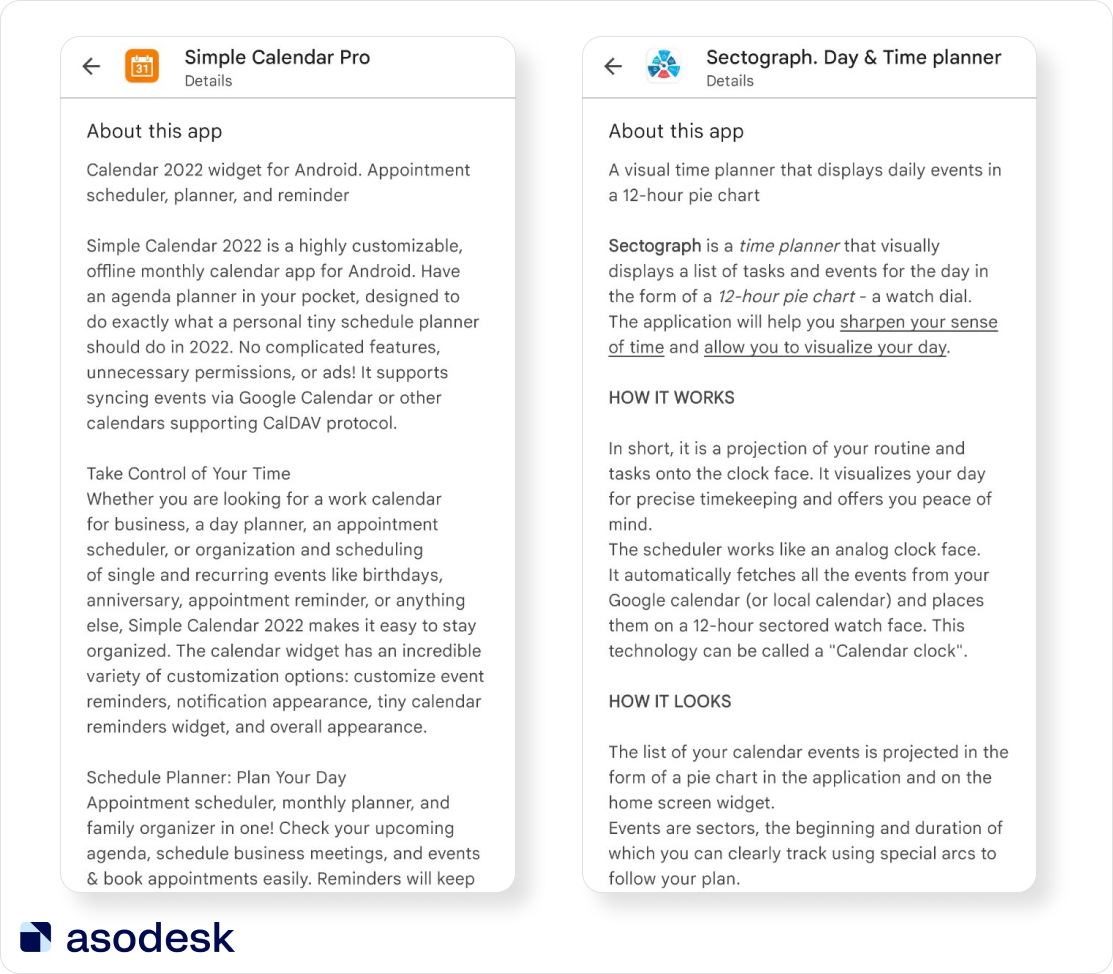 Avoid spam. Don't put the same keywords in the Google Play description, otherwise, you may be punished by the search algorithm.
Include information on your awards and ratings. In the description, you can also use recommendations to convince users to download the app. But be careful with Google Play, as they don't allow developers to include information about install numbers, awards, app ratings, reviews, and critics' ratings in the application description.
Keywords in the App Store
Use all available characters to add more keywords. In the App Store, users don't see the keywords fields, but it is indexed by the search algorithm. That is why it is important to add as many keywords as possible. Here you can also use the brand name of your competitors, that you can't include in the visible metadata.
Avoid extra spaces and characters. You need to put commas between words, don't put extra spaces and other characters.
Additional localization in the App Store
Use localization to get 160 more symbols and the chance to attract users that speak other languages. For example, users from the USA who speak Spanish will see metadata in their language. Find additional localizations for targeted countries with our free table.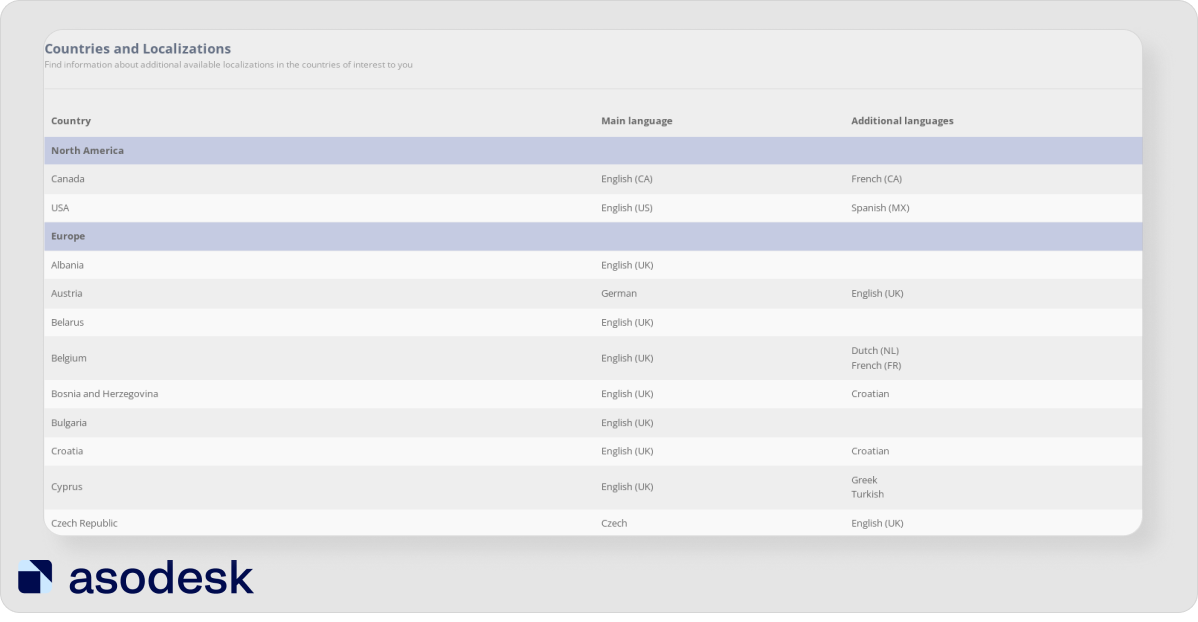 Textual metadata is the most important factor that influences your app's visibility and positions. The more people who see your app, the higher the chances that they will finally download it. Find the right keywords for your metadata fields and enter them correctly. Use recommendations in textual metadata when appropriate. Read 13 rules for working with app metadata in our article.
2. Use app icons, screenshots, and videos that grab users' attention
While textual metadata influences the app's positions, visual metadata influences your conversion-to-install rate. Let's look at how to choose the best icons, screenshots, and videos for an app.
1. Conduct competitor analysis. It is important to stand out from your competition with icons so that users notice your app and download it.
2. Conduct A/B-testing. You should also do A/B-testing of your app icons to compare the results and choose the best option.
3. Synchronize the product page's visual assets with a seasonal event or holiday in a specific GEO. A good understanding of typical user behavior during seasonal events helps to plan marketing strategies and adjust marketing or in-app experiences accordingly. For example, Julia Abramovich from G5 Games shared that the use of seasonal elements for Halloween helped a company improve its conversion rate on 10%. 
4. Adapt your visual metadata for different countries. You should take cultural nuances into account while preparing app metadata, as they can influence app conversion. Julia Abramovich advises taking colors, characters, social aspects, text, elements, and landmarks into account. 
To convert potential users into active users, you need to work on your textual optimization. Read about more hypotheses that can help you to find the best metadata for your app in our article. 
3. Use the App Store's features for your page
Apple has some great tools that can help you to increase app conversion and install numbers:
In-app purchases show purchases that users can make with your app. With this tool, your app can take up more screen space in the search results.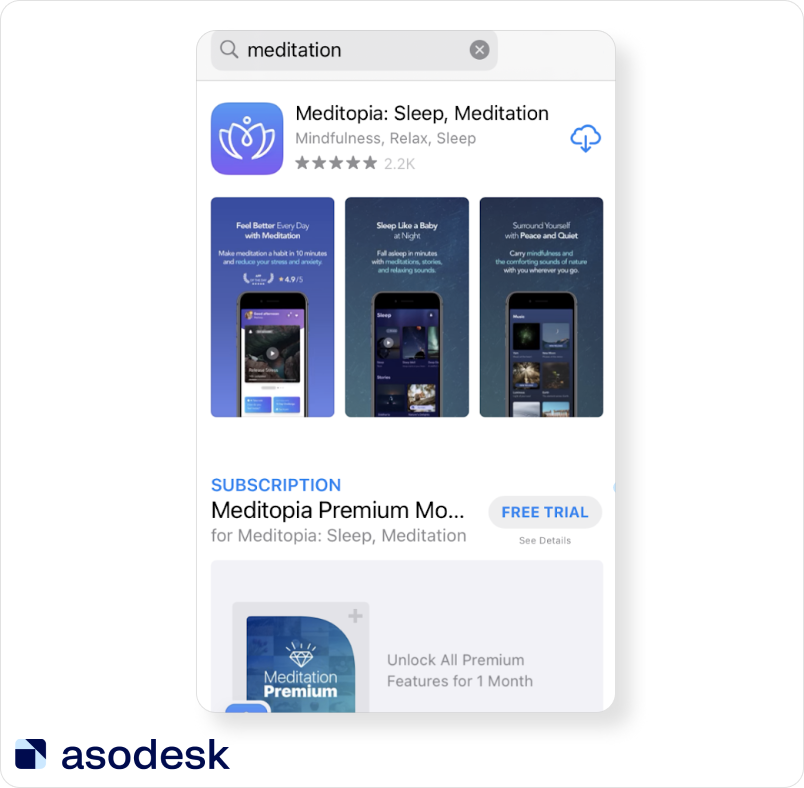 Customer Product Pages allow you to make up to 50 product pages for a particular audience and use different pages in your ad campaigns.
In-App Events show important current events such as game competitions, movie premieres, live-streamed experiences, and more. This tool helps developers to increase the number of active users that can make purchases in their apps.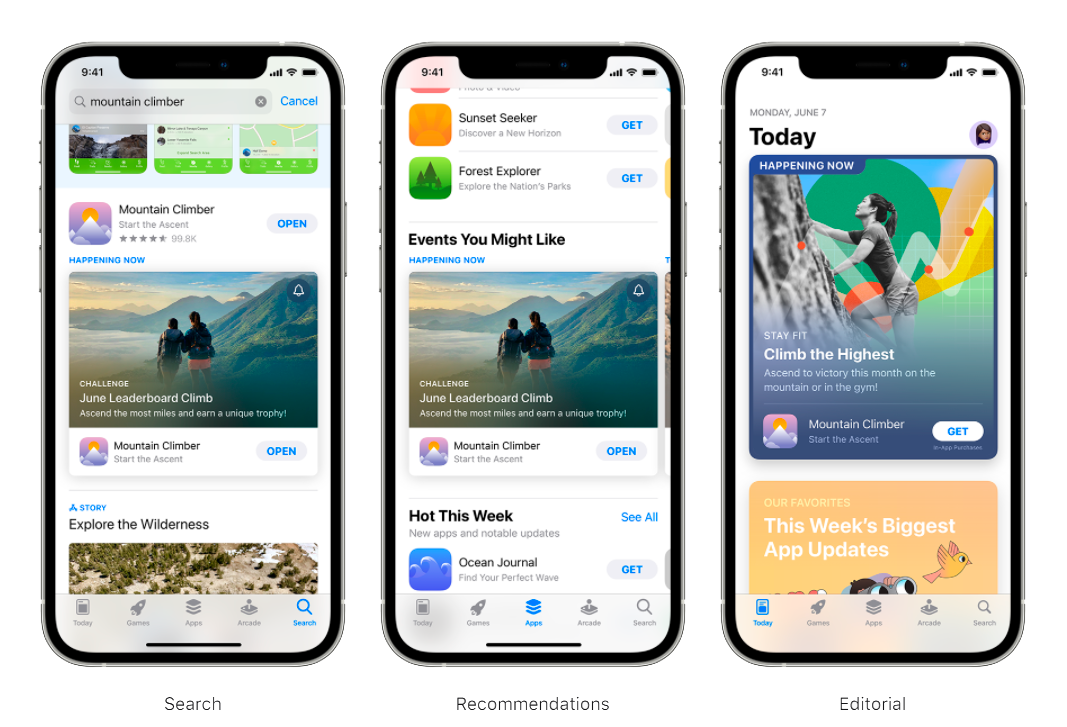 Product Page Optimization allows publishers to A/B-test different variations of icons, screenshots, and app metadata and choose the best option.
Try to use these free features for your app, as they can influence your app's conversion rate and downloads.
4. Work on ratings and reviews
Reviews and ratings influence your conversion rate significantly. According to Apptentive, improving ratings from 3 to 4 can improve conversion in the App Store by 89%. And if the rating is increased from 3 to 5, conversion will improve by 97%.
Here are some rules which can help you improve your reviews and ratings:
1. Work with negative reivews fast. It is important to report them to support or reply to them and solve users' problems before these reviews influence your app rating.
2. Save time by using templates and automatic replies to reviews. There are a lot of repeat reviews on app pages. If you want to save your time, use templates and use automated settings which can help to reply to them automatically. This will give you more time for replying to unusual reviews.
3. Place your app's review request strategically. Ask a user to evaluate your app within the app. If they want to leave a bad review, send a feedback form inside the app. If they want to leave a good review, send them to your app page in the App Store or Google Play.
Work with reviews regularly, as this will boost high ratings. Read more about 33 hacks for working with reviews in our pdf guide.
5 ways to increase app subscriptions
1. Use different subscription tools for your app in the App Store
There are some standard tools from the App Store, that can help you get more subscribers:
Grace period, a special period that your users get when they fail to renew a subscription. Instead of going into billing retry state right away, users will get the grace period, which is six days for a weekly subscription and 16 days for monthly and longer subscription.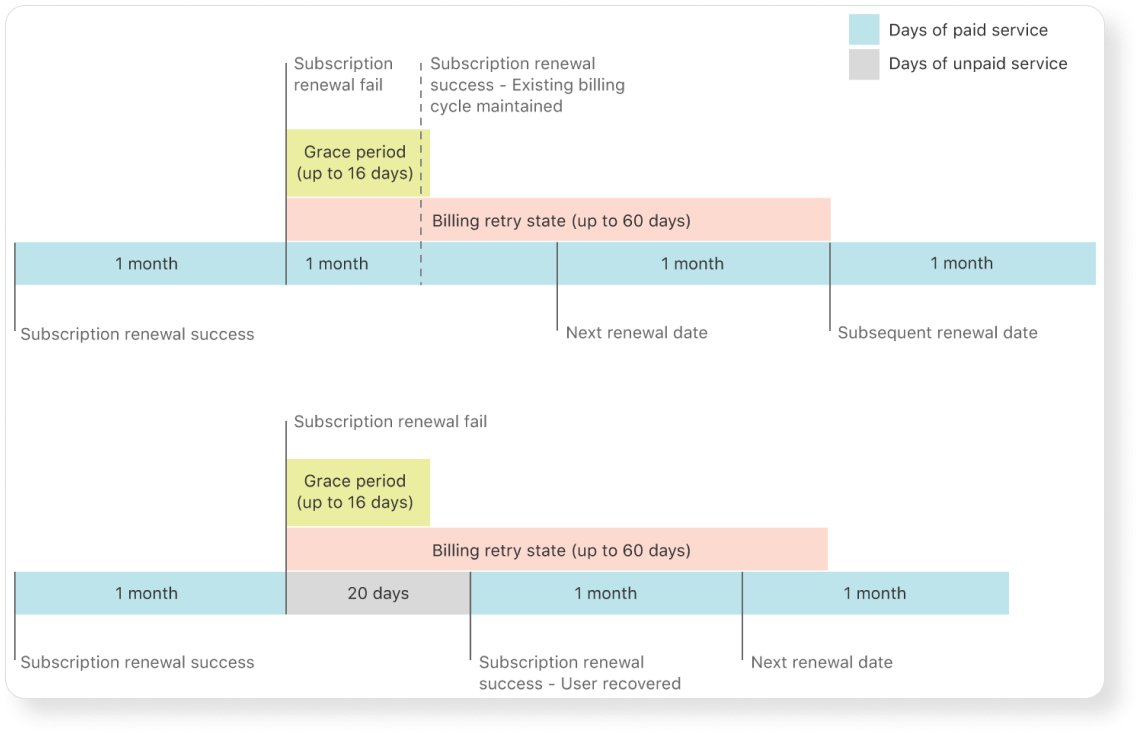 It is helpful because, during this grace period, users still have access to your premium features through their subscription. They don't lose access, and they can fix their issues with the payment while you'll have a lower churn rate because of the billing problems.
Family sharing. This only forks for the iCloud family and you don't have to implement your own solutions for sharing subscriptions. Developers can turn it on in App Store Connect for a specific purchase ID. But remember that not all subscriptions have to be shareable. You can create a family plan that can be more expensive than other plans. In this case, your user will get access to your premium features for their family, and you'll increase your LTV. A win-win for everyone!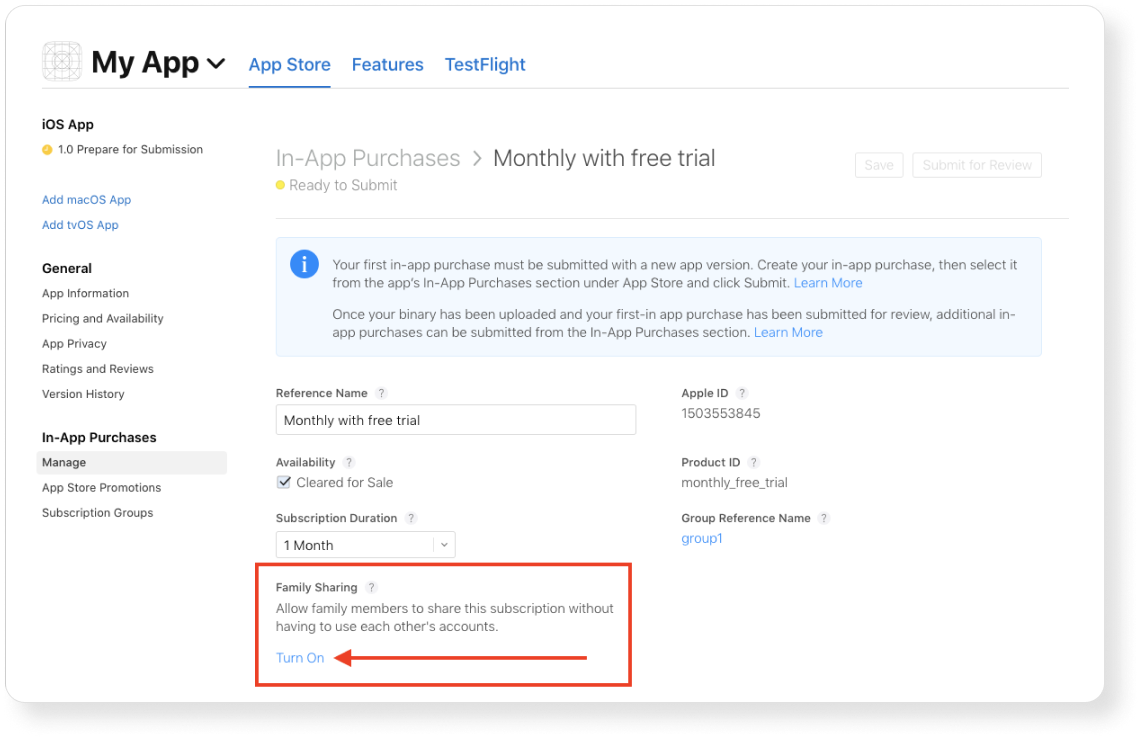 Subscription bundle. You can implement a subscription bundle for a number of your apps via your server or Adapty. Using bundle, you can promote multiple apps via the same subscription.

Pay up front, a type of introductory offer for a special price that users should pay before converting to the full price of your subscription. For example, instead of being just a free trial, you can set a $10 fee for the 1st month. And later, the subscription will renew for regular price.

Pay as you go, almost the same as "Pay up front", but with an ability to set a number of periods for a discounted intro price. With this feature, you can make several renewals. Simply turn it on in App Store Connect.

Promo offers, used to win back and retain churned subscribers. These special offers are not available to new users, but they can be interesting for your churned subscribers. With promo offers, you can offer users a trial again even if they have already used it.
Offer codes. You can't implement your own promo code system because it's prohibited by Apple review guidelines, but you can use offer codes in App Store Connect. It is a feature that allows you to create up to 150,000 codes in six months for your users. With these promo codes, you can implement specific offers and distribute them as much as you want. Just remember that selling them is not allowed.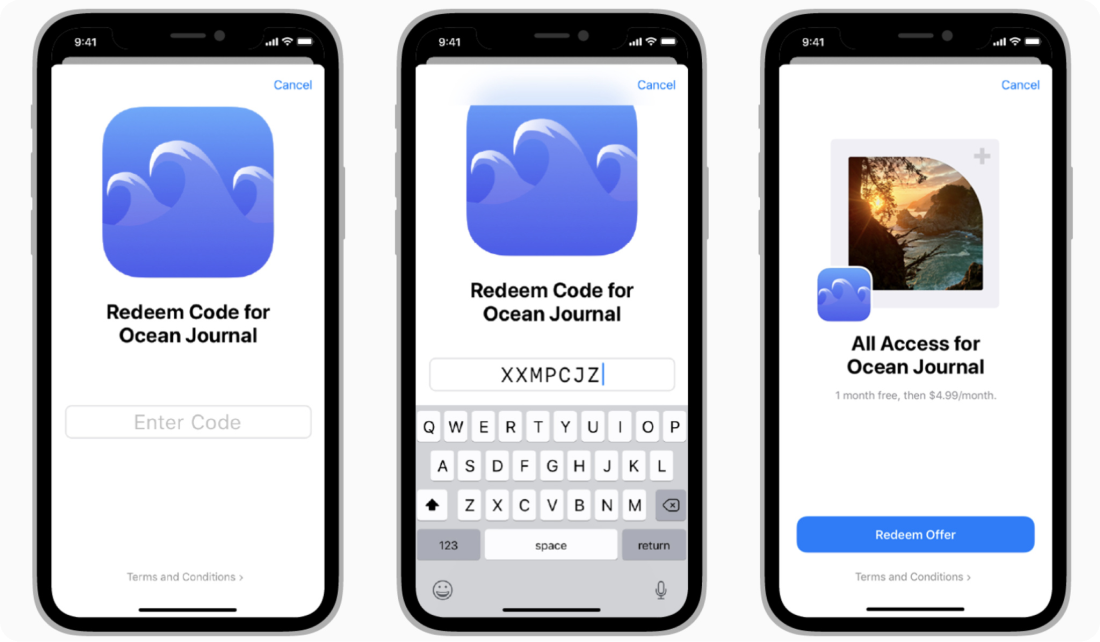 An offer code URL is a special URL for redeeming a code that you can send to your users. Recently, Apple made it even more useful: you can now use any freeform text as a promo code, so you can write any word you want.
Renewal extension API, allowing you to extend the renewal date for your subscription. For example, you can provide your customers with additional free periods after your service was down.
Subscription management and refund request, another couple of tools from Apple that you can implement with just one line of code. These screens are not mandatory, but you can add them if you want to improve your user experience.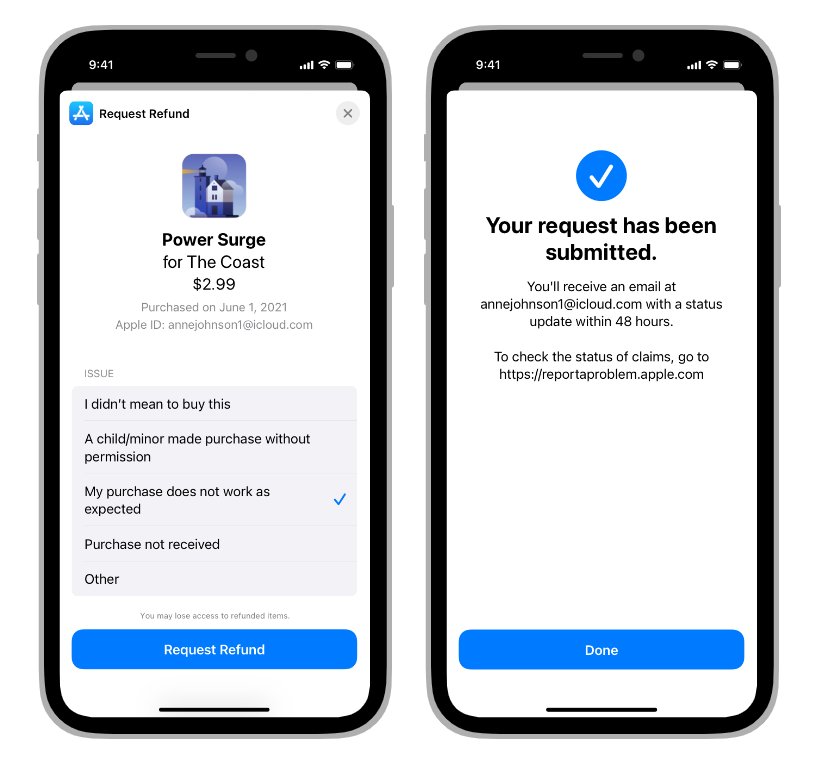 Testing of subscriptions in Xcode. Until recently, you had to test everything via Sandbox users, which was not really convenient. But now you can use Xcode. There, it's quite easy to test all subscriptions, nuances, renewals, and so on for a specific problem.
2. Determine the best trial period
If you choose the right trial period, your users will be able to test all features of your app and will be more likely to buy a subscription. To determine the best trial period, you should think about your product life cycle and the period during which your users can benefit from the product.
For example, one period tracker app provides a 3-month trial subscription, which looks too long. But on the other hand, they calculated that users need 3 months to benefit from the app, get used to it, and convert to paying subscribers. That is why you should analyze your users' behavior to choose the right trial period.
You should also look at the trial periods of your competitors. If your trial will be shorter than trials of the majority of your competitors, users are likely to choose other apps over yours. Usually, app developers choose 3 to 7 days for a trial period.
3. Choose the right price for your subscription
If you just want to enter the market, do a competitor analysis when choosing the price for your app. But after the release, this won't be enough: you should also do A/B-tests to define the best monetization strategy for your app.
We also suggest counting the lifetime value (LTV) and average revenue per paying user (ARPU) while comparing different monetization strategies.
By the way, Adapty has calculated LTV lifetime value from the users from different distribution periods. According to the Adapty State of In-App Subscriptions Report, almost in all countries in the world, a weekly subscription is two times more profitable than a monthly subscription. Keep that in mind when choosing your price and period.
4. Find the right time to ask for a subscription
It is important to build the right funnel for your app before a paywall as it can have even more influence on your Conversion to Subscription than a paywall itself.
When building the funnel, you should think about:
user experience;
questions you ask during the onboarding funnel;
what roadblocks users can have on their path. For example, an unnecessary sign-up form;
how you can make paywall more personal;
how you can make your funnel more interactive.
5. Choose the highest converting paywall screen for your app
Here are 3 tips that will help you find the best paywall:
1. You should test different variants of paywall before making a decision. According to Adapty, developers who currently do A/B tests see a 30% improvement in revenue in a couple of months.
2. Remove the legal text from your iOS paywall so as not to distract users from making a purchase. It's been a couple of years since they stopped requiring legal text in the iOS apps. It can distract users and take attention away from the purchase. The legal text is already presented on the payment information page, so you don't have to place it on your screen.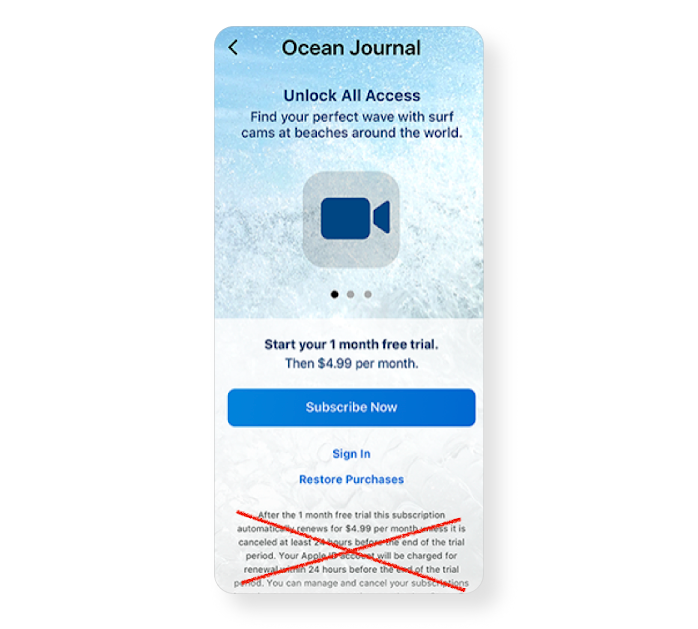 3. Try video paywalls as, according to Adapty's experience, it can significantly improve your conversion rate. But we advise you to test image and video variants of paywalls to make a final decision.
Key tips for increasing app downloads and subscriptions
1. Make sure your app title, subtitle, short description, and full description are written correctly. Indexed fields should include keywords, and all textual metadata should show that this app can solve users' problems.
2. Use A/B-tests to find the best visual metadata. Try seasonal graphics that capture events and holidays. Adapt your icon, screenshots, and videos for the country where your app is promoted: this will help increase your conversion rate.
3. Try In-App purchases, Customer Product Pages, In-App events, and Product Page Optimization in the App Store, as these features allow you to attract and retain users.
4. Respond to reviews as soon as possible, use replies templates to save your time, and report unfair reviews in the App Store and Google Play.
5. Use grace period, family sharing, subscription bundle, offer codes, and other App Store features to make your subscriptions more attractive for your users and more lucrative for you.
6. Analyze your competitors and your product life cycle to choose the best trial period for your app.
7. Determine the best price for your subscription using competitor analysis, A/B-testing, and LTV analysis.
8. Analyze your user experience to choose the best time to ask for a subscription.
9. Use A/B-testing to choose the best paywall. Try video paywalls, as they can increase your conversion rate.