Digest ASO News, November 2020
Published: 03.12.2020
Updated: 16.12.2020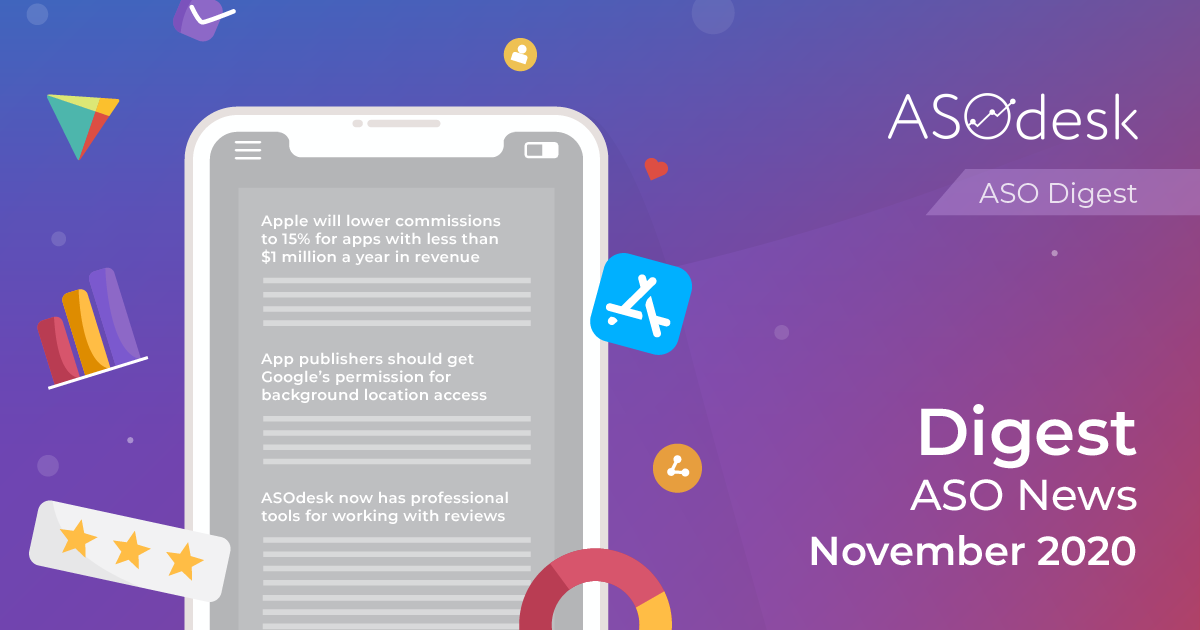 Apple is cutting commissions down to 15% for a number of publishers. App publishers should get Google's permission for background location access. ASOdesk now has a referral program as well as professional tools for working with reviews and metadata creation. Read all the news in our digest.
iOS news
App Store announced Christmas holidays from 23rd to 27th of December
Apple warned developers about the Christmas holidays and advised them to update applications in advance. From December 23rd to 27th PST, apps will not be accepted for moderation, reviewed, or published. The rest of the App Store features will remain available to developers.
App Store will reduce commissions to 15% for app publishers with revenue less than $1 million a year
Apple is launching a Small Business Support Program on January 1, 2021. Further information will be provided in early December, but the company has already outlined the main criteria on the website:
The program is eligible for publishers with less than $1 million in revenue for all apps in 2020. New developers who have not yet published the app in the App Store can also join the program.
If a publisher's revenue exceeds $1 million in a year, apps will revert to a 30% commission.
If the developer's income drops below $1 million in the next calendar year, he may pay a commission of 15% in the following year.
The 30% rate will continue to apply to apps selling digital goods and services with more than $1 million in revenue.
Apple noted that app publishers find the program useful for business. The company posted positive comments from developers and executives from 18 companies on the website.
Reducing the commission will help the vast majority of developers. According to App Annie, about 98% of all iOS developers earned less than $1 million in 2019.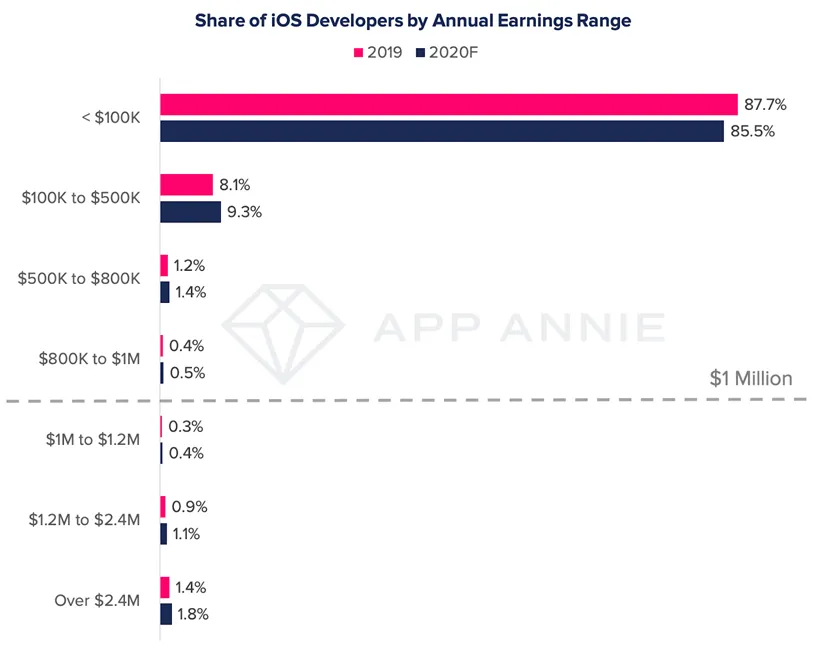 ASOdesk experts Sergey Sharov, Mikhail Shubin and Artem Tkachuk suggested how the change in commission could affect the mobile market:
App publishers can split their brands to lower the total revenue and pay less. However, the moderators will most probably spot the deception and will not approve such applications.
Apps and games might get cheaper. It will often be more profitable to receive less than $1 million and pay a 15% commission than to give the App Store 30% of your income. Therefore, app publishers might lower their subscription fees.
The developer will then receive 85% of the revenue, instead of the current 70%. As a result, User Acquisition profitability will grow by 21.4%.
iOS 14.3 offers the installation of third-party apps during the iPhone or iPad setup process
Starting with iOS 14.3, Apple will give users the option to install third-party apps. The new feature hasn't officially started working yet, but 9to5Mac has already spotted it in the iOS 14.3 beta code. In the process of setting up the system, a new menu opens, which shows the user applications from the App Store, even before using the device.
This feature will only be used in countries where it will not violate the local law. It should be emphasized that Apple's activities are often investigated by anti-monopoly services. Apple's policy is currently being investigated in the US, UK, France, Germany, Australia, and South Korea. Japan has recently joined these countries. FAS of Russia also found Apple guilty of violating antitrust law.
App Store users will see what data the app collects before installation
From December 8, developers must list what data is required from the user to launch the application. This information must be posted on the application page in the App Store, otherwise the publication will be rejected.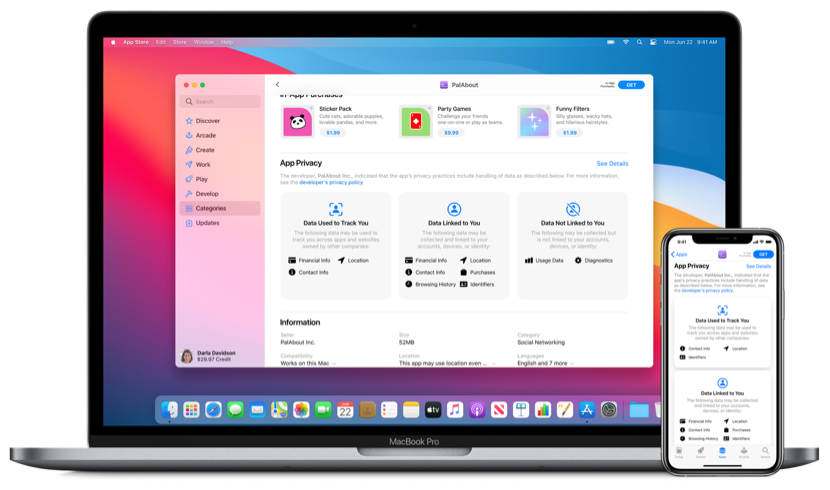 The requested data will be divided into 14 types. It is necessary to indicate the types of collected data, taking into account the advertising and analytical services of applications.
You can omit the marking if:
User information is not used to track the user and data is not shared with third parties for advertising purposes.
The collection of information is optional and is used only on rare occasions.
Each time before sending data, the user chooses what information they agree to provide to the application. The username or account name is displayed prominently, along with other elements of the sent data.
Maria Chernoplyokova, ASO specialist at ASOdesk notes that the amount of required data will affect the conversion. Users can compare apps based on access to personal information already in the store.
Conversion rates for apps that want to know too much may drop. If the application requires a minimal amount of data, it will have a competitive advantage. Therefore, it is important for publishers to ensure that they only collect user data that they really need.
iOS applications will be able to run on new Apple computers and laptops
By switching to native ARM processors, you can run desktop versions of apps and games from the App Store.
There is no need to make changes to the applications, it is assumed that all products can work in the desktop version. But many companies have not yet started using this feature, and errors occur when installing some applications.
For example, when trying to install titles like Candy Crush or Real Racing 3, the system reports that these applications are "not verified for macOS". Over time, the list of supported games and applications should expand.
Android news
Apps must get Google's permission for background access to user geolocation
In order to request access to geolocation from users, you need to get Google's permission.
According to Google, many apps don't really need geolocation access, so the company is trying to reduce the number of apps that request access.
This policy will help users maintain privacy and save battery. And developers will be able to avoid bad ratings from those users who don't want to share their location.
You can submit the form for review and obtain permission until January 18, 2021. Apps that were first published before April 16, 2020 must receive Google's approval by March 29, 2021.
Google has shared recommendations with developers on how to get access permission.
Huawei will give indie developers €30 000
Huawei will support indie game developers who use the AppGallery app distribution platform.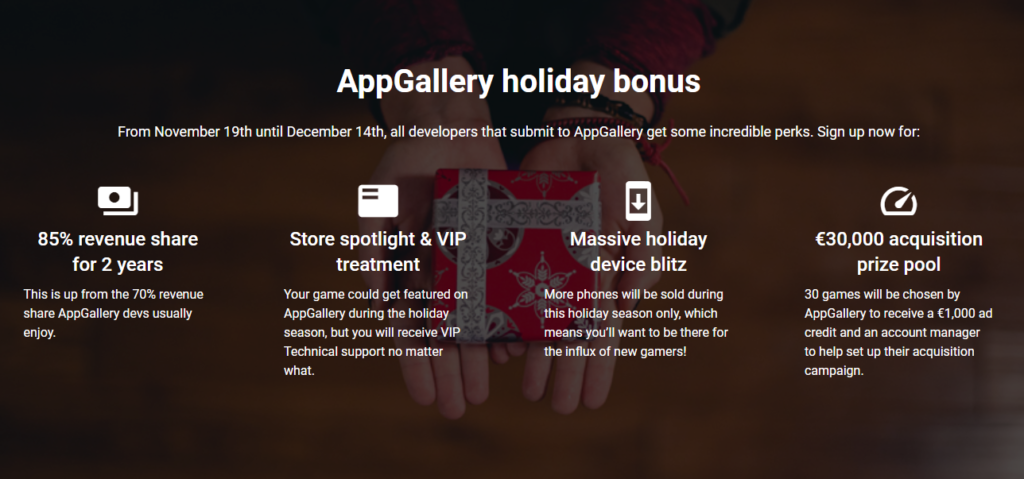 Additional assistance includes VIP support, a new indie games section and €30 000 to be split among 30 games. Some developers may also be provided with 85% of the income from the IAP during the first two years. To qualify for a grant, you must publish your game through the Unity Distribution Portal before December 14.
ASOdesk news
New Optimizer tool will simplify text metadata creation
We've created Optimizer, which makes the process of metadata creation in the App Store and Google Play fast and efficient. This tool allows you to:
Work with additional localizations and translate search queries into English.
Highlight keywords that shouldn't be used in the App Store metadata with the "Stop-words" tag.
Mark repetitions of words.
Save metadata sets for future work.
Show all necessary statistics for search queries: Daily Impressions, Current Rank, and Total Apps.
Compare new metadata with the semantic core of the Keyword Table.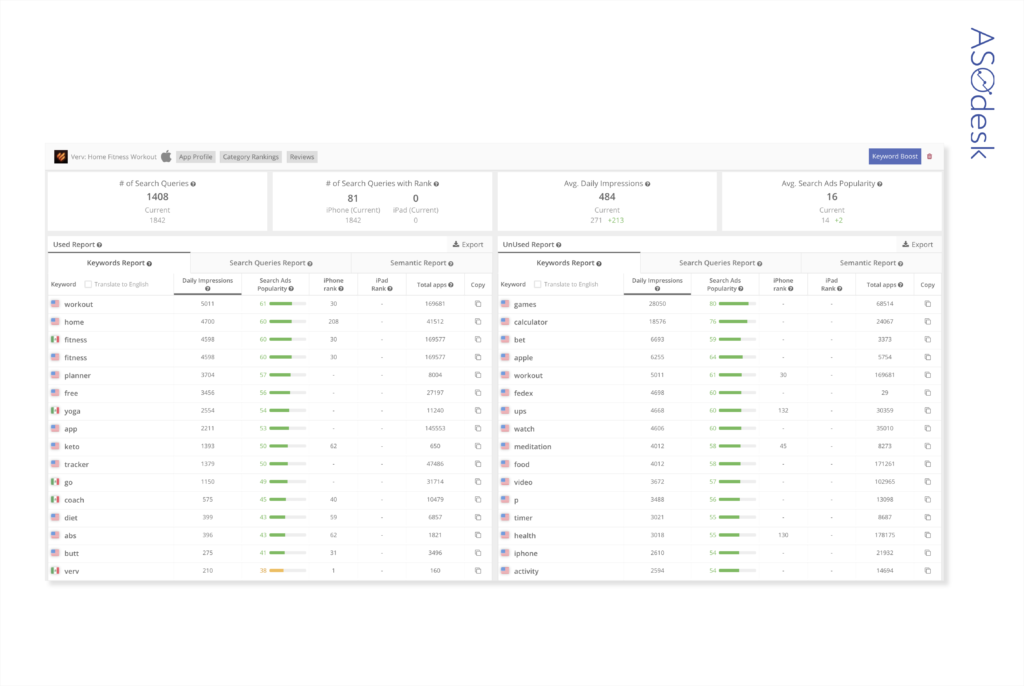 The tool is available to all Startup S users. Test out Optimizer and other ASOdesk tools with a free trial.
Professional tools for working with reviews in ASOdesk
You asked for feedback tools, and we made them! Now communication with users is easier and faster, thanks to the automation and analytics tools in ASOdesk.
New tools allow you to view all App Store and Google Play applications in one interface, create templates for ready-made responses, send complaints, and receive regular reports. You will save the technical support department time and increase customer loyalty!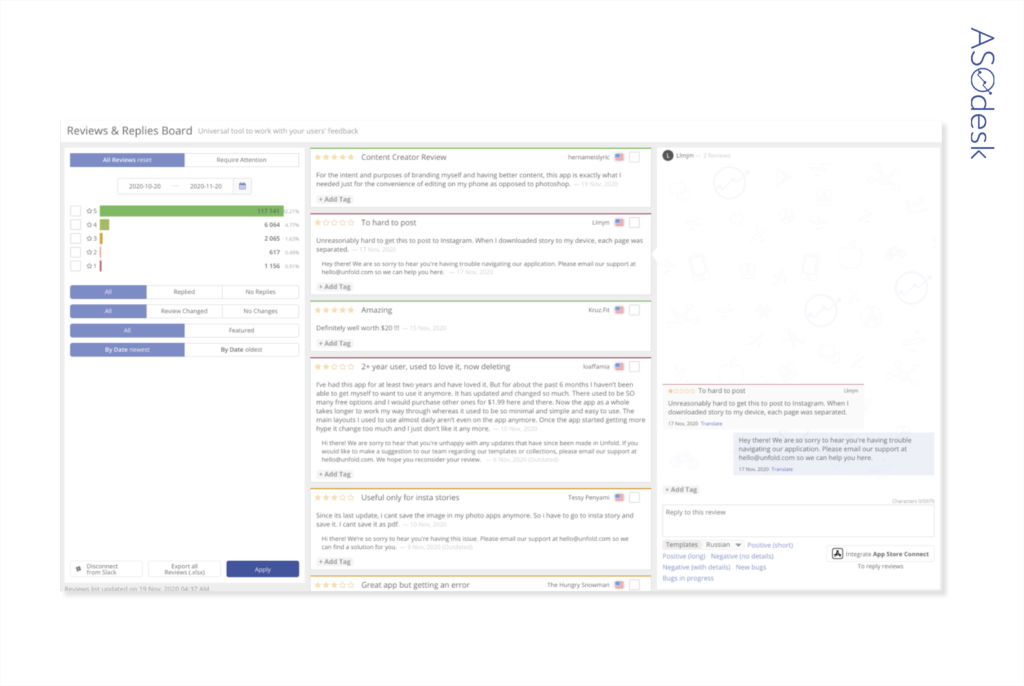 With the help of professional tools, you can:
Monitor reviews of all apps from the App Store and Google Play in one interface.
Create automatic templates in 10 languages.
Filter reviews using tags.
Translate reviews into English.
Analyze featured reviews in one table.
Receive daily reports of new reviews.
Complain about all reviews in one click with the bulk actions.
Follow this link to read more about all the functions of the system.
New features will be available soon: rating and reviews analytics, auto-tags, auto-replies to reviews, and Helpdesk integration. Only until December 6, you can buy an annual subscription with a 45% discount and get unlimited access to all tools for working with reviews. The review response tools have been working in beta mode so far.
ASOdesk referral program: bonuses for all users
We have launched a referral program: now each user can share their own personal link and save money.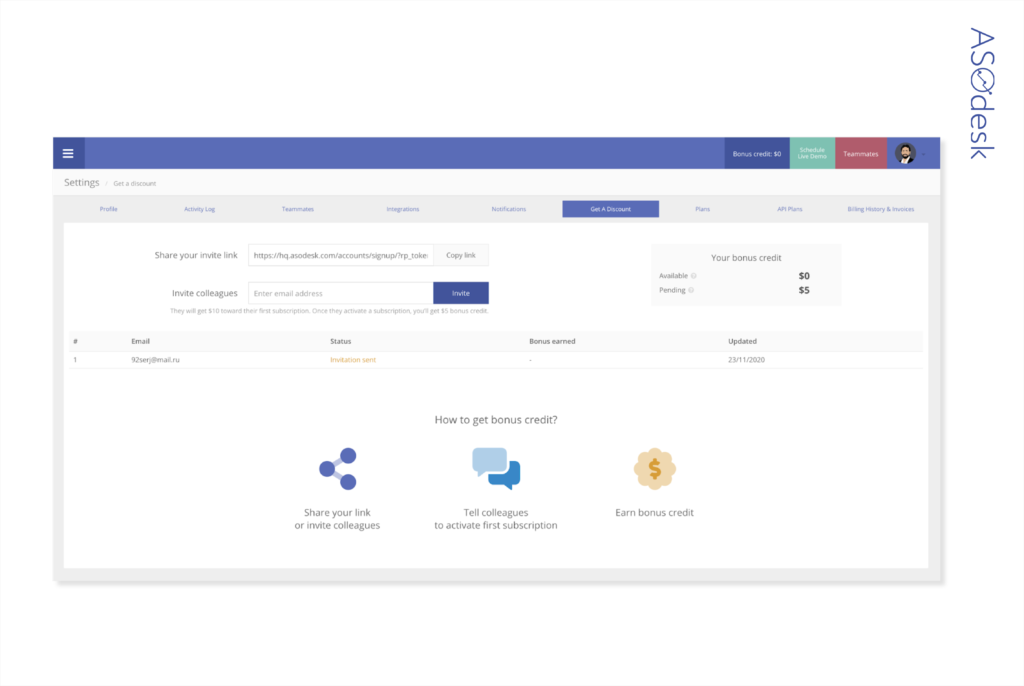 Each user who signs up for ASOdesk using your link will get $10. If your friend subscribes to ASOdesk, you will get $5.
Bonuses can be spent on subscriptions and API in our system.
Send a link or email invitation. In your table you will see the status of those who registered and activated the subscription
To share the link, go to Settings ➡ section "Get a Discount".