App Promotion in China: Localization, ASO
Published: 15.05.2019
Updated: 11.09.2020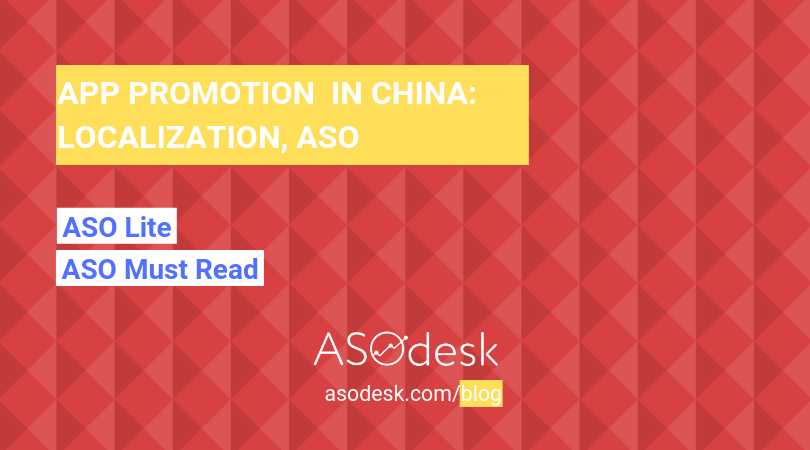 Chinese market continues to grow and many mobile developers still consider it a real titbit, because its mobile audience alone makes 1,132 million people, according to Jihuang's statistics. In 2018, Chinese users have spent 3,720 million hours on mobile apps daily, which is 17.3% higher, than in 2017.
You must agree that these are quite impressive growth and sum indicators for a single country's market. We decided to explore specificities of the Chinese mobile app market. This small article has collected opinions from various experts, who have been involved with the Chinese mobile app market. This is the first time we did a material in a Q&A format, so we hope you will enjoy it and consider it useful.
People that have been answering our questions include Win Win Mobile business development director Artyom Shakhov, Playkot marketing director Vasily Smetanin and ASOdesk, a localization team expert.
ASOdesk
"Relevant game genres in China include MOBA, MMORPG, Battle Royale, and Hyper-casual. But, if you are planning to publish a non-game application, you will have to make considerable investments in marketing, have a knowledge of the local Internet ecosystem, and you will also need a partner for the operational part, since local Android app stores require an IP Certificate for utilities, tools, and other apps, while IAP's require presence of local payment systems."
Artyom Shakhov
"You shouldn't put the genre in focus, because a lot of people in China have smartphones, so every game will have its fan group that can exceed some country's population with a high purchasing capability.
Nevertheless, there are certain preferences. RPG, MOBA and all kinds of shooters are particularly popular. It's reasonable to emphasize on minimization of gore and violence, because these can cause an argument with a regulator.
Does it make sense to publish a non-game application? Of course! Let's check out the figures to keep it short. According to a recent App Annie report with a forecast on application industry, Chinese spend about $10 billion in non-game apps, which is about twice as much, than in the USA. Figures across China are quite impressive, the market becomes more and more prospective each day, and the difference between China and the number two in the list is ever extending. Going out to the Chinese market is necessary!"
App Stores
Everything with the App Store is rather clear: you just need to include the Chinese localization, think through your marketing activities and start working with the Chinese audience. On the other hand, when it comes to Android devices, everything is a lot more complicated.
Google Play is officially not working in China. Instead of it, there are a lot of alternative Android application stores. Top 20 stores cover almost 90% of the market. Each store has its own distinctive features and tools for content promotion on its platform.
Here are the top 5 popular Chinese app stores:
Myapp — #1 store from Tencent, the biggest IT company in the country;
360 Mobile Assistant — second most popular application store;
Baidu Market — a leading marketplace from the largest Chinese search network;
Huawei App Market — store of the largest Chinese smartphone manufacturer;
Oppo Software Store — app store that belongs to Oppo, a rising Chinese smartphone manufacturer.
Does it make sense for developers to get released in Chinese app stores?
ASOdesk
"It's impossible to work directly with Android stores and distribution channels. If you want to avoid grey schemes, you will need a partner in terms of a local publisher, co-creator, or distributor!"
Artyom Shakhov
"There are hundreds of app stores in Chinese market and there is absolutely no standardization between them, each of them has its own requirements, demands, conditions, and special offers for new applications that have just appeared on the market. By the way, concerning these special applications, when you just release an application to the market, it's possible to play around with them and get some nice benefits at the start.
Each store has its own approach towards ASO, there is no standard, which makes the work much more entertaining! For example, Oppo's and Vivo's stores belong to the same owner – BB Group, – but are managed by different teams, so the rules in each of them are drastically different.
The good news is that in order to reach about 70% of users, it's enough to publish in the top ten stores. The bad news, however, is that the stores and advertising platforms are a lot more strict towards permitting documents and licenses, than regulators, because they are the ones, who are going to respond in case of issues.
Here are the top 5 licenses that you will need to publish and promote a game: intellectual property patent (软著), permission for online and cultural activities (文网文), Internet content provider license (ICP证), game registration (游戏运营备案), and ISBN game license (版号).
By the way, you can receive the ISBN game license only for a Chinese legal entity with an entirely Chinese capital. You will have to acknowledge all the depth of the upcoming work personally, if you are planning to do everything on your own. It's a tough job even for giants. This is why cession of rights is the only way that people normally take."
Localize the App to Chinese Language
ASOdesk
"You will have to work with a native speaker on names and descriptions, because written and spoken languages can be very different in figures of speech, and it is also necessary to consider the cultural and lingual specifics of this country, even in font selection and its size significantly affects conversion, when using creative elements. China has its own memes, online slang, and other features that are hard to consider, when you're not a native speaker. For mainland China it's necessary to use Standard Mandarin (普通话 Putonghua), the official language of the PRC."
Artyom Shakhov
"You should take notice of ambiguous hieroglyph combinations and it is best to avoid them, if you don't want to use some ambiguity on purpose. For example, 男女 (men and women), using which you could name some dating service, also has a second meaning – maid. This ambiguity can possibly cut a half of users, but it could also offend someone, who sees in his app recommendations a "maid dating app," and one can only guess what it could lead to. For example, there was a case with Dolce & Gabbana, when the founders had to publicly apologize for the contents of their promotional video.
It's best to trust localization to native Chinese speakers. Find out, who deals with the translation, and the best way is to have a team directly in China."
Vasily Smetanin
"At first sight, ASO optimization is absolutely the same as in other regions, and you just have to consider market specificities, just as you would with other countries. In our support team we have people, who speak Chinese. They deal with feedback responses and general community mood recognition.
As of keywords, everything was standard. The game was first released in China in English, but at some point we decided to take care of ASO directly and have made a double name. We've had the name in Chinese followed by the English version in brackets: 魔法时代 (Age Of Magic). We know how to work with graphics, but haven't yet adapted everything to the Chinese market, except for outlines on screenshots."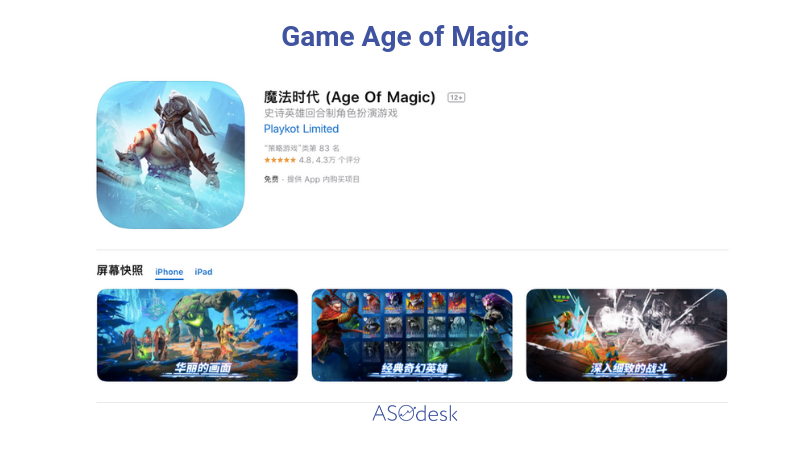 Chinese App Store Featuring
"We've made a good game, with good KPI's, and the ASO didn't affect it in any way. We were featured several times in China. All three times our game was featured in the Game of the Day section. After the first Game of the Day we've had a substantial increase of installs, while the further growth wasn't as perceptible."
Effective Ways of Promotion on the Chinese Market
Vasily Smetanin
"Among the effective ways, I can outline the classic in-app advertising, social media advertising and ASO."
Artyom Shakhov
"It's funny, but the choice of promotion channels in the PRC often depends on the presence of package of documents on your hands, as well as on developer's readiness to persistently go towards your goal, because some channels can request additional documents, whose acquiring may take time and effort.
Example: contextual network can request an official letter from the advertising agency, stating that the provided services aren't the result of their activity, since no corresponding NACE codes are indicated. In the same time, ten previous times this letter wasn't needed. Chinese bureaucracy can surprise indeed!
Very often, just several priority channels emerge and then the publication procedure ensues.
ASO is performed by definition, and further on we often prefer contextual advertising in Toutiao and Weibo. Toutiao is one of the currently most effective contextual systems in China. It's also useful to take notice of video advertising and context on video hostings, such as YouKu and iQIYI.
But the tools don't end up here, with about ten channels accumulating along the way. Everything is individual: you can give more detailed recommendations only by application or game."
What foreign sources should one read to be up to date with the Chinese game market trends? What exhibitions should one visit?
Artyom Shakhov
"China Business Forum is worth visiting. You may also follow the China section at https://profile.ru/politics/china/, and I also recommend checking South China Morning Post https://www.scmp.com/."
ASOdesk
"Not so many foreign resources write about Chinese game market, and this is why many developers only know about three or four local publishers. TechCrunch, VentureBeat, Pocket Gamer, and other resources shed light on important events. Due to the market specificity, it is necessary to follow both economic and political situations in the country."
We hope that advices provided by Chinese market experts provided you with some food for thought and ideas to prepare for application release in China. If you are interested in examples related to localization and search optimization on the Chinese market, send us a message and we will try to find more real cases for you!