A new free tool for collecting semantic core Keyword Shuffler
Katerina Belohvostova
kb@asodesk.com
ASOdesk Marketing Manager. She is behind all the rough work on social networks, blogs, newsletters, webinars, and ASOdesk Academies. Event organizer of ASO Wine Time and ASO Fuckups. Lovingly solves all your issuies at our events ?
All articles by author
Published: 22.05.2020
Updated: 13.09.2020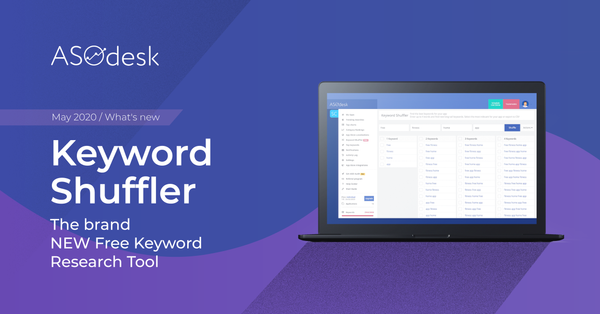 We are glad to present the free Keyword Shuffler tool, registration is not necessary. This tool is perfect at the stage of collecting the semantic core, so as not to sort out the keywords by hand.
Enter up to four words and press the Shuffle button. The tool will offer you a lot of variations.
The necessary combinations can be checked off and downloaded to a table in csv format or copied to the clipboard.
The resulting keywords can be added to Keyword Analytics for further work.
Other free ASOdesk tools:
Localization table
Top Charts
App Store Trending Searches
Top Keywords