Things an ASO Expert Needs, Besides an ASO Platform
Sergey Sharov
ss@asodesk.com
Co-founder of ASOdesk and Angle Connect Agency. In ASO since 2013. Creator of the ASOdesk Academy, author of courses, Knowledge Base, certification and testing programs, organizer of ASO Wine Time, and ASO Fuckups events.
All articles by author
Published: 11.02.2019
Updated: 08.09.2020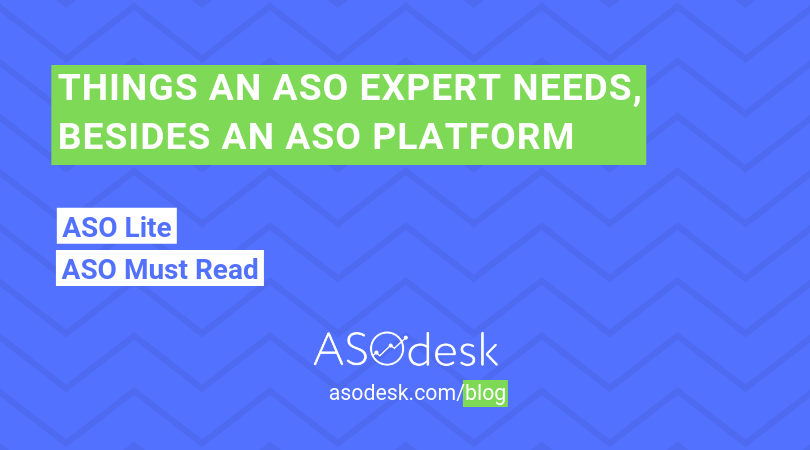 Most articles regarding app store optimization on the App Store and Google Play are focused on getting an app in top by relevant keyword searches.
It seems that you only need to create a semantic core, localize your application to various languages, estimate the traffic and, voila, you have a range of organic installs.
But is it actually so? Not quite.
Search query analysis is significant, but there are other significant aspects that allow to improve application's visibility in markets and to increase its conversion into installation. In this article we are going to tell you about additional tools used by ASO specialists in their work with textual and visual information.

So, you have a complete semantic core and preliminary traffic forecast. What's next?
Textual Localization
The next step is creating meaningful options of names, subtitles, and descriptions in different languages. How do you do this, if you don't have native speakers in your team? Knowing other language on a fluent level you can write texts on your own.
But what about translations to other languages? You can order translation through private translator platforms or you can hire freelancers. But you should understand that a simple translation will not be enough – it is crucial to perform a complete text adaptation according to lingual and cultural features of a particular country. Native speakers will handle this task best, since they can correct the name, subtitles, and descriptions for local markets. Remember that you have to not only find native speakers, but as well those, who understand specificities of your product's niche.
Here are several resources, where you can find native speakers for such tasks:
One hour translation – a resource that allows finding translators, who have knowledge of necessary topics, whether it's a calorie counting app, dieting service, or a casual game. You can find a translator and calculate an approximate cost of the translation on the needed language online.
Fivver – this is a service, where you can find specialists for text translation and adaptation virtually onto any language. You can look for freelancers by either language or task type. You can discuss all the details and send files for evaluation to the worker before making a deal with them.
Upwork – a popular platform for freelancers from all around the world, where you can find a worker, who would be able to translate and adapt your app's materials.
When preparing information for translation, we recommend you to prepare original texts in English. Translating from English is going to be cheaper and more accurate in meaning comparing to translating from other especially non European language. We also recommend you to separately prepare files with keyword searches in that language that your text is going to be translated to.
Screenshot Builders for the App Store and Google Play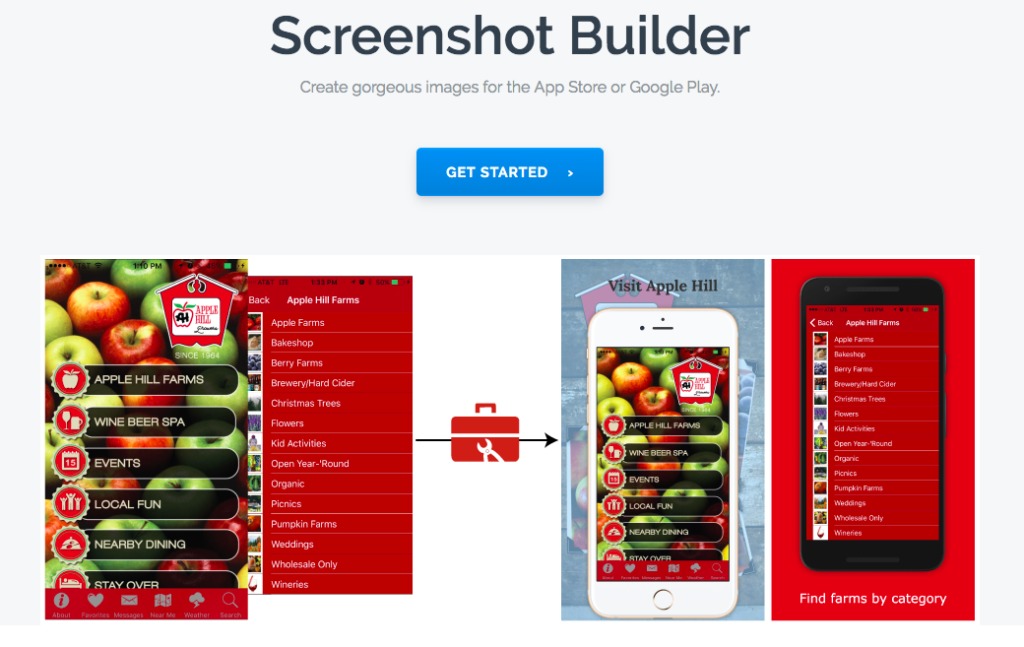 So, your description and all the other text information is complete. Now you have to localize all the graphic elements of the application page. Localization is not only about translating text on screenshots, but visual design, as well.
Depending on country, the following factors may change: color range, types of people featured on images, design elements, and pictograms.
Using modern tools, ASO managers can create sets of screenshots and experiment with their visual content on their own, without the involvement of a designer.
Here are several services that can prove useful to you:
Appure – a tool that allows creating screenshots for all devices, including tablets. The service offers a wide range of customization tools, such as changing of the background or image, applying a gradient, use of frames, and many more. It is one of the very few builders that allows localizing screenshots onto various languages. This function is available in both paid and free version.
AppToolKit – using the app's free version you can only create screenshots for iPhone, while in the paid version you can also do it for Android. Free version allows creating 8 template variants for iOS and as well permits customizing fonts, background, images, and sizes. You can also automatically create screenshots for different device sizes.
Apply Pixels is a service that offers ready-made template sets for creation of application screenshots for iPhone, iPad, Android and Android tablets. It includes templates of all sizes, orientations, and colors. These templates can also be used, when working in Photoshop and Sketch.
A/B Testing of Application Page Elements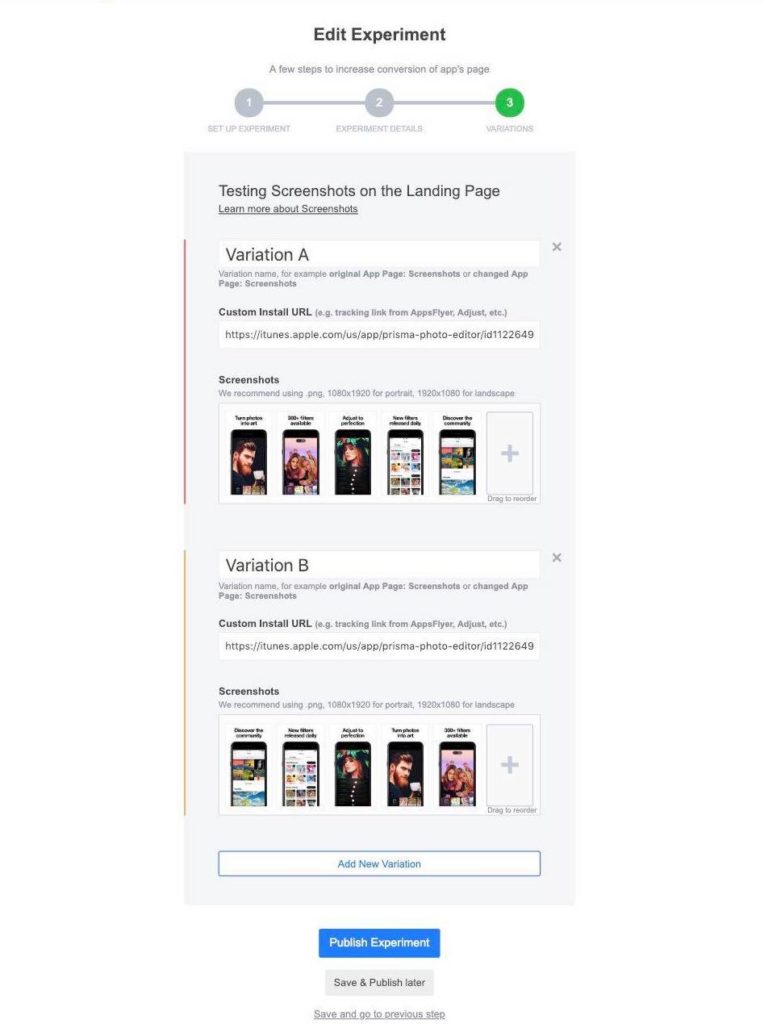 In order to understand, which set of screenshots is going to be more attractive to your audience, you should conduct A/B testing.
Google Play allows developers to conduct A/B tests for icons and screenshots right in its console. This, in turn, gives marketers a chance to choose those designs that better deliver the information about application's features and affect the increase of the conversion rates from views to installs.
Unfortunately, there is no such feature in iTunes Connect. Thus, ASO specialists are using third-party services that allow conducting A/B tests for the App Store. Take notice that testing results for visual elements on Google Play may not show as equivalent for the App Store audience. Moreover, they can drop your conversion rates.
You can use any of the following services to conduct A/B tests on the App Store:
Splitmetrics allows testing almost all elements on application pages, such as icons, video previews, screenshots and text fields. You can follow the results in real time and analyze user behavior. You can also segment your audience by different demographic indicators and test Facebook advertising campaigns. This is a paid service, but you may request a demo version.
Storemaven – this tool allows cloning app store's results and testing them on a live audience. You can also monitor and analyze results in real time, which allows highlighting elements that provide better conversion rates. This is a paid service, but you may request a demo version.
Creative Sets Results Calculator for Apple Search ads by Phiture deserves special attention. Using this calculator, you can test Search Ads advertising sets' effectiveness on the App Store. Just introduce your app's App Store link into the Google table and the service will automatically calculate your creative sets' conversion. Based on these experiments, you will be able to define the best screenshots for your app's page design. However, it only works for countries with an enabled option of the App Store advertising based on search queries.
In this overview we tried to emphasize on, perhaps, not the most obvious aspects of ASO work and to tell you about the tools that can facilitate your everyday work. Of course, we weren't able to mention all the existing services and instead chose the most convenient and affordable from our point of view. We hope that you learned something new and from now on will be able to put it into practice.