Why SEO professionals switch to ASO
Published: 09.09.2021
Updated: 05.10.2021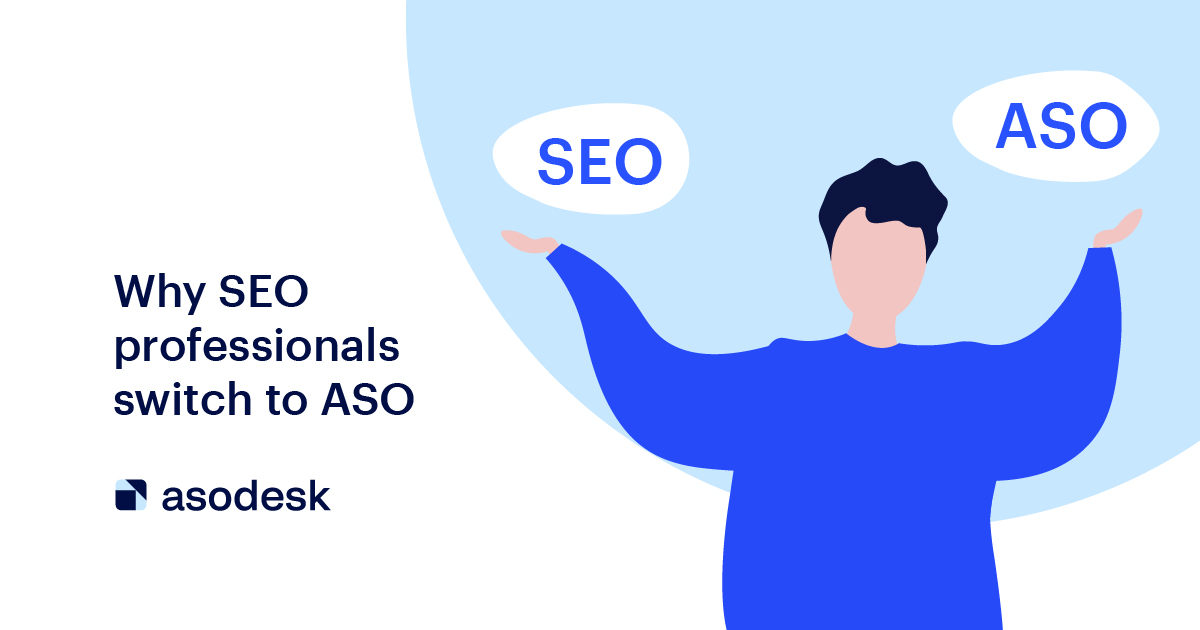 Every year working in SEO becomes increasingly difficult. Some SEO specialists feel inclined to change their careers and decide to dive into ASO. In this article, we compared the areas of SEO and ASO, analyzed the labor market, and shared the experts' opinions on challenges within SEO.
Contents
What are ASO and SEO and how do they differ?
SEO (Search Engine Optimization) includes a set of actions aimed at improving the position of a site in the results of search engines: Google, Yandex, Bing, and others.
To achieve improvement in search rankings, an SEO specialist collects the reference mass, works on the site's usability, and optimizes content.
ASO (App Store Optimization) is the process of improving visibility and optimizing the install conversion in app stores: App Store, Google Play, AppGallery, and others.
To make an app rank higher, it's important to work on its metadata: title, subtitle & keywords (App Store only), icon, screenshots, and video previews.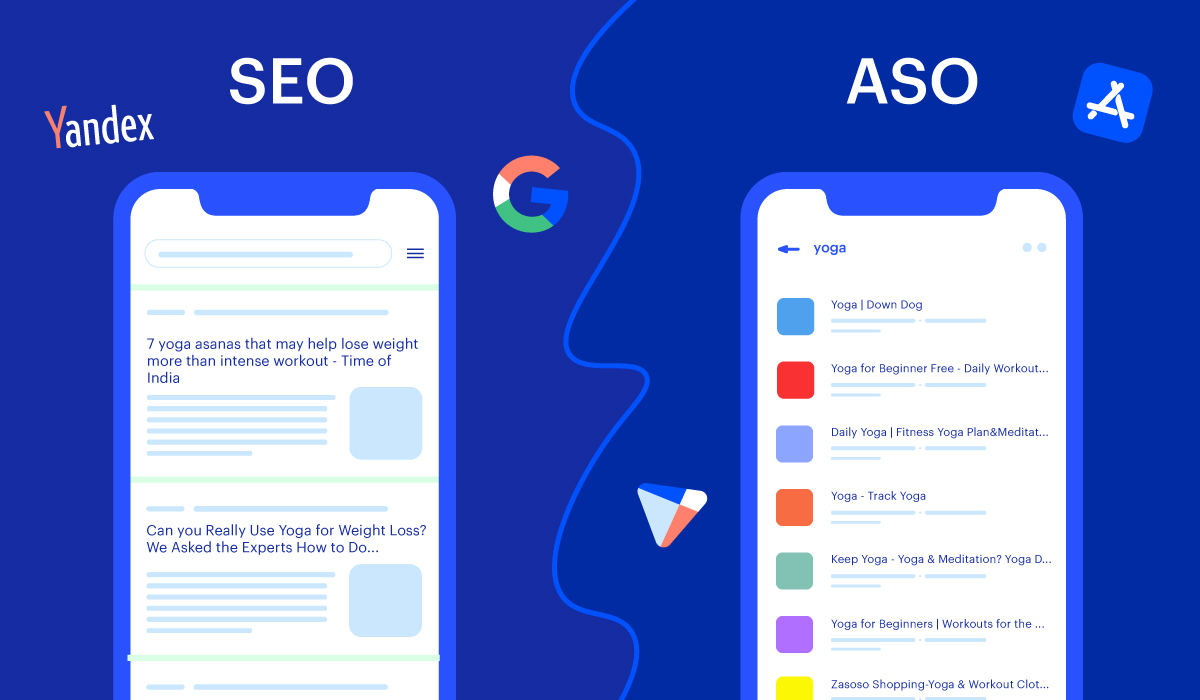 ASO is often referred to as "app SEO", but in reality, the concepts are different.
Let's take a look at the main differences between SEO and ASO:
1. Optimization goal
In SEO, the main goal of a specialist is to improve the ranking of a site in search and bring it to the top for certain keywords.
Whereas the ASO specialist should not only influence the app's position but also increase its conversion.
2. Ranking factors
A huge number of parameters affect the ranking of a site in search engines. According to the site backlinko, there are about 200 factors.
Here are some of the factors that affect rankings and apply to a site page.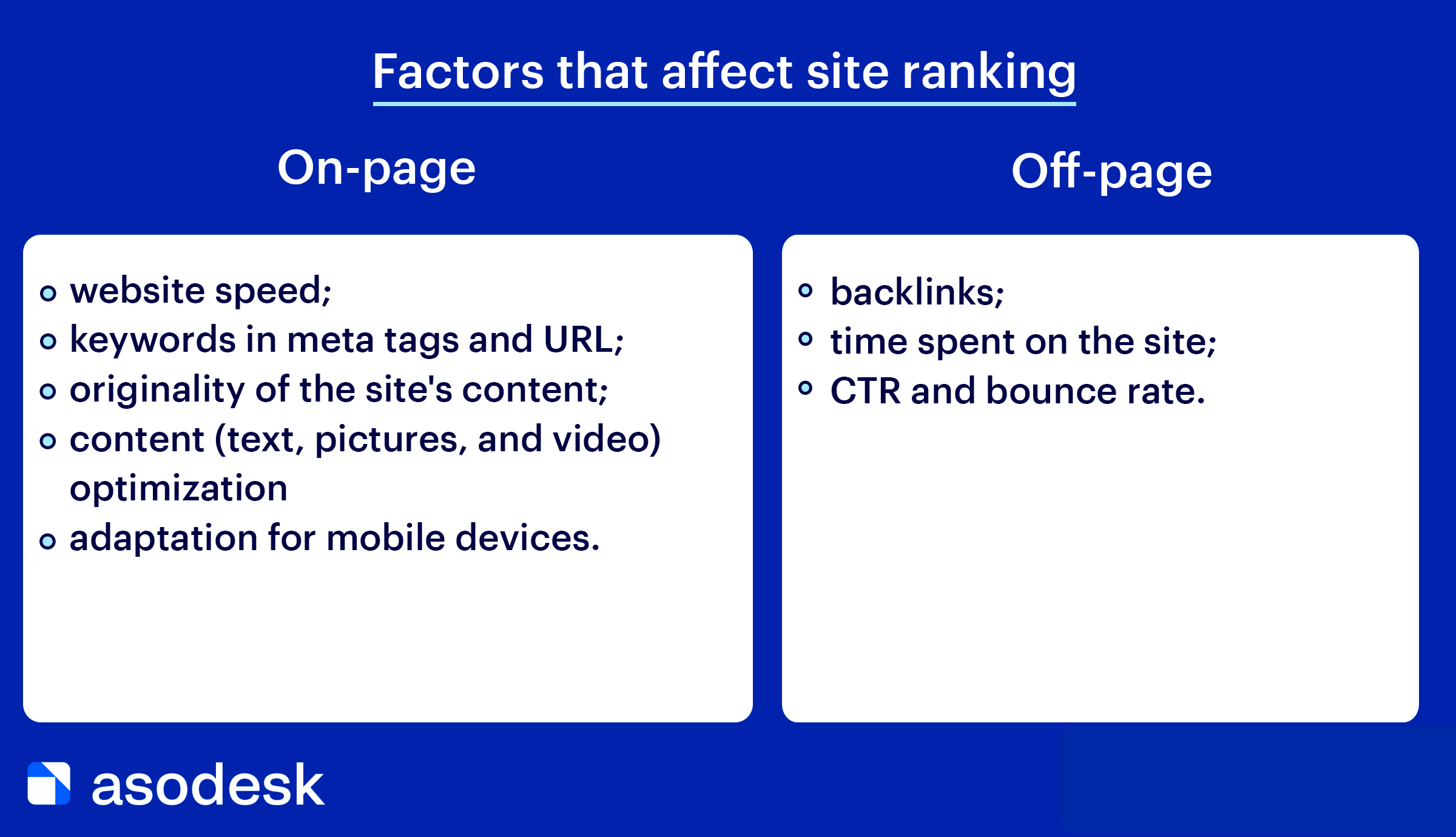 An app's ranking is influenced by far fewer factors. They can be divided into two groups.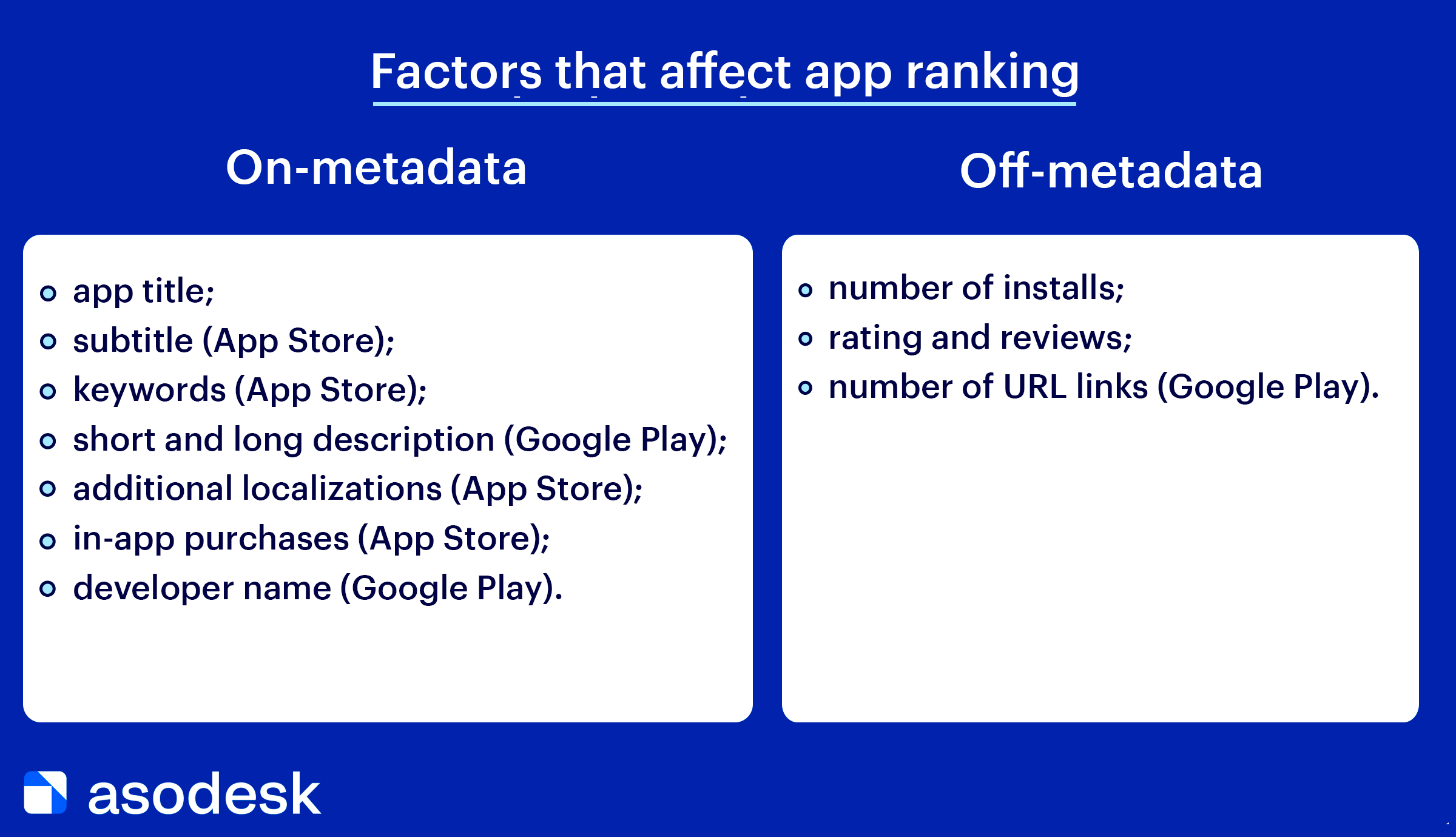 2. Field of work
An SEO specialist has to work with the entire site: its internal optimization, usability, the collection of the semantic core, and setting requirements for copywriters.
An ASO specialist does not improve internal metrics but directs all efforts to optimize metadata.
However, it is important to remember that due to bugs in the app, the number of uninstalls may increase and the rating may drop. This will lead to a drop in positions and conversion. Therefore, if the app has a lot of problems, ASO will be less effective. Read this article for more information on other factors that influence the effectiveness of optimization.
3. Search queries
In SEO and ASO, users approach the search differently. As a rule, search queries in the App Store and Google Play are quite short and clear. Users know in advance what kind of app they want to find. For example, phrases "yoga" and "yoga for beginners" are popular. The query "yoga" gets 1,939 impressions per day on the US App Store.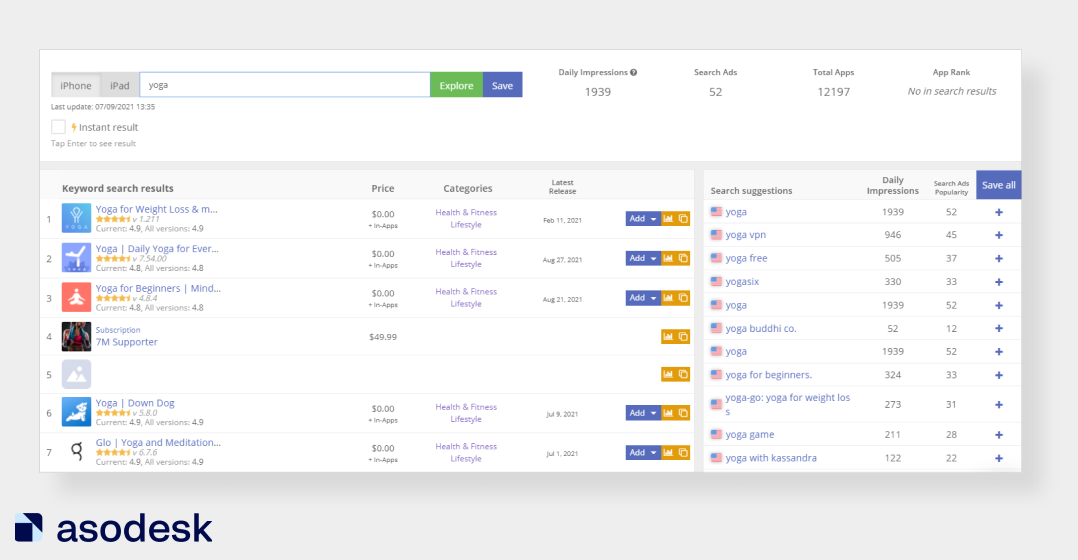 Due to a great deal of information on the Internet, users are looking for more specific queries: "What is yoga?", "How much does a yoga instructor earn?".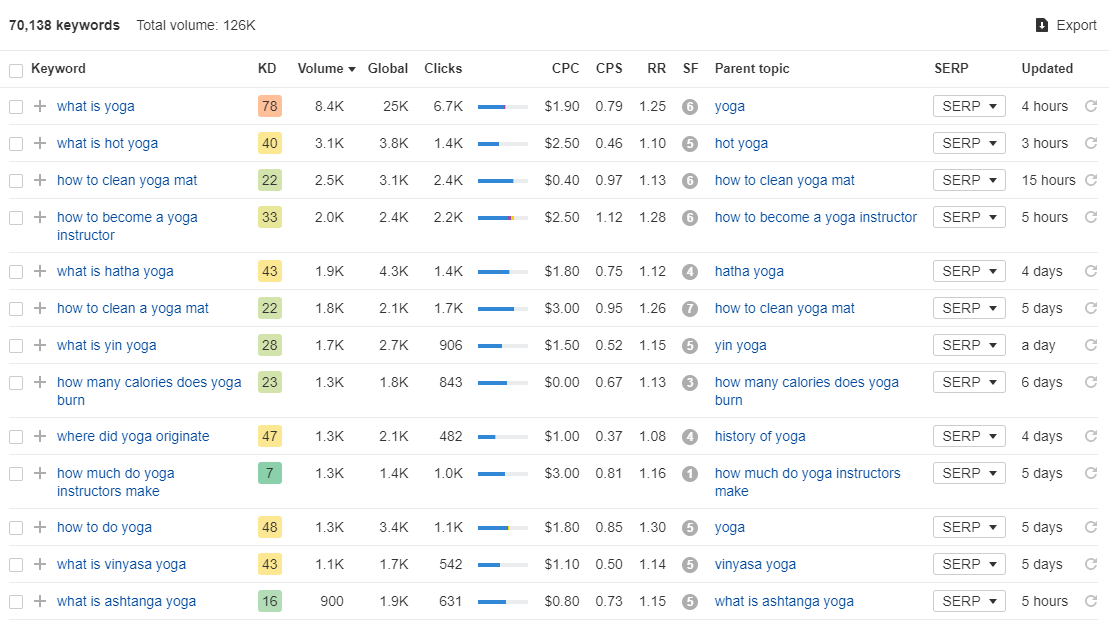 Experts who have experience in both SEO and ASO have commented on the differences between them.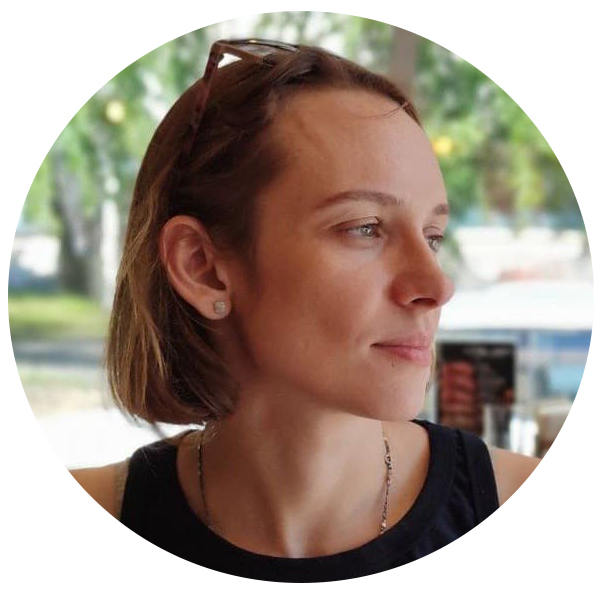 Maria Brykina, SEO specialist


An ASO specialist often achieves the desired results more easily, since the process of collecting keys and preparing metadata can be performed independently, without the involvement of copywriters. SEO requires the production of content, which you can't do without copywriters.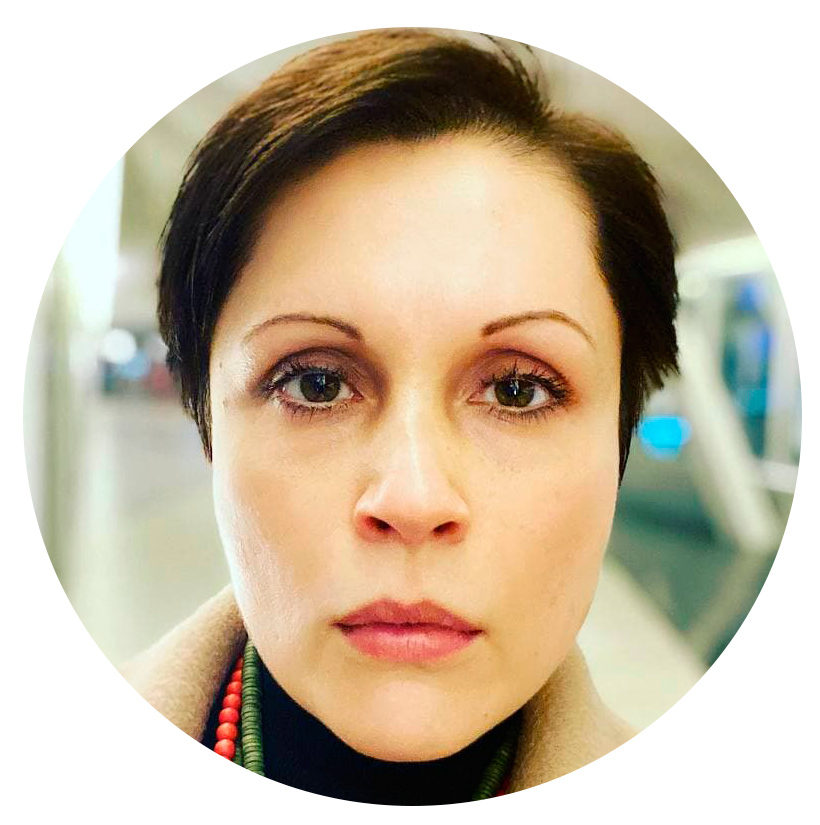 Marina Troyanova, Lead ASO


App store ranking algorithms are fairer and organic traffic is distributed according to clear criteria. In addition, ASO is more creative with its hypotheses and experimentation.
SEO challenges
Now, priority positions in the search results are given to large sites, and it is difficult for small companies to break through. The problem with SEO is the complexity of the algorithms, which have changed even more in recent years. There are also many unqualified specialists on the market, and many customers do not trust SEO specialists and do not follow their recommendations. Experts commented on these and other difficulties in the SEO field.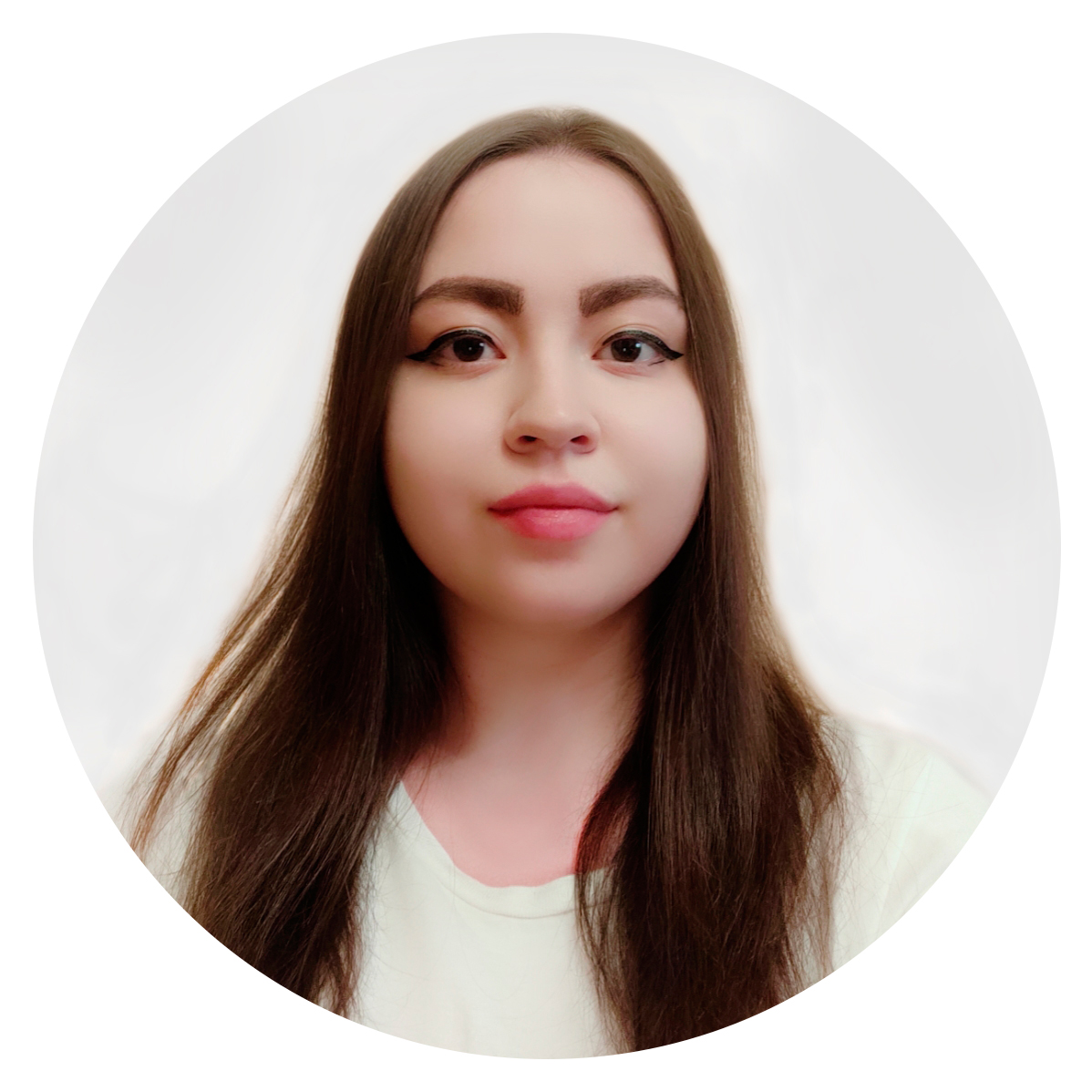 Adelina Ibragimova, ASO manager, DevGame


I can point out the following SEO problems:
1. Search engine algorithms. Search algorithms are getting smarter, recognizing artificial changes in content and code faster. This makes the job of SEO specialists very difficult.
2. Paid traffic. Ads take up an increasing share of the search results. No matter how an SEO specialist tries to bring relevant site pages to the top, the first spots are already occupied by ads.
3. Customer doubts. Every second person is sure to ask: "Is SEO really working?" SEO can bring good results, but it takes a lot of effort and time for specialists to prove it. Often the client is not ready to wait for the results and wants it all "here and now".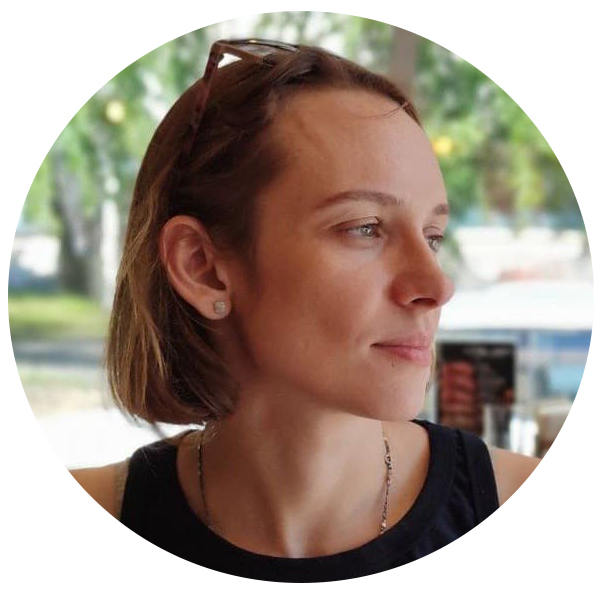 Maria Brykina, SEO specialist


It is not entirely clear how SEO works. The project can become unsuccessful despite the correct actions of the SEO specialist. Often, customers do not implement SEO recommendations, or they do it very slowly and at the same time expect results too fast.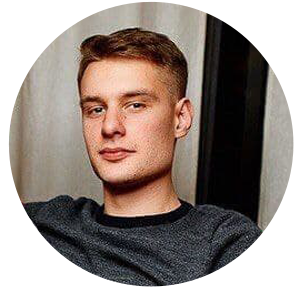 Gleb Taptunov, ASO specialist, Lemel labs


In the last 2 years, new algorithms in SEO have been appearing more and more frequently. Now it is even more difficult to determine what exactly caused the rise or fall in SEO. For a young site, it is now almost impossible to find a free niche or break into higher positions, even with a large budget.
Many clients require guaranteed results in the first month. Some people still think that for the site to grow, no investments in software, links, or copywriting are needed. Clients often change something on the site due to their own preferences, and not based on data analytics.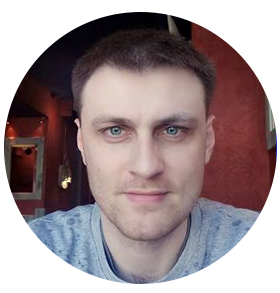 Ilya Girzha, Middle SEO Specialist, Autodoc


Now Google is trying to respond to the user in search results, without giving clicks and traffic to sites.
Search engine algorithms are getting more complex every year. But I am pretty sure that over time, app store algorithms will face the same problem.
Difference in ASO and SEO specialists' salaries
According to statistics from glassdor.com, the average SEO salary in the United States is $47,704 per year. Whereas the salary of an ASO specialist is $65,782.
At the same time, according to searchenginejournal, almost 40% of SEO specialists in the United States earn less than the median salary per year.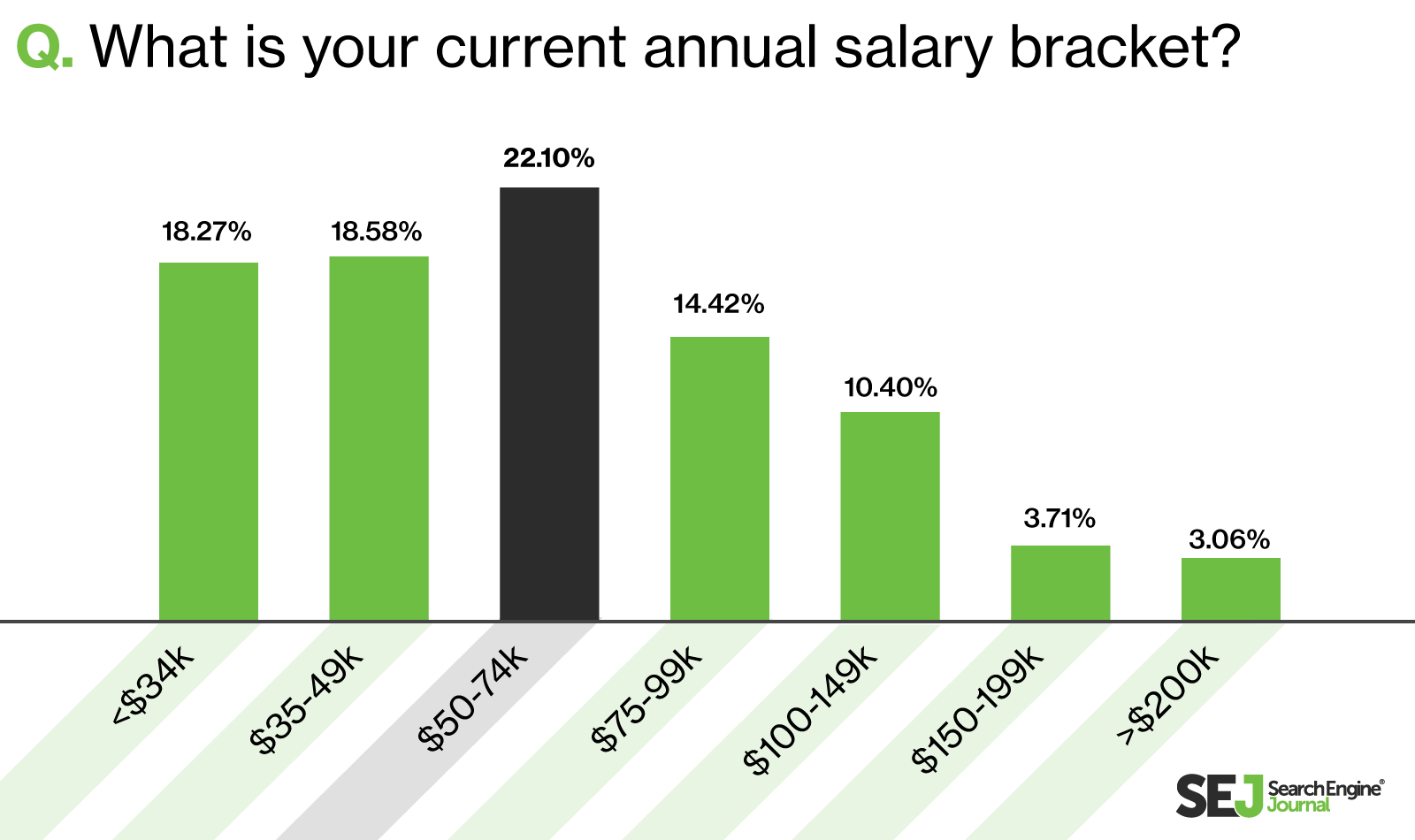 The difference in salary is significant in the international freelance market, too. We analyzed 100 freelancer resumes on upwork.com and found that on average, an ASO specialist costs about $50 per hour, while an SEO specialist costs about $40.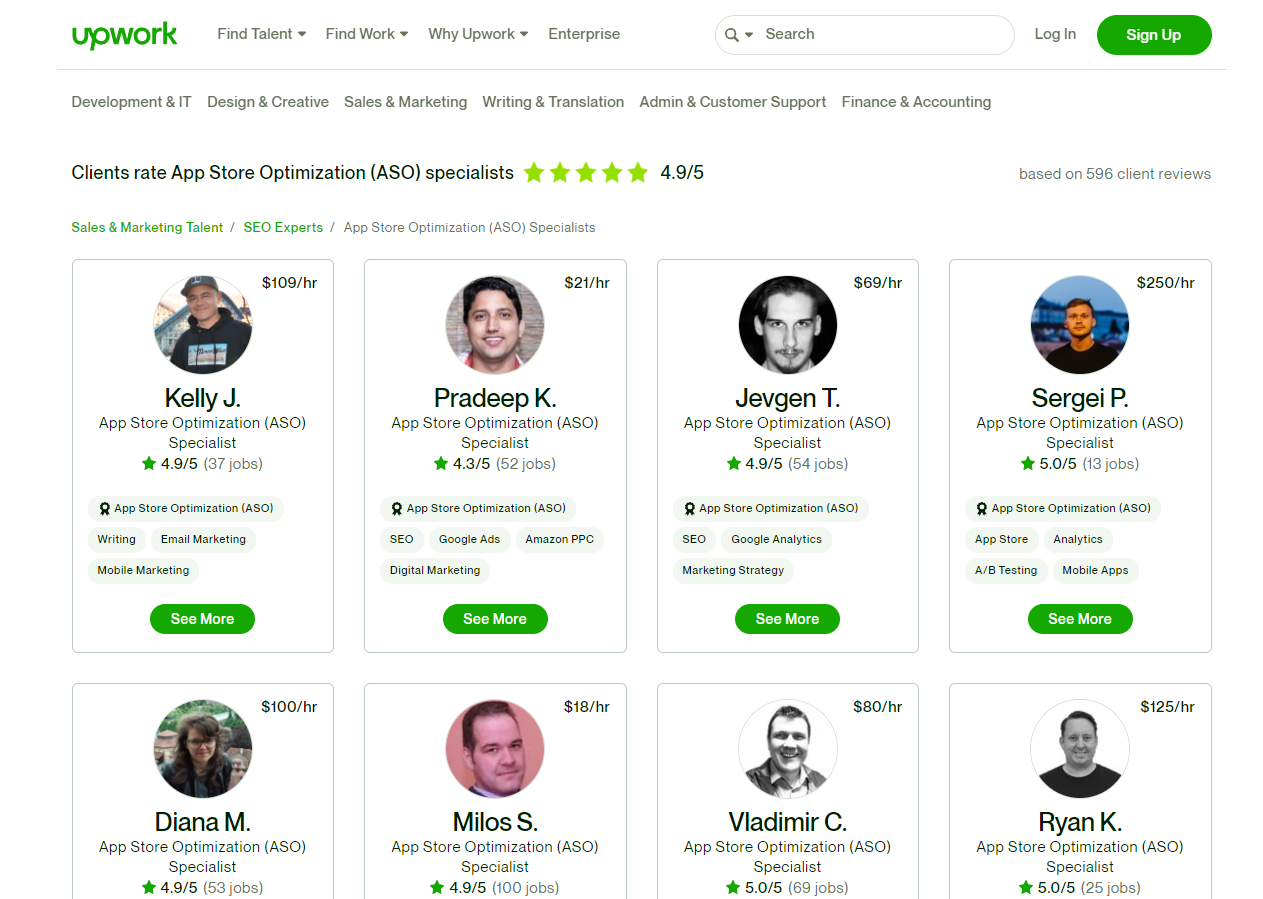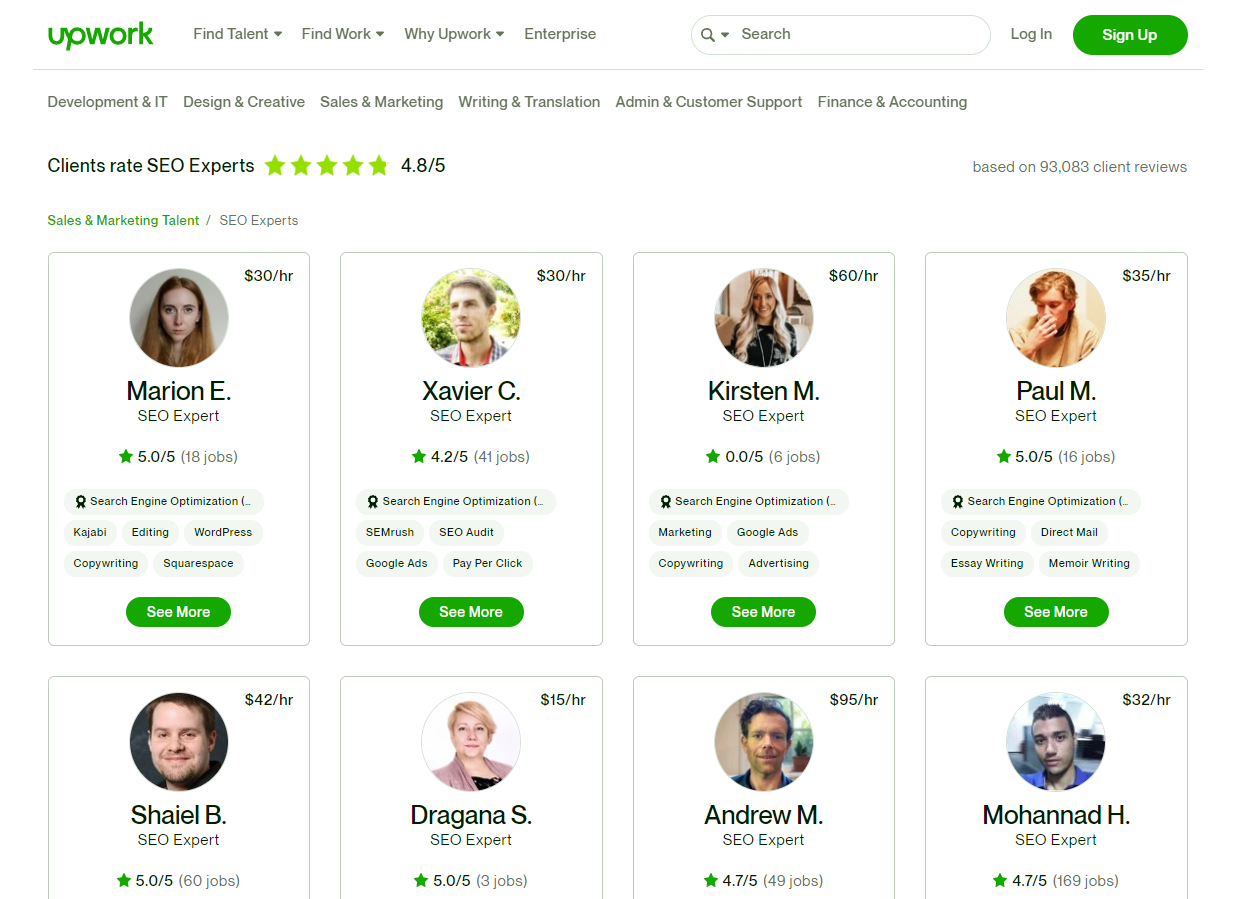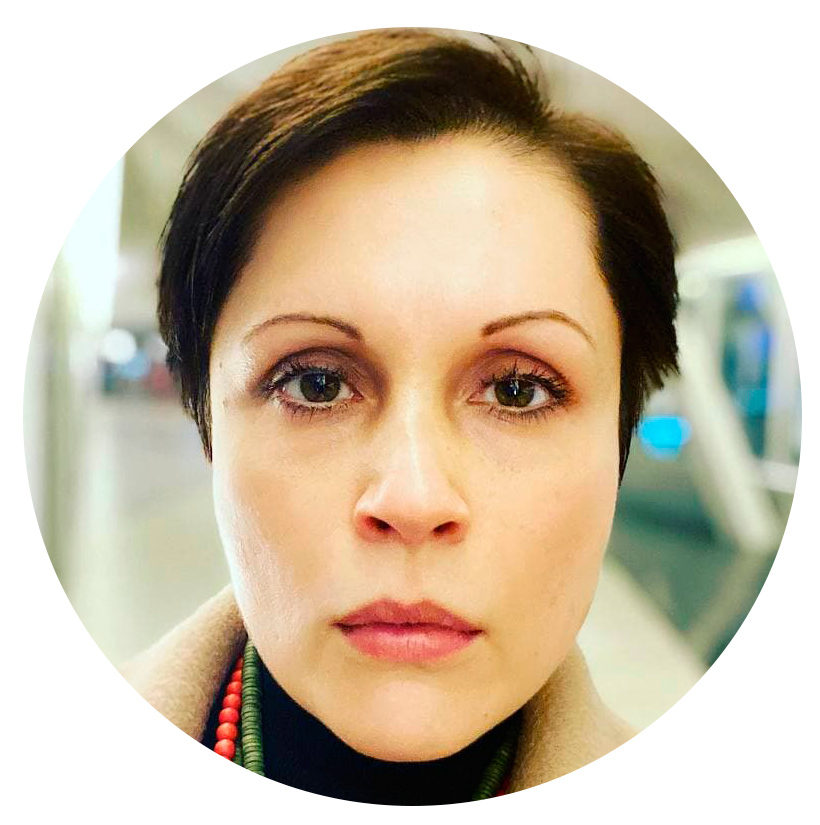 Marina Troyanova, Lead ASO


Since I started working in ASO, my fixed salary has grown by 110%.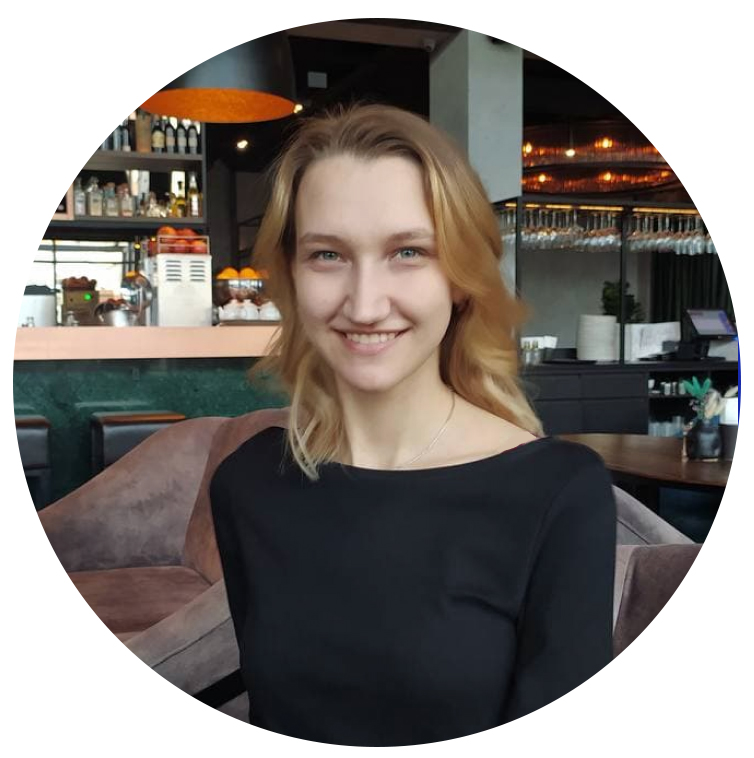 Ekaterina Asmolovskaya, ASO specialist, Easybrain


The salary has almost doubled, and this, of course, is very encouraging. Work has really become more fun. I understand that my work is appreciated and it is very motivating. I like the people around me. I see how I can grow and develop in my career, and it doesn't feel like I am wasting time.
Comparison of ASO and SEO specialists' tasks
We have compared the tasks of SEO and ASO specialists to understand the main differences.
The list of SEO tasks includes:
technical audit of the site;
competitor analysis;
development of a search engine optimization plan;
semantic core collection and query clustering;
internal website optimization and usability improvement;
drawing up recommendations on the technical optimization of the site for developers;
analysis of SEO results;
search algorithm monitoring.
SEO metrics are mostly affected by technical data. Therefore, a specialist needs to conduct a technical audit of the site, improve usability, and create a high-quality link profile.
Let's look at the tasks of an ASO specialist:
semantic core collection;
regular optimization;
evaluating the effectiveness of ASO;
localization of the app page into new languages;
preparing metadata;
search queries monitoring.
analysis of competitor ASO strategies;
analysis of promotion effectiveness and preparing reports.
ASO specialists actively use A/B testing to find the most effective metadata options. Often, even small changes in textual and visual optimization can significantly increase installs and app page conversions.
For example, changing the English caption to Brazilian for an app icon in Brazil helped double the number of installs.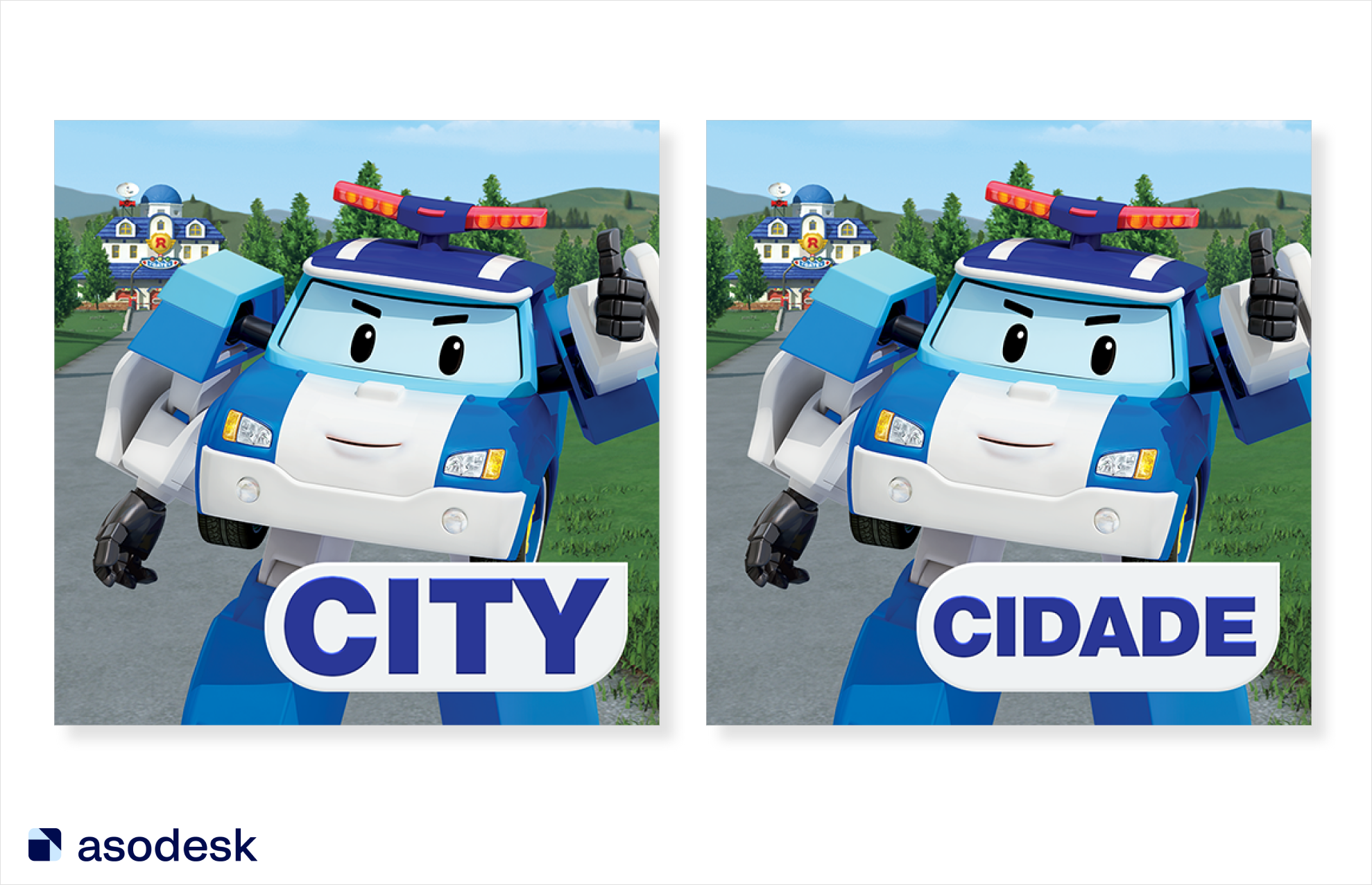 SEO results can be influenced by many external factors that are beyond the control of the specialist. Therefore, if it is important for you to always see the results of work clearly, ASO is for you.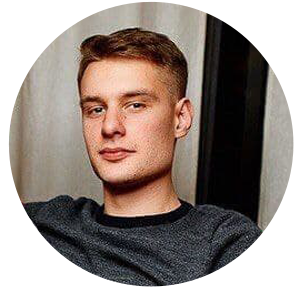 Gleb Taptunov, ASO specialist, Lemel Labs


In ASO, just like in SEO, you need to focus on algorithms, but the work also requires a more creative approach. I love that you can work with visuals, generate hypotheses, do A/B testing, and try new features. In SEO, there was no time for experiments, it was an endless hackathon of working with links and semantics.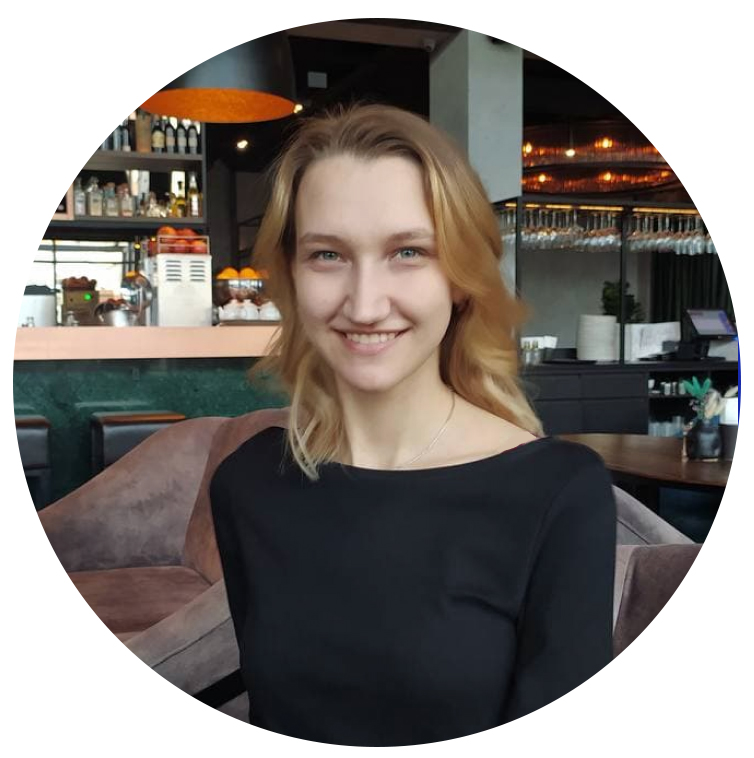 Ekaterina Asmolovskaya, ASO specialist, Easybrain


I worked in SEO for 2 years and at some point, I felt like I achieved everything I could achieve at my work. I wanted to test new features that appeared in SEO and try different approaches. But some of them were quite risky and not all clients were open to that.
So I decided to switch to ASO. I understood that I'd have to learn a lot and I'd be working on large international projects, which I was always missing in SEO.
Other specialists note that SEO knowledge is useful for collecting the semantic core and preparing metadata.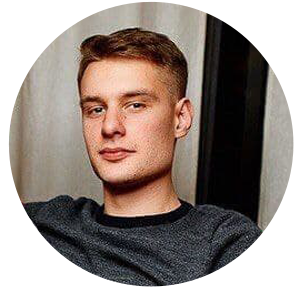 Gleb Taptunov, ASO Specialist, Lemel Labs


Collecting a semantic core for ASO is a piece of cake for those who have worked in SEO.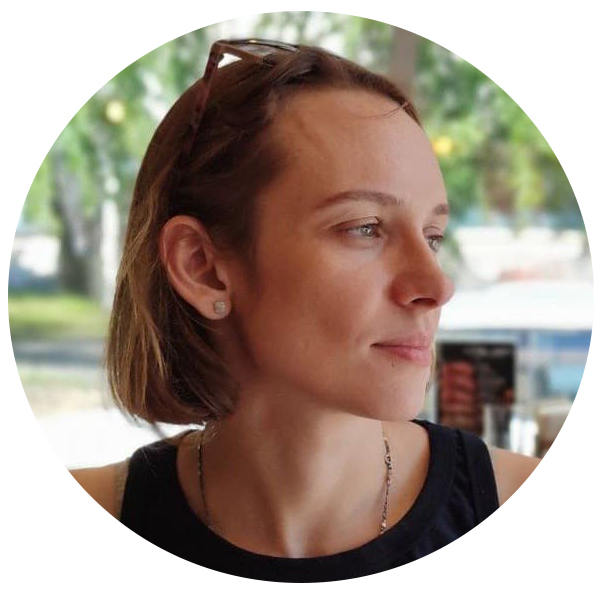 Maria Brykina, SEO specialist


Experience in collecting keywords helps a lot in ASO. The technique is similar, the only difference is the tools.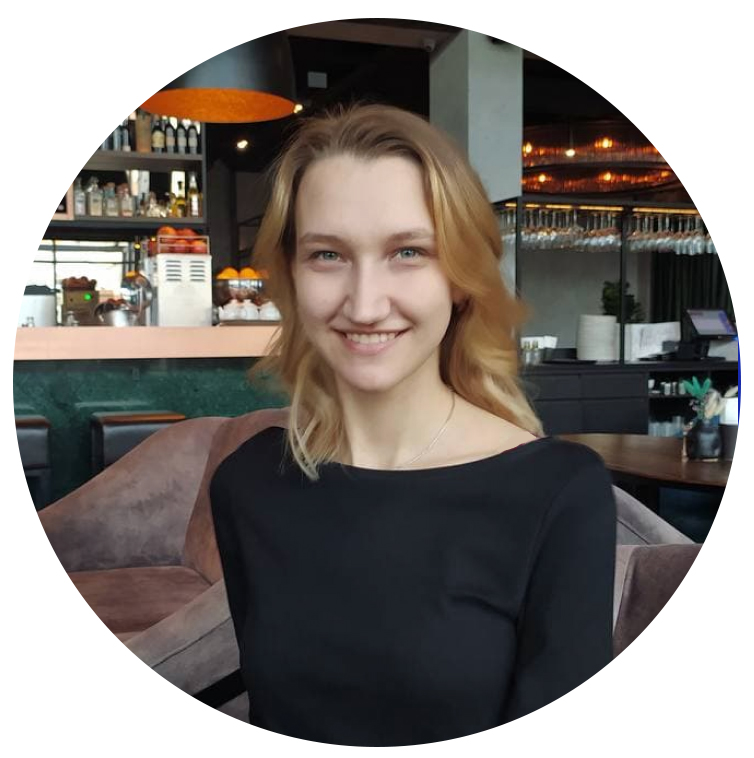 Ekaterina Asmolovskaya, ASO specialist, Easybrain


My understanding of how to compose metadata, write texts, and analyze competitors, which I learned from SEO, were very useful in ASO.
Some companies are even looking for specialists who have both SEO and ASO skills.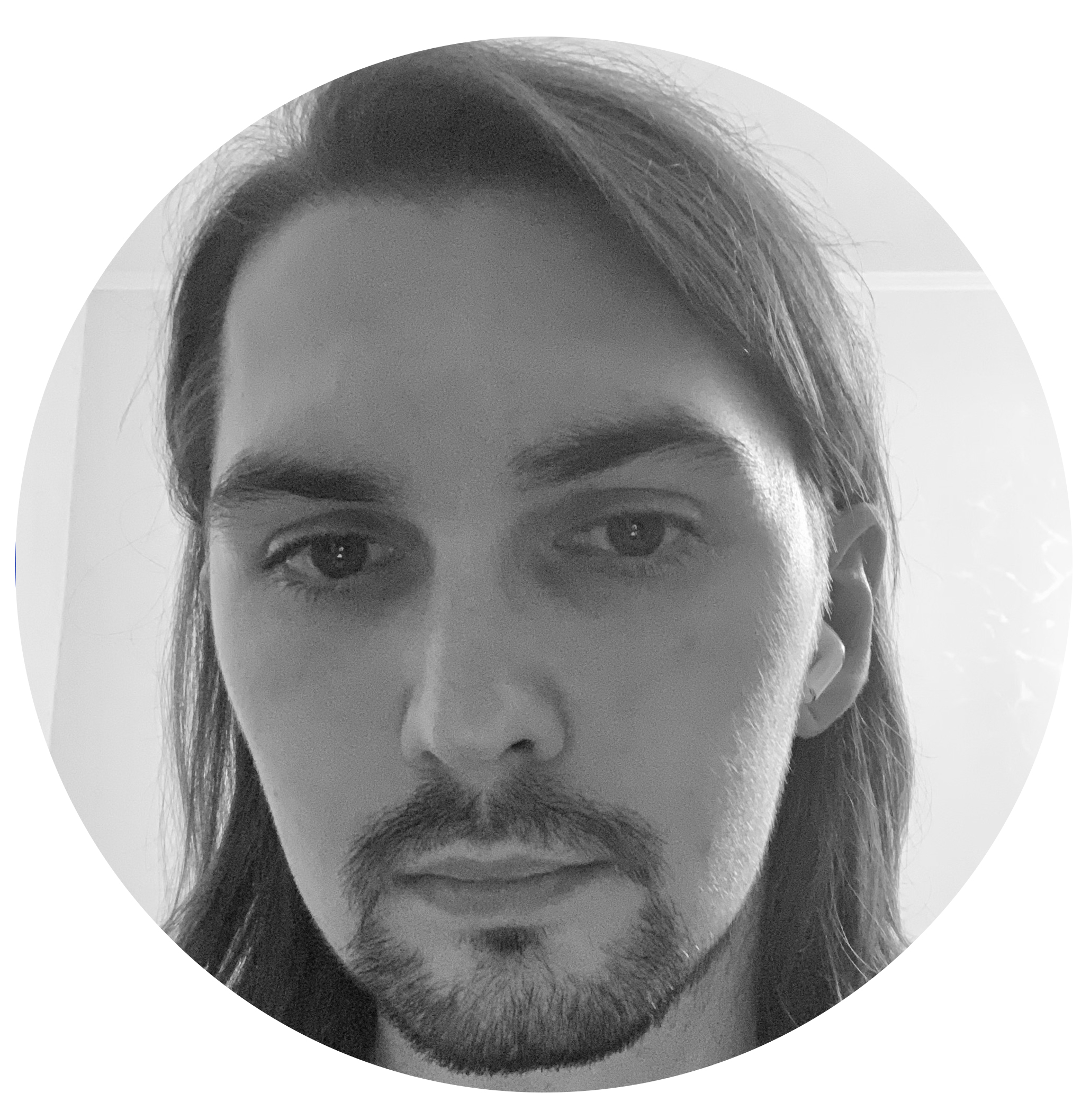 Dmitry Romazanov, Head of SEO, SOKOLOV


I combine SEO and ASO work. I monitor the trends of hiring companies and many places are looking for SEO specialists with experience in ASO. I think this trend will become even more widespread.
So, I think SEO specialists should try to be more open-minded and learn multiple skills. ASO helps expand professional competencies in many ways.
If you are looking to change your job or learn additional skills, we think you should consider SEO.
For basic ASO skills, take our free "ASO for beginners" email course. The course consists of 10 lessons that take you through the basics of ASO. You will get a new lesson in your inbox every day, and each lesson will take you 10–20 minutes.

In addition, you can watch the free Asodesk Academy video course. Our experts will teach you how to perform all ASO tasks, share their own case studies, and give useful optimization tips.