How incentive traffic helps promote your app in the App Store and Google Play
Published: 05.10.2021
Updated: 08.11.2021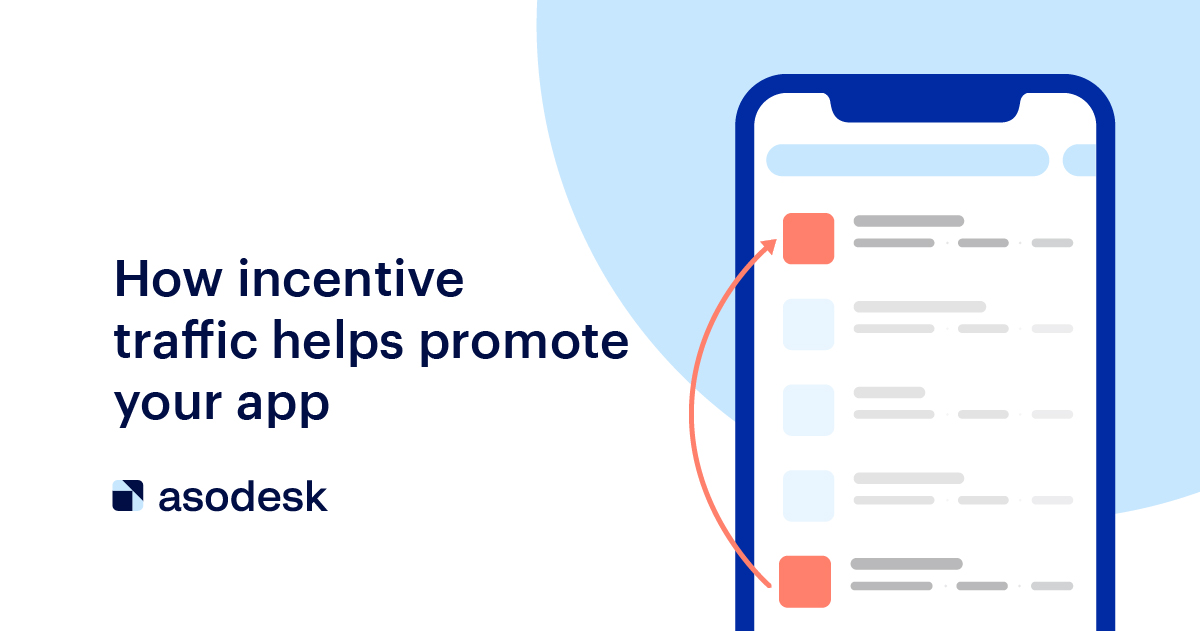 Incentive traffic can help your app get to the top, or it may give no results at all or lead to a ban. In this article, we will explain how to use incentive traffic properly to promote an app in the App Store and Google Play without doing any damage.
The article is based on an Asodesk webinar, where experts from Appbooster, Asodesk, and AdvertMobile shared their experience in working with incentive traffic.
Incentive traffic (incentivized traffic) means users receive a reward in return for their actions. For example, installing an app from a search or writing a positive review.
Incentivized traffic will work well when used carefully. Otherwise, the App Store and Google Play algorithms might find the jump in installs suspicious and block you. Read this article and find out what mistakes you need to avoid when working with incentivized traffic, as well as how to avoid getting banned and promote your app to the top.
Contents
When can incentive traffic be used?
Top 7 mistakes when working with incentive traffic
How to avoid getting banned from the App Store and Google Play when working with incentive traffic
How to launch a campaign to promote your app to the top
Things to keep in mind when working with incentive traffic
When can incentive traffic be used?
Incentivized traffic helps you achieve the following goals:
1. Boost your app to the top of the App Store and Google Play search results for desired keywords. If you improve your app's position for certain keys, users will see it and install it from the search for this search query more often.
2. "Warm up the semantics". When you drive Incentive traffic to a new app, the App Store and Google Play robots pay attention to its user activity. If your app gets installed, it will begin to climb higher in search. But it is important not to buy too many installs at once, otherwise, your app may get banned.
3. Promote your app in categories and collections. This kind of incentivized traffic was popular a few years ago. Now there are far more apps and it is much more difficult to get an app in the top categories, so promotion in collections is less in demand now.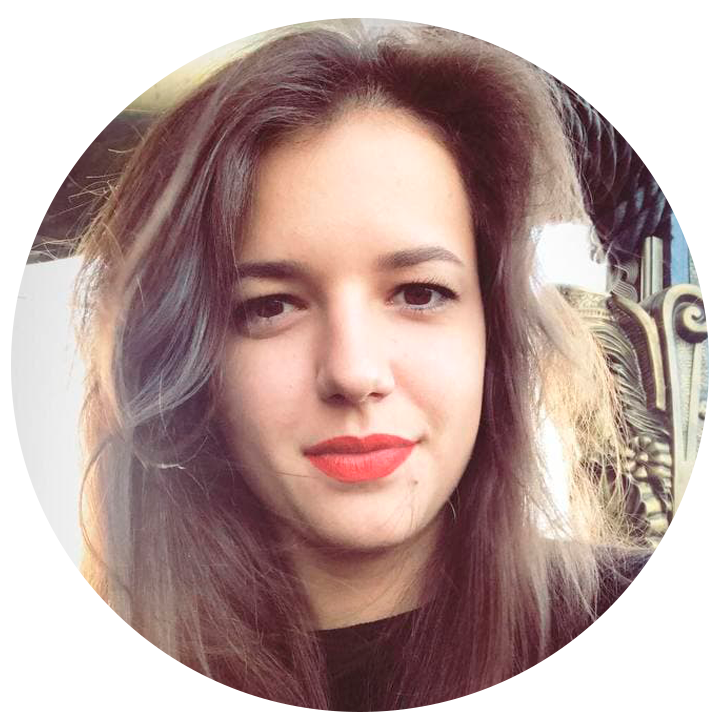 Victoria Klimenko, App Promotion Expert at AdvertMobile


If the volume of traffic for requests increases, it will directly influence the app growth in the category. Therefore, there is no point in getting promoted in collections separately.
4. Promote a search query to trending searches in the App Store. The query you need will appear under the search bar in the App Store and you can get a large volume of traffic from users.
5. Increase the app's rating. Sometimes you can only increase your rating with the help of Incentive traffic. But if your app has a lot of errors that users mention in their reviews, you don't need to use the incentive right away. Otherwise, new users are likely to install the app, find errors, give a bad rating, and delete the app. Correct all of the mistakes first, and only then run the campaign.
Experts from Asodesk, Appbooster, and AdvertMobile explained why you should use incentivized traffic.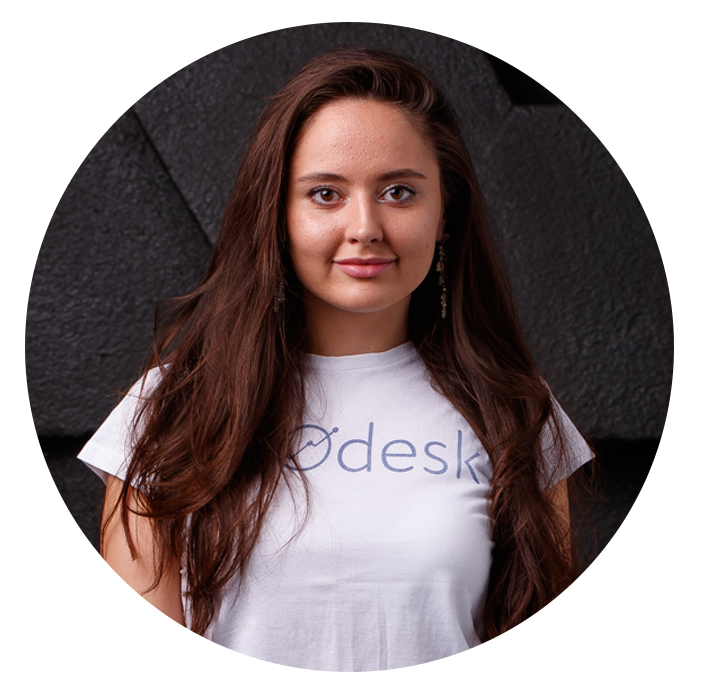 Elizaveta Komarova, Customer Success Lead at Asodesk


Incentive traffic can give a good start to a great app in a market with a lot of competition and a tight budget. Often, Apple Search Ads (ASA) cost a lot more than buying incentivized traffic. With the help of it, you can get to the top faster and attract the right audience.
Also, ASA only gives installs while the ads are displayed. With the help of incentive traffic, the app can establish itself in the top results and constantly receive organic installs.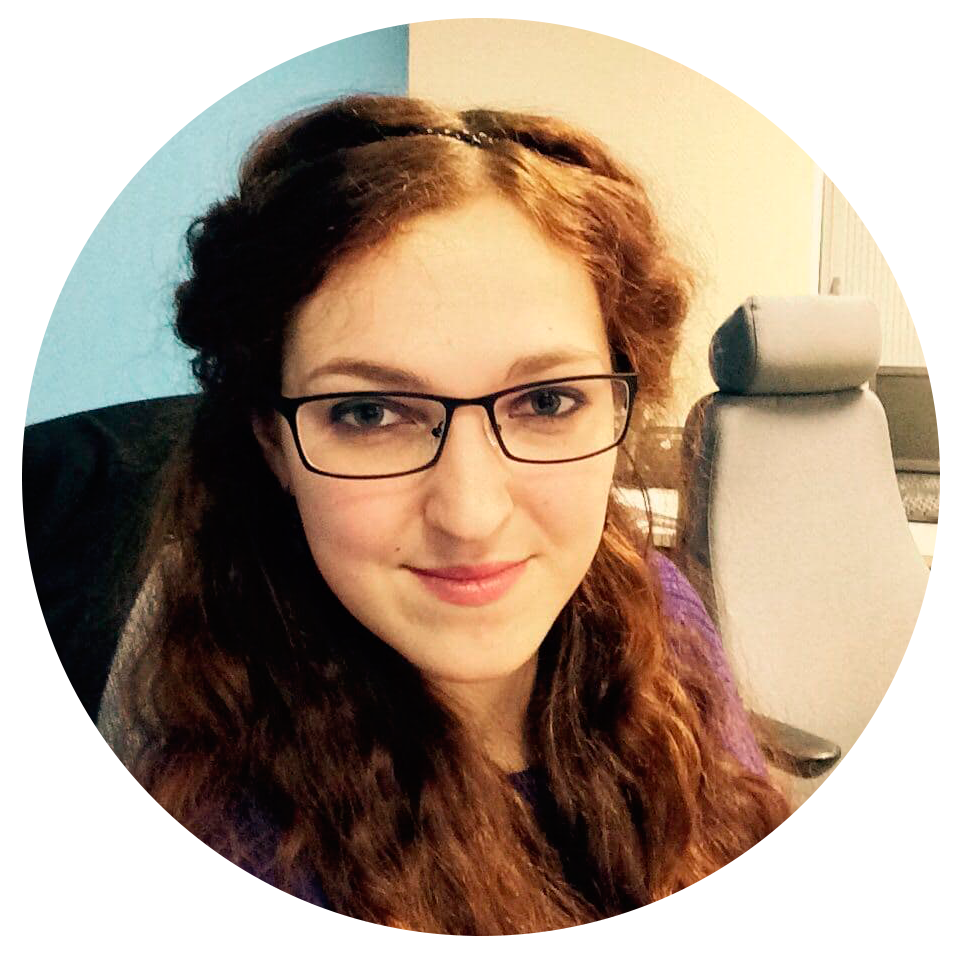 Oksana Prudnikova, Senior Account Manager at Appbooster


Incentivized traffic has a low entry threshold. Even with a budget of $150, you can get to the top for some low-frequency queries. With a budget of $200, you can, for example, improve the app's rating.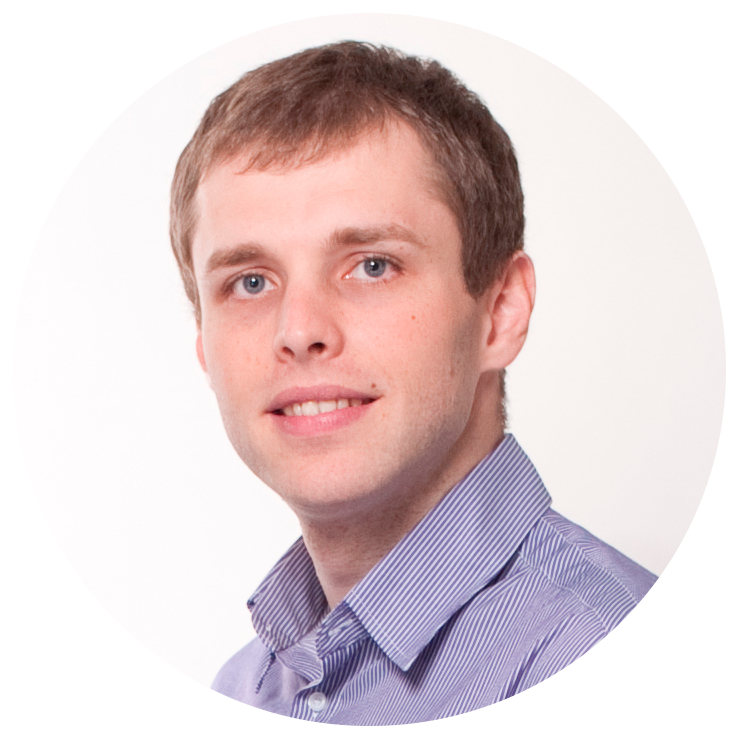 Alexander Danilov, Head of Sales at AdvertMobile


Sometimes an app gets unfairly low ratings. For example, the game does not work correctly for users with a certain processor, and the app receives a large number of negative reviews. Although on other devices everything is fine, the app's rating can drop significantly. A similar example is food delivery services or taxis. As soon as there are problems with couriers and drivers, the apps get a lot of negative reviews. In this case, incentive traffic is a great tool for correcting negative ratings.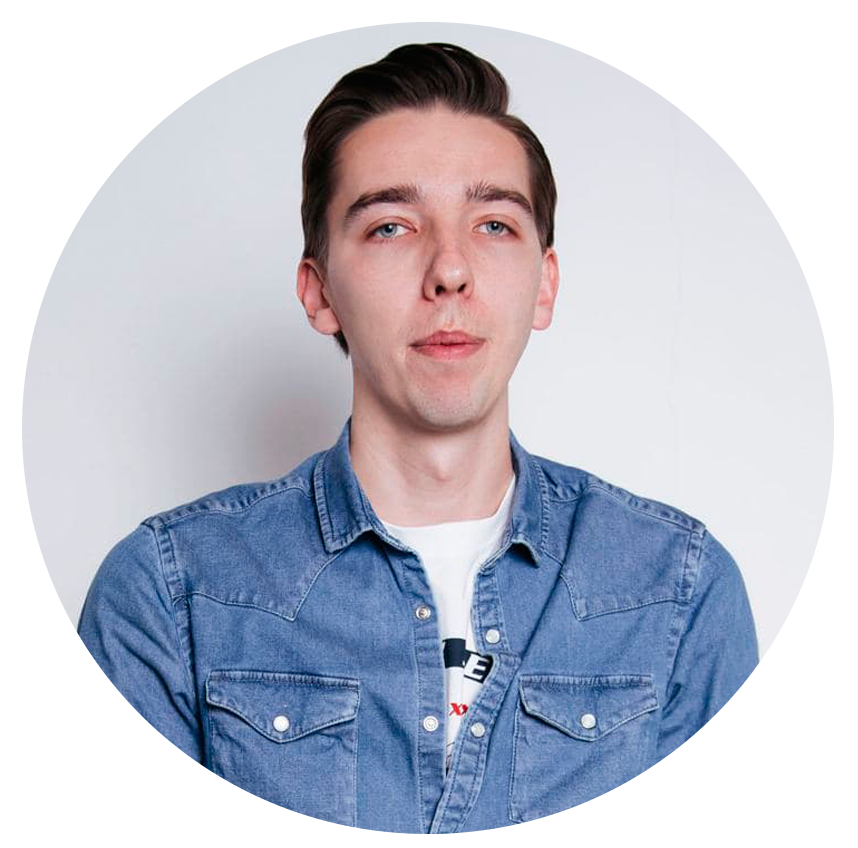 Yaroslav Morozov, CEO of Appbooster


Most often, schoolchildren are engaged in incentive traffic in order to earn pocket money. The project might have the same target audience. Sometimes, users who have made an incentivized install stay in the app and continue to use it.
Top 7 mistakes when working with incentive traffic
1. Driving incentivized traffic for a query for which your app has no positions. This is the most common mistake when working with incentive traffic. The principle of the incentive is that a person enters a query, finds the app in the search results, and installs an app. If the app does not have a position in search, people cannot install it and the app won't advance in search.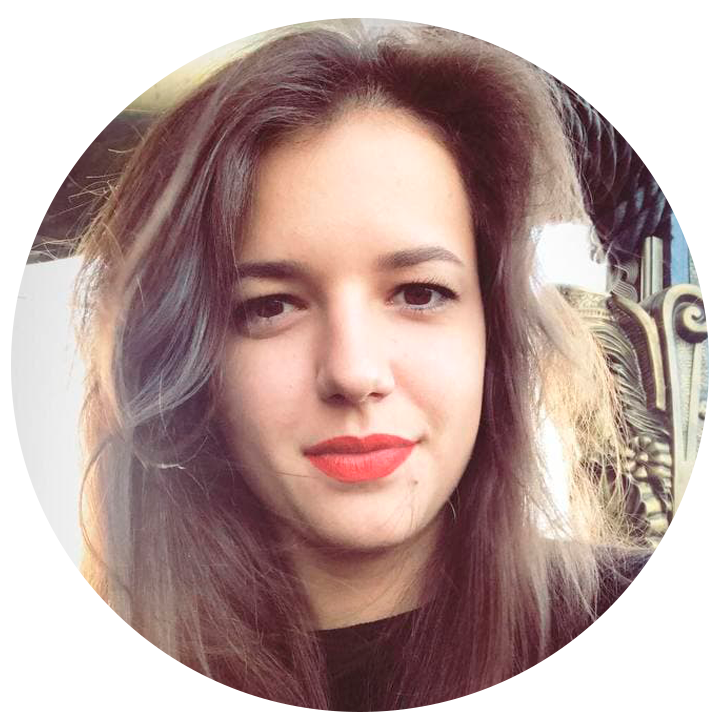 Victoria Klimenko, App Promotion Expert at AdvertMobile


Remember that positions in Google Play change very often. So it is important to check the positions on the same day when the campaign is launched. You should also remember that you can only promote for search queries if your position in search results is no lower than 200.
2. Launching incentivized traffic without ASO. ASO is the foundation of promotion in search. You can't get organic installs from incentive traffic alone if you don't do at least some basic app optimization.
Incentivized traffic without ASO makes no sense — it helps get top positions only for a short time. If you are not working on ASO, the app will be out of the top as soon as you disable the incentive traffic. If you regularly engage in ASO, it will help you maintain your position and continue to receive organic traffic.
Incentivized traffic will help you find query options for which your app can receive a lot of organic traffic. For example, fitness app publishers launch incentive traffic for three queries: "lose weight", "fitness at home", and "home workout".
In addition to incentivized installs, you start to get a lot of organic installs for "lose weight", while organic installs for the other two queries are not going well. In this case, incentive traffic can be turned off for those queries.
The more queries you have that are already ranking from ASO, the more opportunities for testing hypotheses, securing positions for queries, and attracting organic installs.
Learn how to get started with ASO in this Asodesk article. You can also take our free "ASO for beginners" email course. It will help you understand the basics of ASO in just 10 days and 10 lessons.
3. Launching incentive traffic for a competitor's branded query. If a user is using a query that is specific to a certain app, they are unlikely to pay attention to your product. Especially if the app is a big brand.
You shouldn't try to grow your positions for a competitor's query, otherwise, you risk wasting money and not getting the desired positions and organic installs.
4. Launch a campaign without knowledge of incentive traffic and the help of a manager. Experts noted that inexperienced clients often make mistakes that slow down the promotion process. For example, they start driving much less traffic than necessary. As a result, they do not get results and their apps' positions don't improve.
To avoid mistakes like this, you need to study articles and webinars on incentivized traffic, as well as address the manager of the site where you work if you have any questions. When working together with a manager, you will save time and money on promotion and achieve better results.
In Asodesk, you can ask the manager any questions for free before launching incentivized traffic campaigns. Just click on the support window in the lower right corner of your account and tell us about your problem.
5. Having unrealistic expectations from incentive traffic. For example, if there is a lot of competition in your niche, you won't be able to replace apps that are already getting millions of installs. It is always important to analyze the market and see which apps you will be competing with for a certain query.
6. Driving incentivized traffic simultaneously with ads for the same queries in Apple Search Ads. If you do, users may install the app from ads rather than from App Store search. As a result, analytics will not be able to distinguish between installs from the ads and incentive traffic. You will be wasting your money, and the app will remain in the same position.
7. Taking on high-frequency queries right away. Sometimes your app is completely new, but experts take on medium- and high-frequency queries. The app gets to the top for these queries, but cannot stay there for long, because the competition is too strong. As a result, a lot of money is spent on holding positions while the app's ranking is still dropping. Therefore, new apps should start promoting low-frequency queries.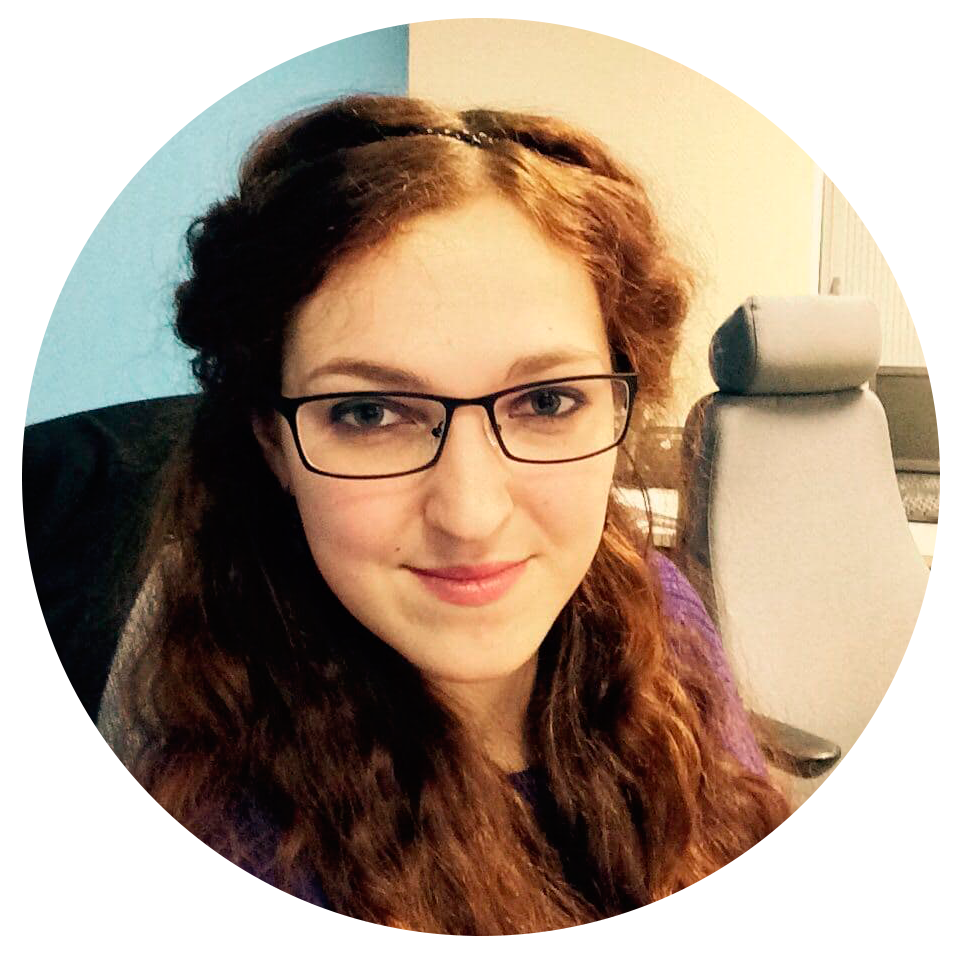 Oksana Prudnikova, Senior Account Manager at Appbooster


The advantage of low-frequency queries is that they will consistently bring you a small volume of organic traffic. For example, you can launch a campaign with a budget of $150, get into the top for low-frequency queries, and receive a small but constant influx of organic traffic in the long term.
If you have a large budget and you plan to use different promotion channels and connect paid ads, you can start with high-frequency queries right away.
How to avoid getting banned from the App Store and Google Play when working with incentive traffic
1. Conduct an ASO audit before launching your campaign. It is important to understand the number of queries and your positions for them in search. For example, if a new app is indexed by only five queries, it is too early to start working on incentivized traffic. Otherwise, your promotion to the top will look suspicious to app store algorithms.
2. Start promoting with low-frequency queries, then switch to medium-frequency queries, and only then go for popular keys.
3. Contact only trusted companies and avoid services that offer very cheap installs. Elizaveta Komarova shared a case study of when a client bought incentive traffic on an unverified exchange with a price 5 times lower than the market price. A day later, his app was banned. You cannot work with suspicious companies, as they might use bots.
4. Do not improve your app's rating too dramatically. If your rating rises from 2 stars to 5 in a few days, it will raise suspicions and you may get banned.
5. Do not promote for your competitors' branded queries, as this also attracts the attention of algorithms. Users who use branded queries need a different app. But if you want to use these queries specifically, do it very carefully and connect other promotion channels so that your incentivized traffic does not stand out.
6. Don't drive a lot of traffic to the new app. If your app suddenly gets 10 thousand installs after having no traffic at all, you might get banned. Therefore, it is important to start gradually — with low-frequency queries.
How to launch a campaign to promote your app to the top
Working with incentivized traffic while promoting to the top can be divided into five stages.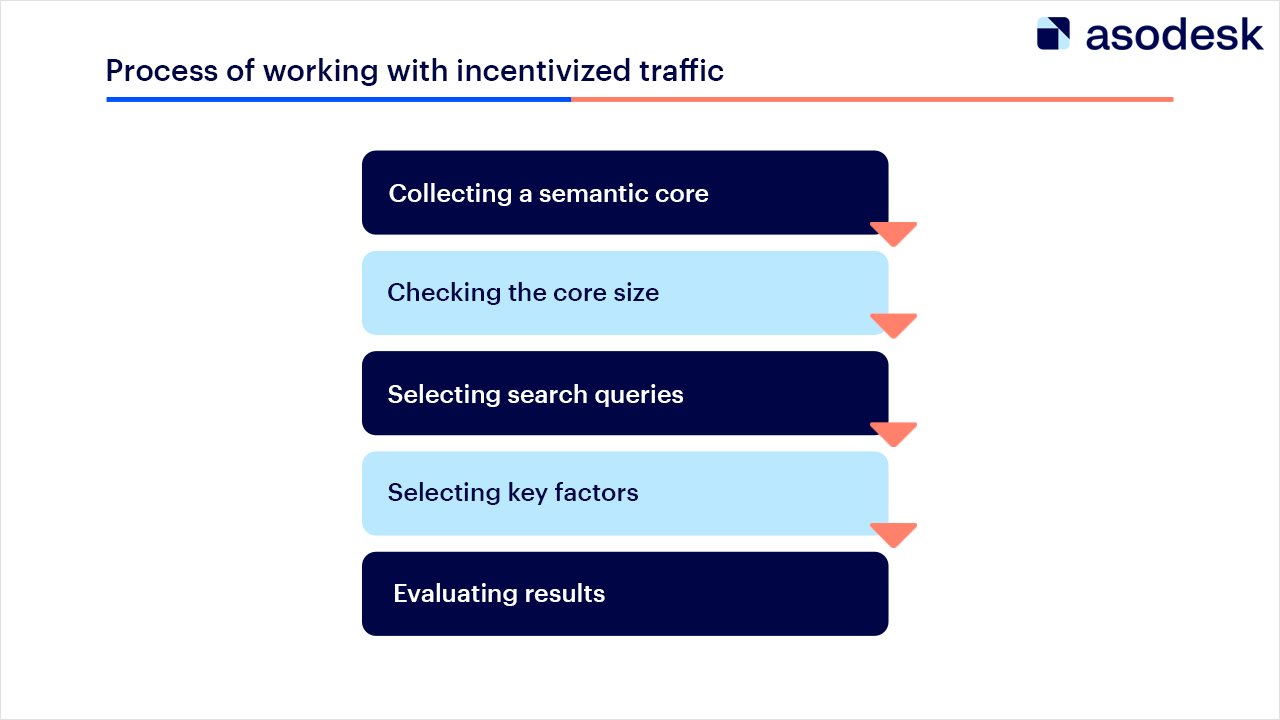 1. Collecting a semantic core. Before launching incentive traffic campaigns, it is important to collect the queries for which you want to receive installs. Find a step-by-step guide on how to build a semantic core in this Asodesk article.
2. Checking the core size. You can only launch traffic for queries for which you are already ranking. If there are too few queries like this or they do not suit you, it is too early to launch incentivized traffic, and you need to opt for ASO. It is important to check your ranking for queries a day before your campaign is launched, as you might fall out of search for several queries.
3. Selecting search queries. When picking search queries, it is important to consider their popularity, relevance to the app, and competition.
You can assess the popularity of a query using Daily Impressions and Search Ads Popularity in Asodesk.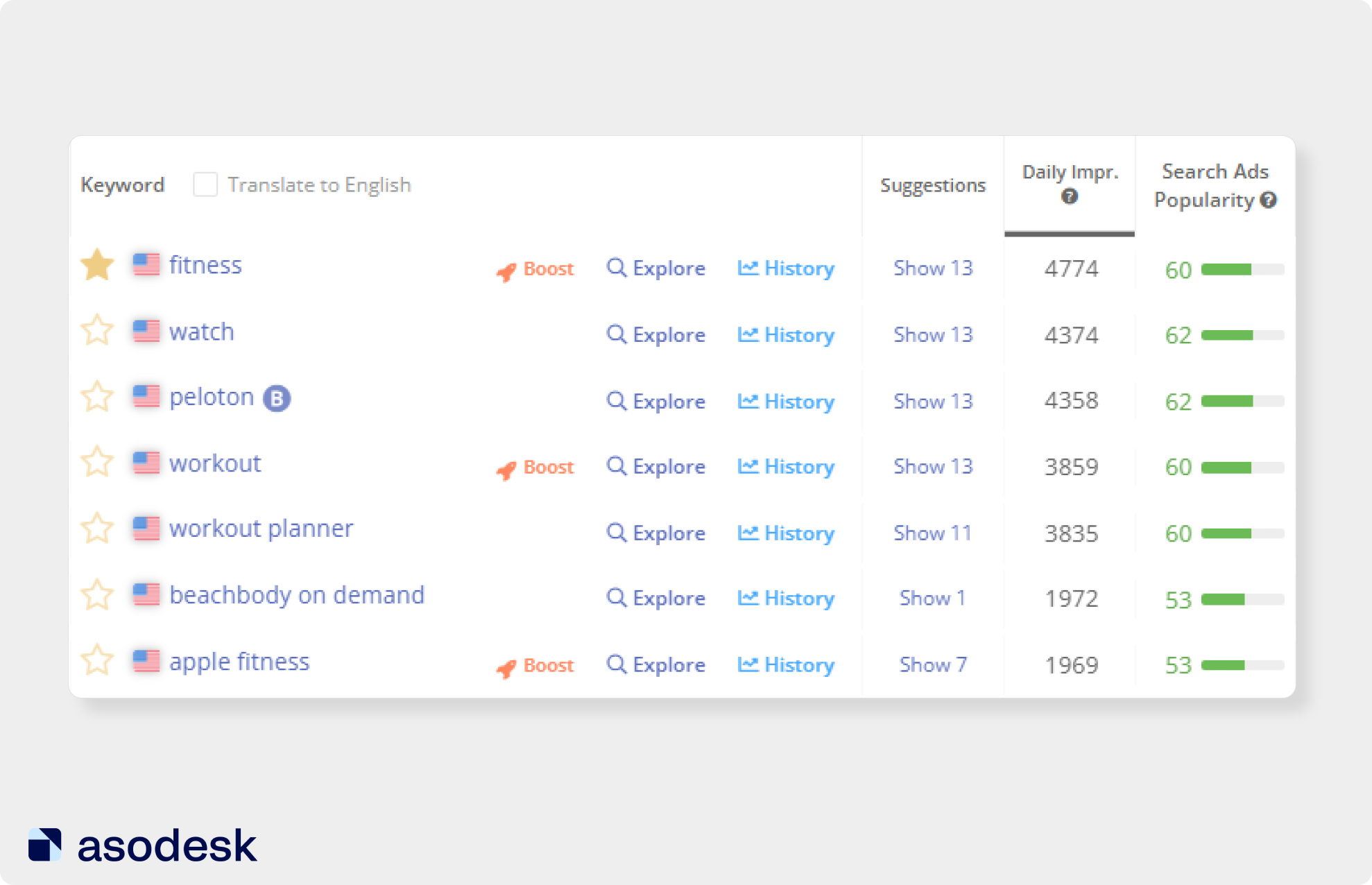 It is important to track the popularity dynamics of necessary queries. If the popularity of the query has increased significantly over a short period, it means that it attracted incentive traffic.
You should also estimate the competition for a query.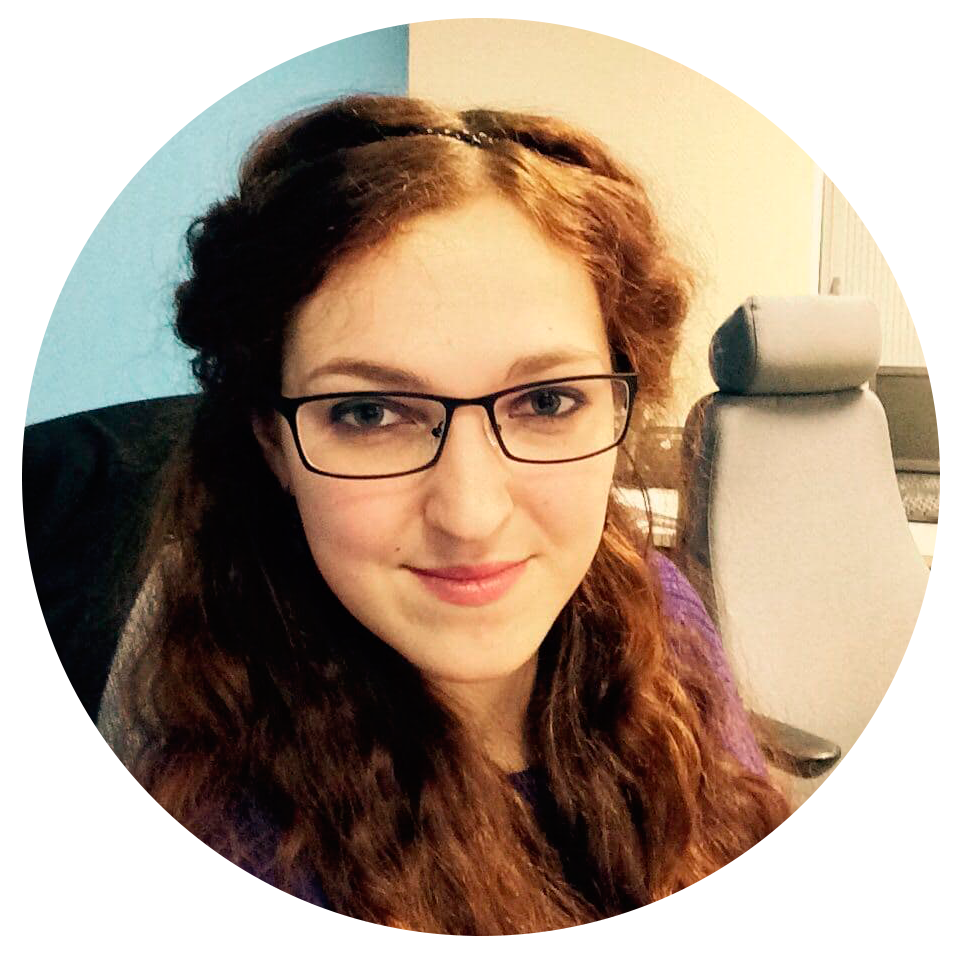 Oksana Prudnikova, Senior Account Manager at Appbooster


Before launching a campaign, you should analyze your competitors in top positions for the query. If it's an app with millions of installs, a strong ASO, and ad traffic and it has been at the top for years, moving it might take significant budgets. In this case, it makes sense to concentrate on which queries give you more chances to overtake your competitors.
Asodesk's Keyword Chart will help you quickly analyze your competitors for your search queries. It will show competitors for all your queries from the semantic core.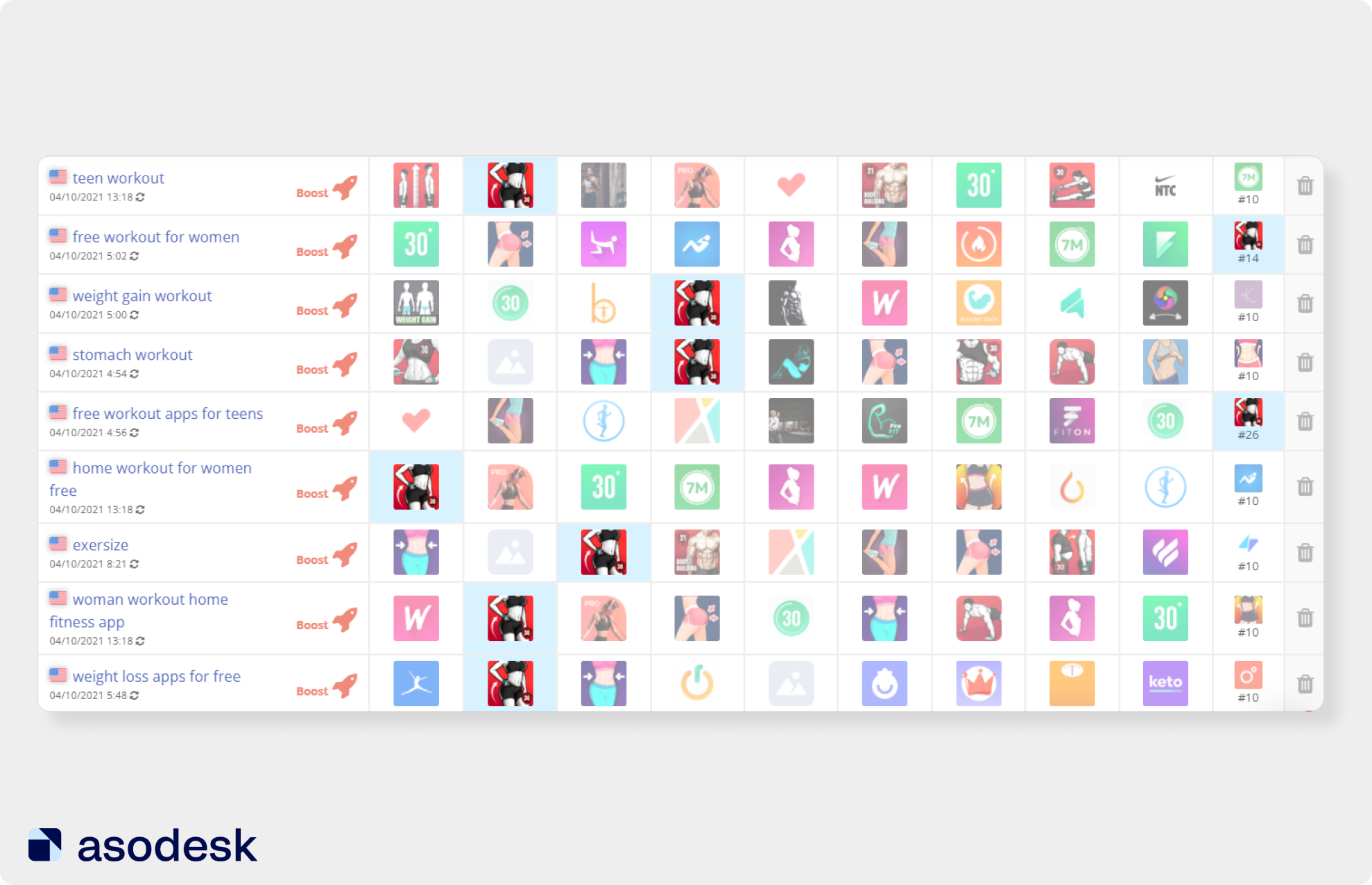 To purchase incentivized installs, you need to use special services and tools. For example, Asodesk's Keyword Boost, which helps you get installs for the desired query. Select a keyword from the list of suggestions, and the system will automatically recommend the optimal number of installs and set a price. You can also assign the desired number of installs yourself.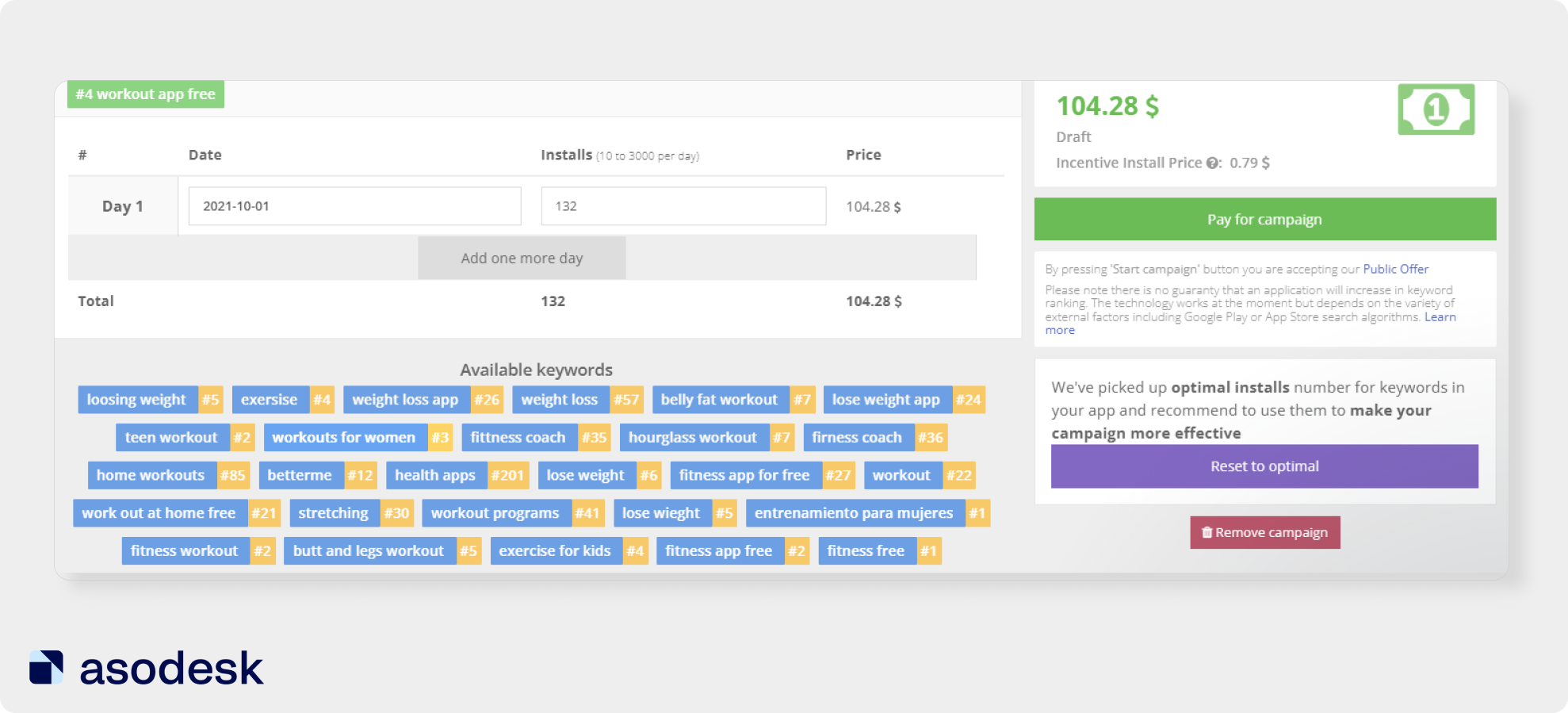 4. Choosing the number of days and other factors. Before launching an ad campaign, we advise you to consult with a manager. You are welcome to address your questions to the Asodesk specialists. Our manager will explain how to choose the number of installs, budget, and promotion duration for your app.
5. Analyzing the effectiveness of your promotion. How quickly you will see the results of promotion depends on the specifics of your project: the selected number of installs, the duration of your promotion, competition in the niche, and the activity of competitors.
You can track position changes using Keyword History in Asodesk. It will show the dynamics of app positions for a given query.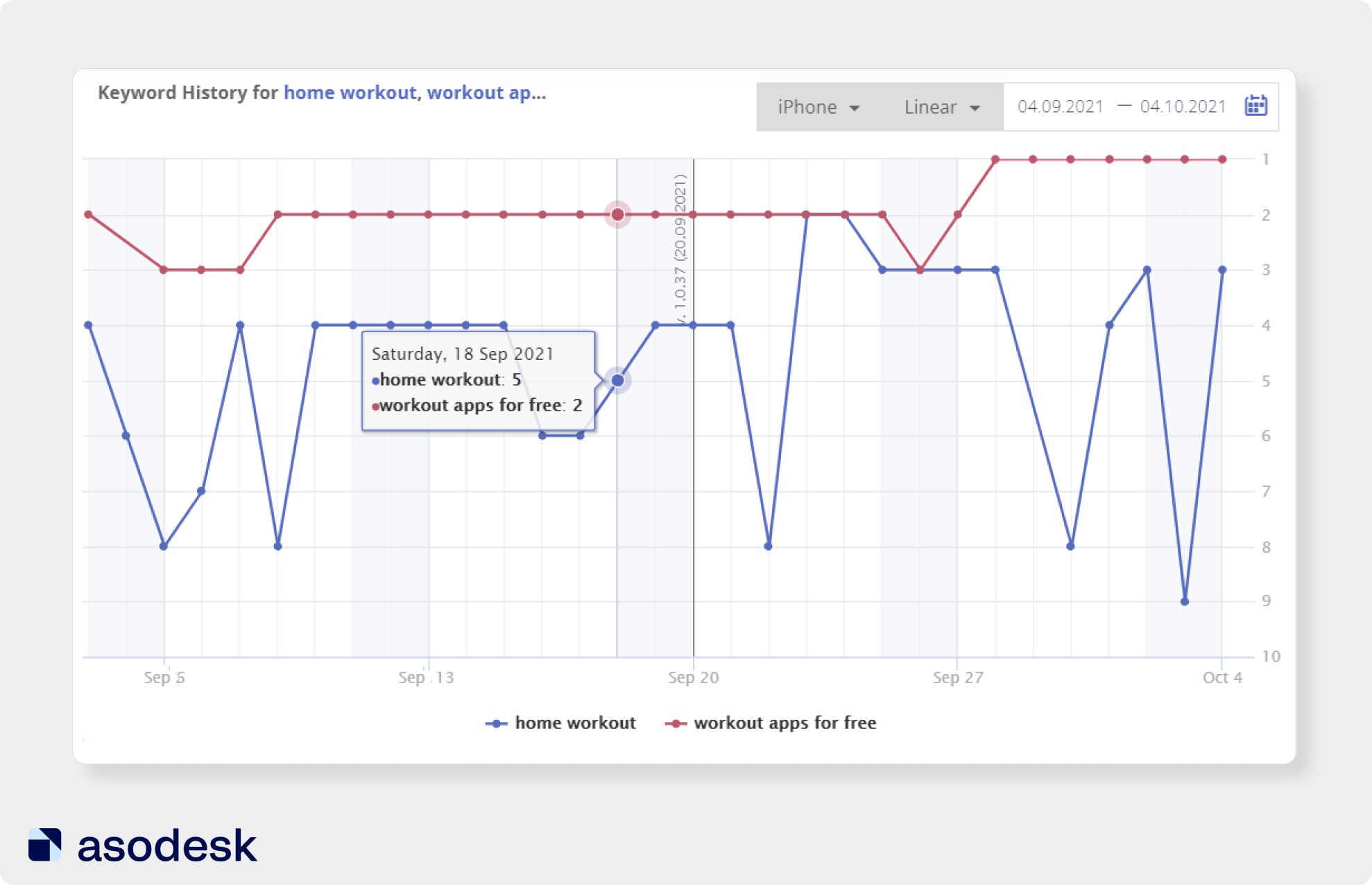 You can also check the dynamics of installs, impressions, and conversion rate after launching a campaign using ASO Dashboard.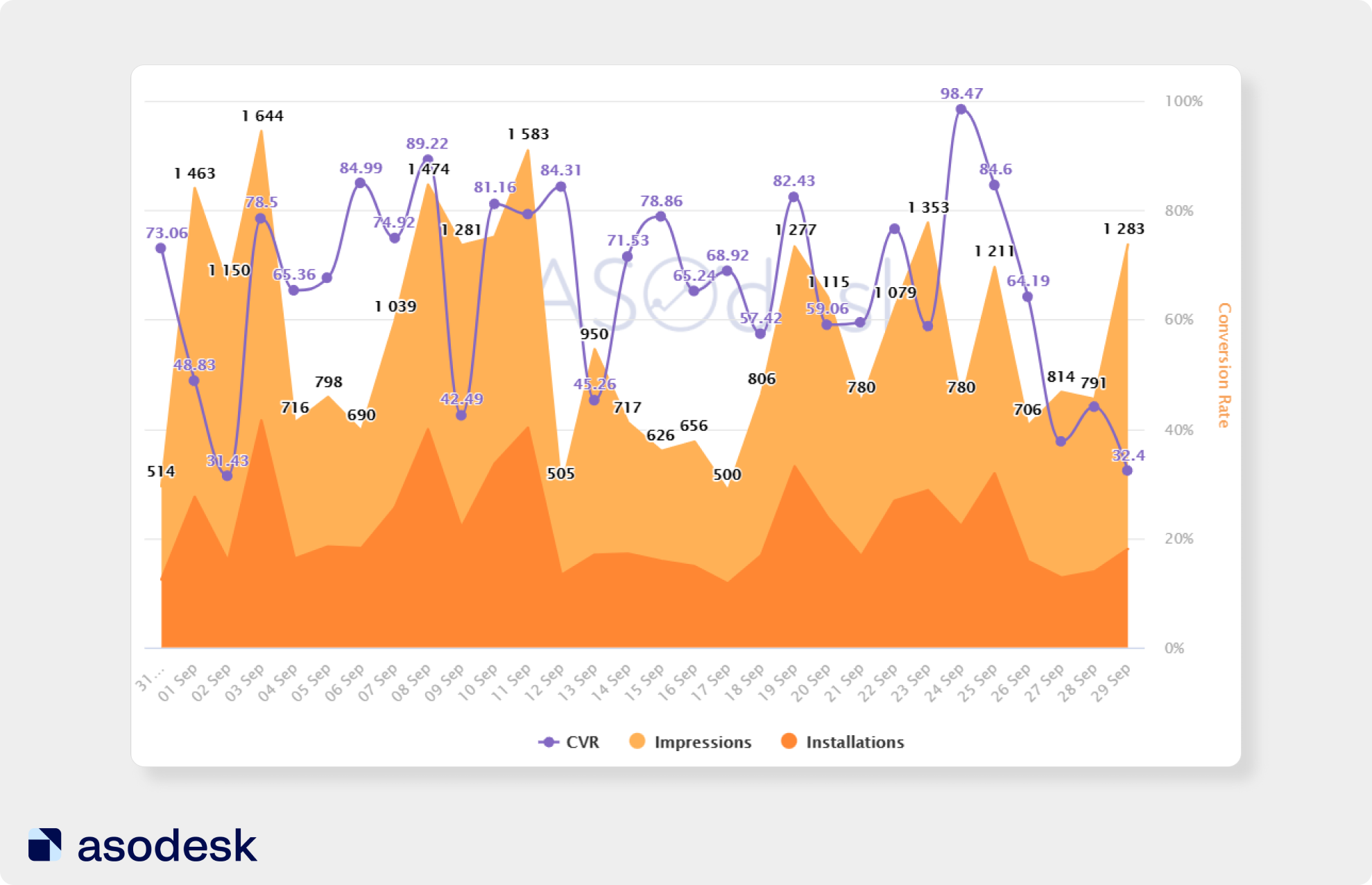 Try these tools for your apps in Asodesk for free.
Things to keep in mind when working with incentive traffic
Incentivized traffic can boost your app to the top if you approach it in the right way. It is important to stick to the following rules:
1. Start working on incentive traffic only after ASO. This is the only way to achieve long-term growth.
2. Seek help from managers. It is better to consult a specialist before starting promotions. Otherwise, you risk wasting time and money.
3. Buy incentivized traffic only from reliable services. This way, you get installs and avoid getting banned.
4. Start promoting with low-frequency queries, especially if your app is new.
5. Avoid the following mistakes: launching incentive traffic simultaneously with Apple Search Ads campaigns, driving a lot of traffic to a new app, improving ratings drastically.
On the Asodesk Blog, we share helpful guides, expert opinions, and insights for app growth. Subscribe to our newsletter so you don't miss our articles on ASO, mobile app marketing, and review management.