Everything an ASO specialist needs to know: 9 videos
Artiom Tkachuk
art@asodesk.com
Asodesk Expert & ASO manager at Onde.app, platforms for creating branded taxi applications and other on-demand services. Over 200 applications in 75 countries. The number of active users is more than 1.3 million people. Artiom has been engaged in ASO for 4 years, he is an ASOdesk blog columnist, and a speaker at different conferences.
All articles by author
Published: 08.07.2020
Updated: 04.02.2022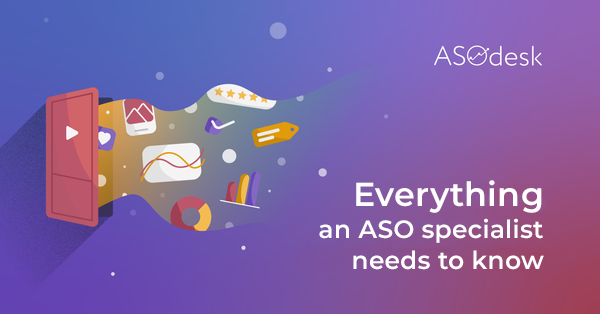 The first ASOdesk Academy for English-speaking audiences was held in June. During one week our students mastered all the intricacies of app store optimization. Students learned how to optimize applications for different platforms, build a semantic core, do ASO in different languages, form hypotheses, measure effectiveness, and analyze competitors. This course includes practical tips and cases from ASO experts.
We want to help more specialists, so we decided to share the Academy's notes.
Lecturers:
Artiom Tkaczuk, ASO Expert ASOdesk, ASO manager Onde.app
Ekaterina Sibirko, ASO Enchantress at Flo.health
#1 ASO must have or not: introductory lesson
Our lecturer explains why ASO is important, why it is vital to synch with paid traffic, what is the difference between the ASO specialist and the ASO lead, and how to pick an ASO tool.

#2 How to do ASO on Google Play: basic principles and rules
In the second lecture, Artiom shares information about the main differences between Google Play and App Store. He explains to students how to work with assembling keywords, composing the description and text metadata on Google Play.
# 3 Building the semantic core + Special aspects of Asian languages
Lecturer tells about textual optimization, сompared search algorithms of App Store and Google Play, and shares life hacks that will help improve keyword positions and get more installs.
Also, Artiom tells about differences in keyword research and metadata-compiling in some Asian languages: Arabic, Japanese, Thai.
#4 The Tears of ASO
Ekaterina tells about common problems that every ASO specialist meets in quite every company.
# 5 ASO Performance Measurement
Artiom shows what goes into textual optimization, types of metrics, and some mistakes in measuring efficiency of a textual ASO.
#6 Working with iterations and keywords in ASO
Our ASO expert tells about iterations of textual optimization: purposes of iterations, outreach iterations, relevance iterations, install rate improvement iterations. He explains how students should work with keywords in ASO and gave practical examples.
#7 Growth hypotheses of the mobile application through an express audit
ASO expert tells about modeling for increased conversions, for increased installs, growth models, and sample express audit.
#8 Competitor Analysis
The lecturer explains why an ASO specialist needs to study competitors, what types of competitors exist, and what information can be analyzed.
#9 Make the full description of the Android app understandable for Google
Artiom tells about preparing the description. Also, he shows what is Google NL, categories of Google NL, influencing results of Google NL.
We have a lot of useful materials on YouTube channel. Subscribe to the channel to stay updated on our ASO events.
Here you can find our ASO experts. If you'll have questions after watching the videos, they will answer it, review your apps, and give feedback on your ASOdesk Academy homework at any time.
Students made all practical tasks on ASOdesk tools and tried to solve their problems in practice. If you also want to get full access to the platform, then leave a request for https://asodesk.com/trial.
After the consultation, you will receive free access to all ASOdesk features. If you have questions, our managers are ready to help you.