ASOdesk is a recognized IT service! We received 13 ratings and 9 G2 badges
Katerina Belohvostova
kb@asodesk.com
ASOdesk Marketing Manager. She is behind all the rough work on social networks, blogs, newsletters, webinars, and ASOdesk Academies. Event organizer of ASO Wine Time and ASO Fuckups. Lovingly solves all your issuies at our events ?
All articles by author
Published: 16.12.2020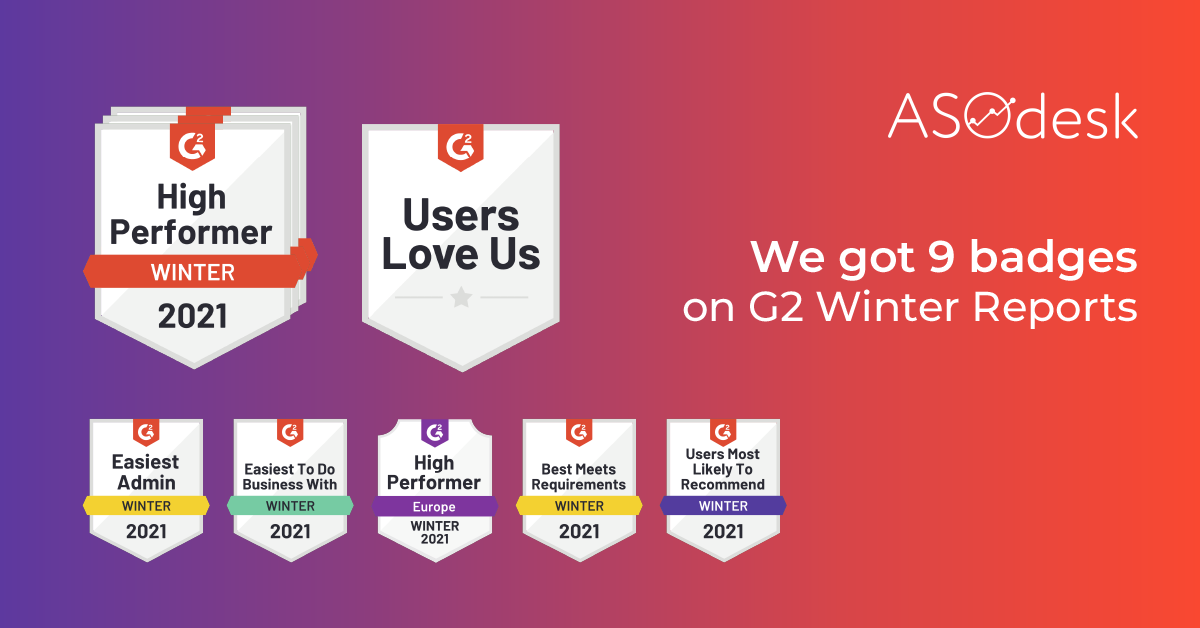 We are excited to share some great news: we received 9 badges from G2! G2 is a highly reputed platform that surveys online business services. This winter we received thirteen ratings in three main categories, and ASOdesk was awarded nine badges!
G2 reviews software and user reviews. The platform explores data from thousands of SaaS companies every quarter. G2 analyzes customer satisfaction, user reviews, public profile, and brand presence, using 15 metrics. Based on this data, researchers rank and award industry-leading companies with badges. For an IT-service, getting a G2 badge is like winning a Grammy.
In the Winter Reports 2021 we received 9 G2 badges:
1. In the Mobile App Analytics category:
High Performer.
High Performer in Europe.
Easiest Admin.
Best Meets Requirement.
Users Most Likely To Recommend.
2. In the App Store Optimization category:
High Performer.
Easiest To Do Business With.
3. In the Mobile Analytics category:
We are especially proud of the Users Love Us badge. It is only awarded to companies that have received more than 20 reviews with a score above 4 points. ASOdesk received 23 reviews with an average rating of 4.7 out of 5. Source: G2.com, Inc.
We are very grateful to the users who left feedback about us on the platform. Here are some of the reviews from our users on the G2 site:
Greg M:
«Excellent ASO tool! The best automatic ASO reports. With these reports, you can always understand what's happening to your positions, traffic, how it depended on product updates, and in what country changes have occurred. The most important feature is an excellent support team with quick responses».
Alexsey S:
«ASOdesk has helped me a lot, to make high-quality application optimization. Ability to quickly assemble a semantic core, for any country. Very many automatic suggestions. This is the best I have ever worked with».
Darya P:
«Awesome ASO tool, easy to use for every specialist's level. Easy to use UI, constantly updating metric systems. ASODesk team is always ready to help with any issues regarding their tool».
Source: G2.com, Inc.
We will continue to implement new mobile app marketing tools. We recently released review tools and the ASOdesk global update. We will also improve the system so that your applications develop even more actively!
Thank you for choosing ASOdesk! Our success is the joint achievement of all users of the system and the team. We really value your feedback. Your comments give us an incentive to grow, and show us what updates we need to implement to get even better.
Out of gratitude, we would like to give you the USERSLOVEUS promo code, for a 15% discount on any tariff until the end of the month.
We'd love to hear your feedback on ASOdesk in your G2 review.