New features for quick analysis of reviews and traffic by keyword at ASOdesk
Sergey Sharov
ss@asodesk.com
Co-founder of ASOdesk and Angle Connect Agency. In ASO since 2013. Creator of the ASOdesk Academy, author of courses, Knowledge Base, certification and testing programs, organizer of ASO Wine Time, and ASO Fuckups events.
All articles by author
Published: 14.05.2021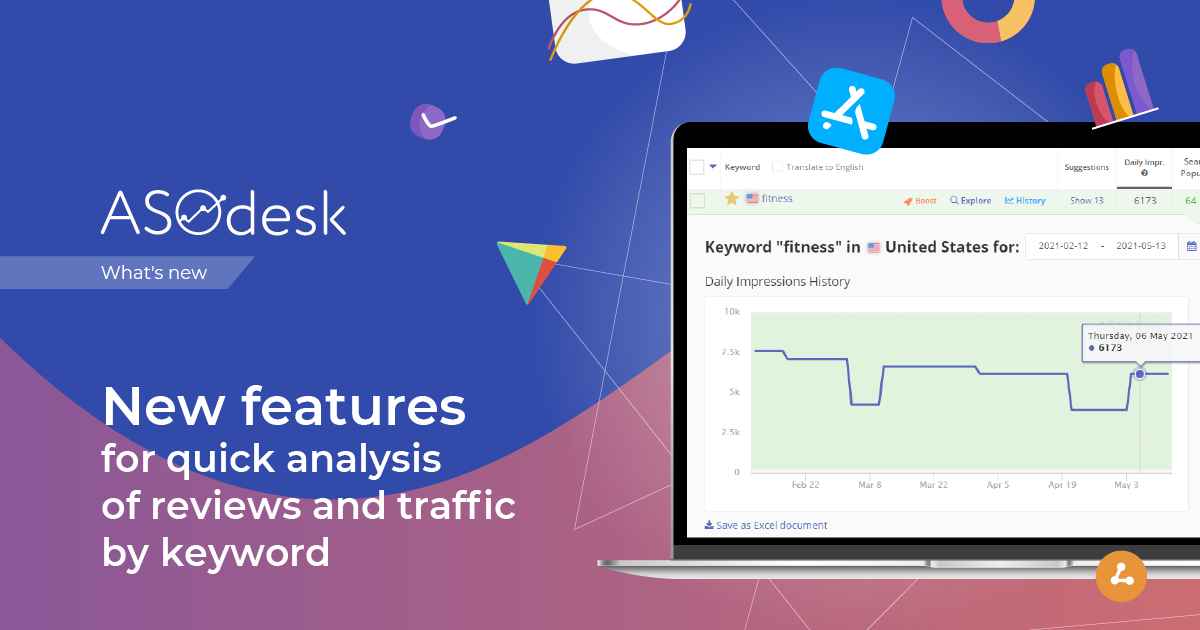 In April and May, we added many useful monitoring and analytics features to ASOdesk. You can now save filter settings to the reviews tools board, which speeds up the analysis process. New ASO features and tools show traffic history per request, the dynamics of positions, and competition for keywords.
Save filter settings for reviews and ratings analysis
In early April, we discussed new capabilities for ratings analysis, tracking deleted reviews, filters by country, and changing reviews. Read more about these features in our article.
Now you can save filters in the reviews tools.
In the Reviews & Replies Board, you can save any parameters by country, rating, modification, deletion, featured reviews, and replies to them. Select the desired settings and click the Save new Filter button.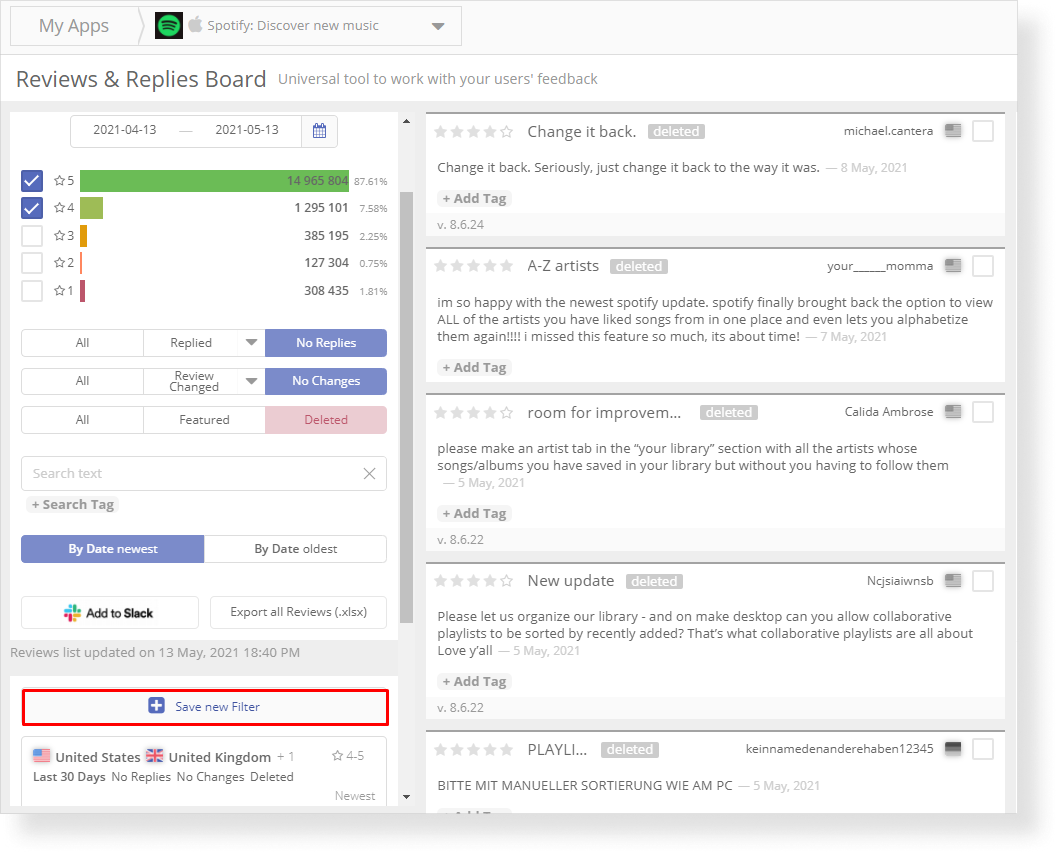 Unified settings are available for the Reviews Analysis and the Reviews & Replies Board, while Rating Analysis has separate filters available.
In Ratings Analytics, you can save ratings by country, period, and app version.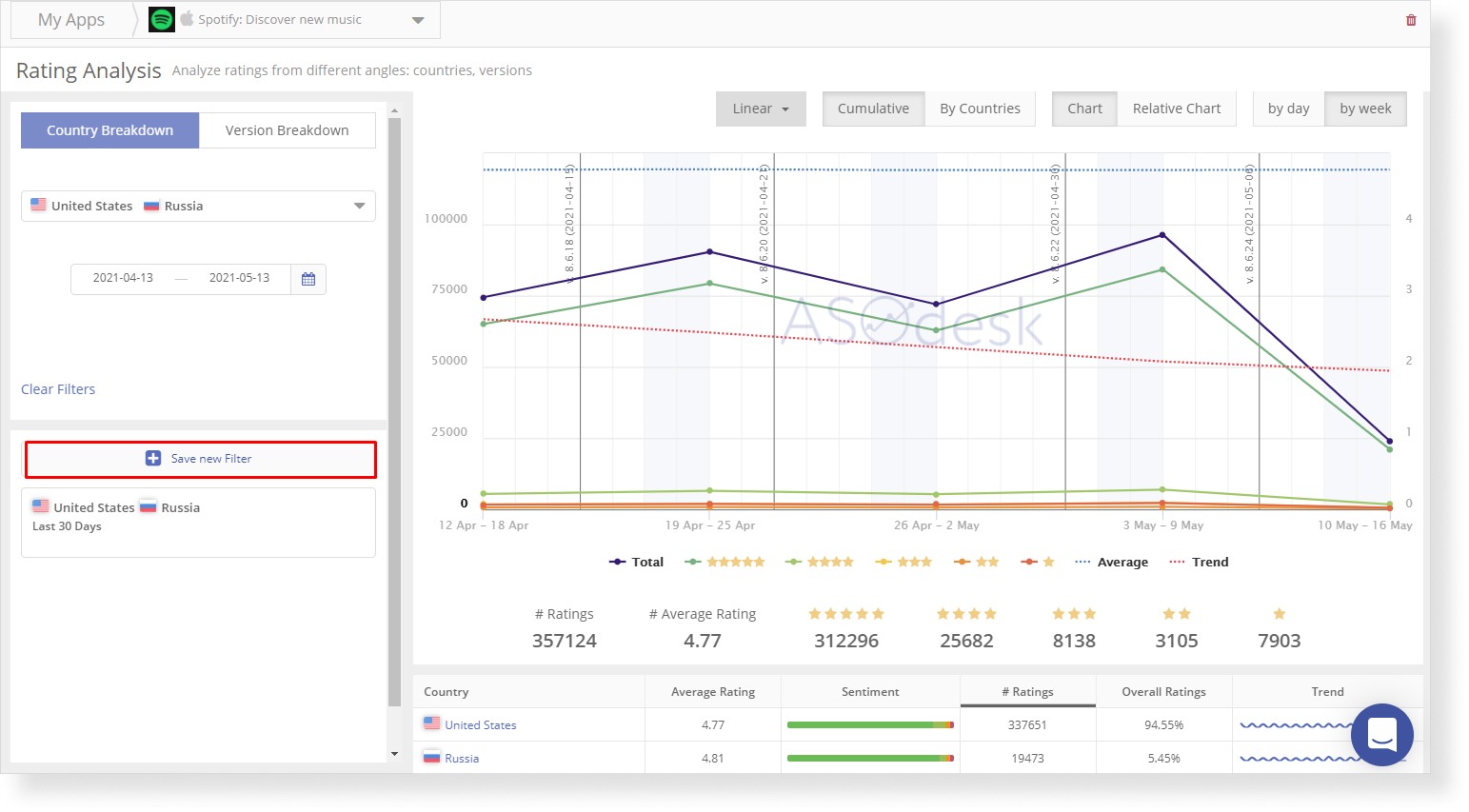 Analytics and review tools are now free as part of the open beta, but they will become part of paid plans this summer. Start using the tools now and contact us to get the most affordable plan at the end of testing. Click on the Reviews & Ratings tab to get started.
New tools for monitoring changes in positions for important queries
Favorite Keywords shows statistics for the selected keywords that you mark with a star in the Keyword Table.

This tool helps you quickly analyze changes in positions and top 5 competitors for keywords that are important to you. Changes can be monitored for different periods using filters by country and device.

Keyword Highlights helps you track changes in rankings for keywords from the Keyword Table. You can see the dynamics for any period using these tables:
New Keywords: words by which the application just appeared in the search.
Lost Keywords: words for which you no longer appear in the search.
Positive Movements: words for which your positions are improving.
Negative Movement: words by which your positions are falling.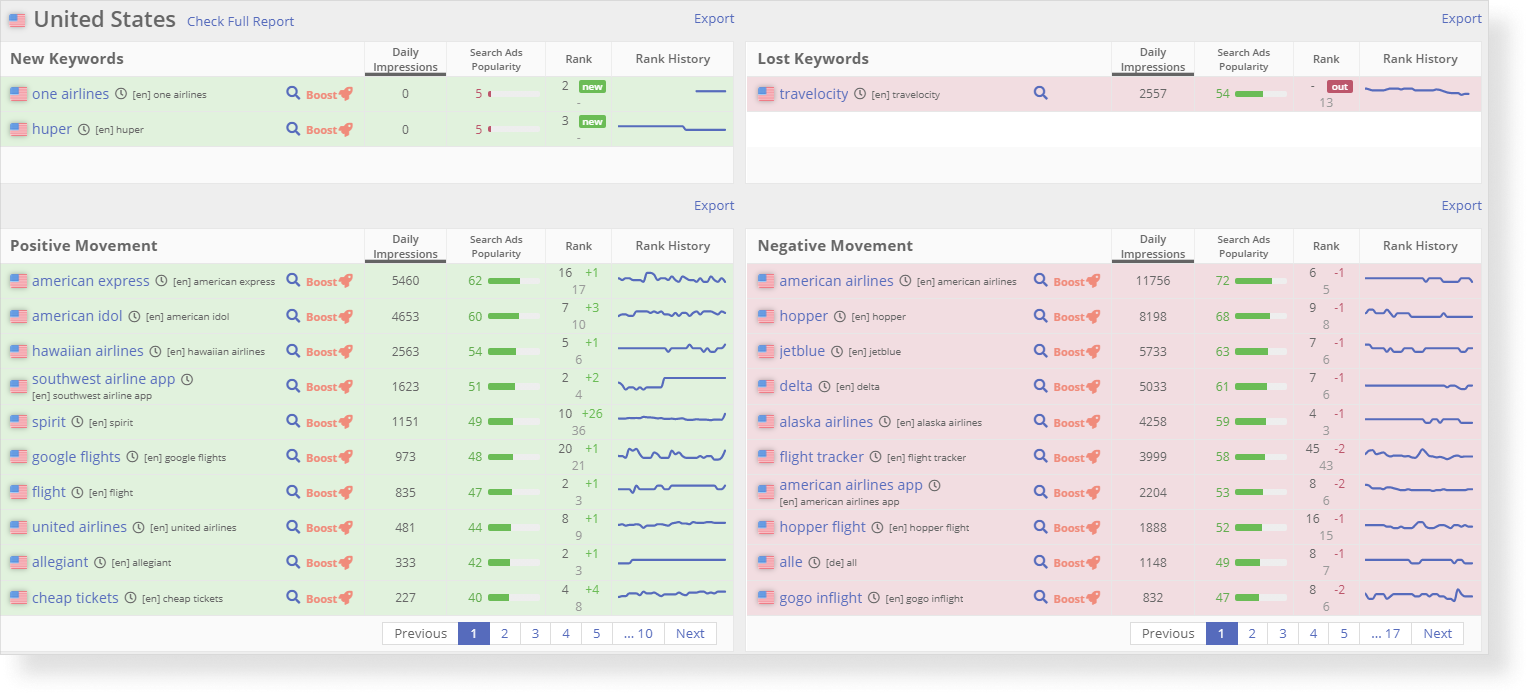 The tools are located in the ASO section of the Analyze tab.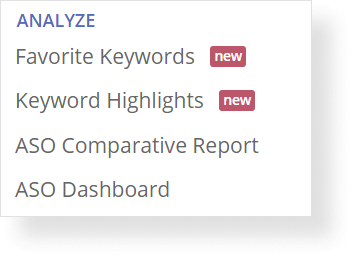 New features are available to all users, starting from the free plan.
Analysis of traffic history by keyword in Keyword Table
ASOdesk now has a feature that allows you to check the traffic history for any search query in the Keyword Table. You can see how the statistics for Daily Impressions and Search Ads Popularity have changed.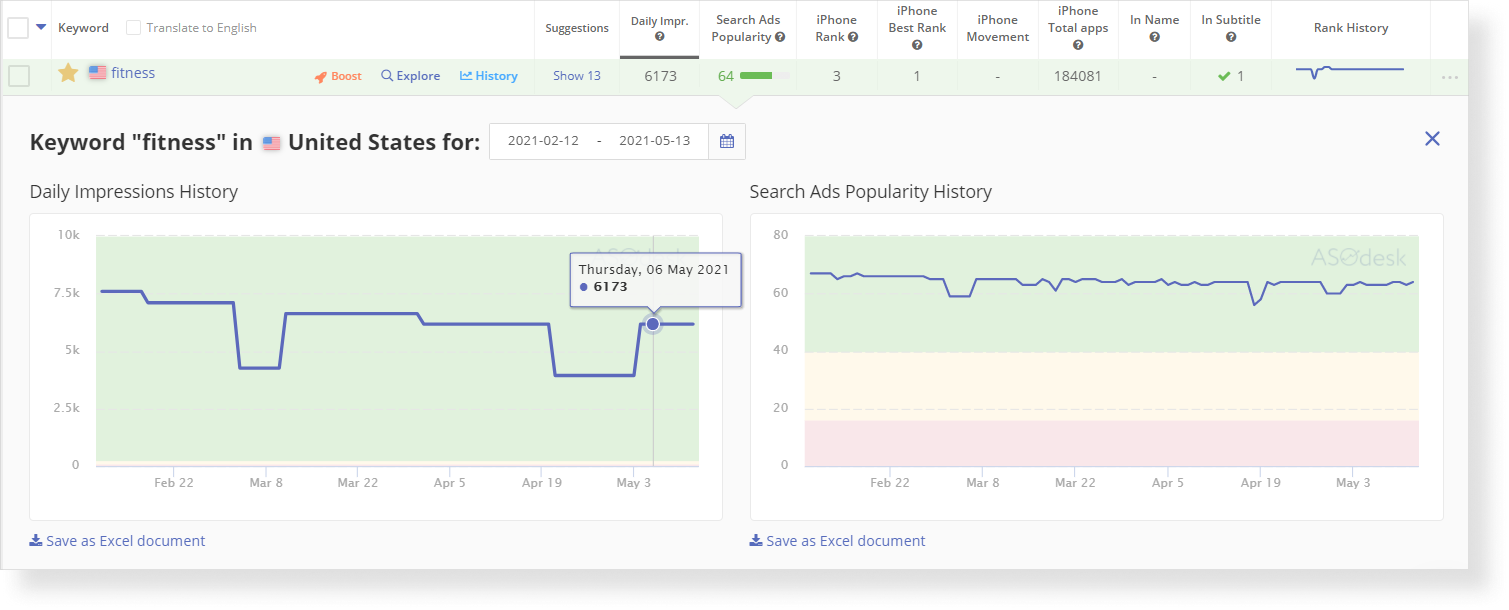 This feature is available for Startup L, Startup XL, and all Business plans. In the future, we plan to add this feature to the Keyword Explorer and Organic Report tools.
The Keyword Table design has become more minimalistic, which makes the table easier to read and helps organize your work correctly.
The tools make it easier to monitor changes in positions for different countries and allow you to analyze trends in search using traffic history. Filters will help reduce the time spent on analyzing reviews. Read about past changes in ASOdesk: new review analytics and global platform update.
Test all the features in your ASOdesk account. Sign up for a free product tour to see how all the tools you need work. Our manager will show you the best features of ASOdesk, as well as open full free access to all tools for 7 days.