ASO news digest for September 2023
Published: 03.10.2023
Updated: 30.11.2023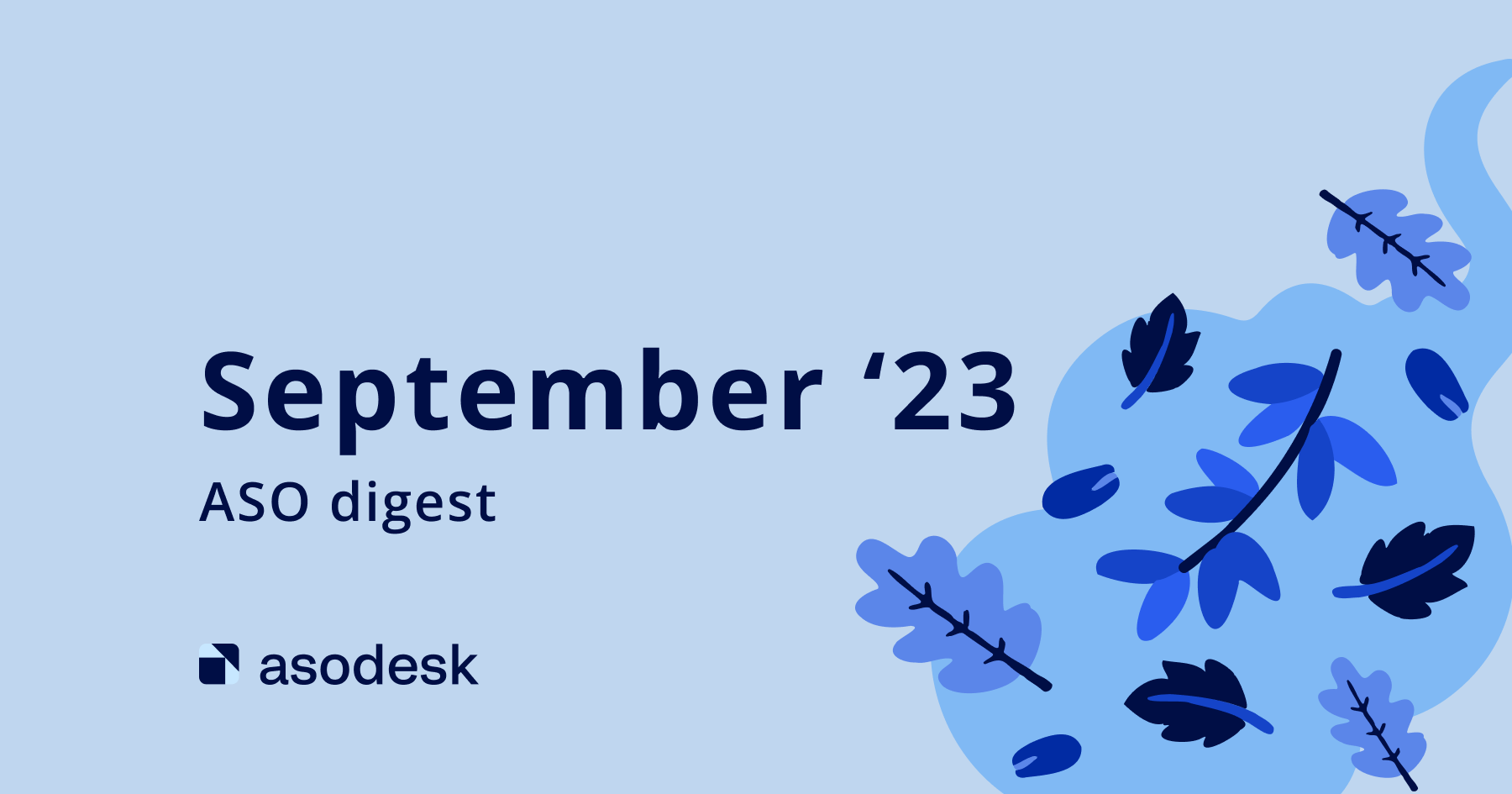 Apple announced that pre-orders by region are now available. Google Play Store introduced "The Play Report" YouTube Shorts series. Asodesk introduced the global update of its navigation. Read all the top App Store Optimization news from the App Store, Google Play, and Asodesk in this digest.
Contents
1. Apple asked developers to prepare for its latest beta releases
2. Apple announced upcoming sessions with Apple Experts
3. Apple released pre-orders by region for apps
4. Apple announced that developers can now submit apps for the Latest OS Versions
5. Apple will soon release Apple Vision Pro for your app
6. Google Play Store introduced "The Play Report" YouTube Shorts Series
7. Google introduced some updates to provide developers with a better policy experience
8. Google enhances app security measures to increase user trust
9. Google added screenshots and short descriptions to search results on Google Play
10. Asodesk introduced a global update of its navigation
11. Asodesk upgraded its Google Play position tracking system up to 250 position
12. Asodesk increases the competitors list to 100 per one app
App Store news
Apple asked developers to prepare for its latest beta releases
Apple is calling on developers to get ready for the new beta releases. The beta versions of iOS 17.1, iPadOS 17.1, macOS 14.1, tvOS 17.1, and watchOS 10.1 are now available.
Now is the time to make sure your apps are compatible with these new releases. Also, if you want to take advantage of the latest SDKs, be sure to build and test using Xcode 15.
If you've encountered issues in previous beta versions, review the latest release notes to see if they've been fixed or if there are any workarounds. Apple also asked developers to report any problems in via its Feedback Assistant.
Apple announced upcoming sessions with Apple Experts
Developers can join a variety of sessions, consultations, and labs hosted by Apple, which will be held in October and November.
Apple's developer opportunities cater to individuals at any stage of their app development journey. These activities unfold throughout the year, spanning virtual and in-person events around the world. Whether you're aiming to elevate your current app or game, fine-tune your design skills, or embark on a new project, there's something for you.
In October, developers can learn how to maximize the power of watchOS 10, schedule a one-on-one design and technology consultation, explore highlights from WWDC23, request a one-on-one App Review consultation, learn what's new in iOS 17 and iPadOS 17, and much more.
Apple released pre-orders by region for apps
Apple has introduced pre-orders by region on the App Store. Pre-orders aim to boost awareness and anticipation for your upcoming app or game launch even before it hits the App Store. When you opt for pre-orders, a limited version of your product page becomes available on the App Store, allowing users to place orders for your app ahead of its official release.
What's more, pre-orders are discoverable through search results and prominently featured on the Today, Games, and Apps tabs when you are actively promoting your app.
Now you can offer pre-orders in specific regions, each with a unique launch date. This means people can pre-order your app in regions of your choice, while simultaneously remaining available for download in other areas.
Come release day, users who pre-ordered your app will find it automatically downloaded to their devices, as well as a notification to get started with their app experience.
Learn more about this feature.
Apple announced that developers can now submit apps for the Latest OS Versions
Apple announced that iOS 17, iPadOS 17, macOS Sonoma, tvOS 17, and watchOS 10, are coming soon to users worldwide. Developers can create their apps and games using Xcode 15 Release Candidate and the newest SDKs, test them using TestFlight, and submit them to the App Store for review. Furthermore, developers can now start deploying seamlessly to TestFlight and the App Store from Xcode Cloud.
Xcode and Swift: Xcode 15 speeds up app development with enhanced code completion, interactive previews, and live animations. Swift introduces macros for more expressive APIs, and the SwiftData framework simplifies data persistence. SwiftUI offers the capability to craft advanced animations, incorporating phases and keyframes. It also streamlines data flows via the introduction of the innovative Observation framework.
Widgets and Live Activities: Widgets are now interactive and appear in more places, such as iPhone StandBy, iPad Lock Screen, Mac desktop, and Apple Watch Smart Stack. Thanks to SwiftUI, widgets adapt their appearance based on context, making them useful across different platforms. Live Activities in WidgetKit and ActivityKit are now available on iPad.
Metal: The latest game porting toolkit simplifies Mac game integration, and the Metal shader converter drastically streamlines shader and graphics code conversion for your games. With the latest advancements in ray tracing, developers can now scale their games and production renderers to craft even more lifelike and intricate scenes.
App Shortcuts: By embracing App Shortcuts, your app's crucial features now automatically emerge within Spotlight, providing users with easy access to the most vital aspects of your app. These shortcuts are designed for simplicity and ease of use, while advanced natural language capabilities enable users to execute shortcuts using voice commands with greater flexibility.
App Store: It is now simpler to promote your in-app purchases and subscriptions with new SwiftUI views in StoreKit. You can also expand testing with enhanced StoreKit features in Xcode, Apple's sandbox environment, and TestFlight. Pre-orders by region allow you to create anticipation by offering your app in new areas with different release dates. The App Store also offers a more personalized app discovery experience, suggesting apps based on users' interests and preferences.
And More: Explore advancements in machine learning, Object Capture, Maps, Passkeys, SharePlay, and much more.
Starting from April 2024, apps submitted to the App Store must use Xcode 15 and the relevant SDKs.
Apple will soon release Apple Vision Pro for your app
Apple announced that soon users will enjoy their favorite iPad and iPhone apps alongside innovative visionOS apps on the infinite canvas of Apple Vision Pro. Most iPad and iPhone apps can effortlessly transition to Apple Vision Pro, requiring no additional development.
An upcoming developer beta release of visionOS, set to launch this fall, will use the App Store. Your iPad and/or iPhone apps will automatically appear on the App Store for Apple Vision Pro by default. With the inclusion of most frameworks available in iPadOS and iOS within visionOS, nearly all iPad and iPhone apps can function on visionOS without modification. Customers can start using your apps on visionOS early next year when Apple Vision Pro becomes available.
For necessary updates, if your app relies on a capability not supported by Apple Vision Pro, App Store Connect will notify you that your app is incompatible and won't be accessible to users. To make your app compatible, you can provide alternative functionality or update its UIRequiredDeviceCapabilities. You have the flexibility to edit your app's availability in App Store Connect at any time.
To see your app in action, use the visionOS simulator in Xcode 15 beta, allowing you to interact with and test the core functionality of your app. If you would like to run and test your app on an actual Apple Vision Pro device, you can submit your app for a compatibility evaluation or register for a developer lab.
Going beyond compatibility, if you aim to optimize your app's experience on visionOS, consider building it with the visionOS SDK. This will give your app the standard visionOS system appearance and allow you to incorporate elements like 3D content tailored for visionOS's unique input methods. Explore Apple's design and development resources to learn how to create a brand-new app or game that makes the most of the immersive capabilities of visionOS.
Google Play news
Google Play Store introduced "The Play Report" YouTube Shorts Series
Google is spicing up app discovery with "The Play Report", a new YouTube Shorts video series. This series will showcase the latest and greatest apps and games available on Google Play. Various experts will host these videos, including Google staff and YouTube Creators, with a catchy "download on what to download" tagline.
You'll spot "The Play Report" at the top of the Play Store in a carousel format, highlighting app names at the bottom of each thumbnail. It seems as though it will replace other promotional carousels, and there's a convenient install button for easy access.
Behind the scenes, this is essentially Google's take on YouTube Shorts, bringing attention to hidden gems and trending apps/games in the US.
This pilot program will be accessible to selected Play users in the United States on the Play Store homepage. For those who aren't seeing "The Play Report" today, the Shorts will also be uploaded to Google Play's existing YouTube, Facebook, and Instagram accounts.
Google introduced some updates to provide developers with a better policy experience
In Google's new blog post, the company announced that it is now adding more information to help developers:
Explore a fresh timeline view for both new and updated declarations, allowing you to pinpoint important deadlines with ease.
Gain deeper insights into why your app falls within the scope of a specific declaration.
Discover pertinent policy issues associated with each declaration, streamlining the process of identifying and resolving potential concerns.
Later this year the company will not only provide information about existing declaration requirements but also share details about upcoming declarations and deadlines — allowing developers ample time to plan for these changes.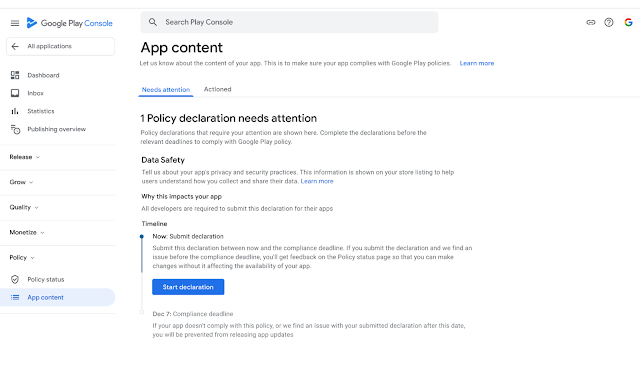 Moreover, Google is taking steps to equip you with essential information regarding third-party SDKs. This includes a new notification within the Google Play SDK Index, designed to provide you with more comprehensive information for making informed choices about SDK versions that could potentially lead to policy violations on Google Play.
In addition, Google is streamlining the process by bringing essential information directly to the Play Console. You'll no longer need to rely solely on Inbox messages or emails to learn about SDK-related policy issues affecting your apps. Later this year, Google will consolidate this information on the Policy status page, offering a centralized view to help you stay informed about your app's policy status.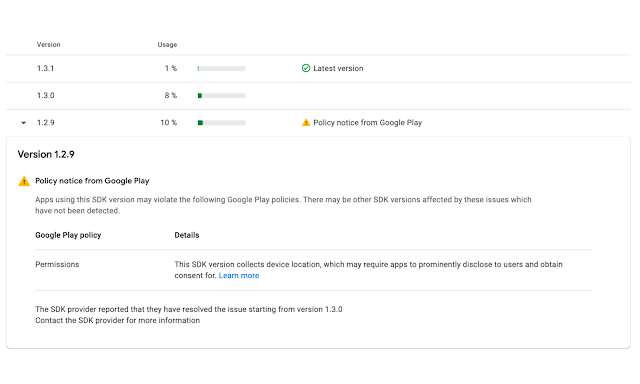 Google is also simplifying the process of determining if your app is affected by Target API requirements. Meeting these requirements entails building your app for the latest versions of Android, enabling you to use the latest security updates and platform enhancements for optimal performance. Since early August, Google has been providing information on the Policy status page, including resources to guide you on staying compliant.
To enhance your overall experience, Google is introducing additional support options. The new Developer Help Community allows you to seek advice from your peers on topics ranging from Play Console usage to the latest policy changes. Additionally, Google is expanding the Google Play Strike Removal program, which has already proven successful in reducing repeat violations. This program, previously in its pilot stage, will now be available to all developers after completing a related Play Academy training course.
Google enhances app security measures to increase user trust
In a bid to promote transparency and data safety, Google has introduced key updates. These changes include providing developers with a deadline of December 7, 2023, to complete the updated Data safety forms. Google offers a concise two-minute video tutorial to assist developers in this process. Starting in early 2024, user-visible data safety information provided by developers will be accessible in store listings.
Google is also working on a feature that will allow developers to stay informed about SDK-related policy issues directly through the Play Console's policy status page.
In addition to these measures, Google is introducing a Play Store banner dedicated to VPN apps. This banner highlights the importance of reviewing an app's Data safety section before installation. Users searching for "VPN" apps will see this banner, which prompts them to look for a shield icon indicating an independent security review.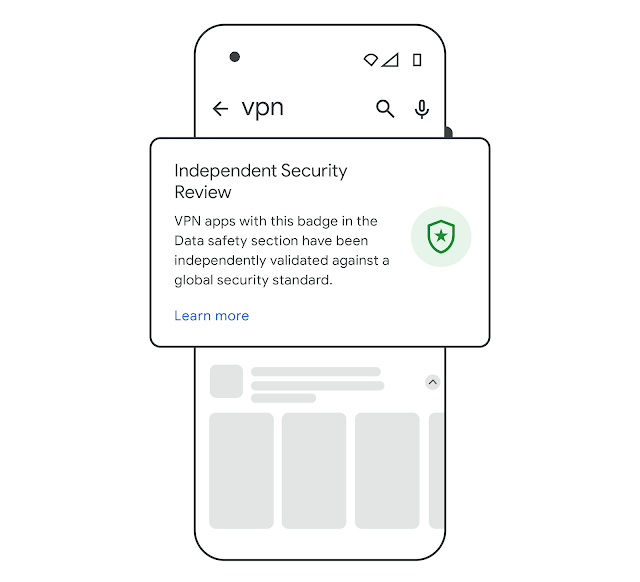 Several VPN developers, including NordVPN, Google One, and ExpressVPN, have already supported this program by submitting their apps for independent security testing. Google anticipates more VPN app developers will follow suit, further enhancing transparency and security for users. Users interested in discovering independently validated VPN apps can access the App Validation Directory by selecting "Learn more".
VPN developers interested in learning more about these features are encouraged to complete the form provided for further information.
Google added screenshots and short descriptions to search results on Google Play
It seems that Google Play search results are becoming more similar to the App Store. Google Play users can now look through app screenshots and read short descriptions in the search results if they tap the arrow near the app title.
Asodesk news
Asodesk introduced a global update of its navigation
We recently introduced our new navigation to all users. A few months back, we embarked on a mission: to revolutionize the ASO landscape and fine-tune the most user-friendly ASO tool. To make this a reality, we delved into extensive market research, conducted numerous user interviews, and created a comprehensive roadmap for ASO experts.
The result was Asodesk's sleek new navigation system, meticulously tailored to the day-to-day needs of ASO specialists. It seamlessly guides you through every step of the optimization journey, following a logical workflow. This innovative design not only benefits seasoned ASO professionals but also paves the way for newcomers — offering the most intuitive navigation on the market.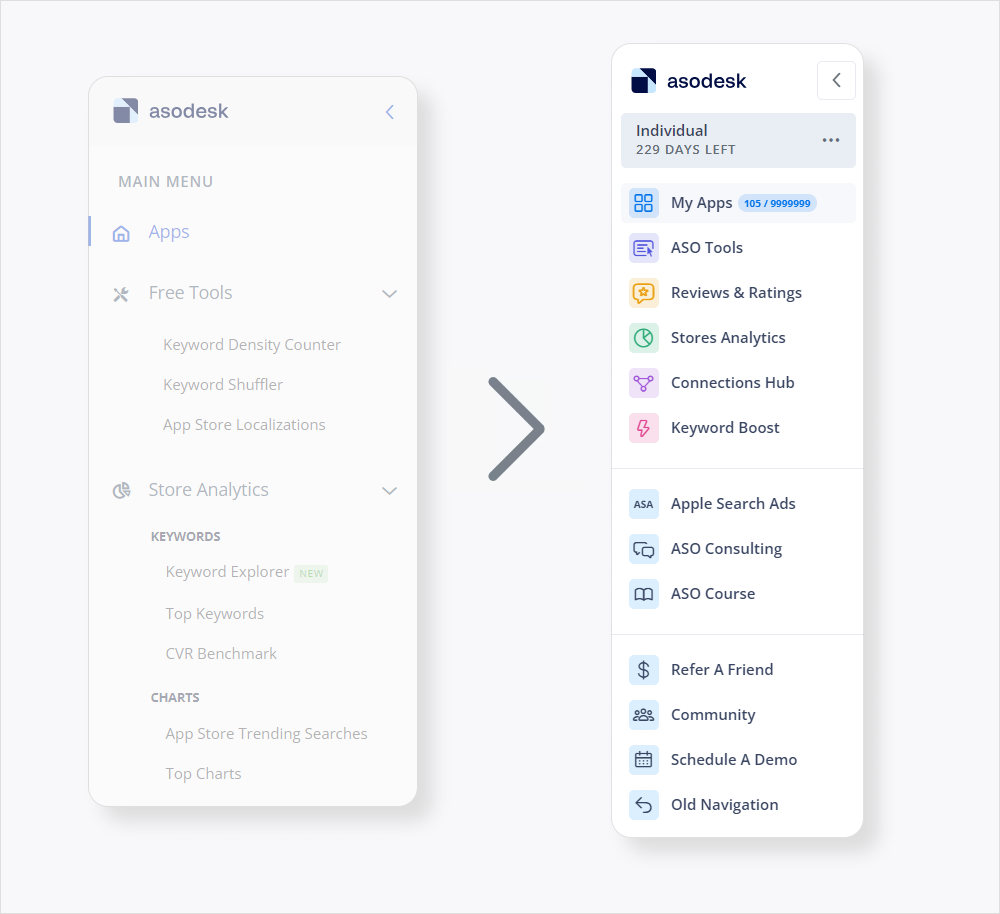 In our article, we delve into the reasons behind the interface update, our journey in creating it, and the specific changes you can expect.
Asodesk upgraded its Google Play position tracking system up to 250 position
On Asodesk you can now monitor your app's rankings up to the 250th position on Google Play, which will help you to make more informed decisions.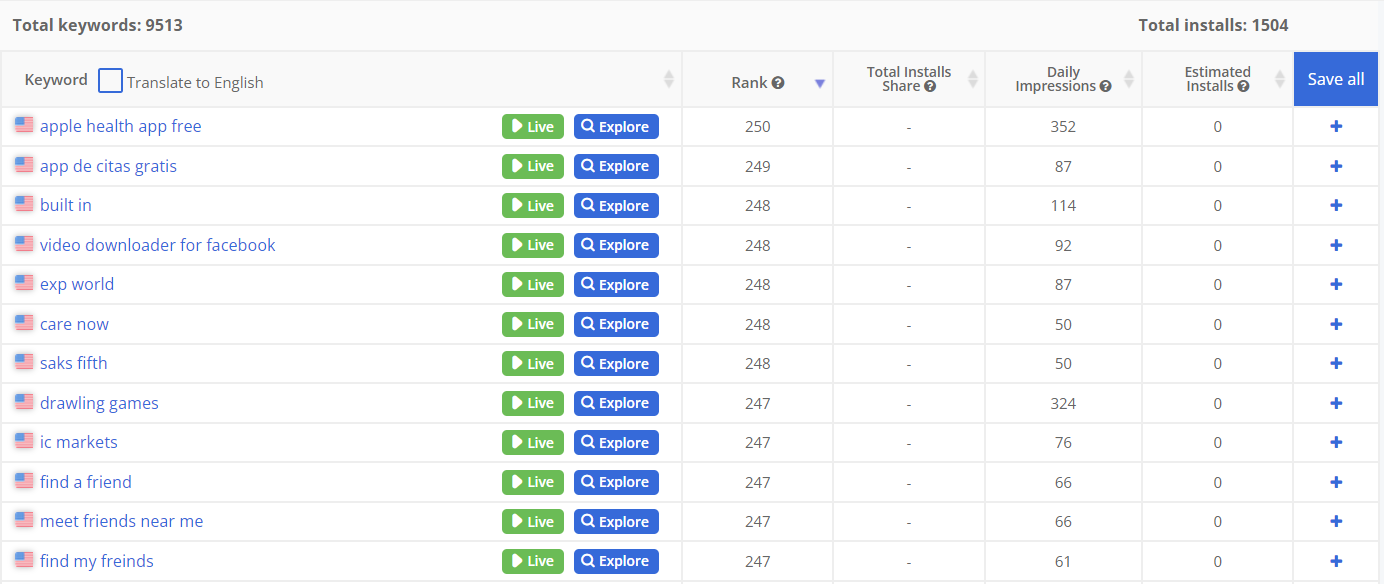 Asodesk increases the competitors list to 100 per one app
Until this September, Asodesk users could track only 9 competitors per app. Now you can track up to 100 competitors per app. This feature is available to all users on all subscription plans.
Try all of Asodesk's features for your app with a free trial.
Subscribe to our newsletter and receive regular updates on App Store Optimization news, as well as informative articles covering ASO, mobile marketing, and app reviews management.