Recap: ASO CONFERENCE 2020
Artiom Tkachuk
art@asodesk.com
Asodesk Expert & ASO manager at Onde.app, platforms for creating branded taxi applications and other on-demand services. Over 200 applications in 75 countries. The number of active users is more than 1.3 million people. Artiom has been engaged in ASO for 4 years, he is an ASOdesk blog columnist, and a speaker at different conferences.
All articles by author
Published: 14.05.2020
Updated: 13.09.2020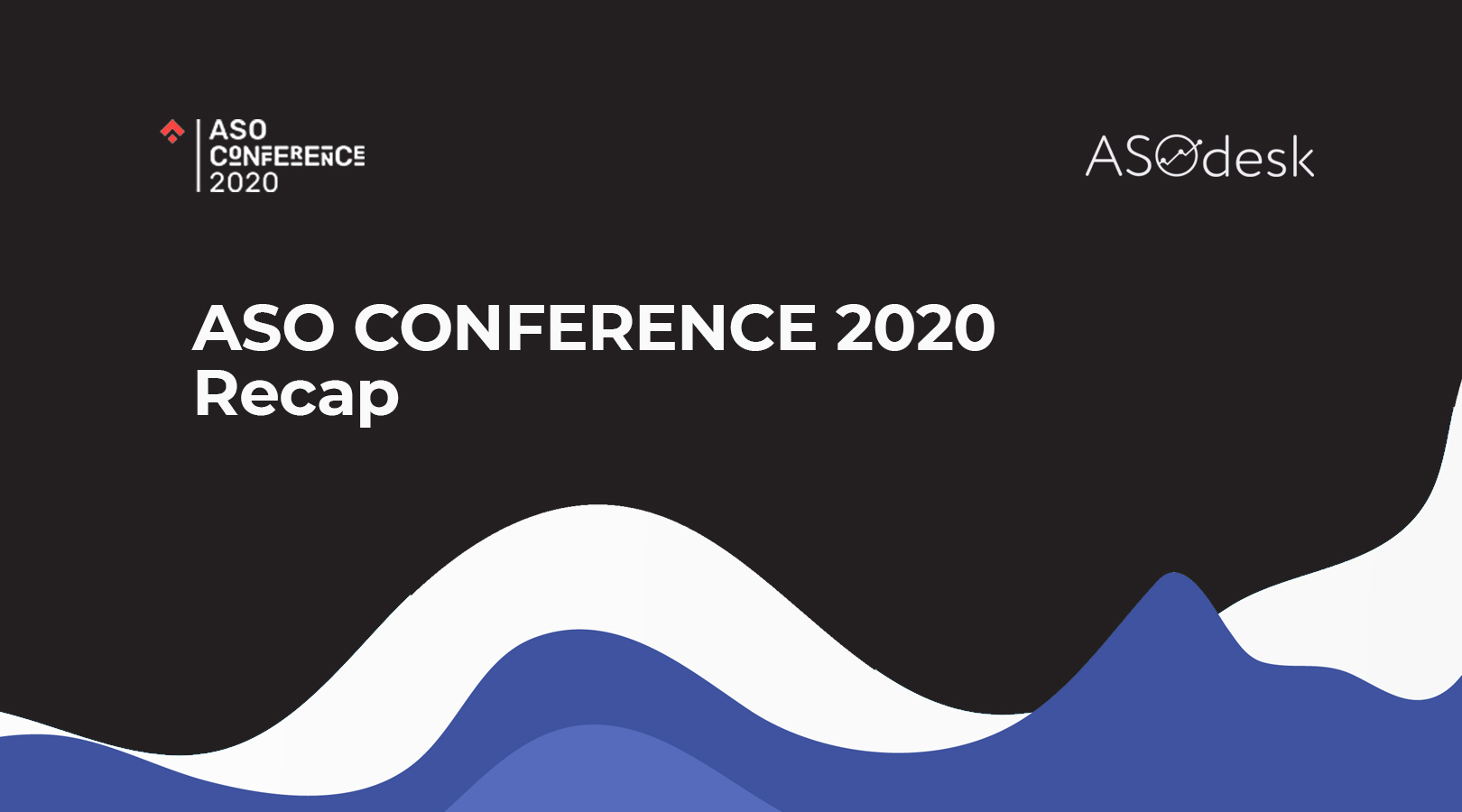 Yesterday the ASO conference 2020 was held, a conference by ASO practitioners for ASO practitioners. If you missed this event, we have collected key points from the speeches for you.
This year the ASO conference gathered together people from 69 countries. Ryan Kelley noted that "the biggest ASO conference gathered not only ASO practitioners, but CEOs, growth managers, and freelancers all over the world".
The Q&As after each presentation have been moved to ASOStack slack channel, so all the questions after each presentation have been moved there.
Opening remarks were dedicated to the influence of the COVID-19 situation and how it plays a major role on the Stores. Moritz Daan presented the main trends, installs velocity, and underlined that understanding the situation is crucial for ASO practitioners.
BUILDING THE RIGHT DASHBOARDS TO MEASURE ASO IMPACT & SUCCESS
Nadir Garouche – Senior Growth Manager @ Tilting Point
Nadir Garouche shared the general rules that Tilting Point company uses for measuring ASO impact on App Store & Google Play. He pointed out the most relevant metrics for the creation of the dashboards. Nadir underlined that App Store Connect Analytics is limited to 2 data dimensions so company's own dashboards are a good solution for accurate measuring.
Nadir shared a handy trick for extracting the purchase by date CSV file from App Store Connect. There is no API for this, so they call URL extracted from the page and get all the data in CSV which is used later in the dashboards.
While talking about Google Play ASO measurement, Nadir underlined that "you always have external factors" which is very tricky. Nadir showed a few examples of how retention rate, uninstall rate, ranking, and crash rate impacted different games. He shared that he has a feeling that Google Play is analyzing metrics for longer periods of time (30 days), rather than for shorter periods (of a few days).
REACHING COHERENCY BETWEEN ASO, PERFORMANCE MARKETING AND BRAND
Natalie Drozd – Marketing Manager @ Hily
Natalie Drozd from Hilly shared a story about building a coherency at Hilly between the importance of brand recognition, ASO, paid UA and product development. This approach helps Hilly to create lists of goals, find points of conflict, set up KPIs, and share spheres of responsibility. Natalie shared her experience of a holistic ASO attitude implemented at Hilly — brand colors, brand language, backlinking, and many others.
USING AN NPS FLOW TO OPTIMIZE YOUR RATINGS & REVIEWS
Alice Muir (Growth Consultant @ Phiture)
Alex Gorius (Senior Growth Consultant @ Phiture)
Alice Muir and Alex Gorius from Phiture talked about Net Promoter Score (NPS). They presented NPS as a good method for marketers to measure user experience. In-App NPS might be used for understanding detractors, leveraging promoters to form follow up campaigns.
Alice and Alex did not recommend using the NPS attitude for iOS apps. They shared a dashboard created with Google Data Studio which is used for analyzing NPS results, filter the data by platform, country, etc. Alice showed an example of a SoundCloud app where they achieved +12% rating on GP (from 4 to 4.5) by using, analyzing & deploying the results of the In-App NPS.
Alex shared exact steps on how to collect and connect the feedback to the analytics tools and showed real cases. In the end, presenters shared their experience about using NPS as a pre-step to ask a user for a rating. Alice presented a handy table which might help to make a decision about the right moment for a rating prompt.
PANEL: ASO & BRAND
Louis Tanguay (App Growth Summit)
Alexandra Lamachenka (Growth Manager @ SkyScanner)
Catherine Sibirko (ASO Expert @ Flo Health)
Ian Irving (Senior Data Analyst SEO & ASO @ BBC)
Mathew Parry (ASO Manager @ Babbel)
During the Panel "ASO & Brand", ASOers from apps with strong brands discussed the combination of generic & brand keyword usage in the ASO strategy.
Catherine Sibirko noted that Flo uses ASO as a source of visibility for the app, so generic keyword usage helps the app to appear for those people who are not aware of a given brand. "That's why we are using our brand logo a lot on our apps graphic assets" — added Catherine.
Ian Irving from BBC talked about brand prioritization apps since BBC apps contain many brands — actors, BBC products, programs. ASO practitioners at BBC are working on brand prioritization and choosing the right brand to aim for a lot. However, both Ian Irving and Alexandra Lamachenka from Skyscanner agreed that around 90% of all installs come from one single brand keyword which becomes a challenge for generic keywords.
ASO IN JAPAN: UNDERSTANDING HOW TO CRACK OPEN THE JAPANESE MARKET
Azusa Hatano – ASO Expert @ Phiture
Azusa shared the most important points which differentiate ASO for the Japanese market from the rest of the world. She described Japanese seasonality, screenshots localisation, in-app user behaviour, and the attitude of local users in terms of searching information.
"Translation of every single keyword does not make sense" — underlined Azusa. She spotted the main differences between Hiragana, Katakana, and Kanji writing systems and how it affects search results.
As an example, Azusa showed the importance of social proof, text bubbles and many other details in Japan. She pointed to examples of using these tricks and other local features adored by people.
AN OPEN Q&A ON THE FORCES OF ORGANIC UPLIFT
Gabe Kwakyi (Co-Founder @ Incipia)
Marina Corby (Data Analytics Manager @ Incipia)
During the opening Q&A by Gabe Kwakyi & Marina Corby from Incipia started with the 4 W's of Organic Uplift — What, where, when, and why.
"Some paid campaigns take a lot of time to see results in organic installs" — noted Gabe. Gabe divided Organic uplift into 2 types: user-level uplift and ecosystem uplift. He shared his thoughts about the difference between these types, their weaknesses, strengths and possible ways to affect both types.
Marina presented a general model that can be used for creating a strategy for organic uplift. She recommended to start analyzing data, create a simple model, gather all the data, and start implementing it. Furthermore, Marina pointed at the "garbage in, garbage out" rule, and underlined the importance of using the right data.
During the Q&A session, Gabe and Marina answered a few questions about app launching strategy (and shared a few nice tips) including key organic metrics to understand app efficiency, whether Search Ads influence organic ranks in App Store, cross-geo organic dependencies, the influence of the category on organic uplift and others.
PANEL: SYNERGIES BETWEEN ASO & APPLE SEARCH ADS
Moderator: David Llewellyn (Marketing Director, EMEA @ AppsFlyer)
Maryia Filimanchuk (Lead Marketing Manager @ Apalon)
Quoc Anh Luong (Mobile Marketing Manager @ Omio)
Thomas Petit (Growth Expert)
Below are some highlights from the panel about the synergy between ASO & Apple Search Ads.
"Apple Search Ads can inform about two different sides of the ASO — keywords & CVR" — started Thomas Petit. He recalled a case when working with a fitness app, thanks to Search Ads he realized that a keyword "fitness" which they were thinking is the most important one was performing worse than the "work out" keyword.
Maryia Filimanchuk from Apalon agreed with Thomas and underlined that Search Ads might help to create a strong hypothesis for keyword testing. All panelists agreed that Apple Seach Ads data helps to get a lot of data about keywords and screenshots CVR.
Quoc Anh Luong shared that OMIO along with many others, are extracting the data from app store connect & Apple Search Ads and using a proper dashboard. Nevertheless panelists agreed that the data from Apple Search Ads cannot be taken in bold and all the data should be checked and verified.
Quoc and Thomas agreed that despite being at the top of certain results they continue bidding on them. This strategy proved itself and definitely works in order to strengthen the position of the apps, despite a possibility of traffic cannibalization.
At the end of the panel the guests shared the most common mistakes made by people running Search Ads.
THE APPLE SEARCH ADS (ASA) STACK: INTRODUCING A CHEAT-SHEET FOR RUNNING ASA.
Andrea Raggi – Apple Search Ads Lead @ Phiture
Andrea Raggi from Phiture introduced a cheat-sheet for running Apple Search Ads. He started from a top view and then commented on important details and techniques regarding the sheet.
According to Andrea ASA Stack is useful for strategy creation for any app at any moment. This framework consists of different variables and elements based on different layers which help to scale the channel & optimize its performance.
Presenters showed different use-cases of the ASA Stack, its foundations, goals and possible correlations with organic traffic.
HOW WE HAVE STARTED OUR IN-HOUSE LOCALIZATION TEAM FOR APP STORE OPTIMIZATION
Seyma Cam – Product Partnership Specialist @ VLMedia
Seyma Cam from VLMedia shared their history about localization app listing into 34 languages. The session was based on an exclusive experience of their company, different A/B tests, in-house processes and tools.
AUTOMATING LOCALIZATION: CREATING A SEAMLESS FLOW FOR 40+ LANGUAGES WITH THE WEEKLY RELEASE CYCLE
Ilia Kukharev – Head of ASO @ Aviasales
Ilia Kukharev presented a flow of automated localization for 40+ languages with weekly updates at Aviasales.
"App Store and Google Play love localized app" stated Ilia. So before they created an automated flow they were spending around 15% of their working time on updating the localization or simply working with files & translators. That's why Aviasales created an automated flow of weekly localization updates.
Ilia presented exact steps and tools they used and continue using to make the process fast. After the change localization takes 1% of working time.
DEALING WITH FALSE POSITIVE A/B TESTS RESULTS IN GOOGLE PLAY EXPERIMENTS
Simon Thillay – Head of ASO @ AppTweak
Simon Thillay talked about hints and hacks of A/B Testing in Google Play. He showed examples of inaccurate negative or positive a/b tests, their reasons or sources of inaccuracy.
During the panel Simon showed common mistakes made by ASO practitioners while making the tests. He stressed an importance of understanding basic statistics and accuracy. Thillay recommend not to do A/B then B/A tests but rather only one test in A/B/B as this new method allows to reduce possible seasonality differences between the A/B and the B/A test
Presentation was full of real examples & screenshots from different Google Play A/B tests. Simon showed his own cases and commented on them in detail.
RATING LIBRARIES ON ANDROID & IOS
Sebastian Gallese – Founder @ Haystack Reviews
Sebastian Gallese from Haystack Reviews shared his experience of working with different in-app rating prompts. He worked with native Android prompts, Data and his own rating prompts. Sebastian tried many GitHub libraries for calling review prompts and shared his experience with each of them.
We hope you enjoyed our recap of the ASO Conference 2020 reports. To spend time on ASO more efficiently and stay current on the latest changes due to the regular reports, try the ASOdesk tools.