ASO News December 2019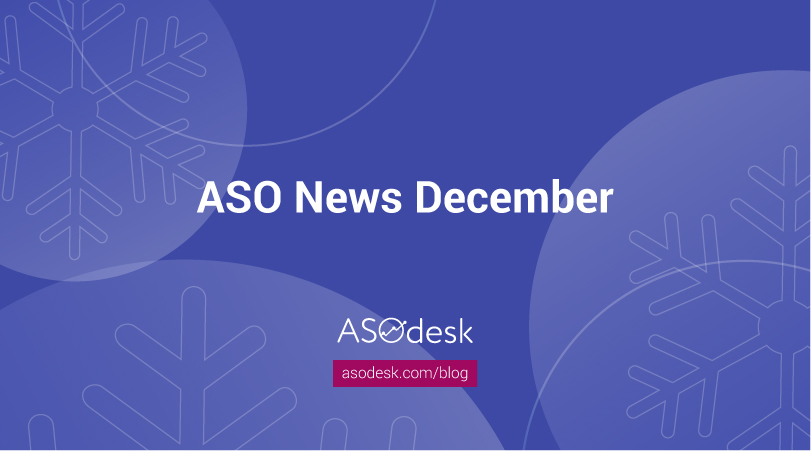 Here you can find the ASO news digest from December 2019, updates from the App Store, and Google Play that happened this December. We are trying to collect here news related to ASO and mobile marketing that was discovered by ASO experts. This news can help you to navigate in both app stores better.
Mobile Marketing News
Using this link you can find mobile marketing trends 2019-2020.
App Store News
Some time ago, an error was discovered in the AppStore: оrganic screenshots hid screenshots that were displayed in Search Ads. Now everything is working correctly.
The error of displaying screenshots in the right locales on the App Store. For example, you updated the screenshots in the USA locale, selected the checkbox for Canada too, and, in theory, in Canada, you should see screenshots from the USA locale. But in fact, screenshots will not be shown there – you will see the old version with old screenshots. A bug may occur with the incorrect display of the screenshots in different countries. One possible solution, in this case, is to upload new screenshots to the chosen locale.
Google Play News
The last update on Google Play: all app icons should follow the new format. Google Play settled deadlines on 24 June to enforce all developers to change icons faster. Starting from 6 December, new specs were applied to all apps. Hurry to update the icons of your applications. You can find the link to visual design requirements here.
All main changes in GooglePlay during 2019, including ASO optimization, are collected in one article.
Useful instructions from Google on how to work with subscriptions, you can read follow the link.
Google Play has had a problem indexing apps by their app name for a while. On December 9, Google Play began to index applications by name again.
From the experience of ASO experts: Google Play automatically checks all metadata, including the description for specific keywords. When you submit an update or release a new application, the robot checks the app metadata if there are any "bad" keywords. If it finds them, then immediately rejects this version of the application. Remember that the robot translates keywords. Altai Zeynalov received the complaint that claims to remove the keyword "fuck" from the metadata, but in fact, this keyword wasn't in the description or other textual assets. The point that Google Play itself translated the keyword "sexe" from the French. It isn't straightforward for a developer to find out the real reason for the rejection; you need to revise all metadata to find the possible problematic keywords.
Useful tools for App Store Optimization
Below you can find the sketch plugin for localizing screenshots. It collects the lines, sends it to Crowdin (the best translation management tool), and after the translation, loads it back into Sketch. Here the link to the service.
Latest news from November you can find here.
ASOdesk team wishes you Happy New Year and growth to your apps!