How much you should be investing in ASO
Maria Chernoplyokova
mch@asodesk.com
Maria Chernoplyokova is an ASO specialist at ASOdesk. She has been working in mobile marketing since 2017. Maria is writing articles, doing research, promoting mobile apps.
All articles by author
Published: 18.03.2021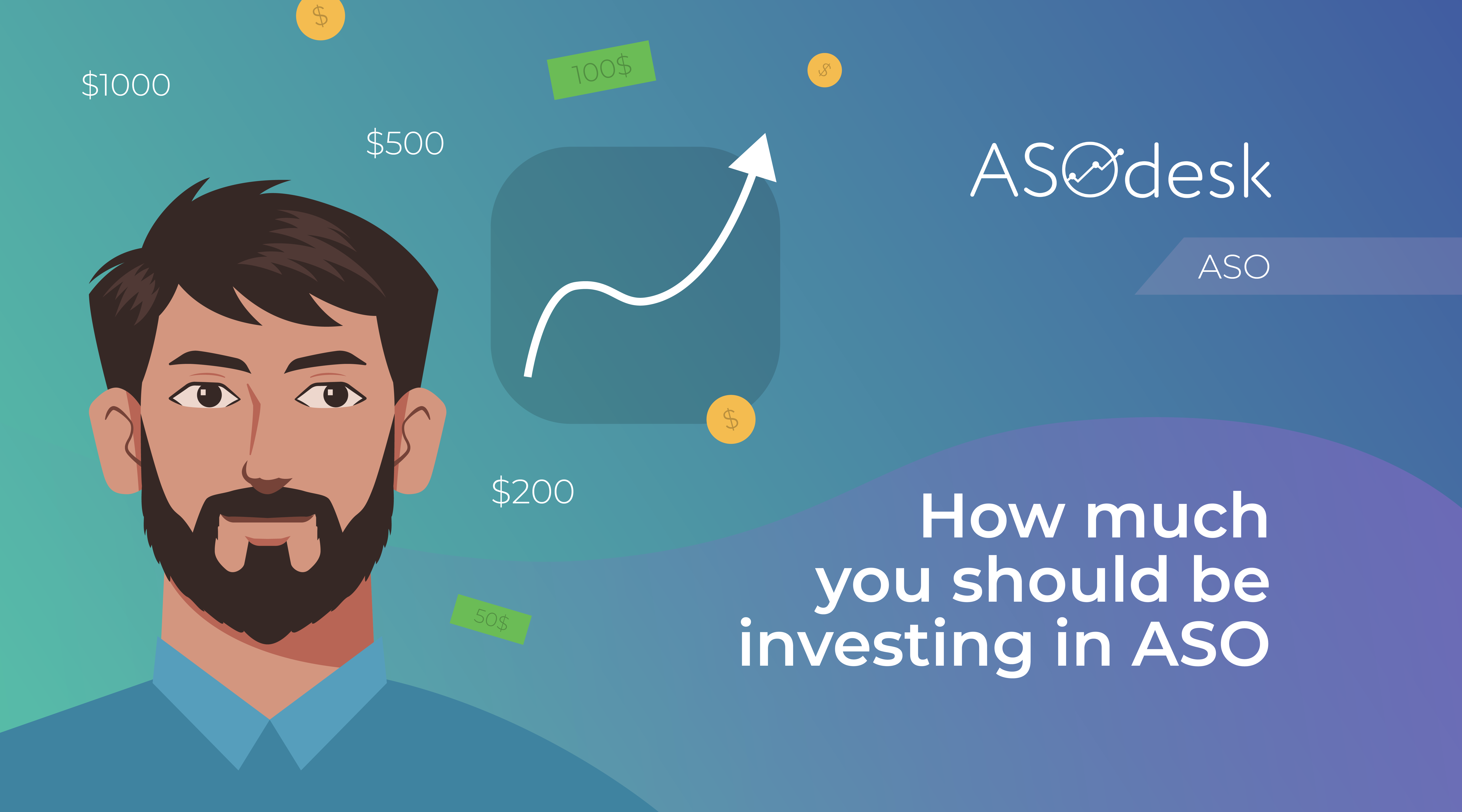 It is important for app publishers to know how to work with ASO correctly: how much to invest, and whether to hire an in-house specialist, freelancer, or agency. In this article, we will discuss how you can choose a contractor and roughly estimate an optimization budget depending on the specifics of your business.
To correctly calculate the costs of ASO, you need to understand the specifics of your business. We will tell you which factors determine the cost of ASO services. You will learn when it is better to hire a freelancer, agency, or in-house ASO specialist and how to choose a plan on an ASO platform. We will help you calculate the best ASO price for your business.
Before starting work on ASO, it is important to analyze the market niche and understand how suitable it is for ASO. Learn how to do this for apps and games.
How to choose a contractor
To start ASO, it is important to find the right specialist. Usually, the choice is between freelancers, in-house specialists, and agencies. The business owner needs to answer three questions: how much work is expected, what budget is planned for ASO, and whether it is possible to hire an in-house specialist.
We have analyzed the international market and compared the cost of freelance services and 10 different ASO agencies, as well as ASO specialist salaries. Since the salaries of ASO specialists differ from country to country, we used US salaries as an example. This analysis will help you establish which contractor suits you best.

Freelancer
Choosing a freelancer as a contractor, you cannot always be sure of the quality of the services provided. Many freelancers lower prices and offer one-time ASO that can cost as little as $25. Such optimization will not be effective, because several iterations are needed to achieve a positive result.
Working with a freelancer is most suitable for companies with a tight budget. You need to understand that a good ASO specialist will not agree to work for a small fee. If you hire a specialist for $25, you will get poor-quality optimization. In our experience, optimization from a professional freelancer should cost at least $250.
In-house specialist
If you plan on regularly working with one or more applications, you need a full-time employee. To optimize these applications, immersion in the product and interaction with other departments is essential. An in-house ASO specialist constantly communicates with advertising specialists, UA managers, and the support team. This makes the optimization process more transparent and efficient since the specialist can influence the improvement of the product and is always aware of changes in the application or its positioning.
Agency services
Optimization through an agency is suitable for small and medium-sized companies as well as enterprise corporations who do not have the opportunity to dive into the optimization process and hire an in-house specialist. At an agency, several specialists can work on the optimization of an app at once, which speeds up the process. A great advantage of agency specialists is their diverse experience. These varied professionals are often quicker to resolve complex situations since they have already encountered them more than once in practice. For example, they are far more efficient at removing fake negative reviews from Google Play that your competitors have coordinated illegally.
When working with agencies, it is important to choose a format of cooperation that involves regular performance analysis and ASO support. The rankings of queries will change over time; it takes several iterations to find the most relevant keywords. To bring applications to the TOP, it is important to perform ASO regularly.
So, freelancers are suitable for companies with a limited budget, in-house employees are ideal for publishers who need constant work on ASO, and agency services are best for small and medium-sized companies that need high-quality fast optimization.
How to choose a platform for optimization
Some app publishers still do not understand why it is necessary to use an ASO platform in order to perform high-quality optimization. The reality is that the entire ASO cycle cannot be conducted manually. There is not enough data from open sources to find all variants of search queries, analyze competitors, and assess the effectiveness of promotions. The lack of automatic tools significantly slows down the optimization process.
Necessary functions of ASO platforms
A good ASO platform helps you optimize your application at all stages of the process:
Building a semantic core. It is impossible to manually create and enter every keyword combination, so the platform must have tools for automatic semantic core collection.
ASO localization into other languages. Automatic programs for foreign-language keyword search significantly speed up optimization for other countries.
Evaluation of search query popularity. It is important that the platform has accurate algorithms for evaluating search query popularity.
Search query management. To make it easier for you to navigate search queries, your ASO platform should have easy grouping and sorting functions.
Measuring ASO performance. The platform should assess your application's positions in the App Store and Google Play so that it is easier for you to get insight for the next optimization.
Competitor activity analysis Competitor analysis provides insights for visual and textual optimization, so it's important to do it regularly.
Traffic source analysis. Most apps get installs from other sources — not only from search — so it's important to analyze traffic sources and conversion from those sources.
Preparing metadata. When preparing metadata manually, you can make mistakes: for example, use the same words several times, add stop words, etc. If the platform automates metadata collection, it is a significant benefit.
The choice of tool is based on the following criteria: available budget, amount of work, and required depth of research. In order to avoid choosing the wrong plan, it is better to consult a specialist.
Plan comparison
We analyzed four ASO platforms and compared the functions and prices of different plans, which we roughly divided into three groups. The table shows which plan is best to choose in each case.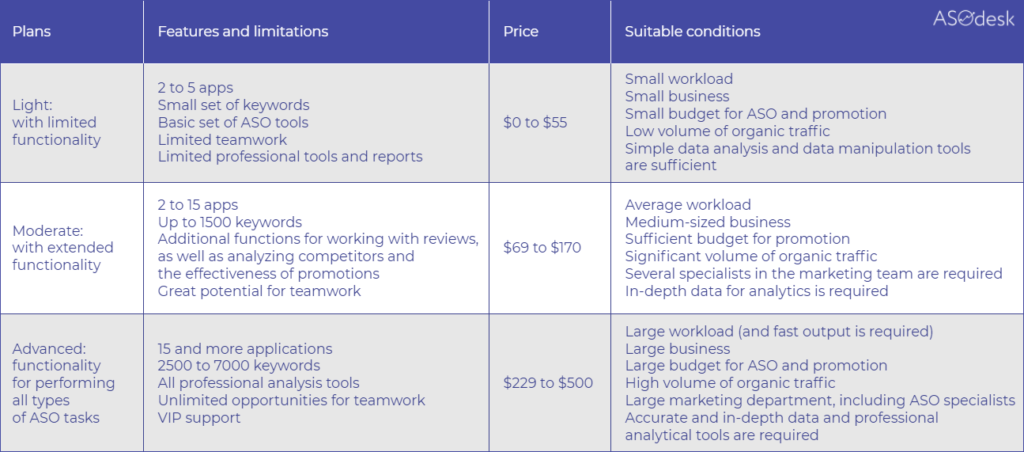 Regardless of a company's budget, there is always a suitable ASO platform and plan. A light plan is suitable for publishers with a small number of applications who need simple optimization tools. A moderate plan best is for publishers with up to 15 apps — and for whom ASO is an important user acquisition channel. The advanced plan is for major app publishers looking for advanced analytics and greater opportunities for teamwork.
You can choose the optimal plan for any of your tasks in order to perform high-quality optimization, but avoid overpaying. For example, with ASOdesk the plans start at $42. You can also get lifetime access to the free ASOdesk plan, which includes 200 keywords and a basic set of ASO tools.
Advantages of agencies with their own ASO platform
When choosing an agency, it is important to check if the agency has access to the data and tools of ASO platforms. It is better to choose agencies that have their own ASO platform, developed technologies for problem-solving, and access to data. This simplifies and speeds up the optimization process.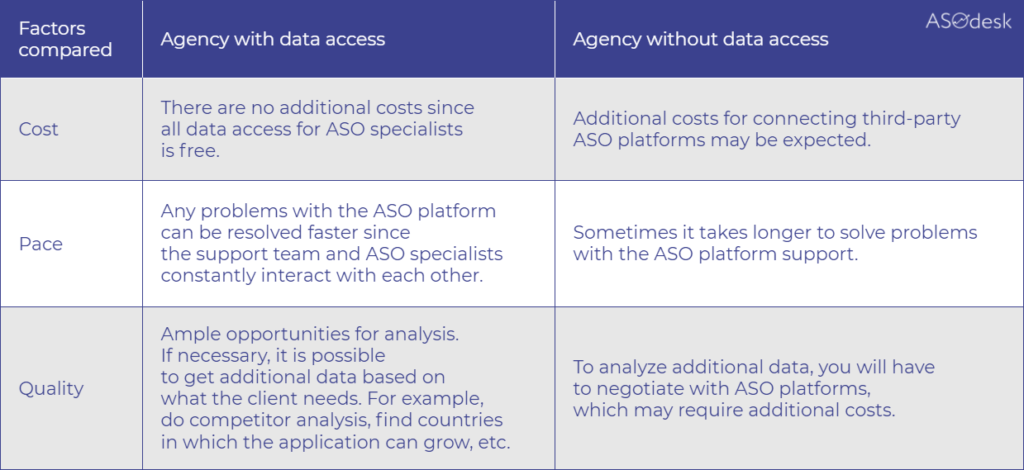 Before making a decision, clarify which ASO platforms the agency uses and what data they have available. Perhaps you will have to pay extra for certain features, which is better to know in advance.
How to estimate ASO costs
Before starting work, it is important to calculate ASO costs. To estimate agency costs, you need to consider the expenses of App Store Optimization. When working with a freelancer, you are likely to have translation and proofreading fees for application localization. To estimate the cost of an in-house specialist, consider the following expenses:
Contractor search
Specialist's salary
Tool subscription
Copywriting, design, and translation costs
Tax deductions
Training new employees and recruiting other specialists for training.
Let's see how you can estimate ASO costs using the various companies as examples.
Small company
We will assume that this company has 2 applications available in 2 countries that require about 5 iterations per year. The company's niche has a significant volume of organic non-branded traffic, which means that users often use general queries to search for applications. Therefore, one of the main channels of user acquisition for this company is ASO.
The best choice, in this case, would be an agency that can take care of the tool purchase and guarantee the quality of work. It won't be practical to hire an in-house ASO specialist, since the volume of work is small and it is not worth paying a monthly salary to an employee.
If the agency has its own ASO platform it would be a huge plus. This significantly increases the speed and potential of optimization. Specialists can use their own technologies and tools, while the 24/7 support of other teams in the agency reduces the time for solving complex tasks.
We calculated the cost of services using the agency ASOdesk as an example, which has its own ASO platform and provides ASO and application localization services for different countries. The cost of ASOdesk services is one of the most affordable on the international market.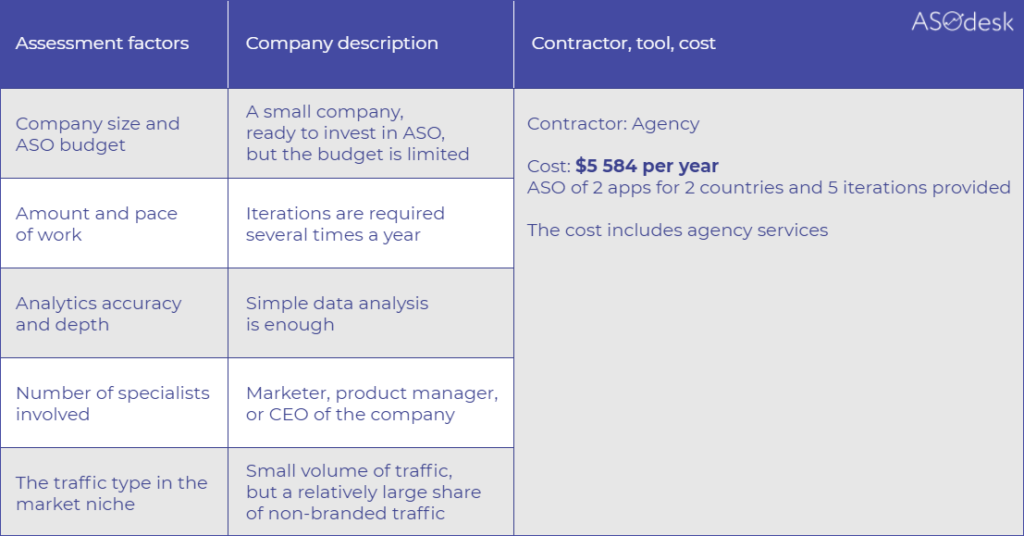 At ASOdesk, you can find the service that is most suitable for your needs and budget: optimization audit, ASO consultation, one-time and long-term optimization, and integrated ASO for 39 languages. You can also try the "ASO with the Guarantee" plan and only pay for installs. Learn more on our website.
Medium-sized company
Let's look at another example — a medium-sized company with 10+ applications in highly competitive niches with a lot of non-branded traffic. In this case, the application publisher needs the regular work of two specialists. They should be as immersed in the product as possible, quickly respond to the market situation, and monitor performance on a daily basis. It is also important to choose a good ASO platform that provides deep analytics, and allow specialists to quickly and efficiently analyze data and work with it.
Let's calculate how much ASO costs for a company in Los Angeles that hires two in-house specialists.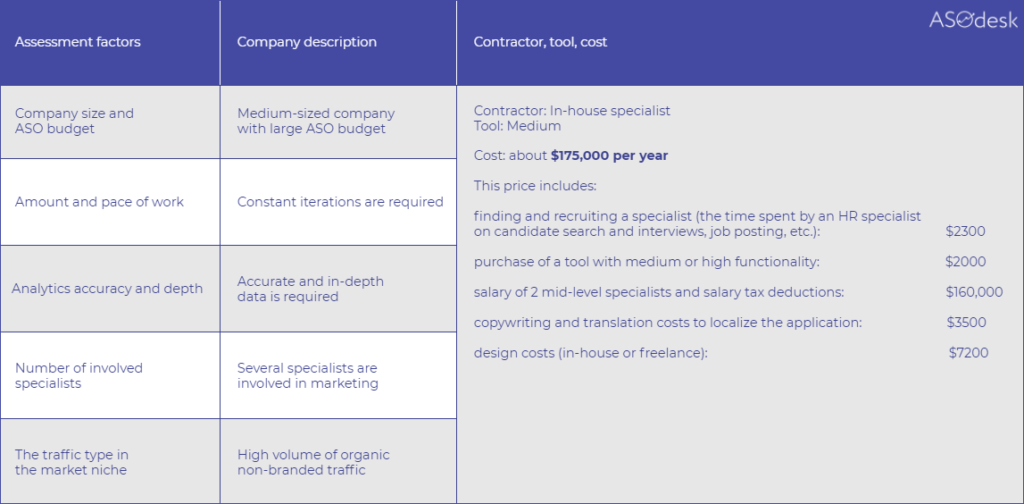 So, the costs of agency services are 31 times less than the costs of in-house specialists in Los Angeles. If you have a limited budget and require iterations a few times a year, outsourcing ASO to an agency is preferable. If, however, full immersion into the project, constant iterations, and close cooperation of the ASO team and other departments are important to you, hiring in-house specialists would be the best decision. Before choosing a contractor, we advise you to calculate the possible costs, taking into account the specifics of your business.