We received 8 badges in the G2 Spring Reports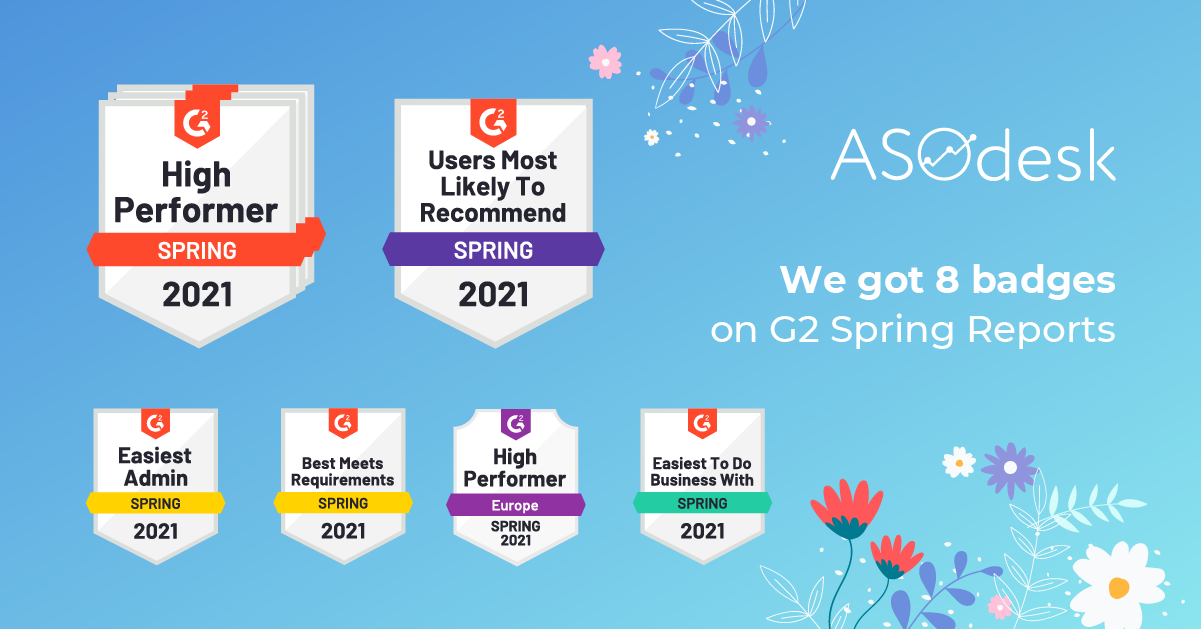 G2 has once again recognized ASOdesk with several awards. This time we received eight badges in the spring reports. G2 commented on our high performance, easy admin, and business collaboration. We were also recognized for best meeting requirements and for the tendency of users to recommend ASOdesk.
G2 is the world's largest IT marketplace where users can find and evaluate software and IT companies. In the Grid and Index quarterly reports, the G2 Research Group provides rankings and awards badges in various categories based on reviews and aggregated data from users.
In December, we were recognized in the G2 winter reports, and now we have received spring awards for the highest ratings in certain categories.
1. In the Mobile App Analytics category:
High Performer and High Performer in Europe. This badge is awarded for high customer satisfaction scores and low market presence.
Easiest Admin. Indicates that the ASOdesk admin area is easy to use.
Best Meets Requirements. This talks about the compliance of the service with user requirements.
Users Most Likely To Recommend. This badge indicates that users often recommend ASOdesk.
2. In the App Store Optimization Software category:
High Performer.
Easiest To Do Business With. Indicates the ease of doing business with our service.
3. In the Mobile Analytics Software category:
We would like to thank all ASOdesk users for working with our system and their advice on improving the platform. Thank you for choosing us! Here's what users said about ASOdesk in their spring G2 reviews:
Archit V, Senior Growth Lead:
Very intuitive and helpful. Can definitely recommend anyone wanting to understand how the app is doing with the help of app data analysis. The keyword research tools and intuitive flow make research quick and easy. There is not a lot of clutter and unnecessary tools. ASOdesk has graphs that show comparative data such as conversion and installs. I use the Keyword Density feature on a daily basis.
Siarhei L, ASO manager:
It's the most accurate and multifunctional ASO platform. I work in ASO for 5 years and ASOdesk is far the best one.
Sapan A, Search Engine Optimization Analyst:
The best thing about that tool is a daily report, as I am a free user I can see 10 keywords daily rank which is most accurate. After seeing the daily reports I can check my app performance and do more tasks about keywords. The team is very supportive if you can any query they will help you surely. I love it.
Aakash B, Digital Marketing Specialist:
I am working for ASO for the last 3 years and ASOdesk has all the features that are helpful to grow your app like how the app is doing and a lot of app data analysis using different & interactive types of charts which help us to grow.
Source: G2.com, Inc.
We would really appreciate it if you shared your experience with ASOdesk on G2. Your positive feedback motivates us to work even more efficiently, and suggestions for improvement help us make the service better.