Recap of Top 7 reports from the App Growth Summit New York 2021
Published: 29.04.2021
Updated: 20.05.2021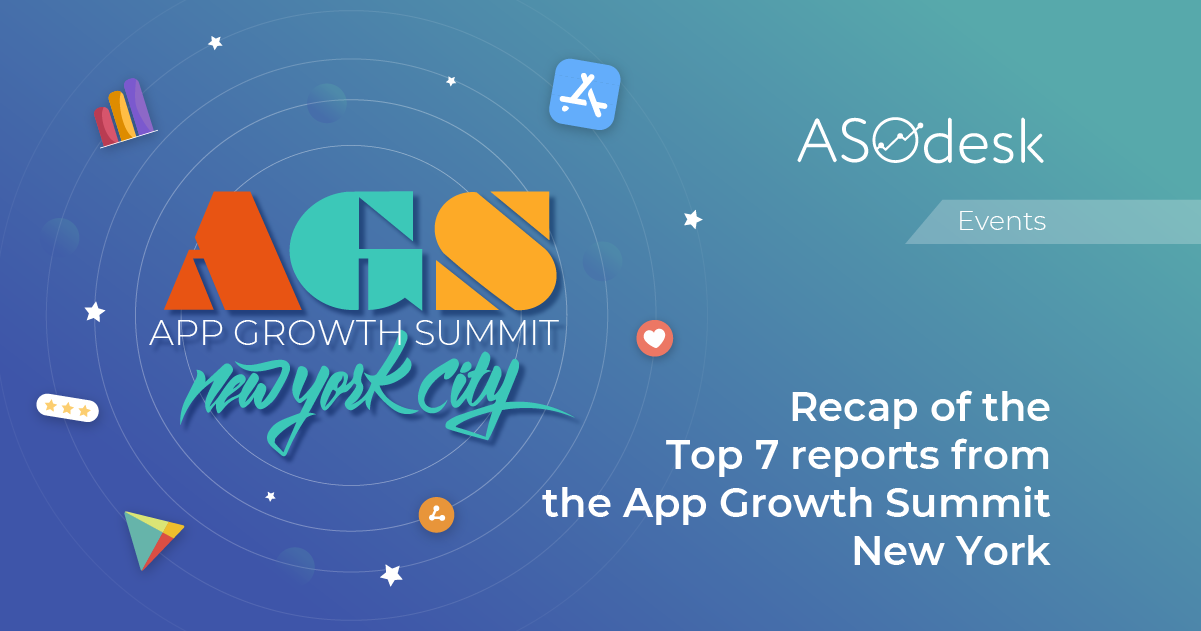 On April 21, 2021, the App Growth Summit New York was held — a well-known event for mobile marketers and app growth professionals. We watched the summit and summarized the main ideas from 7 noteworthy reports. Read the article and learn more about data-driven retention strategies, principles of work with the new IDFA conditions, tips on user engagement, promotion through TikTok, ways of user onboarding, and hacks for app growth.
Data-driven Retention Strategies in Action
Speakers:
Ally Tubis, Head of Engagement & Retention Analytics, Disney Streaming Services
Chrissy Bernardo, Senior Data Scientist, Disney Streaming Services
It is important to track user data from day one. This will help the business identify KPIs, measure results consistently, and influence user behavior. The goal is to understand who's likely to stay with the business and who is likely to leave it and why that's the case.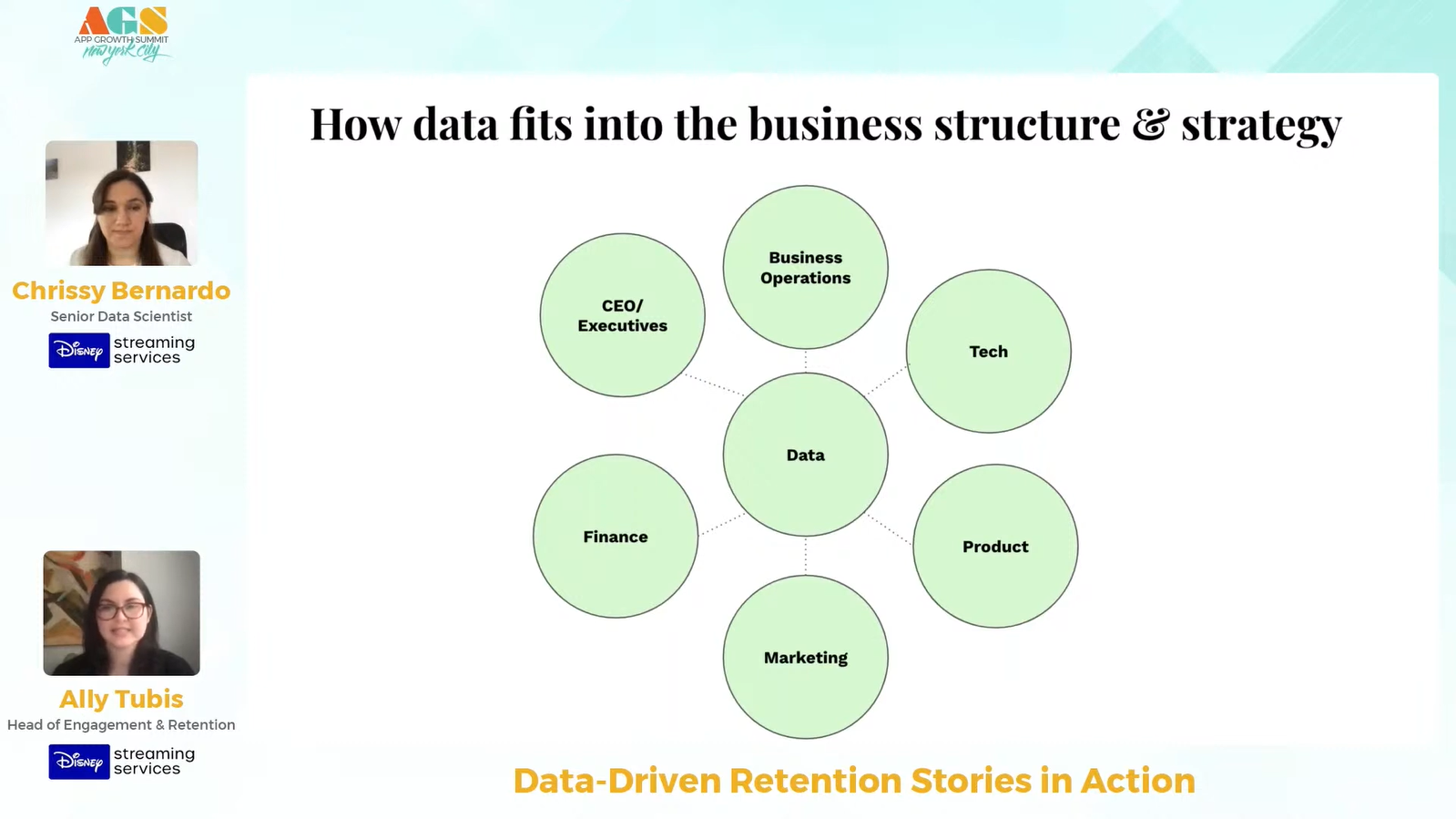 When people decide to continue using your product, there are many different elements that can influence that decision, or help us predict whether or not they will indeed remain. For example, how users interact with a product — how often, and how much they use it. We can also look at different groups of users, who engaged with the product similarly and might have similar risk signals.
Data science tools can help to quantify the incremental impact of each of these metrics. One other thing data science can help us do is to define different groups of customers with similar risk profiles.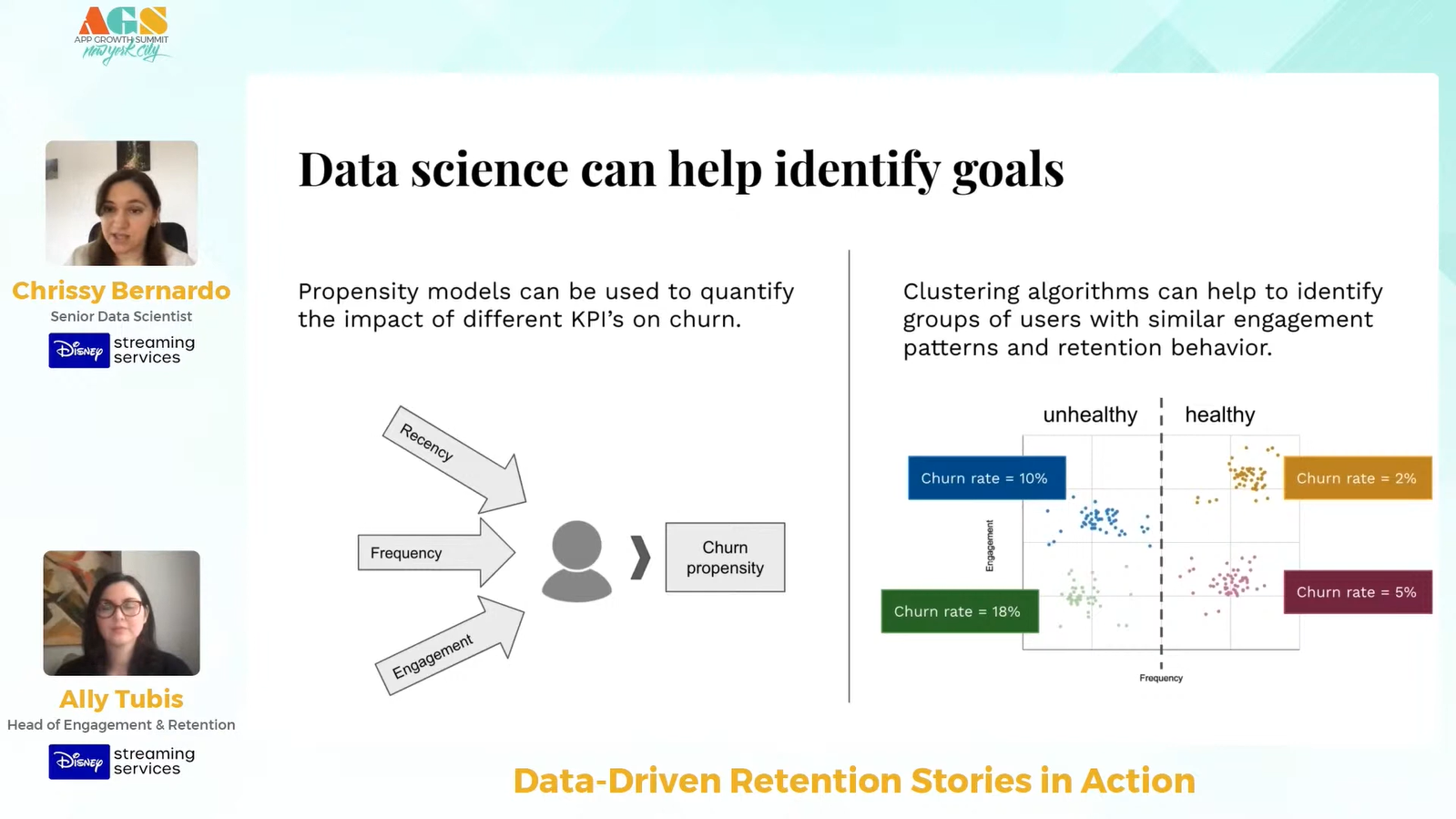 A data-driven approach helps to understand healthy and unhealthy subscriber behavior. For example, we have two users who are similar in gender, age, and behavior. But one of them has much lower engagement later on. They would then be classified as an unhealthy subscriber, but before they were healthy. We can try to improve their interaction with our product. We could recommend the right content to the user, or ensure that they see relevant content within the product. Furthermore, we could try to get them back through product alerts, emails, affiliate marketing, etc.

The main point is that you should implement a data-driven strategy in your business process. It will help you improve retention rate and work with user behavior more effectively. Retention marketing is a long game, it will take time, but you will see incremental gains and ultimately happier customers if you stick with it.
How Grocer "Weee!" is Preparing For a More Privacy-Centric Future with Measurement in Mind
Speakers:
Brenda Chen, Director of Solutions Architect, AppsFlyer
Jonathan Lau, Sr. Director of Growth, "Weee!"

"Weee!" is an online-only shop that specializes in Asian and Hispanic groceries. The company is constantly working with AppsFlyer to audit if their raw events and ensure attributions are matching.
In early February, they started integrating and updating all the necessary SDKs to conduct the assessment. They launched campaigns across multiple networks and channels, specifically targeting scan traffic and using that data to compare with their historical benchmarks.
Because of iOS 14 changes, Jonathan Lau proposed the web to App journey as a solution for "Weee!" to focus on. The company shifted re-engineering resources to dedicate their effort to building this project. It's building better onboarding flows, landing pages, and really focusing on the web experience to drive users to the app. They have not only been working with the data engineering teams to build a better user flow, but they're also better at collecting metadata now and offer recommendations and personalization of both the shopping experience and the app.
According to Jonathan, industry professionals will find solutions for working in a data-constrained environment. Big changes in the mobile industry happen every few years. It is now important for marketers to understand what data collection alternatives they can choose from.
However, marketers need to consider whether they really need a lot of user data to work. Jonathan reminds us of the times when that amount of data was not available. It's important to think about how to improve storytelling and increase brand presence. You need to understand how to tell the right story to the right audience and in the right place.
The Day IDFA Went Away
Speakers:
Moshe Vaknin, Founder & CEO, YouAppi
Louis Tanguay, Managing Director, App Growth Summit
Moshe predicted a decline in iOS capabilities to do any retargeting. After advertisers and publishers start adjusting to it, they will make more regular improvements. Moshe is optimistic that publishers will find a formula on how to keep user IDs based on user requirements.
The app can now ask for a user's permission only once. But if Apple is truly on the publishers' side, they will be motivated to allow a re-push with an app update.
To reach users, publishers will need more money than before IDFA was introduced.
Editor's note: Discover the opinions of world-renowned experts on the IDFA rules and other trends in mobile app marketing in this ASOdesk article.
There's a lot of work that has to be done when it comes to sending the right message. A lot of creative optimization is necessary because you have to drive different messages to different audiences.
Advertisers and publishers are now trying to get IDFA approval from their users. The most interesting was from Facebook, where they put up an interstitial that said: "Your iOS is about to change the way that you're shown ads. We would like to provide you with more personalized ads".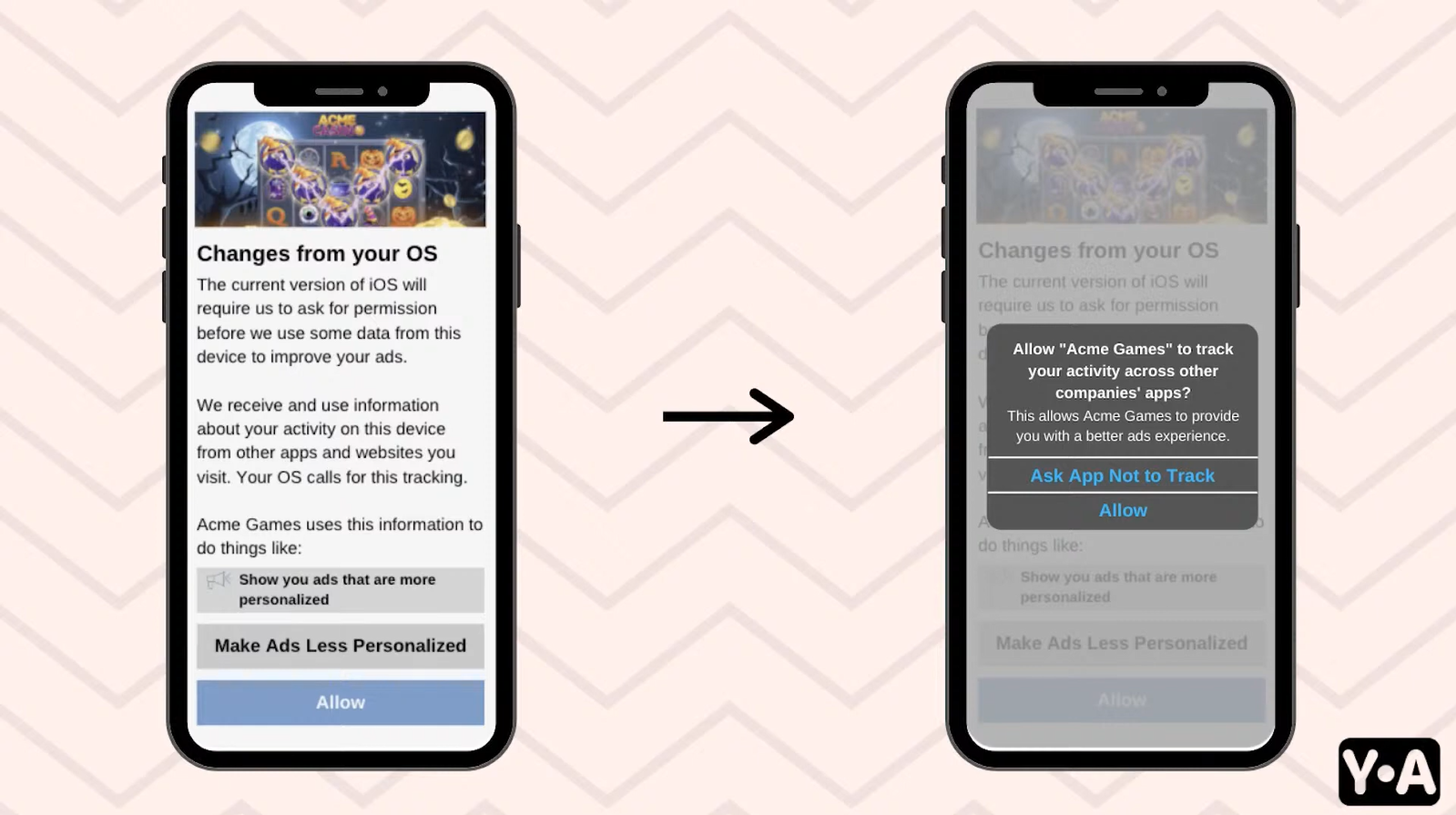 User Engagement Workflow Optimization
Speakers:
Jenna Klebanoff, VP Marketing, CRM, Realtor.com
Jessica Osorio, Product Marketing Lead, Mozilla
Neil Wainwright, Founder & CEO, UpHabit
Bryan Marks, Senior Solutions Consultant, Iterable
Jessica from Mozilla said that if your goal is engagement or retention, you need a segmentation model. You should know how many users from your user base are active monthly, daily, etc.
New user engagement and onboarding are critical. There's a strong hypothesis across the industry that if you can increase new user retention, you're likely to keep them at four to six weeks after that at a higher rate. The more people you're keeping early on, the fewer people you have to win back from the dormant end.
You should think about creating in-product messaging that doesn't interrupt the user experience. For example, if you are doing a modal popup, you should find the right timing. You need to select the right user automation strategies for each segment. If a user has been idle for a certain number of days, you can send them a message or email.
Even if you've found the best way to adapt to a new user, it's important to regularly look for new automation strategies as the product changes and users need to see new features in the app.
Sometimes it is necessary to limit the points of contact with the user. For example, in the Echinox fitness club network, 25 messages were initially sent by email, notifications in the application, and calls in the first week of a user's stay. There was too much information about us. Then it was decided to limit the number of contacts in the first week to 11. At the same time, each message was personalized for the user. Jenna saw that the number of unsubscriptions decreased and the open rates increased. The number of users who came to personal training also increased.
So you should make different segmentation models and work with user onboarding properly. Don't send too many messages — rather think about their quality.
5 Ways to Promote Your App With TikTok Creators
Speaker:
Antoine Forest, Co-Founder & CEO, Stargazer
On average users spend 52 minutes in TikTok every day. This social network has 689 million active users worldwide. There are several means of promotion in TikTok:

1. Make sponsored content. You can contact influencers directly, use TikTok Creator Marketplace or influencer agencies. You don't have to work only with big bloggers, you also need to choose some of the smaller ones.
2. You can make organic content for your page. It's better to partner with creators, who understand the code of TikTok, because for good engagement your need to know TikTok algorithms.
3. Advertising. The video had to be native, so users couldn't recognize that it was an advertisement at first glance, and rather think that it was a real video.
4. Integrating creators to your app. For example, you can make creator challenges.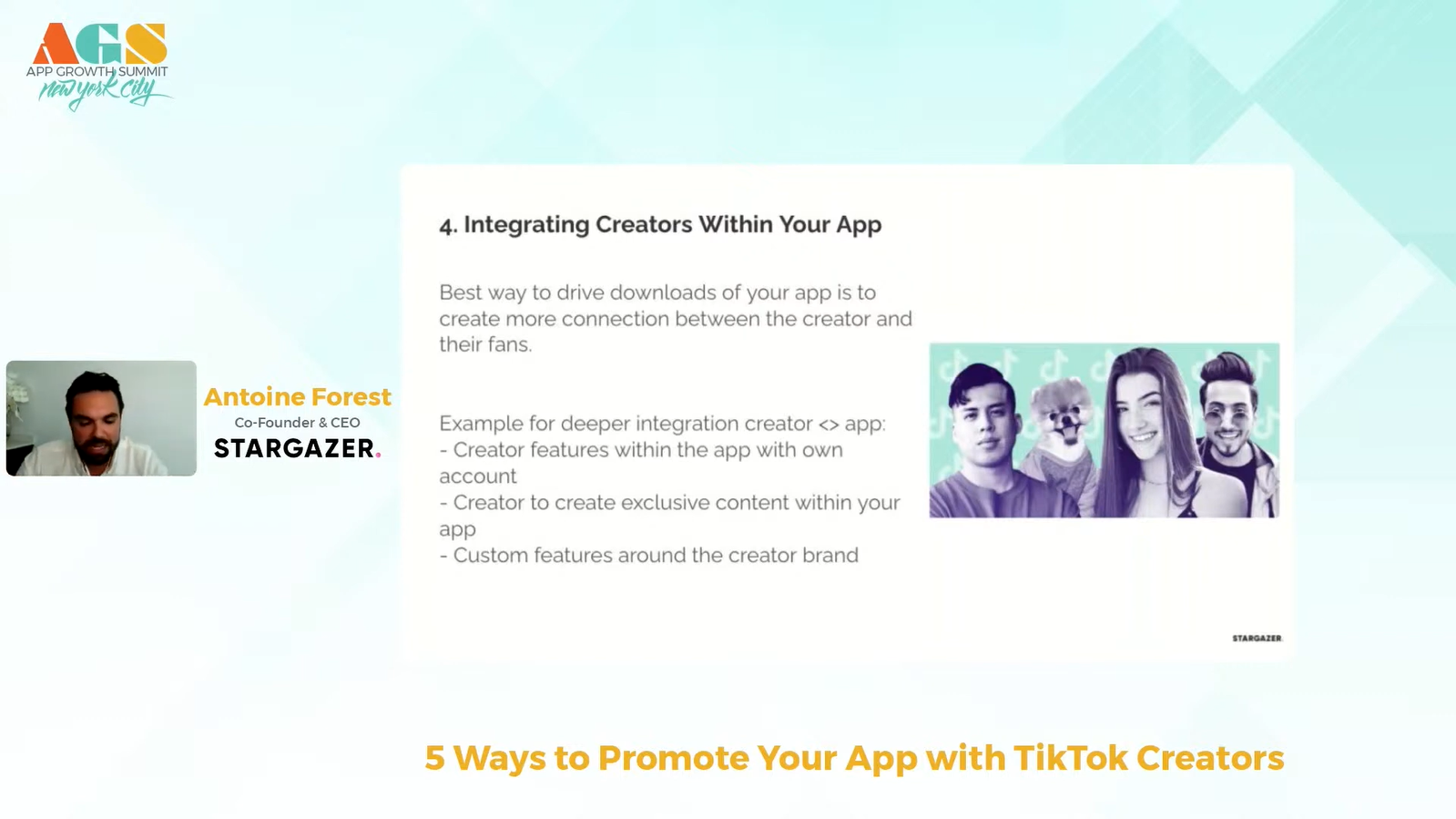 5. Pay-per-install model. You can work with micro-influencers, pay only for installs and place tracking links on your app in BIO. Not as many creators work with this model. You also have less control over content created.
App publishers can choose the most convenient promotion method based on their needs. It is important that the advertising messages look native, otherwise the promotion will be ineffective.
How to Build a Top Tier Mobile App Onboarding Process
Speaker:
Ken Vermeille, Founder, Vermillion Sky
Onboarding is important mainly because it orients a new user into your app. The entire initial process of orienting your user determines whether or not they come back. Usually, you can have a 50% or more drop-off rate, if your onboarding process is subpar. With proper onboarding, you can achieve really good retention.
One of the most important things about onboarding is you need to immediately showcase your value proposition. Users really don't care about your application's features. They care more about their problems. Users should understand that they have downloaded the correct app, which will fulfill their goals.
It is better to show users what the app does than to describe it. Videos and animation usually get straight to the point, as users should see the app in action.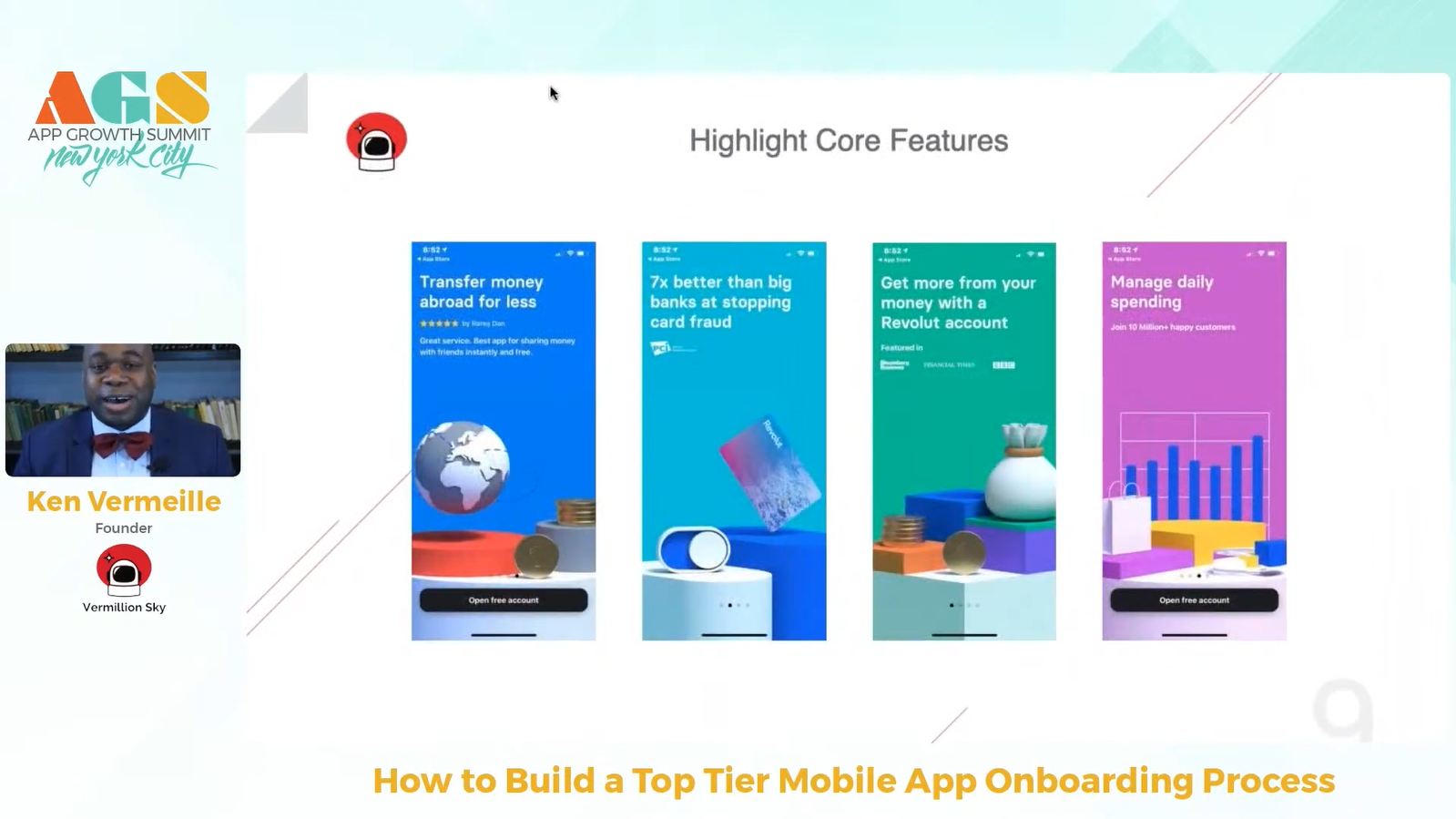 Ken also likes to do checkbox prompts, when you give a user a task list of seven items to complete. These techniques introduce users to different parts of your application, which allows you to understand whether or not a user is aware of all the different features in your application. You can use this data to market other features later.
You also want to ask users for the right information at the right time. Lot of apps bombard and harass users with a long list of permissions, including some push notifications on the first screen of the application.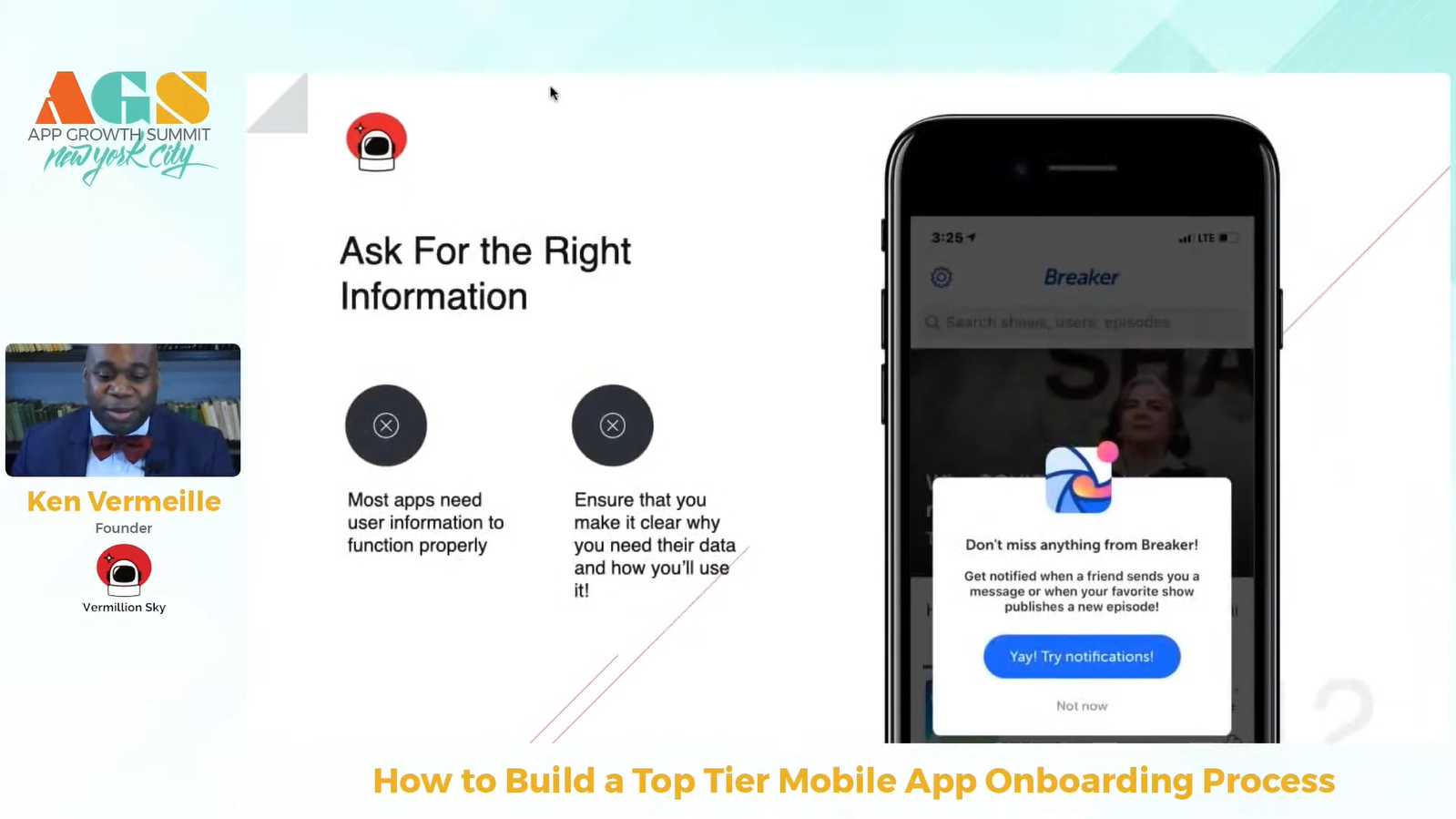 When asking for permission to collect users' data, let them know what you're going to do with their data and ensure that you allow other times where you could ask them for that information later on.
You can keep your onboarding process segmented. Don't try to include everything on the first go. You can just get the bare minimum amount of information that a user requires. Then ask them for more information or onboard them to your other features later on.
Use analytics to measure the increase or decrease of feature usage based on what you set up in your onboarding process. The way to really understand human behavior is to ask humans, test your ideas, and work closely with a team of users who are essentially your brand champions.
360° of App Growth
Speakers:
Omri Argaman, CMO, ZOOMD
Christine Pera-Weaver, Associate Director, Acquisition Marketing, PBS KIDS
David Simon, CRO, Fyber
Annica Lin, Director of Performance Marketing & CRM, Thimble
Once you have launched your application, during the growth and maturity phase, you must constantly analyze performance and user behavior.
You shouldn't underestimate the power of customer support tickets and reviews. From the reviews you can find out what users want to change in your application and what needs to be added.
Editor's note: Learn 9 tips on working with reviews in this ASOdesk article. This information will help you work with reviews faster and more efficiently.
Building up brand awareness is a very important asset of a company and a way to establish if the company can be successful or not.
The best way to optimize your app growth strategy is to identify the synergies across teams, and play off the strengths of a combined knowledge base and skill set to maximize your ability to understand the customer journey.
Focusing on creativity and messaging is more important now than ever because it's the best way to retain your audience and serve ads to the right users.
Advertisers have never been forced to deal with truly independent attribution methodology. They used to have cookies and Apple IDs. Marketers are now leaning towards building their own attribution systems and methodologies from scratch. We need to invest more actively in these instruments than before, as all identifiers will disappear.
65% of all app installs start with a search in the app store. Therefore, the battle for users is either lost or won from the moment you visit the application page. That is why it is important to pay close attention to conversions in app stores, and also integrate organic and paid user acquisition strategies.
Editor's Note: Read on to learn how to attract users to your app using ASO and ads.
7 main tips from App Growth Summit
Implement a data-driven approach in your business. Based on user behavior data, you could find ways to make users more loyal and improve retention rate.
Don't concentrate too much on getting detailed user data. App publishers should think more about improving brand presence and storytelling now.
Concentrate on your messages for the audience. Advertisements may become more expensive, which is why all your messages should get to the target.
For better user engagement, you should implement segmentation models. Consider message chains for each user type. Write personalized messages and don't add too many of them.
Try to promote your app through TikTok. You can use ads and sponsored content, arrange challenges, create your own videos, or try the pay-per-install model.
Use videos and animation to make your onboarding process easy and clear. Don't ask for too much information from the new users — onboarding should be gradual.
Set up communication between all team members. It will help you understand the customer journey and find ways to achieve efficient app growth.