Recap of the Top 7 reports from the App Promotion Summit USA 2021
Published: 05.07.2021
Updated: 13.07.2022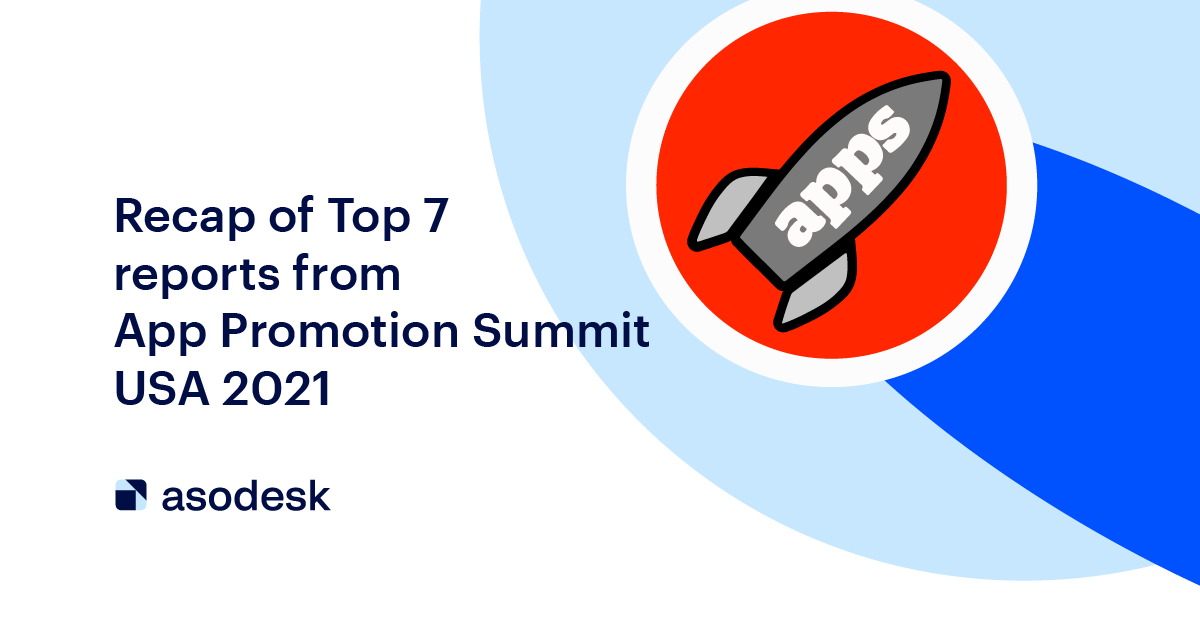 The App Promotion Summit USA was held from 17–24 June 2021. If you missed the summit, read our recap of these seven standout reports from the conference. You will find insights on app growth in 2021, app marketing and UA, choosing a country for the organic growth of your app, using different app marketing data for ASO, and how to get Apple's user permission on data tracking.
Contents
1. App Growth in 2021
2. The Future of App Growth
3. In Which Countries Should You Be Growing Your App's Organic Traffic?
4. Rethinking ASO: How ASO Can Support the Entire Acquisition
5. Mobile App Marketing Insights for 2021 and Beyond
6. User Acquisition in 2021
7. iOS 14.5: How We Got Here, Measurement Solutions, and What We Have Learned
App Growth in 2021
Speakers:
Marcy Comer, VP Marketing, EagleView
Taylor Gobar, Head of Growth, Bloom
Bolong Li, VP Marketing, Audible
Danny Spyra, Director, Product and Growth Marketing, Yahoo Finance
Experts shared their experiences with app marketing in 2021.
Bolong Li from Audible noticed that user behavior changed in 2021 and it influenced their app growth strategies. In the past, people were more likely to listen to their app on their way to the office. Due to the pandemic, people do not need to travel to work and the need for such use of the application has decreased. On the other hand, many users started listening to Audible before going to sleep. This is why Audible specialists started creating collections for editorials and communications, to help more customers use the app before bed. Ultimately, these lead to positive results.
A noteworthy thought was expressed by Taylor from Bloom: anybody who has been heavily reliant on attribution IDFA has to diversify immediately, and other channels go a bit deeper into that. Similarly, she is excited to see performance channels evolve by using celebrities and influencers — which increases investment.
According to Danny from Yahoo Finance, there's been a heightened interest in investing, especially among younger users and women. It's great to see the data and metrics show that younger users are investing more and women are getting involved. Now, statistics are focused on males and females as primary demographic categories. It shows the power of the technology behind it. More people are comfortable with investing because the apps in FinTech are improving. It's a very positive sign for the industry.
The Future of App Growth
Speakers:
David Barnard, Developer Advocate, RevenueCat
Madison Kirby, Senior Social Media Manager, 1 Second Everyday
Jake Mor, CEO, FitnessAI
Zach Shakked, Founder, Hashtag Expert
Experts agreed that it is currently very important to work on brand recognition. They also shared their opinions on promotion through ads on Facebook and TikTok and talked about the future of the App Store.
David is sure that the future of sustainable development is to give away as much value as possible and empower those who receive more value to pay more for it. Marketers are now getting back to the age-old problem that John Wanamaker noted almost 150 years ago "Half the money I spend on advertising is wasted; the trouble is I don't know which half".
In Zack's opinion, Facebook Ads are working incredibly well. The ATT has done one thing which has helped to make it simpler to run as you just run a triple campaign. The unofficial TikTok ads which you can request from influencers are also very effective.
Furthermore, TikTok can help work on brand recognition. Madison's case study shows that videos of influencers helped 1 Second Everyday to become №1 in the App Store for the first time. They correlate TikTok videos with their app download spikes in different countries: France, Great Britain, Argentina.
Jake shared his conspiracy theory: Apple is killing all the other advertising outlets so that they can build on their own. Just because Facebook and Google are making so much money off this bothers Apple. It's uncaptured revenue. Therefore, a lot of growth will go through Apple in the next 10 years. He also strongly believes that there will be at least one unicorn app for every category in the app stores — like Duolingo for language learning.
In Which Countries Should You Be Growing Your App's Organic Traffic?
Speaker:
Artiom Tkachuk, ASO Manager, Asodesk
Artiom showed the framework which helps you to choose the most suitable countries for the organic growth for your app. You can use it to prioritize markets and select the countries which will be the most effective to target from the very beginning.
Any product owner should know at least these three main metrics to grow their product:
1. The volume of the market. Understand the volume of the market from the perspective of organic traffic.
2. Competition. You need to understand how tough the competition is.
3. Potential for product placement. You should know the potential for our application in a given market niche.
You can get these metrics with the help of Asodesk's framework. First of all, to make this framework, we've chosen meditation apps that are fairly popular at the moment — and they're only getting even more popular. We have taken 15 countries and 6 applications. Competitors' results are compared to the app Meditopia. In red, you can see the data which is worse than Meditopia competitors'. In blue, there is the data that is better for Meditopia, than for your competitors' apps.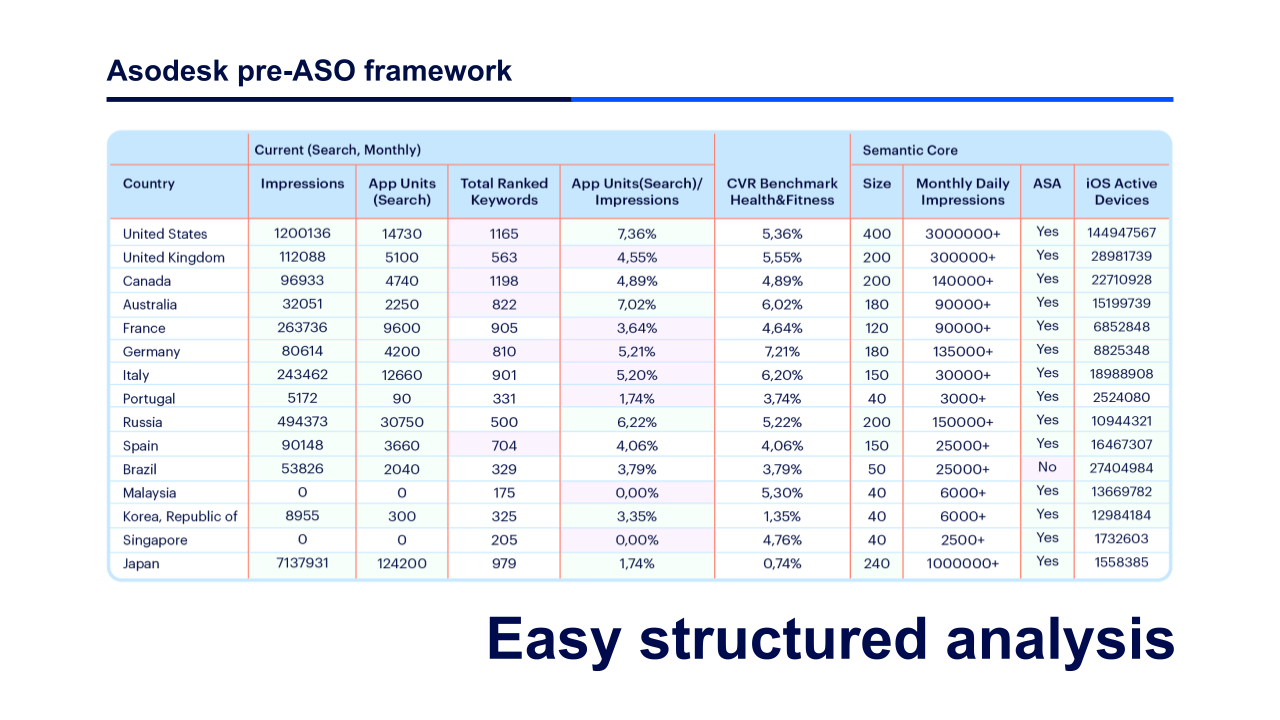 Secondly, we analyzed the following metrics:
Internal metrics of apps from Asodesk: Number of Impressions, App Units, App units/Impressions, and Total Ranked Keywords.
Market volume evaluation: size of the semantic core, Monthly Impressions, Apple Search Ads availability, and iOS active devices.
Competition: the number of ranked keywords of our app and our competitors' apps. We also evaluate the number of estimated monthly downloads of the app.
Potential growth of our application: coefficient and estimated monthly downloads potential. These metrics are based on previous information for apps.
Interface languages and App Store Connect language.
By the way, you can check all these metrics for your app with the help of Asodesk tools: Organic Report, ASO Dashboard, CVR Benchmark, and others.
Finally, we made suggestions on the potential growth of apps based on all metrics. We believe that the pre-analysis framework will help decision-makers to make data-driven decisions based on clear, understandable, and structured metrics. Check out the full framework.
Rethinking ASO: How ASO Can Support the Entire Acquisition
Speaker:
Anton Tatarynovich, Senior ASO Consultant, Phiture
It is very important to have data exchange between performance marketing to ASO and from product development to ASO.
That is why ASO specialists should take into account a lot of metrics:
Visibility KPIs (impressions, keyword volume, category rank)
Conversion KPIs (e.g. CR by traffic source)
Rating & reviews data (e.g sentiment, over-time change of review, word cloud of most used search terms in positive and negative reviews)
App vitals (e.g. application not responding, crash rate).
Peer group benchmarks (by traffic source, by country). Google Play Console allows you to see inside the product and compare your acquisition or product retention with, for example, a peer group of competitors, in a certain country.
Editor's note: You can also check the average CVR for your niche with the CVR Benchmark tool in Asodesk.
Anton explained how ASO, mobile app ads, and product development influence each other.

First of all, ASO can be a great source of finding your visuals and helping to test your ad campaigns and vice versa.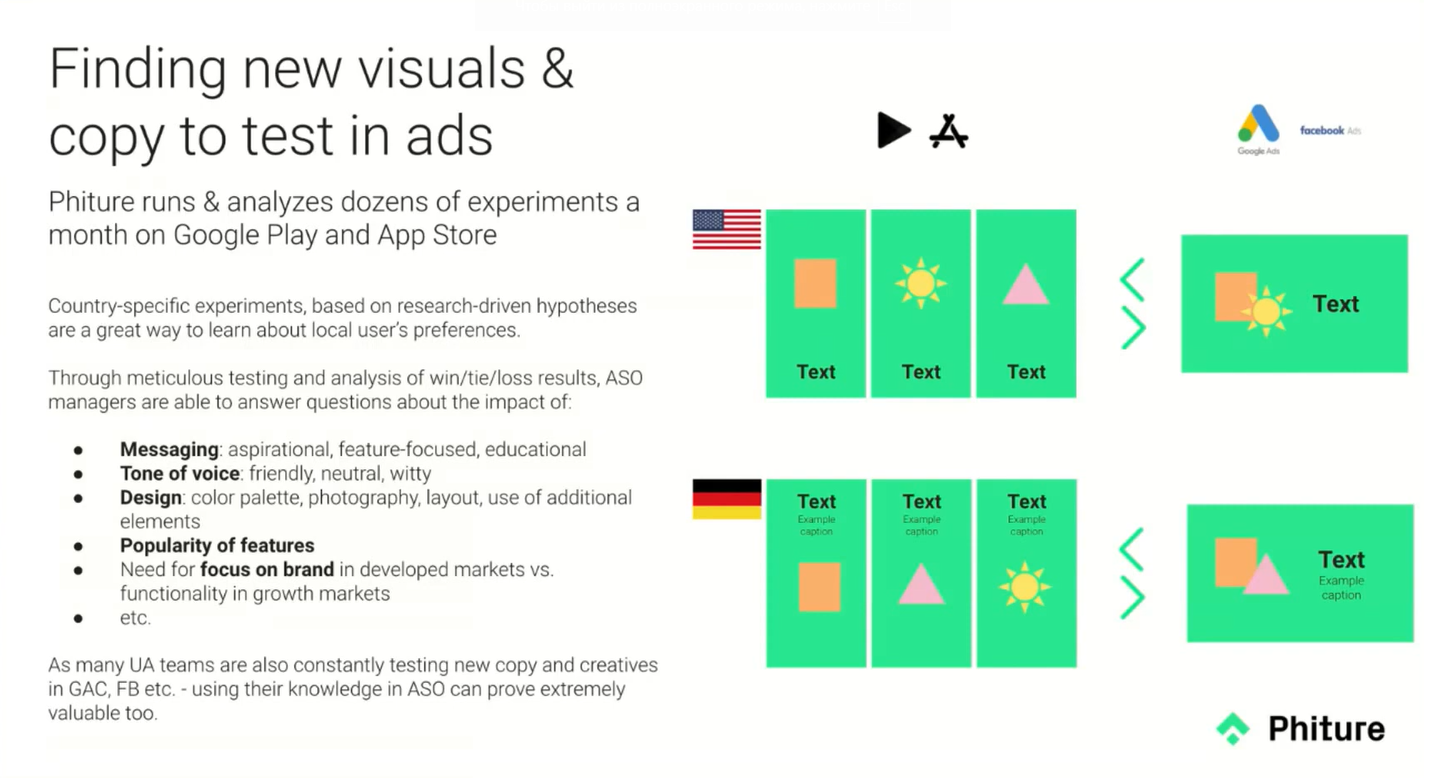 Secondly, the new App Store's custom product pages will impact CR optimization significantly.
Thirdly, thanks to the ASA, you will be able to rank for several important keywords higher than you are ranking now.
Furthermore, rating & reviews analysis influence app visibility, CR, and help product teams understand the users' opinion on the update. Anton showed us Phiture's Google Play reviews as a case study. To prevent negative reviews, you can ask for the user's opinion in the app. If the user doesn't like the app, ask what needs to be improved. Users who rated the app positively will be sent to Google Play.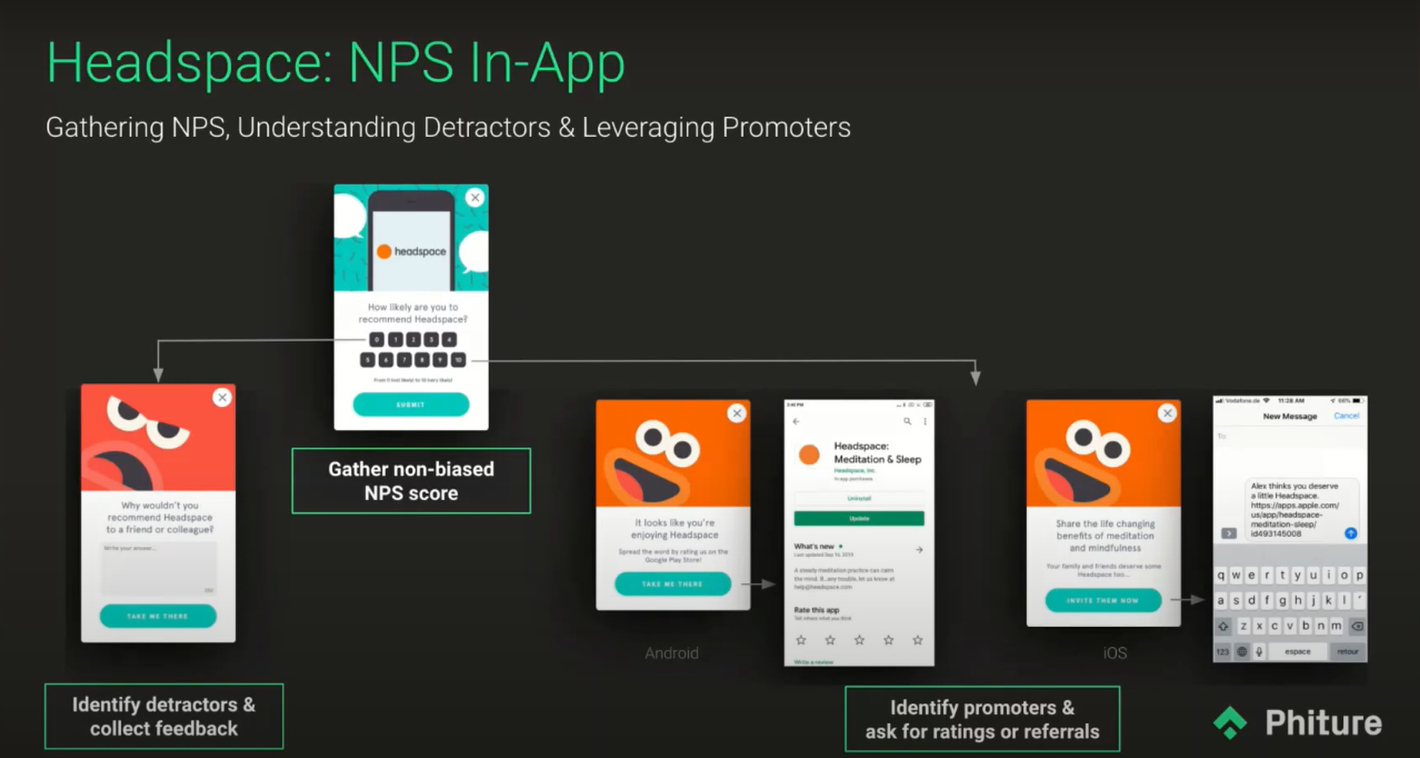 Even though this approach is illegal on the App Store, you can ask users to share your app with their friends.
Finally, app vitals don't just have a noticeable impact on UX, but also on app visibility for brand terms, browse visibility, and conversion. Google Play penalizes apps when their ANR or Crash rate drops below the bad behavior threshold.
You should also remember that highlighting the key features for particular users can help to increase your conversion rate. You can talk to product teams and ask them which features of the app are the most important for this locale. For example, SKY sports in the UK and the USA use different types of content on screenshots.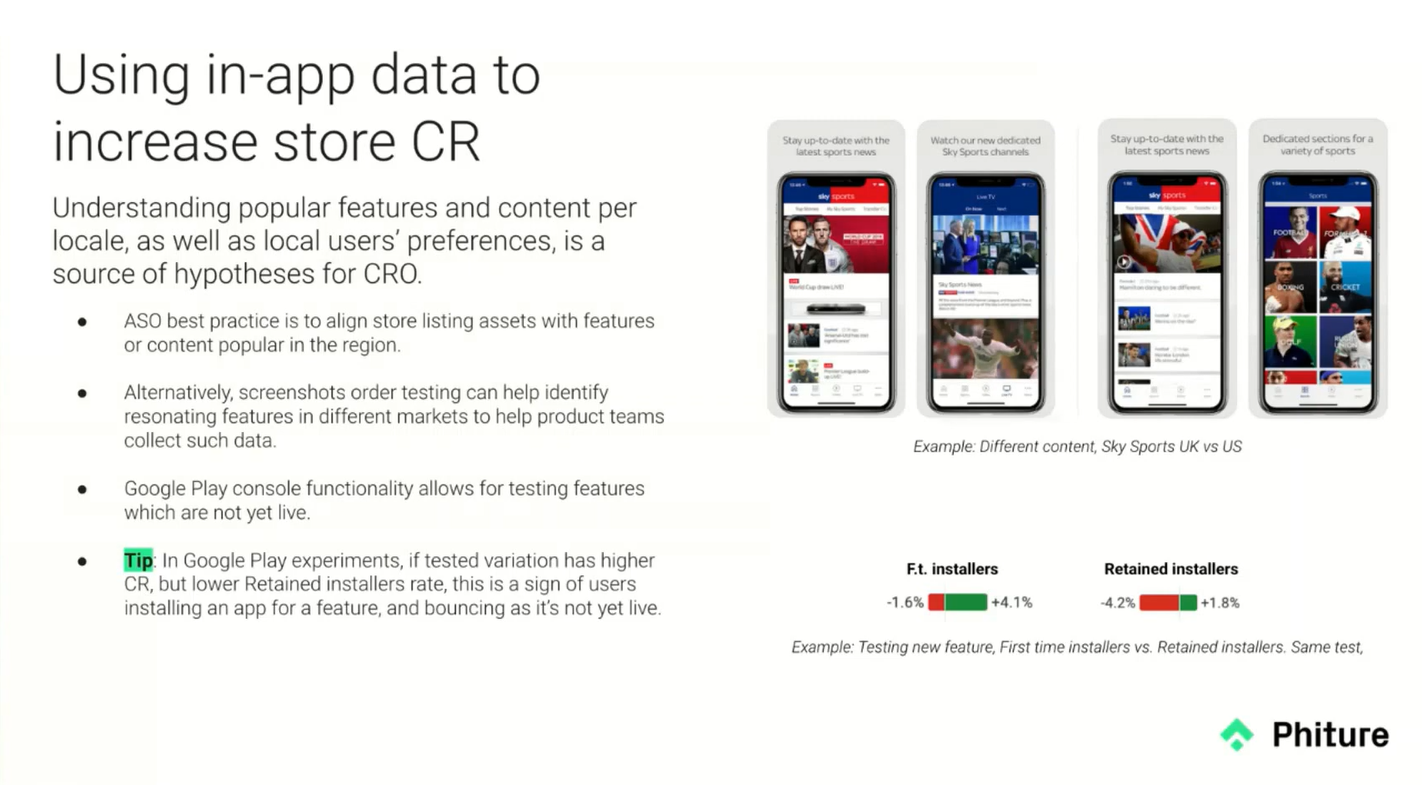 To sum up, ASO and paid UA teams can collaborate to:
Analyze and improve CR from referral traffic sources, which improves upstream UA metrics (CPI, TTR).
Align experiment learning from ASO and GAC/FB, and source new hypotheses from the common backlog.
Leverage the App Store's new functionality to align the store listing page with ads. This feature will be available soon.
Use ASA to increase rankings for important generic keywords.
Remember that ASO and retention can work together to:
Identify room for improvement in your product through rating and reviews analysis.
Improve visibility & CR by optimizing placement of in-app rating prompt. Collect user feedback via the NPS pre-prompt.
Use in-app intelligence for increasing CR in app stores.
Track app vitals and minimize their negative impact on product UA and ASO metrics.
Mobile App Marketing Insights for 2021 and Beyond
Speakers:
Idil Canal, GM, Business Solutions, AppLovin
Aykut Karaalioglu, Founder & CEO, MobileAction
Marcus Poe, Strategic Partner Manager, Facebook Audience Network
Dom Davies, Mobile Gaming Consultant
Experts discussed in-app bidding and the future of mobile apps.
Dom observed that in-app bidding is becoming king. With the help of bidding, you're creating competition and the advertisers are getting a look at all different price points. They may not be getting priced out anymore, which helps in reaching their target audience at lower price points.
According to Marcus, as you migrate to bidding, you're likely to see the demand footprint from your partners shift a little. Right now is a great time to start understanding your bid demand volume coming through these partners, because that is going to represent a new metric for a lot of publishers. You will see how they're valuing all the various opportunities — not just the 10% that they saw before.
Aykut mentioned that the number of advertisers on MobileAction grew six times greater in the last year.
Dom predicts that the future of mobile gaming is consolidation. Every few weeks this year, there has been an announcement of another ad tech company from a different corner of the industry joining forces with another. It's going to be interesting to see how these mergers and acquisitions play out.
User Acquisition in 2021
Speakers:
Ben Holmes, SVP, Performance & Exchange, AdColony
Alexa Wieczorek, User Acquisition Manager, EA
Kenny Rubinsztein, Senior Manager, Global Performance Marketing, Bumble
Arthur Jun, Head of Performance Marketing, Duolingo
Experts noted the significant growth of TikTok. Kenny mentioned that there was a huge shift in the audience of TikTok. In 2020 his company put a large focus on TikTok — specifically in the production of conversational content — and they've seen success with this approach. For non-Gen-Z audiences (25+), diversifying across platforms is important as more people are going digital and, as a result, CPMs have increased. That's why they are now trying to diversify and find the most efficient platforms to run new ads. TikTok even took part in the budget on other channels and social networks.
A useful insight on dating apps was noted by Kenny: in summer there is a seasonal surge for Badoo. A lot of people want to date new partners.
Arthur also has an interesting observation about the language app Duolingo: app usage peaks Mondays and Tuesdays. During lockdown, they saw exponential growth across the board.
The Bumble team is trying to figure out the attribution side of things by working with third-party optimization and analytic tools. In this way, they are trying to get a better sense of what's driving performance. The level of users stayed the same. It's just figuring out their last point or touch and then optimizing towards the most efficient platforms.
In Alexa's opinion, many businesses have been shifting more towards Android and we see more competition on Android. The CPMs for iOS have been affected greatly. You haven't seen as much as Facebook and UAC.
Experts gave three tips on UA for small indie startups:
Use narrow targeting. Go as narrow as possible at the beginning of your business development.
Don't invest your entire budget in one platform. Diversify your investments. You're trying to reach a specific group of people and they're not all just on one app.
Establish your KPI. What's your market? Establish this so you can optimize for the best outcome and produce hard-hitting numbers.
In the conclusion of the presentation, the speakers mentioned that the strongest branding channels on the US market are YouTube and Facebook. Snapchat also has a lot of good advertising potential.
iOS 14.5: How We Got Here, Measurement Solutions, and What We Have Learned
Speakers:
Kia Saedi, Regional Vice President, USA Sales, Adjust
Greg Wang, Senior Account Executive, Enterprise, Adjust
The IOS 14 privacy guidelines mean that developers must get a user's explicit permission to track them across apps and websites that are owned by other companies, as stated in Apple's privacy guidelines website. This totally changes the game for iOS attribution and UA strategy/retargeting strategy at large.
Experts shared their opinions on how to get access to Apple users' data:
First of all, it is a bad idea to ask a new user to give access to their data. Users are more likely to agree when the app is important for them. So you need to choose the right moment. For example, if the user finishes a level of your game, makes a purchase, or shares the app with a friend.
Secondly, this will help minimize iOS 14 disruptions by securing consent via the ATT framework:
Continue to receive deterministic attribution data and carry on with segmentation and retargeting efforts.
Implement UX best practices to secure the highest opt-in rates.
Get tailored insights from the Adjust Project Opt-in team on how to gain trust from your users while asking for consent.
Leverage the top-performing opt-in prompt out of the box with Adjust SDK.
There are the statuses that can be used in categorizing user data in Adjust.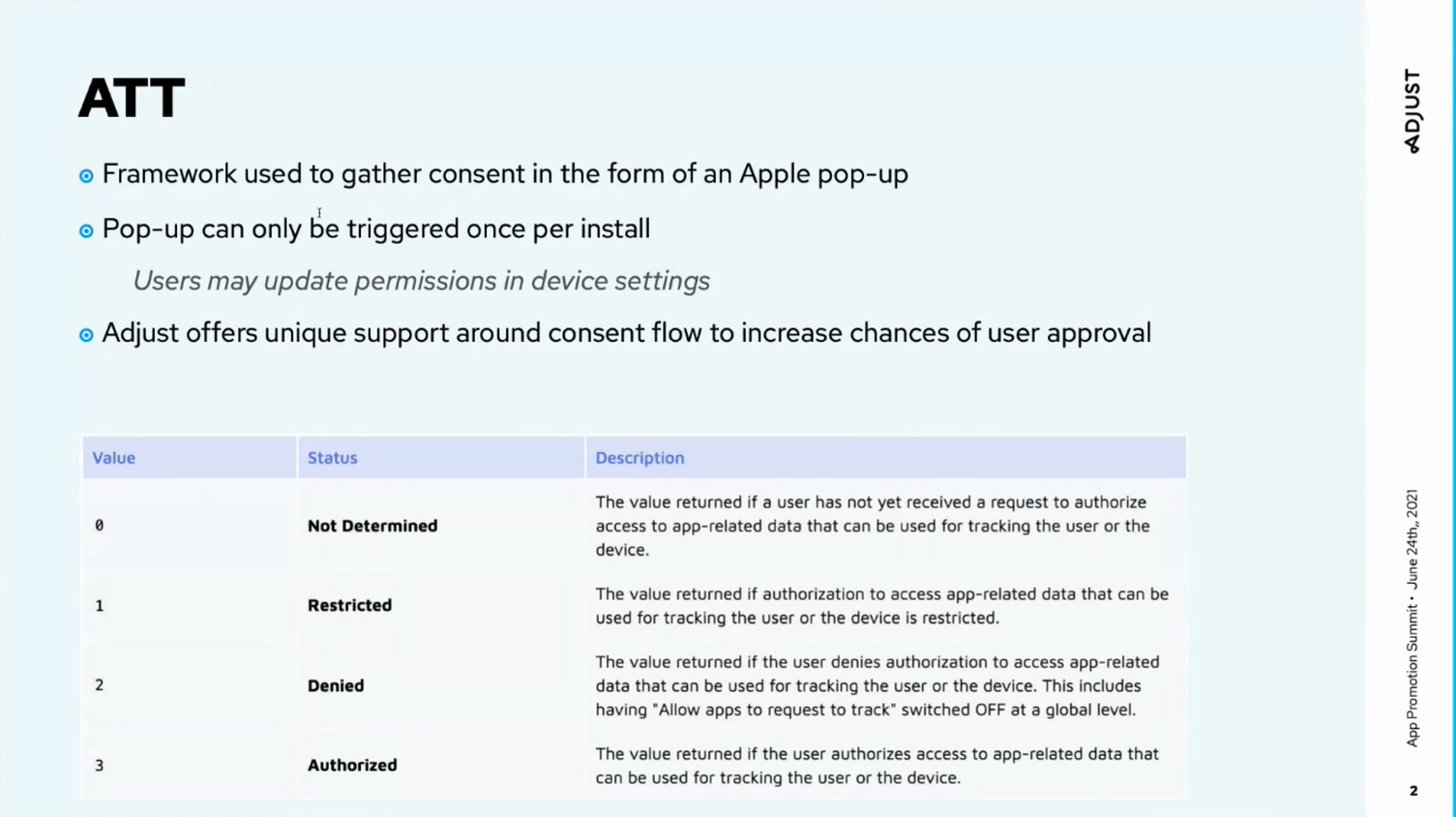 Thirdly, the effectiveness of standard prompts is lower than pre-permission prompts. Pre-permission prompts give you more information on why you need data from the user. With the pre-permission prompt you always have another chance to ask for permission, despite Apple's pop-up.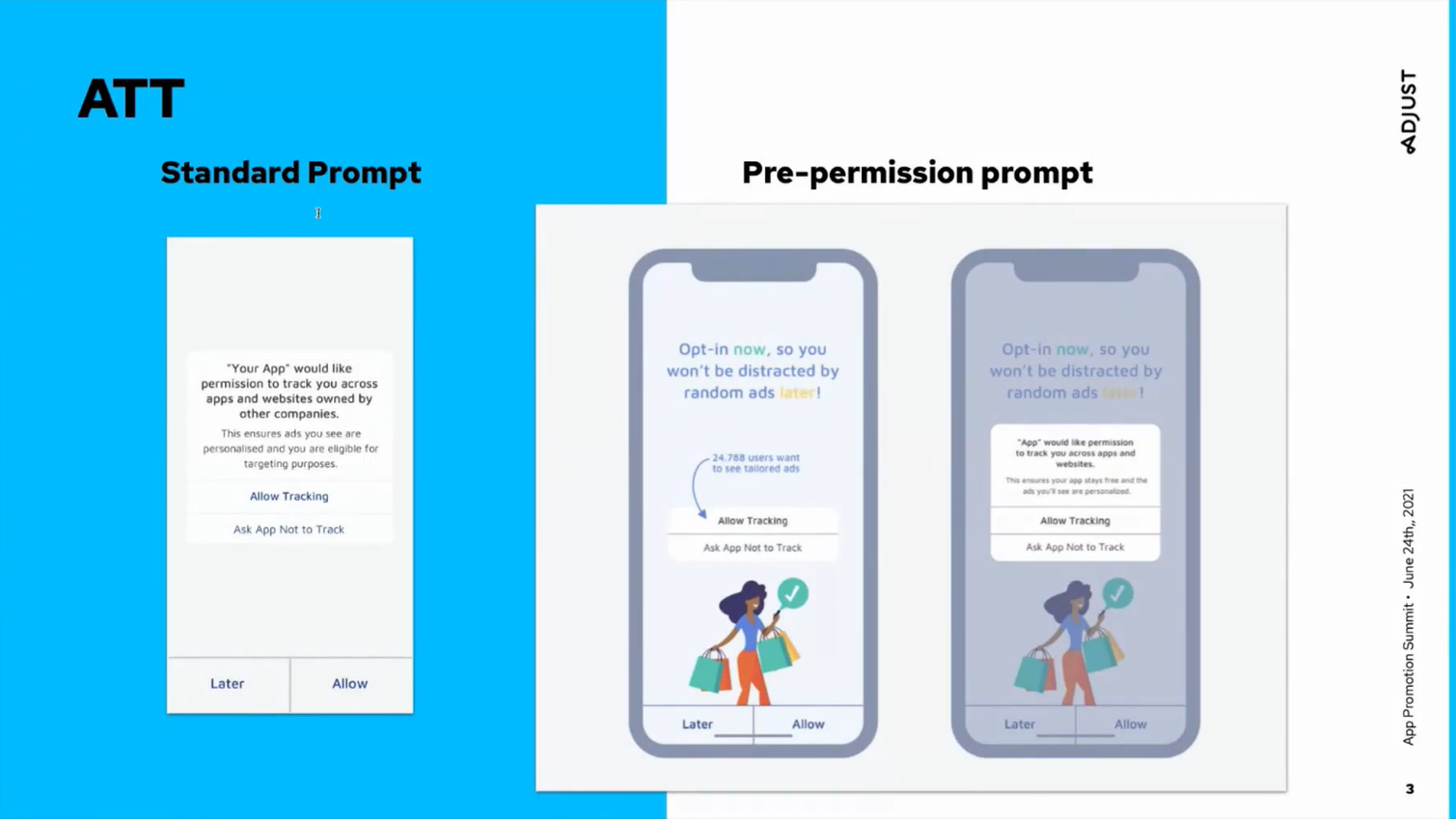 Adjust showed that the consent rates of their clients are up to 70%.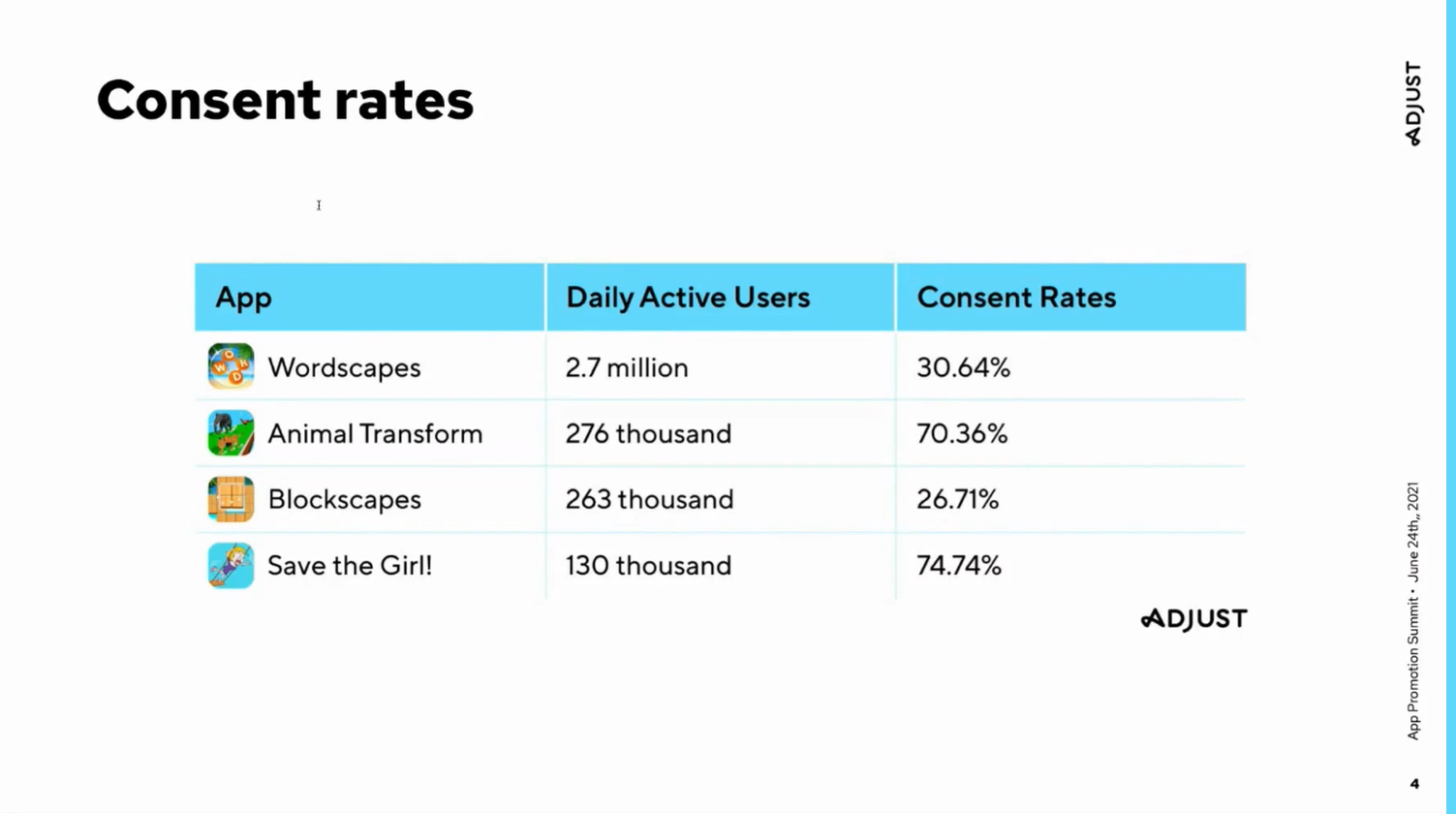 At the end of the speech, experts discussed how SKAdNetwork works. It is Apple's attribution that is consent agnostic. Greg thinks that the main advantage of the Network is that it's deterministic. You know it's coming directly from Apple, with almost 100% confidence that this install is tied to that source. Kia mentioned that the main drawbacks are that the Network is aggregate and not real-time. But again, we can expect to see improvements in this guide over the years.
7 top tips from the App Promotion Summit USA 2021
1. Сonstantly research your app's user behavior, which may change due to the pandemic and other external factors. If you see new trends in demand, implement new marketing strategies based on current data.

2. Think about working with TikTok influencers. Native ads in TikTok can lead to great results.

3. Before choosing a new market for your app, analyze competition, market volume, and potential for product placement. This will help you find the market on which your app can achieve the best organic growth.

4. Consider ASA, User Acquisition, and product development data when working on ASO. ASO, UA, and product development teams should work together to ensure the effectiveness of your app's promotion.

5. In-app bidding may help app publishers save money on ads, so you should think about using this method.

6. If you are a small indie-developer, there are three things you should remember about UA: use narrow targeting, don't use your entire budget on one platform, and establish your KPI.

7. Choose the right time and way to ask permission to track the users' data. It's better to use a pre-permissions prompt, which has a unique design and helps you explain in detail why you need their permission.