Digest ASO News, May 2021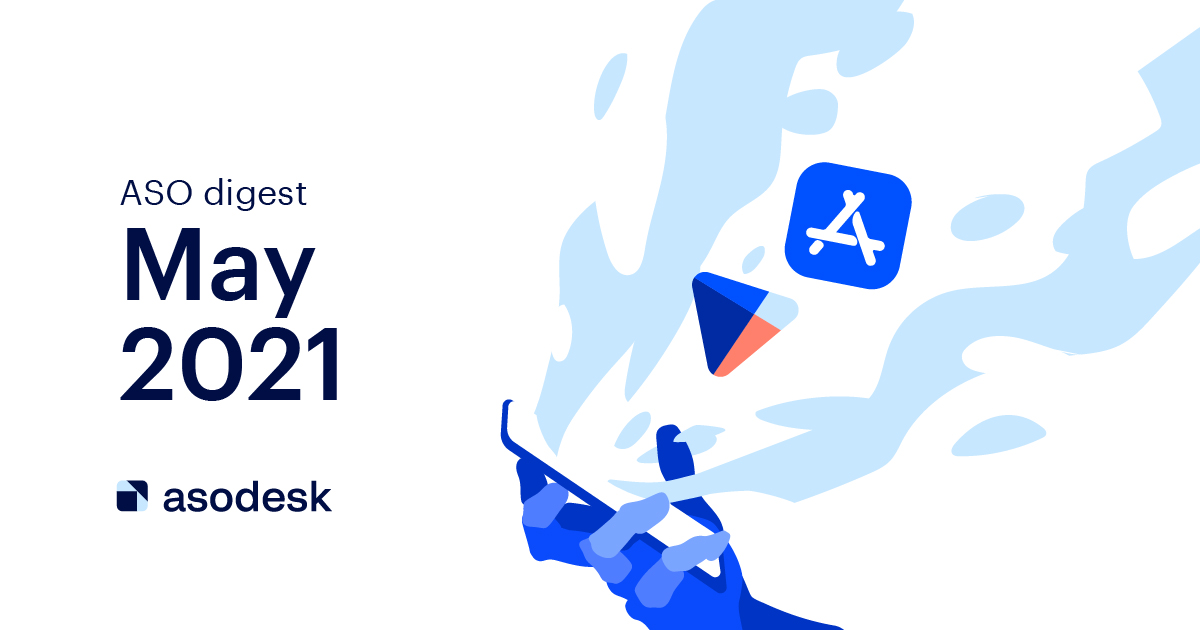 In May, Google announced a new requirement for publishers, who now need to post information about collected data on the app page. Apple clarified age rating settings in App Store Connect. ASOdesk is giving away 5 gifts to celebrate our 5th birthday. Find out more about this news and do not miss out on the gifts that will help your app grow.
Contents
Google Play news
You will now need to indicate information about collected data on the Google Play app page
Following in Apple's footsteps, Google requires app publishers to post information about the data they collect. This policy will take effect from next year.
On the app page, you will need to provide the following information:
What types of data the application collects and stores. For example, approximate or exact location, contacts, personal information (name and email address), photos and videos, audio files, and storage files.
How the data is used. For example, for app personalization.
Google apps will also have to comply with the new privacy policy requirements.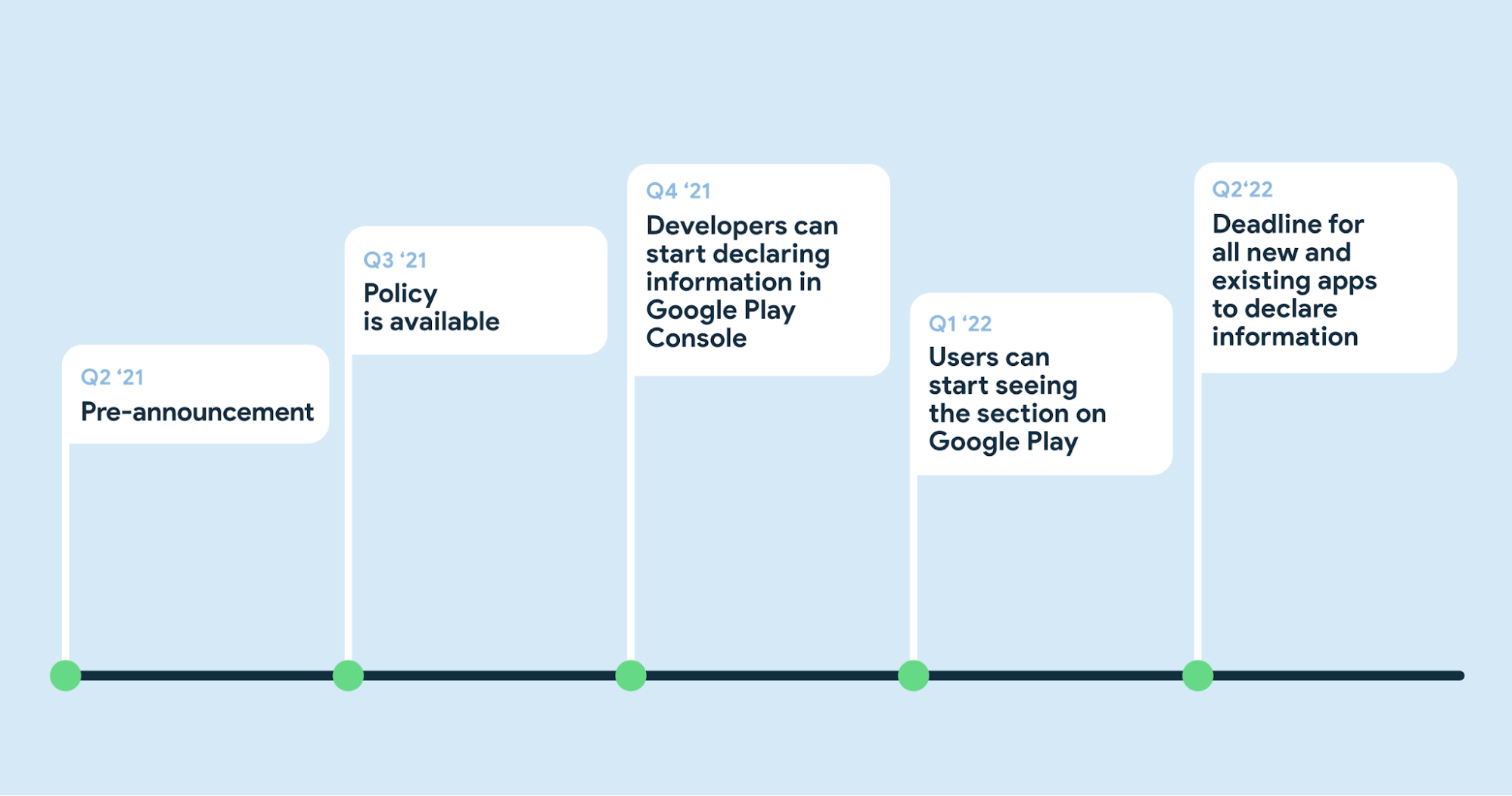 Starting in the second quarter of 2022, app pages will need to include information about collected data.
This summer, Google will discuss the new requirements and provide guidelines on its updated privacy policy. We will definitely speak about this matter in our subsequent ASO news digests. Follow the ASOdesk blog to keep up to date on the latest ASO news.
Google to launch ad campaigns for desktop apps and add analytics capabilities
From June, it will be possible to create ad campaigns in the desktop search and display network. Ads will work as follows:

1. Users click on the app ad in the browser and get redirected to the Google Play Store desktop version.
2. They can then choose to install the app on any Android device connected to their Google Play account.
The company has also added Google's Analytics for Firebase SDK, which allows you to create and take into account your own events in your apps without changing your code.
Google announced the content link validator and Google I/O impact calculator. Marketers can use these tools in Google Ads to find out what types of deep links are in a campaign, how to fix broken links, and how to evaluate the ROI of deep linking. Learn more in this Google I/O technical session.
Google is testing the new design of Google Play
A Reddit user has shared images of the new "Manage apps & device" section that could replace the "My apps & games" page.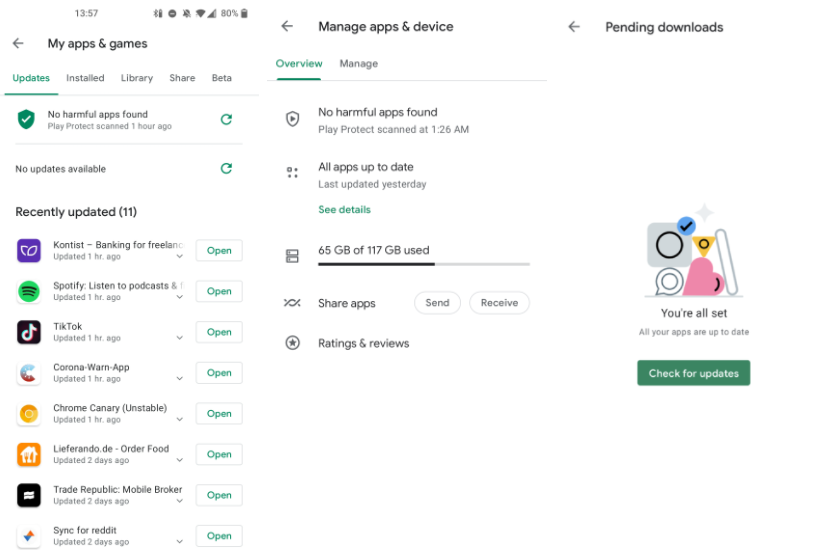 The new interface has lost most of the tabs available in the old interface, such as Updates, Installed, Library, Share, and Beta. There are only two sections left: Overview and Manage.
The Overview page lists just a few menu items and statistics about Play Protect, used storage, ratings and reviews, and app sharing options.
Now, instead of a list of updates, we see a small entry in the menu saying "All applications are updated". You can click the button and see the details.
There is also an image of the "Pending downloads" section, which you can see when you click on the "Application Updates" menu item. It seems that users will no longer be able to immediately check recently updated apps.
All updates work for the Reddit user in version 25.1.24-21. However, Android Police reports that no updates are reflected when downloading this version.
Apple news
App Store taxes and prices to change in Kenya, Nigeria, Peru, and Sweden
Apple has announced some changes to its pricing policy due to changes in country taxes and exchange rate fluctuations:
In Kenya, Apple is raising prices due to a new 16% value-added tax and is adding another 1.5% tax for foreign developers.
Nigeria has a new 7.5% tax that has forced Apple to raise prices.
In Peru, prices will be increased, and in Sweden, prices will be reduced due to exchange rate fluctuations.
Apple also warns that although prices in Ireland will remain unchanged: "proceeds will be adjusted to reflect the value-added tax rate reversion to 23% after a temporary decrease to 21%".
Developers can find more information on price increases in App Store Connect.
Details of the App Store app verification process have become known
Epic Games' lawsuit against Apple continues, which will reveal more details on Apple's inner workings. Tristan Kosmynka, one of the Apple executives, spoke about the application verification process and statistics in documents submitted to the court.
Each application submitted for publication is first analyzed statically and dynamically. This helps you understand if the developer is breaking App Store policies and using private APIs. It also checks how similar the application is to those previously published. This helps to avoid fraud and plagiarism.
In the next validation phase, the app is checked by people. Over 500 people work to validate about 100,000 applications every week. As shown in the images below, they have access to multiple Apple devices to test the apps.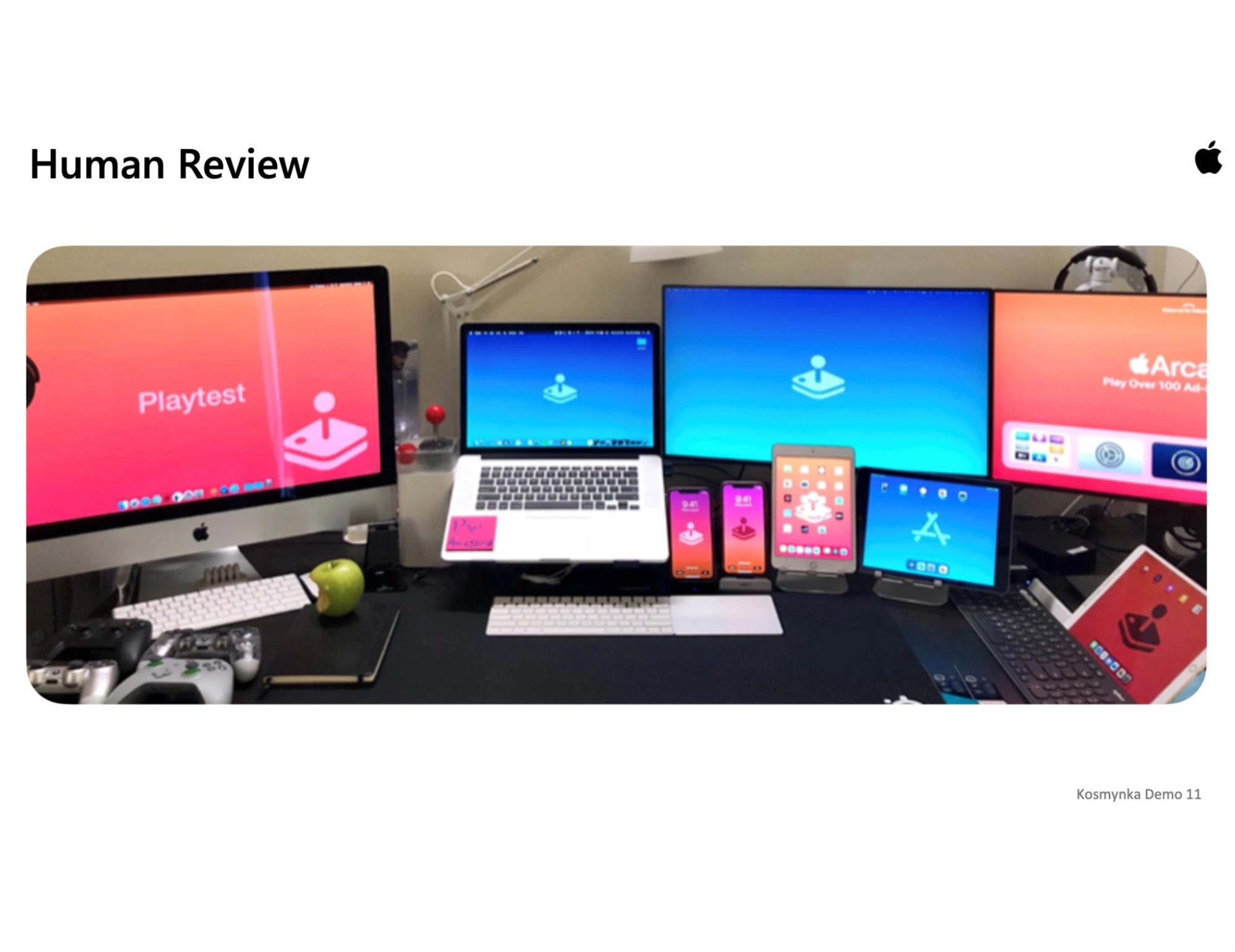 If the app is rejected, Apple will notify the developer of the reasons for the rejection. You can resubmit your application after fixing errors, or you can request an appeal against the rejection. However, according to Kosmynka, only 1% of developers choose to appeal a rejection.
Apple updates App Store Connect age rating settings
To make app content more accurate, Apple has refined its App Store Connect age rating settings. The "Gambling" and "Contests" settings are now split into two categories, which makes it possible to describe these types of content separately. Two age limits are also listed in the App Store.
You can now access your age rating settings from the App Information section of App Store Connect. Apps that offer universal purchases have the same age rating in the App Store across all platforms. You can make changes to the age rating settings when you submit a new version of the application; its availability in certain regions will be updated in accordance with local laws.
Apple releases WWDC 2021 schedule
Apple has confirmed its WWDC program. The event will start on June 7 at 8 pm Moscow time.
July 7, 10 am PDT — Apple Keynote
From this keynote, you will learn about updates that will be implemented on Apple platforms later this year.
June 7, 2 pm PDT — Platforms State of the Union
You will hear about new tools, technologies, and achievements on Apple platforms that will help developers create more efficient applications.
June 10, 2 pm PDT — Apple Design Awards
During this ceremony, the Apple Design Awards winners will be announced.
Engage with specialists
More than 200 sessions for developers will be held with speakers from 1000+ companies. Members of the Apple Developer Program can request one-on-one consultations with Apple experts, ask questions about the latest APIs and best practices, and apply for user interface and design reviews.
Special events
WWDC21 will feature special events to celebrate developers and bring the community together. For example, it will be possible to complete design and programming assignments.
Pavilions
You can find out useful information during sessions as well as participate in lab work, and discuss the materials on a given topic.
You can watch the event via Apple services such as Apple's official website, Apple TV, and the Apple Developer app as well as on the Apple WWDC YouTube channel.
ASOdesk news
ASOdesk is giving away 5 gifts to celebrate the company's 5th birthday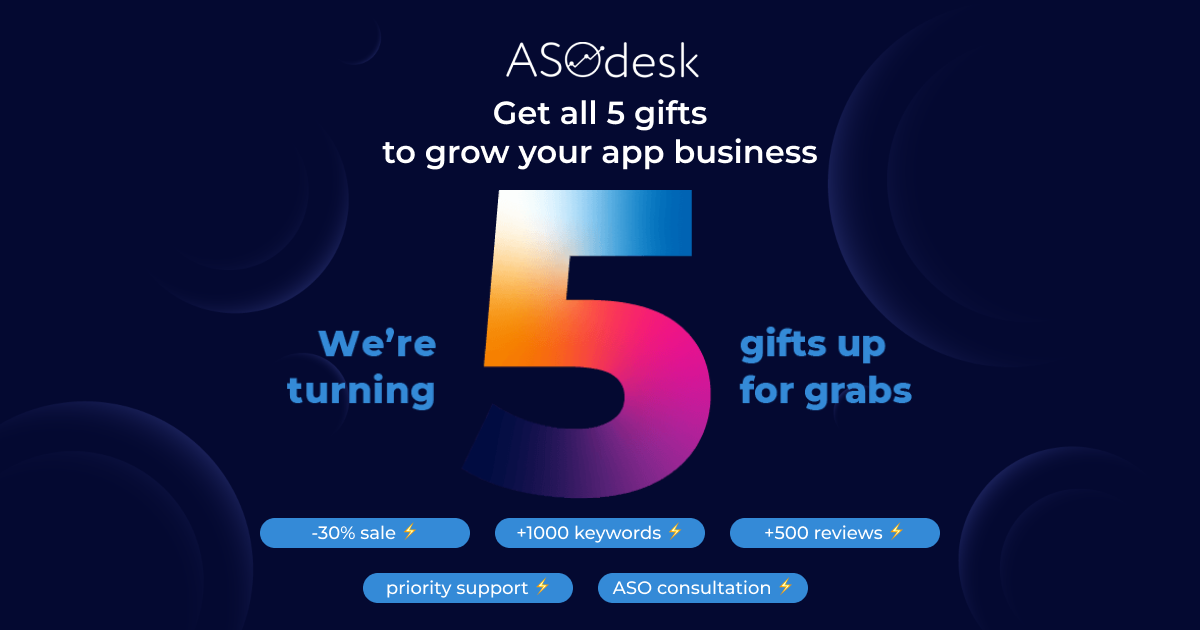 ASOdesk is celebrating its first anniversary — we are turning 5! At the moment, our platform helps develop the businesses of more than 40,000 developers around the world.
We want to thank everyone who uses ASOdesk, watches our webinars, and reads our blog. It is the feedback of ASO specialists, developers, and mobile marketers that helps us improve tools and create useful materials on ASO and mobile app marketing.
To celebrate our 5th anniversary, we have prepared 5 useful gifts for you:
1️. Discounts of up to 30% on all ASOdesk plans. 10% off when paying for 3 months, 20% off for 6 months, 30% off for 12 months.
2️. Up to 1000 keywords for app optimization. You can get +500 keywords for all Startup plans and +1000 for Business plans.
3️. Up to 500 extra replies to reviews. All users on the Startup plans can get another 300 answers, and the Business plan users can get +500.
4️. Priority support when paying for 1 year of any plan starting from Startup XL. Managers will be able to help with any questions you may have 24/7. We will reply in the messenger of your choice. What's more, our ASO experts will give you tips on ASO.
5️. Free consultation on ASO when paying for 1 year of any plan starting from Startup XL. An ASO expert will answer all questions and give recommendations for improving your app's ASO.
+ + Ensuring your satisfaction. If you know exactly what will help you promote your application, just write to us on the site. We would be happy to make you an exclusive gift that will be useful specifically for your business.
This promotion is valid until June 23. Find out all the details about the gifts.
Tools for analytics and replies to reviews are out of beta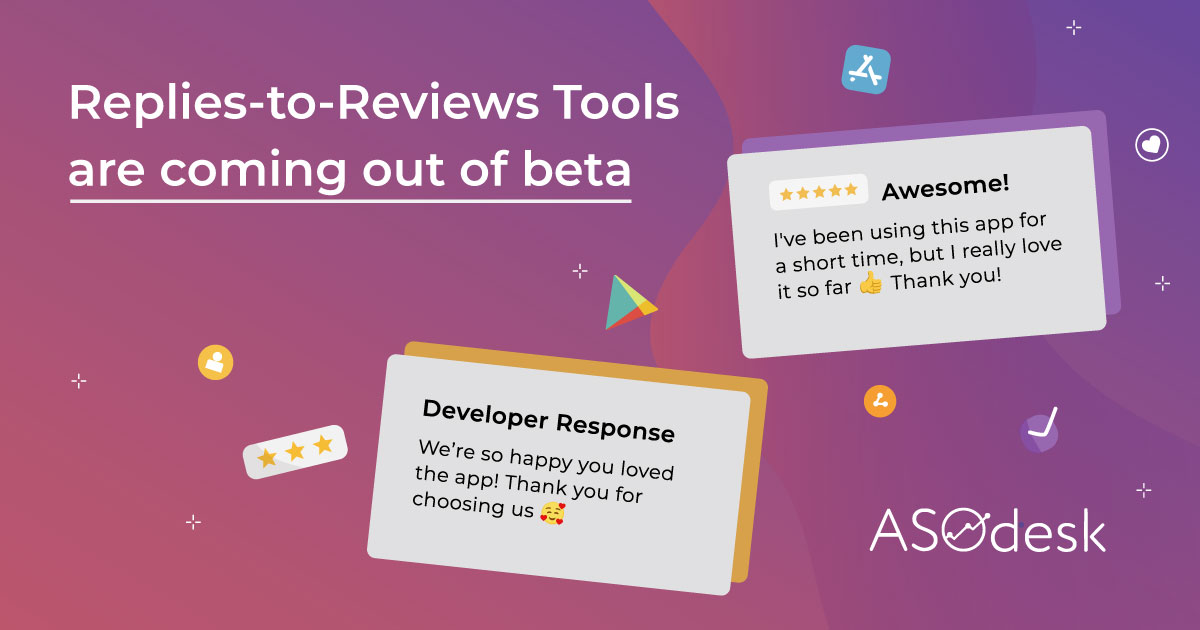 Beta testing of the tools for analytics and replies to reviews began six months ago.
Over this time:
1. 417 users tested the tools in the closed and open beta stages.
2. We received over 100 comments with feedback and looked into all your suggestions.
3. Now you can save filters, analyze deleted reviews and reviews by version of the app in Reviews Analysis, as well as a tool for analyzing the ratings of your application in different countries (Rating Analysis).
The tools are now available for all plans. Start using them in ASOdesk. Read our blog to never miss out on new useful features.
Start optimizing your app with ASOdesk
No credit card required
New features for quick analysis of reviews and traffic are now available in ASOdesk
We've added useful features for monitoring and analyzing reviews in ASOdesk.

1. Save filters in review tools.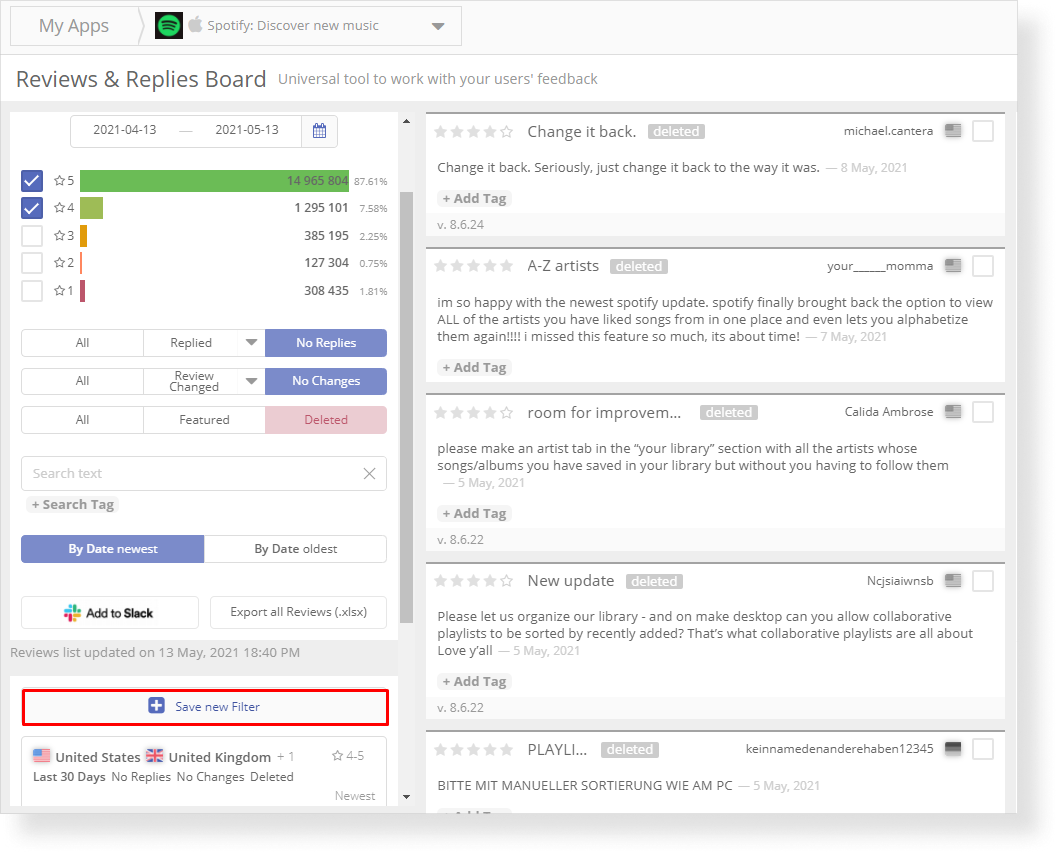 2. Analyze rankings and keyword competition with the new Favorite Keywords and Keywords Highlights tools.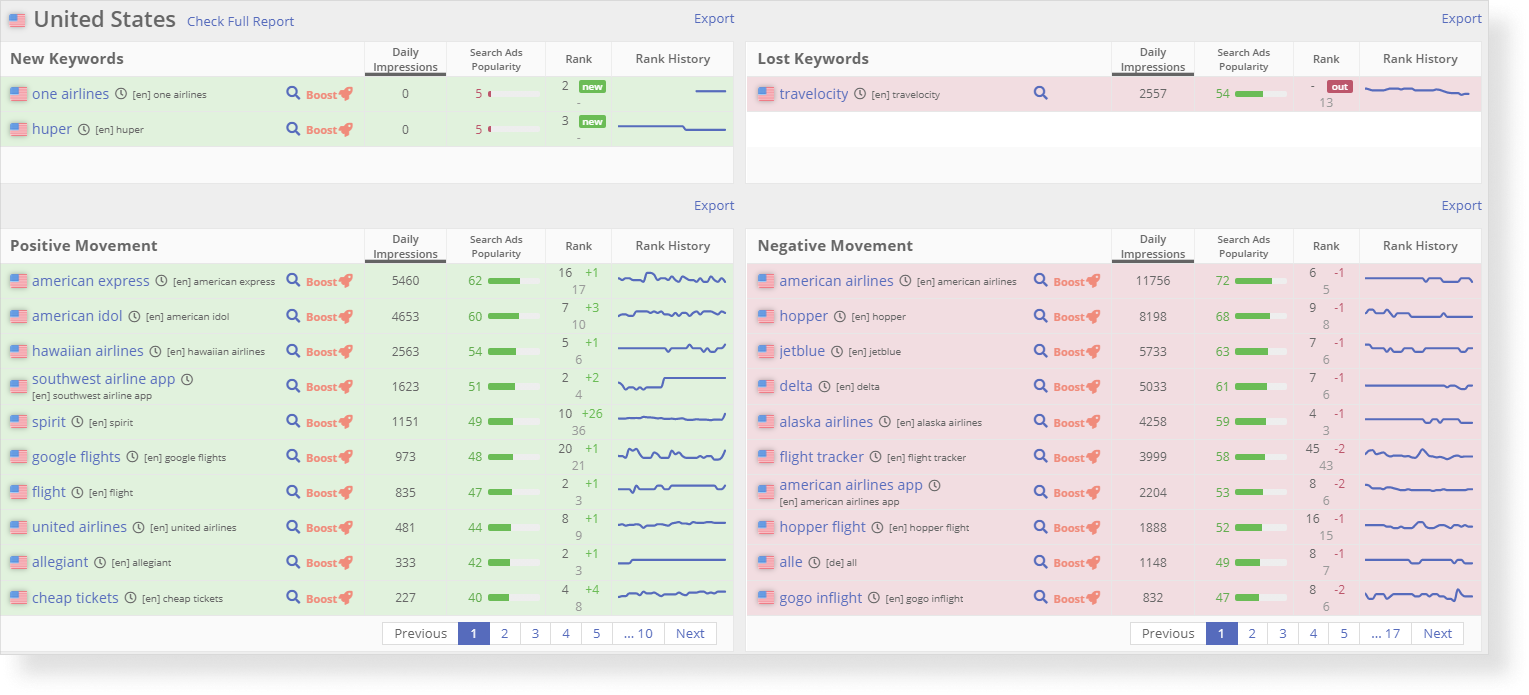 3. See the history of the query popularity in the Keywords Table.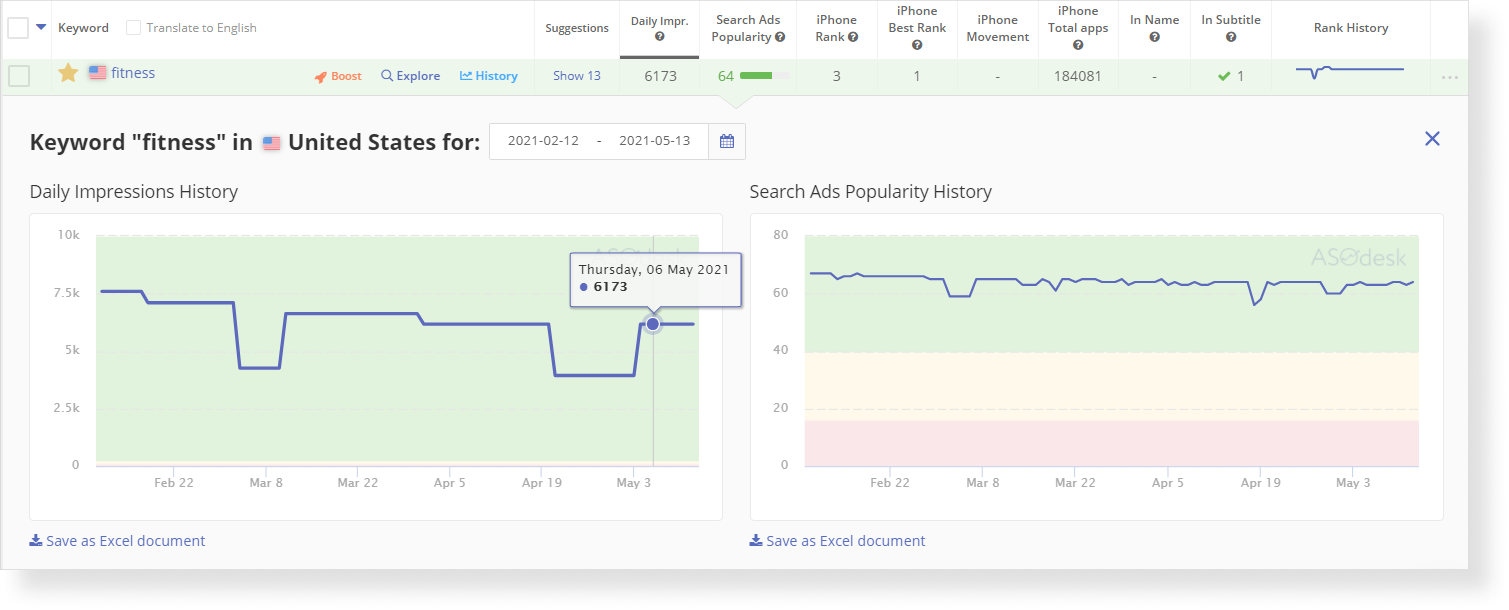 Read more about all the new features of the review tools in this ASOdesk article.