December ASO news: One Last Digest for 2020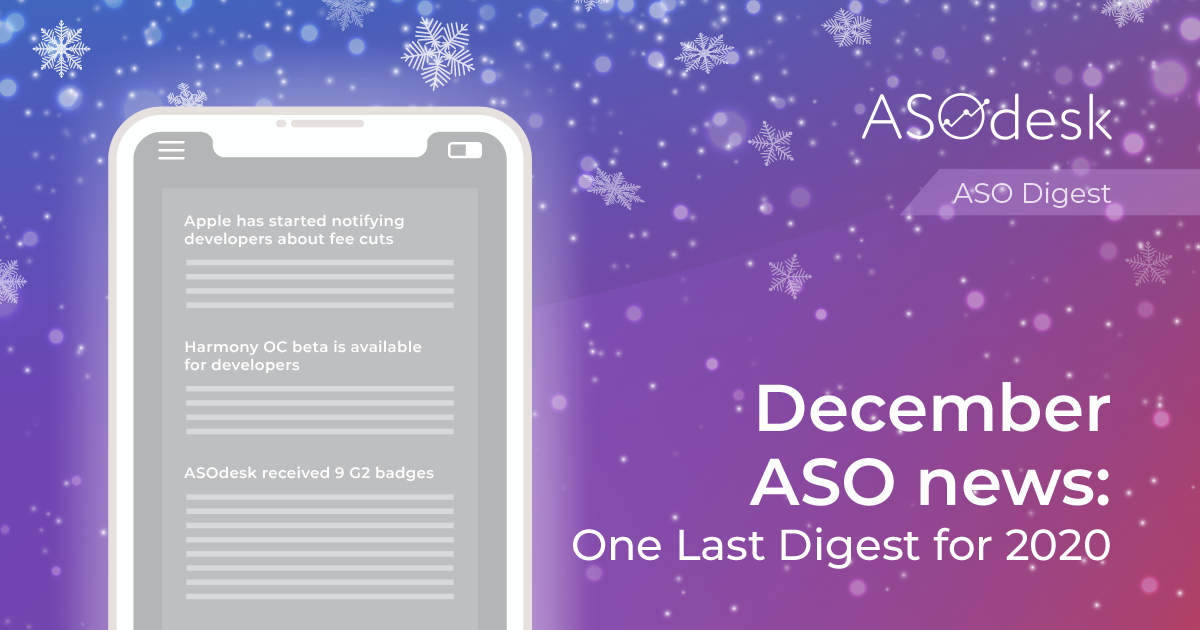 In the last digest of 2020, we have collected important news and updates from December that will affect ASO in 2021. Apple started notifying developers about fee cuts and once again became subject to Facebook criticism. Huawei released a beta version of Harmony OS. Google added new filters to Google Play. ASOdesk received 9 G2 badges and released a global system update.
Apple News
Apple has started notifying developers about fee cuts
In November, Apple announced that developers with less than $1 million a year would be able to pay 15% commission instead of 30%. The 30% commission will take effect if the developer passes the $1 million threshold.
Last week, Apple started notifying developers of the commission cut from January 1. You can read more about the program and apply here.
Taxes will be adjusted 15 days after the end of the fiscal month in which your application was approved. For example, if your application is approved on February 10, 2021, the tax will be reduced from March 14, 2021.
Program members are prohibited from transferring applications between accounts. If you initiate the application transfer or accept the transfer after December 31, you will no longer be able to participate in the program.
In iOS 14 users can now share their subscriptions and purchases with their family members
Apple users used to share apps through the Apple Family Sharing feature; now in-app purchases can also be sent to family members. The App Store subscription section has a Share New Subscriptions feature that is enabled automatically. The new feature is available in the current version of the operating system.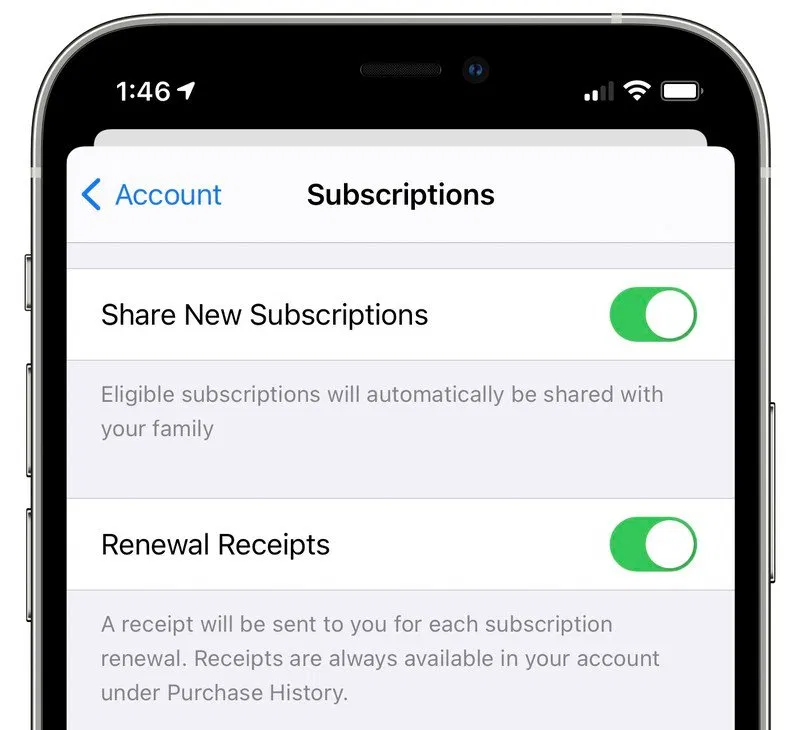 New version of iOS 14.3 has been released with Apple Clip Codes and data tags
Apple released iOS 14.3 on December 14. The new version has a few features that app developers should take into account:
App privacy labels. On each app's page, users can learn about the data that the app can collect and whether that data is used to track them.
Apple Clip Codes offer the ability to use mini apps via QR codes. Codes are generated in App Store Connect or using the new App Clip Code Generator command line.
Apple Fitness+ service with online workouts for US users. Perhaps this will reduce the demand for fitness apps among App Store users.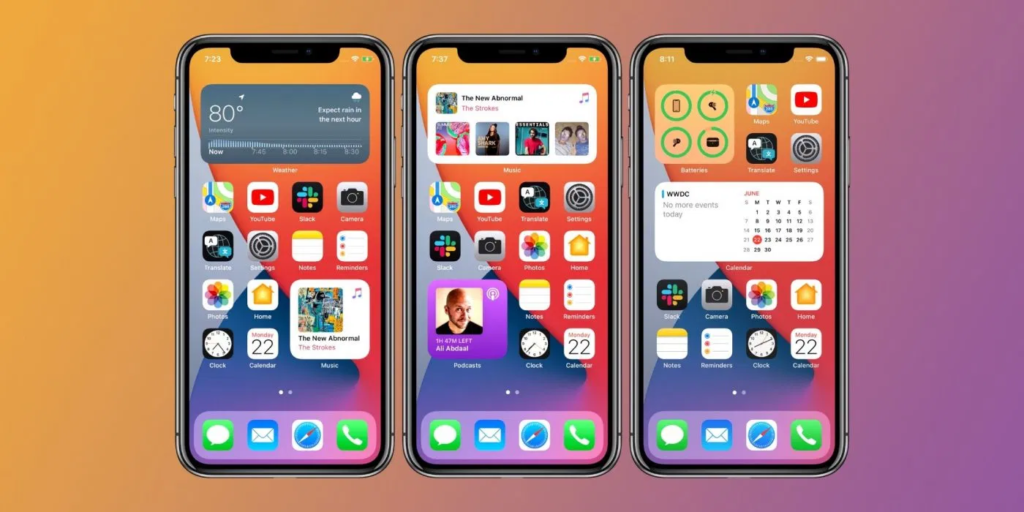 Apple will remove apps that track user data without permission
Since December 8, on the App Store application page, developers are required to indicate the data that they will collect from users when the application is launched. Read more about the privacy policy and data collection procedure here. From the next update in 2021, app developers will also have to request access to users' IDFAs through a pop-up window when users log into the app.
Apple Senior Vice President Craig Federighi stated that, starting from 2021, apps that do not meet the requirements of ATT (App Tracking Transparency) will be removed from Apple. Each application is required to request access to personal data and publish privacy labels on the application page.
Privacy labels must contain the following types of data: "data used to track you", "data linked to you" and "data not linked to you". The first category includes device location data that developers can share with third parties. The second category includes any information that tracks a user. The third category includes the information which the user cannot be identified with.
Tracking policy changes will make it even more difficult to customize ads
Setting up targeted ads by e-mail addresses and creating look-a-like audiences will be difficult. Additional specifications have been added to the "Tracking" section of the App Store privacy policy. Without users' permission, developers cannot:
Show targeted in-app ads based on user data collected from apps and websites owned by other companies.
Provide device location data or email lists to data brokers.
Share lists of email addresses, advertising IDs, or other identifiers with a third-party ad network that uses this information for retargeting those users in third-party apps or finding similar users.
Place third-party SDKs in your app that combine user data from different apps. Targeted ads displays and tracking their performance is prohibited.
Facebook started an information war against Apple's privacy policy
Facebook believes Apple's new restrictions will inflict casualties on small businesses, as non-personalized ads generate 60% fewer sales.
The company bought front pages of leading newspapers such as The New York Times, The Wall Street Journal, and The Washington Post, to criticize Apple's policies. The materials were published under the headline "We're standing up to Apple for small businesses everywhere".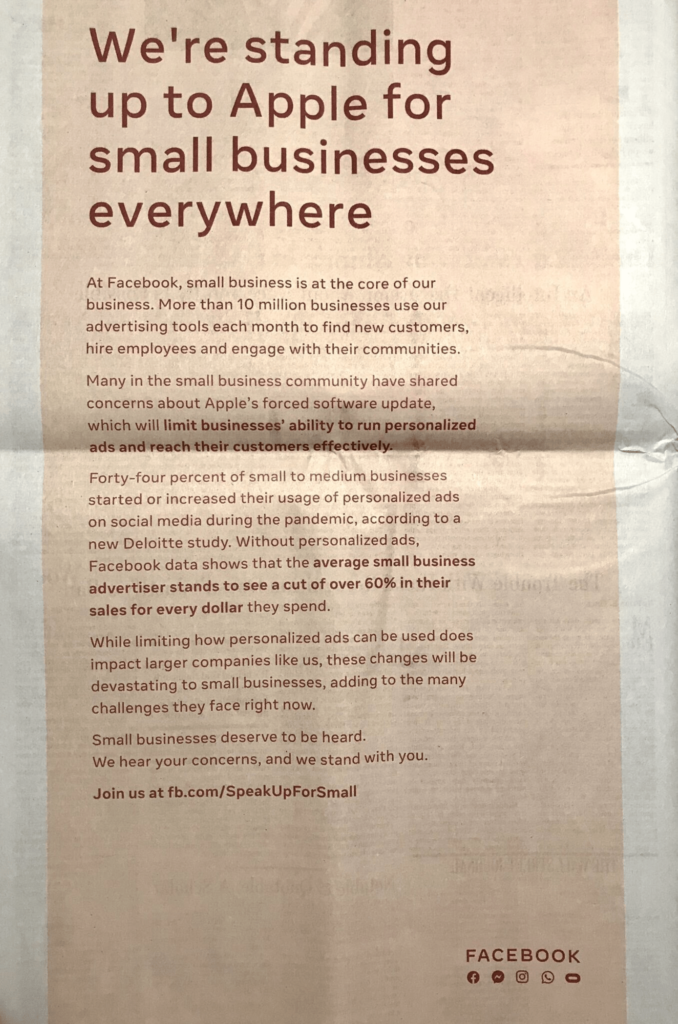 It is possible that Facebook pressure will affect Apple and they will ease the privacy policy restrictions for developers. So far, in response to Facebook's criticism, Apple accuses the company of "disregard for user privacy".
WhatsApp (the messenger that is owned by Facebook) also considers Apple's behavior to be anti-competitive due to new privacy labels. WhatsApp executives note that Apple's iMessage is pre-installed on devices and is not placed on the App Store. This violates privacy policy as users will not see what data iMessage collects.
Apple removes apps from Chinese App Store
Back in the summer, at the request of the Chinese government, Apple started removing unlicensed apps from the App Store. Now The Wall Street Journal says that Apple will continue to remove apps and games from the Chinese App Store.
The PRC government obliges developers to pre-certify the software before it is published on the App Store. "Developers of premium games and those with in-app purchases must provide us with a government license to publish software in China by December 31," Apple states.
On December 24, The Wall Street Journal reported that more than 100 apps have been removed from the App Store at the request of the Chinese government. Including the popular travel app, TripAdvisor.
The new EU payment directive will start working from December 31
From December 31, the payment authentication policy will come into effect in Europe. Apple notes that this payment directive will enhance security of online payments. App Store users will automatically be redirected to their bank page to confirm their payment, and then redirected back to the purchase page.
Apple advises developers to prepare for this change using following steps:
Make sure your app can process aborted transactions correctly through StoreKit. Create a transaction observer that will react to new payments and synchronize the expected payments with Apple.
Test aborted transaction scenarios in sandbox for a specific Sandbox Apple ID.
Verify that the correct country code is being used for Apple Pay payments. The app should show the final purchase price, not the estimated purchase price.
Huawei News
Harmony OS beta is available for developers
Huawei says goodbye to Android and launches its own software, Harmony OS. The company is recruiting developers to test the first beta of Harmony.
Harmony OS 2.0 can be used by Huawei P40, P40 Pro, Mate 30 and Mate 30 Pro models, as well as MatePad Pro devices.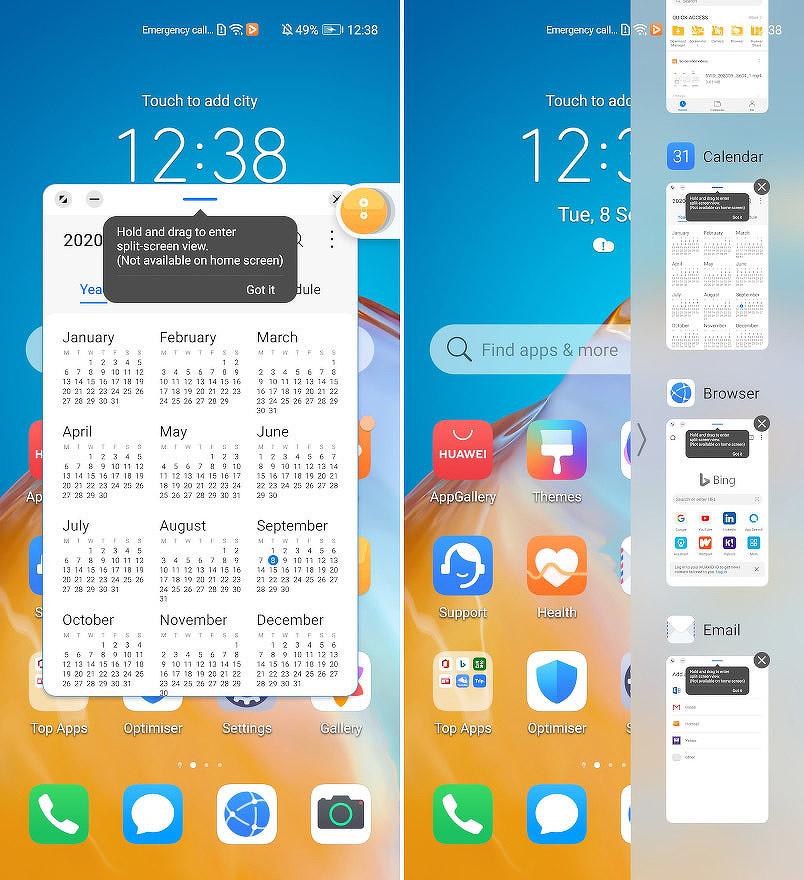 You can test the new OS using Huawei DevEco Studio IDE simulator (version 2.0 Beta 3) from the Harmony OS official website. If your smartphone supports Harmony OS, you can also simply register and upgrade to it. When the registration is approved, you will receive an invitation from Huawei and instructions for installing the software.
Harmony OS is still unstable and can only be used by developers starting out on the Harmony platform. Make sure to back up your data before proceeding. It is possible to downgrade to the official EMUI 11, based on Android, during which all user data may be deleted.
Google News
New filters appeared in Google Play search
Thanks to ASOdesk fetchers our specialists noticed the mass implementation of application filters in search results of Google Play.
Applications can be filtered by the following parameters:
Ratings higher than 4 or 4.5.
Paid apps.
New apps
Featured apps
Play Pass apps.
The number of filters depends on the search query. Highly rated apps get a greater advantage over their less rated competitors. The platform also supports new applications.
Google Play also promotes paid apps, which are funded by the company, as well as featured apps and Google Play Pass games, which is a subscription-based gaming service.
ASOdesk News
ASOdesk is a recognized IT service! We received 13 ratings and 9 G2 badges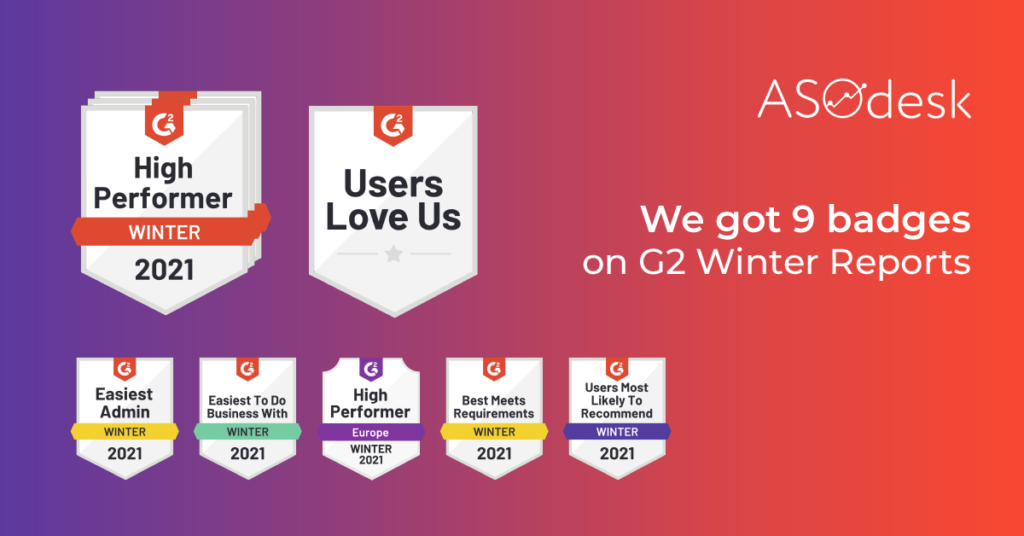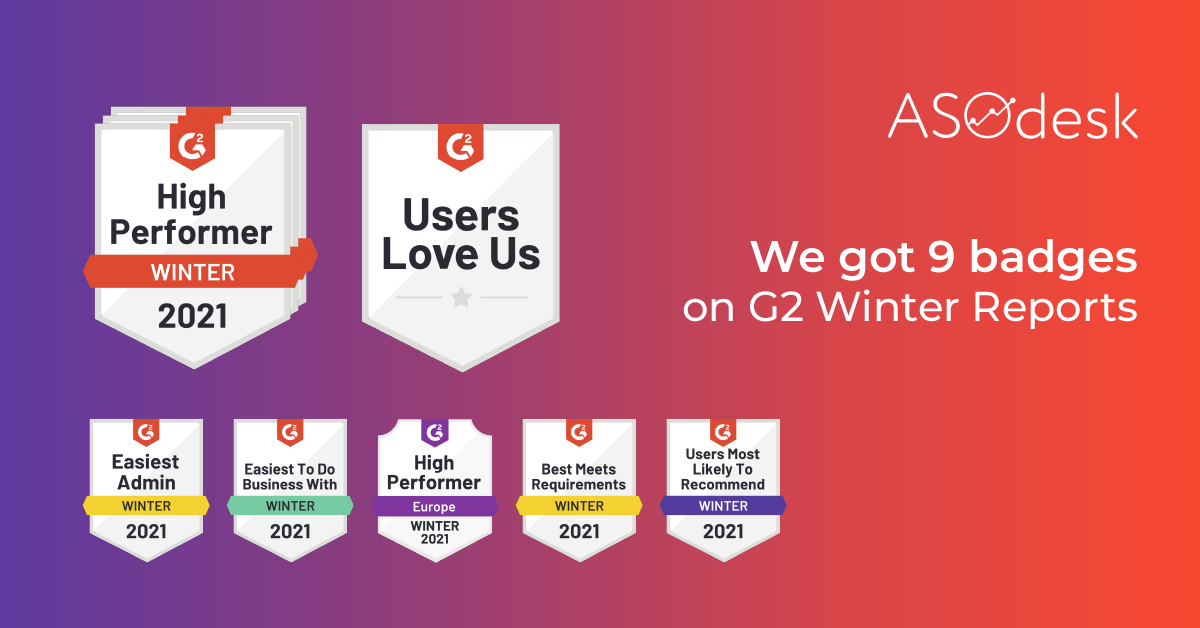 This winter we received thirteen G2 ratings in three main categories, and were awarded nine badges.
G2 is a highly reputed platform that surveys online business services. G2 analyzes customer satisfaction and brand presence in the market using 15 metrics. Based on this data, G2 researchers rank and award the best in the industry.
For an IT service, getting a G2 badge is like winning a Grammy! Read more about our awards.
We are most proud of the Users Love Us badge. It is awarded for customer reviews above 4 points. The average score of ASOdesk is 4.7 out of 5. Read reviews about us on the G2 website.
We would like to say thanks a lot to all our users! Our achievements are the success of all our users and ASOdesk team. Your comments and suggestions help us to get better.
We recently introduced a global update to the ASOdesk platform and new tools for working with reviews
A significant event in the history of ASOdesk development: we have updated the system interface and added new tools for working with reviews in the App Store and Google Play.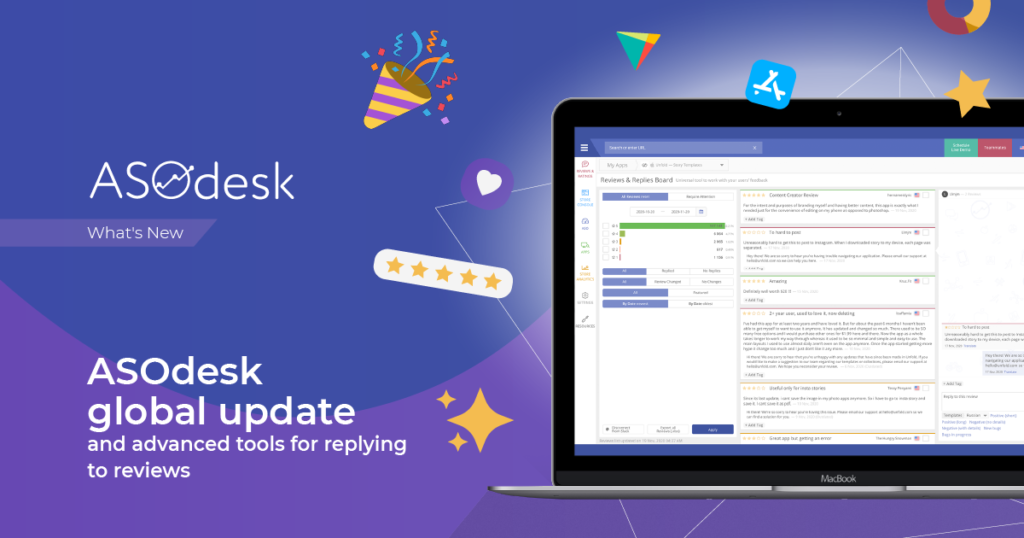 In 4 years we have created more than 30 professional tools for ASO specialists. To enhance the capabilities of the system and make it useful — not only for ASO specialists, but for all types of users, such as marketers, product managers, and support specialists — we needed to review the product completely.
And now we are ready to introduce you to a brand new ASOdesk with faster system performance, improved navigation, and tools for working with reviews.
Professional tools allow you to:
Respond to reviews with pre-built templates.
Work with all applications from the App Store and Google Play in one interface.
Use filters and tags to sort reviews.
Submit complaints.
Receive regular reports.
Track reviews from 100 countries.
This way, you can save your technical support department time and increase customer loyalty.
Apply to connect to beta testing of the updated ASOdesk and get unlimited access to all tools, with no limit on replies to reviews.
Upon expiration of beta testing, we will provide all participants with a personalized plan that will be much more affordable than the standard rates.
We wish you a Happy New Year! We believe you will be able to achieve all your goals in 2021. Dream, do not be afraid, go for it, and everything will surely work out for you. Thank you for being with ASOdesk in 2020. We hope that in 2021 our system will help your mobile business develop even more. We will do our best to teach you the intricacies of mobile marketing through our articles, posts, and videos.