ASO news for February 2023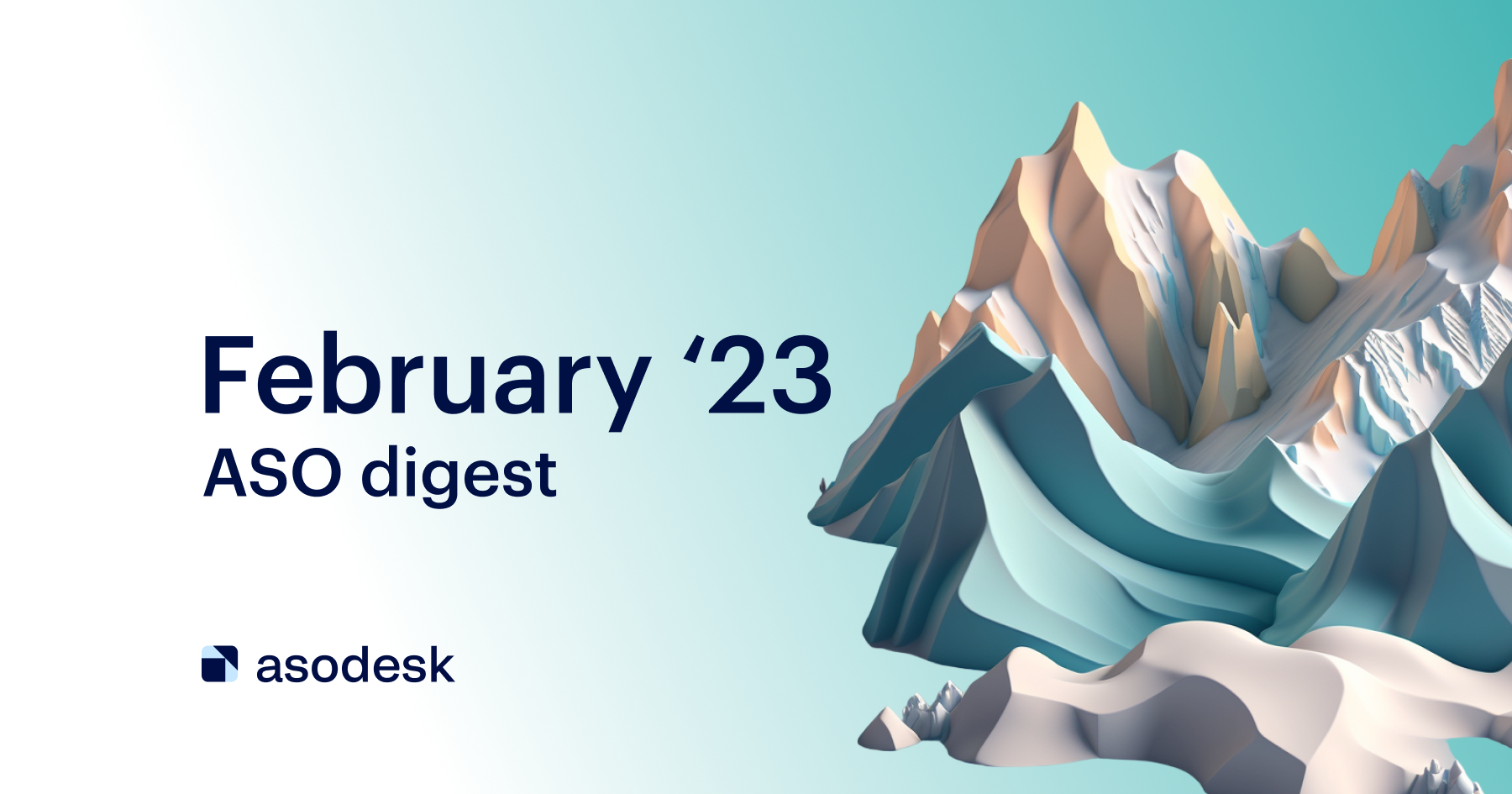 Google started beta-testing of Privacy Sandbox in Google Play. Apple added peer group benchmarks in App Analytics. Asodesk introduced Keyword Explorer 2.0 with 9 new features. Read the latest App Store Optimization news from the App Store, Google Play, and Asodesk in our February digest.
Contents
1. Google started beta-testing of Privacy Sandbox
2. Google will soon support third-party payment systems in India
3. Google unified app sign-ins with Credential Manager API
4. Google improved Chrome in Android apps
5. Mozilla's study has shown that data privacy labels for most popular apps on Google Play are incorrect
6. Apple added peer group benchmarks in App Analytics
7. Apple is holding sessions with App Store experts
8. Asodesk introduced Keyword Explorer 2.0 with 9 new features
9. Asodesk now offers a 14-day trial
Google Play news
Google started beta-testing of Privacy Sandbox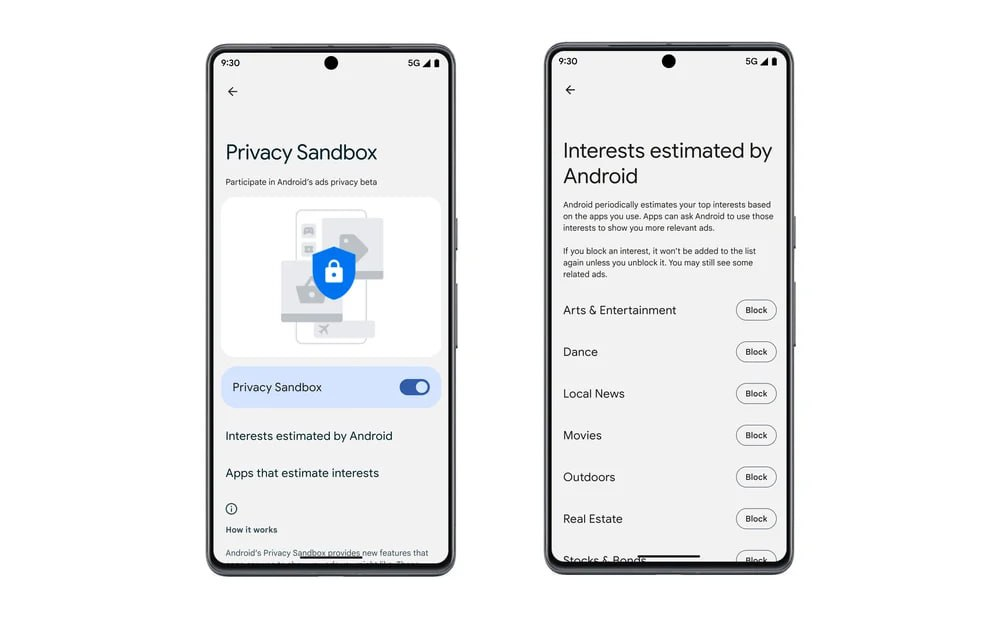 The Privacy Sandbox for Android was announced in February 2022. It is a long-term endeavor that aims to safeguard user privacy in ad distribution using the Topics API and FLEDGE. Its objective is to make user privacy the default priority while also sustaining the mobile industry that relies on ads to fund free and ad-supported applications. The first beta version is now available on a limited number of Android 13 devices.
Google will ask Android users in the European Economic Area, Switzerland, and the UK to participate in the program voluntarily. In other parts of the world, users are being enrolled in the program by default, which means they have to manually opt-out if they choose not to participate.
There is no option to register manually for the beta testing. Even if you have a Google Pixel smartphone running Android 13, there is no way to guarantee that you will be able to play in the Privacy Sandbox yet. If you are a developer, you will have to resort to the latest developer preview.
Users who receive an invitation can manage their participation in the beta testing by accessing the "Privacy Sandbox" section in their smartphone settings. From this menu, users can view and regulate the "interests" that apps use to display targeted ads. They can also block specific topics that do not align with their interests. Furthermore, users have the flexibility to enable or disable the beta version as per their preference.
Read the instructions on how to participate in the Beta testing.
Google will soon support third-party payment systems in India
Google will start supporting a third-party billing system for Google Store purchases in India from April 26. If a developer wants to use an alternative billing system for their apps in India on or after April 26, 2023, they should comply with all the requirements in the Payments policy from the date of their offering.
Following a $161 million penalty imposed by the Indian Antitrust Commission last year, Google was forced to comply with Indian law and start supporting third-party payment systems for the Google Play Store.
Google claims that commission for third-party payment systems will be lowered by 4%. Read how to integrate an alternative billing system into your app.
Google unified app sign-ins with Credential Manager API
The new Credential Manager Jetpack API for Android makes it easier to develop logins for apps. It supports multiple login methods, including usernames and passwords, and federated login solutions, allowing developers to easily integrate it into their applications.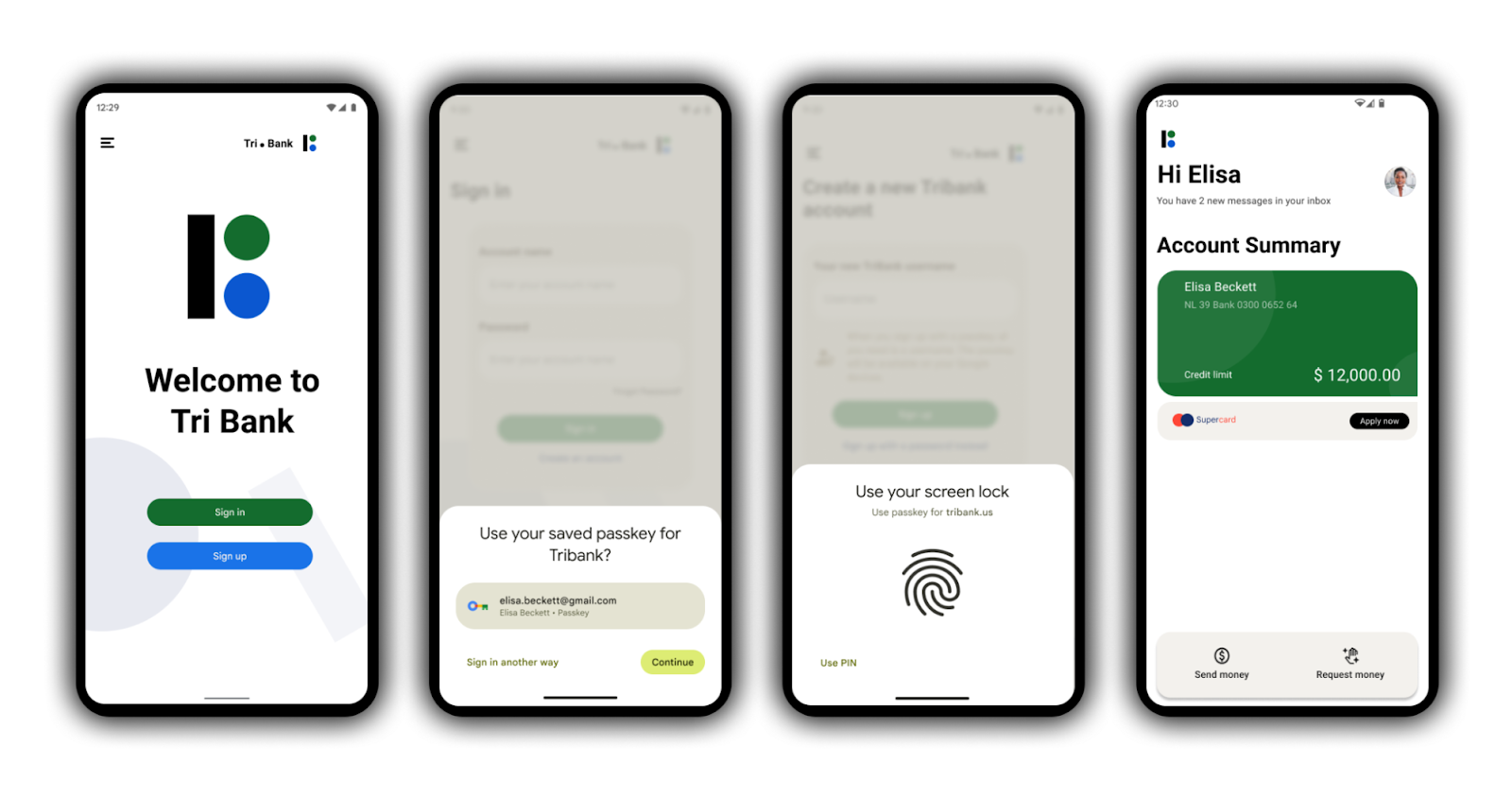 According to Google, users face multiple login methods, many of which are parallel when users are attempting to log in to the same account. With Credential Manager, all available log in methods are consolidated into a single list by deduplicating entries for the same account. This feature enables users to select an account without requiring them to possess a fundamental understanding of the sign-in technology.
The Credential Manager API also supports passkeys — the new industry standard for passwordless authentication that is more secure than using a username and password to sign in to applications.
It will allow users to generate app passkeys and store them on Google Password Manager. Saved passwords will sync across all devices that are signed into the same Google account. Learn how to use Credential Manager in the Android Developer guide.
Google improved Chrome in Android apps
When integrating a web experience into an Android app, simply launching a browser prompts users to exit the app, potentially losing their current session. Google announced two new features which allow developers maximize their use of Google Search.
Multi-tasking between apps and web pages
Developers can now customize browser tab height in pixels for a partial overlay with Partial Custom Tabs. This will allow users to interact with your native app and the web simultaneously.
Partial Custom Tabs is currently supported by Chrome and a growing collection of other browsers. Users whose browser does not support partial user tabs will simply see a supported full-screen Custom Tab.
Giving users the best Chrome experience
Chrome Custom Tabs offer app users a swift, secure, and user-friendly approach to browsing the web. Users are assured that when they access the web from the app, it will "run in Chrome," allowing them to utilize their preferred Chrome features such as saved passwords and autofill.
To add this web feature to your Android app using Custom Tabs, read more on developer.chrome.com.
Mozilla's study has shown that data privacy labels for most popular apps on Google Play are incorrectfalse
Mozilla compared the privacy labels of the 20 most popular paid apps and free apps and found several interesting facts:
1. Nearly 80% of apps had some inconsistencies between the apps' privacy policies and the information that developers of these apps reported on the Google Data Safety form.
2. 16 out of 40 apps (40%) get a "Poor" rating, including Minecraft, Twitter, and Facebook. These apps had significant discrepancies in privacy labels with the data they transmitted or collected and the purposes for which the data was transmitted or collected. For example, TikTok and Twitter apps' privacy policies expressly state that they share user information with advertisers, ISPs, platforms, and other companies, while their privacy labels say the opposite.
3. Only 6 out of 40 apps, (15%) were rated "OK", meaning they had a privacy policy closely related to what they indicated on the data security form. These apps include Candy Crush Saga, Google Play Games, Subway Surfers, Stickman Legends Offline Games, Power Amp Full Version Unlocker, and League of Stickman: 2020 Ninja.
4. 15 apps, (37.5%) received an average rating of "Needs Improvement", including YouTube, Google Maps, Gmail, WhatsApp Messenger, and Instagram. These apps have discrepancies between the privacy policies and the Data Safety Form.
5. 3 applications didn't fill out their Data Safety Form. These apps include UC Browser — Safe, Fast, Private, League of Stickman Best Acti, and Terraria.
The researchers concluded that the system does not help consumers make more informed choices about their privacy before purchasing or downloading one of the 2.7 million apps on Google Play.
Mozilla suggests that Google and Apple adopt a uniform, standardized method of data protection on their respective platforms. Additionally, Mozilla urges Google to broaden and clarify its efforts regarding non-compliant apps and to accept some accountability for verifying the accuracy of the data provided by apps.
Apple news
Apple added peer group benchmarks in App Analytics
Starting from March 1, developers can use peer group benchmarks to compare your app's performance to similar apps in the App Store. Peer group benchmarks offer precise, pertinent, and privacy-conscious comparisons for apps in various categories, business models, and download volumes. This will aid developers in acquiring more insights to enhance their app growth.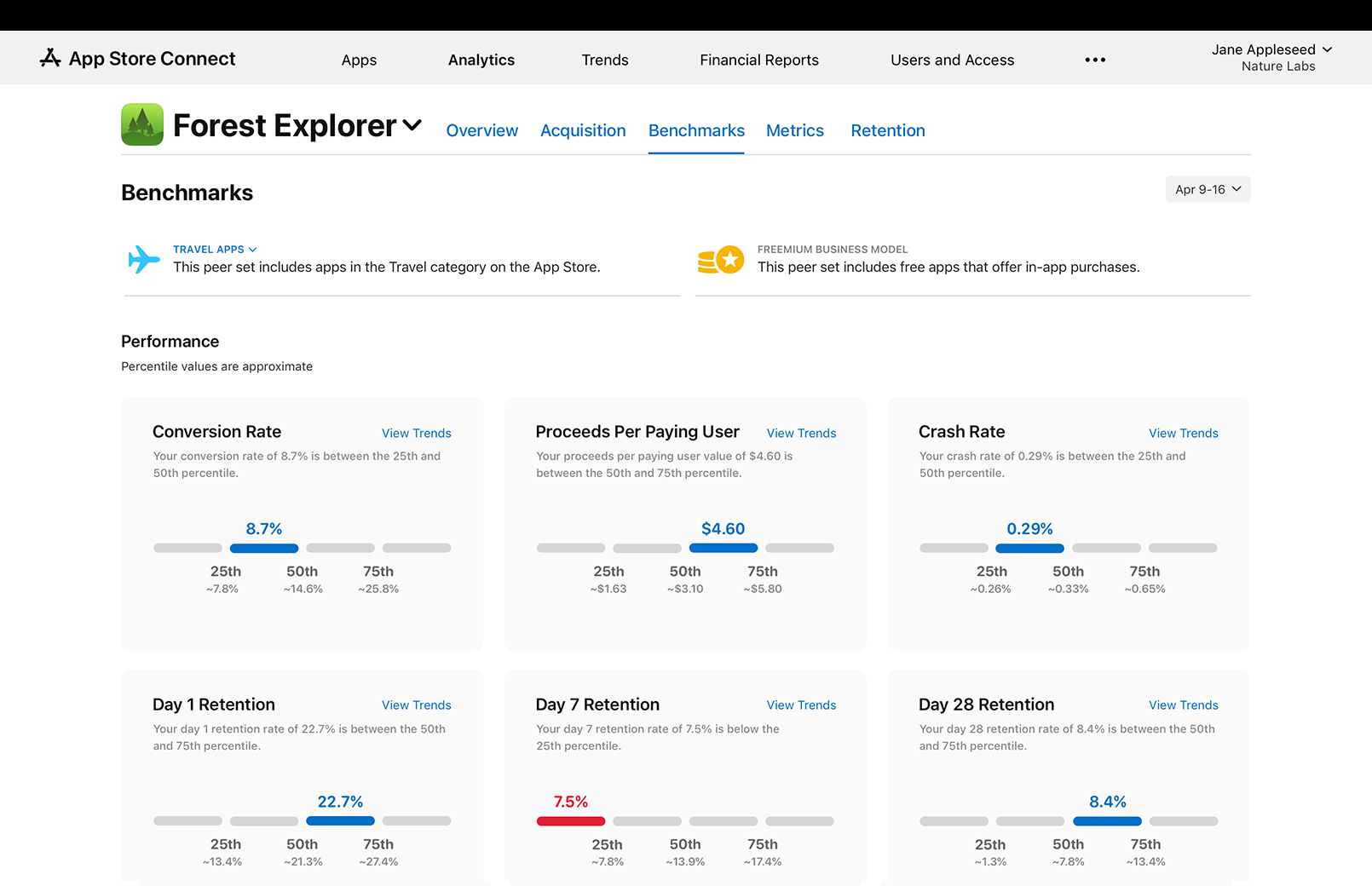 Developers have the ability to measure their app's performance against comparable apps using multiple vital metrics such as conversion rate, day 1, day 7, and day 28 retention rate, crash rate, and average proceeds per paying user. This helps in understanding the app's performance throughout the customer journey.
Apps are divided into peer groups according to several parameters:
App Store category. Developers can see benchmarks for each app category they belong to.
App Store business model: free, freemium, paid, paymium, and subscriptions. For an app to be categorized as utilizing the subscription business model, it must generate at least 50% of its revenue from auto-renewable subscriptions, irrespective of whether the app is free or paid.
App Store download volume: low download volume, medium download volume, and high download volume peer groups. To choose the right download volume, Apple counts first-time downloads and re-downloads.
This categorization helps to ensure that you can compare your app performance based on the most relevant benchmarks. Read more about new peer group benchmarks in Developer Apple Blog. 
You can also check competitors' CVR with the free CVR Benchmark tool in Asodesk, which analyzes the conversion rate for apps and games in 100 countries around the world across all traffic sources on the App Store.
Apple is holding sessions with App Store experts
Apple is holding online sessions with experts from February 28 until April 13. Developers can ask questions, learn more about new App Store features and get tips on promoting their apps. The sessions will help developers to:
Understand and improve User Acquisition better using App Analytics.
Improve the discovery of your app with the help of a product page, promotion in the search, referral traffic, and other promotional features.
Use the Game Center to boost discovery and engagement.
Learn subscriber acquisition strategies.
Use in-app events for app growth.
Get started with Product Page Optimization and implement the best strategies accordingly.
Create Customer Product Pages and maximize their effectiveness.
View the itinerary and register for the sessions that appeal to you here.
Asodesk news
Asodesk introduced Keyword Explorer 2.0 with 9 new features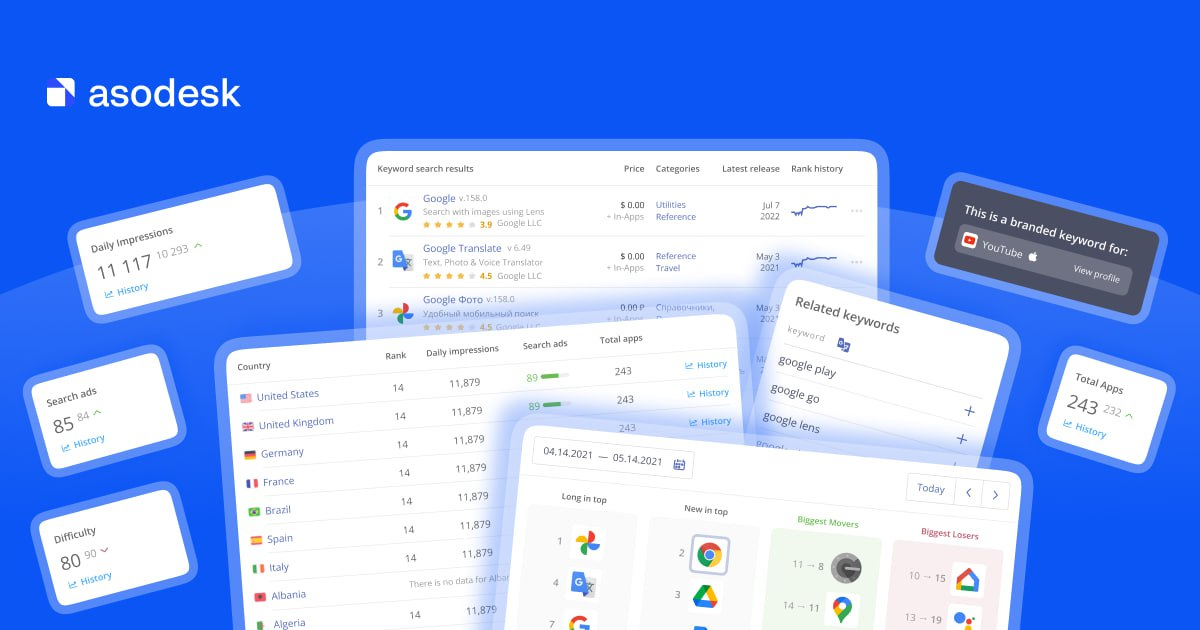 Keyword Explorer allows specialists to analyze App Store and Google Play search results. In February we updated this tool and introduced 9 new features, making your work faster and more efficient. Asodesk users will now be able to:
1. Analyze the history of Daily Impressions, Total Apps, Search Ads Popularity, and Difficulty.
2. Look through the search history of queries you have used in the tool.
3. Automatically translate your queries into English.
4. Learn which queries are branded for a competitor's app.
5. Estimate the average number of installs from a query.
6. Monitor changes in apps' positions for queries.
7. Check metrics for all countries in one table.
8. Track the dynamics of positions per day.
9. Compare App Store and Google Play search results on one screen.
Read more about the new features of the tool in our article.
Try Keyword Explorer for your app.
Asodesk now offers a 14-day trial
You can now test professional Asodesk tools for free for 14 days! We have extended our trial from 7 to 14 days.
Register on the platform to try Asodesk for free. Choose Pro and Guru plans and start a trial immediately. Power, Ultimate, and Enterprise plans are available after a free discovery call with our manager.
Subscribe to our newsletter to get digests with App Store Optimization news, as well as useful articles on ASO, mobile marketing, and working with reviews.