How to optimize your Android app description for Google with Natural Language
Artiom Tkachuk
art@asodesk.com
ASOdesk Expert & ASO manager at Onde.app, platforms for creating branded taxi applications and other on-demand services. Over 200 applications in 75 countries. The number of active users is more than 1.3 million people. Artiom has been engaged in ASO for 2 years, he is an ASOdesk blog columnist, and a speaker at different conferences.
All articles by author
Published: 16.12.2021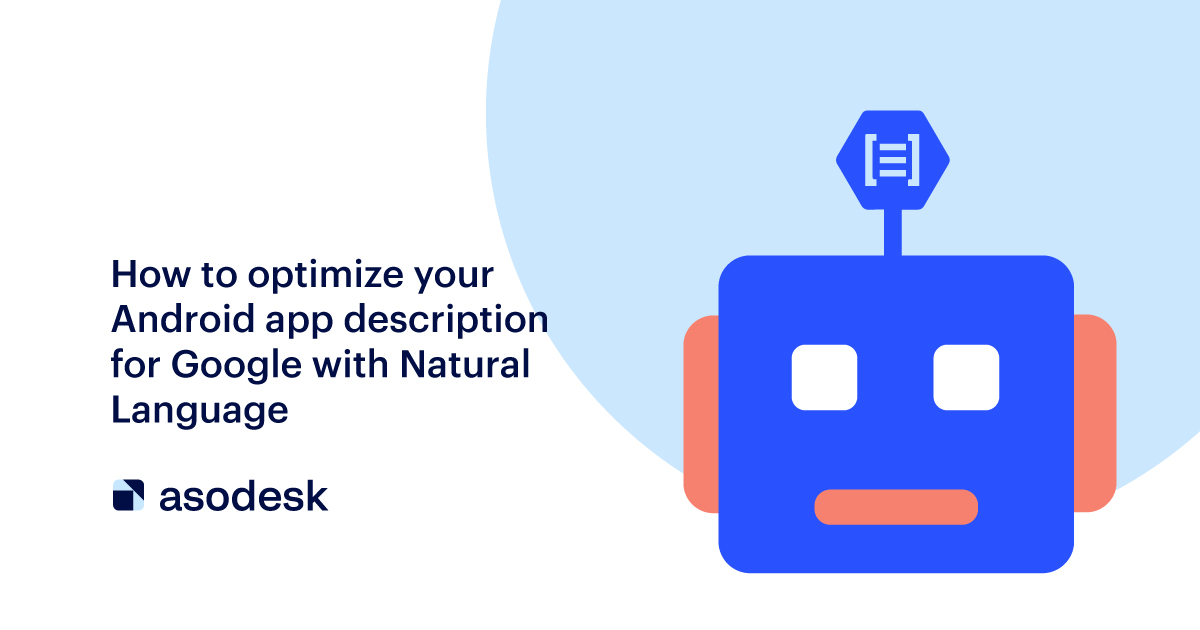 For Google Play to categorize your app and promote it in Similar Apps, you need to use Google Cloud Natural Language. Learn how you can use this tool to create an effective description that will improve your app's ranking.
An ASO specialist can create a good app description with the right keywords, which is great for users, but not for Google's algorithm. In order for the algorithm to categorize your app and show it in your competitors' Similar Apps, it is important to use Google Cloud Natural Language. This tool will help you understand how Google's algorithm ranks your description and how to make it more effective for promotion.
In this article, I will explain why you need Google Cloud Natural Language, how to use this tool correctly, and what to pay attention to when preparing a description. This article is based on a lecture from the Asodesk Academy. 
What Google Cloud Natural Language is and why ASO specialists need it
Google Cloud Natural Language (GNL) is an official Google tool that helps uncover the structure and meaning of a text using machine learning. This technology is also used by Google Search and Google Assistant. GNL was designed to process large amounts of text and categorize it. The tool can highlight the most important words in a text and determine an app's sentiment (positive, negative, or neutral). 
You can try the demo version of the tool or get the full version. When sending up to 5,000 requests per month, you can use the tool for free. 
An ASO specialist needs to use GNL as its metrics can influence Google Play algorithms. GNL understands the meaning of the text from the first sentence. This is especially important for Explore installs, as it helps determine the app's relevance to a specific category. The better Google Cloud Natural Language can categorize your app, the more efficiently your app can be promoted on Google Play.
How to use Google Cloud Natural Language for ASO
Before getting started with Google Natural Language, it is important to collect a good semantic core with a lot of keywords. You should insert more keywords at the beginning and end of the description. Repeat keywords 3–5 times.
When collecting a semantic core for Google Play, you need to rely on suggestions from ASO tools, common sense, Google search suggestions, your competitors' descriptions, Google Ads, as well as keywords in reviews and Google images. For more information on how to collect keywords for the semantic core and prepare text metadata, read this article.
Let's analyze all the GNL indicators and see which of them are important and which are not for an ASO specialist.
Entities
Entities are unique objects and common nouns: people, places, events, and works of art. GNL assigns important words in the text to one of the object categories or the category "other". Entities include not only words but also phrases.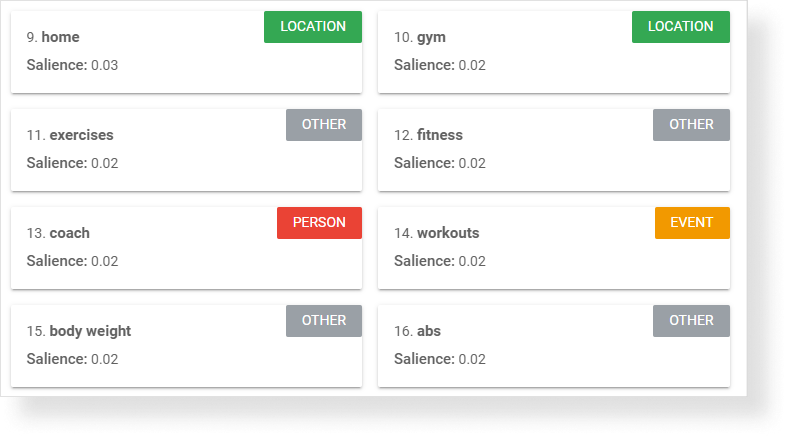 Entities has a Salience metric that demonstrates the meaning of a word for the text as a whole. Using it, you can find out how strongly the word affects the description.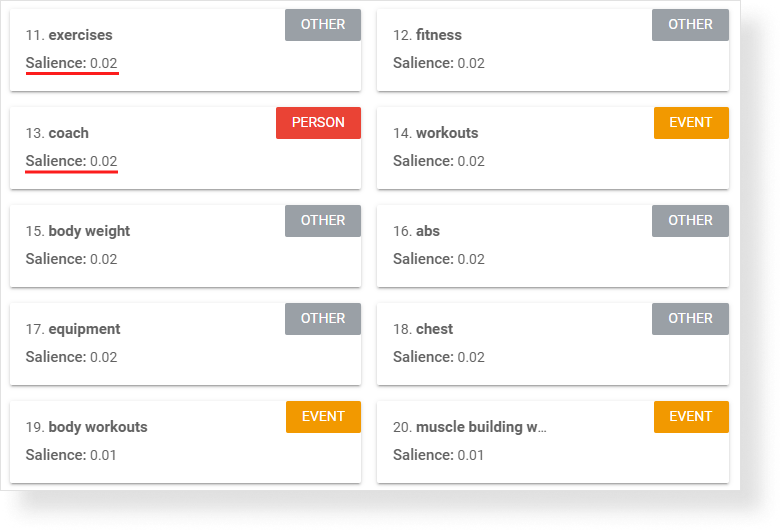 For ASO, this indicator is not significant. However, the keywords must be included in our description and have at least a small Salience (from 0.02). In that case, they will be noticed by Google's algorithms. Entities at the beginning and end of the text are more important, so their Salience should be higher.
Sentiment
In the Sentiment section, you can find out how positive or negative your text is. The score shows the positivity (from 0 to 1) or negativity (from -1 to 0) of the sentence. 0 is neutral. Magnitude demonstrates the degree of emotion. The higher this indicator, the more intense the emotions this sentence evokes.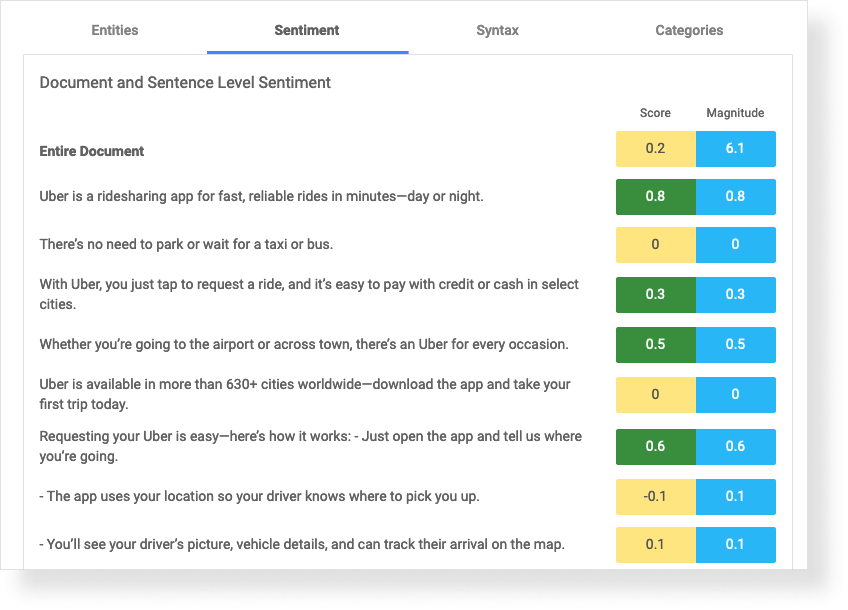 Based on my projects, I would say that Sentiment does not affect the categorization of the app or its full description.
Syntax
Syntax will help young ASO specialists learn how to write full descriptions on Google Play.
The arrows show the dependency of keywords in the app. You can see that Google identifies the most important words in sentences and subordinates other words to them. For example, it makes the phrases "order taxi" and "order service" with the word "order". Google needs to correctly identify the subordination between important search phrases.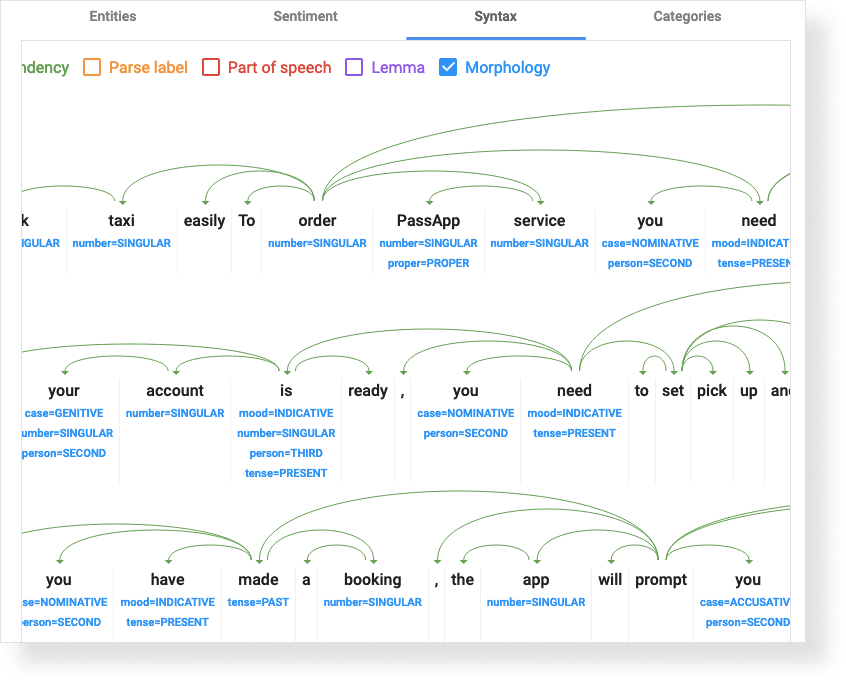 If Google does not recognize the meaning of separate words and phrases, it might misunderstand the whole sentence. Therefore, it is important to check the description and rebuild the syntax so that the subordination is correct and transparent.
Category
Google Cloud Natural Language can attribute a text to one of the 700 available categories. Confidence is especially important for ASO specialists as it indicates which category an app will fall into on Google Play. If the tool correctly identifies the category, the app will appear in Similar along with similar apps. Therefore, your app category must coincide with the categories of your direct competitors.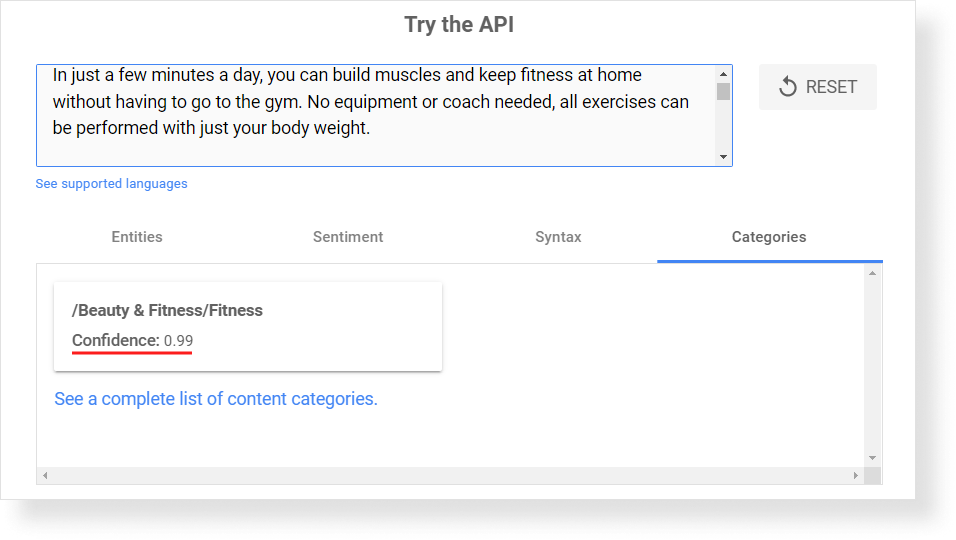 Confidence for the required categories should be 0.85. You don't need to make Confidence any higher. In my experience, Confidence above 0.85 does not affect search results and rankings. If your app has several categories, their Confidence may be slightly lower than 0.85.
Don't try to get into the right category artificially. In my experience, I have seen that artificial categorization of an app does not lead to anything good. It is important to work out the semantic core well and prepare a full description so that it contains relevant keywords. Then GNL will determine what categories your app belongs to.
Unlike other Google Cloud Natural Language tabs, categorization only works for English. If you need to check Category Confidence for the language your app is localized into, translate it via Google Translate into English. Google Play scans the description using Google Translate, so it's important to use this specific tool. You can also adapt the English description for another language if you see it fits the category well.
What affects Category Confidence:
1. Punctuation marks
Sometimes, even a slight change in punctuation can have a big impact on the result. For example, in the description of a pdf scanner, I did not change the sentences in meaning but replaced all the commas with an ampersand ("&"). Before this, Confidence was 0.59.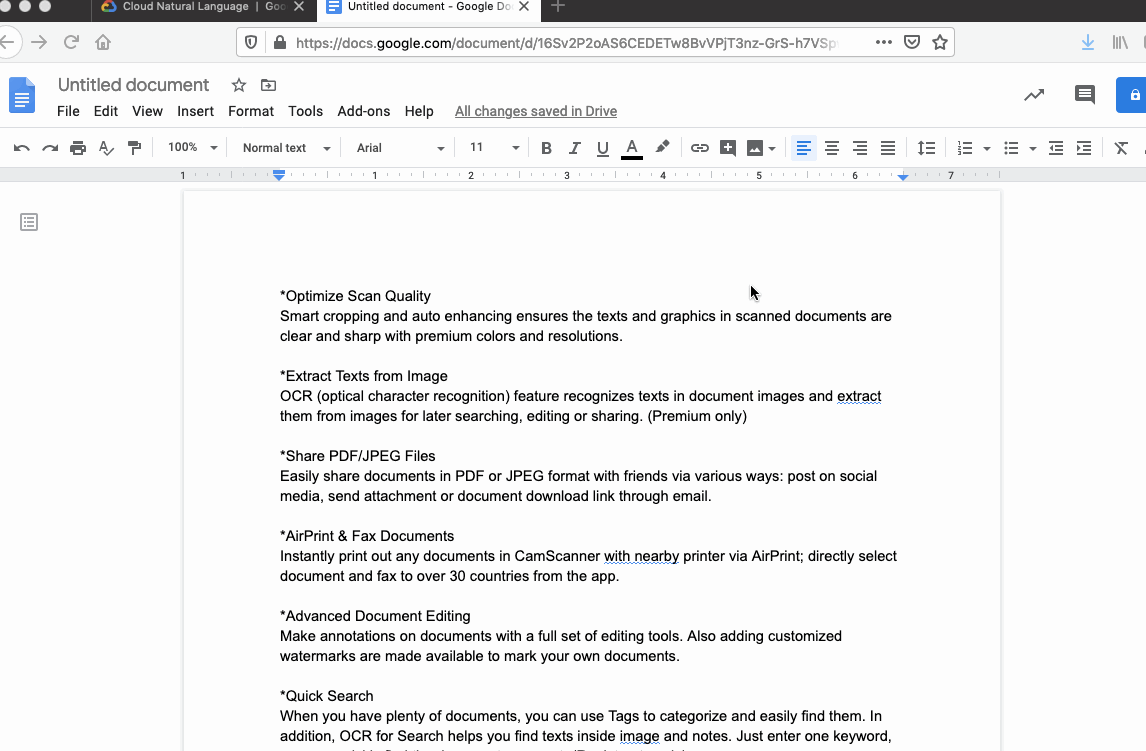 After I changed all the commas to "&", Confidence rose to 0.62. It turns out that "&" works better than commas. If you cannot get the Category Confidence you want, try replacing commas with other punctuation marks. 
2. Morphological construction
I discovered that -ing endings affect confidence. For example, the description of an app for scanning documents with a large number of -ing suffixes had a Confidence rate of 0.59.
I replaced the gerundial nouns with verbs, for example, "crop" instead of "cropping" and "enhance" instead of "enhancing". Changing a few words helped improve confidence to 0.77.
Simple constructions make your description more comprehensible for Google. Therefore, you need to use more verbs in sentences and phrases — this has a positive effect on syntax and categorization.
Important points to remember about Google Cloud Natural Language
1. Keywords that are important for promotion must have a Salience above zero. 
2. Google Cloud Natural Language analyzes not only words, but also phrases and whole sentences, so it's important to pay attention to the syntax. 
3. The most important thing in GNL is choosing the right app category. To increase Category Confidence, use simpler constructions and rearrange the syntax/morphology. 
I hope this article helps you create the most effective description for your app. Subscribe to our newsletter so you don't miss out on new expert articles.