New plans from Asodesk: what's changed and how to choose the best one for you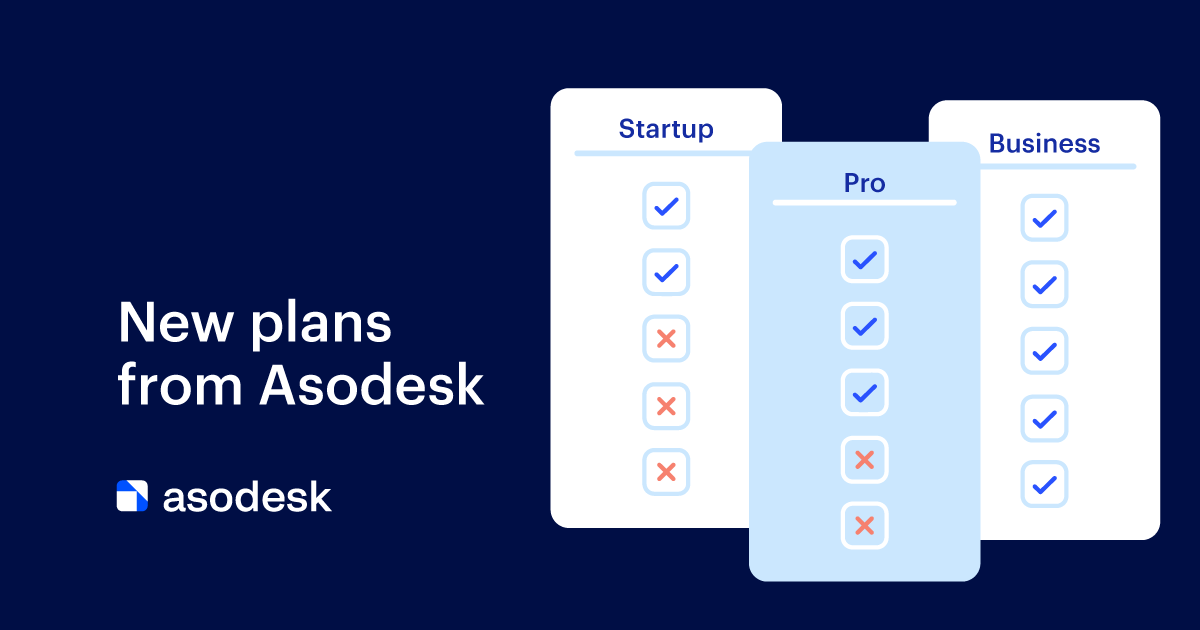 We've revised our pricing to help you choose the right plan for your business. Now you can pay only for the things you need — tools for ASO, reviews, or both. Read about the new plans and all their features to see which plan suits you best.
How the ASO plans have changed and which one you should switch to
We have created three plan types for different business requirements. All plans of the same type have the same content, but a different number of keywords. All plans now also have new work opportunities.
1. Startup allows you to get started with ASO and increase organic installs. With this plan's tools you can:
Collect keywords.
Build a semantic core.
Track app positions in real-time.
Study the popularity of search queries.
Check the complexity of search queries. This feature has been recently added to Asodesk.
Explore app store statistics.
Analyze all reviews and track featured reviews.
Monitor the effectiveness of promotions.
Study competitors.
Receive relevant reports and notifications about a promotion's performance. This feature is coming soon in Asodesk.
You will also get basic access to metadata preparation features in the Optimizer and keyword analytics in the Keyword Table and Keyword Manager.
Startup includes several plans with keyword numbers ranging from 300 to 1500. Plans start at $49. You will be able to work with a team of three people.
This scheme will help you determine which new plan you should upgrade to based on your previous plan.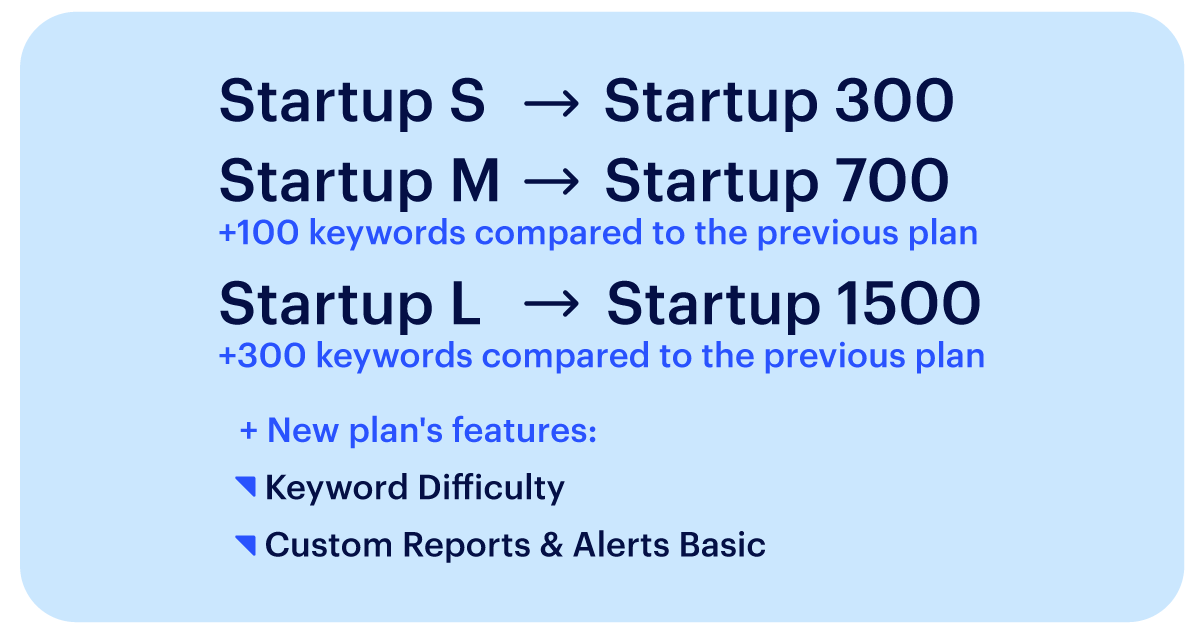 2. Pro has higher limits for those who actively invest in ASO, scale to new markets, and want to minimize costs by saving time.
Pro type plans allow you to:
View an expanded report on changes in app positions.
Analyze the dynamics of positions for selected search queries.
Export unlimited data.
Analyze app ratings.
Check automatic translation of keywords.
Not only prepare metadata but also save its versions, as well as export them to Excel.
View your keyword popularity history and search for unlimited queries in Keyword Manager.
Add auto-suggestions to your semantic core.
The Pro plans now also have new features and tools that were not previously available in the system. Now you can:
Use easy settings for keyword analysis in the Keyword Table. Read more about the new Keyword Table features that have recently been added to the system.
Use all custom reports and notifications.
Pro allows you to add 700–1500 keywords depending on the plan, optimize 15 apps in the system, and work with 5 teammates.
Our advice is to upgrade to Pro if you previously had Startup XL.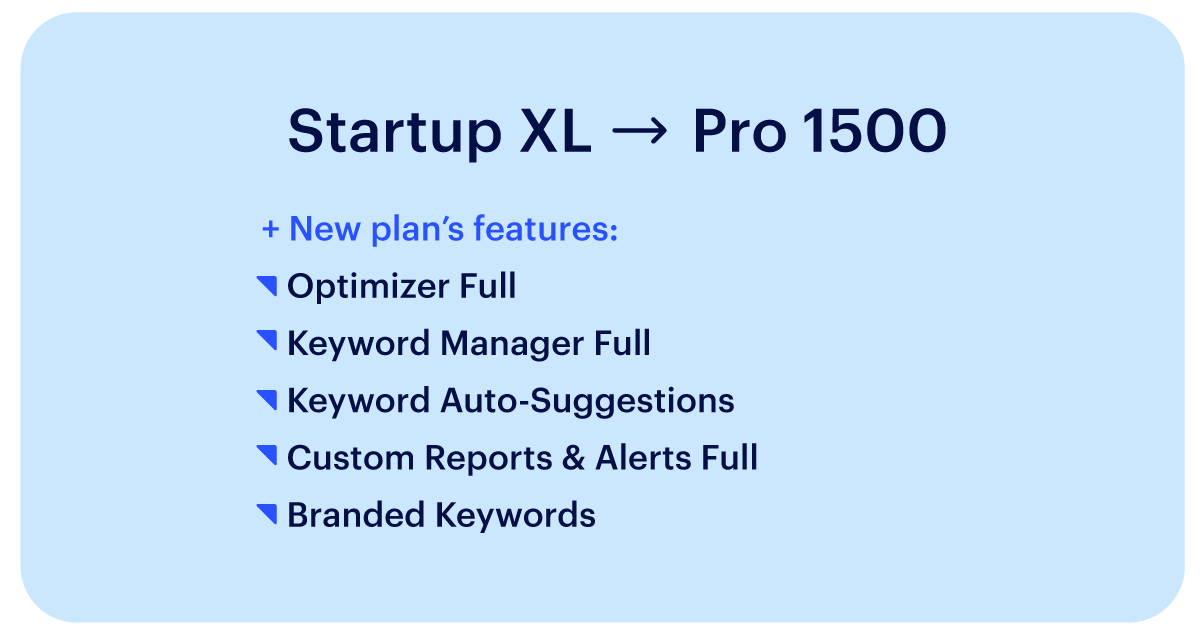 3. Business will help you complete the full ASO cycle, including the evaluation of optimization performance and analysis of competitors and app traffic sources. Plans of this type contain all Startup and Pro functions, as well as additional features that allow you to:
View your keyword popularity history.
Evaluate how the complexity of keywords changes.
Analyze traffic sources in search.
See the approximate number of installs from each keyword.
Analyze ASO performance.
Track changes of app positions at the top of the search results.
View the history of actions on the account using the activity log.
Check the history of the top charts.
With Business, you can add 2,000–4,000 keywords, optimize up to 30 apps, and work with a team of 10 people.
Our advice is to upgrade to the following plans if you previously used Business.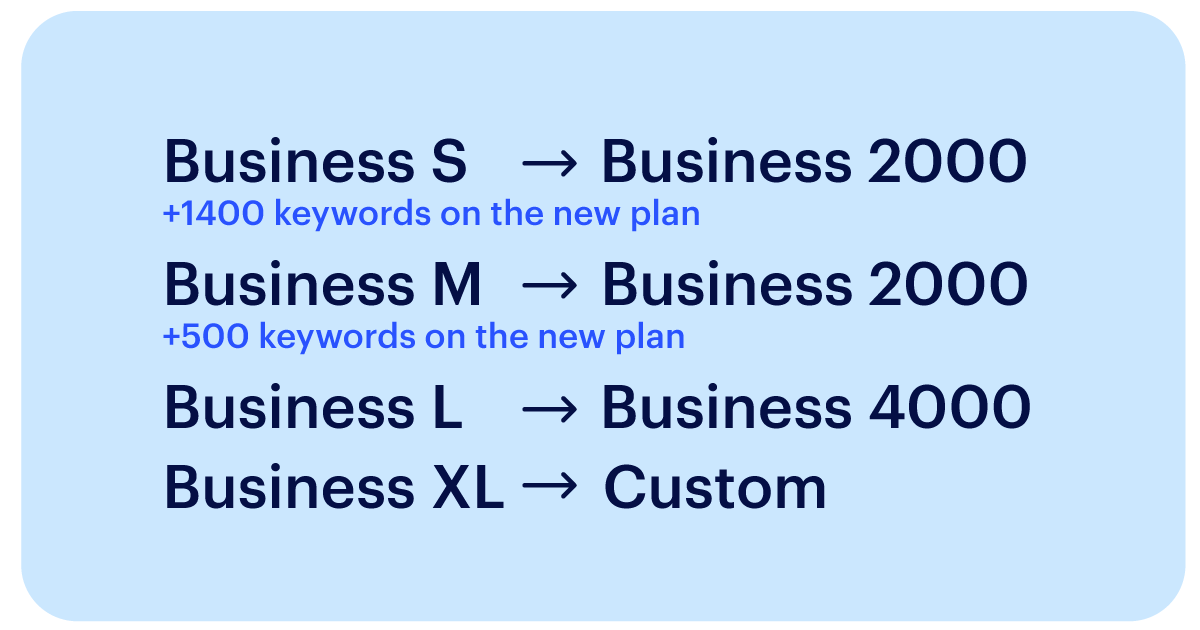 Here are just the basic features of the new plan types. Learn more about each plan on the Plans page.
Plans for working with reviews
If you work with reviews in app stores and you are not interested in ASO tools, you don't have to overpay for other features. Asodesk has 3 plans made specifically for the analysis of reviews and replies to reviews:
1. With Startup, you can start responding to user reviews, as well as increase install conversion and user loyalty.
Respond to 300 reviews per month.
Work with reviews for 2 apps.
Connect team access for 2 people.
Track reviews and respond to them with the Review & Replies Board.
Analyze reviews by country (for App Store), languages (for Google Play), and app version through Reviews Analysis.
Explore featured reviews from 100 countries via Featured Reviews.
Startup for working with reviews is $49 per month.
2. Pro provides higher limits for those who actively respond to reviews, work in multiple markets, and want to analyze rating changes
Respond to 500–1000 reviews per month.
Work with 5 apps and a team of 3 people.
Get access to all tools from Startup, as well as app rating analysis and translation of reviews, coming soon to Asodesk.
With Pro, you can reply to 500 reviews per month for $99 and 1000 reviews for $199.
3. Business provides all you need to make your work with user reviews more efficient and save time usually spent on manual replies.
Respond to 2000 reviews per month.
Work with 10 apps and a team of 5 people.
Submit complaints about unfair reviews to the App Store and Google Play moderation.
Apply and save advanced filters for analysis in the Reviews & Replies Board.
Tag reviews.
Use templates in your responses.
Transfer reviews to Zendesk.
The Business plan is $399 per month.
You can save money on your work with reviews by using ASO and mobile marketing tools. Respond to 300 reviews per month for $20, 500 reviews for $40, and 1000 reviews for $100.
Explore all of this plan's features for working with reviews.
Who needs a custom plan
For those who only wish to conduct certain tasks and save time using the platform, we have created a cusom plan. You can choose any of the above tools that you need and avoid paying for features you do not need.
A personalized plan can also help speed up the process of working with reviews and save your support team time. Add auto-reply, and Asodesk will respond to reviews for you according to the rules you have created beforehand. Auto-tagging will help reduce time spent on review analysis.
Select the functions that you need on the platform, and we will calculate the cost of your plan.
If you want to switch to a new plan before the expiration of your current one, write to hello@asodesk.com and we'd be happy to help.
How to get a discount on the plan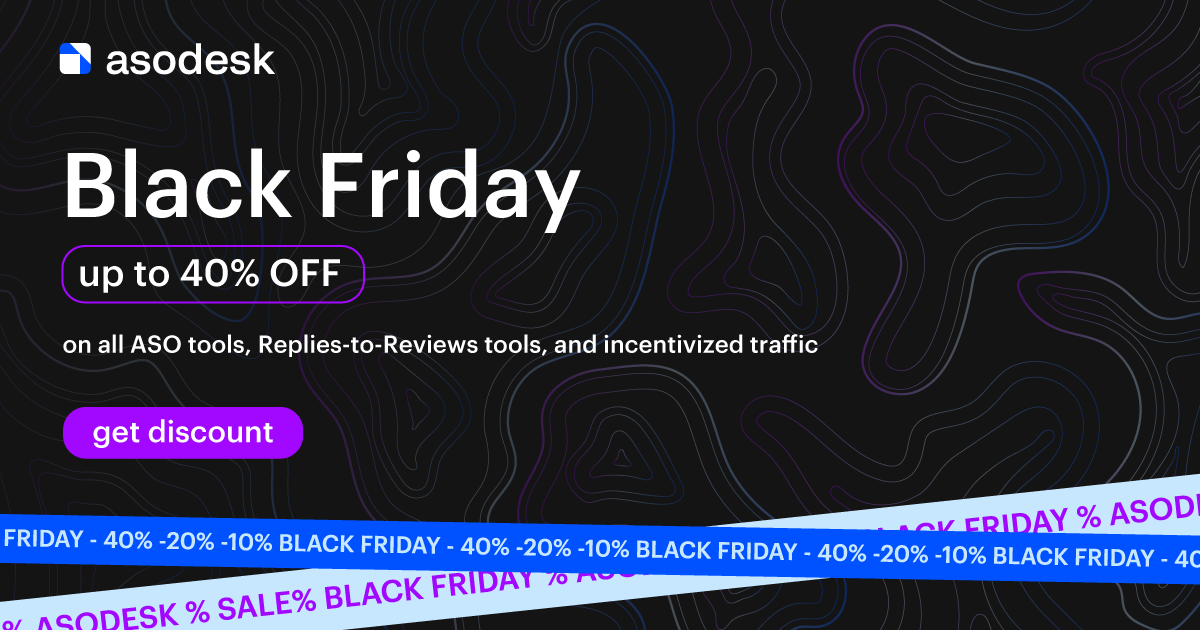 Black Friday deals are now on at Asodesk. Only from November 26 to December 3, you can save up to 40% on ASO tools, Replies-to-Reviews tools, and incentivized traffic‌.