5 Critical Mobile App Marketing Strategies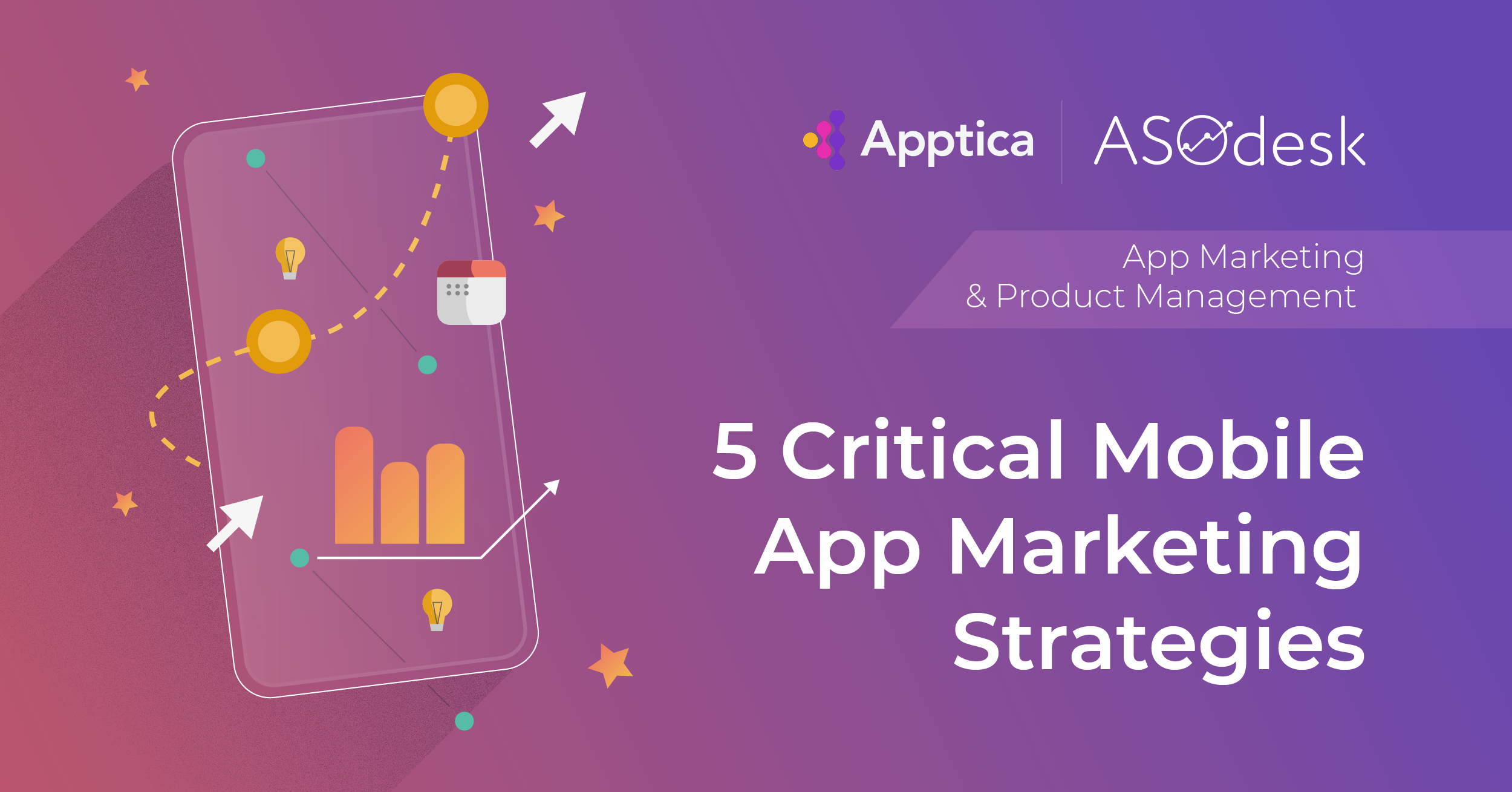 So you've built a mobile app, but you're not a millionaire yet because you're stuck in the turf of the competition? You've got a great app but you still do not get it? The sad reality in the mobile app market – no app is immune to failure.
And most times, it's because no one even knows about their existence. Here is the catch: your mobile app isn't going to market or sell itself. The key to your app success is a mobile app marketing strategy that works. That said, if you want to stand out from the crowd, you need the best mobile app marketing strategies. Below are 5 mobile app marketing strategies that, when done right, will raise your app to the top.
Research and Target the Right Market
The first rule to getting your app a massive increase in downloads is to get it to the right audience. Define your audience and target that audience for advertising. Don't make the mistake of reaching out to every Dick and Harry in town. Select a specific group of consumers that fit your product description and create their profile. Endeavor to define such crucial details as psychographics, demographics, habits, lifestyles. Your marketing drive will have a stronger effect if you attract the right target audience, as against all the people.
Choosing the right market to target is even more important. Go deeper and find out which countries are more willing to pay for in-app purchases (clue: it's the US), and then find your balance between the audience's response and the UA cost. As the US is the most expensive market in terms of mobile advertising, experts advice to focus on less obvious but still rewarding markets that tend to be a good traffic source in 2020.
?Read more: 5 new countries to target in 2020
Research And Analyze The Competition
There are more than 2 million apps in the Apple App Store, and more than 3 million Apps on Google Play Store. As you can see, you're not alone. Your app will have serious competition.
Research your app category and list out at least 5 of your top competitors. Study their monetization model, their current selling price, app store ranking, notable reviews, UX (user experience) pros and cons. You can even take your competition analysis further by performing a competitive metric to find out how your mobile app compares.
Take note of any negative UX elements or any poorly designed feature that received bad reviews from users, and make sure your app doesn't repeat the same. Now think about features and tricks that would make your app better and stand out from that of your competitors.
There is plenty of apps facilitating the daily routine of app publisher when it comes to competitors research. Such tools as Apptica give an all-round view of the market, competitors' performance, and UA activity. You can easily track in-app ads of your rivals and analyze advertising strategy that brought best of them to the top. The large creatives gallery provides you with constant inspiration and helps test and optimize ad creatives.
Optimize Your Mobile App Store Page
App Store Optimization (ASO) is a ground zero when it comes to adopting the best mobile app marketing strategies.
Optimizing your pages across app stores is very important, and you know why? More than 50% of users who discover and use an app on the Google Play Store or the App Store were able to do so after browsing through such an app store. So, just as your website functions as your digital front store that welcomes customers and prospects alike, so also is your app store pages serving as your product, lying there on the digital shelve and trying hard to distinguish itself from the numerous crowd of other products that surround it. It demands your utmost attention.

The title on Google Play is 20 characters longer than in the App Store and may include more keywords
You must ensure that you build an effective store page. Craft a catchy title. Use simple but appealing description. Research and use appropriate keywords that will convert. Choose a captivating icon and pay strict attention to all of these factors because they're capable of making the difference.
Get Reviews
Ask yourself, would you buy a product you really don't know without researching about it? That's what people do when they want to download or signup with a new or existing mobile app. Your fine looking and optimized app page is all good but isn't enough. Most people, after hearing about an app, the next thing they do is to see what others are saying about it – on the review page of that app. Reviews are critical in encouraging people to download your app.

Bad reviews on the App Store may significantly reduce installs of your app
The same with all user-generated content which also includes Google reviews, comments on social media, and forum-type community spaces (like Reddit).

Optimize your User Acquisition (UA) Strategy
Do you know that more than 90% of the world's top-rated 100 brands now have an app? In short, more than 71% of marketers say mobile app marketing is now critical to their operations. What this means is that, as more companies continue to create branded apps, the mobile app market industry is becoming more crowded and competitive. Thus, many brands are investing heavily in their mobile marketing campaign to cut through the competition, grow their user base, and keep them engaged. One way some brands were able to successfully do this is by optimizing their UA strategy.

Identify vital performance metrics such as Click-Through-Rate (CTR), Conversion Rate, and optimize your mobile marketing campaign accordingly. Segments and target high-value users by using custom audiences. Create a defined segment for cross-app promotions and retarget users who didn't convert.

What you have read above is not in any way an exhaustive list. However, these tips represent how mobile marketing should be like if you want to bring about that massive increase in downloads. Of most importance, focus more on your marketing analytics and pay close attention to your attribution dashboard. Ensure that your app message is tweetable and never forget to connect more with your circles. In the end, both would be winners.

Written by Natalie Stepanova
Mobile marketer with a passion for mobile gaming market research and writing.